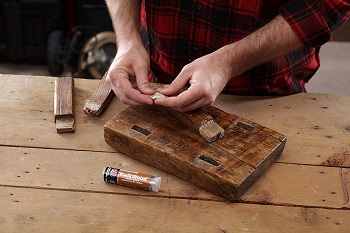 There are many ways we can get chips and scratches in our wooden tables and chairs, and epoxy-based wood fillers can be a great way to hide these small imperfections until it's time for a refinish. But with so many brands of epoxy wood filer available, it can be challenging to choose the best one for your project. Some are better for bonding two pieces of wood together, while others are better for sanding and staining.
We have gone over dozens of different types and brands of epoxy for woods, and we believe we can help you narrow down your choice by presenting you with six popular brands. Doing so will help you get an idea of what you like and don't like about these epoxies.
We have also included an epoxy for wood buyers guide where we talk about what ingredients are essential for a wood epoxy to include and what features it needs to have to be an effective epoxy.
Below you'll find our detailed reviews of each epoxy for wood, where we compare dry time, color, sanding, and safety, to help you make a smart purchase.
---
A Quick Comparison of Our Favorites
Rating
Image
Product
Details

Best Overall

Protective Coating Wood Epoxy

Dries Harder than wood
Uses real wood
Won't drip
CHECK PRICE

Best Value

J-B Weld 8251

Low cost
Quick setting
Bonds and fills
CHECK PRICE

Premium Choice

Abatron WE2QKR

Shrink free
12 ounces
Sticks to anything
CHECK PRICE

System Three 90301

Can be sculpted
Waterproof
Solvent-free
CHECK PRICE

J-B Weld KwikWood Repair

Premixed
Dries fast
Strong bond
CHECK PRICE
The 6 Best Epoxy For Woods – 2021
Let's look at the six brands of epoxy we've reviewed for you.
1.

Protective Coating Wood Epoxy Paste – Best Overall
The Protective Coating 083338 Wood Epoxy Paste, also known as PC Woody, is our choice for the best overall epoxy for wood. PC Woody dries harder than wood and is very durable. It can provide a permanent fix for damaged wood and is sandable and paintable. This product uses real wood as an ingredient, so it looks and feels very similar. The putty is very thick; it fills well but won't drip or sag while it sets.
The only downside we experienced was the containers are a little small and don't contain much.
Pros
Dries Harder than wood
Won't drip
Uses real wood
Sticky
---
2.

J-B Weld 8251 Epoxy Adhesive – Best Value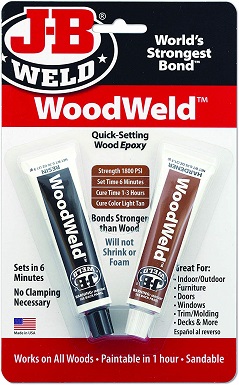 The J-B Weld 8251 Epoxy Adhesive is our choice for the best value, and after looking it over, you'll see it is the best epoxy for wood for the money. This low-cost adhesive bond and fills wood. It's easy to apply, looks natural, and can be sanded or painted is 3 hours.
We found that it works well and sticks to most surfaces. The only thing we didn't like is the small amount wasn't quite enough for some of the jobs we wanted to try it out on.
Pros
Low cost
Quick setting
Bonds and fills
---
3.

Abatron WE2QKR WoodEpox Epoxy – Premium Choice
The Abatron WE2QKR WoodEpox Epoxy is our premium choice, and this brand is for someone who's not afraid to spend a few extra dollars to get an excellent epoxy for wood. The Abatron brand features 12 ounces of shrink free restoration-grade wood putty. We found this brand will stick to anything and dries to look natural. It can also be sanded and painted once cured.
We also found it to take a very long time to dry. The long cure time plus its high cost kept it out of our top spot.
Pros
Shrink free
12 ounces
Sticks to anything
Cons
Expensive
Long drying time
---
4.

System Three 90301 Moldable Epoxy Putty
The System Three 90301 Moldable Epoxy Putty is a two-part putty designed for repairing wood as well as for sculpting and crafts. Once dry, the System Three putty is waterproof and is easy to sand and sculpt.
As a hole and crack filler, we had a little difficulty applying it because it tended to flake off as we were pressing it into holes and cracks. Once we sanded it, we found it resistant to staining and is more noticeable than some of the other brands on this list once painted.
Pros
Can be sculpted
Waterproof
Solvent-free
Cons
Doesn't accept stain
Flaky
---
5.

J-B Weld KwikWood Repair Epoxy Putty Stick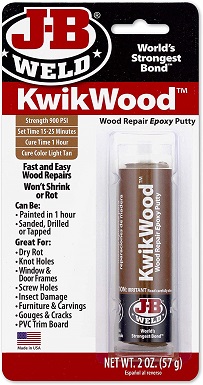 The J-B Weld 8257 KwikWood Wood Repair Epoxy Putty Stick is a single-use premixed wood repair epoxy. Simply remove this epoxy from the package and press it into your damaged wood. There's no need to worry about blending multiple ingredients.  We found that it dries extremely quickly, and you can sand and paint it an hour after applying it.
The downside to this putty is the small amount that prevents it from being considered for any big jobs. It's also very light in color and didn't stick to many of the surfaces we applied it on.
Pros
Premixed
Dries fast
Strong bond
Cons
Tiny amount
Very light color
Doesn't always stick
---
6.

Gorilla 4242501 Epoxy Putty

The Gorilla 4242501 Epoxy Putty is the last brand of epoxy for wood on our list, and though this brand isn't as good as our top three, it might still have some features that interest you. This epoxy is perfect for bonding multiple pieces of wood together. It features an incredibly strong bond that can hold over 1,500 pounds per square inch. It dries in only 10 minutes and is entirely waterproof.
The downside to this putty is that it dries grey, so you can only use it in concealed areas. Once dry, it would not accept stain, it's not very easy to sand, and there's only a small amount in the container.
Pros
Waterproof
Sets in 10 minutes
Withstands high temperatures
Cons
Dries grey
Small amount
Doesn't accept stain
---
Buyer's Guide
Let's look at what makes a high-quality wood epoxy.
Amount
Before purchasing any epoxy wood putty, we recommend surveying the area to determine how much of the epoxy wood filler you are going to need. Many of these brands come in various sizes and buying in bulk can lead to cost advantages. However, many brands come exclusively in small amounts, and if you have a large job, buying many packages may lead to a more costly repair.
Curing Time
Curing time is how long it takes the product to dry. Each product will take a different amount of time to cure, depending on its chemical make-up. There may also be multiple curing times. For instance, some may be dry to the touch after a few minutes, dry enough to paint after an hour, and fully cured in a week.
Products that take a long time to cure can remain soft and damaged easily during this time. Uncured products can also release harmful VOCs and other disagreeable odors as they cure. Painting over an epoxy before, its dry can prevent it from ever full curing.
If you are using your epoxy wood putty for indoor projects, we recommend using brands with faster curing time.
Ease of Use
Many different brands of epoxy-based wood putties require the mixing of two or more ingredients together. Some use easy 1:1 ratio, but other brands can use more complex mixing systems. We recommend that you always look at the instructions before purchasing to be sure you know how to mix the ingredients.
Color
Many different brands of epoxy wood filler offer several colors. These colors often mimic the colors of natural woods like cherry or oak, and we recommend that you get familiar with the type of wood you are filling and choose accordingly. Some brands of epoxy-based wood filler will accept a stain, and this is ideal if you are using the epoxy wood filler to repair some bad areas before refinishing the whole piece.
Some brands will neither look natural nor accept a stain, so you will need to paint to hide them. Before you buy one of these fillers, make sure you can paint the surface.
Sanding/Sculpting
Many of these epoxy-based wood fillers are designed to resemble wood when they cure, and some even contain real wood as an ingredient. Thee fillers can be sanded and sculpted, much like real wood. These epoxy wood fillers are perfect if you need to do more than fill a hole and need to create something new.
Clean Up
You cannot clean many epoxy resins with water, so you will need to use waterless hand soap, essential oils, or white vinegar to remove any epoxy from your skin or unintended surfaces.
Safety
Never use solvents like turpentine, mineral spirits, or acetone on your skin because they can allow toxic chemicals to enter your bloodstream.
Always take a shower and wash your clothes after using epoxy. It seems excessive, but epoxies can cure for several days, and this action can be harmful to your skin.
Always wear eye protection, breathing masks, gloves, and protective clothing. The worse it smells, the more you need to touch it, and the more it gets on unintended surfaces, the more critical it is to use these safety devices.
Always work and apply your epoxy foe woods in a well-ventilated area.
Conclusion
We hope that you have benefitted from reading our reviews, and we believe that we have the right product for you listed among them. Our choice for the best overall epoxy for wood, the Protective Coating 083338 Wood Epoxy Paste, uses real wood as an ingredient. It sticks to everything and will accept stain or paint. The J-B Weld 8251 Epoxy Adhesive is our pick for the best value, and this brand is perfect for smaller jobs around the home. It dries quickly and can be painted or sanded in just a few hours.
If you have the extra money and don't care about drying time, the Abatron WE2QKR WoodEpox Epoxy is our premium choice because it can do just about anything you need it to do, and you get enough in the container to do a lot of jobs.
If none of these choices are quite what you're looking for, we hope that our buyer's guide has supplied you with the tools to go out and find the perfect brand of epoxy for your situation.
---
Featured Image Credit By: J-B Weld 8257 Epoxy Putty Stick, amazon

Pete has been working in the trades since high school, where he first developed a passion for woodworking. Over the years, he has developed a keen interest in a wide variety of DIY projects around the home. Fascinated by all sort of tools, Pete loves reading and writing about all the latest gadgets and accessories that hit the market. His other interests include astronomy, hiking, and fishing.
As the founder of House Grail, David's primary goal is to help consumers make educated decisions about DIY projects at home, in the garage, and in the garden.