10 Best Garden Sprayers of 2023 (Electric & Manual Pump) – Reviews & Top Picks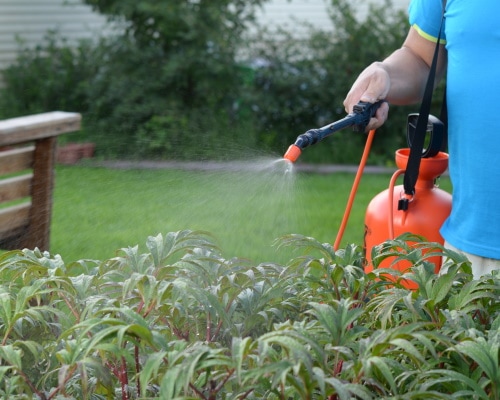 You will need a garden sprayer to keep your flowers, herbs, and vegetables in good shape. The problem with online shopping is you only get point of view from the manufacturer, and comparing products takes up a tremendous amount of time.
We've done you a favor by researching the market and compiling 10 garden sprayers worth consideration. We've listed their features, how they'll help you, and how they might hold you back. It's up to you to decide which one will accomplish the task at hand.  While our reviews of the 10 sprayers will inform you about the products, our buyer's guide will provide questions you have about garden sprayers.
A Quick Comparison of Our Favorites for 2023
Rating
Image
Product
Details

Best Overall

Field King Professional Pump Backpack Sprayer

No-leak design
Includes four nozzles
Comfortable
CHECK PRICE

Best Value

ITISLL Garden Pump Sprayer

Safety valve
Strong pressure bar
Comfortable
CHECK PRICE

Premium Choice

M4 MY4SONS Battery Powered Backpack Sprayer

Strong
comfortable straps
Long battery life
Good selection of nozzle tips
CHECK PRICE

Smith Performance Sprayers R200 Compression Sprayer

Less pumping required
Four nozzles
Easy to store
CHECK PRICE

Chapin International Compression Sprayer

Three-stage filtration system
Long hose
Shut-off assembly
CHECK PRICE
The 10 Best Garden Sprayers
1.

Field King 190328 Manual Pump Garden Backpack Sprayer – Best Overall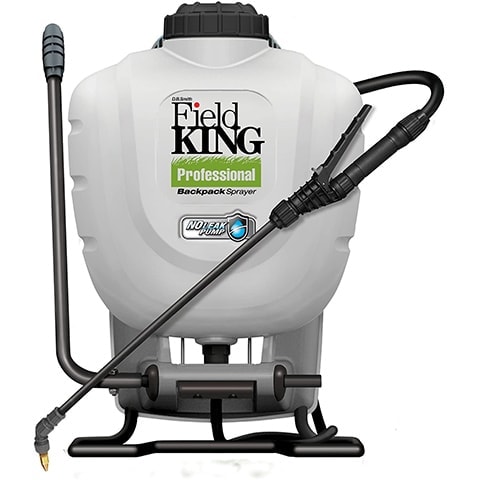 If you want a garden sprayer that allows you to spray a large area, you'll like the Field King. This tank can hold 4 gallons of liquid and weighs 50 pounds when full. It's got a 21-inch poly wand, and the pump handle is reversible for left-or-right-handed use. The paddles ensure that the liquids, powders, and water-soluble solutions are mixed, and the no-leak pump keeps your back and clothing dry.
They've included Viton seals on the pump so you can change it quickly without tools. Field King also fitted a premium shut-off, which has a comfortable grip and a lockable trigger to mitigate hand fatigue. The tank has a built-in carry handle, as well as wand storage – another great feature.
You'll feel that this backpack sprayer is comfortable because it has padded straps, a chest cinch strap, and a waist belt. It also comes with several nozzles to allow you versatility. The downside to this sprayer is that you can't fold it for easy storage. Make sure you've got room in the garage or shed.
After testing this product and comparing it to the rest, we believe the Field King Professional is the best garden sprayer of the year.
Pros
No-leak design
Includes four nozzles
Comfortable
---
2.

ITISLL Garden Pump Sprayer – Best Value
The affordable Itisll has an adjustable, brass nozzle to achieve the desired intensity of spray from direct injection to fine mist. The ergonomic handle will reduce fatigue and facilitate long-time spraying. You can use it to clean cars or pets, but it's not suitable for acidic or corrosive solutions.
The high-quality polyethylene (PE) material lets you see the remaining liquid capacity scale through the transparent bottle so that you can replenish before running out. This pump sprayer comes with water-resistant seals, anti-clogging filters, and rings to ensure durability and maintenance ease.
It comes with a strong pressure bar to increase airflow pressure, but Itissl included a safety valve that relieves pressure as soon as it exceeds 2.5 to 3 bar (equivalent of 36 to 43 pounds per square inch (psi)). You'll find that the shoulder straps are comfortable, and you won't need tools for assembly or maintenance. The brass wand is its subpar feature since you might find that it's not as strong as expected.
Considering the features and the price, we found that this is the best pump sprayer for the money.
Pros
Safety valve
Strong pressure bar
Comfortable
Cons
Not suitable for acidic solutions
---
3.

M4 MY4SONS Battery Powered Backpack Sprayer – Premium Choice
M4 has included the battery, which lasts for 6 to 8 hours or over 200 gallons after charging it. The variable pressure switch allows you to control the flow from 20 to 60 psi. It includes a stainless steel wand and an acid bleach wand. It also has a plastic squeeze handle with a locking mechanism. The large mouth lid lets you fill up easily, and the screen filter ensures that debris and dirt stay out of the tank.
You'll get several nozzles such as fan tip, fog, and cone, as well as pockets for wands and accessories. There's also the quick-change battery compartment, triple-thick XXL shoulder pads, and a strain relief hose.
The negative of this product is the battery, which you'll have to replace roughly every 1 to 3 years, and this additional expense is the only reason it doesn't make the top 2.
All in all, we think this is the best battery-powered garden sprayer out there.
Cons
Battery will need replacement
Pricey
---
4.

Smith Performance Sprayers R200 Compression Sprayer
The Smith R200 sprayer has a 21-inch steel wand and Viton seals to ensure maximum chemical resistance. Its easy-to-access filter results in reduced clogging and minimum time spent cleaning, and you can change the pump seals in minutes without tools.
The 2-gallon tank is perfect for applying weed killer, insecticides, and fertilizers on large gardens and lawn. Don't think that the tank is leaking from the bottom when the residual pressure releases from the wand. It's designed to have liquid drip into the wand storage tray after releasing the pressure.
The lock-in feature reduces hand fatigue, and you'll get four nozzles. The efficient pump ensures that you do less pumping, and the stability base works to prevent the sprayer from tipping over. The appealing feature about this sprayer is that it's smaller than the top 3, so storage shouldn't be a problem.
The issue with this sprayer is that it has unclear fill lines, so you'll have to mix your content in another container to get the correct measurements.
Pros
Less pumping required
Four nozzles
Easy to store
---
5.

Chapin International 26021XP Compression Sprayer
The Chapin 26021XP is a 2-gallon sprayer that is perfect for landscape and a turf professional but is also suitable for a homeowner. Its 4-inch mouth reduces the chances of spillage, and it also has a 3-stage filtration system with an anti-clog filter that's resistant to dirt and debris.
It's got an adjustable brass nozzle and 3 different tips, enabling you to get a fine mist pattern to a coarse stream. The cushion grip shut-off works to minimize hand and wrist fatigue, while the pressure release valve improves the sprayer's pressure and control. This sprayer comes with a 48-inch clear reinforced hose.
This sprayer also comes with an ergonomic handle to provide easy pumping and carrying, but this sprayer isn't as durable as others on this list. If you're using it every now and again, it should last a while, but continuous, professional use might lead to quicker wear and tear, and hence, earlier replacement.
Pros
Three-stage filtration system
Long hose
Shut-off assembly
---
6.

TABOR TOOLS Lawn and Garden Pump Pressure Sprayer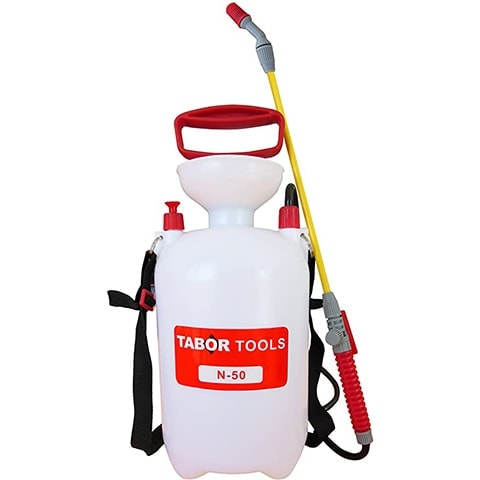 If you want a slightly smaller pressure sprayer, you can take a look at the 1.3-gallon Tabor Tools Sprayer. It's for indoor and outdoor use, and it can spray up to 131 feet. This sprayer works perfectly with solvent-free mild pest control chemicals but not with caustic or acidic solutions. The transparent bottle shows the fluid levels, and the sprayer comes with a shoulder strap.
There's a shut-off valve on the comfort-grip handle, so you can keep a constant flow while resting your hand. It's got a 50-inch reinforced hose and a 16.5-inch wand for a long reach. The spray filter will prevent clogging, and the funnel allows for easy pouring.
Although you get an adjusted nozzle, it doesn't come with multiple options like the other sprayers offer. The other thing about this sprayer is that most of the sprayer is plastic, so durability is going to be an issue. This sprayer is on the inexpensive side, but you'll have to consider how long it can last.
Pros
Affordable
Long reach
Multi-use compatible
---
7.

Roundup 190260 Lawn and Garden Sprayer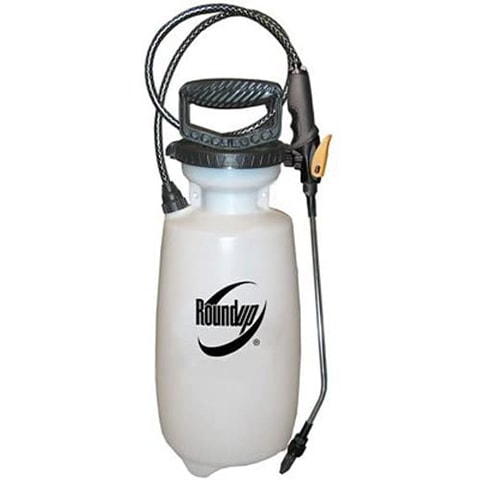 Here's another 2-gallon sprayer that comes with a comfort grip and lockable shut-off so that you don't strain your hand while it continuously sprays. Its pressure release cap ensures that the liquid and vapors subside before it's opened, and the efficient pump saves time and energy with fewer strokes.
Roundup Lawn and Garden Sprayer comes with 3 nozzles: high-volume flat fan, low volume flat fan, and poly adjustable. The 15-inch wand should be durable since its metal, and assembling this sprayer is done in one easy step.
The issue with this sprayer is that it's bigger than most of the ones featured, and you can't fold it for easy storage. The other issue is that it doesn't come with straps. If you're going to spray for a while, your hand might get tired because you have to hold this sprayer. Since it is a 2-gallon sprayer, holding it might become tiresome after a short period.
The premium seals provide leak-free performance and durability.
Pros
Metal wand
Durable seals
Good pressure release cap
Cons
No strap
Manual application wand
---
8.

VIVOSUN 34oz Handheld Garden Sprayer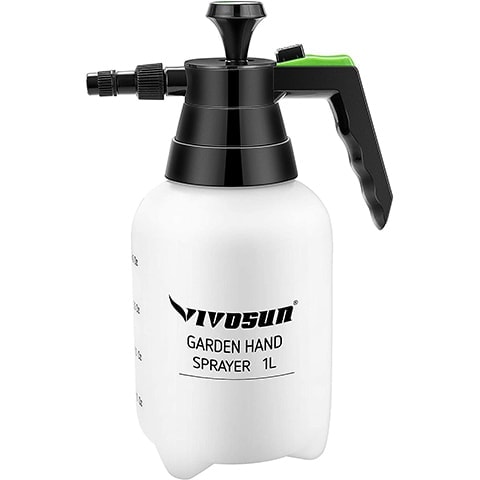 Consumers who are looking for a smaller option might find the Vivosun to be their preferred choice. It's a 0.27- gallon sprayer that has a translucent bottle so you can check the fluid level. This sprayer is suitable for lawn and garden spraying, and it comes with a 1-year warranty. You'll also have the pleasure of operating the locking handle and the pressure release valve.
This hand-held sprayer has an adjustable nozzle, but you can only adjust it to do a 'shower' spray or a 'water column' spray. Don't be surprised if this sprayer doesn't build up as much pressure as the other sprayers that we've reviewed. You might find that you need to do more pumping than with other sprayers to get limited spray. Also, it's possible you might experience that it sprays a weak stream.
It's more affordable than the other sprayers that we've reviewed, but it also has less features. For bigger jobs, you should consider the more advanced sprayers.
Pros
Compact
Indoor and outdoor use
Cons
Limited pressure
Weak stream
---
9.

Futone Hand Held Garden Sprayer
Futone is a 0.5-gallon sprayer that has an automatic safety release valve, enabling you to control the water pressure while reducing hand fatigue. The manufacturer used polypropylene (PP) plastic to make this sprayer, which you can use for gardening plants, horticulture, or other purposes, and it contains a hand-held pump that lets you increase the water pressure. They've also included a non-slip handle so that it's easy to use.
If you rotate the nozzle, you can adjust the pressure to be like a shower stream or a water column. You might sense a strange smell from this sprayer, and also, don't be surprised if you find that the pressure sprayer leaks. Make sure that you don't overfill because it might not work properly. Having said that, if you find that the product doesn't meet your expectation, claim a refund within 30 days.
Cons
Pressure sprayer leaks
Odd smell
More pumping required than usual
---
10.

HomeRight C800909 Tank Sprayer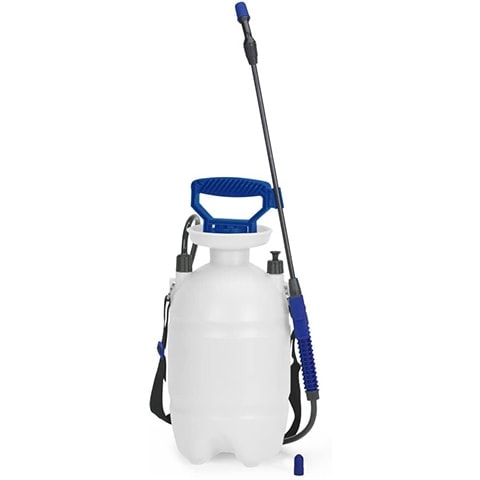 HomeRight Tank Sprayer has a 1-gallon tank, a funnel top that makes it easy for you to fill it up while avoiding spillage, and the supplier has also included a cone and fan nozzle. You can use this sprayer for pesticides, sealers, stains and insecticides and also comes with a 2-year warranty.
It also comes with a pull pressure release button and has a carrying strap so that you can have it on your shoulder to take the pressure off your hands. Make sure that you clean it thoroughly and be careful of the material in your mixture because it can get clogged. You might find that you're struggling to get out enough pressure from this product. Even adjusting the nozzle to increase the pressure might not help a lot.
The advantage of going for this sprayer is that you're going to pay less than our top picks, but you'll also get limited features, and this sprayer is more for indoor use. It's definitely not the best option that you can select, but you'll have to weigh the price and the features to see if it can do the job you intend.
Pros
Has 2 nozzles
Good warranty
Cons
Limited pressure
Nozzle can clog
---
Buyer's Guide: How to Choose the Best Garden Sprayer
Choosing the right garden sprayer for your needs requires you to know the different ones available and the ones that work best for specific jobs. Although we have reviewed 10 sprayers, there's general information that we need to explore about garden sprayers, so we've compiled a buyer's guide to answer any questions that you may have.
Different Types of Garden Sprayers
Handheld
With this type of sprayer, you carry it around without having assistance from a carrier strap with shoulder pads or backpack straps. These sprayers tend to be lighter and smaller than the backpack counterparts and are suitable for indoor and outdoor use. Their tanks tend to be 1 gallon or lower.
They're also cheaper, but they've got limited features and aren't suitable for big jobs. Holding a sprayer for prolonged periods can cause strain on your hands and wrists.
Backpack
These sprayers tend to have a 4-gallon tank or higher and are suitable for people who want to spray large areas. Although backpack sprayers tend to be heavier than handheld units, they have straps so that you can wear it like a backpack. That takes the pressure off your hands and since the tank is bigger, you can cover a bigger area.
The other advantage of backpack sprayers is that they offer multiple nozzle options, more than handheld ones. You'll find that these types also provide stronger pressure and require less pumping than handheld sprayers. Most manufacturers have also ensured that the weight is evenly distributed so that it's comfortable to use for prolonged periods.
Wheeled
If you don't want to hold a sprayer or carry it on your back, you'll find the wheeled ones to be a delight. Besides taking pressure off your hands and back, wheeled sprayers also have a bigger tank than the other two counterparts. These are perfect for covering very large areas and aren't really suitable for average size gardens. The pressure is also better, but the improvement in features means that it comes at a higher cost.
Which of the three types of sprayers you choose will depend on:
The area that you need to cover
The size of the tank needed to cover it
Convenience of maneuvering around
Features needed to yield results
Pressure strength
Safety features
Nozzles
Your budget
Nozzles
Flat fan – produce a line of spray and are often used in coating and cleaning applications. It consists of two main designs: standard and deflection shape orifice.
Hollow cone – usually consists of the smallest droplet sizes and produces a ring of spray. It tends to produce axil whirls, spirals, and tangential whirls.
Full cone – produces a solid spray circle. It's used to distribute fluid evenly over an area.
Misting – also known as fog patterns and is characterized by having fluid atomized with very little or no momentum.
Solid stream – a straight pattern that focuses the fluid to deliver as much impact as possible.
Pumping Power
Diaphragm
Generally, this type of pump tends to be more durable than the piston pump since it doesn't come into contact with the cylinder wall. During the pumping, the diaphragm creates pressure by flexing up and down. It can reach up to 60 psi and is suitable for use with wettable powders, bleach, or abrasive solutions. This type of pump is repairable, but it takes more time than a piston pump.
Piston
This type of pump comes with a cylinder housing and has a piston moving up and down to create pressure while pumping. A piston pump can reach 90 psi, with higher psi delivering smaller droplet size and a longer reach. You can't use wettable powders, bleach, or abrasive solutions with a piston pump because they will erode the integrity of the mechanism. Piston pumps tend to be easy to repair and should be used with low abrasive spray liquids such as insecticides and herbicides.

Conclusion
Our reviews have examined 10 different types of garden sprayers. We have provided you their features and how they will benefit you and prevent you from achieving desired results. After comparing all of them, we've made your search easier about which one is the best for the job that you need done.
We found that the Field King Professional 190328 Pump Backpack Sprayer was the best overall product because of its features. Once we compared every product's features to their respective prices, we found that ITISLL Garden Pump Sprayer was the best garden sprayer for the money. The garden sprayer that stuck out for us as the best premium product was M4 MY4SONS Battery Powered Backpack Sprayer.
The reviews, together with the buyer's guide, will help you to take into consideration all the aspects to check when deciding which garden sprayer is the right one for you.