10 Best Gas Pressure Washers of 2023 – Reviews & Top Picks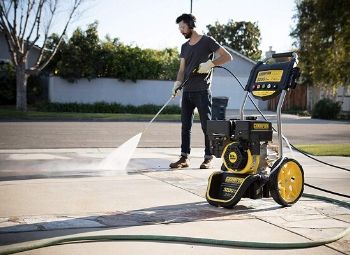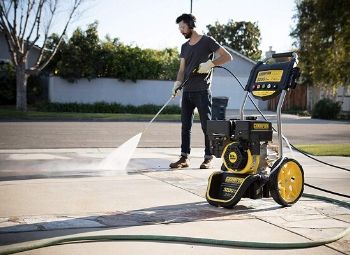 If you are a homeowner, you know how dirty house siding can become, accumulating dust and spider webs, or how the driveway will show oil stains and the sidewalks will start to look grimy. Investing in a pressure washer will help clean these areas in a short amount of time.
With all the options on the market, many are sold at affordable prices that have the capability to clean efficiently and effectively. This review guide will compare the top 10 pressure washers, discussing their different features and listing pros and cons. We've also included a buyer's guide to help you learn more about how to pick a good pressure washer.

A Quick Glance at the Winners of 2023
Rating
Image
Product
Details

Best Overall

SIMPSON PS3228

Powerful engine
Heavy-duty hose
Five quick-connect nozzles
CHECK PRICE

Best Value

STANLEY SXPW2823

Non-kink hose
Maintenance-free pump
Adjustable pressure regulator
CHECK PRICE

Premium Choice

WEN PW3100

Nozzle storage
Lockable trigger
Quick-change nozzles
CHECK PRICE

Generac 7122

Soap blaster nozzle
Power dial on the handle
Power broom attachment
CHECK PRICE

Champion 100384

Durable
Five nozzles
Two detergent tanks
CHECK PRICE
The 10 Best Gas Pressure Washers
1.

SIMPSON PS3228 Gas Pressure Washer – Best Overall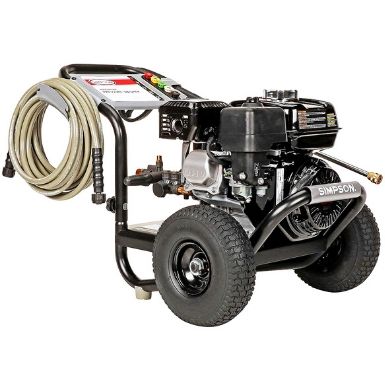 This pressure washer is made in the U.S., with foreign and domestic components. The Honda GX200 engine is a powerhouse at cleaning pavement and fences and removing graffiti, to name a few uses. With its AAA industrial triplex plunger pump that has 3,300 PSI and 2.5 GPM, it provides consistent water flow when running.
It comes with five nozzles that have different patterns ranging from pinpoint to wide fan. These nozzles are all quick connected, making it a breeze to switch between them. We did find that the included heavy-duty 5/16-inch, 25-foot hose tends to kink and show signs of wear easily.
The frame is heavy-duty and will hold up to the toughest of jobs for a long time, and it's portable with its large 10-inch pneumatic wheels. Though it weighs 138 pounds, the compact design made it easy to load. On the downside, a tall person could have difficulty maneuvering this washer due to how small it is.
The Simpson is easy to assemble and has a great warranty that is hard to beat: The engine has a limited three-year warranty, and the pump comes with a limited five-year warranty.
All in all, we think this is the best gas-powered pressure washer on the market.
Pros
Made in the U.S.
Powerful engine
Great warranty
Five quick-connect nozzles
Heavy-duty hose
Compact
---
2.

STANLEY Gas Pressure Washer – Best Value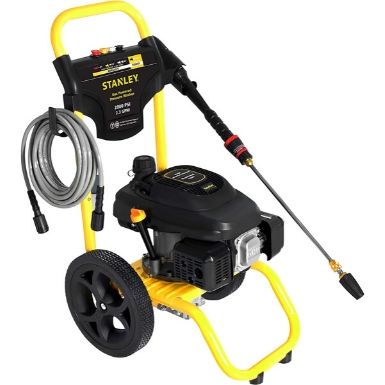 The Stanley is a well-known brand and offers the best gas pressure washer for the money. It has 2,800 PSI at 2.3 GPM, which provides efficient cleaning for all your home projects. The pump is a maintenance-free OEM Technologies vertical axial cam that is rated to perform for many years.
We found that the Stanley is not as powerful as the Simpson, but it still did a good job cleaning. Overall, it is smaller and more compact, weighing only 71.8 pounds, so we liked how easy it was to transport. The 12-inch never-flat wheels aren't as smooth pneumatic wheels, but these are large enough to move the unit over rough terrain.
It comes with four nozzles that were easy to connect, and it has a durable, non-kink hose. There is an adjustable pressure regulator that allows you to increase the pressure for dirtier jobs or decrease it for more fragile areas. It is straightforward to set up and use, and it starts up on the first pull each time.
The limited warranties on this product are also great. The engine has two years, the pump one year, and the frame a five-year warranty. Since the Stanley is a smaller machine with less power, it's not best suited for commercial cleaning, which is why it didn't reach our number-one spot.
Pros
Affordable
Maintenance-free pump
Small and compact
Lightweight
Non-kink hose
Adjustable pressure regulator
Easy to use
Cons
Not for large jobs
Rough roll
---
3.

WEN Gas Pressure Washer – Premium Choice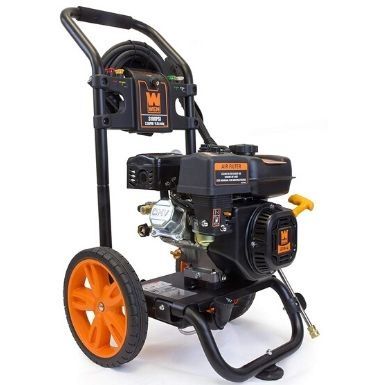 The WEN is a powerful pressure washer with a 208cc engine and an Axial cam pump that provides 2.5 GPM and 3,100 PSI. It works well to remove tough grime from vehicles and house siding, making it all look as good as new.
There are five quick-change nozzles, with a place to store them directly on the machine. The wand is 42 inches with a lockable trigger. We found the extra length of the 30-foot hose beneficial in not having to move the whole unit around as much, thus saving time.
It didn't start as easily as the Stanley, but once it got going, it ran well. The 12-inch never-flat tires roll effortlessly over different terrain, though they aren't as heavy-duty as one might expect.
This unit comes with a two-year warranty and a network of skilled technicians on their customer phone line ready to help if needed. This model offers many of the same great features as the Simpson and the Stanley, which is why it is our premium choice.
Pros
Powerful
Quick-change nozzles
Nozzle storage
30-foot hose
Lockable trigger
---
4.

Generac 7122 Gas Powered Pressure Washer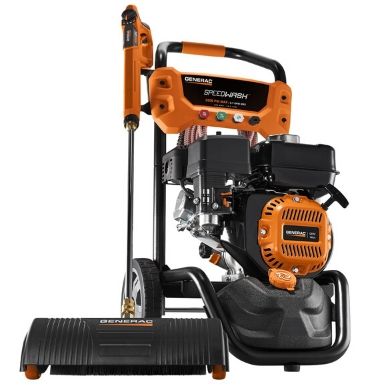 The Generac offers a few features that we haven't seen on this list yet. One is a power broom attachment to aide in cleaning more in a shorter amount of time. Another is a soap blaster nozzle designed to spray soap three times farther than the standard soap nozzle. The axial cam pump has brass headings that will make it last longer than typical aluminum head pumps.
It has a 196cc engine with 3200 PSI at 2.7 GPM, which will provide adequate power to clean just about anything. The 30-foot, high-pressure hose designed to resist kinking did well when we put it to work. There are four nozzle tips, with a place to store them on the unit. One nice feature is the power dial on the handle, which allows you to adjust the power of the spray for four different tasks.
We found the controls to be user-friendly, and the power broom attachment works well for cleaning patios to loosen up the dirt even further. It is designed with longevity in mind, but the hose is close to the muffler, which has the potential to melt parts if care is not taken. Also, the wand holder doesn't support the wand well because it won't stay in place with any movement from the machine.
This pressure washer is on the more expensive end but does have features that the others don't offer. It also comes with a three-year warranty.
Pros
Power broom attachment
Soap blaster nozzle
Brass head-on pump
Powerful
Power dial on the handle
Four nozzle tips
Durable hose
Cons
Hose near muffler
Wand holder flimsy
Pricey
---
5.

Champion 100384 Gas Pressure Washer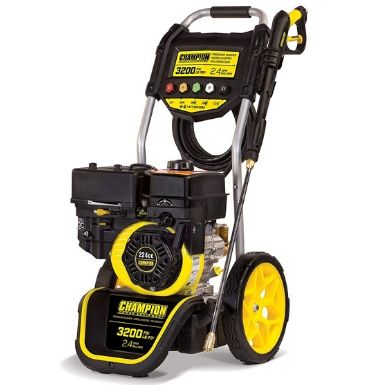 The Champion has a large 223cc engine with 3,200 PSI at 2.4 GPM. It's easy to start in a single pull and runs smoothly the whole time it is used. It cleans everything well even when using the lower pressures. The axial cam pump provides steady pressure, and the engine is designed with a low-oil shut-off sensor.
The 25-foot high-pressure hose resists kinking, but it is stiff and sometimes difficult to manage. It comes with five quick-connect nozzles that can be stored on the panel near the handle. The wand holder holds the wand in place well when not in use.
This washer has 12-inch never-flat tires that make it easier to maneuver through rough terrain, though they are loud when rolling across the concrete. It offers two half-gallon detergent tanks with a three-foot detergent hose, so you can get more cleaning done in one shot.
The frame is durable and made from steel, and it has a dolly-style design that makes it easy to maneuver. It is EPA and CARB compliant, and there is a two-year limited warranty with free lifetime technical support on this unit.
Pros
Affordable
Powerful
Easy to use
Five nozzles
Two detergent tanks
Durable
Cons
Hose retains memory
Wheels noisy on hard surfaces
---
6.

PowerBoss 20649 Gas Pressure Washer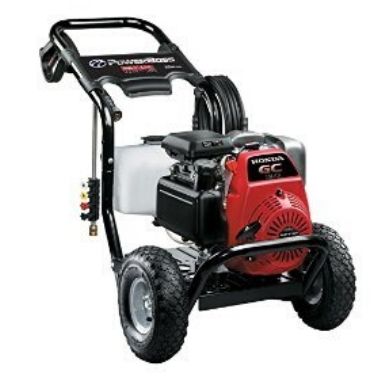 This pressure washer is powered by a 187cc Honda engine that is a great option for home or at the job site. It has a max PSI at 3,100 at 2.7 GPM, which is tested and verified by an independent lab. It's easy to start and runs smoothly and quietly for the duration of cleaning.
There are four quick-connect tips that attach and store on the steel spray wand. The 25-foot pressure hose is flexible and durable, made to handle high amounts of pressure. The soap tank will hold one gallon, and you can add any type of detergent.
The 10-inch pneumatic wheels are wide and adequately absorb the shock when rolling over rough terrain. It's lightweight and easy to maneuver one-handed while operating the wand. On the negative side, you cannot adjust the pressure levels outside of the nozzle tips, and some reviewers have mentioned that they have had trouble with oil leaking from the engine over time. But on the other hand, it comes with a 24-month consumer warranty and a three-month commercial warranty.
Pros
Powerful
Quiet
Four tips
Durable pressure hose
Functional wheels
Cons
Pressure adjustment
Possibility of oil leaking
---
7.

Ford Gas-Powered Pressure Washer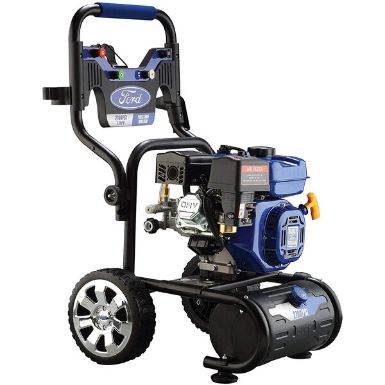 The Ford pressure washer features a 180cc engine with a three Piston Axial Cam Pump. It has 2,700 PSI at 2.3 GPM, which makes this washer better at tackling smaller jobs around your home. It's easy to assemble and starts on the first pull.
The frame is durable, but the soap tank and the wheels are lacking in quality and made of plastic, so they may wear down faster over time. We did like the option to fold down the cushion-grip handle for easier storage. The 25-foot high-pressure hose can be used with the included four quick-connect nozzles.
These nozzles are conveniently stored on the unit, and there are no issues connecting them to the wand. The wand rests along the side of the frame and stays in place while starting and moving the unit around.
Unfortunately, it's loud when running, and the hose is somewhat rigid, making it harder to coil. It is EPA and CARB approved and comes with a limited two-year manufacturer warranty.
Pros
Great for small jobs
Durable frame
Fold-down handle
Durable pressure hose
Four nozzles
CARB approved
Cons
Many plastic parts
Loud
Hose hard to coil
---
8.

CRAFTSMAN Gas Pressure Washer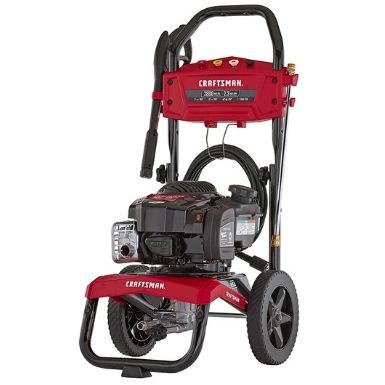 The Craftsman is the second pressure washer on the list to be made in the U.S. with global materials. It offers an engine that is easy to maintain — no prime, no choke, and no need to ever change the oil. This generator is a good option for smaller jobs around the house, since it has a 163cc engine with 2,800 max PSI at 2.3 GPM. It offers a dependable axial cam pump for output that is high in pressure.
There are four quick-connect nozzles, stored on the machine handle. This handle also folds down for easy storage. The hose is 25 feet long and is flexible and easy to work with, though you'll have to watch for kinking.
The soap system is different from the others because you can use your own 32-ounce concentrated soap (with the supplied lid and tube) or inject the detergent directly into the water stream through the siphon hose. This is nice because there is no detergent stored in the machine to potentially clog the hoses.
The Craftsman is backed by a limited three-year warranty on the frame and a limited two-year on the engine and equipment.
Pros
Made in the U.S.
Easy-to-maintain engine
Fold-down handle
Flexible pressure hose
Direct soap system
Four nozzles
Cons
Lower power
Hose kinks easily
---
9.

Duromax Gas Powered Pressure Washer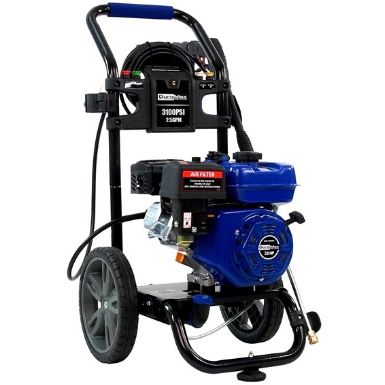 This pressure washer has a 7-HP engine with a low-oil shutdown feature and delivers 3,100 PSI at 2.5 GPM.
It comes with six quick-connect nozzles, with one being a turbo nozzle to add extra pressure for grimy jobs. The spray gun has a cushion grip with a safety switch that has to be disengaged to operate it.
We liked the rear hose connections making it convenient and easy to access. Unfortunately, the wand holder is attached with plastic rivets that are low quality and have the potential to break easily. We found that the soap dispenser doesn't work as effectively as the others on this  list. The washer is also loud when operating.
The wheels are large but are made from plastic and noisy when pulled along a hard surface. It comes with a one-year DuroMax parts warranty.
Pros
Good power
Six nozzles
Safety switch on the spray gun
Rear hose connections
Cons
Low-quality rivets
Poor soap dispenser
Loud
Plastic wheels
---
10.

Briggs & Stratton Gas Pressure Washer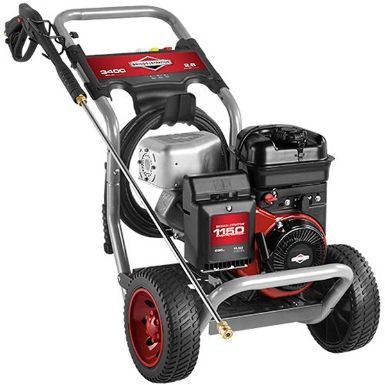 Last on the lineup is the Briggs & Stratton with a large 250cc engine and a max PSI of 3,400 at 2.5 gallons per minute. It has the power to clean, but it is a large pressure washer, and the handle does not fold down, making it difficult to store.
It has a detergent siphon system to assist with faster and easier cleaning, though it's more difficult to use compared to a detergent tank. It comes with four quick-connect nozzles that attach easily to the 30-foot hose. We found the hose to be mediocre and not as durable as the others on this list. It's also difficult to fold the hose onto the on-board hook since it faces the inside of the unit.
The wheels are small and located at the front, which decreased maneuverability and made it difficult to maneuver over rough terrain. There is a limited 24-month consumer warranty and a limited three-month commercial warranty.
Pros
Powerful
Hose length
Four nozzles
Cons
Poor warranty
Difficult to store
Less durable hose
Poor wheel placement
Hose hook hard to access

Buyer's Guide – Choosing the Best Gas Pressure Washer
Pressure washers can help beautify your home, saving you precious time and money in the long run. But you do need to purchase the one that works well at cleaning the areas you want to tackle. To pick a good pressure washer, you need to know its features and how they help make cleaning easier.
Standard Features
Pump: There are two types of pumps. The axial pump is good for small jobs around the home and is easy to use and maintain. The Triplex pump is best for frequent use but does require more maintenance to ensure that it will last for many years.
Engine: The size of the engine and the horsepower will directly relate to how much pressure and volume the pump can produce. The more power the engine has, the greater the PSI and GPM the pump will produce.
Interchangeable nozzles: All pressure washers come with four to six nozzles that provide a different type of spray or to spray soap. They are almost always a quick-connect system, making them easy to switch from one to another.
Cleaning power: This is measured by pounds per square inch (PSI) and gallons per minute (GPM). To figure out the total cleaning power of the unit, multiply PSI by GPM. PSI ranging from 2,000 to 3,000 (up to 2.8 GPM) is best for light work at a residential level. If you want a professional-grade washer, you will need to find one that has 3,000 to 4,000+ PSI (up to 4.0 GPM).
PSI: This is the force of water created through the pressure washer, telling you how powerful the stream will be.
GPM: This measures the volume of water going through the pressure washer, telling you how fast it will clean.
Onboard detergent tanks: These conveniently hold the soap and dispense it as you clean. Some tanks are larger than others and others don't even come with tanks.
Wheels: Portability is an important feature, with wheels being the main feature. The size of the wheels, where they are located, and what they are made of will be different on each model.
Onboard storage: This is how much can be directly stored on the machine and how well it will store/hold it. Most will have a place for the pressure hose, nozzles, and wand.
Pressure hose: Not all hoses are made equally — some will be made to prevent kinking but are difficult to maneuver, while others may be too flexible, causing kinks and easily showing wear and tear. Keep in mind the length of the hose, as the shorter it is, the more often you will have to keep moving your machine.
Accessories: Some washers may come with certain accessories, such as brushes, extension wands, angled wands, or different chemicals for cleaning.
Considerations
Maintenance: This will depend upon the model — reading your owner's manual will help — but most gas models will need a regular air filter, oil, and spark plug changes. Inspect your pressure washer regularly and take care of any concerns before using it again.
Warranty: Offering at least a one-year warranty is ideal. Extended warranties that cover the motor are also a plus. The company should provide great customer service and be willing to answer any questions or offer help with any problems that arise.
Ease of storage: Gas-powered washers will be on the larger end, with certain ones offering fold-down handles and a more compact design.
Cost: As the power and features increase, so does the price of the pressure washer. Basic washers for light-duty work will be more affordable.

Conclusion
When trying to determine which gas-powered pressure washer is best for you, think about what you will be using it for and how often. In our reviews list, we showcased 10 pressure washers with different features, each having their own pros/cons.
The Simpson was our top choice — its powerful Honda engine, durable design, and great warranty make it an all-round steady option. The Stanley is our best value pick, with its compact style and enough power to tackle a variety of light-duty jobs around the house, all at an affordable price. If it is premium features you want, then the WEN pressure washer has the power to cut through any dirt or grime as a quality machine that will last for many years.
With so many different pressure washers on the market, it can be difficult to find the right one that will clean well. Our reviews list and buyers guide were put together to reduce your frustration and help you choose a great machine.