9 Best Generators for Travel Trailers in 2023 – Reviews & Top Picks
Travel trailers open up a wide choice of possibilities of where you can go to enjoy fun and relaxation. While you may be all in for the camping lifestyle, you may not want to give up all the comforts of home — especially when you pull up to a site with no hook-ups. In these instances, it's smart to have a generator.
When you bring along the right generator, you can power up devices, work appliances, and even run air conditioning. With such a large selection of generators available, you may find it difficult to select the best one for your next trip.
We've put together a list of the top nine generators for your travel trailer, ranking and reviewing our top picks. Included are pros and cons lists to sum up what to expect with each product, as well as a buyer's guide. In this section, we'll go deeper into the important factors you should consider before making a purchase.
---
A Quick Comparison of Our Favorites in 2023
Rating
Image
Product
Details

Best Overall

Champion 100263

Dual fuel system
Low-oil shutoff sensor
Economy mode
CHECK PRICE

Best Value

A-iPower SUA2000iV

Clean power output
Lighter than comparable units at 46 pounds
Equipped for parallel operation
CHECK PRICE

Premium Choice

Honda EU3000IS1A Super Quiet

Fuel efficient
Quiet operation
Clean power output
CHECK PRICE

Westinghouse iGen1200

Quiet operation
Clean power output
Parallel capability
CHECK PRICE

WEN 56200i

Versatile control panel
Parallel capable
Clean power output
CHECK PRICE
The 9 Best Generators for Travel Trailers
1.

Champion 100263 RV Generator – Best Overall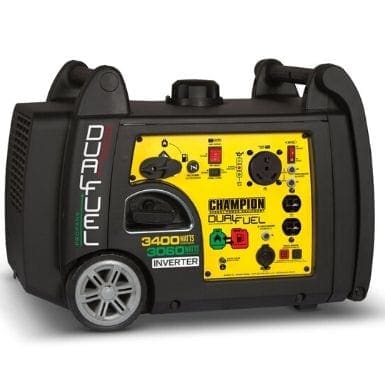 Our top pick for the best generator for a camping trailer goes to the Champion RV Ready portable inverter generator. This 3,400-watt portable generator provides you with a duel fuel system that runs on either gas or propane for up to seven and a half hours of run time. In addition, the Champion comes with a low-oil shut-off sensor and an economy mode to extend the engine life while running quieter and more efficiently.
This generator provides clean electricity for powering sensitive devices and electronics. You can also enjoy the ease of the electric push-button start and the convenience of the quick-touch control panel.
Finally, we found that this generator runs moderately quietly, with the exception of running at full capacity, and is portable thanks to a wheel kit. However, it does not have parallel capability. A propane hose is included at purchase, but we learned about issues of it not arriving in working condition. Overall, we believe this is the best generator for travel trailers on the market today.
Pros
Dual fuel system
Low-oil shutoff sensor
Economy mode
Clean power output
Electric push-button start
Quick-touch control panel
Cons
Runs only moderately quietly
Included propane hose may arrive damaged
No parallel capability
---
2.

A-iPower Portable Inverter Generator – Best Value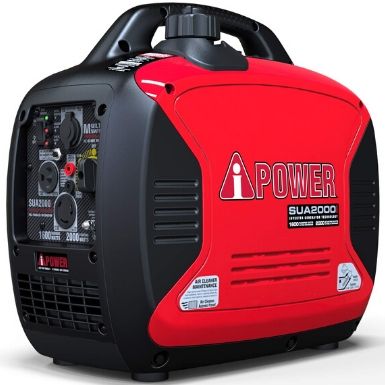 If you're looking for the best generator for travel trailers for the money, consider the A-iPower portable inverter generator. Providing clean power for up to seven hours of running time, this 2,000 watt generator has 79cc A-power engine. It's portable at 46 pounds and comes with a convenient multi-switch for easy operation, a built-in fuel gauge, and a DC adapter plug.
We found that it runs moderately loud on its highest level and that this smaller sized generator may not be up to powering an air conditioning unit or every electric need in a medium or large travel trailer. However, this product is built, and includes cables, for parallel operation to link two generators for double the power output.
Pros
Best value
Clean power output
Lighter than comparable units at 46 pounds
Features include multi-switch, fuel gauge, and DC adapter plug
Equipped for parallel operation
Cons
Runs moderately loudly
Lacking in power output
---
3.

Honda Portable Inverter Generator – Premium Choice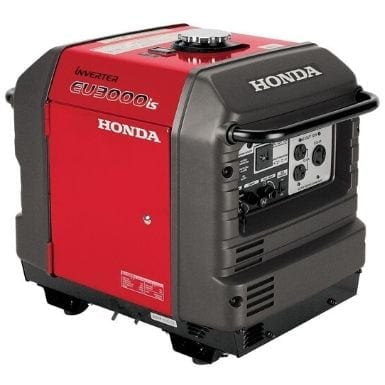 For its fuel efficiency, quiet operation, and powerful output, you'll understand why we chose the Honda portable inverter generator as our premium choice. The Honda can run up to 20 hours on a single tank of 3.4 gallons of fuel. It's so quiet, you can hold a conversation while standing beside it, even on its highest setting. Plus, this inverter generator provides ample clean power to run nearly all your appliances and an air conditioning unit.
Of course, all these features, power, and efficiency come at a higher price. The Honda is a heavier unit and does not include a wheel kit to help with transport. Furthermore, this product lacks parallel capability. We discovered that this generator tends to run through oil quicker, but it does include a low-oil alert and automatic shutoff.
Pros
Fuel efficient
Quiet operation
Enough power to run appliances and AC
Clean power output
Low-oil alert and automatic shutoff
Cons
Expensive
Heavy and difficult to transport
No parallel capability
Runs through oil quicker
---
4.

Westinghouse Portable Inverter Generator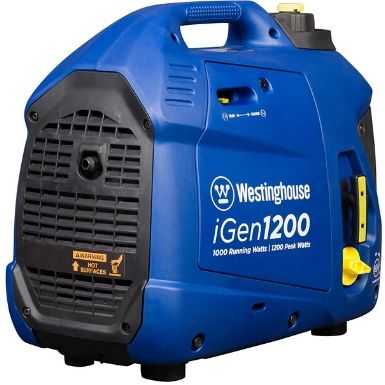 For a powerful choice that runs quietly and is built for portability, you may want to consider the Westinghouse portable inverter generator, able to run most of your appliances with clean, stable power. You won't have to worry about noise, since the Westinghouse is among the quietest generators on this list.
Perhaps the most convenient feature of this product is its lightweight construction at 33 pounds, with an included suitcase-style handle for easy transport. In addition, the Westinghouse gives you the option to amplify your power outage with parallel capability. Unfortunately, the parallel cord is sold separately.
We placed this generator fourth for its lack of quality control and slow customer service. Some units experienced major operational issues at purchase or after brief use. While customer service was helpful, replacements and repairs seemed to take longer than expected.
Pros
Powerful enough to run most appliances
Quiet operation
Extremely portable and lightweight
Clean power output
Parallel capability
Cons
Parallel cord sold separately
Quality control issues
Slow customer service
---
5.

WEN 56200i Portable Inverter Generator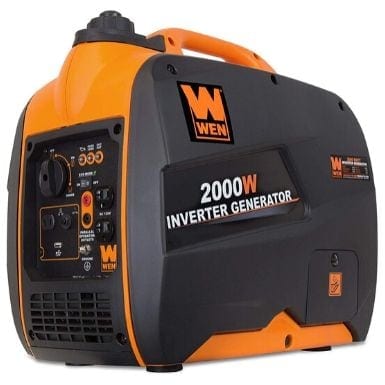 You'll be able to run a fair number of appliances and power up various devices and other vulnerable electronics on clean energy with the Wen portable inverter generator. This 2,000-watt inverter generator comes with a versatile panel, which includes two three-prong receptacles, a 12-volt DC receptacle, and a 5-volt USB port.
At 48 pounds, the Wen can be easily transported, thanks to a convenient carrying handle. As an option, this generator is parallel capable. Keep in mind, however, that you will need to additionally purchase a Wen parallel connection kit.
The Wen offers eco-mode to maximize fuel efficiency and quiet operation. However, it is considerably louder on its regular setting. We also learned about quality control and durability issues, with some models breaking down.
Pros
Versatile control panel
Convenient carrying handle for portability
Parallel capable
Eco-mode for fuel efficiency and quiet operation
Clean power output
Cons
Need to separately purchase parallel connection kit
Loud operation when not in Eco-mode
May have quality control issues or breakdowns
---
6.

Briggs & Stratton Portable Inverter Generator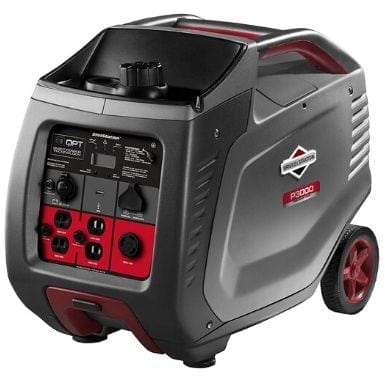 You can run this Briggs and Stratton portable inverter generator on a full tank of fuel for up to 10 hours of continuous operation at 25% load. It has enough clean power to run an air conditioning unit and sensitive electronics. It also has a detailed LCD screen that allows you to assess the amount of power output, hours of use, and maintenance reminders.
This Briggs and Stratton model employs quiet power technology, which adjusts the 30545s engine speed to reduce noise levels, improve fuel efficiency, and limit emissions. While this technology works well to an extent, we found that this generator still runs louder than the other products on this list.
Another helpful feature of this generator includes parallel capability through a dedicated parallel connector port. Despite its heft at 96 pounds, you'll be able to maneuver and easily transport this generator due the durable six-inch wheels and telescoping handle. However, breakdowns and quality control are concerns.
Pros
Long running time and powerful
Detailed LCD screen
Clean power output
Parallel connector port
Easy to transport and maneuver
Cons
Louder than other similar products
Heavier at 96 pounds
Quality control issues and possible breakdowns
---
7.

Westinghouse Portable Generator
The plug-and-play feature of the Westinghouse portable generator means that this product gives you everything you need at purchase, including oil, an oil funnel, a tool kit, and a user's manual. This model has a heavy-duty build with a steel frame and is portable with roll bars, durable wheels, and a built-in handle. It can run up to 18 hours on a single tank due to a high running and peak wattage. The inverter design provides clean power output.
The convenient control panel includes a variety of receptacles for various needs. The Westinghouse has added safety features including outlets with rubber covers and an automatic low-oil shutdown. The four-gallon fuel tank comes with fuel gauge.
This portable generator does run as quietly as it claims. However, this product falls lower on our list due to multiple quality control issues, poor packaging that may lead to shipping damage, and lack of parallel capability.
Pros
Plug-and-play feature
Heavy-duty build and easy portability
High running and peak wattage
Clean power output
Multiple receptacles
Safety features
Quiet operation
Cons
Multiple quality control issues
Poor packaging leading to shipping damage
No parallel capability
---
8.

Yamaha Gas Portable Inverter Generator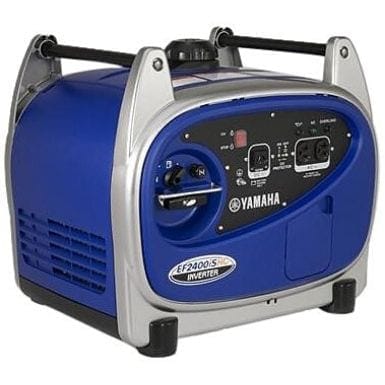 You'll be able to power up an air conditioner in your travel trailer with the technology included in the Yamaha gas-powered portable inverter generator. It produces a clean power output, so you can run electronics and recharge devices with confidence.
Yamaha boasts that its generators have high-emission engine durability ratings issued by the Environmental Protection Agency and the California Air Resources Board. Plus, this generator includes helpful features such as a fuel gauge, smart throttle and oil watch warning system.
However, this product is listed second to last on our list for several factors. Compared to other generators we reviewed, the Yamaha is more expensive, less fuel efficient and lacking in portability due its heavier weight at 75 pounds. Additionally, this generator does not offer an eco-mode or parallel capability. And finally, as with other generators on our list, quality control is a concern.
Pros
Able to power up an AC unit with ease
Clean power output
High emission engine durability
Features: fuel gauge, smart throttle and low-oil warning
Cons
Expensive
Less fuel efficient
Lacking in portability
No eco-mode
No parallel capability
Quality control issues
---
9.

Pulsar Portable Inverter Generator
Last on our list, the Pulsar portable gas-powered inverter generator runs at a peak of 2,300 watts and a running wattage of 1,800 with relatively good fuel efficiency using 1.18 gallons of fuel in up to six hours of operation. Plus, you can increase the power output with the included parallel capability. Also, this generator offers Sine Wave technology which produces clean power output through multiple outlets and a direct connect USB port. And finally, the compact suitcase design will help you to relatively easily transport this 47-pound, rather lightweight generator.
A few issues place the Pulsar at the bottom of our list. As a practical concern, the layout design of this generator makes conducting an oil change extremely difficult and messy. Furthermore, the Pulsar only runs quietly on a lower setting and increases in volume as it works harder. And, finally, we discovered the start-up takes several attempts and this generator lacked overall performance and dependability.
Pros
Powerful wattage and fuel efficiency
Parallel capability
Clean power output
Portable and relatively lightweight
Cons
Impractical design for oil changes
May run loudly on higher settings
Difficult to start-up
Lacking in consistent performance
Undependable operation
---
Buyer's Guide – Purchasing the Best Generator for Travel Trailers
Hopefully as you read through our reviews of our top nine picks along with our handy pros and cons list you've narrowed down your search for the best generator for you travel trailer. Before you make a purchase and hit the road to your next travel destination, take a quick moment to read through our informative buyer's guide. Here, we'll discuss important factors to understand before you invest in a generator.
Why Inverter Technology is Important
In every product we reviewed today, clean power output is listed in the pros list and for good reason. Using clean power means it's safe for all your electronics including televisions, phones, laptops, and other sensitive devices and equipment. Technically speaking, the inverter makes sure the raw power is converted from DC to AC output. While non-inverter generators are available for purchase, you'll want to avoid those models for hooking up to your travel trailer. Instead, you'll want to make sure you're buying an inverter generator. Otherwise, you're sure to run into vital issues and risk damage to your electronics and devices.
Wattage and Parallel Capability
As you consider which generator to purchase, you need to calculate the amount of wattage your travel trailer's appliances and air conditioner will require to work properly. Your air conditioning unit or system will most likely pull the most power. Some of the products we reviewed in this article may not produce enough power.
Also, when you're looking at wattage values, be sure to give more consideration to the running wattage as opposed to the peak wattage. Unless you don't mind going through fuel rapidly, you'll most likely run your generator on a lower wattage.
A smart way to increase your wattage output is to increase the number of generators you have running from one to two. With parallel capability, two generators of a similar make and from the same company can work together to significantly boost your power output. Be aware of your budget since you're essentially doubling your purchase. Also, make sure you have the correct cables for connectivity if they're not included at purchase.
Economy Mode for Maximum Fuel Efficiency
Your best bet for fuel efficiency is buying a generator with an economy mode. As you know, expenses can add up quickly when you head out with your travel trailer. Owning a generator with an eco-mode function can cut back on fuel costs. When you use this mode, the generator's engine automatically adjusts the engine speed to produce only the power needed for the application in use. Therefore, you only use the minimal amount of fuel you need to produce the exact power necessary without being wasteful. Plus, eco-mode tends to produce a lower noise level.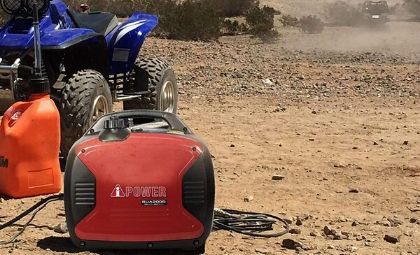 Did you hear someone say, "Noise Level"?
When you're trying to enjoy the peace and quiet of nature from the steps of your travel trailer, it doesn't help matters to have it interrupted by the revving engine sound of noisy generator. Unfortunately, a certain level of noise is inevitable when running a generator. Today's manufacturers understand this issue and many of the generators produced for 2020 run quieter than their predecessors. Still, some generators perform more quietly than others. In our reviews, we made sure to highlight which generators made the pros lists for quiet operation.
Portability and Transport
Although their descriptions may cite the word lightweight, generators tend to be heavy. Unless you're in tip top physical condition, you'll need a generator that has some modifications to make easy work of transporting it from your travel trailer to where you need to set it up for operation. For the heavier models of over fifty pounds, a wheel kit or built-in durable wheels are a must for maneuvering your generator back and forth. Lighter generators of around twenty pounds are more portable. Look for products with a sturdy handle for your convenience.
Safety and Maintenance
Finally, before you purchase your generator, make sure the manufacturer supplies clear and thorough directions for overall operation, necessary maintenance and safety concerns. Generators can be a great addition to any camping trip as long as they're operated and stored properly. You don't want toxic fumes or a potential fire hazard to ruin your next adventure away from home.
Also, as for maintenance, some generators go through oil quicker than others. When the oil is too low or completely out, your generator will cease to function. To avoid a breakdown, look for generators that have low-oil indicators. Better yet, a low-oil automatic shutoff feature can save your generator from severe engine damage.
---
Conclusion
The Champion 100263 RV Ready Portable Inverter Generator top our top pick for the best overall product for performance, dependability and features. The Champion has a dual fuel system, low-oil shutoff sensor, an electric push-button start and a quick-touch control panel. Plus, this inverter generator provides clean power output and extra fuel efficiency with an economy mode. Its only drawbacks are that it runs only moderately quiet, doesn't offer parallel capability and some products came with a damaged propane hose.
The A-iPower SUA2000iV Portable Inverter Generator is our choice for the best value for the money. This inverter generator offers a clean power output, is equipped for parallel operation and is lighter than comparable units at 46 pounds. Plus, at a great price you get helpful features such as a multi-switch, a fuel gauge and a DC adapter plug. It does have a few cons including operating moderately loudly and lacking in power output.
Finally, the Honda EU3000iS Portable Inverter Generator is undoubtedly our premium choice. With pros including fuel efficiency, quiet operation and clean power output, this Honda also delivers with enough power to run appliances and your air conditioning system. Plus, it includes a low-oil alert with an automatic shutoff. These extra features and ample power do come at a higher price. Also, this generator may be listed as portable, but it is heavy and difficult to transport. And, it does not come with parallel capability.
By now, you should be well on your way to investing in the best generator to power up your devices, work your appliances or run your air conditioning unit in your travel trailer. We hope our reviews, pros and cons lists and our buyer's guide have helped you to become a more informed consumer. With the best dependable and powerful generator, you can enjoy all the comforts of home when you're far from electrical hook ups.
Related Reads: