6 Best 4000W Portable Generators of 2023 – Reviews & Top Picks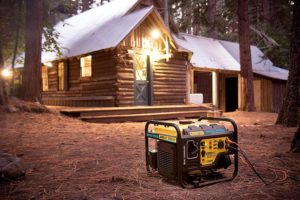 Power outages are more than an annoyance. They are expensive for both households and businesses. They cost the economy about $150 billion each year. A survey by the S&C Electric Company quantified these losses with some surprising results. The data tell the story.
About 41% of respondents experienced an average outage of 5–59 minutes, with 26% without power for over an hour.
Nearly half had one or more outages a year: for 21%, it was a once-a-month occurrence.
That's what makes getting a portable generator such a smart idea. It can act as your backup quarterback when the lights flicker, and the TV goes dark. However, buying one is more complicated than it sounds. These products vary widely in their feature sets and usability.
Our guide will shine the light on the things you need to know. We've done the heavy lifting to help you make the best choice for your home. We've also included reviews of some of the top products to make comparison shopping easier.
---
A Quick Comparison of Our Favorites in 2023
Rating
Image
Product
Details

Best Overall

WEN GN400i Inverter Generator

Quiet
Fuel efficient
Lightweight
CHECK PRICE

Best Value

Durostar DS4000S Portable Generator

Baked-in voltmeter
Affordably priced
Tools included
CHECK PRICE

Premium Choice

Champion 100302 Portable Generator

Hybrid engine
Reliable cold-weather start
RV outlet
CHECK PRICE

All Power America APGG4000 Portable Generator

Well-made
Wheels with tire kit
Easy to start
CHECK PRICE

A-iPower AP4000 Manual Start Generator

Lightweight
Wheels included
CHECK PRICE
The 6 Best 4000-watt Portable Generators
1.

WEN GN400i Inverter Generator – Best Overall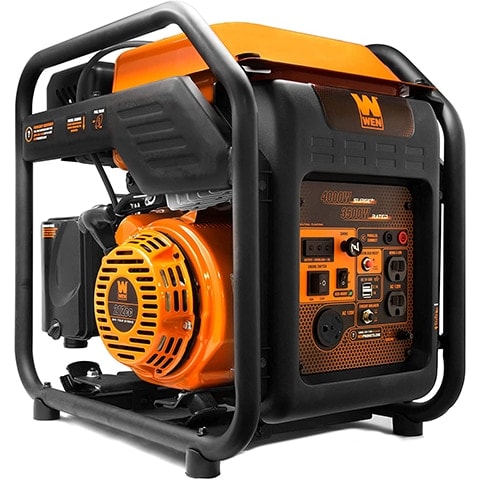 The WEN GN400i Inverter Generator ticks off a lot of boxes as a user-friendly model that provides reliable power. The 4-stroke engine is CARB-compliant. It's also reasonably quiet at 57 dB. That's because it is an inverter, which cuts down the noise without sacrificing efficiency. The tank size is 1.85 gallons and will provide you up to 7 hrs of juice at 50% capacity.
This generator is lightweight at just over 66 pounds. Unfortunately, it doesn't have wheels. However, there are some heavy-duty handles to move it. Its dimensions are 19.8″ L x 13.8″ W x 18.9″ H. We appreciated the indicator lights that include low oil. It has an RV outlet, along with a TT-30R outlet, two 120-volt NEMA 5-20R receptacles, and two USB ports. It comes with a 2-year warranty. All in all, we think this is the best 4000 watt generator on the market this year.
Pros
Quiet
Fuel efficient
Lightweight
Informative display
Cons
No wheels
Small fuel tank
---
2.

Durostar DS4000S Portable Generator – Best Value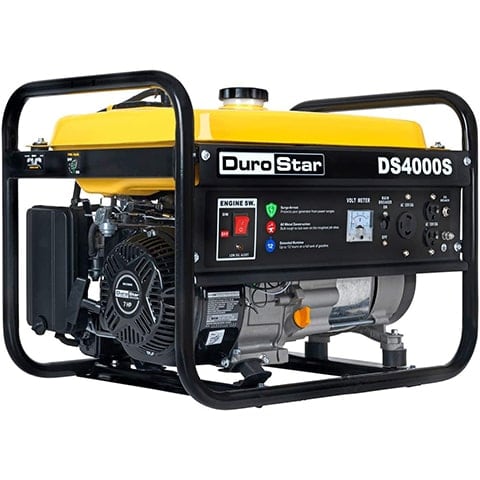 The Durostar DS4000S Portable Generator is one of the best 4000-watt portable generators for the money. It has a 4-gallon tank on its 24" L  x 17" W  x 17" H frame. It weighs in at 94 pounds, which is heavy, considering that there aren't any wheels. The noise is a tad high at 69 dB. However, a pre-installed muffler keeps it at a bearable level.
The air-cooled engine isn't as fuel-efficient when compared with similar models with its 8-hour runtime. However, it is EPA compliant. The generator comes with some extra tools, including an oil funnel and spark plug wrench. It has one 120-volt 30-amp outlet and two 20-amp receptacles. It comes with a 3-year limited warranty.
Cons
Fair fuel efficiency
Heavy
---
3.

Champion 100302 Portable Generator – Premium Choice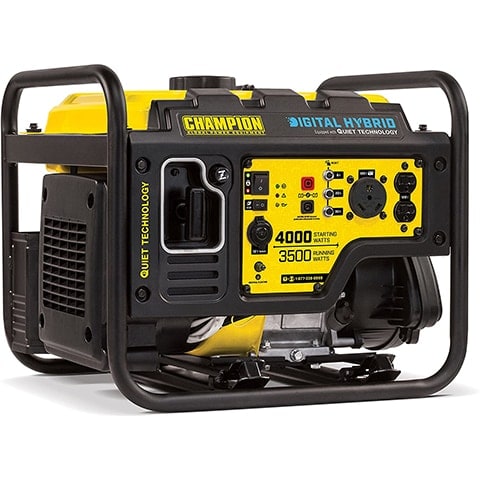 The Champion 100302 Portable Generator optimizes fuel efficiency with a hybrid engine that will also run on propane. It gets up to 17 hours of runtime on 2.9 gallons of fuel. Its footprint is reasonable for its size at 20.5" L  x 17.9" W  x 17.7" H, weighing in at 81.6 pounds. Unfortunately, it also doesn't have wheels. On the plus side, there are two 120-volt outlets, a 12-volt DC, and an RV receptacle.
The engine is quiet at 64 dB. It also has an economic mode, which increases its fuel efficiency even more while dialing down the sound a notch. On the downside, it is pricey. However, you can get your ROI back quicker if you use it for camping. The interface is user-friendly with visible lettering. While it has a manual start, advanced technology makes it reliable. It comes with a 3-year limited warranty.
Pros
Hybrid engine
Reliable cold-weather start
RV outlet
Fuel efficient
---
4.

All Power America APGG4000 Portable Generator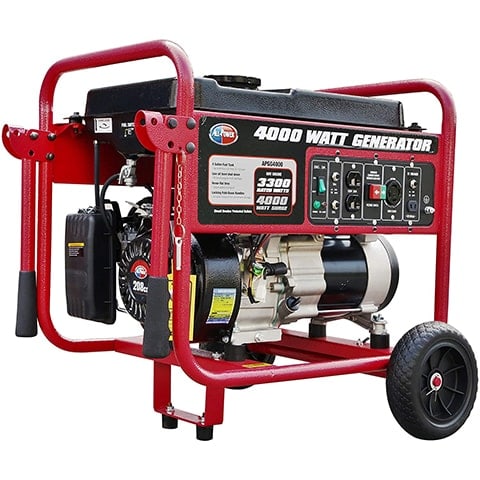 The All Power America APGG4000 Portable Generator stands out as the heaviest product on our list, weighing in at over 136 pounds. This one is a beast. Fortunately, it has wheels to make moving it around less of a task. There's also a Never Flat Wheel Kit thrown in so that you never have to move the hard way. It has a larger footprint, too, at 27.76" L  x 22.24" W  x 18.39" H. The unit has a 4-gallon tank.
While it is EPA- approved, it is not CARB compliant. That perhaps explains its fair fuel efficiency, delivering only 8 hours of runtime at 50% load capacity. It also is a bit louder at 72 dB. On the positive side, it is well-made with its solid frame. The generator is easy to start for a recoil unit. It also has a low-oil shutdown, which we think is a must-have feature for these products.
Pros
Well-made
Wheels with tire kit
Easy to start
---
5.

A-iPower AP4000 Manual Start Generator
The A-iPower AP4000 Manual Start Generator is the lightest of the portable generators that we reviewed at only 65 pounds. It also has wheels. It has a manual start that is quite responsive. The engine delivers 12 hours of runtime at 50% load capacity. The noise level clocks in at 68 dB. The unit measures 23.20" L  x 16.9" W  x 18.5" H.
The generator has only three outlets: one 120-volt 30-amp, one 120-volt 20-amp, and a TT-30R receptacle for RVs. Unfortunately, that makes it less useful for non-campers. The product is also not CARB compliant. There are occasional quality control issues. On the positive side, the control panel includes a voltmeter, which is always convenient.
Pros
Lightweight
Wheels included
Cons
Quality control issues
Only three outlets
Not CARB compliant
---
6.

XtremepowerUS 4000-Watt Gasoline Generator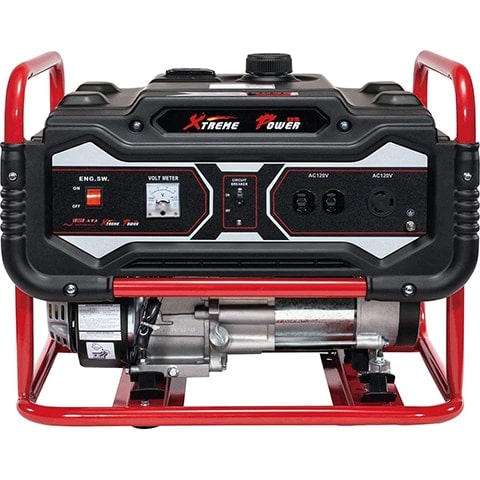 The XtremepowerUS 4000-Watt Gasoline Generator is another huge generator, tipping the scales at 105 pounds. Its dimensions are 18.5" L  x 24.75" W  x 19.5" H. The engine is air-cooled with the usual shut-off for oil. It has three 120-volt outlets, with one for 30-amp and two for 20-amp. It has a recoil start that is relatively easy to use.
The engine provides up to 10 hours of runtime at 50% load capacity. It's a bit inefficient when you consider that it's running on a 4-gallon tank. It's is a bit loud at 67 dB, too. It's also heavy, considering there are no wheels. However, they are easy enough to attach. The product also includes some tools, albeit not of the highest quality.
Cons
Loud
Quality control issues
---
Buyer's Guide – Choosing the Best 4000 Watt Portable Generator
You can think of buying a 4000-watt portable generator as an insurance policy. It can save a fridge loaded with food in case of a power outage. It can keep you comfortable until the electricity fires up again. It's also a must-have if you like to go boondocking in your RV. As you've seen, prices and specs are across the board. That's why it's imperative to plan your energy needs to make a wise choice.
Advances in technology have made these products more efficient, which makes them more useful, especially for extended use. Portable units are typically less expensive than a generator that's on-call all the time. Portability makes them more versatile, too. The features and specs you should consider include:
Type of engine
Fuel capacity, if applicable
Runtime
Size and weight
Outlets
Noise level
Other notable features
Guarantee/warranty
Let's delve into each one, with tips about the things to look for to get the most out of your purchase.
Type of Engine
The most popular portable generators operate on gasoline. They are easy to use and affordably priced. However, the glaring drawbacks are fuel availability and fumes. Planning for an outage is probably not high on your to-do list. Nevertheless, you need a filled gas can around to use it. That also means you cannot run your generator inside your home or garage.
Even though these aren't the largest products out there, they can still put out a lot of carbon monoxide in a short time. The insidious thing about it is that the fumes are colorless, tasteless, and odorless, which makes them especially dangerous. Even the symptoms of poisoning are vague, with signs such as a dull headache.
You should run your portable generator at least 20' from your home to allow for enough circulation. Also, make sure the exhaust is pointed away from the house.
Gas-powered units require maintenance as any engine does. We suggest referring to the manufacturer's recommendations about adding fuel stabilizers to the tank. You'll find products with either a manual or an electric start. The latter is a godsend on a chilly winter day when you need the heat back on fast.
You may also find propane-powered units that have similar disadvantages. A safe alternative is a solar-powered generator. However, the spectator of fuel availability still looms. It's even more of an investment because you'll also must buy batteries to store the power.
Fuel Capacity
You must balance fuel capacity with the unit's load capacity to understand what you can expect from a portable generator. You also must consider its efficiency. The chances are you're not going to run your generator a full capacity to get the most uptime. You may operate it at 50 or even 25% tops. Most units will hold anywhere between 2–4 gallons. The other factor is our next point.
Runtime
The specs you'll see with a product will often list load capacity with runtime. You may find portable generators that run as little as four hours and even up to 17 or more. Let's put this figure in perspective. Food spoilage is probably one of your main concerns during a power outage. Unfortunately, keeping the fridge closed will only go so far toward preventing it.
According to FoodSafety.gov, two hours is the critical time for perishable foods kept over 40 F. Some commercially packaged foods may survive for even longer. The takeaway message is that your portable generator must keep your fridge at a safe temperature for as long as possible so that you don't lose a lot. As a side note, preventing one loss can justify the cost of investing in one.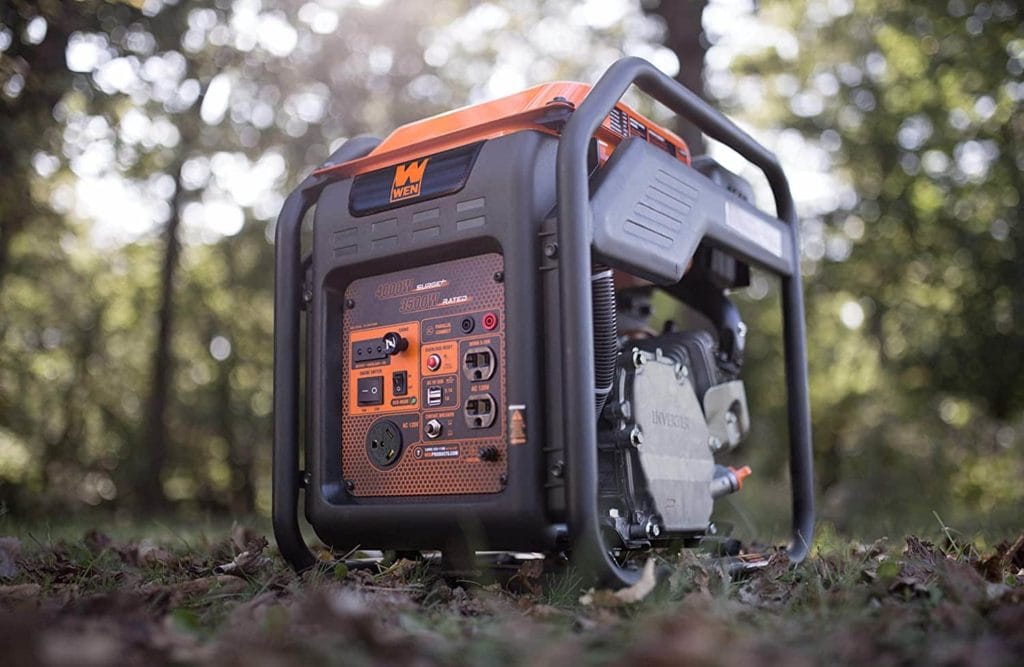 Size and Weight
The size of the generator first depends on where you're going to store it. These products take up a lot of real estate. Of course, quick access is also vital. The other consideration is where you're going to set it up outside. We suggest planning ahead to identify a place that is far enough from the house but with shelter in case of inclement weather.
Then, there is the matter of weight. The key is in the name, a portable generator. We've seen products go from anywhere from 60 to well over 100 pounds. It's not a critical factor if the unit has wheels to make it easy to move. It's a potential dealbreaker if it doesn't.
Outlets
We think four outlets is the minimum you should look for in a portable generator, with at least one 30-amp one to run your fridge. You may find some with a mix of amps to help you allocate the power distribution better. Of course, you also need at least one USB port to keep your phone charged. A 12-volt DC can come in handy, too. Think about what is mission-critical to help you compare products.
If you have an RV, a suitable outlet is a must-have. It'll allow you go camping off the grid for a more rewarding experience—that is, as long as the next criterion is met.
Noise level
One of the major drawbacks of running a generator is the noise. You're already in a stressful situation with the power outage. Most manufacturers will list the average decibels (dB) to give you an idea of what to expect. Anything under 70 or preferably 60 dB is desirable. To put it into perspective, 75 dB is the noise level of a vacuum cleaner. Ambient music is 60 dB.
Remember that you may be having your portable generator running for several hours. Consider what is acceptable to you and your family. If noise is an issue, you might consider looking into an inverter generator. They are more efficient and quite a bit quieter. However, they also have a higher price tag.
Other Notable Features
Portable generators often include those extra bells and whistles that will put one product into the dealmaker category. One feature we like to see is EPA compliance, which denotes a more eco-friendly product. For something that can run for long stretches, it only makes sense. We mentioned a push-start feature, which is desirable. One with a remote is even better.
Usability is the benchmark. That could involve features like a bright LED display for monitoring runtime to parallel capability to auto low-oil shutdown. We prefer a generator that is easy to start, whether recoil or electric. It must also fire up even when it's cold.
Guarantee/Warranty
A guarantee is a no-brainer. You'll likely run your portable generator as soon as you get it to learn how it works. We also think a warranty is a must-have for at least two or preferably three years. Think back to the stats we quoted in the intro. The chances are you're going to run it only once or twice a year. The time when you find you have a faulty product is when you're going to need it most.

Conclusion
The WEN GN400i Inverter Generator tops our roundup of reviews for the best overall product. It's an excellent choice if you need something lightweight that doesn't take up a lot of space. Its main selling point is that it's quiet, so you won't disturb the neighbors if it runs all night. The operation is intuitive and user-friendly.
The Durostar DS4000S Portable Generator hits it out of the park as the best value model. It's reasonably quiet and easy to use. What it lacks in fuel efficiency, it makes up in usability. The price is right, too. We appreciated the 3-year limited warranty to protect our purchase.
Related Reads: