10 Best Camping & RV Generators of 2023 – Reviews & Top Picks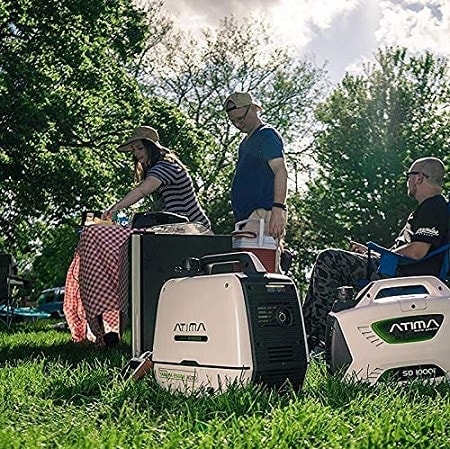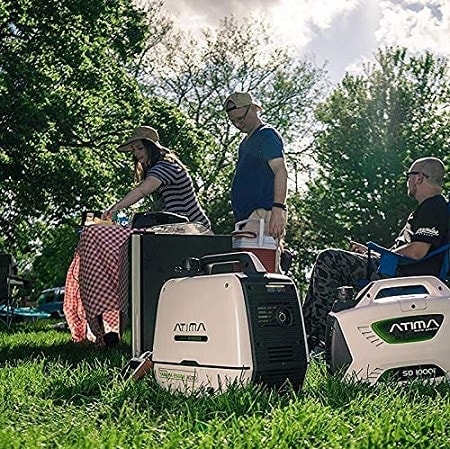 Camping and RVing are very popular pastimes, and the downside to popular things is a market flooded with devices to improve the experience. Unfortunately, many of these things are little more than a money grab, and it can be confusing and frustrating to find what you need.
The camping and RV generator market is flooded with gimmicky items that can obscure what's important. There are hundreds of different models and they all claim to operate quietly and deliver clean power, but do they?
We have reviewed dozens of generators and we believe that we can help you decide on a great camping and RV generator. We have chosen 10 different models that we think are worth your time. We'll go over what we like and what we don't like about each one to help you learn what you want and what you need.
We have also included a buyer's guide where we break down every aspect of the generator and explain how it works. This guide will help you learn the differences between the different features and potential pitfalls that occur with any generator.
Let's look at the models we chose to review for you.
---
A Quick Comparison of Our Favorites in 2023
| Rating | Image | Product | Details | |
| --- | --- | --- | --- | --- |
| Best Overall | | Briggs & Stratton P3000 | USB port,LCD screen,Parallel technology | CHECK PRICE |
| Best Value | | DuroMax XP4000S | Low-oil shutoff,3,300 watts continuous,Easy to understand control panel | CHECK PRICE |
| Premium Choice | | Yamaha EF2400iSHC | Quiet,Lightweight,Smooth running engine | CHECK PRICE |
| | | Westinghouse iGen4500 | Remote start,Clean power,Inverter generator | CHECK PRICE |
| | | Champion 100263 | Compact,Dual fuel,Electric starter | CHECK PRICE |
The 10 Best Camping & RV generators – 2023
1.

Briggs & Stratton Portable Inverter Generator – Best Overall
The Briggs & Stratton P3000 Portable Inverter Generator is our choice for best overall. This portable camping generator packs in features but remains reasonably priced. It features a 171-cc engine that delivers power for up to five hours at a time with its 1.5-gallon gas tank. It's an inverter generator, so it provides clean power to your cell phones and laptops and comes with a USB port so you can plug directly into the generator. The LCD screen lets you know how much gas is left, how long it's been running, and other insights. While we were reviewing, we noticed that this is one of the quieter models on this list, and it features parallel technology for connecting more than one generator for more power.
As we reviewed this generator, it had a little trouble handling power spikes and often kicked our circuit breaker even though we were within the generator's guidelines. The back wheels are also kind of flimsy, but the generator is light, so it's not too big of an issue.
Pros
LCD screen
Quiet
USB port
Parallel technology
Lightweight
Cons
Doesn't handle spikes very well
Flimsy tires
---
2.

DuroMax Gasoline Portable RV Generator – Best Value
The DuroMax XP4000S Gasoline Powered Portable RV Generator is our choice for best value. This generator has all of the essential features and keeps costs low. We believe that after you see what it has to offer, you will agree that it is the best camping and RV generator for the money. This generator features a 7-horsepower engine set in a steel frame with four separate motor mounts designed to reduce noise and vibration. We noticed the difference immediately. The engine features low oil shutoff protection, and the control panel is easy to understand. It pushes 3,300 watts of continuous power and can handle spikes up to 4,000 watts.
The only issue we had while reviewing this unit was that there are only two standard home outlets, so we had to break out the six-in-line outlet adapters, but there's plenty of room on the front panel for at least one more. This machine is also not CARB-compliant, which is a California clean air regulation. Not being CARB compliant tells us the device isn't the best for the environment. Overall we think this is the best RV generator for the money this year.
Pros
3,300 watts continuous
Easy to understand control panel
Quiet
Low-oil shutoff
Cons
Not CARB compliant
Only two standard outlets
---
3.

Yamaha Gas Powered Portable Generator – Premium Choice
The Yamaha EF2400iSHC Gas Powered Portable Generator is our premium choice. This camping and RV generator is for the outdoorsman that wants a professional quality generator and isn't afraid to pay a little more to get it. This inverting generator provides 2,000 watts of continuous clean power and can handle spikes up to 2,400 watts. The engine and frame have many components designed to reduce noise and weight. We found the machine one of the quieter ones on this list and despite looking rather bulky, is still under 100 pounds with a full tank of gas. The control panel is easy to understand. The engine runs smooth and started on the first pull, even in cold weather.
This generator only has a recoil pull-start, and though it started every time on the first pull, we did miss the electric start that many of the other generators have. There is also no fuel filter on the fuel pump, so you need to be careful about the quality of gas you use. Even if you're mindful of fuel quality, you could still end up with clogged injectors down the road, and that's reason enough to keep the Yamaha out of the top 2.
Pros
Lightweight
Quiet
Smooth running engine
Cons
No fuel pumps
Recoil start only
---
4.

Westinghouse Portable Inverter Generator
The Westinghouse iGen4500 is an inverting generator that produces clean power that you can use to power cell phones, laptops, and other digital devices safely. It runs continuously at 3,700 watts and can handle peak up to 4,500 watts. We were able to get a little over 9-hours runtime using the machine at 50 percent capacity. It features a handy remote start, push-button start, and recoil start.
The control panel is a little hard to read at first, but once you know what you're looking at, it makes sense. We also found it to be very loud despite marketing to the contrary. We also found that the economy mode caused the engine to run rough.
Pros
Inverter generator
Clean power
Remote start
Cons
Difficult control panel
Very loud
The rough running engine in economy mode
---
5.

Champion RV Ready Portable Inverter Generator
The Champion 100263 is a compact portable generator that offers the dual-fuel capability of many larger generators. This generator can run on either gasoline or propane. It features an electric starter, and the generator comes with a battery. The Champion is also an inverter generator and delivers clean power that you can use with your digital electronics. It can provide 3,100 watts off continuous power and can handle spikes up to 3,400 watts.
It weighs less than 100 pounds, so it isn't too hard to move around. Still, as we were reviewing it, the back-bumper section of the generator would continuously drag on the ground as we attempted to move the generator into position. The wheels are just a little too low profile. Also, if the battery is dead, the recoil will not start the generator if you use gasoline. Only propane works with the recoil start.
Pros
Lightweight
Clean power
Dual fuel
Cons
Low profile wheels
Cannot use recoil with gas
---
6.

Pulsar Portable Gas-Powered Inverter Generator
The Pulsar PG4000iSR is a 3,500-watt portable generator that can handle a 4,000-watt peak. It's an inverting generator that can deliver clean electricity to power your cell phones and other digital circuits. It features a 3.4-gallon tank that can run the generator for up to 15 hours. You can also connect multiple Pulsars for increased power. It also comes with a remote start, and backup recoil start.
While reviewing this model, we noticed some trouble with the automatic choke not closing enough in cold weather. We had to close it manually, and this means the remote start will be useless when you need it most. We also found it very noisy.
Pros
3,500 watts
15-hour run time
Ability to connect multiple Pulsars
---
7.

Generac 7117 Portable Inverter Generator
The Generac 7117 is an ultra-lightweight portable generator capable of producing 1,700 watts of continuous power with a 2,200-watt peak. It features inverting technology so it can deliver clean energy to charge your cell phones. You can connect multiple generators to get more power. It weighs less than 50 pounds and has a built-in carrying handle. There is also a built-in economy mode to help increase fuel efficiency.
While we were reviewing the Generac, we had a hard time keeping the engine running smoothly. Changing the oil was challenging because you must tip it on its side, and it's difficult to capture the oil without making a mess.
Pros
Weighs less than 50 pounds
Clean power
Economy mode
Cons
Rough running
Difficult oil change
---
8.

A-iPower Portable Inverter Generator
The A-iPower is a compact handheld generator that delivers 1,600 watts continuous and 2,000 watts peak power. It's an inverter generator that delivers clean power for up to seven hours on a little over one gallon of gas. It's easily carried and only weighs 46 pounds. It can link to other A-iPower generators to increase the power output. We found it to run very even, and the current was strong.
Our model was difficult to start, and we had to fiddle with the choke to get it going. We also could not believe how much noise is created by this small device.
Pros
1,600 watts continuous power
Seven -our run time
Lightweight
Cons
Noisy
Difficult start
Manual choke
---
9.

Atima Portable Inverter Generator
The Atima portable camping and RV generator features a Yamaha engine and can provide 2,600 watts continuous and can handle spikes up to 3,000 watts. It's an inverter generator so it can charge your cell phone and power your other digital equipment. You can also connect to other Altima generators for more power. We found it to run a little quieter than many of the other generators on this list, and it seemed to be very good on gas.
We did have a difficult time starting this generator, though, and often had to fool with the choke at length to get it to start. There's no electric start, so you can wear yourself out trying to get it started. The LCD screen is also cheap-looking, and the low oil light did not come on when our unit was low on oil.
Cons
Faulty choke
Difficult to start
Low oil light didn't work
LCD screen
---
10.

WEN RV-Ready Portable Inverter Generator
The WEN 56310i-RV RV-Ready Portable Inverter Generator is the final camping and RV generator on our list. While this model isn't going to be as good as the first three, there may still be one or two features that interest you. The Wen is an inverting generator that can provide 2,800 watts of continuous power and can handle spikes up to 3,100 watts. It also provides two standard outlets, two USB outlets, a 30-amp receptacle, and a DC power receptacle. It's CARB and EPA-3 compliant and features an economy mode to help save on fuel.
While we were using it, we did blow a few circuits and wished there was a little more headroom for handling spikes. It also loud despite advertising to the contrary, and after a few hours of continuous running, the engine does begin to run a little rough, and you will need to let it cool down for an hour.
Cons
Engine runs rough
Small spike headroom
Loud
---
Buyer's Guide – Choosing the Best RV Generator
An RV and camping generator don't need as much power as a generator meant to supply a home during a power outage, but you still want to make sure your generator will run well and have the power to spare. Let's look at some of the crucial things to consider when choosing a generator.
Generator Type
As you shop around for your next generator, you're likely to find two common types, the conventional generator, and the inverting generator.
The Conventional Generator
The conventional generator has been providing backup power for over 100 years. It's the most common type of generator, and most people have seen one before, even if they haven't used one.
A conventional generator creates power by using a fossil fuel-driven motor to spin an alternator very similar to the one in your car. As the generator spins, it creates an electrical current. In your car, we use the current to recharge the battery and power the vehicle while it's running. In our generator, the alternator supplies the electricity to power our devices and appliances. The electricity generated by the alternator is an alternating current like the electricity in the outlets of our home, so many devices can plug right into provided outlets and will work fine. However, the electricity in our home alternates at a rate of precisely 60 hertz, or 60 cycles per second. The frequency of the electricity coming from our generator is dependent on the speed of the motor. The engine must be tuned to maintain a specific RPM to generate a 60-hertz electrical wave with our generator.
No matter how finely tuned and well maintained an engine is, the RPM will vary slightly over time. These varying RPMs will cause slight variations in the electricity created by the generator. When current has these types of small changes, we call it "dirty." Most electronics work fine with dirty power, and it has never been a problem before the invention of the digital circuit.
Digital circuits cannot operate with dirty power. You cannot charge cell phones or use computers, laptops, or any smart devices as they all require clean electricity. Depending on how many of these devices you need to run while camping, this can be a serious concern.
Inverting Generators
Due to the rising demand for clean electricity, the inverting generator is gaining in popularity. An inverting generator, also called an inverter generator, starts as a conventional generator. It uses the same type of engine to drive the same kind of alternator to produce the same dirty power.
Instead of delivering the dirty power directly to your devices, an inverting generator adds a new component to the generator that converts the alternating electricity to direct current. A direct current is what we get from a battery. The inverting generator can then convert that direct current into a nice, clean, 60-hertz alternating current. This new clean power is independent of the engine, and the alternator is only supplying power to the inverting section of the generator, which doesn't mind the dirty power.
The inverter is an add on to a conventional generator, so these are more expensive and slightly larger. Inverter generators will have fancier and more detailed controls and will charge your cell phones and run your computers.
Power and Watts
When choosing a generator for your RV or camping, it's essential to consider the amount of power you will need. Generators measure their electrical output in Watts. The more watts a generator outputs, the more devices it can run at once
To determine how much power you require, you will need to research each device that you intend to connect to see how many watts it requires and add them up. If you want to run three 100-watt lamps and a 300-watt radio, you will need a generator capable of 600 watts continuous power. We recommend that after tallying up how much energy you need that you add another 10 to 20 percent safety net.
Startup Loads and Power Spikes
Sometimes a device requires more power to get started than it does to continue running. The generator will need to be capable of delivering this startup power, or you will likely blow a circuit when you attempt to turn it on. Researching your devices should alert you to any high startup loads that may occur.
A Refrigerator is a device that has a high startup load, as is any air conditioner. Another problem with these devices is that they turn on often and unexpectedly, driven by its sensors. When a device that has a high startup load turns on randomly, we call the sudden need for electricity a power spike. Your generator will need to handle power spike when they occur, or you will blow a fuse.
If you were to run two mini-coolers that used 200 watts of continuous power but caused 1,000-watt spikes, you would need a 2000-watt generator to deliver enough power if both started at the same time.
Engine Size
Whether you're working with clean or dirty power, the number of devices you can connect to your generator depends on the size of the engine. Larger engines will also require more fuel and create more noise.
Fuel Type
Generators usually use diesel, gasoline, or liquid propane to fuel the motor. Conventional type generators traditionally use diesel because it has a longer shelf life than gasoline. Still, gas and liquid propane are used more now that dual fuel generators are becoming popular. Liquid propane does not go bad and will outlast its container.
Solar-powered generators are also becoming more popular as the search for environmentally friendly fuel continues. Solar-powered generators are a feasible solution for camping where power requirements are often lower than for a home or business.
Dual Fuel
Another popular trend in the world of portable generators is the ability to use two different fuels to run the generator. The most common combination of fuels is gasoline and liquid propane.
The idea behind dual fuel is that you can store enough expensive liquid propane in the tank to keep the generator running long enough for you to get gas. Liquid propane doesn't go bad, so you can store it for years, waiting for an emergency. When the unexpected happens, the generator can react immediately to supply power.
While the ability to use two different fuels to power our camping gear might come in handy, this feature is more for critical power in emergencies.
Starter
Conventional generators were all started by recoil, which means pulling a cord-like starting a lawnmower. Recently electric push-button starters have become accessible, and remote starters are becoming more common as well. It's unlikely that an outdoors enthusiast will have much difficulty with a recoil start, but an electric start can still be a nice feature to have on your generator.
Run Time
How long your generator can operate before requiring a refuel is going to be a vital consideration. You are going to want to try to find a generator that can make it through the night or last long enough for you to run for more fuel.
The engine size and fuel efficiency will have a significant impact on the run time, as will the size of the fuel tank.
Transfer Switch
The transfer switch is a handy feature that many portable generators have, which allows you to connect your generator directly to your home wiring while safely disconnecting you from the local power grid. This device will enable you to use the generator to power your home and is a massive advantage in that situation.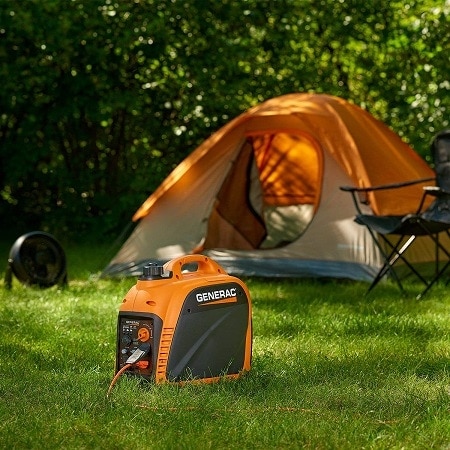 The device won't be used much for camping, but if you have an RV, the transfer switch is essential and will allow you to connect to the RV electrical system the same way you do at your home. It many cases, the transfer switch will also allow for charging onboard electrical devices.
Control Panel
The control panel is where you make all the connections and all the adjustments. It needs to be easy to understand and clearly labeled.
Weight
The weight of your generator is an essential element of your choice. A camping generator is often one that is continuously transported. Trailers and trailer hitches might help move it over long distances, but you will still need to move it around to set it up. Since the units are often too heavy to lift, they are usually set up with two wheels and a handle. You lift the handle on one side and can roll it on the wheels. To move the generator in this way, it needs to be well balanced, and the tires and axles the tires need to be strong and durable.
Tips
Never use a generator in your home.
Always leave plenty of distance between the generator and windows and doors.
Use a carbon monoxide detector
Never overfill the tank.
Always power on and power down with no devices connected to the generator.
Never operate an electric generator in rain or other wet conditions
Always make sure the generator has a proper ground before using it.
Place the generator on level ground.
---
Conclusion
Hopefully, now that you have had a chance to read this article over, you have a better idea of what you are looking for in a generator and can make an informed purchase. We stand by our choice for best overall. The Briggs & Stratton 30545 Portable Inverter Generator features quiet operation, clean power, USB outlets, parallel technology, and it's lightweight. Our best value is the DuroMax XP4000S Gasoline Powered Portable RV Generator, and this budget model is straightforward to use and provides plenty of power for your outdoor appliances.
If you have enjoyed this article, learned something new, and it has brought you closer to making a purchase, please share this best camping and RV generators review with your friends on Facebook and Twitter.
You might also like: 
---
Featured Image Credit: Atima Inverter Generator 2000 watts Featured, Amazon