5 Best Grout Removal Tools of 2023 – Reviews & Buyer's Guide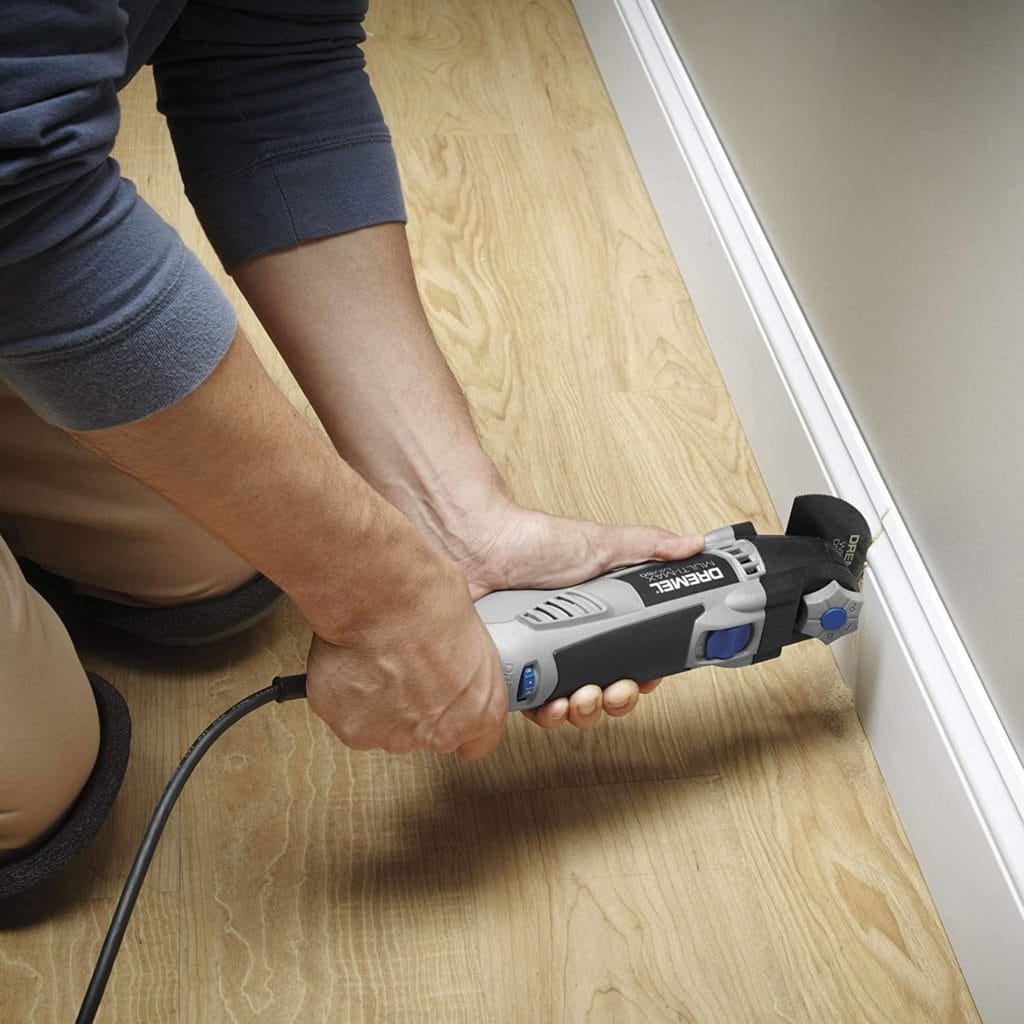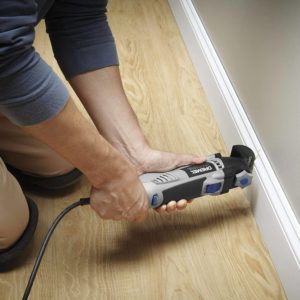 If you have ever wanted to replace tile on a wall, the floor, or wherever your tiled surface might be, then you have probably pondered at least once that there are two ways to do it. The first is fun but very messy and not as effective, and that is taking a hammer to it and going to town. The other is by using a grout removal tool and saving those tiles you spent so much money on.
The second, more efficient, more economical path might take longer, but removing whole tiles is much easier than picking up millions of little chunks. And if properly treated with an effective grout removal tool, you can repurpose those tiles. But what kind of grout removal tool can get the old, dried, cement-like grout off your tiles and floor effectively?
We have some reviews of top grout removal tools that might help.
A Quick Comparison of Our Favorites in 2023
Rating
Image
Product
Details

Best Overall

Dremel MM50-01 Multi-Max Oscillating DIY

Powerful 5-amp motor
Compact size
Push-down mechanism to remove tool heads
CHECK PRICE

Best Value

GALAX PRO Oscillating Tool

Option for corded and cordless
Huge quick-charge battery
Ergonomic handle
CHECK PRICE

Premium Choice

Hi-Spec Oscillating Multi-Tool

Powerful motor
Universal tool compatibility
Molded grip for comfortable use
CHECK PRICE

AEROPRO USA ARP7636

Light
Great in a commercial setting
CHECK PRICE

GOXAWEE Power Die Grinder

Powerful motor
Heavy-duty design
CHECK PRICE
The 5 Best Grout Removal Tools
1.

Dremel Multi-Max Oscillating DIY – Best Overall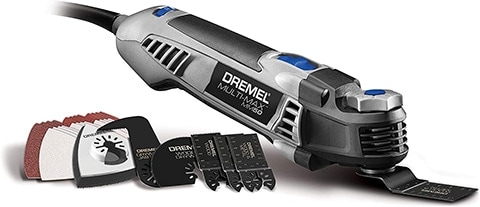 This grout removal tool is the bell of the ball. Dremel has been a top name in the rotary tool industry for decades, and the Dremel MM50-01 Multi-Max Oscillating DIY tool is a terrific example of what they do best. With its 5-amp motor, its uniquely angled body design, and the tool-less blade change system, you will find plenty of uses for this fantastic tool.
It features a 7-foot rubber cord to power it, which gives the user plenty of room to work, and its powerful motor has variable speed settings, easily changeable as needed. Its body style allows it to get into spaces other grout removal tools cannot, and its head is 30% smaller than all other options.
It is an investment with a higher price tag that might give some shoppers pause, and the warranty is only good for two years. Other than that, it's a home run.
Pros
Powerful 5-amp motor
Compact size
Push-down mechanism to remove tool heads
Long cord
Carry bag
---
2.

  GALAX PRO Oscillating Tool – Best Value
A tremendous tool for the value, the GALAX PRO Oscillating Tool can come in corded or cordless, an option rarely afforded in the oscillating power tool world. For the cordless model, a rechargeable 20-volt lithium battery powers the motor, offering 6 variable speeds. The battery pack is fast charging, completely recharged in 45 minutes, and has a real-time indicator so you aren't surprised when it runs out.
The corded model weighs about 4 pounds and has a compact and ergonomic design, which adds comfort while using its powerful motor and blade assembly to cut through any task with ease. Add the 3-degree oscillating area and quick clamp system, and you definitely have one of the best grout removal tools for the money.
But beware. If you don't have a carrying case or bag already for this tool, you will need one for it and all of its accessories. And the cordless battery will only work for an hour at a time.
Pros
Option for corded and cordless
Huge quick-charge battery
Ergonomic handle
Wide array of blade options
Low price for high quality
Cons
No carry bag for unit and accessories
Run time on cordless is about an hour
---
3.

Hi-Spec Oscillating Multi-Tool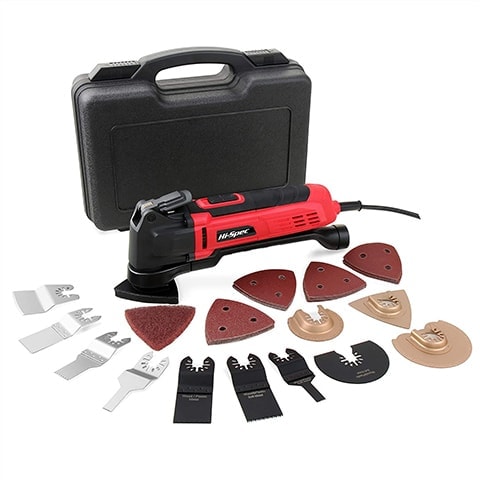 Calling this particular off-brand model a multitool doesn't quite do it justice. An all-in-one for the Hi-Spec Oscillating Multi-Tool, a DIY tool is more apt a name for such a fantastic gadget. It can do anything from ductwork to — you guessed it —  grout removal. It has a powerful, 2.5-amp motor capable of delivering up to 23000 RPM of oscillating power. And it has a 7-variable speed switch, so you can tune the power to the need.
Its dual molded grip is rubberized, limiting vibration, and it offers keyless tool changing. While most grout removal tools also have this, it is universally compatible with other company's blades, a fantastic feature other powered grout removers lack. And it all fits snuggly, accessories and the unit, in a durable storage case.
It does, however, have an exhaust port at the rear, just below the cord, and finding a hose to feed the exhaust away from you during use is difficult, due to the small size of the opening. Lastly, the blades that come with the unit are made of cheap, soft metal, and break easily.
Pros
Powerful motor
7 speed settings
Molded grip for comfortable use
Keyless tool changing
Universal tool compatibility
Hard-shell carrying case for everything
Cons
Exhaust port too small for most hoses
Included blades made of cheap metal
---
4.

AEROPRO USA ARP7636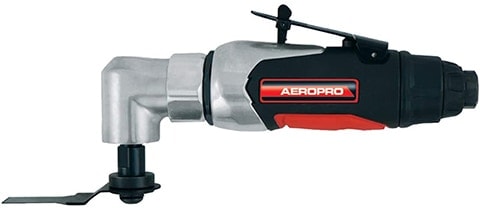 Fight your grout with the power of air! The AERPPRO USA ARP7636 is a multi-functional tool that uses compressed air to power its motor, similarly to an air-ratchet.  It features a variable speed control, and a 7-position forward blade lock. But the thing that makes it better than other grout removal tools is its versatility in places where power isn't available but a gas-powered air compressor can still fit, like a construction site.
It is the lightest of all the options, weighing in at a whopping 1.5 pounds. It is nimble and easy to operate, and the vibration is remarkably low.
The biggest flaw is its greatest asset, and that is the air compressor needed to use this tool. An air compressor in a domestic setting will need a power source and will be loud in enclosed spaces, not to mention the expense of the compressor itself. On the job site, a gas-powered compressor will work, but they are also very pricey, and fuel costs have to be calculated.
Pros
Light
Great in a commercial setting
Cons
Only functions by compressed air
Need to buy an air compressor to use
Loud
---
5.

GOXAWEE Power Die Grinder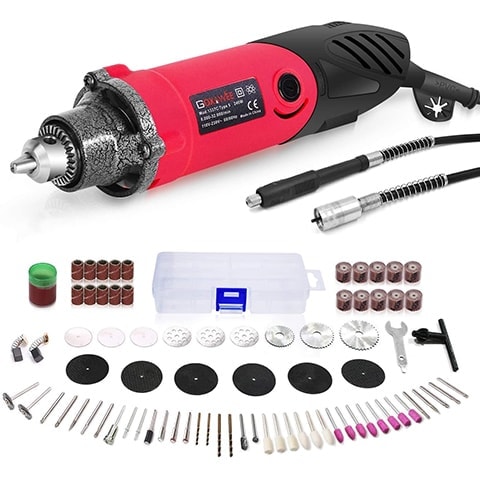 This GOXAWEE Power Die Grinder is a 240-watt rotary tool, similar to the basic Dremel set up. Its motor consists of pure copper, is very powerful, and is perfect for long periods of heavy-duty use. Its jaw is operated by a gear chuck for changing tools and can open up to 4 mm wide.
With its 6-speed variable function, you can fine-tune your working need, and it comes with plenty of accessories, including some great blades for grout removal. It has a flexible drive attachment that adds to its versatility, and its overall small size makes it fabulous in those tight spaces. If you are looking for a multi-purpose DIY tool for everything from home improvement to hobbies, this is your tool.
However, its fatal flaw is its size. It is so small, that a large area of work will take a large amount of time. And if you need to change the blades, you have to use a chuck key like on a power drill.
Pros
Powerful motor
Heavy-duty design
Cons
Manual chuck needed to change blades
Small size increases work time
Better for small jobs than serious construction

Buyer's Guide – Choosing the Best Grout Removal Tool
Properly removing grout consists of patience, desire, and of course, the perfect tool. Check out our buyer's guide on how to narrow in on the very best device to unlock your tiles for good.
Picking the Right Tool
While having the perfect tool is ideal, it's not everything. There are variables with all tools that make them the right one for the job. Things like:
Speed of motor and variable speed options
Power of motor and level of vibration
Versatility of the unit
Size of the unit
Ease of switching blades when one breaks or becomes ineffective
That is why picking the right tool is of paramount importance to the task at hand. Choose a tool with too high of an RPM and your tile shatters from the vibrations, choose one that is too low and the grout just laughs at you. It's important to find the right balance.
Choosing Power Options
What is the application? We know you are removing grout, but were, and how big are the tiles, and how long have they been in place? All of these variables factor into which tool is best.
If you are removing tile and grout that has been in place for many years, then the more powerful options are the best bet. They can get into the old, hard grout that hasn't seen the light of day for decades and turn it to dust with minimal resistance. Just make sure you have the best blades available because cheap ones will not work here.
If you are swapping out the tiles in your shower and your home is only a few years old, a less powerful tool, or a variable speed tool that has a lower setting will work perfectly. The grout is like cement, but just like cement, it becomes more hardened with age. Grout that is only a few years old has some give in it. So, a lighter touch is fine.
Selecting the Right Power Source
After you figure out where the grout is being removed from, picking the right power source is next on the list. The options are:
AC/electrical power
Battery power
Air power
Where you are planning to do the work will help determine what power source you need, given what you have at your disposal.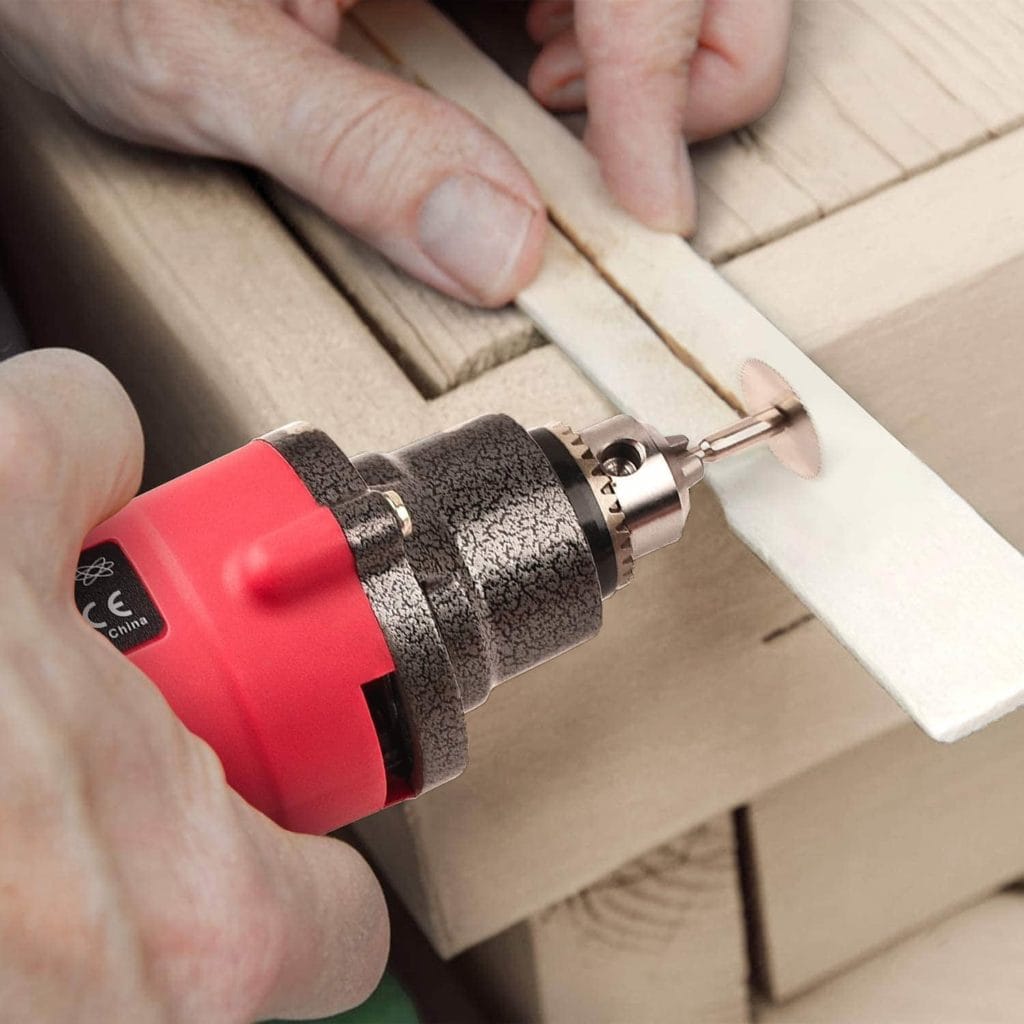 Deciphering Prices
Price is also a factor. Buying a grout remover, or any multi-tool that can be used as a grout remover, is an investment. The best option is to pick up a tool that has plenty of other functions, so you feel like you have gotten your money's worth.
But remember, you get what you pay for. Fortunately, these types of multi-tools rarely have a bad word to say about them, so the investment isn't likely to bite you later.
Replacement Accessories
If you need replacement blades, sanding wheels, etc., some models are very specific, while others offer universal interchangeability. If you are a brand-loyalty kind of DIYer, then there are always replacement options through your local home improvement store or online marketplace. However, if you love your model of grout remover, and the blades are always a little shoddy, it might be time to reconsider where your loyalty lies.

Conclusion
Our analysis was comprehensive, and our biggest discovery was that the bigger issues weren't with the units themselves, but with the free accessories that came with them.
Even still, every contest needs a victor, and for our reviews of grout removal tools, the Dremel MM50-01 Multi-Max Oscillating DIY tool was the clear winner. It had the right history of quality units, the right construction, the right level of versatility, and the durability that will make it last for plenty of years removing grout.
The best option for the price was the GALAX PRO Oscillating tool, which had many of the features a grout removal professional wants, with a price point they will love. A very economical choice, and a great unit to have, even if you have never heard of the brand before now.