7 Best HEPA Shop Vacs 2023 – Reviews & Buying Guide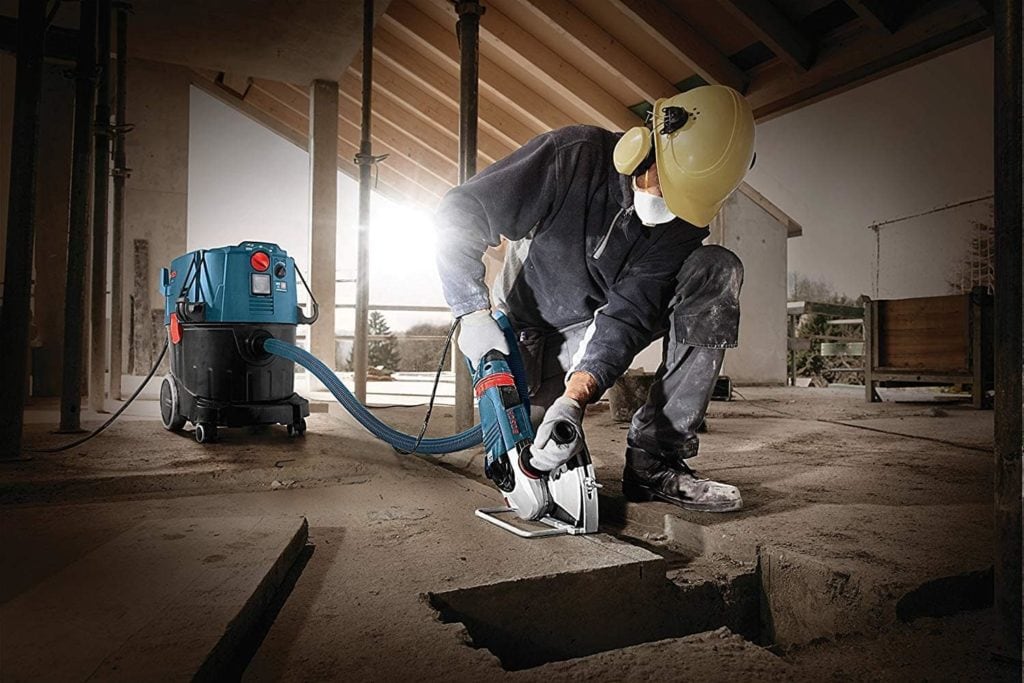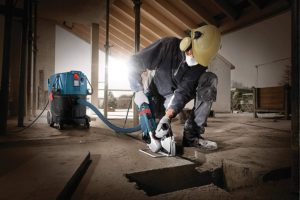 HEPA shop vacs are great when working with dusty materials like concrete, and many will attach to your power tools so you can use them with your table saw and hand sanders to remove debris as it's created. However, just because it has a HEPA filter doesn't mean it's a great shop vac; finding a good one can be challenging and tedious.
We've chosen seven brands we always see at the local hardware stores to review for you so you can learn more about each one. We'll give you the pros and cons and briefly describe our experience with each brand. We've also included a short buyer's guide where we look at the shop vac internally to learn more about what you should look for as you shop.
Join us while we discuss water lift, air movement, tank size, weight, and more to help you make an informed purchase.
A Quick Comparison of Our Favorites
Rating
Image
Product
Details

Best Overall

Makita XCV11Z Portable Wet/Dry Vacuum

18-volt lithium-ion battery
57 CFM
27-inch water lift
CHECK PRICE

Best Value

TACKLIFE 6 Gallon Shop Vacuum

5 kPa suction
6-HP Motor
9-liter capacity
CHECK PRICE

Premium Choice

Bosch VAC090AH Dust Extractor

Automatic filter cleaning
150 CFM
97" water lift
CHECK PRICE

Milwaukee 0880-20 Cordless Wet/Dry Vacuum

Built-in blower port
Lightweight
Accepts multiple batteries
CHECK PRICE

Vacmaster Pro Certified Hepa Filtration Wet/Dry Vac

Crushproof polypropylene tank
Two-stage industrial motor
78-inch water lift
CHECK PRICE
The 7 Best HEPA Shop Vacs – Reviews 2023
1.

Makita XCV11Z Portable Wet/Dry Vacuum– Best Overall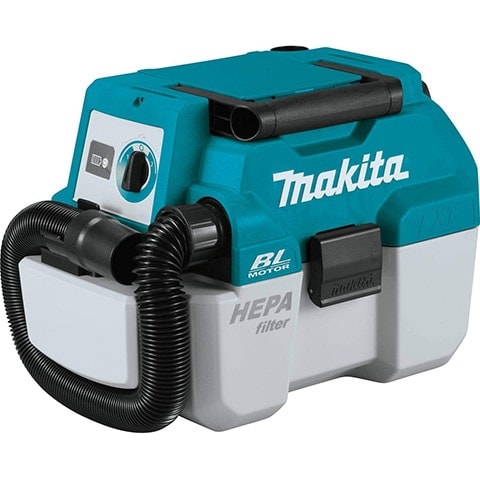 The Makita XCV11Z Portable Wet/Dry Vacuum is our pick for the best overall HEPA shop vac. It uses a 5-amp lithium-ion battery, an improvement over their previous 3-amp battery, to provide a vacuum with a 27-inch water lift that can move 57 cubic feet of air per minute (CFM). It can run up to 60 minutes on a single charge, thanks largely to the brushless motor, and it features an LED battery status indicator that lets you know how much power you have left.
You can use it as a shop vac or as a blower and set it to low or high speeds. It's relatively lightweight at 10.1 pounds, and it includes shoulder straps for the ultimate in portability. If you don't want to use the shoulder straps, a heavy-duty top handle will allow you to move it where you need it, and you can conveniently store the hose and nozzle onboard.
The only complaint we have concerning the Makita XCV11Z is that it doesn't come with a battery or charger or any hose accessories to help you clean.
Pros
18-volt lithium-ion battery
57 CFM
27-inch water lift
60-minute continuous run on a single charge
LED Battery indicator
Brushless motor
Cons
Battery not included
No adapters
---
2.

TACKLIFE 6 Gallon Shop Vacuum – Best Value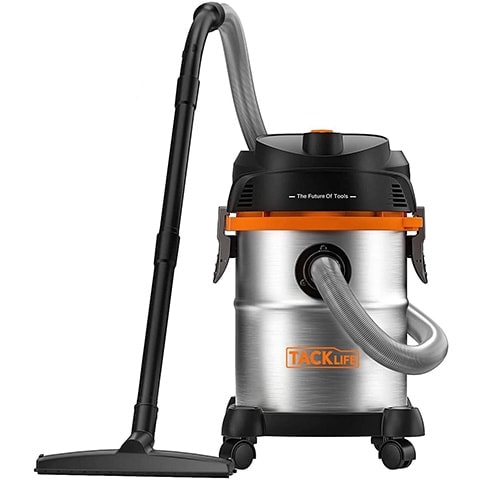 The TACKLIFE 6 Gallon Shop Vacuum is our pick for the best HEPA shop vac for the money. It uses a 6-hp motor to supply up to 18.5 kPa suction. The 18.9-liter capacity allows you to suck up plenty of water before emptying it, and the stainless-steel housing is durable and won't rust.
It rolls on four caster wheels, so it's easy to move around even when it's getting full, and it features an automatic shut-off that turns off the vacuum when you reach the maximum water level. A 17-foot power cable and 5-foot hose give you plenty of range, and you can adjust the vacuum strength on the handle.
The downside to the TACKLIFE 6 is that it is a little heavier than our top model at a little over 17 pounds, and the suction regulator on the handle is kind of flimsy and doesn't stay in place.
Pros
5 kPa suction
6-HP Motor
9-liter capacity
Stainless steel housing
Caster wheels
Cons
Too heavy
Flimsy suction regulator
---
3.

Bosch VAC090AH Dust Extractor – Premium Choice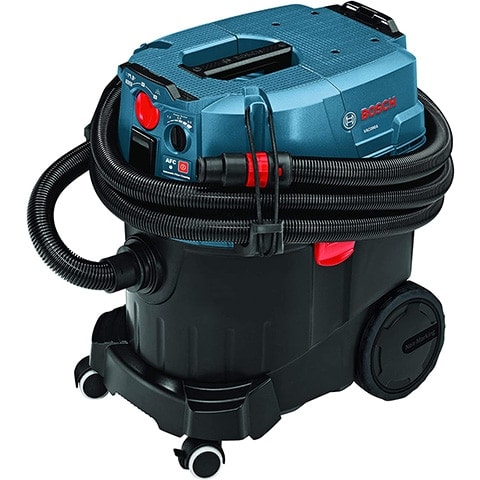 The Bosch VAC090AH Dust Extractor is our premium choice HEPA shop vac. This top-of-the-line vacuum features a 6.5 horsepower motor that can move 150 CFM and provide a 97-inch water lift. The polypropylene tank won't rust or corrode and has built-in L_Boxx integration for connecting to tools with exhaust ports like table saws and routers.
It has a unique onboard automatic filter cleaner that cleans it every 15 seconds, so there is no reduction in pressure from a clogged filter. Heavy-duty caster wheels make it easier to move the unit around, and it has a place to wrap the hose and cord. You can also store your accessories in the vacuum. However, it only comes with one nozzle.
The Bosch VAC090AH is a great HEPA vac, and the only things we can complain about are the high cost and heavy (28 pounds) weight.
Pros
Automatic filter cleaning
150 CFM
97" water lift
Includes fleece filter bag
5 HP
L-Boxx integration
---
4.

Milwaukee Cordless Wet/Dry Vacuum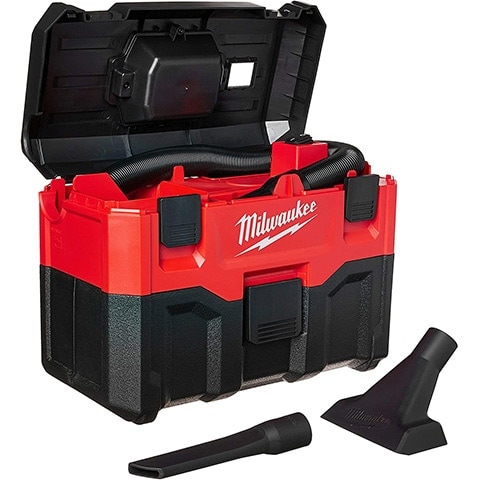 The Milwaukee 0880-20 Cordless Wet/Dry Vacuum is a small battery-powered HEPA vacuum in a standard toolbox's shape and style. You can use multiple Milwaukie batteries, including NiCad batteries, up to the 18-volt lithium-ion battery. Better batteries will give you more power and last longer before recharging. A built-in blower port lets you use the tool as a portable leaf blower. It's lightweight and weighs only a little over 2 pounds.
There is also onboard storage for your accessories and hose. The downside to the Milwaukee 0880-20 is that it has a short hose that can sometimes be frustrating, making it difficult to reach some areas. Also, depending on your battery, you may find it slightly underpowered for some tasks and require frequent recharging.
Pros
18-volt batteries
Onboard accessory and hose storage
Toolbox
Built-in blower port
Lightweight
Accepts multiple batteries
Cons
Short hose
May not be strong enough
---
5.

Vacmaster Pro Certified Hepa Filtration Wet/Dry Vac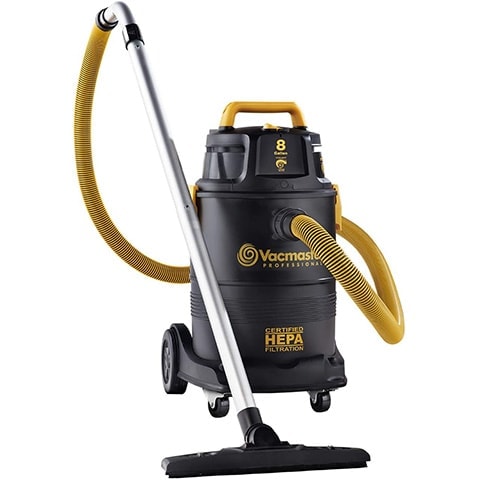 The Vacmaster Pro Certified Hepa Filtration Wet/Dry Vac features an 8-gallon capacity, which should be enough to get you through most jobs. It stores the water and contaminants in a crushproof polypropylene tank that won't rust or corrode. A two-stage industrial motor helps deliver enough power to move 125 CFM and create a 78-inch water lift.
It has a 30-foot cord and a 10-foot hose that provide plenty of range to cover most jobs. The four-stage filtration uses the HEPA with a pre-filter, collection bag, and exhaust filter to ensure cleaner air than when you began. Adjustable airflow allows you to get just the right amount of suction while you work, and you can store your accessories in an onboard caddy.
We liked the Vacmaster Pro for smaller jobs. It's weighty but not too heavy at a little over 19 pounds and has a large capacity. However, despite the package ratings, we didn't feel it had a lot of suction and one of the wheels kept falling off.
Pros
8-gallon capacity
Crushproof polypropylene tank
Two-stage industrial motor
78-inch water lift
125 CFM
30' cord
Four-stage filtration
10' hose
Cons
Not much suction
Wheel falls off
---
6.

Atrix VACBP1 HEPA Backpack Vacuum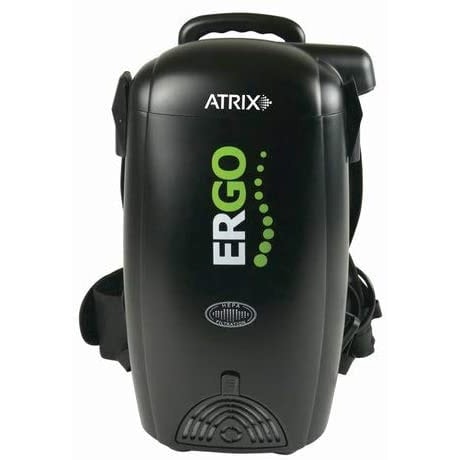 The Atrix VACBP1 HEPA Backpack Vacuum is a small backpack-style HEPA shop vac with an 8-quart tank. It has a six-foot hose that gives you plenty of reach and easily converts for right or left-hand operation. The 1400-watt motor can move 106 CFM, and it comes with plenty of accessories, including multiple nozzles, several brushes, and a crevice tool.
The biggest downside to the Atrix VACBP1 is that much of the unit, including the hose and accessories, uses a very flimsy plastic. It is almost toy-like and causes the parts to slip apart as you are working. The flimsy accessories also reduce the suction and air leaks around the fittings. The cord on this unit is also short at about 3 feet long, and since it is a backpack, it was hard not to laugh when we first saw it.
You will need to use an extension cord along with it, and if your experience is like ours, it will keep coming disconnected, requiring you to take the backpack off to reconnect it.
Pros
3 lbs
Accessories stored on belt loop
8-quart tank
Includes multiple attachments
106 CFM
6' hose
1,400 watts
Cons
Flimsy plastic
3-foot power cord
Handle falls off
---
7.

FEIN Turbo II HEPA Vacuum Cleaner Set

The FEIN Turbo II HEPA Vacuum Cleaner Set is the last model on our list to review, but it still has much to offer. It has a powerful motor that moves 151 CFM and creates a 98.4-inch water lift, one of the highest on this list. A 13-foot hose and 18-foot power cable ­provide more freedom than other models, and there is plenty of onboard storage for the hose, cord, and accessories.
The downside to the FEIN Turbo II is that it's not durable, and we tried multiple units, but they all quit after a few jobs. It might be suitable for small jobs, but the dust collection bag is tiny, and the elbow is hard to remove from the hose because you need to press two pins that do not want to budge.
Pros
Auto-start for power tools
4-inch water lift
Onboard storage for cord and accessories
Cons
A small dust collection bag
Hard to detach the elbow from the hose
Not durable
---
Buyer's Guide – Purchasing the HEPA Shop Vac
Let's look at a few things you should consider before you purchase a HEPA shop vac.
Power Source
One of the first things you will need to decide is the type of power source you will use, and you have two choices: corded or battery power.
Corded
Corded Hepa shop vacs use the traditional power cord. These units can create a strong and consistent suction and are often the more powerful of the two varieties. They are usually less expensive because you don't need to purchase a battery and charger, which means you can use it as soon as it arrives. While not exclusive to corded models, they have a larger capacity for water and debris due to their long run time.
The downside to corded shop vacs is that you have a limited range and can only use the machine close to an outlet without an extension cord. Since we often use shop vacs in wet conditions, connecting extension cords isn't ideal, and a power supply may often be unavailable where you need it.
Battery Operated
Batter-operated Hepa shop vacs offer users the freedom to take them anywhere. With the advancements made in lithium-ion battery power, they are often just as powerful as corded models when fully charged. Their designs vary, but some battery-powered units are backpack vacuums. Backpack shop vacs have a smaller tank capacity but offer hands-free transportation and are comfortable for long sessions.
The downside to battery power is that several companies don't include batteries or chargers with your purchase. Another problem is that even the best battery will begin to lose its charge when you plug it in. As the charge depletes, the vacuum will lose power until it no longer functions correctly.
Type
There are two types of HEPA shop vacs on our list: floor and backpack.
Floor
Floor models have a larger tank, and they usually roll on wheels. Their larger size makes them ideal for bigger jobs, and most companies pair the increased capacity with a stronger motor. The downside to floor vacuums is that they can be too large and clumsy in some situations, and some people may not have the strength to empty large tanks.
Backpacks
As the name suggests, most backpack vacuums rest on your back like a backpack, but they can also be handheld units or mounted on your waist. They have smaller tanks but provide you with a lightweight and portable solution for many small jobs. The downside is that they usually put a smaller motor with the smaller tank, and you can never tackle a flooded basement or other big jobs with a backpack vac.
Water Lift
Water lift is a way to measure a vacuum's strength. If you put a tube into the water and attach the vacuum hose to one end, the water lift is how high the water rises. When comparing brands, the one with more water lift is stronger.
CFM
Cubic Feet per Minute refers to how much air the machine can move, which creates the suction and is responsible for the water lift. We recommend a machine with at least 50 CFM, but more is better.
Tank Capacity
The tank capacity is a significant concern because stopping to empty the tank can slow down the job. However, larger tanks are heavier, especially when full, so you must consider what you will use your vac for and how much water you need to clean up at a time.

Conclusion
When choosing a Hepa Shop Vac, we highly recommend the Makita XCV11Z Portable Wet/Dry Vacuum, which is our pick for the best overall. This model has plenty of power, especially for a backpack, and produces a 27-inch water lift. It should get you through almost any small to medium-sized task around the house. If you have a big job and need something with a bigger tank, we highly recommend our best-value choice. The TACKLIFE 6 Gallon Shop Vacuum uses a 6-horsepower motor to deliver strong, consistent power. It has a long cable and automatically shuts off when full, so it's perfect for flooded basements and other big jobs that will fill the tank several times.
We hope you enjoyed reading our reviews and that they helped you choose a brand for your workshop. If you have found our reviews and buyer's guide helpful and useful, please share these best HEPA shop vacs on Facebook and Twitter.