10 Most Famous Houses in Chicago (with Pictures)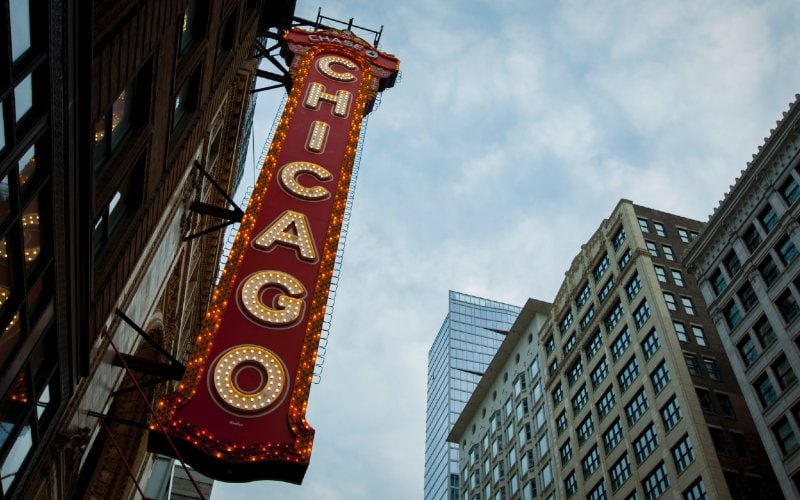 Despite being a large and bustling city, you can find several famous mansions and houses in Chicago. The city and surrounding suburbs have homes that once housed many public figures, and several of them have also been featured in well-known movies.
Chicago has a good mix of historic homes and iconic movie homes. Here are some of the most famous houses you can find in Chicago and the surrounding suburbs.

The 10 Most Famous Houses in Chicago
1.

Clarke-Ford House
| | |
| --- | --- |
| Address: | 1827 S. Indiana Ave, Chicago, IL 60616 |
The Clarke-Ford House is the oldest surviving house in Chicago. It was built in 1833 and became an official Chicago landmark in 1970. The original house was built on 20 acres of land, but the land surrounding the mansion was eventually used for farming and hunting during the Panic of 1837.
The house was owned by several different families, and they worked to preserve its Greek Revival style and structure throughout the years. In 1977, the City of Chicago relocated the house to where it is today. Today, the Clark-Ford House is a historical museum that's open for public visitations.
---
2.

Jane Addams Hull-House
| | |
| --- | --- |
| Address: | 800 S. Halsted St, Chicago, IL 60607 |
The Hull House is one of the first social settlements that was established in North America. The house was built in 1856 and was rented by Jane Addams and Ellen Gates Starr in 1889. The two women continued to expand the Hull House campus until it covered half a city block. At the height of its activity, the Hull House contained a gymnasium, shop, children's housing, and playgrounds.
Eventually, most of the Hull House was demolished in the 1960s as plans for the University of Illinois campus wanted to clear up the surrounding area. The original Hull House mansion and dining hall were preserved and became a museum.
---
3.

Ida B. Wells-Barnett House
| | |
| --- | --- |
| Address: | 3624 S. Martin Luther King Dr, Chicago, IL 60616 |
This house was the residence of Ida B. Wells and her husband, Ferdinand Lee Barnett. They lived together in this home from 1919 to 1930. The house itself was built sometime in the 1890s in the Romanesque Revival and Queen Anne style, which was very popular during this era.
Wells and Barnett lived in three different addresses in Chicago, and this house is the most well-preserved. It was named a National Historic Landmark in 1974 and a Chicago Landmark in 1995. The house is currently not open to the public.
---
4.

Emil Bach House
| | |
| --- | --- |
| Address: | 7415 N. Sheridan Rd, Chicago, IL 60626 |
This house is a Prairie-style home located in Rogers Park in Chicago. It's a home designed by the famous architect Frank Lloyd Wright and was built in 1915. It's one of the houses that belong in Wright's collection of geometric, cubic homes, and it's one of the last homes built in this style before Wright transitioned to designing homes with expressionist and Japanese-influenced styles.
The Emil Bach House became an official Chicago Landmark in 1977 and was registered with the National Register of Historic Places in 1979. The house is privately owned, but it's open to group tours by appointment.
---
5.

Sixteen Candles Baker House
| | |
| --- | --- |
| Address: | 3022 Payne St, Evanston, IL 60201 |
Sixteen Candles follows the story of Samantha Baker, a girl living in the Chicago suburbs. The actual location of her home is in Evanston, which is a suburb just north of Chicago. The house contains six bedrooms and takes up three stories.
The house was built in 1931 and has gone through several renovations. It went up for sale in May 2022 for $1.65 million. Keep in mind that this house is situated in a residential area. So, it's important to be mindful of neighbors if you plan to visit it.
---
6.

Ernest Hemingway Birthplace
| | |
| --- | --- |
| Address: | 339 N. Oak Park Ave, Oak Park, IL 60302 |
The Ernest Hemingway Birthplace is a Queen Anne home built by Hemingway's maternal grandparents in 1890. The house is a three-story home located in Oak Park, a west suburb of Chicago.
The house went through a few renovations after it was sold to another family. It was purchased by the Ernest Hemingway Foundation of Oak Park in 1992. The house was restored to the original layout and now contains original Hemingway family heirlooms. The house is open to visitors, and you can schedule a guided tour.
---
7.

Frank Lloyd Wright Home & Studio
| | |
| --- | --- |
| Address: | 951 Chicago Ave, Oak Park, IL 60302 |
The Frank Lloyd Wright Home is another famous house located in Oak Park. The original structure was built in 1889 in the East Coast shingle style and had several additions built over the years. Frank Lloyd Wright designed and lived in this house with his family until 1909. He was able to experiment with geometric shapes during his time in this home.
The house was registered with the National Register of Historic Places in 1972 and became a National Historic Landmark in 1976. It's open for tours, and the highlight for most visitors is the playroom.
---
8.

Home Alone House
| | |
| --- | --- |
| Address: | 671 Lincoln Ave, Winnetka, IL 60093 |
The beloved home of the McCallister family is an actual house located in Winnetka, a north suburb of Chicago. The house was built in 1920 in the Georgian style. Although Home Alone premiered in the 1990s, the house still attracts many tourists yearly, especially during the holiday season.
You can stop outside to take photos. Just keep in mind that a real family lives in the home, and the home is located in a residential area. So, be mindful of being polite and respectful as you visit the property.
---
9.

Ferris Bueller's Day Off Cameron Frye's House
| | |
| --- | --- |
| Address: | 370 Beech St, Highland Park, IL 60035 |
The home of Cameron Frye, Ferris Bueller's trusty sidekick, is located in Highland Park, a suburb north of Chicago. While the house is best known for the glass garage containing the 1961 Ferrari, the entire home is regarded as the most important modernist house in Chicago. The house was designed by renowned architect A. James Speyer and was built in 1953.
The house was for sale in the market for 5 years before it was finally sold in 2014 for a little over $1 million.
---
10.

My Best Friend's Wedding Mansion
| | |
| --- | --- |
| Address: | 1350 N. Milwaukee Ave, Vernon Hills, IL |
My Best Friend's Wedding is a romantic comedy that was filmed in various locations in Chicago. Along with shooting in various spots in the downtown area, several scenes were also shot in the surrounding suburbs. The wedding reception scene was filmed in the Cuneo Mansion and Gardens in Vernon Hills.
The Cuneo Mansion and Gardens was built in 1916. The mansion was designed by Chicago architect Benjamin Marshall in the Italianate style, and the garden was designed by landscape architect Jens Jensen.
The Cuneo family gave the estate to Loyola University Chicago in 2009, and the estate now hosts lectures, weddings, and special community events. It's also open for scheduled tours.

Conclusion
While the City of Chicago is more widely known for the beautiful architectural designs of its skyscrapers, it's also filled with many beautiful and famous homes. Architectural enthusiasts will enjoy paying a visit to Chicago and the surrounding suburbs. Many movies have also been filmed in Chicago. So, it's always fun walking around the city and stumbling upon landmarks that have been featured in many famous films.
---
Featured Image Credit: LaTerrian McIntosh, Unsplash