Best Hole Saw Kit for Metal & Wood – Reviews & Buyer's Guide 2023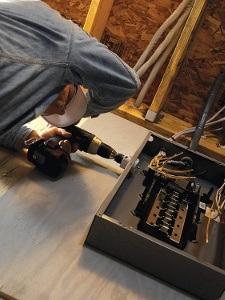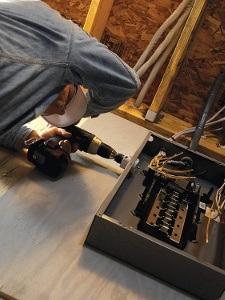 If you're looking to buy a new hole saw kit, you've probably realized that there's a ton of options on the market. They differ greatly in quality and price, and given the manufacturing companies' tendency to exaggerate, it can be hard to be sure that you're getting a good deal online. If that's you, you've come to the right place.
We want it to be easy to shop online, so we've assembled a list of reviews of some of the best hole saw kits of the year, which should enable you to find one that works great for you. If you're still not sure which one you want, we've also assembled a buyer's guide designed to help you determine which features are important, and which are marketing fluff.
With this information in mind, you should be able to find a hole saw kit that will provide you with a long, useful life. Read on to find your next great tool buy.
---
A Quick Comparison of Our Favorites in 2023
Rating
Image
Product
Details

Best Overall

DeWalt Hole Saw Kit Standard Electrician's Set

30-day money-back guarantee
Includes two mandrels
Long-lasting teeth
CHECK PRICE

Best Value

CRAFTSMAN 7-Piece Bi-Metal Hole Saw Kit

High-quality bits
Sharp teeth bite well
Don't dull quickly
CHECK PRICE

Best for Metal

Milwaukee All Purpose Professional Hole Saw Kit

Spans from ¾" to 4¾"
Three arbors included
Ice-hardened for longer lifespan
CHECK PRICE

SUNGATOR General Purpose Hole Saw Kit

Reasonably priced
Includes spare pilot bit and a carrying case
CHECK PRICE

Bosch 25-Piece Hole Saw Kit

25 pieces will cover most uses
Quick-change bit system
CHECK PRICE
The 5 Best Hole Saw Kits
1.

DeWalt Hole Saw Kit Standard Electrician's Set – Best Overall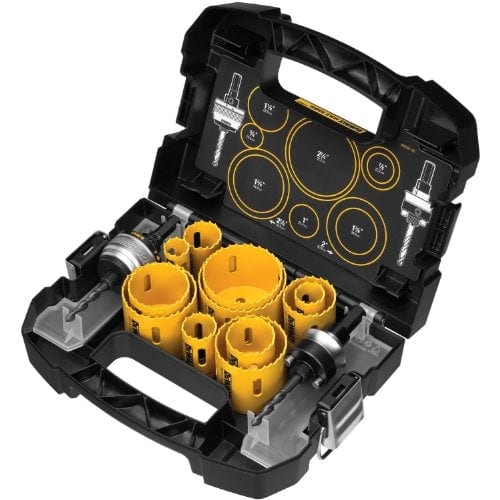 If you're purchasing a set of how saws, then you know about DeWalt. They're one of the biggest names in power tools, and from their reputation, it's never surprising to find their tools at the top of any best products list. This Standard Electrician's Hole Saw Kit is another great offering from the power tool giant.
You'll get six hole saws in this set, ranging from ⅞ to 2½ inches diameter. You'll also get two quick-change mandrels that can be swapped between hole saws in just a few seconds. If you often have to switch between bits of different sizes, this can be a very handy, time-saving feature. A nice carrying case is also included, to make it easy to organize, store, and transport your bits.
Known for their high quality, DeWalt has made these hole saw bits from M3 steel, which is harder and more durable than the M2 steel used in the hole saws from most competing manufacturers. Because of this, these hole saws are very long-lasting, with teeth that don't dull quickly. You can expect to pay a bit more for the DeWalt quality and name, but we think it's a worthy investment. Overall, we think this is the best hole saw kit available today.
Pros
30-day money-back guarantee
Quick change mandrels are easy to swap
Includes two mandrels
Long-lasting teeth don't get dull quickly
Cons
Expensive
Not meant for metal
---
2.

CRAFTSMAN 7-Piece Bi-Metal Hole Saw Kit – Best Value

Some hole saw sets are very expensive, often including far more incremental sizes than most users would need. If you'd like to save a bit of money and get a quality set of hole saws without any extra accessories or uncommon sizes, we think the CRAFTSMAN Bi-Metal Hole Saw Kit is the best hole saw kit for metal and wood for the money.
This kit includes six sizes of hole saw, spanning from one inch to 2½ inches. One mandrel is included with an adapter so it will fit the larger hole saws. There's no case and you won't get any extra arbors or pilot bits. But because these things are left out, the CRAFTSMAN seven-piece hole saw kit is much cheaper than the kits from competitors.
Overall, these hole saws were solid performers. They had sharp teeth that bit well into both metal and wood and they didn't dull quickly. We did have a bit of trouble with the collar getting stuck on the hole saws after use. It became very difficult to loosen again, but we got it with a little help from an adjustable wrench.
Pros
High-quality bits for an affordable price
Cheaper than other similar products
Sharp teeth bite well
Don't dull quickly
Cons
No case included
Collar likes to get stuck on the bits
---
3.

Milwaukee All Purpose Professional Hole Saw Kit – Best for Metal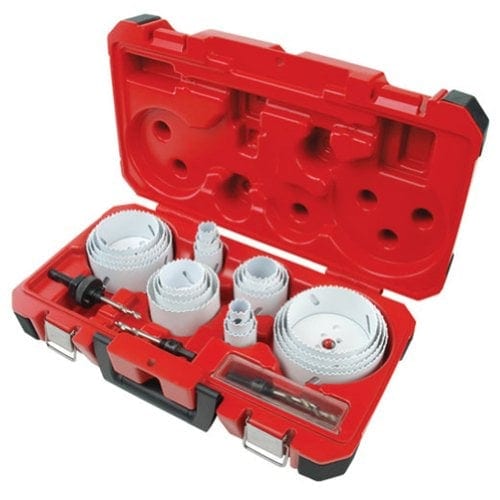 If you are a frequent hole saw user and you know that you often need irregular sizes, then the Milwaukee All Purpose Professional Hole Saw Kit has 22 hole saws of different sizes, comprising a 28-piece set in total, with sizes ranging from ¾" to 4¾ inches. To keep it all organized, you'll get a hard plastic carrying case with room to add more hole saws in the future, in case you still need to expand. Also included are three arbors and three pilot bits.
But these aren't just any old hole saws. These are ice-hardened with Matrix II bi-metal teeth for a longer lifespan and better durability than other hole saws on the market. This means that they've undergone a cryogenic hardening process that results in a lifespan that's up to 50% longer.
The teeth on these hole saws are very sharp, and they seemed to cut through material quicker than other hole saws we tested. Moreover, they stayed sharp much longer, retaining their cutting power and speed for many holes, past the point when others would start to slow down and the teeth would show visible wear. All in all, we've rated this as the best metal hole saw kit you can buy.
Pros
Ice-hardened for a lifespan that's up to 50% longer
Large 28-piece kit covers all the bases
Spans from ¾" to 4¾"
Three arbors included
---
4.

SUNGATOR 14-Piece General Purpose Bi-Metal Hole Saw Kit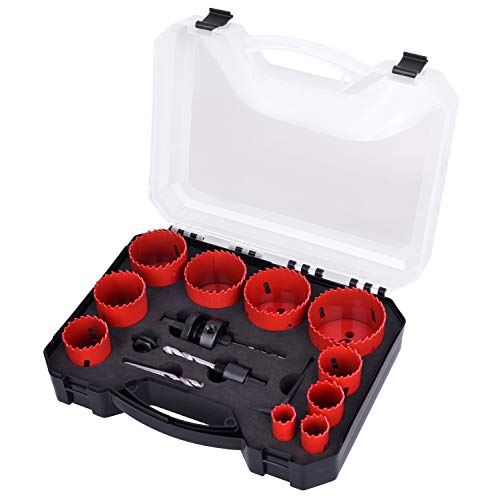 If you won't be relying on your hole saws for daily use but you still want a complete kit to cover all the bases for your projects, then you might try a lesser-known brand such as SUNGATOR. They offer a 14-Piece General Purpose Bi-Metal Hole Saw Kit for a lower price than you'd pay for a much smaller kit from a more well-known manufacturer.
Just because you've never heard of SUNGATOR, it doesn't mean these bits aren't good. They're not professional quality, but they're a killer deal for a weekend warrior or budding DIY enthusiast. You'll get 10 hole saws from ¾ to 2½ inches that will cover many of the sizes you should need. Also included are two mandrels, a mandrel adapter, a spare pilot bit, and a hard plastic case for easier organization and storage.
Though we think they're a decent deal for the price, you still get what you pay for. The plastic case is a nice feature, but this one is cheaply built and one latch broke within the first day. These saws also dull out much quicker than others we tested, so they're not ideal for daily use.
Pros
Reasonably priced for what you get
Includes spare pilot bit and a carrying case
Cons
These hole saws get dull quicker than others
The included case is cheap and the latches break easily
---
5.

Bosch 25-Piece Hole Saw Kit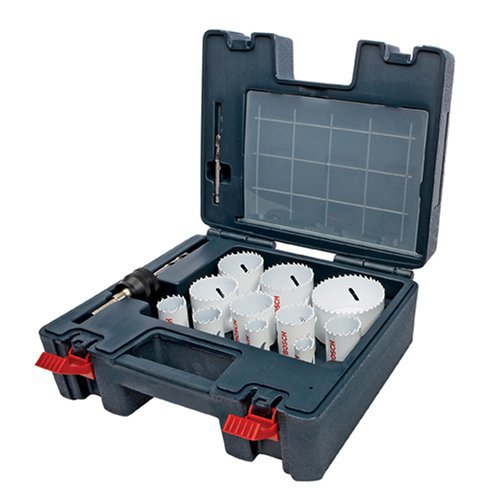 The Bosch 25-Piece Master Bi-Metal Hole Saw Kit looks excellent on paper but doesn't make par when it's game time. Still, you get a lot with this kit, even if it is a rather large investment. Eleven hole saws are included, starting at ⅞ inches with the largest topping out at just three inches in diameter. You'll also get a mandrel and pilot bit with several adapters, plus, a hard plastic case to neatly carry it all.
The main feature of this kit is the quick-change bit system that allows you to quickly and easily swap between different sized hole saws. While it does work for quick swaps between sizes, it also introduces a new problem.
The connection from the quick-change mandrel to the hole saw isn't very secure. When it spins, there's a lot of wobble, which is particularly noticeable with larger hole saws and at higher speeds. This leads to broken pilot bits and holes that look ragged and awful instead of clean and neat like we'd all prefer. Though Bosch is a well-respected manufacturer of high-quality tools, we believe they fell short with this poorly-executed product.
Pros
25 pieces will cover most uses
Quick-change bit system
Cons
Largest hole saw is just 3"
Loose quick connect causes wobbles
The wobbles can snap bits
---
Buyer's Guide – Choosing the Best Hole Saw Kit
Now you've seen how some of the best hole saw kits on the market stack up against each other. Still confused about which one you should buy? Don't worry. To make the decision a bit easier, we've put together this short buyer's guide that will help you determine what to focus on so that you make the right choice.
What's the Largest Size Hole You Need?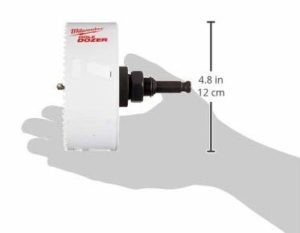 The first thing to ask yourself is; what size hole do you need? If you're drilling a hole for a specific purpose, this shouldn't be too difficult of a question to answer. But if you're just getting it to have for the next time you need to make a perfectly round hole, then it might be more difficult.
When using your hole saw kit to make holes for plumbing, a common use, you'll rarely need any hole saws over 2½ inches since most household plumbing is smaller than this. For this reason, the largest bit in most hole saw kits is 2½ inches.
But if you have a specialty use that requires a hole that's larger than this, you'll need to choose a kit that has hole saws large enough to accommodate your needs. If the kit won't make a hole big enough for your purposes, then it won't do you much good.
Try to determine the largest hole you might need to make, and choose a hole saw kit that has bits at least that large.
How Often Do You Drill Large Holes?
After determining what the largest size hole is that you might need to drill, it's time to think about how often you'll really use this tool. If your hole saw kit is only going to see occasional use, being broken out only sparingly for a solitary hole here or there, then you'll be fine with lower quality and less expensive hole saw kit. These hole saws might wear out quicker than a better set, but with occasional use, they'll still last a very long time.
On the other hand, if you use hole saws on a regular basis, it would be a wiser investment to get a more professional-quality set that won't dull quickly. If you'll be using them a lot, then you'll benefit more from the improved lifespan.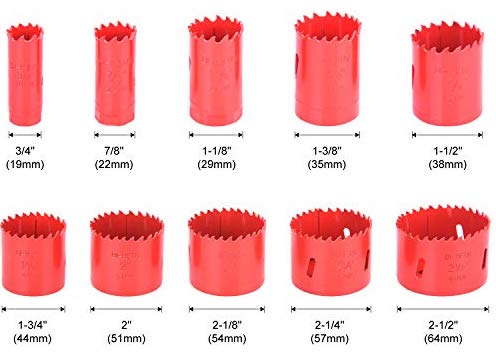 Does it Matter What Material the Hole Saw is Made Of?
One of the most important features of a hole saw is the material from which it is made. Which material you're going to need is largely dependent on what you're going to be cutting. Steel hole saws are generally best for drilling wood, fiberglass, PVC, and aluminum. Cobalt hole saws, known for their ability to dissipate heat quickly, are designed to work with aluminum and harder metals like stainless steel.
You probably won't find many black oxide-coated or titanium-coated steel hole saws, but if you do, they work with hard and soft woods, many metals, PVC, and fiberglass. There are also carbide-tipped hole saws, which stay sharp the longest, but also work the best when drilling tile and masonry. If you're working with something much harder than that, you may need to invest in diamond-edge, which will last longer and cut faster in the same tasks relative to a carbide-tipped model.
Drill Chucks and Hole Saw Arbors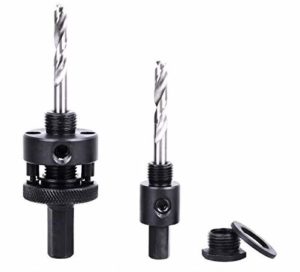 Another consideration is the size of your drill's chuck versus the size of the arbor on your hole saw kit. Arbors come in different sizes to accommodate hole saws of different diameters. If you have a very small drill with a small ¼-inch chuck, then you'll be limited as to what types of hole saws you can fit.
Many hole saw kits top out at 2½ inches, and the arbors that fit these bits are usually made to fit all drills with a standard ⅜-inch chuck. Beyond this size, larger arbors are often used that will require a drill with a ½-inch chuck.
Before purchasing a hole saw kit, double-check the size of your drill's chuck and make sure that the kit you pick will work with your drill. A drill with a ½-inch chuck will work with any hole saw, and a ⅜-inch chuck will work with most kits and most hole saws under 2½ inches. It's really with ¼-inch chucks that you need to pay the most attention since many hole saws will not fit them.
Quick Change Arbors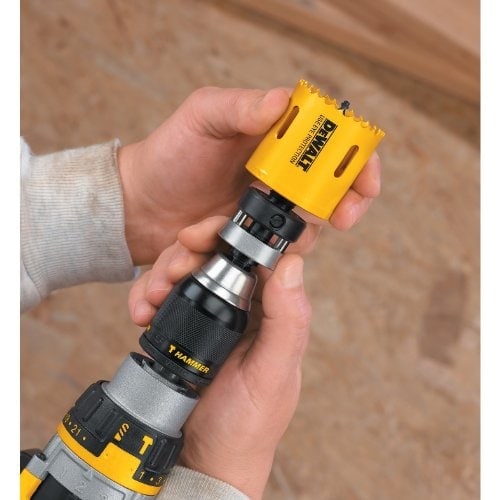 If you've ever had to drill several holes of varying size in succession, then you probably understand first-hand just how tedious and time-consuming it can be to swap mandrels between hole saws. Luckily, manufacturers have made adjustments and introduced quick-change arbors. These arbors let you change mandrels between hole saws without any tools in just a few moments.
On the whole, we love quick-change arbors and think they're a time-saving convenience. But they're not always done right. When done wrong, they can actually be a major hindrance, causing wobbly drilling, ragged holes, and broken pilot bits.
If you're going to purchase a hole saw kit with quick-change arbors, make sure that they're secure and solid so that you can still drill straight and clean holes with them.
Conclusion
They say that half the job is having the right tool. Well, if that job is drilling holes, then a hole saw kit is certainly the right tool. We drill a lot of holes, so we wanted to find the hole saw kit that could handle the hardest drilling through a variety of materials without getting worn down after just a few rounds. Though our reviews compared five of these kits, only three have earned our recommendations.
The DeWalt Standard Electrician's Hole Saw Kit was our favorite overall. It features quick-change mandrels that are easy to swap but still stable, with hard hole saws made from M3 steel that stay sharp for longer than other hole saws.
For a more affordable option, we recommend the CRAFTSMAN 7-Piece Bi-Metal Hole Saw Kit. This kit offers high-quality bits at an affordable price. You get six different sizes of hole saw, all with sharp teeth that don't dull quickly.
If you're a constant user of hole saws and need every size in the book, then we'd recommend the Milwaukee All Purpose Professional Hole Saw Kit. This 28-piece kit features cryogenically ice-hardened hole saws that will outlast the competition.