8 Best Drywall Saws – Reviews & Buyer's Guide 2023
Unless you are in the construction business, a drywall saw is not something you are likely to need very often, so it's natural to have questions about which type or what brand you should purchase when the need arises. There are many brands available, and they come in all different sizes.
We have chosen eight different brands to review for you. Each brand is easy to find and popular to use for cutting drywall. We'll talk about our experiences reviewing these tools so that you can get an idea of the pros and cons of each. We've also included a short buyer's guide where we take a close look at the drywall saw to determine what makes one brand better than the next, as well as take a look at any special features you require to make the job easier.
Join us while we take an in-depth look at blade size, handle comfort, durability, and more to help you make an educated purchase.
---
A Quick Look at our Favorites in 2023
Rating
Image
Product
Details

Best Overall

DEWALT 2-in-1 Folding Drywall Saw

Saw and rasp functions
Stainless steel
Ergonomic handle
CHECK PRICE

Shark 10-2206 Rockeater

Carbon steel construction
Diamond-ground teeth
2-way cutting
CHECK PRICE

Best Value

Stanley 15-206 Jab Saw

Wood handle
6" blade
Inexpensive
CHECK PRICE

Goldblatt 6" Drywall Saw

Sharp beveled edge
Triple-ground teeth
Triple-ground teeth
CHECK PRICE

Gunpla 6" Pro Drywall Saw (2 pcs.)

2-for-1
Manganese steel
General-purpose cutting
CHECK PRICE
The 8 Best Drywall Saws:
1.

DEWALT DWHT20123 Folding Drywall Saw – Best Overall

The DeWalt DWHT20123 Folding Drywall Saw is our pick for the best overall drywall saw. This model saw features a combination blade and rasp for more versatility than other brands and both fold away like a pocket knife, so you need to worry about getting holes in your pockets or pants as you do with a straight saw. The blade and rasp have a locking mechanism that locks the blades in place when in the open and closed position, and the ergonomic handle is comfortable and easy to hold while you work.
The only downside we experienced was the locking mechanism was fidgety and didn't always lock the blades in place when open or closed.
To conclude, we think that this is the best drywall saw of the year.
Pros
2-in-1 jab saw and rasp
Stainless steel
Folding
Ergonomic handle
---
2.

Shark 10-2206 Rockeater Drywall Saw

The Shark 10-2206 Rockeater Drywall Sawing Tool is our runner up for the best drywall saws. This brand features diamond ground teeth instead of stamped teet, which is sharper and more durable. The blade uses high-quality carbon steel that is durable and stays sharp longer. It can also cut on the push and pull motion.
We like this saw quite a bit while we were reviewing it, and the only thing we could complain about was that the blade is fairly coarse, which can produce jagged cuts and is somewhat difficult to use in small areas. We chose the top model over this one because it folds and protects your clothing when not in use, and the teeth make smoother cuts.
Pros
Carbon steel construction
Diamond-ground teeth
2-way cutting
Cons
Thicker blade
Not the sharpest
---
3.

Stanley 15-206 Jab Saw For Drywall – Best Value

The Stanley 15-206 Jab Saw for Drywall is our pick as the best drywall saw for the money. This model features a wooden handle that is comfortable and can provide a firm grip on the saw while you work. It has a six-inch blade with plenty of sharp teeth that cut drywall quickly. The tip of the saw features a self-starting point that penetrates the drywall with little effort. We were able to put several holes in drywall to install outlets, and the blade and tip stayed sharp throughout the job.
The downside we experienced was that the blade would wobble slightly from side to side while we were making our cuts. It didn't hurt the cuts, but it did make the saw seem flimsy.
Pros
Wood handle
6" saw
Inexpensive
Find a drywall specialist in your area, and get free, no-commitment estimates for your project.


---
4.

Goldblatt 6" Drywall Saw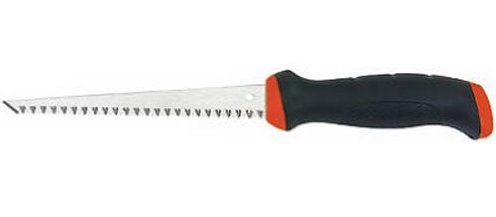 The Goldblatt 6" Jab Saw is a bi-metal saw that features a sharp beveled point for starting cuts without causing cracks. Triple ground teeth create three cutting surfaces, which leaves a smoother surface when finished. An ergonomic shaped soft handle provides a comfortable grip with plenty of leverage.
Unfortunately, we found that the blade dulls very quickly on this drywall saw and needed replacement after only a few smaller jobs.
Pros
Sharp beveled edge
Triple-ground teeth
Ergonomic grip
---
5.

Gunpla 6" Pro Drywall Saw (2 pcs.)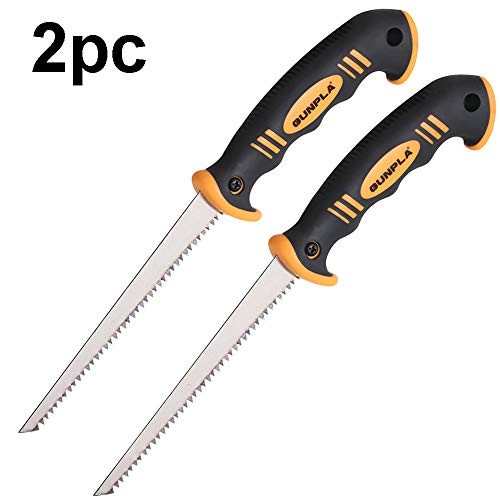 The Gunpla 6" Pro Jab Saw is two identical saws in the same package. The blades use manganese steel in their construction and can cut in both directions. The teeth on this model can cut drywall as well as other general-purpose cutting, like plywood and even PVC.
The downside to the Gunpla 6" Pro Jab Saw was that it rusts extremely quickly even with care taken to protect it from the elements. It was also slow to cut and was easily one of the slowest saws on this list.
Pros
Two-piece
Manganese steel
General-purpose cutting
Cons
Rusts quickly
Doesn't cut well
---
6.

IRWIN Tools Standard Drywall/Jab Saw

The IRWIN Tools Standard Drywall/Jab Saw is an exceedingly inexpensive drywall saw that you could also use to make cuts in other materials like PVC. Each tooth is bi-ground, which means you get two cutting surfaces on each tooth. More cutting surfaces allow you to make faster cuts. The balanced hardwood handle is well balanced and fits comfortably in your hand.
We lie the IRWIN Tools Standard Drywall/Jab Saw as an inexpensive small job tool, but it is quite flimsy, and some of the parts become loose almost immediately. The blade is also shorter than most of the others on this list, and it wears out quickly and becomes dull.
Pros
Bi-ground teeth
Balanced hardwood handle
Low cost
Cons
Flimsy
Dulls quickly
Short blade
---
7.

Klein Tools 31737 Drywall Saw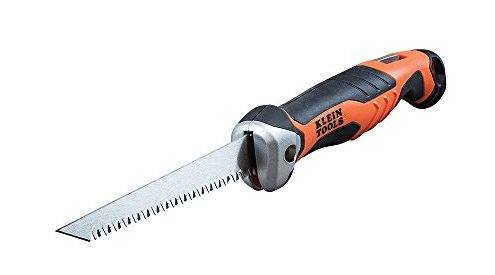 The Klein Tools 31737 Drywall Saw features a carbon steel blade that is rust and corrosion-resistant. The triple-ground teeth create three cutting surfaces for the smoothest cut, and a cushioned handle end makes starting new cuts more comfortable. The blade folds shut, so you don't poke holes in your pocket and pants, and it helps protect the blade when not in use. The blade also has a mechanism that locks it in the fully open position as well as a nearly fully open position that will make it easier to make certain cuts.
The downside to the Klein Tools 31737 Drywall Saw is that it's extremely expensive, and you can get several other saws for the price of thione. A second problem we noticed is that it is potentially dangerous because the blade snaps closed quickly, so if your fingers are in the way, you can get cut. It's also quite heavy and can get uncomfortable with extended use.
Pros
Carbon steel blade
Triple ground teeth
Locks at 125 and 180-degrees
Folding handle
Cushioned handle end
Cons
Blade snaps shut
Expensive
Heavy
---
8.

WilFiks Razor Sharp 12" Compass Saw
The WilFiks Razor Sharp 12" Compass Saw is one of the largest saws on this list and features a 12-inch blade made from high-carbon steel. The blade has seven teeth per inch, and each tooth is diamond-ground to produce three cutting surfaces. The handle is comfortable in your hands, especially for long work sessions, and the pointed tip helps you start cuts much easier.
We enjoyed the extra-long blade while we were reviewing the WilFiks Razor Sharp 12" Compass Saw, but what we didn't like was that the blade wasn't very sharp out of the box. Though we were able to sharpen it to get better performance, we know many people don't have the tools or knowledge to sharpen the blade. Also, we reviewed two of these saws, and both had a broken handle after a few jobs due to the flimsy construction.
Pros
12-inch blade
Diamond ground
Anti-slip handle
Carbon steel blade
Cons
The blade is not very sharp
Weak handle
---
Buyer's Guide – How to CHoose the Best Drywall Saw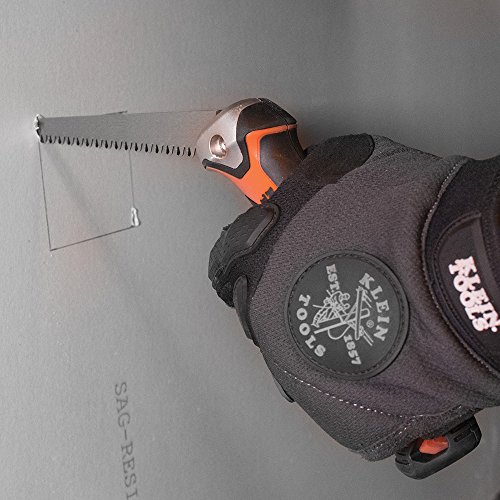 Saws meant for cutting drywall are often called "jab saws," which describes the motion you're making as you're plunging into the wall for the first time, instead of the by the function they have or the shape of the saw, which are how most other saws are named.
These aren't complicated tools, so there are two areas that you should pay a lot of attention to the blade and the handle.
It's common for a homeowner to need to make a hole it the drywall of a home to install an electrical outlet, light fixture, and many other similar items, and to do that, you are going to require a drywall saw. Let's look at what makes one saw better than the next.
Blade Length
Drywall is usually about ⅜-inch thick, so you do not need a very long blade to cut it. However, longer blades cut much faster than a shorter blade because they take away more material with each stroke. The longer blade reduces hand fatigue so you can work longer, and helps you gain more leverage while starting a new hole.
However, larger blades can become clumsy if they are too large and it becomes harder to make small holes.
User Tips
We recommend a 6-inch blade for most applications like cutting holes for light switches or outlets.
We recommend a 12-inch blade for jobs that require removing large straight sections of drywall only.
Only get a smaller blade if you need it for a tiny job.
Point
Because you often need to make a hole in an already standing piece of drywall, your saw needs to have a sharp point at the end. You place the tip against the wall and gently palm the handle to make the hole. If the tip is not sharp enough, or you use too much force, you can crack the drywall.
Tooth Grind
Another thing to think about before making your purchase is the tooth grind. Many times, you will see a package claiming the teeth are double or triple ground. What this means is that the tooth has multiple cutting surfaces, a double ground tooth ha two, and a triple ground tooth has three.
More cutting surfaces produce a smoother cut faster, and a triple cut blade can remove material up to 50% faster than a single cut. Multi-cut surfaces also hint at a higher quality construction as budget saws stamp out their blades.

Handle
Many people overlook the drywall saw handle, but it is a critical piece of the tool. A misshapen handle is uncomfortable and will reduce the time you can work on a project, as well as interfere with tour ability to make accurate cuts. If the handle is flimsy, it can allow the blade to sway from side to side. It can also crack or break, rendering the saw useless.
Some handle will allow you to fold the blade like a pocketknife. This folding feature helps protect your clothing while carrying the tool, and it can also help protect the blade teeth while you are not using it. We also found the folding feature reduces the chance of the tool teeth rusting.
---
Conclusion:
The DEWALT DWHT20123 Folding Jab Saw/Rasp Combo is our top pick as the best drywall saw due to its included rasp, folding blade, and ergonomic handle. The Shark 10-2206 Rockeater is our runner-up, featuring diamond-ground teeth and a carbon steel body that will last you a long, long time. It only loses out on first place due to a thicker blade and having teeth that aren't sharp enough. The Stanley 15-206 Jab Saw is our pick for best value, coming with a wooden handle that looks great. It will serve as an excellent model for the beginner or contractor who needs a cheap tool.
Hopefully, our reviews have helped you understand why some models rise to the top of our list, and why others fall. With this knowledge, you should be able to find the best drywall saw for your needs.
Read More: 8 Best Drywall Stilts – Reviews & Top Picks