How to Move a Mattress – 11 Tips & Tricks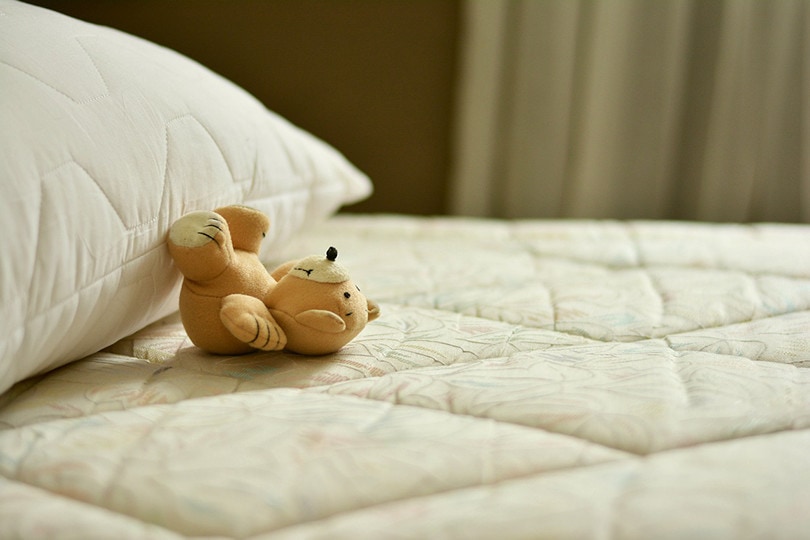 Mattresses can be quite difficult to move alone. They can also get torn or dirty, which is the last thing you want to happen.
A good mattress is expensive, and buying a new one after moving can be quite draining. If you find yourself with a mattress you like, you need to be careful with it. So, what can you do to move your mattress without damaging it or hurting yourself? Let's find out.

Equipment Needed for Moving a Mattress
It would be wise to equip yourself with some extra supplies that can make your move easier. You can also rent out some of this equipment from a moving company. They include:
Mattress Bag
Cart / dolly
Rachet tie-down straps
Nylon rope
Tape
A pair of scissors
Tool set with wrenches and screw drivers
Tips and Tricks to Move a Mattress
1.

Measure Your Mattress
Ideally, you should be aware of the size of your mattress if you're the one that bought it. If not, get a measuring tape and get to work. You need to know the exact dimensions.
This will determine everything from the manpower you need to the size of the mattress bag, storage space, and the best moving method. Also, ensure you measure the size of the doors to know which position it'll fit in comfortably.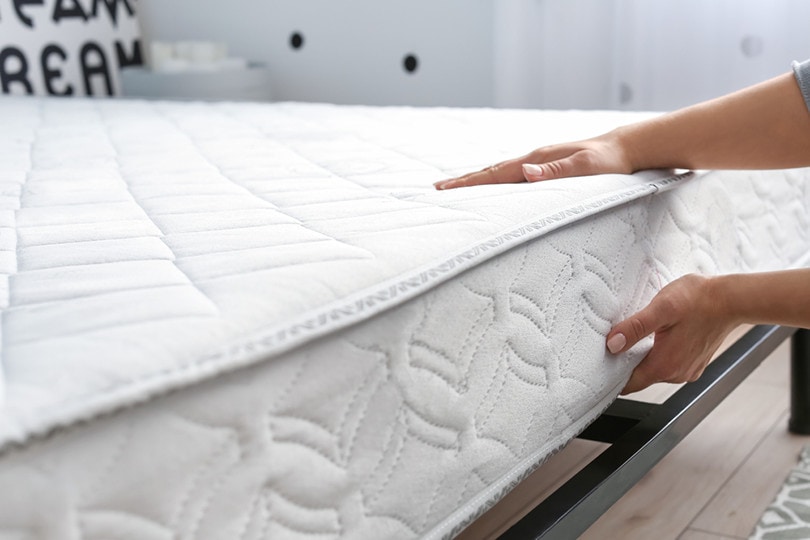 ---
2.

Place Your Mattress in a Mattress Bag
After measuring your mattress dimensions, the next step should be to get a mattress bag. Most stores sell mattress bags in standard sizes but knowing the right dimensions ensures you get the right fit. You can buy one from the general store or online. Having one will ensure your mattress doesn't get dirty when being moved and during storage.
---
3.

Ensure You Have Enough Working Space
If possible, clear your room to ensure you can maneuver your mattress. You can move the bedside tables, clothes racks, and other items before dismantling the bed. Moving the mattress last also ensures that you have a place to sleep before you finish moving.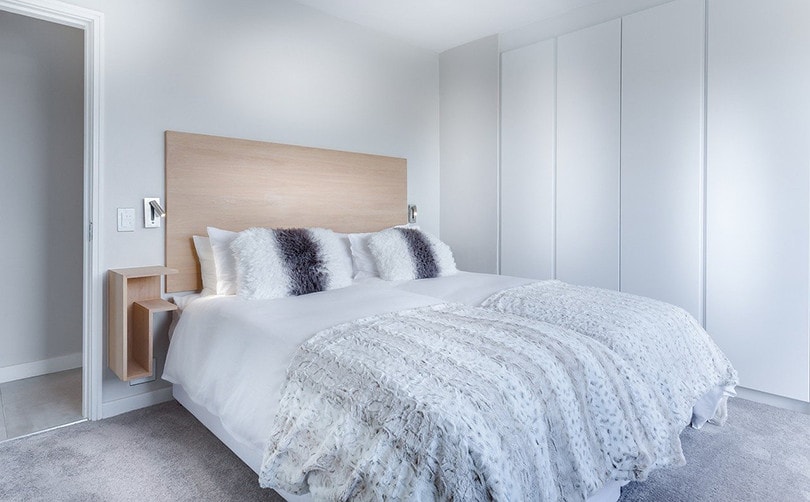 ---
4.

Get Friends to Help
Mattresses are heavy and difficult to move alone. If you are even considering moving your mattress on your own—don't. Not only is it too hectic, but you might also end up hurting yourself. Besides, what are friends for?
Try enlisting the help of a friend or neighbor, or several depending on the size of your mattress and moving path. If you can't get friends to help, consider hiring professional movers. Some movers offer their services per task or hour.
---
5.

Clear the Moving Path
The path you use to move your mattress should be clear from any obstacles. Ensure you remove any wall hangings, pictures, and side tables. Your top priority should be removing any breakables or anything that can cause injury.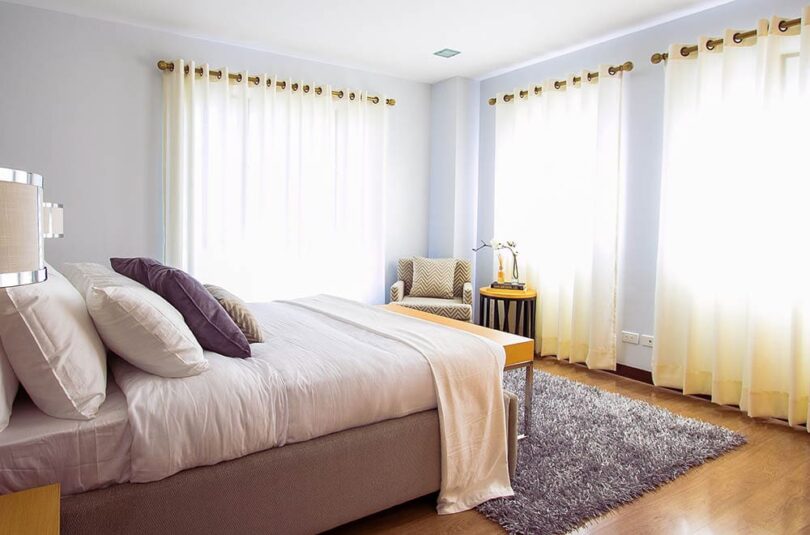 ---
6.

Ensure the Mattress Is on Its Side
Moving the mattress when it's on its side is easier than moving it vertically. Flipping the mattress horizontally helps move it past doorways while preventing it from tipping over.

Moving a Mattress on Your Own
Although moving a mattress on your own is difficult, it's not impossible. If you don't have friends or neighbors willing to help and can't afford professional movers, you can attempt moving it on your own.
1.

Fold it Up
If you are moving your mattress without help, it would be impractical to move it without folding it first, especially if it's a queen-size or Califonia king. Folding reduces the height and width, making it easier for you to carry and fit it through doors.
However, this trick will only work if you have an all-foam mattress not more than 11 inches. If your mattress is thicker than that or has coils, folding it could damage it.
---
2.

Reinforce the Mattress With Cardboard
If your mattress is floppy and folding isn't an option for you for one reason or another, try reinforcing it with sturdy cardboard. You can use straps or rachet tie-downs to secure it to the cardboard, which prevents it from flopping.
---
3.

Lift With Your Knees, Not Your Back
If you have knee or back issues, you shouldn't attempt moving a mattress alone. If not, protect yourself from throwing out your back by lifting from the knees. To do this the right way, don't lift by bending forward; instead, bend your knees ad thighs in a squatting position and pick the mattress, keeping it as close to your body as possible.
---
4.

Use a Cart
Most buildings have a dolly/cart that you can use to move your mattress. Moving your mattress from your room to the vehicle this way makes it way easier. This trip is more helpful if you own a thick mattress.
---
5.

Drag Your Mattress
If none of the other tips and tricks worked, consider grabbing and pulling your mattress to where you want to move it. Start by sweeping and cleaning the room to ensure your mattress doesn't collect any dust. However, this doesn't mean you shouldn't get a mattress bag.
If you don't have a mattress bag, find two large blankets or sheets and put your mattress in the middle. Next, grab two corners and drag your mattress to the vehicle.

Precautions When Moving and Storing a Mattress
A good mattress is perhaps the most important object in your bedroom, and you should take precautions when moving it. There are also some rules on how to store a mattress correctly. Some of them include:
Clean your mattress before and after keeping it in storage.
Keep it in an airy room with average temperatures.
Avoid storing anything on top of the mattress.
Don't store your mattress on its side since this can compromise its interior integrity.

Conclusion
It's easier to move your mattress if you follow the tips and tricks in this article. Although it can be challenging, doing it right is worth it.
See also: How to Move a Sleep Number Bed: 5 Tips & Tricks
---
Featured Image Credit: congerdesign, Pixabay