Kohler Wellworth Toilet Review 2023 – Pros, Cons, & Verdict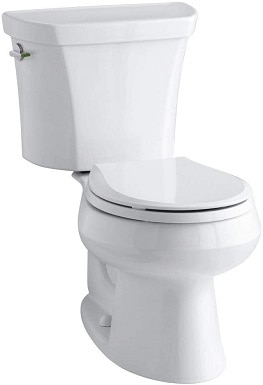 We give the Kohler Wellworth Toilet a rating of 3.3 out of 5 stars. 
Build Quality: 3.5/5
Cleanliness: 2.5/5
Features: 4.5/5
Price: 4/5
The Kohler Wellworth looks like a very average toilet in every respect. And for the most part, that's exactly what is. Several features still make this toilet an excellent option for many, even if there are a few drawbacks.
What makes this toilet so appealing is the solid performance it offers at a price that's more affordable than toilets from other well-respected brands. Despite its affordable pricing, the Wellworth manages an impressive class-five flush that can evacuate up to 1000 grams at once. But the lack of any special coating means you might be cleaning it more often than others.
With a powerful flush, you might think this toilet is a water waster, but you can get it with an economical 1.28-gallon flush. The china isn't the most durable, but it's warrantied for life and looks good, though it doesn't standout appearance-wise.
If you're on the fence about the Kohler Wellworth, this review will shed light on the most important aspects and features of it so you can make an informed decision.
---
Kohler Wellworth – A Quick Look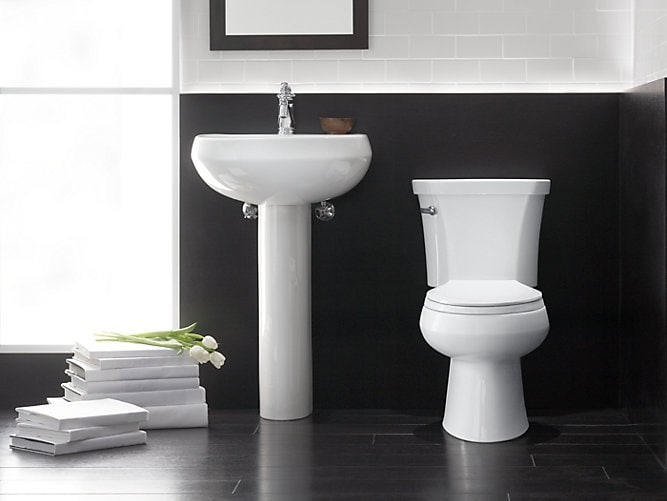 Specifications
Brand: Kohler
Model: Wellworth
Water Usage: 1.28 or 1.6 GPF
Flush: Class Five
Seat Height: Standard or chair height
Rough-In: 10", 12", or 14"
Weight: 100 pounds
Width: 19.5"
Depth: 27.5"
Pros
Canister flush valve
Conservative flush
Available in standard and chair heights
Class five flush evacuates large loads
Most include hardware, wax ring, and seat
It's priced reasonably
Cons
The toilet is hard to keep clean
Was cracked on arrival
Weak china tends to develop more cracks with age
Class Five Flush and Canister Valve
The average toilet today uses 1.6 gallons of water with each flush. But high-efficiency toilets use only 1.28 gallons or even less. The Wellworth is available as a high-efficiency with a 1.28-gallon flush, but you can also get it with a 1.6-gallon flush or with a dual flush that offers both.
While there are many benefits to water conservation from saving the environment to saving money and beyond, there is a downside associated with low-volume flushes. Often, this small volume of water is insufficient to evacuate large loads of solid waste.
But the Wellworth takes care of this problem with Kohler's canister flush valve. This valve releases all of the water very quickly in 360 degrees, offering a very powerful flush, despite the low water usage. In fact, this toilet offers a class-five flush, which means it can remove up to 1000 grams of solid waste with a single flush.
In our experience, even the 1.28 gallon per flush model of the Wellworth offers a sufficiently powerful flush and rarely requires a second flush.
How Important is Price?
One of the biggest draws of the Wellworth is its affordable price. Granted, it doesn't have many special features like you might find on some higher-priced toilets, but many of those aren't exactly necessary anyway.
The Wellworth offers solid functionality at an affordable price. If you're on a budget, this is a great toilet to help you avoid spending exorbitant amounts of money on a product you'll be pooping in. Of course, you won't get some of those luxurious extras that high-end toilets might offer, but you'll get a stable place to take care of business without breaking the bank.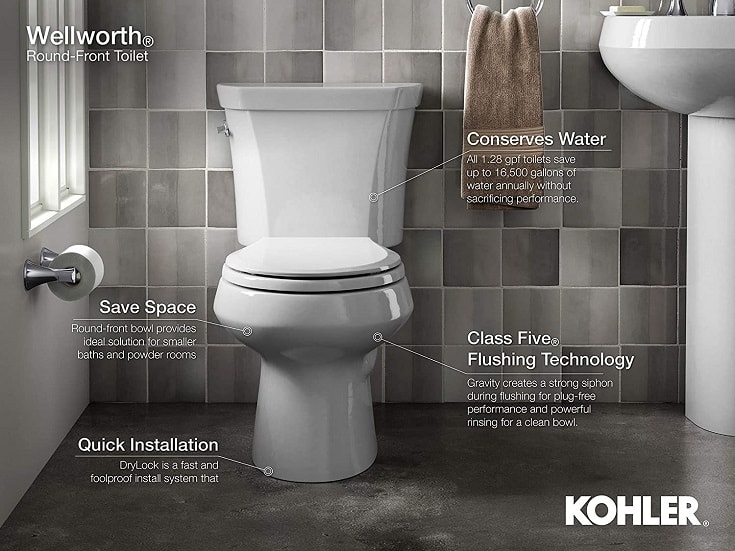 Waste Sticks to the Bowl
Many higher-end toilets today feature special coatings that prevent waste from adhering. Usually, the inside of the bowl is coated to prevent skid marks. Often, the exterior also receives the same treatment, making it very easy and quick to clean.
Unfortunately, there are no such coatings on the Wellworth. It's still finished in a high gloss, so waste won't stick too easily. However, it does seem that you'll need to clean this toilet more often than others that we've used.
We noticed that at first, the water level in the bowl was too low, which was causing this problem to appear worse than it really is. There's an adjustment in the tank so you can change the standing water level in the bowl. Once we made the proper adjustments, the problem was minimized, though still existed.
Even with the water level set correctly, the lack of a special coating on the bowl meant that we had to clean the bowl regularly to prevent it from becoming a nasty mess.
Leaks are a Common Occurrence
Usually, when we experience leaks on a toilet, it's involving the internals, a supply line, or a fitting. But with the Wellworth, we had an entirely different experience.
When the toilet arrived, we noticed a tiny hairline crack in the tank. It only took a few months for this to start slowly leaking a small dribble of water.
Through our research, we also discovered that similar issues had occurred with other Wellworth toilets. Worse, some of them seem to arrive in good condition but then develop cracks that lead to leaks with regular use.
If the china on your toilet cracks and begins to leak, the entire toilet will need to be replaced.
Five-Year and Lifetime Warranties
So, what do you do if your Wellworth toilet develops a leak in the China? Well, luckily, you'll be well covered by Kohler's warranty.
Many toilets we've seen offer paltry one-year warranty periods. But Kohler goes much further with the Wellworth, which is surprising and awesome for such an affordable toilet.
The internals and all mechanical parts of this toilet receive an impressive five-year warranty. Even better, the china is warrantied for life. Even if a problem should arise, Kohler will take care of you and you'll get a functioning replacement. To us, this warranty alone drastically increases this toilet's value.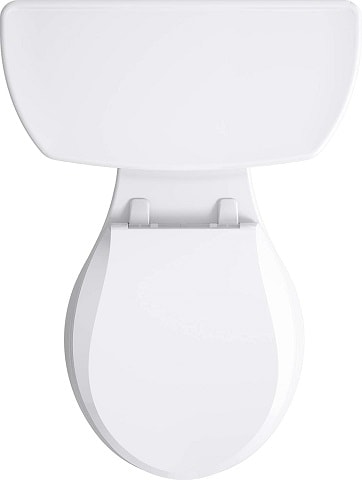 ---
FAQ
Is the Kohler Wellworth ADA Compliant?
Unfortunately, no. The Wellworth is not ADA compliant.
Is the standing water in the bowl deep enough to prevent skid marks on the sides of the bowl?
Unless your aim is completely off, the standing water in the bowl should be a sufficient height to prevent skid marks. However, the bowl does tend to hold onto waste that hits the sides as the coating doesn't do much to deter adherence.
Is the flush powerful enough to evacuate a full load of waste?
The Kohler Wellworth has a class five flush. This means that it's capable of flushing up to 1000 grams of solid waste at a time. While this is more than adequate for most loads, particularly messy or oversized loads may occasionally require an additional flush.
---
What the Users Say
We've gotten to know the Wellworth pretty well and we're confident that we've done a good job of bringing you all the most important information about it. But there are tons of other people who have also gotten to know this toilet through months of regular use in their homes.
We thought it might be beneficial to bring you their opinions as well, to make sure you're getting the complete picture. So, we searched through reviews to get a feel for what people were saying about this toilet and share those opinions with you.
For the most part, users of the Wellworth seemed pleased with its low water usage. Despite the small volume of water used with each flush, most reviewers reported strong flushes that did a great job of evacuating waste, even very large loads.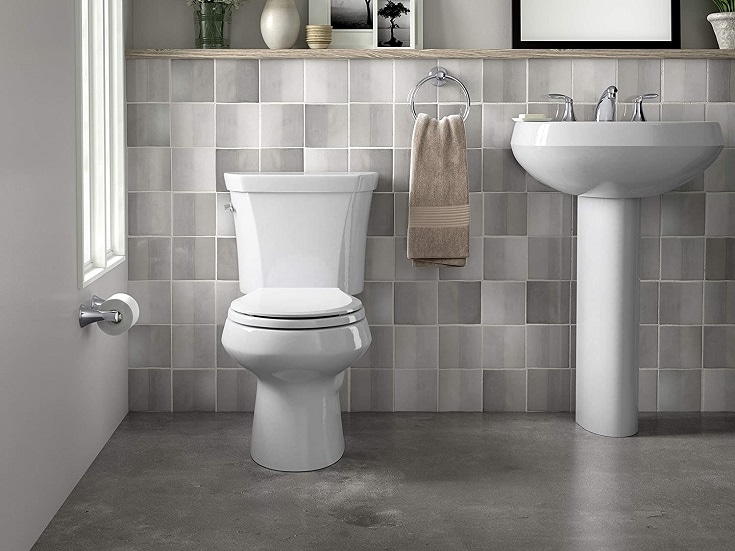 Some people complained that the standing water in the bowl was too low and it caused there to be more foul odors than with other toilets. However, this is mostly due to the fact that they failed to adjust the water level in the bowl, which can be adjusted from inside the tank.
A common problem with this toilet is leaking. Not the internals, but the china itself. It seems that hairline cracks in the toilet from the factory are a common occurrence. Unfortunately, these seem to get worse with time and cracks tend to also appear in some toilets that may not have had them when they arrived. This led to many repairs and replacements and seems to be one of the worst issues with the Wellworth.
It was also common to see people commenting that if waste hits the sides of the bowls, it tends to stick. There's no special coating on this toilet to prevent such matters, and many people seemed frustrated that they had to clean this toilet more often than expected.
Still, many users appeared to be quite pleased with the affordable price of this toilet; a trait that seems to attract many to it.
---
Conclusion
Overall, the Kohler Wellworth is a great choice for anyone in search of an affordable toilet. You'll also get a class-five flush that evacuates large loads with ease, a five-year warranty on the internals, and a lifetime warranty on the china. You might end up cleaning this toilet more often than others due to the lack of a special coating, but if you're looking to save some money and don't mind a little extra work, then the Wellworth is a great choice.