7 Best Hot Tub Sanitizers 2023 – Reviews & Top Picks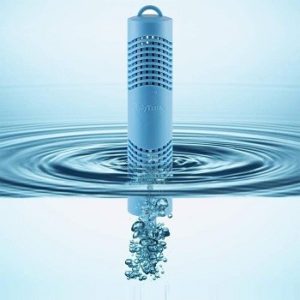 Owning a hot tub can be an enjoyable experience. It's great to have the option to sit in it and relax after a long day at work. However, if you don't maintain your hot tub, it will build up mold, algae, and bacteria that can cause harm to you and others.
To help you with your maintenance needs, we've gathered a review list of the top seven hot tub sanitizers with different features, so you can find one that is ideal for you. The buyer's guide will give you more information about things to consider before you make your purchase.

A Quick Comparison of Our Favorites in 2023
Rating
Image
Product
Details

Best Overall

Zodiac W20750 SPA Stick Mineral Sanitizer

Natural minerals
Destroys bacteria
Doesn't stain
CHECK PRICE

Best Value

CLOROX Pool&Spa All-in-One Sanitizer

Chlorinate and shock
Kills bacteria
Removes contaminants
CHECK PRICE

Premium Choice

POLYTRANS Hot Tub Spa Mineral Sanitizer Sticks

Lasts up to four months
No harsh chemicals
Kills a variety of harmful pollutants
CHECK PRICE

Sundance 6890-780 SunPurity Tub Mineral Sanitizer

Natural minerals
Disinfects
Algae prevention
CHECK PRICE

iONRx Natural Hot Tub Sanitizing Treatment

No need for shock or bromine
Safe for all hot tubs
No chemical odors
CHECK PRICE
The 7 Best Hot Tub Sanitizers
1.

Zodiac W20750 SPA Stick Mineral Hot Tub Sanitizer — Best Overall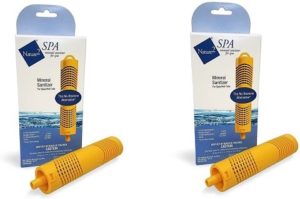 Nature2, our pick for the best hot tub sanitizer, offers an alternative to chlorine that is low maintenance yet effective. It uses natural minerals to sanitize the water by destroying the bacteria that pass through your hot tub's filter. You know this sanitizer is working when you see how clear the water is.
This hot tub sanitizer is guaranteed not to stain surfaces, and it is installed in seconds by dropping it into the spa filter. It continues to work even when the hot isn't running and helps keep pH levels neutral, which prolongs the life of your equipment. We like that it is better for the skin because there are fewer harsh chemicals in the water.
On the downside, you will still need to use 0.5 ppm of chlorine, but this is a small amount that you won't smell or feel. On the upside, one filter can last up to four months, so this is an affordable alternative to other expensive cartridges on the market.
Pros
Natural minerals
Destroys bacteria
Doesn't stain
Easy to use
Neutralizes pH
Less harsh
Lasts up to four months
Cons
Still have to use chlorine
---
2.

CLOROX Pool&Spa 23014CSP All-in-One Sanitizer — Best Value
CLOROX Spa is the best hot tub sanitizer for the money because it stabilizes the water and is offered at an affordable price. It is formulated for spas and hot tubs and works by killing bacteria and destroying contaminants.
Also, it is a chlorinate and shock in one package, which means it breaks down the organic waste that causes the water to become cloudy and odorous. You will notice how clear your water becomes after using this. You will smell chlorine, but any bad odors will be gone. It removes body oils, sweat, lotions, and urine, so you know your water is fully sanitized from contaminants.
It is easy to use by applying the recommended amount once per week, but you have to wait until the chlorine levels reach 3-5ppm before you use the hot tub again, which is why this did not reach the number-one spot on our list. However, one bottle will last for approximately four months.
Pros
Affordable
Chlorinate and shock
Kills bacteria
Removes contaminants
Easy to use
Lasts up to four months
Cons
Have to apply weekly
Can't use the hot tub immediately
---
3.

POLYTRANS Hot Tub Spa Mineral Sanitizer Sticks — Premium Choice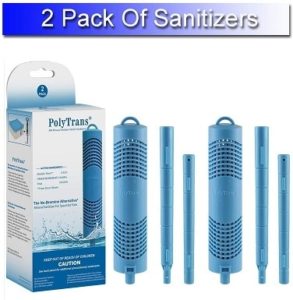 This sanitizer stick by POLYTRANS is a mineral sanitizer that is easy to use but is a pricier product, which is why we placed it number three on our reviews list. The package contains two sanitizers, and each one will last up to four months. To use, all you have to do is drop it into your filter and forget about it. Unfortunately, this filter will not work in every hot tub because the required filter length is at least 7 inches, with a filter hole diameter of at least 1.25 inches.
There are no harsh chemicals in this product, and it effectively kills bacteria, viruses, protozoa, and fungi that are present in your hot tub. Your water will be crystal clear and odor free, so you can enjoy your time in the water without worrying about what may be present. You will notice a difference in how your skin feels, and it won't discolor your clothes or hot tub equipment. It will even cleanse when the tub isn't running.
Pros
Easy to use
Lasts up to four months
No harsh chemicals
Kills a variety of harmful pollutants
Gentle on skin
Won't discolor
Also cleanses when not running
Cons
Pricey
Won't fit every hot tub
---
4.

Sundance 6890-780 SunPurity Tub Mineral Sanitizer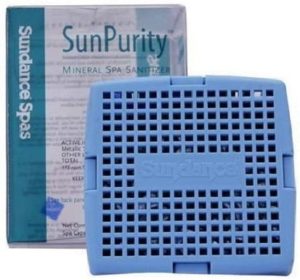 This sanitizer cartridge is made for Sundance Spas as a natural mineral purification that disinfects and provided algae prevention and clarification. After using this, the water becomes cleaner, softer, and clearer.
Not only does it sanitize, but it also removes odors and any residue lines along the waterline of the hot tub. It can be used with the hot tub ozone system. You do have to add a small dose of a non-chlorine oxidizer to receive full sanitization. It is a great alternative to using harsh chemicals, and the lifespan is approximately four months.
Unfortunately, you cannot use this system with other brands of hot tubs, and it is a pricey sanitizer even though it works well for the Sundance systems.
Pros
Natural minerals
Disinfects
Algae prevention
Make water clear
Removes odors and residue
Four-month lifespan
Cons
Pricey
Only for Sundance systems
---
5.

iONRx Natural Hot Tub Sanitizing Treatment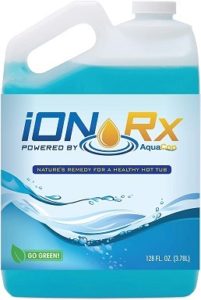 The iONRx is a natural hot tub sanitizer that uses a small amount of chlorine to treat the water. It is easy to use, though you have to add some each week for it to be effective. For 100 gallons, you add 4 ounces directly to the water, and at that rate, it will last for 10 weeks if you have a 300-gallon hot tub. Thus, this product can become pricey if you have a large tub to treat. Keep in mind that you will need to add a small amount of oxidizer, such as tap water, that contains small levels of chlorine.
However, there are no chemical odors, it is non-corrosive, and it eliminates the need for shock, bromine, and other enzymes. We like that it is safe to use on all hot tubs and has been formulated for people who want a chemical-free solution that has been used commercially for over a decade.
Pros
Natural
Easy to use
No need for shock or bromine
Safe for all hot tubs
No chemical odors
Cons
Pricey
Have to add each week
---
6.

SPA TIME 17487STM Dual-Purpose Hot Tub Sanitizer

The SPA TIME is a dual-purpose product that includes both sanitizer and shock. It is a chlorine-based product that you add directly to your hot tub. The process is a little more in-depth than other sanitizers, so you want to make sure you follow the directions carefully.
This product does a good job of reducing the growth of bacteria, preventing and removing algae, and producing clear water so you can enjoy your time soaking in the tub. It is a nice feature to have the sanitizer and shock two-in-one to save you time. You will want to test the water before use to make sure the chlorine levels aren't too high. You will need to perform the treatment process weekly. How long the bottle lasts will be dependent on the size of your hot tub. Overall, it is an affordable option to sanitize smaller hot tubs.
Pros
Sanitizer and shock
Reduces bacteria
Prevents algae growth
Makes water clear
Affordable for small tubs
Cons
Lengthy treatment process
Test water before use
---
7.

Jacuzzi 2890-185 ProClear Mineral Spa Hot Tub Sanitizer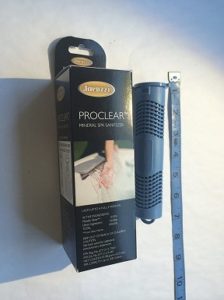 The Jacuzzi ProClear mineral filter works to sanitize your hot tub. You place it in your existing filtration system, and it is compatible with all hot tubs up to 500 gallons. One cartridge will last about four months, so it is a somewhat pricey but hassle-free alternative for sanitizing the water.
It leaves the water clearer and softer because it is chemical free, and the cartridge is designed to slowly release the minerals over the four months to continually clean and keep the water pH balanced. We found that the ProClear works the best when used with clean water as more of a preventative to keep the water clear and free of bacteria.
Pros
Mineral filter
Easy to use
Last for four months
Clear and soft water
Balances water pH
Cons
Pricey
Ideal for clean water

Buyer's Guide – Finding the Best Hot Tub Sanitizer
When looking for a sanitizer, there are things to consider to find the one that works well for you and the type of hot tub you own. This section offers ideas to keep in mind as you narrow down your search. Making an informed decision will help you achieve the best outcome and save you money and time.
Considerations
Types of Sanitizers
Chlorine: This is the most popular choice for a sanitizer because it has been used for many years, so everyone knows and trusts that it works. It is a widely available and cost-effective option. If you use chlorine in your hot tub, you should not be able to smell the chemical. If you do, the water in your hot tub may not be balanced correctly.
Bromine: This is a clear, odorless chemical that works the same as chlorine. It is even more effective at killing algae and can tolerate pH fluctuations better than chlorine. However, you don't want to use this if your hot tub is in direct sunlight because it makes the bromine ineffective.
Minerals: These are an alternative for sanitizing your hot tub because they are a natural way to kill the bacteria in your water. Some will require a small amount of chlorine or shock to fully sanitize your water, and many aren't compatible with bromine. You will see the minerals offered in cartridges that you place in your filtration system. They are not meant to filter but to clean, so you still need a filtration system in place.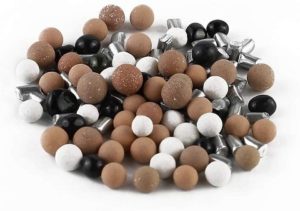 Longevity
Since you will be spending a fair amount of money on a sanitizer, you will want something that is effective yet lasts longer than a few days. Most hot tubs will require weekly testing to check for water balance, and depending on the sanitizer you are using, you may have to add more at that time. Make sure the sanitizer you choose is safe to use with other chemicals that are in your tub.
Ease of Use
It takes time to maintain a hot tub, and developing a routine is essential to keeping it healthy and safe. The pH balance is an important factor, but if you have to test it frequently, this takes time. Finding a sanitizer is an advantage as long as it does as intended. It may take time when you first try a new sanitizer, but you can develop a system so you know how often you have to test and change out the water.
Each sanitizer will come in different forms. They may be liquid, powder, tablets, or as a cartridge. It is all a matter of personal preference and type of hot tub you have that will determine which one is the best for you. If using a cartridge, make sure it fits within your filtration system and is compatible with your hot tub.
Price
As mentioned, hot tubs are expensive to maintain, so finding the best sanitizer will ease some of the worries and frustrations of caring for your hot tub. When narrowing down a particular brand, make sure you know how long it will last. Hot tubs come in different sizes — the bigger the hot tub, the more sanitizer that will be required.

Conclusion
A good sanitizer will create a safe and clean hot tub that is free from odors, bacteria, and other contaminants that can cause reactions or allergies. Sanitizers are a necessary item, so it is important to find the right one that does an effective job. This reviews list highlights seven of the best.
Our top pick for the best hot tub sanitizer is the Zodiac Nature2 filter, which is an effective system that is simple to use and a great alternative to traditional sanitizing systems. For a cost-effective alternative, the Clorox Spa offers an easy sanitizing solution that destroys contaminants with weekly applications. If the price isn't a concern, the POLYTRANS mineral sanitizer sticks are a great option because they sanitize without chlorine and bromide and are easy to use.
We hope that our reviews help you find a sanitizer that is within your budget and easy to use so you can enjoy your hot tub to the fullest.