10 Best Impact Drivers of 2023 – Top Picks, Reviews & Guide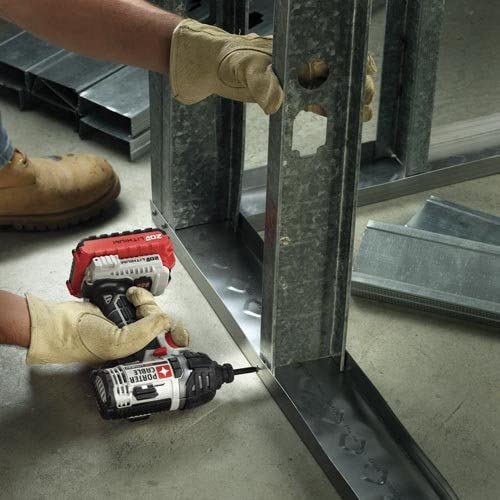 Many homeowners are trading in their cordless screw guns and picking up an impact driver's raw power. With their massive torque and assisted hammering action, screws and bolts don't stand a chance, and that includes putting them in and taking them out. If you need to remove a corroded bolt, your trusty impact driver is ready to assist.
They are more compact than cordless drills, but they lack absolute versatility. Still, they have the kinetic energy to do whatever you need and do it quickly, getting the job done and you on with your day. Adding a bit to the chuck is faster as well with an impact driver, which only improves their usefulness and efficiency.
We have selected 10 excellent impact drivers in this product review. Give it a look, check out the features, and see if we have yomur next impact driver for domestic or professional use. It is likely that after using one, you will never go back to that cordless drill again.
---
A Quick Comparison of Our Favorites:
Rating
Image
Product
Details

Best Overall

Makita XDT16Z Cordless Quick-Shift Mode Impact Driver

Quick-shift mode
Powerful
Balanced
CHECK PRICE

Best Value

Milwaukee 2462-20 M12 Impact Driver

LED work light
LED battery gauge
RedLithium battery
CHECK PRICE

Premium Choice

DEWALT DCF887B MAX XR Impact Driver

3-speed settings
Precision drive
Lightweight
CHECK PRICE

DEWALT 12V MAX Impact Driver

Powerful
Multiple torque settings
One-handed chuck release
CHECK PRICE

BLACK+DECKER BDC120C MAX Impact Driver

High torque
Quick-release
Ergonomic grip
CHECK PRICE
The 10 Best Impact Drivers – Reviews 2023:
1.

Makita XDT16Z Cordless Quick-Shift Mode Impact Driver – Best Overall
Topping the charts, we have a brand you know and trust. The Makita XDT16Z Cordless Quick-Shift Mode Impact Driver is a workhorse ready to get on the job site 5 minutes ago. Its patented quick-shift mode uses the brushless motor's electronic controls to determine the best balance of speed and power for more efficient fastening.
It has four speeds to choose from for precise fastening control no matter what the application, an assist mode to help remove cross-threaded items, and 600-inch pounds (in-lb) of max torque. The XDT16Z knows what you want, knows what you need, and is more than happy to deliver.
The only complaint we can see isn't with the tool, but with customer support. In the unfortunate event that you drop the tool, and it breaks, Makita is reluctant to honor the warranty. It's something to keep in mind.
Pros
Quick-shift mode
Powerful
Balanced
4-speeds
600-in-lb  of torque
Electronic controls
---
2.

Milwaukee 2462-20 M12 Impact Driver – Best Value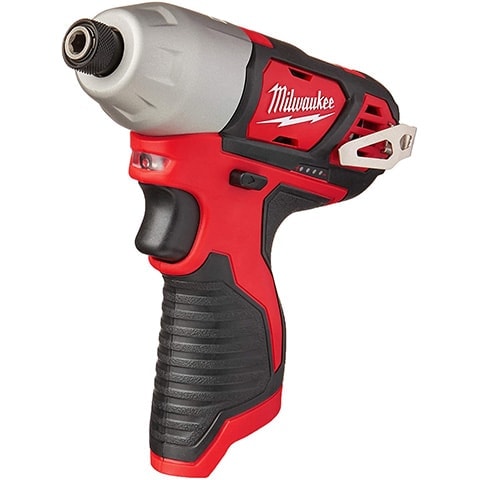 Never get caught in the dark with this little fellow. The Milwaukee 2462-20 M12 Impact Driver has LED lighting just above the trigger, so you can always see what you are doing. With its innovative location, you will never work in a shadow. And as far as LEDs, an LED fuel gauge on the side tells you how much battery life you have in 25% increments.
It has an internal computer that communicates with the RedLithium batteries feeding it the much-needed power it craves. This feature keeps the tool from overheating and drawing too much power when it isn't needed, all through cross-communication. Indeed, one of the best impact drivers for the money.
There have been a few models with manufacturing defects, but it is infrequent. When there is a problem, it has to do with the metal near the driver chuck cracking with use. As we said, it is remarkably uncommon, but something to look out for all the same. Despite this, we think this is the best impact driver for the money available this year.
Pros
LED work light
LED battery gauge
RedLithium battery
Internal computer
Ambidextrous belt clip
Cons
Possible manufacturing defects
---
3.

DEWALT DCF887B MAX XR Impact Driver
From the DeWalt family of products, we give you a powerhouse that will make you give it the respect it deserves. The DEWALT DCF887B MAX XR Impact Driver uses its patented Precision Drive in three speed settings for versatility and improved control, and it has a variable speed trigger with no load speed.
It has three LED lights that stay on for 20 seconds after the trigger is released for those dark, tighter areas, and the brushless motor ensures long life. Lightweight in design with an ergonomic handle for comfort, and a belt clip, you will enjoy going to work when you get to use this fantastic tool.
Some consumers have noticed trigger issues that have led to their units being underpowered on the job site — not a good thing when you need a reliable tool. The same folks also felt the quick bit change system was faulty. Fortunately, this is an isolated problem, not a representation of the entire line.
Pros
3-speed settings
Precision drive
Lightweight
Variable trigger speed
---
4.

DEWALT 12V MAX Impact Driver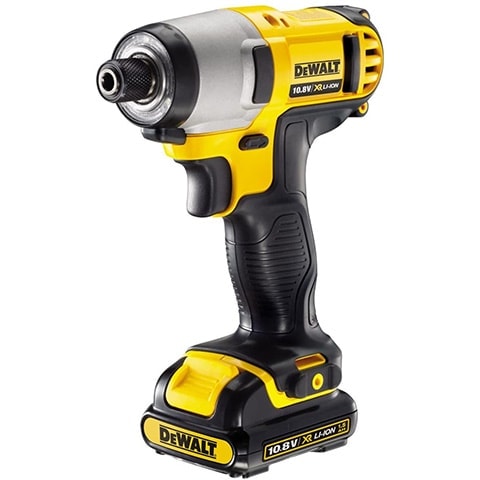 This little gem is a compact, lightweight marvel that has taken DeWalt efficiency and put it in the end zone. The DEWALT 12V MAX Impact Driver delivers a max speed at 2,450 RPM, with an inches per minute (IPM) of 3,400. That is quite a lot of power. It has three LED lights for increased working visibility and a belt hook for portability.
The chuck has one-handed loading capabilities for  ¼-inch hex chuck bits, and its size allows it to get into those tight areas. With multiple torque settings, variable speeds, and the option to reverse, you might ask how it can get better. How about a battery, charger, and carry bag included.
The biggest issue with it is the lack of a standardized battery. The folks at Ryobi, Makita, and Milwaukee have gone to a universal battery, but, sadly, DeWalt hasn't found their way there yet. This model comes with one battery, but an extra will only be useful for this one tool.
Pros
Powerful
Belt hook
One-handed chuck release
Multiple torque settings
Cons
Non-standardized battery
Possibly too small
---
5.

BLACK+DECKER BDC120C MAX Impact Driver
The high-performance transmission of the BLACK+DECKER BDC120C MAX Impact Driver delivers a monstrous 1,375-in-lb of torque at maximum load almost effortlessly. It has a quick-release chuck and is compact and lightweight for ease of use. Plus, it's custom ergonomic grip will give you comfort and push force.
It comes with a 20V lithium-ion battery that gives it an extra kick, and a 2-year warranty that offers peace of mind to anyone lucky enough to have one of these rare beauties. If you are looking for an impact driver you can handle from a company you can trust, you have come to the right place.
This is, however, only intended for home use. On the job site, it is a bit weak for the more industrial application in the field. If you use it on the job site, listen to it to know when it is struggling. If you smell burning plastic, you are one day away from it being a paperweight. Just use it at home.
Pros
High torque
Quick-release
Ergonomic grip
2-year warranty
Cons
Power struggle
Not for heavy-duty work
---
6.

Ryobi One+P236 Impact Driver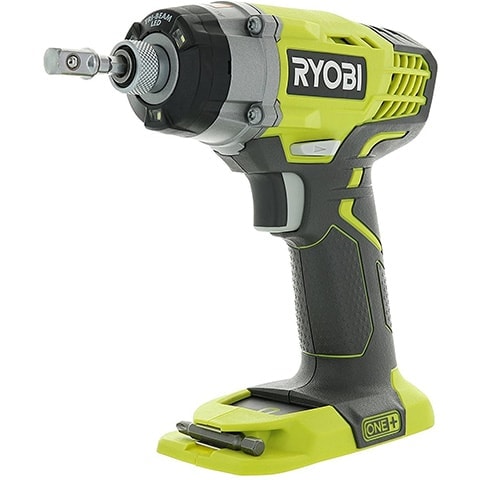 With its patented green rubber overmold, the Ryobi One+ P236 Impact Driver is as accurate as it is sleek. Its pistol grip can be held firm, without slipping, even in moist conditions. And the Tri-Beam LED light illuminates your work area every time you pull the trigger.
Its magnetic tip offers a tool-free bit exchange that is quick and clean, and the magnetic tray at the base holds bits on the unit, giving you free hands for other uses. With a One+ compatible battery as part of the One+ family, your battery will work with any One+ product when you aren't using the impact driver.
This is another impact that is best for home projects. And when you order one, make sure you order the P236 if you want the LED spotlights on the front. The 235 does not have them, although it is identical otherwise. It's more about convenience than anything else.
Pros
Tri-beam LED
Overmold rubber body
Pistol grip
One+ standardized battery
Cons
Underpowered
Home use only
---
7.

PORTER-CABLE PCCK640LB MAX Cordless Impact Driver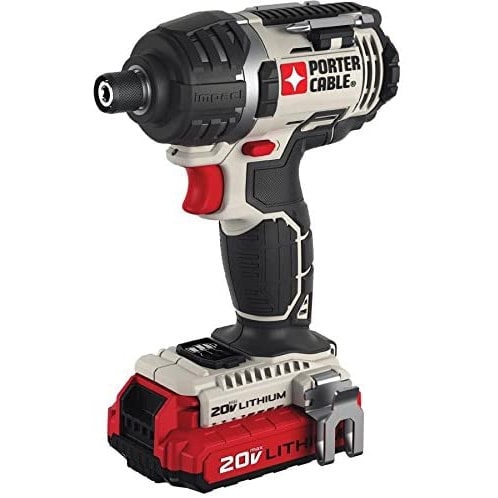 For quick fastening applications, the PORTER-CABLE PCCK640LB MAX Cordless Impact Driver's high torque motor and high-performance transmission are tough to beat. It is compact and lightweight, limiting fatigue and easily fitting in tight spaces, and has an LED work light for those dark work areas.
It features a battery fuel gauge that displays the remaining battery charge and an easy load chuck that will give you the freedom to load bits with one hand. This kit comes with the standard 20V high-yield battery and a charging station for your convenience. At 1 pound, it might be the lightest impact on the market.
Like with most of these, all concerns with this impact driver circle around the odd manufacturing issue. Every so often, a unit will come off the line that is just a lemon right out of the box. It is an unfortunate situation. Fortunately, Porter-Cable is very understanding and will take good care of you.
Pros
High-performance transmission
High torque motor
Battery fuel gauge
Cons
Manufacturing defects
Design flaws
---
8.

Popoman 43398-68874 Impact Driver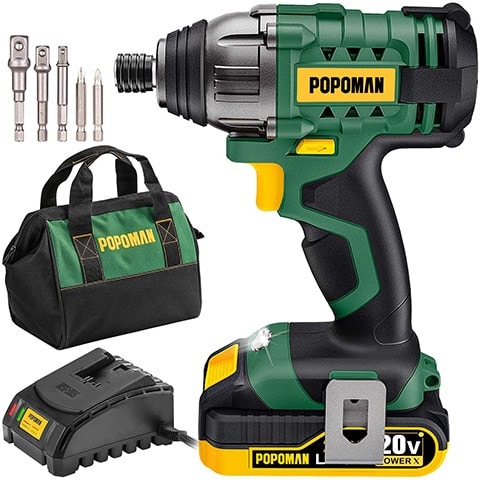 The Popoman 43398-68874 Impact Driver has a powerful, high-torque motor perfect for impacts, and its variable speed trigger offers the easiest control and speed adjustment. The harder you press, the faster the drive shaft spins, up to 2,900 RPM. An optimal feature for multiple applications.
It has an all-metal quick-release chuck attached to an all-metal gearbox for maximum durability. Plus, easy one-handed bit loading. Compact and lightweight, the Popoman wants to tackle those tight spaces with all it has got, and at 4,000 BPM, it has a lot to offer. This kit comes with a battery, fast charger, socket adapter, bag, and much more.
Unlike other impacts, this one is heavy before you add the battery. With the battery, it is more than heavy, it is also bulky. The added size makes it unwieldy, increasing arm fatigue, and diminishing its compact design. And some users found even at maximum speed, and the torque was over-inflated in the description.
Pros
Durable design
Quick-release chuck
Variable speed trigger
---
9.

Kimo 3601B Impact Driver
Designed with a brushless motor specifically geared toward extending battery life, the Kimo 3601B Impact Driver boasts a 50% longer run time over other models and five times the overall lifespan. Plus, it has a lower noise coefficient.
It gives the user variable speed control up to 2,800 RPM, all guided by trigger pull force. With it, there is no application you can't undertake. It is ultralightweight at 4 pounds and has a built-in LED light for dark spaces. The KIMO family is very proud to offer this impact to the people and includes plenty of accessories with this model.
Unfortunately, users are finding this model underpowered. It doesn't reach optimal torque under most circumstances, which is causing some frustration. It vibrates like crazy, more so than other impacts, but only at faster speeds. It feels as if it will rattle itself apart. And there are some manufacturing defects with the housing.
Pros
Brushless motor
Low noise
Ultra-lightweight
Cons
Underpowered
Violent vibrations
Manufacturing defects
---
10.

CRAFTSMAN CMCF800C2 Impact Driver
Craftsman, a name you can trust, presents the CRAFTSMAN CMCF800C2 Impact Driver. Let's start with the best part, the warranty. It has a 3-year limited warranty, which is standard for Craftsman power tools, and well-honored. The battery is 20V and can charge to full capacity in about 60 minutes.
It has a quick-release chuck for one-handed bit changes and an LED light that will easily assist with those dark spaces and plenty of torque for quick fastening applications. It holds up well to the Craftsman name and attention to quality, making them a staple with tool lovers everywhere.
It is good that the battery charges quickly because the battery life on this model is very short. And be sure to get the right battery if you want one beyond the provided option. There is a difference between the Craftsman V20      and the 20V. It's tricky, so pay attention. And this model can be a little heavy over time.
Pros
Quick-charge battery
3-year warranty
Cons
Short battery life
20V vs  V20 model issues
Heavy
---
Buyer's Guide – Choosing the Best Impact Driver
Swapping out your traditional cordless drill for something with more impact —  pun intended —  is an excellent way to capitalize on a new personal efficiency level. Impact drivers are just designed to be more powerful. They have aspects in their design that add speed to everyday tasks.
There are some things it cannot do, but that list is short. Your impact driver only has one job, and that is to work hard and get things done. Be it framing, building cabinets, or installing wall bolts for a flat-screen TV mount, it will do what must be done with cool intensity and minimal strain.
Power Possibilities
All cordless impact drivers run on high-yield lithium batteries that can be recharged in a corresponding charging station. They can charge quickly for efficient use, or slowly for extended battery life, but they are almost always lithium-based.
They come in two sizes, depending on the company:
They both carry plenty of power and battery life, but the 20V is more common in tools that have not been standardized yet.
Power Within the Unit
When picking an impact driver, make a note of how the power and torque are released. Most models have variable speed triggers that allow the user to increase and decrease the torque based on how hard they pull the trigger. However, some do it a bit differently. Check your chosen model to be sure how it works before using it in the home or workplace.
Your Chuck at Work
The chuck at the head of the tool can be extremely easy to use, with many models offering a one-handed option. If you need an extra hand, this is the type you should look for. If you want a more stable concept, the push load bit chuck works very well and only requires a little more effort when releasing the bit or otherwise.
As with all tools, know how it works before using it. With a tool with as much torque as most impact drivers do, it can be dangerous to wing it and hope for the best.

Conclusion
Number one in your playbooks, we have the Makita XDT16Z Cordless Quick-Shift Mode Impact Driver. It was by far the best choice. Not only because it is a brand that has been around for decades, but the overall quality and versatility made it stand out.
For a more budget-friendly option, we give you our best value choice, the Milwaukee 2462-20 M12 Impact Driver. Another great tool family, this economical tool put quality and price in a blender and made a very delicious impact driver option for your enjoyment.
It was hard making this list, as so many of these are very close in quality, style, accessory options, and even physical weight. We hope that these reviews helped you select your next impact driver. Now you have the information you need to make a wise and well-informed selection.
See Also: