4 Best Kuvings Juicers in 2023 – Reviews, Top Picks & Guide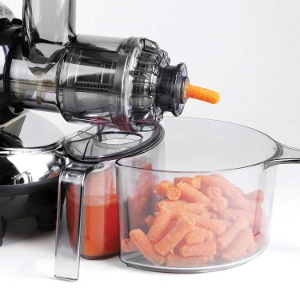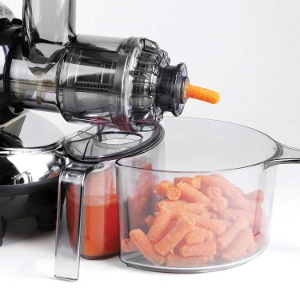 Kuvings is a well-regarded brand in the world of juicing, and if you're looking to get a model that will last you a long time and make juicing fast and easy, then this is a great brand for you. However, it's not always clear which model you're going to get the best use out of when you're shopping online.
If you're not sure which model is right for you, then you've come to the right place. We've assembled this list of reviews of the best Kuvings juicers in order to show you which models live up to the Kuvings name, and which fall short. We've also created a buyer's guide that will give you a lot of good general information about juicers, and help you understand why we ranked the juicers in the order that we did on the list. Whether you're a juicing novice or an old pro, there's something for you in this guide. So, read on to find out which Kuvings juicer is right for you.
A Quick Glance at the Winners of 2023
Rating
Image
Product
Details

Best Overall

Kuvings C7000S

Vertical slow juicer
3-inch feed chute
Quiet
CHECK PRICE

Kuvings NJE-3570U

Powerful
Versatile
Seven nozzles for food processing
CHECK PRICE

Best Value

Kuvings NJ-9500U

Extra-large feeding tube
Stainless Steel Juicing Screen
Dual-speed
CHECK PRICE

Kuvings B6000S

Wide feeding chute
Quiet
CHECK PRICE
The 4 Best Kuvings Juicers:
1.

Kuvings C7000S Slow Juicer – Best Overall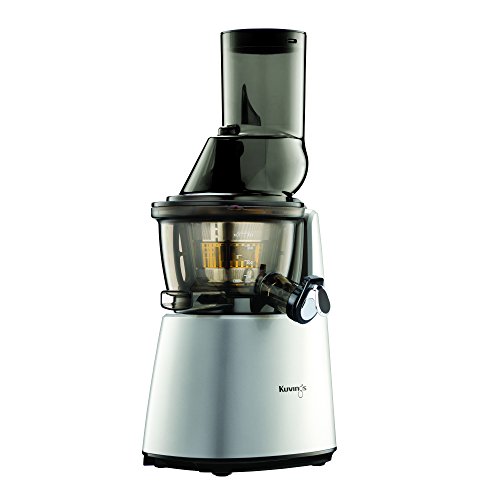 The Kuvings C700S Slow Juicer is easily our favorite model. It is a vertical slow juicer; something can be difficult to find for the home market. Even more importantly, it comes with a 3-inch feed chute, which means that it's on par in terms of input as many centrifugal models. That alone is a feature that would push just about any slow juicer to the top of the list, but the C700s has more tricks up its sleeves.
It's also a very quiet model, as juicers go, and it comes with convenient cleaning tools that make it easy to clean and mean that you'll always have the freshest output form this machine. The one downside to this machine's configuration is that it struggles a bit with leafy greens, not always handling them as well as a horizontal juicer might. Overall, however, it has one of the best feed chutes on a masticating juicer that you'll ever find and makes for a great premium buy.
To conclude, we think this is the best Kuvings juicer this year.
Pros
Vertical slow juicer
3-inch feed chute
Quiet
Cleaning tools
Cons
Not great with leafy greens
---
2.

Kuvings NJE-3570U Juicer

While the Kuvings NJE-3570U isn't a vertical masticating juicer, it's one of the best horizontal models on the market. Again, this is a pretty quiet unit, something that Kuvings seems to excel at. It also packs 170 watts of power, which is more than enough for a masticating juicer. But, this model's best feature are the series of 7 nozzles that it comes with.
Each nozzle changes how the machine deals with the fibrous output, enabling you to not only juice but also mince and grind with this machine. You can extrude pasta, grind coffee beans, and whip soy milk with just one machine by changing out the nozzles on the end. That's a pretty good deal. What keeps this model out of first is it has a problem with its augers breaking, which has been acknowledged by Kuvings, but not yet fixed. It is covered under the warranty but could result in problems after the warranty expires. Overall, this is the very best model for doing tasks other than juicing with your juicer.
Pros
Quiet
Powerful
Versatile
Seven nozzles for food processing
---
3.

Kuvings NJ-9500U Juicer – Best Value
The Kuvings NJ-9500U is not a masticating model like the previous two but is instead a centrifugal model. This means that instead of crushing the food to extract the juice, it cuts it with a high-speed spinning blade. The good news is that this model has an extra-large feeding tube, which allows for rapid, continuous juicing. The juicing screen is made from stainless steel, which means it should give you many years of easy-to-clean, stress-free operation.
This model also comes with two speeds, which allow you to switch between a slower speed, good for leafy greens and soft fruits, and a faster speed, good for hard fruits and vegetables like apples and carrots. What keeps this model out of the top 2 is that its motor is a bit weak for centrifugal juicers at this price point, but it should still get the job done. Overall, this is a good model for someone who wants a high-quality Kuvings juicer but doesn't want to spring for a masticating model.
Pros
Extra-large feeding tube
Stainless Steel Juicing Screen
Dual-speed
---
4.

Kuvings Juicer (B6000S)
Every model line has a black sheep, and for the Kuvings brand that black sheep is the Kuvings B6000S. This model is a vertical masticating juicer. Like other Kuvings models, it features a wide feeding chute that allows you to process a lot of food at once. And also like other Kuvings masticating juicers, it is a relatively quiet model.
But the good ends there. This model is heavy, but that not because it's made of high-quality parts. This model is hard to clean, due to some odd design choices. It also comes with severe durability problems that you don't find on other models. Odds are that something on the machine will break in the first year or two, rendering the machine inoperable. The weird thing is that you could spend more money or less money in the Kuvings line and get a longer-lasting juicer. Overall, the value from this model is low enough that you should probably look elsewhere.
Cons
Heavy
Hard to clean
Durability problems
---
Buyer's Guide: Choose the Best Kuvings Juicer
If you've read through our reviews and still have no idea which model is the one you're looking for, then this buyer's guide is for you. We've created this guide in the hopes of educating you about the different features and pitfalls you should be aware of when shopping for a juicer, as well as included a lot of explanations of different options and what they do.
Masticating vs. Centrifugal
One of the most important differences between models in the juicing market is between masticating and centrifugal models. Even though Kuvings makes both, they work very differently and succeed and struggle in different areas.
Centrifugal
Centrifugal juicers use a fast-spinning blade to cut up the produce you want to juice. The spinning blade pulverizes the vegetables and fruits, which are then flung towards the edge of the container, where they make contact with a fine mesh. The juice is allowed through, while the pulp is forced back, and is carried by its momentum to a collection bin, called a pulp container.
You put food into a centrifugal model through a feed chute. Since it tends to process food quickly, the feed chutes on these models tend to be wider, allowing for a higher capacity than masticating models. Generally speaking, this means that you'll be done faster on a centrifugal model than you would be on a masticating model.
The very best centrifugal juicers do a great job of extracting the juice, though a common complaint on mid- and low-tier models is that they leave a lot of juice in the pulp, and consequently it is "damp" or "wet." Some people compensate for this by running the pulp through the machine a second time, but there's no guarantee that you get all the juice out.
Masticating
Masticating juicers are commonly referred to as "slow juicers." As you can probably guess from that mane, these models are much slower than their centrifugal counterparts. This is because they slowly crush and squeeze the produce you run through them, meaning that they get a higher percentage of the juice out. This means that they run slower, but generally are more efficient in terms of the amount of juice produced.
You'll have to keep speed in mind with these models. If your just making juice for yourself, then the amount of time you spend won't be that great, but if you're juicing for a large family or a lot of people at once, then getting the quantity you need on a masticating juicer will be a time-consuming task.
However, masticating juicers tend to be better at dealing with leafy greens, something that centrifugal models struggle with. They're also able to juice wheatgrass seeds, something that most centrifugal models can't do. In many circumstances, you'd have to cut up your larger fruits and vegetables before putting them into a slow juicer, but most Kuvings model features a large feeding tube, which makes that unnecessary.
Which model is right for you?
There's no model that is going to be right for everyone, but there are some things that you should consider when making a purchase. If speed is going to be a concern for you, then a centrifugal juicer is probably going to be better for you. If you need to get the most juice out of your food, then you should get a masticating model. If you're on a tight budget, you can get centrifugal models for much cheaper, generally, than masticating models. But, if you're looking for the most satisfying juicing experience, then you're better off with a masticating model.
The best thing you can do is consider your own needs and make sure that the model you get can meet them without adding a bunch of expensive features that you won't end up using.
---
Conclusion
The Kuvings C700S Slow Juicer is our favorite model due to its large feeding chute, quiet operation, and ease-of-cleaning. The Kuvings NJE-3570U comes with a ton of attachments for different outputs that easily earn it second place on our list. The Kuvings NJ-9500U centrifugal juicer, providing great value for someone who doesn't want to spring for a masticating juicer. Finally, the Kuvings B6000S is last on our list, due to how hard it is to clean and its durability problems.
We hope our reviews of these Kuvings models have helped you understand the pros and cons of every model. Now that you're well-informed, you should be able to purchase the model that is right for you.
More juicing brands: