3 Best Champion Juicer Reviews 2023 – Top Picks & Guide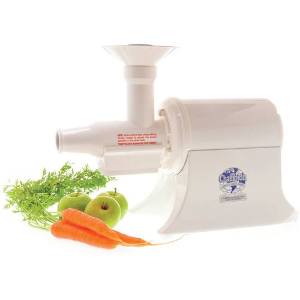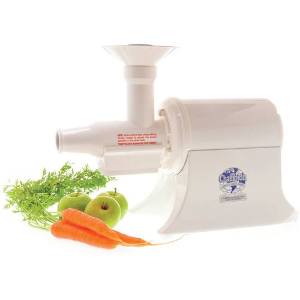 Our reviews of the Champion line of juicers convinced us of the durability of their equipment.  Regardless of the model you eventually decide on, you won't regret it.
Figuring out which model you'll get is where things might be a bit confusing.  Champion is a well-known brand among juicers with a wide range of offerings, from commercial-grade juicers to smaller, home models.  This isn't to say you shouldn't get a commercial juicer for home use—depending on how many fruits and vegetables you'll be running through it, a large capacity juicer might be just what you need.
We've done the work of reviewing Champion's juicers, breaking down the information into easily digestible chunks so you can make an informed decision before spending your money.  Juicers are a bit pricey so it's better to take a little extra time to understand them.  Once you know what your options are, then you can open your wallet.
Be sure to examine our handy "pros & cons" list at the end of the summary on each juicer.  It'll help you make your ultimate decision.
---
A Comparison of the Winners for 2023
Rating
Image
Product
Details

Best Overall

Champion Commercial G5- PG710

Good stability
Very little pulp waste
Excellent for daily use
CHECK PRICE

Champion 2000 Household

Durable
Powerful motor
Easy to clean
CHECK PRICE

Champion Household 4000

Easy assembly and disassembly
Separate auger for leafy greens
Available in different colors
CHECK PRICE
The 3 Best Champion Juicers
1.

Champion G5- PG710 Commercial Juicer – Best Overall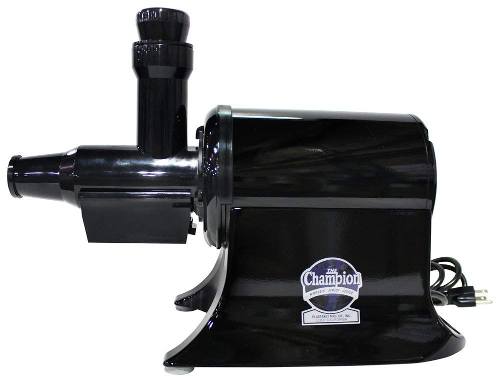 This juicer from Champion is a commercial-grade juicer, heavy and sturdy.  It's very durable and stands up under heavy daily use, although cleaning all the pulp out of it can be somewhat difficult.
There is very little pulp waste which means you're not wasting any money on unused produce going into the trash.  This machine quite simply does a great job of getting every last bit of juice available out of those fruits and vegetables.  The heavy motor doesn't slow down under loads due to its power.  It's also easy to operate, which simplifies your life, either at home or in a commercial kitchen.
It works best with hard fruits and vegetables but if you add the greens attachment when you buy it, you can run anything through this machine to make juice.  You'll be able to get gallons and gallons of juice with very little effort.
This powerful juicer won't let you down.  Its robust strength and design make it our top pick amongst the best Champion juicers.
Pros
Easy to operate
Very little pulp waste
Good durability
Excellent for daily use
Good stability
---
2.

Champion 2000 Household Juicer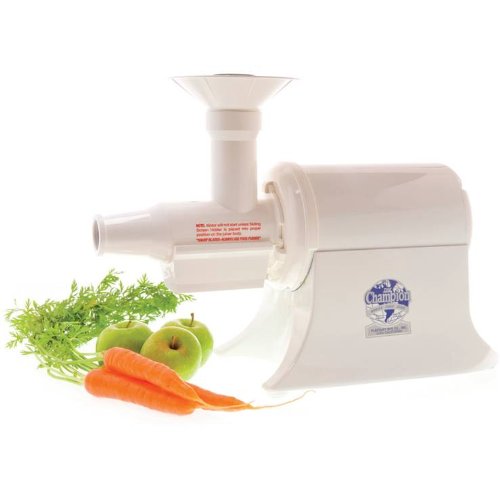 This is the home model of Champion's commercial juicer, with some important differences.
It's still a heavy-duty juicer with a powerful motor that produces a lot of juice and very little pulp waste.  It's easy to operate and easier to clean than the commercial model even though they look almost identical to the naked eye.  It's nearly as heavy too, which translates into good stability.  It won't tip over during use.  Due to its reliable design, it can be used every day without fail.
Like its big brother, this juicer heats up. So you should start with cold produce directly from the refrigerator.  Once you're done, immediately refrigerate the juice and clean the juicer.  For the best long-term results, make sure the cutting blade is dry. Coat the shaft with coconut or olive oil just prior to use, and keep the blade off until you're ready to use it.
Be aware that it's somewhat louder than its commercial counterpart.  Because of the heating and noise, this is our runner-up. But it was a close call.
Pros
Durable
Powerful motor
Easy to clean
Very little pulp waste
Cons
Heats up during use
Too loud
---
3.

Champion Household 4000 Juicer
This Champion model comes in black, red, or white.  It comes with two separate augers: one for hard fruits and vegetables, and one for leafy greens.  Leafy greens aren't as easy to juice with the top two on the list, so this is a nice bonus with this model.
It's easy to assemble and disassemble for cleaning and maintenance.  When you're juicing large quantities this is helpful because you'll need to disassemble it and rinse off the pulp that builds up in the body tube.  The chute that feeds the tube is smaller than it should be, and the deflector is absolutely required if you don't want to get a face full of juice when you're using it.
The pulp is fairly wet, so it doesn't do quite as good a job of juicing as the first two on the list.  It also feels flimsy compared to the others, and it's not nearly as powerful.
This model suffers only in comparison to the first two on the list.  On its own merits, it's a good home juicer.
Pros
Easy assembly and disassembly
Separate auger for leafy greens
Available in different colors
Cons
Feels flimsy
Pulp is wet
Feed chute is small
---
Buyer's Guide – Choosing the Best Champion Juicer
If you're buying online, the price of juicers usually meets most retailers' price requirements to qualify for free shipping.  The machines are also small enough not to trigger extra shipping fees because of size or weight.  This makes it the perfect time to purchase any options you want to go with your new juicer.  The savings on shipping will more than pay for them.
If you're buying your juicer at a brick-and-mortar store, you'll be able to get your hands on all the extras, which really helps in deciding which ones you actually want.
What makes a good juicer?
Dry pulp is the number one sign of a good juicer.  The dryer the leftover pulp, the more juice you're getting out the other end.  Wet pulp means juice is being left behind and thrown out.  The wetter the pulp, the more juice you're losing.
Some leakage is inevitable with juicers; it's just the nature of the beast.  But a good one will keep it to a small dribble here and there.  If you're collecting more than a teaspoon of juice from the outside of the machine, it's losing too much juice.
Easy assembly and disassembly indicate a good juicer.  You have to take them apart to clean out the pulp and get them ready for the next batch—that's a given.  The easier that process is, the better the machine.
Available Options
A separate greens attachment can be ordered for the top two picks, giving you a juicer that can process and juice anything you need.  Since you're getting a juicer, you might as well be able to juice any kind of green leafy vegetables or soft fruits you can get your hands on.
Extra strainers and screens are also a nice option to get when you purchase a new juicer.  By getting them at the same time you get the juicer, you ensure they're the right fit for your machine.  They'll arrive together and you'll save on shipping.
Other options to consider are different-sized collection cups, mixing bowls, pitchers, and even some glass water bottles for use when you're traveling.  Any retailer or website that offers juicers should be able to provide all these extras as well.
---
Conclusion
In our reviews, the top pick is the Champion Juicer G5- PG710 Commercial juicer.  If you need to run basket after basket of fruits and vegetables through a juicer, day after day, this is the machine for you.  Its heavy-duty durability and power make it the clear choice for heavy repetitive use.
The runner-up in the list is the Champion 2000 Household G5-NG853S juicer.  This is the kid brother of our top pick.  Visually, they're nearly identical and their operation is similar as well.  There are some heating and noise issues with this one, but it's still a close contest between the two.
We've gone through the Champion line for you—sorting out the good, the bad, and the ugly—to present you with the top three juicers of the year.  With this review in hand, you should be able to make your decision on which is the best Champion juicer for you with little or no difficulty.
More juicer buyer's guides:
Best Omega Juicers – Reviews & Top Picks
Which blender should one choose for juicing?