5 Best Omega Juicer Reviews 2023 – Top Picks & Guides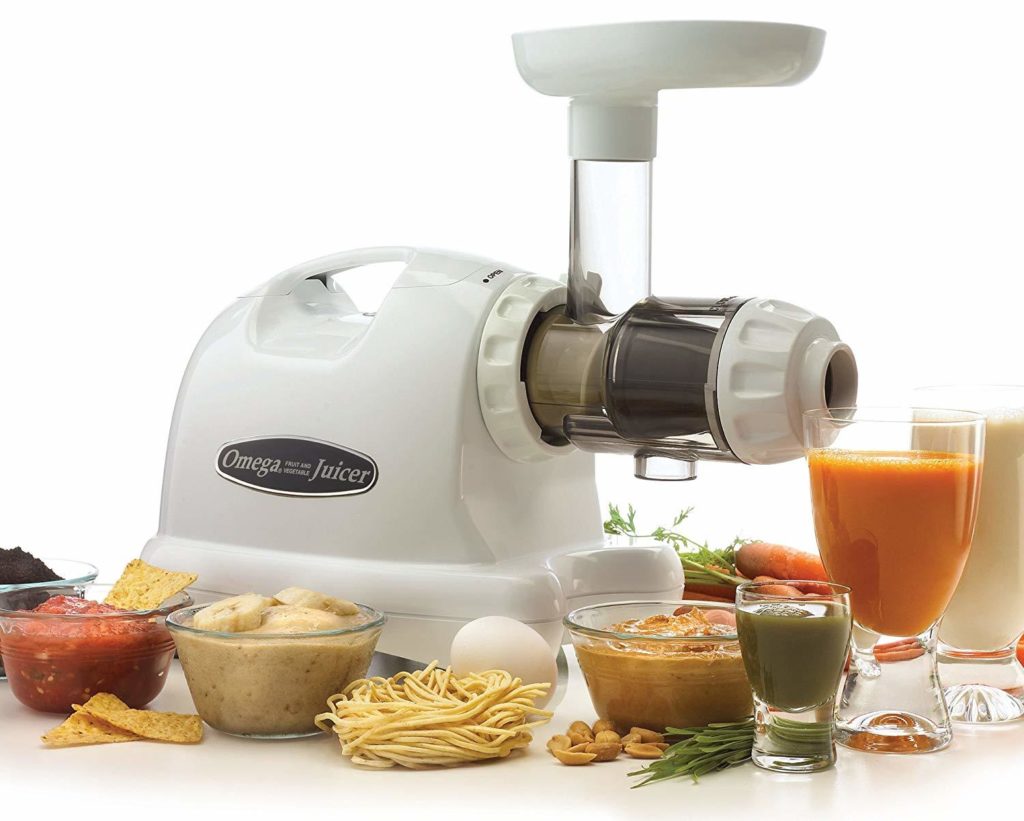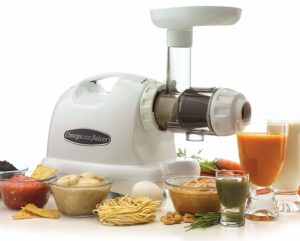 Omega is one of the top brand names in the juicing marketplace today.  Their machines have a reputation for being dependable, sturdy workhorses that come with an excellent multi-year warranty.  But that creates a problem of its own.
How do you choose between so many good machines by the same manufacturer?  Which one is, not just the best, but the best for you?  Which one fits your budget and your needs?  How do you sort through them all?  It can be a daunting challenge and that's where we come in.
We've already done the reviews for you.  We've looked over the offerings from Omega, analyzed them, shuffled them around, studied their features and shortcomings, and put the results in a concise, easy-to-read format with all the information you need to make a healthy choice for you and your family.  There's even a list of pros and cons at the end of each review to provide you with a quick reference for when you're making your final decision.

A Quick Comparison of Our Favorites (updated in 2023):
Rating
Image
Product
Details

Best Overall

Omega J8006

Easy to use
Sharp appearance
Easily handles leafy greens
CHECK PRICE

Omega VSJ843QS

Doesn't overheat
Ultra-slow 43RPM
Very easy to clean
CHECK PRICE

Omega J8004

Easy cleaning
Easy assembly
Good for leafy greens
CHECK PRICE

Best Value

Omega J4000 Stainless-Steel

Quiet
Very fast
Easy cleanup
CHECK PRICE

Omega VRT330

Easy to clean
Faster than horizontal models
CHECK PRICE
The 5 Best Omega Juicers:
1.

Omega J8006 Masticating Juicer – Best Overall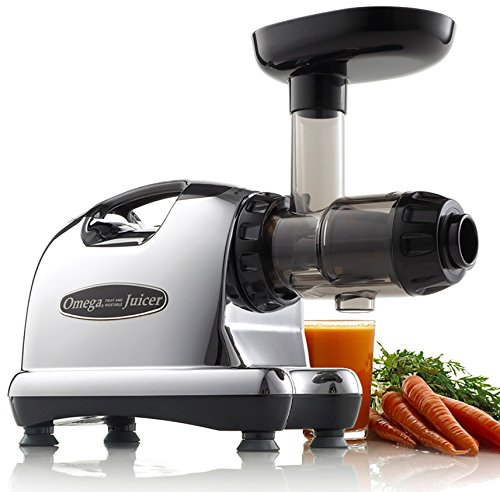 The Omega J8006 silvery, almost futuristic juicer is the top pick on our list.  It's a masticating juicer, which means it has a rotating auger that "chews up" fruits and vegetables, including leafy greens.  The pulp is very dry, meaning it's getting all the juice out of it.  You're not wasting anything.
The engine runs at 80 RPM and never strains at its job.  It runs quietly and powerfully.
Since there are only four main parts, it's very easy to disassemble, clean, and reassemble.  Maintenance becomes a breeze and you can spend more time juicing and drinking, and less time scrubbing.  A brush is included with the juicer, so once you get into a rhythm your clean-up time can be reduced to less than five minutes, sometimes less than three.
The only drawback to this juicer is the opening to the chute, which is a bit small.  You have to cut fruits and vegetables in pieces rather than feed them in whole. But this is a minor annoyance at best.
Overall, we think that this is the best Omega juicer.
Pros
Engine runs at 80 RPM
Easy to use
Easy to clean
Easily handles leafy greens
Sharp appearance
---
2.

Omega VSJ843QS Juicer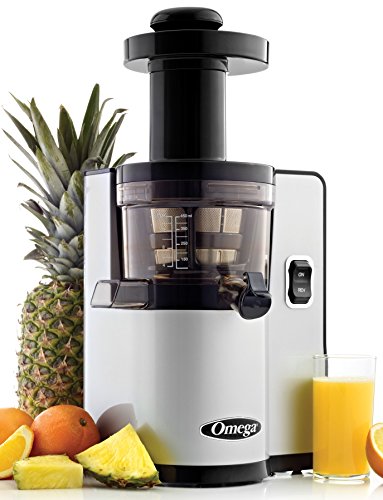 The runner-up in the list, the Omega juicer runs at an ultra-slow 43RPM to produce the maximum amount of juice possible from every fruit and vegetable.  Hardly any pulp remains in the juice and it's very easy to clean.  It's well designed, sturdy, and robust.
This machine will handle all your juicing needs without overheating the juice and causing oxidation.  This helps prevent enzyme breakdowns, which would rob the juice of the very nutrients you're trying to get by juicing.
It has a very industrial look to it that goes well with other stainless steel kitchen appliances, so it'll fit right in.  Though it has a large footprint that takes up a significant amount of counter space, considering the results, it's worth it.  The only other complaint is that sometimes hard vegetables such as carrots and other roots will get stuck.  Fixing it is easy—you just reverse the auger and everything backs out.  Then run it forward again.  A preventative measure is to cut the roots into smaller pieces, which seems to work.
Aside from those minor issues, this is a real contender for the top spot. But for the price this is the best Omega juicer.
Pros
Ultra-slow 43RPM
Extract maximum amount of juice
Very easy to clean
Doesn't overheat
Cons
Hard roots get stuck
Large footprint
---
3.

Omega J8004 Juicer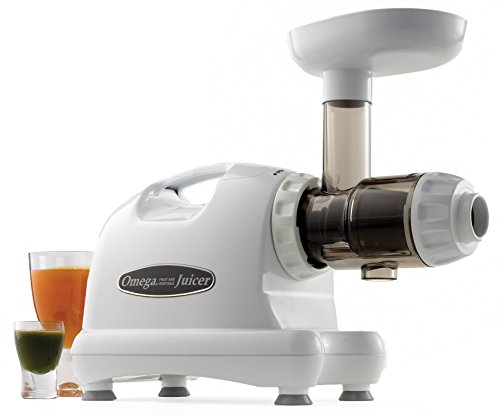 Like our top pick, the Omega masticating juicer runs at 80 RPM to extract the maximum amount of juice possible.  If you take the leaves behind and run it through the machine a second time, it will extract even more juice from it.
Cleaning is easy due to the ease of disassembly.  The only challenge presented here concerns cleaning the filtering screens.  After using a cleaning brush on them, a quick trip through the dishwasher will finish the job.  Once it's clean, reassembly is also quick and easy.  You'll spend more time juicing and drinking the juice than you will cleaning the machine.
When juicing soft fruit such as apples it does a terrible job, mainly producing mush instead of juice.
Omega claims this juicer will make nut butter and grind coffee beans, but any attempt to do so will usually jam the machine and begin stripping bits and pieces off the auger.  It also creates friction which leads to cracks and other associated problems.  Calling customer service to deal with these problems results in a big runaround—a very frustrating experience.
Pros
Easy cleaning
Easy assembly
Good for leafy greens
Cons
Produces mush from soft fruit
---
4.

Omega J4000 Stainless-Steel Juicer – Best Value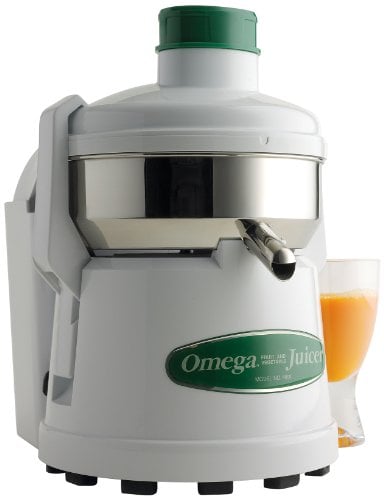 The Omega J4000 is a high-speed juicer with a stainless steel blade whirling at 5200 RPM.  It will handle just about anything except green leafy vegetables.  It's quieter than you might expect.  The cleanup is relatively easy, but you need to be sure the blade has completely stopped spinning before you remove the lid otherwise it'll tear the plastic chute apart.
You'll also need to tilt the unit forward when you're finished juicing to get the last bit of juice out of it. If you don't, it will continue dripping for several minutes after it's shut off.
Since it isn't a masticating juicer, it doesn't extract as much juice as our top three.  There is still a significant amount of moisture left in the pulp when you're done.  Unless you're a fanatic about cleaning, some staining will gradually develop on the white plastic top and other pieces.
The lifespan of this juicer isn't nearly as long as the top three juicers either.  You get what you pay for.  Despite its limitations, this is an excellent juicer in a low price range, earning it the "best for the money" spot in the list.
Pros
Easy cleanup
Very fast
Quieter than expected
Cons
Won't handle leafy greens
Doesn't extract all the juice
Drips after juicing
---
5.

Omega VRT330 Juicer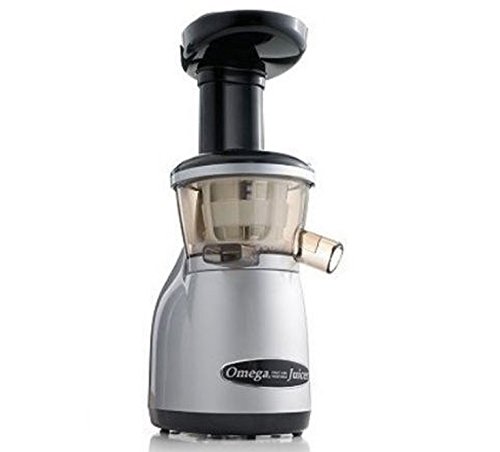 The Omega VRT330 vertical masticating juicer, which runs at 80 RPM, is faster than the horizontal models above.  It doesn't extract as much juice as they do.  It also leaves considerably more pulp than the others, but at least it's relatively easy to clean.
It also doesn't work as well with leafy greens as other masticating juicers.  You'll have to add something harder to the mix (like carrots) to get the greens to go through.  Otherwise, they'll stick to the auger and won't go anywhere.  At the end of juicing, the exit spout gets stuck with vegetable residue.  You'll need a good brush to clean it out every time.
If you use it for very long it gets hot.  This destroys all the enzymes and nutrients in your fruits and vegetables.  The only way to use this juicer effectively is to use it for brief periods followed by lengthy cool-down periods.  This can double or triple the amount of time you'll have to dedicate to juicing.
Even though it's a masticating juicer, it just doesn't measure up to the others on this list.  The performance just isn't there, which puts it in last place.
Cons
Leaves too much pulp
Doesn't handle leafy greens
Exit spout collects residue
Overheats
Doesn't extract enough juice

Buyer's Guide – Choosing the Best Omega Juicer
The number one thing to consider when choosing which Omega juicer is suited for your needs is whether or not you'll be juicing leafy greens.  If you are, a high-speed juicer that uses rotating blades won't make you happy.  You'll need a slow, masticating juicer.  There are four of them on this list, so you've got a wide range to choose from.
All of these have a fairly substantial footprint to them, but the horizontal juicers will take up more counter space than the vertical ones.  Take a look around your kitchen and visualize where your new juicer will go.  If you're not going to leave it out, do you have enough room in the cabinets and drawers to store it?  If there's nowhere in the kitchen for it to be conveniently stored, sooner or later it'll migrate to the garage where it'll be forgotten, and all the money you spent on it will have gone to waste.
What makes a good juicer?
This is an interesting question, and there are as many answers as there are people.  Nonetheless, a few details can be gleaned.
A good juicer does what you want it to, not what someone else wants it to.  You're putting a juicer in your house, not your neighbor's house, so what your neighbor thinks doesn't matter.  What the manufacturer thinks doesn't matter either.  The most feature-laden, gold-plated juicer in the world is useless if it doesn't meet your needs, whereas a dinky, one-horse juicer that does exactly what you want is worth its weight in gold.
A good juicer should be reliable despite its limitations.  All machines (from cars, trains, and planes to the simplest can opener) have their limitations.  But within those limits, they should be reliable day in and day out.  Overinflated claims from the manufacturer should be treated skeptically – some of those extravagant claims will probably push the machine beyond its limits and break it.
A good juicer should be easy to maintain.  High-maintenance machines are for the experts who have all day to take care of them.  You have a life to live, and you shouldn't have to spend it taking care of a machine.  The machine should take care of you.  Find one that's easy to clean and maintain – you'll be glad you did.
Tips when buying
Juicers are one of those items that should come with a solid, multi-year warranty.  Omega has a decent reputation for honoring its warranties.  No company is perfect and you'll doubtlessly hear some horror stories along the way.  The best way to decide is to look at the preponderance of the evidence.  Over the years, Omega has had more happy customers than unhappy ones, tipping the scales to the positive side.
If you're buying online, make sure you meet the seller's minimum requirements for free shipping.  Most of them offer it these days, but they may have varying prerequisites.  Take an extra moment or two to read them before you buy.
Make sure spare parts are readily available for those times when they're needed.  A back-ordered part means your juicer is sitting there doing nothing for you.  Once again, Omega has a solid reputation in this area.  It still wouldn't hurt to give their customer service a call beforehand to quiz them about it.  Let them know you're a potential customer and they'll be only too happy to answer your questions.
Available Options
Most of the juicers we've covered come with cleaning brushes, but because of the constant wear and tear on them, they'll be one of the first things that need to be replaced.  Go ahead and get a few extras when you buy your juicer.
Sealable glass jars for storing your juice will be an important option to purchase along with your juicer.  Most retailers will have them available in the same aisle or on the same web page as the juicers.  Go ahead and get a few.
Most people rely on their juicer not to leak, but spills and overflows are a fact of life when you're dealing with liquids of any kind.  Invest in a tray to put under your juicer to catch the spills that will inevitably take place.

Conclusion
Our reviews led to the J8006 Masticating Juicer as the top pick in the Omega juicer category.  The quality of the juice it produces is top-notch, with very dry pulp, meaning that you get to enjoy every last drop of the juice. The construction is solid and maintenance is a breeze.  You'll get many years of happy juicing with this machine.
In the "best value" category, the winner is the J4000.  It isn't a masticating juicer, so you get less juice and wetter pulp, and you won't get as many years out of it. It's not quite up to the standards of the top pick, but for the price, it's a winner.
All five Omega juicers are great and your personal preference will have to lead your decision, but we hope our reviews made that choice a little easier for you!