10 Best Lawn Mowers under $300 – Reviews & Top Picks 2023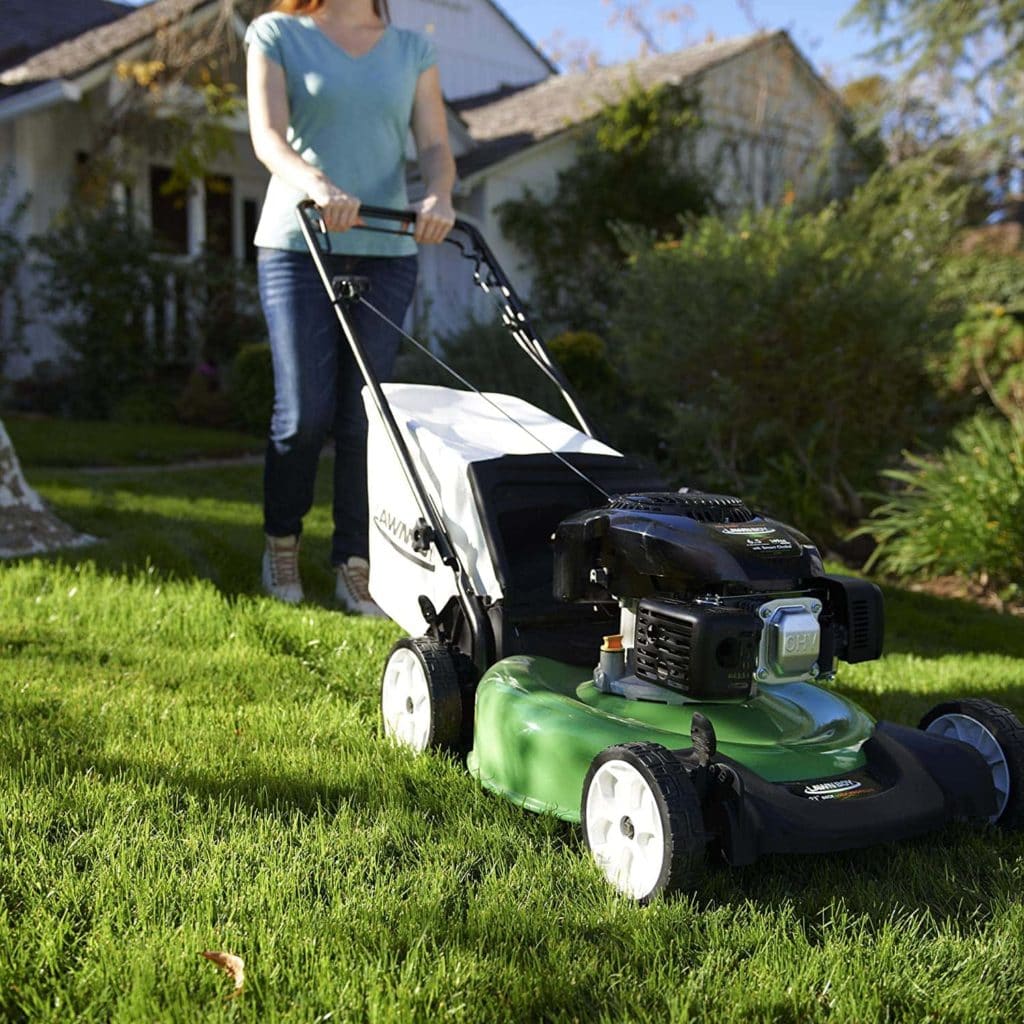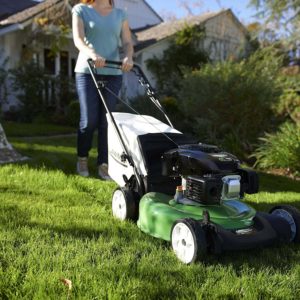 Mowing the lawn is not an easy chore, although, for some, it is quite therapeutic. Whether you are a seasoned lawn mowing veteran or someone new to the art of mowing lawns, selecting the right lawn mower for the job is essential. There are several benefits to mowing your own lawn: physical exercise, peace of mind, kudos for a job well done, not paying landscapers, and there is just something about the smell of fresh-cut grass.
There are several lawn mowers out on the market with all the bells and whistles. The key is to find the lawnmower that's right for you. An added bonus is finding a quality lawn mower for under $300, and that is precisely what we are going to do. Price is always a consideration, and you want to be sure that you are investing in a quality project that you can foresee yourself enjoying for years to come. Ladies and gentlemen, start your engines.
A Quick Comparison of Our Favorites (Updated in 2023)
Rating
Image
Product
Details

Best Overall

Greenworks G-MAX Cordless Lawn Mower

Durable
Runs quietly
Easy storage
CHECK PRICE

Best Value

WORX WG779 40V Power Share Lawn Mower

Quiet running
Dual charger
Works with other WORX tools
CHECK PRICE

Premium Choice

Lawn-Boy 17732 Self Propelled Lawn Mower

Large bag capacity
Two warranties
CARB compliant
CHECK PRICE

Great States 304-14 14-Inch 5-Blade Push Reel Lawn Mower

No gas, oil, or battery
Easy to maneuver
Easy storage
CHECK PRICE

PowerSmart DB8621P 3-in-1 159cc Gas Push Mower

Gas-powered
Lightweight
CHECK PRICE
The 10 Best Lawn Mowers under $300
1.

Greenworks G-MAX Cordless Lawn Mower – Best Overall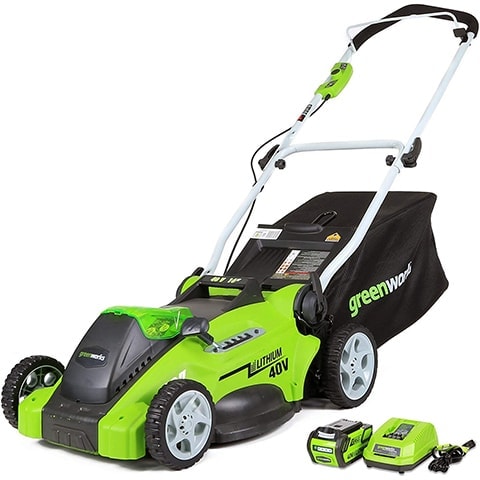 The Greenworks G-MAX Cordless Lawn Mower is the overall best lawn mower under $300 and starts off our list at number one, which is well earned. This mower is cordless, which means its reach knows no bounds, as long as the battery is charged. The rear is dual purpose with mulching capability that makes it perfect for any size yard and garden. The lawn mower is lightweight, maneuverable, and has various range capabilities to cut your grass as long or as short as you want.
The battery makes this lawn mower extremely quiet, which is excellent if you want to start cutting the lawn at 6 A.M. and not wake the neighbors. The Greenworks model can cut up to a half-acre and boasts 45 minutes of run time. The easy push-button start means there are no back-aching pull chords. There are also no dizzying gas fumes, and the lightweight makes it easy to transport.
The thing that needs to be improved is that the battery comes without a battery management circuit.
Pros
Durable
Runs quietly
Easy storage
Dual for mulching
Excellent price
Cons
Battery management circuit
Need to charge to mow a large lawn
---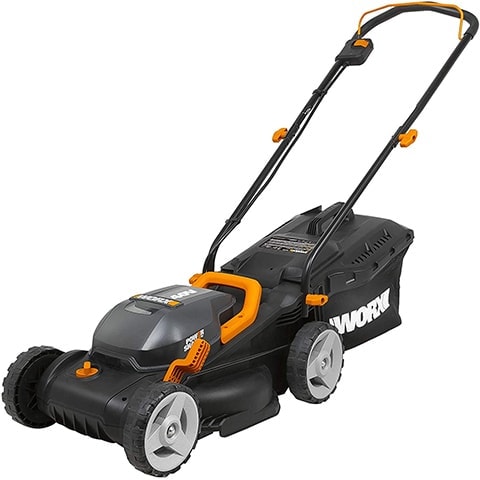 The WORX WG779 40V is a wonderful addition to any landscaping maintenance program. The unique aspect of this mower is the Intellicut feature that provides for extra torque if there is a tougher area that needs to be covered. WORX offers variable cutting levels, which is appealing. Another exciting thing is that the WORX lawn mower battery works with most other WORX tools and equipment, so you only need one battery. This feature declutters your garage.
WORX provides a double feature with mulching as well as lawn mowing. The WORX mower runs on two batteries at a time, so the company also gives you a dual battery charger to get back out on the lawn faster. Indicator lights will go off when the battery is low and when the bag is near capacity. The WORX is lightweight and maneuverable; it is also compact for easy storage. It was easy to assemble and easier to use. The downfall is that since it is battery operated and smaller, it takes more steps to mow the lawn than a larger unit would.
Pros
Quiet running
Dual charger
Works with other WORX tools
Intellicut technology
Cons
Small lawn mower
Takes more walking to mow the lawn
---
3.

Lawn-Boy 17732 Self Propelled Lawn Mower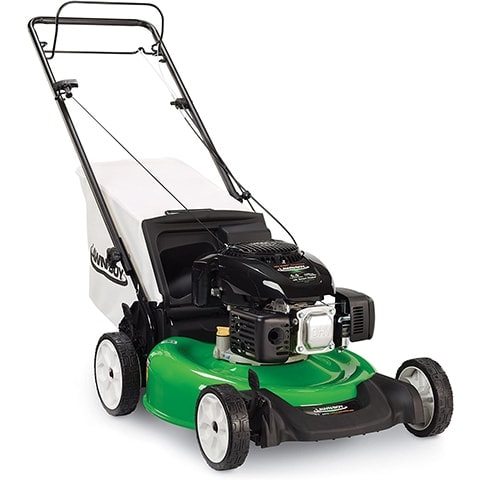 The Lawn-Boy 17732 offers a rear-wheel-drive system that performs better on rocky or uneven lawns. Lawn-Boy offers a 3-year Tru Start warranty that they will replace the mower for free. Lawn-Boy provides for variable cutting with ease. One of the key features is that it is CARB compliant for the State of California. The Lawn-Boy offers generous torque in areas that are rougher terrain.
This product also boasts a large bag capacity. A unique feature is that along with the Tru Start, Lawn-Boy also provides a 2-year warranty. With the 3-in-1 discharge capability, you are able to bag, mulch, or discharge out the side.
The downside is it does not come assembled, which poses one hurdle before you can get started cleaning up your lawn. Also, it's gas-powered and it takes roughly two pulls to get it to crank up.
Pros
Large bag capacity
Two warranties
CARB compliant
3-in-1 discharge
Cons
Takes one or two pulls to start
Gas-powered
Does not come assembled
---
4.

Great States 5-Blade Push Reel Lawn Mower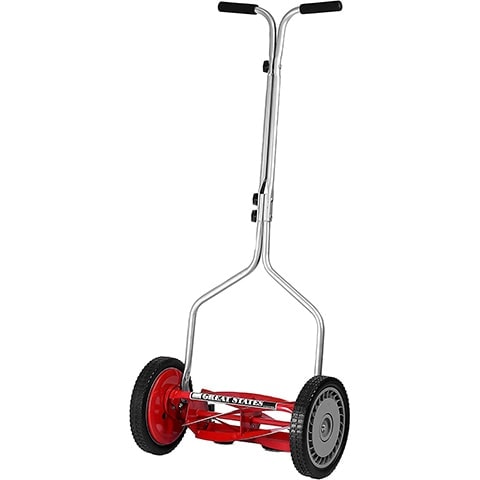 The Great States 304-14 is a unique addition to the list. The mower is not gas or electric and instead is manually pushed. Great States offers alloy blades and adjustable height. The driver handle is T-Style with a comfortable cushioned grip. Promotes physical activity, clean, and quiet alternative to gas and battery-operated mowers.
The size and design make it easy to store and maneuver around the yard. No battery or gas means there is no stopping. Sometimes simple is the best way to go. No engine means it cuts every time consistently. The hard enamel finish means you will be enjoying this lawn mower for years to come.
But it wasn't all smooth sailing with this product. It doesn't come assembled, which is fine, except the instructions are hard to read. It is also tougher to use on uneven terrain, and even on smooth terrain, you can come out with an uneven cut.
Pros
No gas, oil, or battery
Easy to maneuver
Easy storage
Cons
Physical requirements
It does not come assembled
Instructions are hard to read
Hard to push on uneven terrain
Uneven cut
---
5.

PowerSmart 3-in-1 159cc Gas Push Mower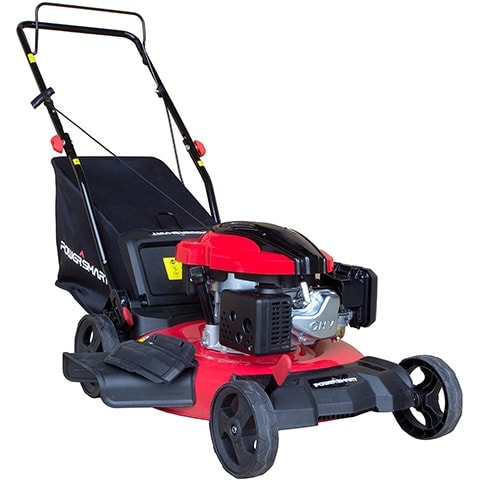 The PowerSmart DB8621P can take on any job large or small. The 3-in-1 discharge ability is appealing to bag, mulch, or discharge to the side. The convenience of one pull start is attractive. The PowerSmart offers a 21-inch steel mowing deck and large bag capacity.
One of the great features is the five adjustable heights to cut your grass to any level that you want. This mower only weighs 58 pounds making it highly maneuverable and easy to store. The PowerSmart features a 2-blade cutting system, which cuts evenly every time. Easy assembly is a definite bonus. The mower is easy to push and has a solid build.
However, we found some flaws with this product. It can be difficult to push, despite its lower weight. It requires assembly, and the blades tend to stick if not cleaned immediately. Be careful, the oil can leak during cleanings.
Cons
Extra effort to push
Does not come assembled
Has oil leak when cleaning
The blades tend to stick if not cleaned immediately
---
6.

Yard Machines 140cc 21-Inch Push Mower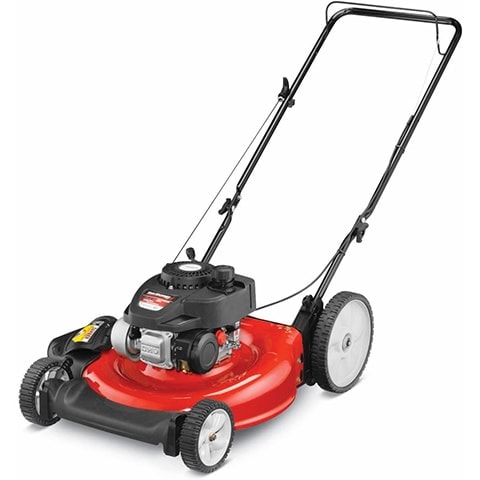 This Yard Machines lawn mower is a real workhorse of a push mower. It is powered by a 140cc overhead valve engine, which means you have a lot of power for rougher terrain and even cuts for smooth terrain. It features a large 21-inch      deck. Height adjustment is quickly switched to cut the grass at a variety of lengths per your choosing. Convenient side discharge puts nutrients back into the grass, which fosters growth and grass health.
The wheels are designed for easy turns and maneuverability around obstacles. This mower is perfect for small to medium-sized yards. A lightweight design means easy transport and it's backed by a 2-year warranty. The sturdy handle is easy to grip and hang onto while pushing so you are not having to tire your hands or overly exert yourself. This mower doesn't bog down in tall grass and is able to handle the job.
One thing that could be improved upon is to make sure that everything is tightened when it comes out of the box; there were a few adjustments that needed to be made. It's also not assembled, so be prepared to assemble it yourself following delivery. It also isn't able to offer even cuts on uneven terrain.
Pros
Gas-powered
Adjustable heights
Side mulcher
Cons
Extra effort to push
Needs extra adjustments after assembly
Does not come assembled
Uneven cuts on uneven terrain
Need to clean blades when unloading
Not easily stored
---
7.

Husqvarna Honda Walk Behind Self-Propelled Mower 
The Husqvarna L221A features an all-wheel-drive that can handle the rugged terrain of any yard. The 21-inch cutting width is ideal if you don't want to make several passes around your yard. The steel deck is durable, increasing the longevity of your lawn mower.
The tire treads offer ideal traction for high-use lawn maintenance and an impressive turn ratio. The Husqvarna has a large bag for optimum capacity that reduces stopping to change bags out. This mower is impressive to both the seasoned user and the infrequent user.
One of the things that need to be worked on is there is no side discharge, only a rear discharge. There's also no cushion on the handles, which starts to make a difference when you're pushing this thing across the lawn. Speaking of pushing, It takes a lot to move this model, and its size also makes it difficult to store. Lastly, the mulch isn't as fine and can lead to sticking to the bag.
Pros
Powerful engine
Adjustable heights
Self-propelled all-wheel drive
Cons
No cushion on the handles
No side discharge option
Harder to push and maneuver
Not easily stored
The mulch isn't as fine and leads to sticking in the bag
---
8.

Poulan Pro Walk Behind Mower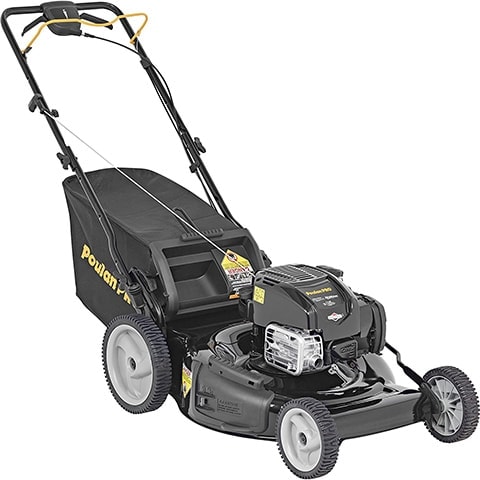 The Poulan Pro 961490006 is an excellent addition to any lawn maintenance care. The 22-inch 3-in-1 mower can mulch, bag, and side discharge. There are variable height cutting options, and rear-wheel drive makes this ideal for less work on tired muscles. The Poulan is lightweight so anyone can handle it as well as easily transport it to a new location. The engine requires little to no maintenance, making it ideal for small to midsize yards.
The engine is powerful and starts on the first pull every time. One of the things that could use improvement is that it is hard to pull the mower backward because of the flap in the back, so that the maneuverability could be a bit better. Also, the front axle mounts are plastic and not very durable and had to be changed out. Other than that, this is a robust, powerful, and balanced lawn mower that can take care of small and big jobs.
Pros
Strong & durable
Rear-wheel drive
Cons
Axel mounts are plastic
Hard to pull backward
Uneven cuts on bumpy terrain
Hard to push over harder terrain due to back flap
---
9.

Sun Joe Brushless Cordless Lawn Mower
The Sun Joe iON16LM does not require gas, oil, or heavy maintenance as it is battery powered. The brushless motor is designed to increase motor efficiency and decrease noise and vibration. There is a bag and a discharge shoot with six positions for different heights and grass cutting levels.
While this is a decent mower, there were some problems we found.  First off, it doesn't mulch, which is a significant issue if working on any garden and the bag tends to be extremely small and poorly designed.  When you try to empty it, you end up spilling a lot because of the odd design.  The handle and body are awkward and hard to store.  It's not ideal if you have a small space to put the mower.
Pros
Battery-operated
Different height levels
Cons
The bag is too small
Design of the mower makes it hard to store
Emptying the bag is difficult
The handle does not fold up
---
10.

BLACK+DECKER Electric Lawn Mower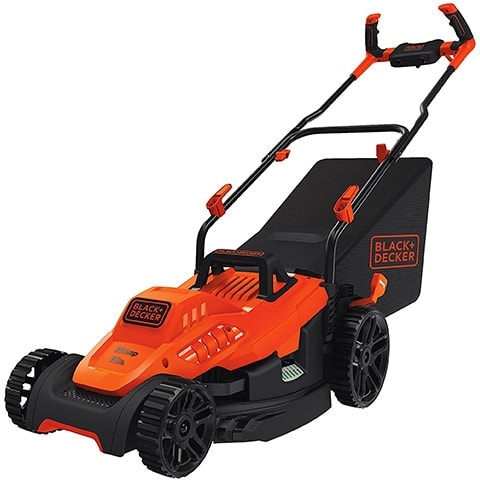 The BLACK+DECKER BEMW472BH offers an ergonomic build for comfort and easy maneuverability.  The height adjustments are easy to switch around and the rugged wheels offer better overall control.  Since it is electric, you won't have high maintenance issues like you do with gas engines.
However, there were some issues. Having a cord proves to be a real nuisance because it kept coming unplugged from the mower when we were trying to cut the grass. The engine has difficulty blowing the grass into the bag because the grass plugs the shoot. The motor goes out regularly so it is difficult to mow an entire yard. Mowing on rough terrain is near impossible because of these deficiencies.
Pros
Electric
Different height levels
Cons
The cord is a nuisance
The bag is too small
The engine struggles over rough terrain
The shoot gets clogged with grass

Buyer's Guide – Finding the Best Lawn Mowers under $300
There are many advantages to buying a lawn mower.  You get to cut the lawn when you want, and it promotes physical well-being. The long-term cost that you save is quite appealing too. What you want to make sure of is that it is the right fit for the job that you are going to use it for. There is a large variety of lawn mowers out there for under $300. We believe the Greenworks G-MAX Cordless Lawn Mower offers the most features at the best cost.
What to Consider When Buying a Lawn Mower
With all of the choices that you can make, you want to exercise caution to get the best quality for your money. A lawn mower is an investment. When purchasing a lawn mower, some things that you will want to keep in mind are:
Terrain
Is your yard flat, rocky, or have hills? Not all lawn mowers are the same. If your yard is flat and small, a manual or battery-operated lawn mower may be ideal for your situation. They are easy to store and can take care of your entire lawn in one shot. If you require a more robust unit for rougher terrain, you may want to consider one that offers a bit more torque. If your yard has a lot of obstacles or is hilly, a push mower might not be the ideal purchase, and you should consider a self-propelled lawn mower. A turning radius will matter when you need to steer around obstacles such as flower beds or rock gardens.
Lawn Size
Size matters when it comes to lawn mowers. If you have an unusually large yard, a battery-operated mower will take twice as long to mow it. If you have gardens that you use mulch for, then you would be better with a larger dual application unit that cuts and mulches. Smaller yards are ideal for battery-operated mowers that don't need their larger gas-powered cousins.
Grass Clippings
Do you prefer your grass clippings discharged from the side, so nutrients are supplied back into the grass, or do you collect them for mulch, or maybe even trash them? There are several options of 3-in-1 discharge or dual discharge capability that should be considered. If you need bagless with a small yard, the push model that doesn't require gas or oil might be the perfect solution.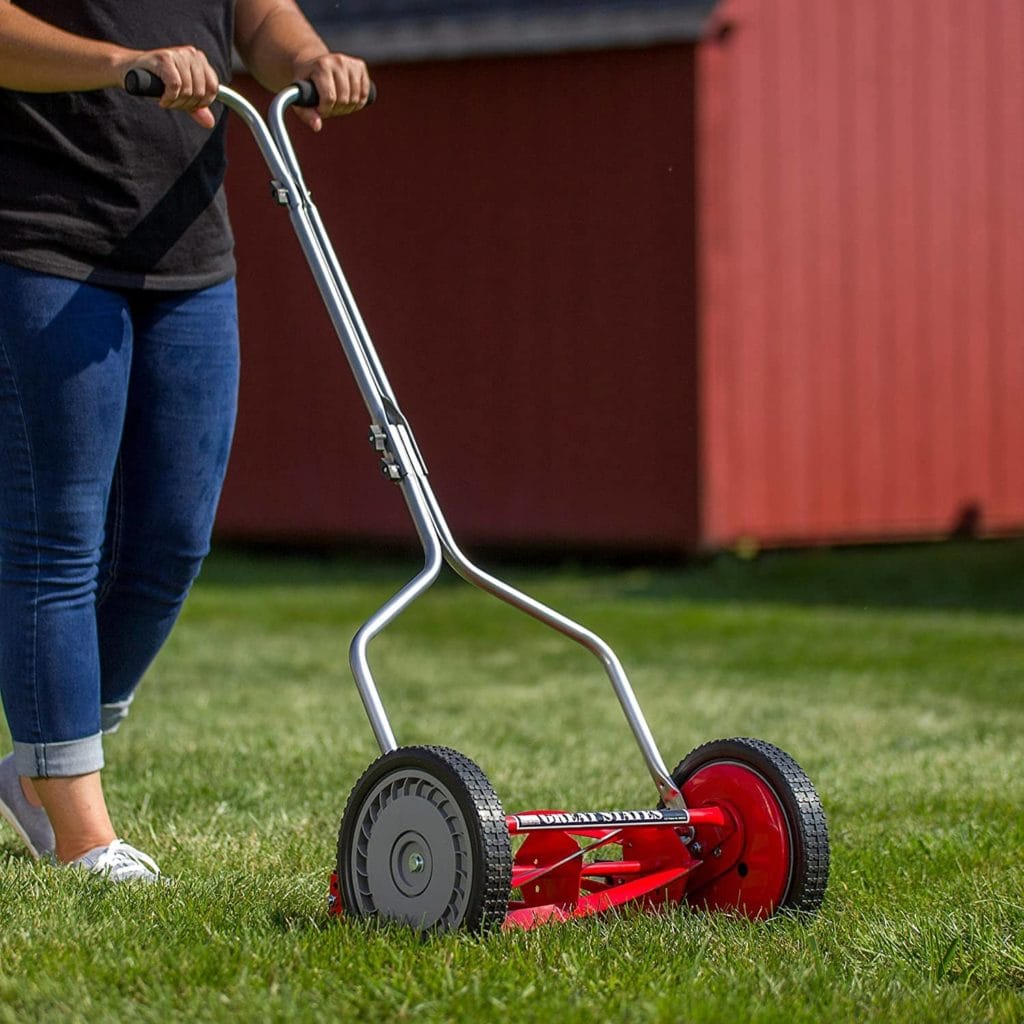 Storage
Lawn mowers are generally a high-ticket item. They are larger than most other garden tools, so storage space must be considered. If you have limited space, battery-operated and manual push lawn mowers tend to be more space-forgiving. If you have a shed or space on the side of the house, that means you may have a more massive yard, and the gas-powered version lawn mower would be more convenient and easier to store for you.
Power Supply
There are basically two types of power supply in a lawn mower: gas and electricity. Gas is more powerful and lasts longer, but there is far more maintenance and space that are required for that convenience. If you are a fan of less maintenance and less space, then battery-operated is the way to go. There is always the option of a manual push as well that requires minimum maintenance, just a good cleaning every now and then.
Deck Size
How wide the blades are on your mower determines your deck size. Most home-sized mowers focus on around 30–60 inches. The bigger the blade, the bigger the deck size, the bigger the cut area. So, this means fewer passes for bigger deck sizes. Again, it is going to come down to the space of storage and size of the yard. Larger decks are not easily navigated around obstacles compared to smaller decks. Smaller decks require more of a workout because it requires more passes along the lawn.
Steering Capability
This really boils down to how much of a workout you want. Most lawn mowers offer rear-wheel drive, all-wheel drive, push mowers, or completely manual. You should consider how hard you want to work physically and if you have the capability to do so without injury. If you are into a physical workout, the manual or push mowers are ideal. A little bit of a workout, then you will want to seek some drive power.

Conclusion
Whether you are an occasional user or mow your lawn all year round, the Greenworks G-MAX Cordless Lawn Mower is a top-notch lawn mower that has all of the features that you could look for in a lawn mower. Quiet, easy to store, easy to maneuver, and a long-lasting battery, this is our pick for the best lawn mower under $300 overall.
The next best lawn mower under $300 overall is the WORX WG779 40V Power Share Lawn Mower. The Intellicut feature is outstanding and a good addition to any tool shed.  The features for the price are unmatched.
Lawn mowers are a big-ticket item and an investment into your yard work. You will want a mower that is sturdy enough to stand the test of time, and that will be a workhorse at minimum cost — cost-effective without sacrificing quality. Lawn mower maintenance and care are essential if you want to maintain your lawn mower for a long time. Warranty and customer care are always important. Make sure that you choose a company that is going to back their product. Happy mowing!