10 Best Manual Lawn Edgers of 2023 – Reviews & Top Picks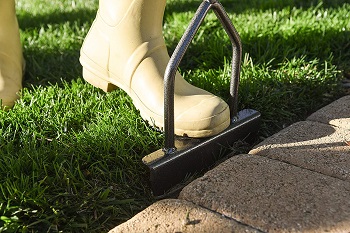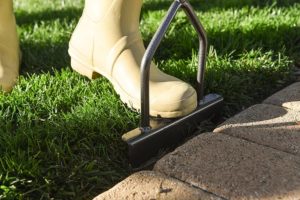 If you want to be the envy of your neighborhood with a perfectly manicured lawn, you have come to the right place. All gardening homeowners know that keeping their lawn, flower beds, and walkways tidy is no easy feat. Nothing ruins curb appeal like overgrown edges!
To keep the grass from overflowing you will need a lawn edger. Unfortunately, the motorized options are heavy, require gas or extension cords, and they're expensive. To avoid all that, we suggest using a manual edger. As long as your tool is durable and effective, tidying your yard won't be a problem.
Like most things, you can find this tool online. If you don't know what to look for, however, you can end up wasting your money.
We will share the finer points of the manual lawn edger including its durability, foot ledges, handles, and effectiveness. We have also shared some helpful tidbits in the buyer's guide. Keep reading for all you need to know about this handy yard tool.
A Quick Comparison of Our Favorites in 2023
Rating
Image
Product
Details

Best Overall

AMES 2917200 Saw-Tooth Border Edger

Steel handle
Saw-tooth blade
Comfortable T-handle
CHECK PRICE

Best Value

Yard Butler EDGE-180 Step Edger

Powder-coated steel
Saw-tooth blade
Center footplate
CHECK PRICE

Premium Choice

Truper 32100 Rotary Lawn Edger

Dual wheeled rotary edger
Durable Ash handle
Easy to clean
CHECK PRICE

Garden Weasel Edge Chopper

Welded steel construction
Ergonomic T-handle
Wide center step
CHECK PRICE

Bully Tools 92251 Round Lawn Edger

Steel versatile blade
Wide foot steps
Good for tight areas
CHECK PRICE
The 10 Best Manual Lawn Edgers
1.

AMES Saw-Tooth Border Lawn Edger Tool – Best Overall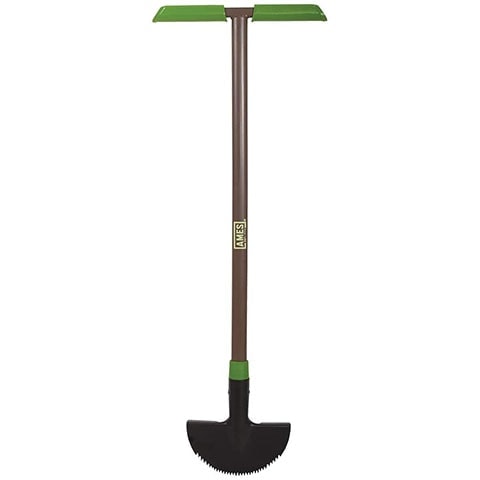 If you want to tidy up your lawn with no muss and no fuss, we recommend the AMES 2917200 Saw-Tooth Border Edger as our first choice. This is a 39-inch tool that has a comfortable T-grip handle. It gives you greater control over your edges, plus it's comfortable keeping your hands and wrists from tiring. Weighing 13.6 ounces, you will also find this a lightweight yet durable option.
The AMES edger can create straight or curved cuts around your walkways, gardens, flower beds, etc. The clean cuts are due to the arched design with a saw tooth blade. This tool cuts through grass and other tougher materials quickly and easily. It can also be used on sod and clay.
Made with a steel handle and a 4.5-inch blade, the wide footplate evenly distributes your weight for a consistent cut depth every time. The teeth on the blade are a bit more difficult to sharpen, but you won't have to worry about that for a long time. With no assembly required, this is our favorite manual lawn edger pick.
Pros
Steel handle
Saw-tooth blade
Comfortable T-handle
Wide footplate
Cuts through tough materials
Arched blade design
Cons
Sharpening blade is difficult
---
2.

Yard Butler EDGE-180 Step Edger – Best Value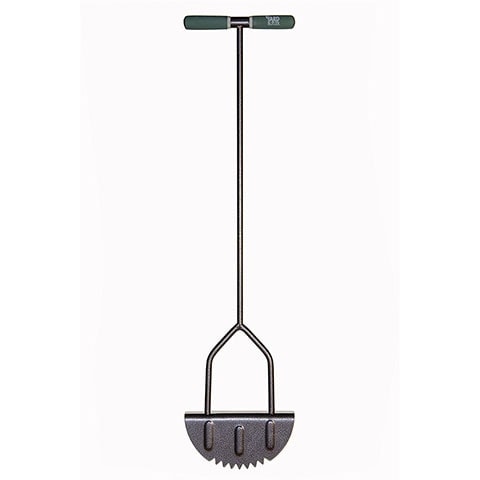 Just because you are on a budget doesn't mean you can be the envy of your neighbors. For a more cost-efficient option, we like the Yard Butler EDGE-180 Step Edger. This is a 37-inch tool that features a 9-inch wide blade that can cut through grass, clay, and go around all your garden beds and pavement. The extra-long handle also keeps you from having to bend and strain your back.
This tool makes clean and consistent edges thanks to the center step plate. The T-handle is also cushioned and provides greater control. The whole tool is powder-coated steel and resists rust and corrosion. You also have a saw-tooth blade to help rip through tough grass and roots.
The Yard Butler's long handle is designed to center your weight directly over the blade making this option not only easy to use but also requires less force on your part. As it is also affordable, this is almost our favorite option. What keeps it out of the first-place spot, however, is the weight. At 4.5 pounds, it's heavier than our top choice. Other than that, this is our pick for the best manual lawn edger for the money.
Pros
Powder-coated steel
Saw-tooth blade
Center footplate
Cushioned T-handle
Extra-long handle
---
3.

Truper 32100 Rotary Lawn Edger – Premium Choice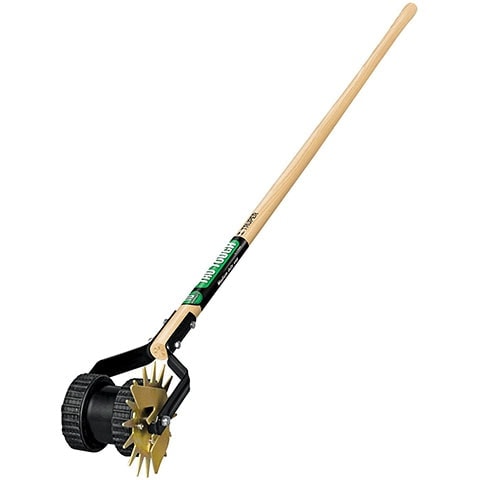 If you want to take your yard's appearance to the next level, the Truper 32100 Rotary Lawn Edger is a great option. At 48 inches, this dual-wheeled tool is a rotary edger as the name implies. It features an American Ash handle that is lacquered for long-lasting performance, plus you can clean the whole thing with a garden hose, and spray it with silicone to extend its life.
The Truper is clear-coated gray steel. The heavy-duty D-grip makes it easy to use, effective, and precise. It also has steel collars to help it cut through thick and tough ground material. Unfortunately, this is an edger that works better around pavement such as walkways and driveways.
Weighing 3.83 pounds, the tool is easy to push and create consistently deep grooves in your grass or soil. As this is a premium option, however, it is also more expensive than our other top picks. If you have a lot of walkways, a concrete patio, and other similar attractions on your property, this is a good tool to choose.
Pros
Dual wheeled rotary edger
Durable Ash handle
Easy to clean
Heavy-duty D-grips
Steel collars
Cons
Expensive
Not as effective around garden beds
---
4.

Garden Weasel Edge Chopper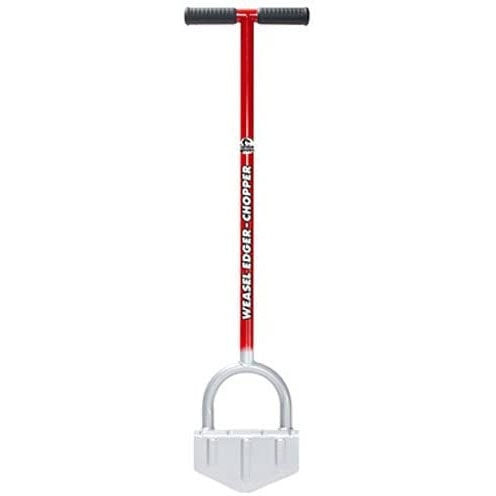 The Garden Weasel Edger Chopper is a good option for neatening-up around flower beds, lawn edges, etc. At 3 pounds and 38 inches, it's made of a durable welded steel construction. It also has a carbon steel blade that can cut through difficult earth like clay and sod. You can use this tool to break up ice in the winter months, as well.
To reduce back pain, the Garden Weasel features an ergonomic T-handle so you won't have to consistently bend over. There is a wide, center step footplate to give you increased leverage and an even cut depth. Be that as it may, this tool will require more force than other options. What's more, it doesn't have a saw-tooth blade so cutting through roots or denser ground is more difficult.
Keep in mind, this tool is weather and rust-resistant. It has a 7-inch wide blade that can be used as a small shovel, as well. If you don't mind a bit more of a workout, this is a good middle of the road model for you to pick up to keep your yard neat and tidy.
Pros
Welded steel construction
Ergonomic T-handle
Wide center step
Weather and rust-resistant
Cons
Harder to use
Doesn't have a saw-tooth blade
---
5.

Bully Tools 92251 Round Lawn Edger Tool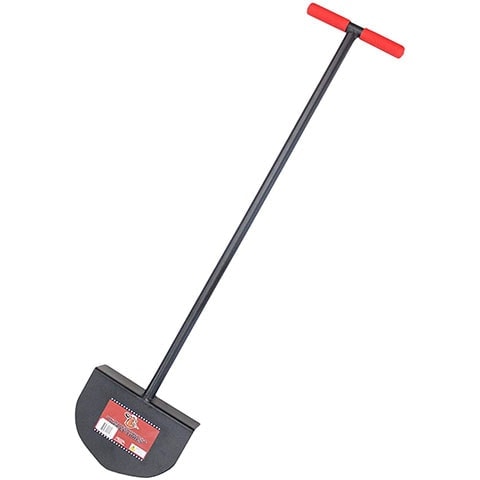 If you want a commercial-grade edger, the Bully Tools 92251 Round Lawn Edger might be for you. Made of steel, this pick has an extra-thick 12-gauge blade that is 5 inches wide. Keep in mind, this is a bit smaller than average, so you may need to make more cuts with this model. On the other hand, it is a rounded edger so getting around flower beds, vegetable gardens, and other narrow or curved areas is easy.
The Bully also has a T-handle that is padded with foam for your comfort. What's important to note, though, is the padding can slip and turn while you use it. Besides that, you have two wider than average foot steps to give you extra leverage and force. This will come in handy to cut through difficult earth as this model also doesn't have a saw-tooth blade.
Made in the USA, you can do a lot with this versatile tool. Unfortunately, a downside of the edger is the fiberglass handle. While it won't break immediately, it's not as durable as some other steel options. Lastly, it's approximately 38 inches and weighs a decent 3.6 pounds.
Pros
Steel versatile blade
Wide foot steps
Good for tight areas
Padded handle
Cons
Fiberglass handle is not as durable
Not a saw-tooth blade
Handle padding can slip
---
6.

Kwik Edge Tool K003 Garden Edger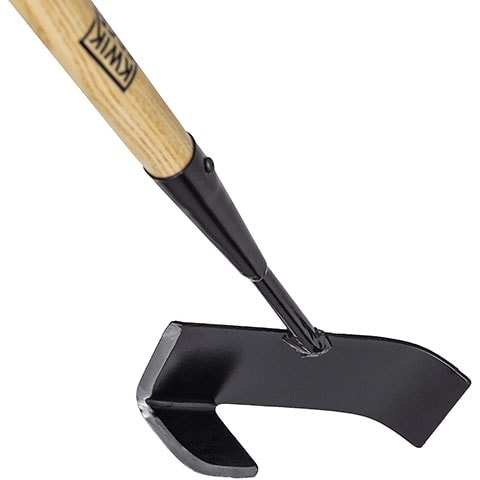 If you need a tool to maintain your edges, the Kwik Edge Tool K003 Garden Edger is a double-sided pick that will help keep everything tidy. This model has vertical and horizontal blades that keep invading grass from overflowing onto your walkways and flowerbeds. You can use it around driveways, footpaths, vegetable gardens, coy ponds, and much more.
One thing to note about this option, as mentioned, is it's for maintaining the edges not creating them. You will need a separate tool to initially cut through the earth to make the divide. This also means the tool is not up to cutting through roots, clay, sod, and other dense materials. That being said, the curved design directs grass and soil back in the direction it needs to be.
The Kwik tool weighs 2.4 pounds and has a durable wooden handle. One feature that makes it a little more difficult to use, however, is the shorter handle. You will have to bend to use this option. You also want to note that you can't use it with wet soil. Not only is it not effective under those circumstances, but it will also rust. If you need a smaller tool for maintaining your edges, though, this is a good way to go.
Pros
Maintains edges
Durable
Vertical and horizontal blades
Directs soil and grass back into place
Cons
Not for creating a cut
Handle is short
Cannot be used in wet soil
Not for roots, clay, or sod
---
7.

Fiskars 98936935 Steel Manual Lawn Edger
The Fiskars 98936935 Steel Edger is a 38.5-inch tool that has an extended reach to keep you from having to bend as you work. It weighs a comfortable 2.2 pounds that keeps it from putting a strain on your back and arms. It can be used to edge around walkways, flowerbeds, gardens, etc.
The Fiskars has a 4-inch blade depth. Unfortunately, though the blade is sharp, it's not a good candidate for cutting through tough earth. This model also doesn't have a saw-tooth blade that would aid in getting through thick grass and roots. Additionally, the T-handle is not comfortable, plus it doesn't allow you to get a lot of leverage.
Another downside of this tool is the footplate that is too narrow to allow for accurate force. Not only will this cause your depth to be off from edge to edge, but it will also be uncomfortable on your foot after extended use. To add insult to injury, the plastic handle is not as durable as it should be. To give some credit, however, this is a good tool if you have small garden plots with soft soil. In other words, it's good for light jobs.
Pros
Steel blade
Extended handle
Comfortable weight
Cons
The handle is not durable
T-handle is uncomfortable
The footplate is narrow
Not for tough or big jobs
---
8.

Radius Garden 22611 Root Slayer Edger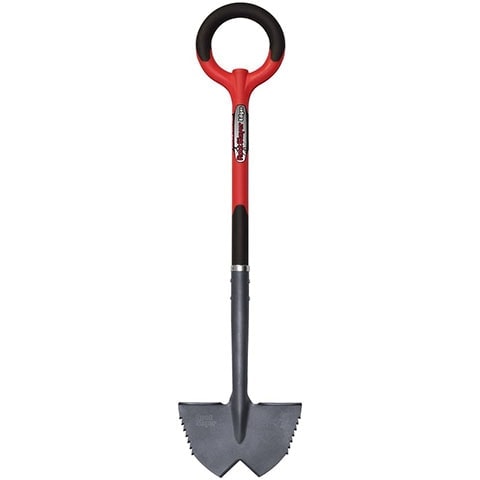 Our eighth pick is the Radius Garden 22611 Root Slayer Edger. This is a lawn tool that is designed with a half-moon style blade with an inverted V for cutting through roots and other difficult materials such as clay and packed dirt. The sides of the blade have specially designed teeth that also allow you to use it as a hatchet or saw on exceptionally hard earth.
Made of powder-coated steel, the blade is effective for edging around various parts of your yard, but it can come up short on tougher materials after some use. The blade tends to dull quickly, and it's difficult to sharpen. What's more, the 4.8-pound tool seems to be heavier than stated making it harder to use. This, coupled with the O-ring handle, makes it difficult to get a lot of leverage. On a brighter note, the handle is durable and made of resin-encased carbon steel.
Another point to consider with the Radius edger is the narrow footplate. Again, not only does this prevent you from getting the necessary force to cut through thick material, but it also creates uneven depths. As a last note, this option is more expensive than others.
Pros
Inverted-V blade
Resin-encased steel handle
Powder-coated steel blade
Cons
Blade dulls quickly
Narrow foot ledge
O-ring handle is not effective
Expensive
Heavy
---
9.

Kenyon 49045 All-Steel Hand Edger Tool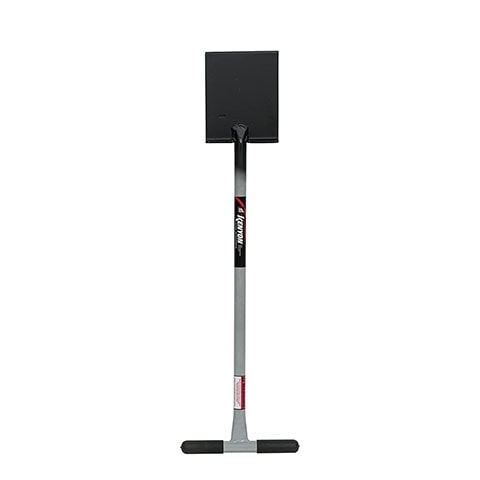 The Kenyon 49045 All-Steel Edger is our second to last tool pick for edging your lawn. This is a dual option you can use either as an edger or a trencher. It is an extra-long 45 inches in length, but it weighs a heavy 12 pounds making it back-breaking to use if you are not used to the weight.
The blade on the Kenyon is 8.25 inches wide and 10 inches in length. Due to the larger size, it's not the best option for smaller and more delicate areas such as small gardens or flower beds. Unfortunately, it is also not as effective for larger jobs as the blade is not as sharp as it should be. Despite the claims, you will have trouble cutting through roots, thick grass, sod, and clay. Additionally, it doesn't have a saw-tooth blade that would be helpful on larger jobs.
One of the biggest drawbacks of this tool is the durability. The T-handle is uncomfortable and too tall for proper force if you are on the shorter side. The foot ledge, while long at 1.25 inches, can also be hard to use. Overall, this tool will require a lot of body strength to be effective.
Pros
Long handle
Dual edger and trencher
Cons
T-handle is not comfortable
The blade is not sharp
Requires a lot of force
Not recommended for shorter individuals
---
10.

Corona LG 3684 Edge Master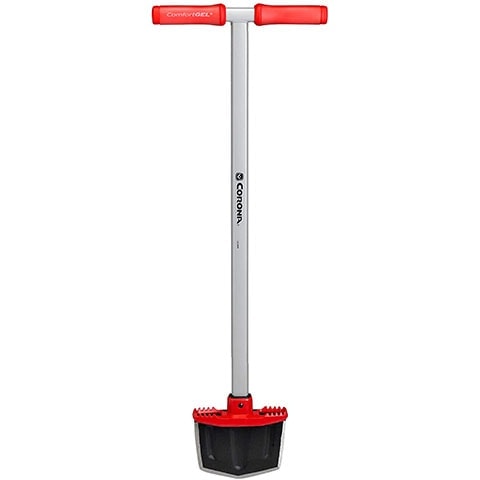 Our final pick is the Corona LG 3684 Edge Master. This tool is 5.8 inches in length with a 3-inch blade that is ribbed to help it cut through roots, grass, and other materials. What's more, the blade is self-sharpening. Unfortunately, the ribbed heat-treated, high carbon steel doesn't perform as effectively as we would like. The indented sections are too wide to be useful and instead creates uneven cuts.
In general, the Corona is not a durable option. The shaft is known to break easily, plus the T-handle doesn't allow you to apply the needed leverage to make easy edges. To be fair, the handle has a comfort gel lining that is easy on the hands, but it's moot when the tool is not effective.
Although it has a shorter handle, this option weighs a heavy 4.64 pounds, and many customers surmise that it probably weighs more. There is also a gripped foot ledge that is meant to be slip-resistant, but it actually makes it easier to trip especially if you are wearing treaded shoes (which is likely while working in the garden). On a final note, the self-sharpening feature doesn't seem to be effective as the blade is dull straight from the packaging. Unfortunately, this is our least recommended option for a manual lawn edger.
Pros
Gel-lined T-handle
Carbon steel blade
Cons
Heavy to use
Ribbed blade makes uneven cuts
Not durable
Gripped foot ledge is not slip-resistant
Blade is dull
Overall not effective
---
Buyer's Guide – Choosing the Best Manual Lawn Edger
As you can see from the reviews above, different lawn edgers offer different outcomes depending on your lawn. Interestingly enough, this fairly simple tool comes with a lot of questions, variations in use, and different features. If you are new to this tool (or edging your lawn in general), you may be scratching your head regarding some of the finer points.
To help you get to the "gold star lawn owner" status, we have provided some additional details below to help you find the right tool for your needs.
Frequently Asked Questions
As we mentioned, this basic tool comes with more questions than you would think. Knowing the answers to these questions is what will take your yard from decent looking to immaculate. Take a look below and see which questions you already know, and which answers take you by surprise.
Why is an edger important?
An edger is important for a couple of reasons. The first is aesthetics. Have you ever looked closely at a beautifully manicured lawn? The detail that might not jump out at you right away, but still makes a huge difference, is the sharp and defined divide between the various areas of the lawn. For example, the grass and the driveway or the grass and flower beds. This defined line keeps everything tidy and neat.
The second important reason is future damage. Grass can be a monster when it's not kept in check. Even if you use an edging material like vinyl or plastic, grass can still grow through it choking your flowers and other gardens. Not only that, but it can also grow under pavement causing it to bubble, sink, and crack over time.
What is the difference between an edger and a trencher?
This is another common question we hear often. The short answer is depth. A trencher creates much deeper canals in the earth while the edger creates more shallow cuts. For example, trenchers are used for planting fields, laying electrical wires, or installing a sprinkler system.
While depth is the main difference, another variance is trenchers are typically motorized while many people are still happy to use a manual edger. Although you can still find manual trenchers, they require a lot of backbreaking labor and usually require work animals.
Can an edger be used as a trencher?
While the answer to this is typically no (unless you want to spend a considerable amount of time digging) technically creating an edge around your lawn is, in fact, creating a trench; albeit a shallow one.
Besides that, there are a few other circumstances where you could use an edger as a trencher. Anytime you need a shallow trench dug, an edger can be used. Some homeowners like to bury outdoor Christmas decoration wiring, or you may need a short irrigation system for a coy pond. Either way, if shallow and short will suffice, an edger can be used. Keep in mind, most people who substitute one for the other are typically using an electric edger.
Are there different types of manual edgers?
Yes, there are technically three types of manual edgers. They are all different and can be used for different purposes.
Standard Blade: The standard blade is the most popular. With this type of edger, you leverage your weight on the handle and footplate to push the blade into the earth. This type also comes with either a half-moon blade or a V-shaped blade. The first is great for creating the divide between your lawn and other areas, while the latter does the same but is better if you have harder soil, roots, or other tough materials to cut through. Standard blades are versatile tools that can be used around gardens, flower beds, driveways, etc.
Rotary Blades: This is the less popular option when compared to the one above. This is mostly due to the lack of versatility. Where a standard blade can be used along almost any edge, the rotary option is typically better used along pavement or cement. With this option, you push the tool along while a wheel causes one of three different types of blades to spin. One point in favor of this tool, that the standard unit does not have, is it can be used for aeration.
Hand Blade: This is the least popular type, and it's just as it sounds. This is a handheld option that is better suited for small garden plots. As you can imagine, using this edger takes a toll on the body from bending and using your arms and shoulders.
Which type of edger do I need?
This is not the easiest question to answer, and it depends largely on your lawn. In general, if your yard has a lot of different aspects like a flower bed, vegetable garden, coy pond, walkway, patio, and driveway, you will be better off with a standard blade. The same is true if you have harder earth. Clay, thick roots, and other like materials call for a standard blade.
On the other hand, if you're only concerned about edging your driveway and sidewalk, you will likely be good with a rotary edger. Even if you throw in a garden, a rotary will work well if you have light soil. As mentioned, you can use this tool to aerate the soil or dig a drainage ditch if need be.
Small herb gardens that are a few feet in diameter is one instance where a hand edger would be okay. While these smaller tools can cut through some thicker soils, you will exert a lot of energy making it happen.
How to Pick Out A Good Tool
With the most commonly asked questions answered, there are still some other details to pay attention to before you pick out a manual edger. These are broken down into two categories; size and construction.
Size
Size plays a big role in how well the edger will work and how much energy you will have to use. There are a few things that will determine the right size for you.
Length: The overall length is important based on your height. If it's too short, you will find yourself bending frequently to get the right amount of force. If it's too tall, you won't be able to get the right amount of leverage to break through the grass.
Handle: The handle size and shape is also important. We recommend going with a T-handle as it gives you a solid surface to apply pressure to cut through your lawn.
FootPlate: Besides the handle, the footplate takes the majority of the force you exert to cut through the earth. A wide plate allows you to step down easily and comfortably. We also suggest a center step if you are not comfortable balancing on one edge.
Blade Size: Blade size varies depending on how deep you want your edge. It goes without saying, the bigger the blade, the more force you need. That being said, if you use a smaller blade it can take you longer, but shorter options can be more effective on tight turns and smaller areas.
Weight: Weight can make a big difference with a manual tool. Keep the overall weight in mind when purchasing. The difference in a few pounds can make a big difference in the labor you have to use.
Construction and Durability
For the most part, manual edger blades are made of either steel, carbon steel, or 12 to 15-gauge steel. They are all strong and durable, so the overall choice is yours. Price is usually the deciding factor.
That being said, the more important aspects of the construction is not the blade, but the other features of the tool.
Shaft: The last thing you want to happen is to have the handle bend or break while working. Steel or a hardwood such as Ash is generally recommended.
Handle: As mentioned, a T-handle is the most effective. Typically, the handle will be made with the same material as the shaft. What you want to look for, however, is a padded handle. Whether foam, gel, or other padded material, it will keep your hands from becoming raw and sore.
Footplate: Again, a steel footplate is where it's at, but you also want to look for non-slip features. Overall, however, durability in your foothold is important. Injury can be the result of a broken footplate. What's more, you should look for a wide ledge so you can step down hard with confidence.
Blade: As we mentioned, blades are typically made of durable material, so breaking one is unlikely. That being said, the sharpness of the blade makes a big difference. This is also true of whether the blade is a half-moon or V-shaped. Saw-tooth blades are also great for cutting through tough material easily.

Conclusion
We hope we have shed some light on manual lawn edgers, and how to pick out the best one for your needs. We know how difficult it can be to navigate the online world of tools, so our reviews have hopefully given you some food for thought.
In our opinion, the best manual lawn edger you can get delivered to your front door is the AMES 2917200 Saw-Tooth Border Edger. This is a lightweight, durable tool that will make tidying up your yard easy and stress-free. From your walkways to flower beds, this handy edger is up to the job.
If you want something easy on your wallet and back, we suggest going with the Yard Butler EDGE-180 Step Edger. Although it's a bit heavier, the saw-tooth blade cuts through the hardest earth and makes your lawn the envy of all your neighbors.