Best Brick & Masonry Sealer 2023 – Reviews & Top Picks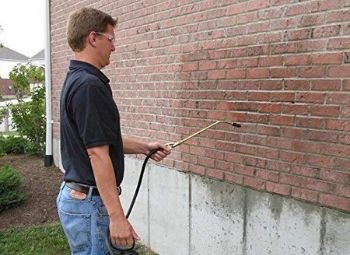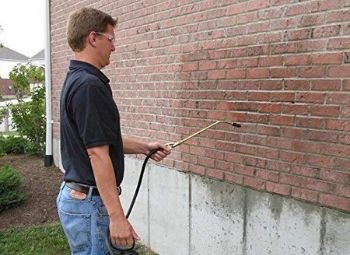 If you have beautiful masonry and stonework on your property, you know the struggle to keep it looking good. Next to throwing up tarps every time it rains, the best option is to protect the surface with a sealer. Many people do not realize how much a sealer can help, so they forgo the option.
Consider this though, a stone walkway can start to show wear after one bad winter season. This is especially true if you live in an area where there is a lot of precipitation and cold temperatures. The water seeps into the masonry and weakens the integrity from the inside out. That is not all, however. UV rays, salt damage, mold, mildew, and many other factors can damage the appearance of the stone and brick.
Masonry sealers are a great investment if you know which one is right for you. To lend a helping hand, we have reviewed the 10 best masonry and stone sealers on the market. Take a look below to get the details on the application process, finish, formula, and toxicity level. We will also share square footage and some shopping tips as well!
---
A Quick Comparison Of Our Favorites in 2023
Rating
Image
Product
Details

Best Overall

LastiSeal 143

Great protection
Nontoxic and non-flammable
Non-slippery
CHECK PRICE

Best Value

Black Diamond Stoneworks

Great for decorative stone
Will Not darken surface
Great protection
CHECK PRICE

Premium Choice

Foundation Armor Masonry Sealer

Great protection
Easy to apply
Multiple surfaces
CHECK PRICE

Dry Treat Intensifia

Color enhancer
Great protection
Easy to apply
CHECK PRICE

KILZ L390201

Great coverage
High-gloss sheen
Good coverage area
CHECK PRICE
The 10 Best Brick & Masonry Sealers
1.

LastiSeal 143 Brick & Masonry Sealer – Best Overall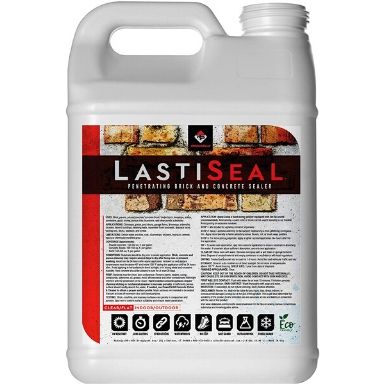 First up is the LastiSeal sealer that has seals concrete, masonry, grout, and wood. This is an eco-friendly option that is non-toxic and non-flammable. You can use this for interior and exterior work to prevent freezing/thawing damage, water stains, cracking, spalling, etc.
This formula is water-based and can be applied with either a sprayer, roller, or paintbrush. You get 2.5-gallons that will cover up to 250 square feet of space. With this option, your masonry will have protection from UV, salt, water, and other damaging materials. Plus, you won't slip and it has an ultra-low VOC. Overall, we think this is the best brick and masonry sealer on the market today.
Pros
Various materials
Interior/exterior use
Water-based
Great protection
Nontoxic and non-flammable
Non-slippery
---
2.

Black Diamond Stoneworks Stone Sealer – Best Value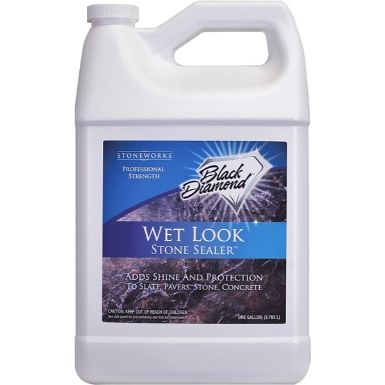 If you are in the market for a less affordable option, the Black Diamond is the way to go. This option gives you protection from water, UV, chemicals, and other damaging problems. This is a great option if you want to protect any decorative stonework, however, it can not be used on polished granite or marble.
This formula is non-yellowing and will not darken the surface of the masonry. You can easily apply this brand with a sprayer, paint roller, or a brush. It is VOC compliant and will cover 5002sqft giving the stone an additional shine.
While this can be used for interior and exterior work. The fumes can be harder to work with and it is toxic and flammable. Also, keep in mind that this is not recommended for use where there could be salt laydown. Overall, this is the best brick & masonry sealer for the money.
Pros
Great for decorative stone
Will Not darken surface
Great protection
VOC compliant
Interior and exterior work
Easy to apply
Cons
Not for polished granite or marble
Toxic and flammable
---
3.

  Foundation Armor Masonry Sealer – Premium Choice
Moving on, we have a slightly more expensive option that is great for concrete and brick surfaces. This formula will protect your surfaces from freeze/thaw damage, layers of salt, water stains, and much more.
This brand will penetrate the substrate up to 2 inches for solid protection. You can apply it with a roller or sprayer, and it comes in a 5-gallon bucket. You will get 200 square feet of coverage per gallon, as well.
Unfortunately, this is a solvent-based mixture that is toxic and flammable. That being said, mold mildew, UV rays are not going to be a problem, and it won't yellow the surface. You can use this for interior and exterior work, but you will need to use two coats on porous materials. Based on the various substrates and projects, this is the premium choice.
Pros
Great protection
Easy to apply
Multiple surfaces
Interior/exterior
Penetrates 2 inches
Cons
Needs two coats
Toxic and flammable
---
4.

Dry Treat Intensifia US Enhancer & Sealer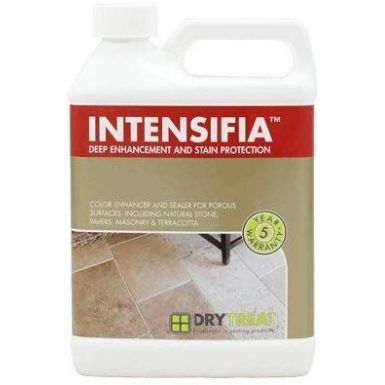 The next option is a color enhancer that is best used on patio pavement and other walkways. This formula can be used on residential and commercial properties and will protect the surface from water damage and oil stains.
Dry Treat is a great option for preventing yellowing, cracking, and peeling, as well as penetrating the surface for water intrusion and oil marks. However, this is not a good formula for salt-treated areas. You can also use this product on a variety of surfaces including horizontal and vertical substrates.
Depending on the surface, one quart of fluid will cover 150 square feet. To apply, you can use a brush, roller, or sprayer. This brand also doesn't have a sheen, but it will darken the surface of the stone. Also, it is important to note that this option is toxic and flammable, and will create an odor, so a well-ventilated space is recommended for indoor use.
Pros
Color enhancer
Great protection
Commercial or residential properties
Horizontal & vertical surfaces
Easy to apply
Cons
Toxic & flammable
Strong odor
No salt-treated areas
---
5.

KILZ L390201 Brick and Masonry Sealer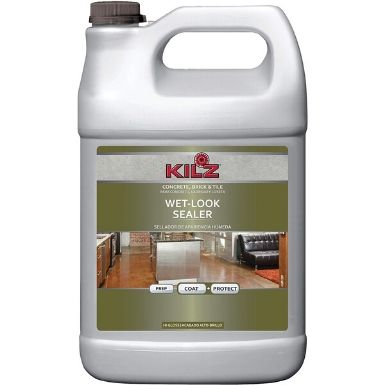 This next brand is typically known for its stain-hiding abilities yet in this case, it is known for its sealing ability. The formula is a high-gloss acrylic-based sheen great for protecting the surface for water damage, yellowing, spalling, cracking, etc., as well as preventing stains.
You can use this product on concrete, stucco, tile, brick, and several other substrates. While you cannot thin this sealer, you will get between 250 and 400 square feet of coverage, depending on the porousness of the surface. This option can be applied with a brush, roller, or sprayer; however, a sprayer is recommended for best use.
Meant for commercial and residential properties, this brand has a strong odor as well as being toxic and flammable. You also want to apply it to horizontal surfaces only. If you are looking to enhance your stone and masonry walkways, patios, etc., this is a good choice.
Pros
Great coverage
High-gloss sheen
Good coverage area
Easy application
Cons
Toxic
Flammable
Horizontal surfaces only
---
6.

A-Tech Masonry & Brick Sealer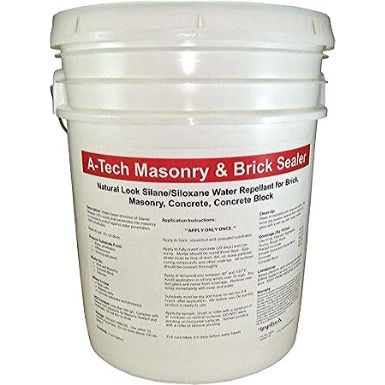 The A-Tech sealer is a natural finish with no-gloss sealer that has a low VOC and repels water to keep brick and stone safe from damage. The silane/siloxane water-based formula penetrates the surface and the joints to keep wind-driven rain at bay.
This option is also non-toxic and 100 percent odorless. You can apply the 5-gallon bucket with a sprayer, brush, or paint roller, however, a sprayer is recommended as the liquid can be difficult to spread. This is a great option for stopping efflorescence but is not meant to be used in areas where there could be oil spills or salt damage.
On the other hand, this option is UV resistant and easy to clean. You get 100 to 150 square feet per gallon and it can be used on commercial and residential surfaces in either horizontal or vertical applications.
Pros
Great protection from water damage
Low VOC
Non-toxic and no odor
Commercial and residential
Cons
Harder to apply
Not meant for salt or oil protection
Smaller coverage area
---
7.

StoneTech Heavy Duty Exterior Sealer
Moving forward, we have a solvent-based sealer that is great for protecting your masonry material from water damage, stains, and efflorescence. This is a heavy-duty option that can be used for interior or exterior work, yet it is better suited for exterior work on brick and stone substrates.
The quart bottle provides up to 250 square feet of coverage, yet it is more difficult to apply. A garden sprayer is recommended along with a roller to spread the liquid evenly. You also want to spray away from vertical surfaces, as this formula tends to run.
StoneTech WBS12-32 gives a natural finish without a sheen. It is flammable and toxic, although the odor is lower for a solvent-based formula. Also, keep in mind that two coats are recommended, and the temperature needs to be above 55 degrees for the best results.
Pros
Good coverage
Good protection
Natural Finish
Low odor for solvent
Cons
Difficult to apply
Horizontal and exterior use only
Toxic and flammable
Temperature needs to be 50 degrees
---
8.

Eco Advance Concrete/Masonry Sealer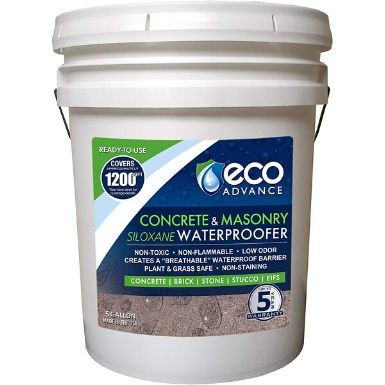 The number eight spot goes to the Eco Advance, an eco-friendly, non-toxic, non-flammable formula. This commercial-grade option also has low VOC, low odor, and has a cure time of 2 hours. Important to note, however; although this is commercial grade, residential application is recommended.
That being said, this product will need to be applied with a sprayer. While it doesn't stain and is safe for use around grass and other plants, this can be harder to work with as the consistency is hard to spread. You can use this to protect concrete, stone, brick, and stucco from water damage.
This option is a siloxane water-based formula and is recommended for warmer climate areas that will not need salt applications and will not have freeze/ thaw damage. The 5-gallon bucket will seal up to 250 square feet depending on the substrate and has a natural finish that can darken if the application is too heavy.
Pros
Eco-firendly
Quick cure time
Non-toxic
Cons
Residential only
Difficult to apply
Can darken substrate
Good for warm climates
---
9.

RadonSeal DryWay Water-Repellent Concrete Sealer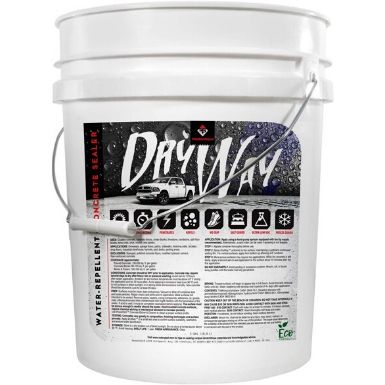 This product is another eco-friendly option that is meant to protect concrete or stone surfaces from water damage, salt stains, freeze/thaw, mold, and mildew. Unfortunately, this formula tends to leave a film and will yellow after time. The protection is okay for average use. Any surfaces in severe weather areas will have a harder time standing up to consistent rain and cold.
The 5-gallon bucket should be applied with a hand sprayer and roller to evenly apply the material of level horizontal surfaces only. The silane/siloxane formula will only cover 100 square feet for all substrates except untreated concrete, making this a less cost-efficient option.
Also, be aware that this formula is not meant to darken not does it have a sheen, but it may change the appearance of the substrate. All in all, this is the best option if you are sealing a new driveway in a warmer climate area.
Pros
Eco-friendly
Good for driveways
Low odor
Cons
Harder to apply
Can darken appearance
Not great coverage on stone
Limited protection
Not cost-efficient
---
10.

SEAL-ONCE Nano+Poly Concrete & Masonry Sealer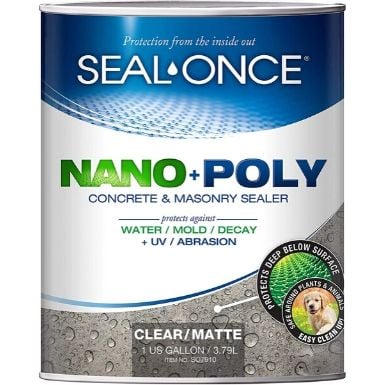 Coming in last place is the SEAL-ONCE protector that is a water-based polyurethane formula in a clear matte finish. Like the option above, however, this product tends to change the appearance of the substrate, and can also be quite slippery when wet.
This product is used to protect the surface from water, mold, and decay damage to concrete and masonry surfaces. Unfortunately, several coats are required to prevent even minor water damage. You will also need a paint sprayer to apply this product, although it is eco-friendly. That being said, the odor from the polyurethane can be quite strong.
Finally, the one-gallon bucket covers 60 to 80 square feet and tends to leave a film behind. All in all, this is the lowest ranking product on our list. For the best sealing protection, you are better off choosing one of the options above.
Cons
Requires a sprayer
Changes appearance of surface
Strong odor
Low protection
Leaves a film
Low coverage
---
Buyer's Guide – Choosing the Best Brick and Masonry Sealer
Deciding on a brick and masonry sealer is difficult since there are so many factors that go into picking the best option. This buyer's guide is intended to help you better understand how to select a brick and masonry sealer, as well as how to use it.
Factors to Consider When Buying Brick & Masonry Sealer
Penetration
The most important factor to consider when buying a brick and masonry sealer is the penetration power. The penetration power will allow the product to work deeply through the brick and mortar, which then allows it to protect from the weather, efflorescence, or dusting.
Any sealer you select should manage concrete dusting and prevent efflorescence, which is a powdery white substance that can appear on top or below surfaces. The more penetration power the sealer offers, the better it will be at preventing both of these incidents.
The Size of the Job
This may sound like a no-brainer, but you need to factor in how much sealer you need. Some jobs will require multiple containers of sealer, while others will only need a half a gallon. Buy the correct amount of sealer for your intended project so you don't waste money but have enough to get the job done.
Health Factors
Brick and masonry sealers can be incredibly toxic. To help protect your health, check out the toxicity, odor level, and other health-related factors of whatever sealer you are choosing. You may also want to consider products that are more natural and less harmful to the environment.
One specific factor to look out for is the VOC level. VOC stands for volatile organic compounds, and they are incredibly bad for your health and are regulated by law. Look for lower VOC levels because they will be less toxic and have lower fumes.
Even sealers with low VOC levels will be hazardous if they get into your eyes, mouth, or nose. Always wear protective gear when spraying sealer to prevent harm from occurring.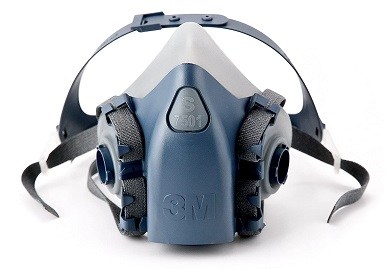 Intended Surface to Seal
The intended surface that you want to seal will largely determine the materials you work with. Consider the surfaces, density, and materials holding the pavers together. Once you have all of this information, check the label of different sealers to see which one is best for your intended use.
Indoor vs. Outdoor Use
Some sealers are capable of being used inside and outside, but others are only designed for one setting. Make sure to consider exactly where you are using the sealer and select an option that matches accordingly. If you are using sealer outside, make sure it is safe for the environment.
Finish
After you finish the sealing job, you do not want to look at the job and think that it looks unprofessional or unkempt. To prevent this from happening, consider the finish that you would like for your project. You will have your choice between high gloss or matte. Select an option that matches your preferences.
How Brick & Masonry Sealers Protect Your Home
If you are looking for a brick and masonry sealer, then you probably know that they protect surfaces in your home, but you might not know exactly what they protect against. Here are the most important ways that sealers can protect your home:
Rain and Wind: If it is raining while it is windy, the rain will come in at a horizontal angle, which makes it easier for the rain to penetrate different crevices. A sealer will help combat this additional threat.
Freezing and Thawing: Freezing and thawing can cause a lot of property damage to floors and walls, especially in locations prone to heavy winters. A sealer will prevent water from getting into your surfaces.
Mildew and Mold: Mildew and mold are unsightly, smelly, and aggravating for allergies. Since a sealer will keep water out of the surface, mildew and mold are less likely to grow.
Spills: Accidents and spills are a fact of life, and they can be impossible to clean properly if they get into the nooks and crannies of a wall. Sealer ensures that the spill stays outside the surface, making it easier to clean.
How to Use Brick & Masonry Sealer
1. Prepare the Surface and Yourself
Before you apply the sealer, clean off the surface with a power washer and allow it to dry completely. Pick off any old paint, pull away vines, and remove anything else that might be in the way as needed. Dress in protective gear to prevent the toxic materials from damaging your body. This includes goggles, gloves, and a mask.
2. Spray Sealer on the Intended Surface
After you have waited about a day for the surface to dry, fill up the pump sprayer with your sealer of choice and spray it onto the material. Be sure to spread any runs or drips while they are wet with a paint roller. Allow the sealer to dry however long the instructions say before adding a second coat.
3. Clean out the Sprayer
After you have finished sealing your surface, use soapy water or mineral spirits dependent to clean out the sealer from the pump sprayer. You may also want to read the manufacturer's instructions for any other cleaning advice.
---
FAQs on the best brick sealer
Why do I need a sealer?
Just like any other material, concrete and rocks are subject to damage, especially water damage. Their porous structure allows water to seep in, wreaking havoc on both the building and your wallet. A sealer will seal moisture out of the surface and protect the building from water or moisture-related damage.
How do sealers work?
It may be helpful to think of a sealer as the waxy coating on the outside of plants. This coating allows raindrops to wick off the plant and simply roll off the leaves.
Sealers work the same way. They add an additional coating to the surface to prevent water and moisture from penetrating the porous materials. Some sealers will even go into the pores and tiny cracks to further protect from water damage.
Are sealers dangerous?
Sealers are made from toxic materials, meaning that you should not inhale or ingest them. Wear special protective gear when applying the sealer and stay away from it while it is drying. Cover any plants around the surface and remove any animals from the vicinity. Once dried, the sealer should not pose any more health risks unless ingested.
---
Conclusion
If you are ready to seal and protect your masonry and stone surfaces, your best bet is our number one choice. The LastiSeal 143 Brick & Masonry Sealer will be able to add a layer of protection against water, UV, and any other damage that may occur. If you prefer a more affordable option, the Black Diamond Stoneworks 679773003916 Stone Sealer is the best bang for the buck.
If you have more concrete than stone or your property, take a look at the best concrete sealers available. You will be able to find all the information you need to seal and protect your concrete surfaces. Otherwise, we hope you have enjoyed this review of the best brick and masonry sealers.
See also: 3 Types of Concrete Sealers (with Pictures)
---
Featured Image Credit By: A-Tech Masonry & Brick Sealer, amazon