10 Best Multimeters of 2023 – Top Picks & Reviews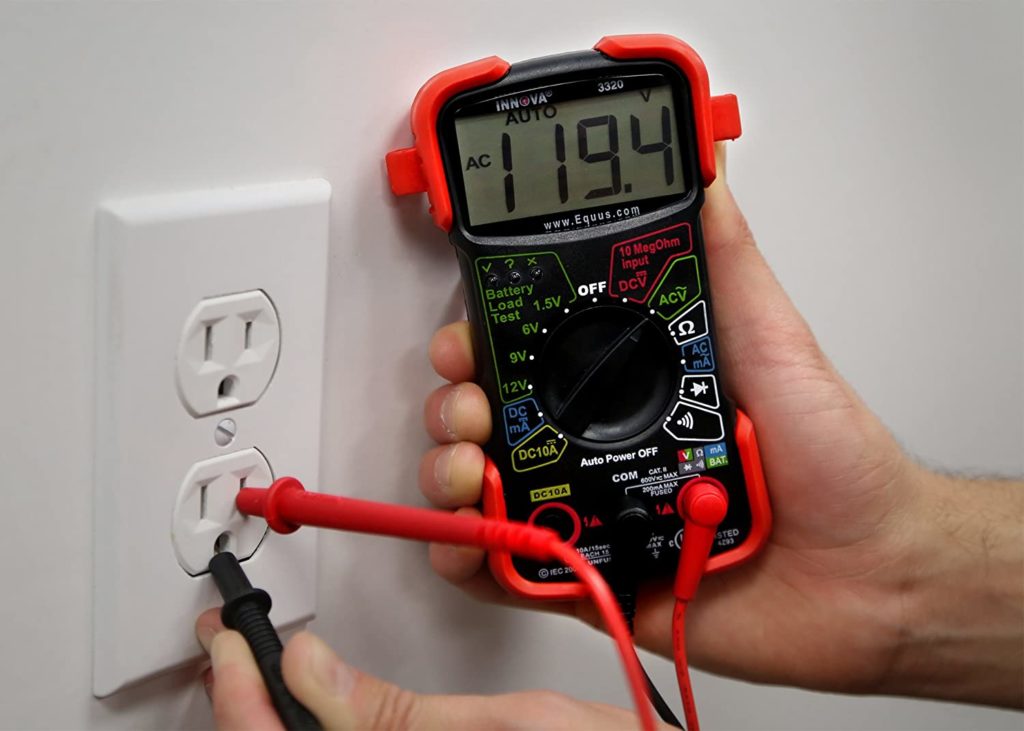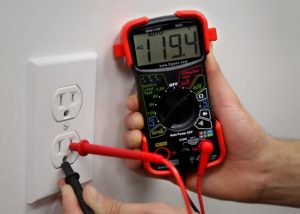 Whether you're a professional electrician, a DIY newbie, or anywhere in between, a multimeter can make all your electrical projects easier, safer, and more efficient. In fact, you will be hard-pressed to find a more useful multipurpose tool.
Although primarily used to measure voltage, current, and resistance, digital multimeters have quickly become a standard diagnostic tool for anyone working with electrical units. But with so many models available on the market today, how can you know that you're really getting your money's worth when you buy a new multimeter?
To answer that question, we tested and compared over two dozen multimeters. In the reviews that follow, you'll find our top picks for every category and budget and a helpful guide to get you up to speed on the ins and outs of multimeters.
---
A Quick Glance at the Winners of 2023
Rating
Image
Product
Details

Best Overall

AstroAI TRMS 6000

Features auto-ranging capabilities
Explosion-proof ceramic tube fuses protect from any accidental overloads
3-year warranty
CHECK PRICE

Best Value

INNOVA 3320

Durable rubber corner guards protect it from fall damage
Big LCD display and clearly printed functions
Easy to establish accurate measurements
CHECK PRICE

Premium Choice

Fluke 117

Designed by professional electricians
Category III safety rating
Ergonomic design allows for easy one-handed operation
CHECK PRICE

Extech EX330 Autoranging Mini Multimeter

Compact design makes it easy to use and carry
Suitable for commercial use
Auto-ranging feature allows for precise and reliable measurements
CHECK PRICE

Amprobe AM-510 Multimeter

Durable construction
Available at a great price relative to its CAT rating
Backlit LCD display is easy to read
CHECK PRICE
The 10 Best Multimeters
1.

 AstroAI TRMS 6000 Multimeter – Best Overall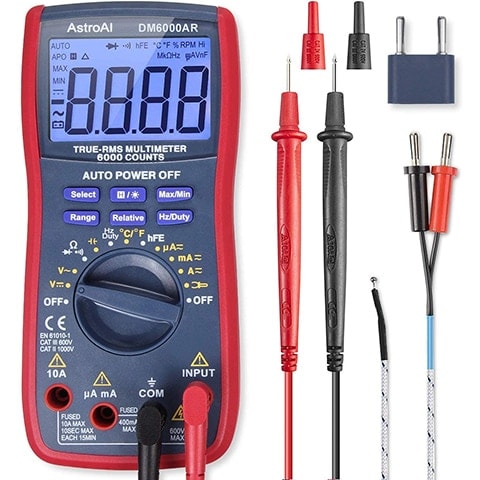 There is a recurring theme among the many multimeters included in these reviews; almost every digital multimeter is held to an extremely high standard for construction, accuracy, and versatility. For a multimeter to stand out from the crowd, it must have something truly special. AstroAI's TRMS 6000 does exactly that by featuring built-in explosion-proof ceramic fuse tubes.
These secure and reliable fuses will effectively protect the inner workings of the AstroAI from being damaged even in the event of an accidental overload. They provide protection across all ranges and are excellent safety features that should be included in every brand.
Furthermore, the rest of the TRMS 6000's features are spot-on. It's easy to use and read and features a wide range of testing options and professional-quality accuracy, making it ideal for everything from home use to commercial applications. In short, we think it's the best overall multimeter of the year, and we keep one in our toolbox, so, of course, we recommend that you do the same!
Pros
Tests for voltage, current, resistance, continuity, capacitance, frequency, diodes, transistors, and temperature
Features auto-ranging capabilities
Large backlit screen, kickstand, hanging magnet, and data hold function make it easy to use
Explosion-proof ceramic tube fuses protect from any accidental overloads
3-year warranty
Surprisingly affordable
Cons
Does not feature drop protection
---
2.

INNOVA 3320 Multimeter – Best Value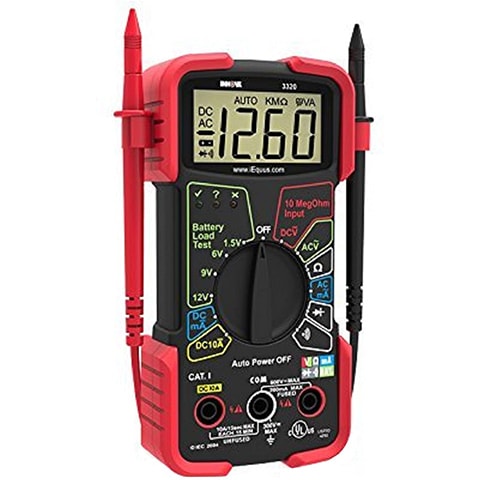 Although it has nearly the same price as our top pick, INNOVA's 3320 Auto-Ranging Digital Multimeter offers something seen in remarkably few other multimeters: drop protection. Simple rubber corner guards provide all the safety necessary to significantly extend the durability of this multimeter, making it a good choice as one of the best multimeters for the money.
It's exceptionally affordable and widely applicable to various household projects, and INNOVA's large LCD display and easy-to-read front-facing controls make it quite user-friendly. Though not equipped with quite the same range of capabilities as our top pick, it's still an imminently useful multimeter for the home DIY enthusiast on a budget, and it's our pick for the best multimeter for the money.
Pros
Durable rubber corner guards protect it from fall damage
Big LCD and clearly printed functions
Helpful auto-ranging function makes it easy to establish accurate measurements
Incredibly affordable and long-lasting
Cons
Does not have temperature testing capabilities
No built-in protections for overloads
---
3.

Fluke 117 Multimeter – Premium Choice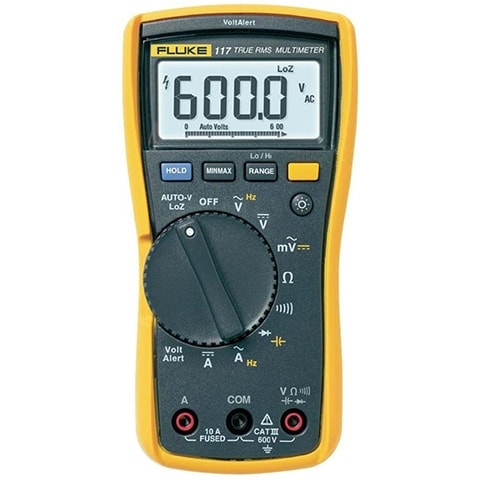 Fluke has become so well-known in the multimeter market that hobbyists may refer to anything resembling their signature styles as a "Fluke multimeter." This may also be the case because of how pricey a genuine Fluke can be, but in our opinion, the added cost is well worth the exceptional accuracy and impeccable design.
As one of the few multimeters available today to be designed by a panel of professional electricians, the Fluke 117 is an ideal tool for professional use. With added features like VoltAlert technology for detecting non-contact voltage and incredibly low input impedance that prevents false readings, the Fluke is a versatile machine. Add in a CAT III 600 Volt safety rating, and it's easy to see why the 117 is our choice for the best premium multimeter.
Pros
Designed by professional electricians for use by professional electricians
Specialized features prevent false readings and allow for accurate measurements
White LED- backlit screen works well even in low-light settings
Category III safety rating makes it more than capable of handling commercial jobs
Ergonomic design allows for easy one-handed operation
---
4.

Extech EX330 Autoranging Mini Multimeter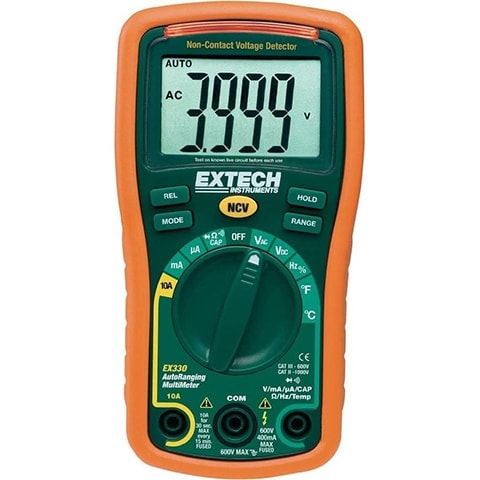 The small but mighty Extech EX330 multimeter offers a wide range of functions and features in a travel-friendly package. But with a CAT III safety rating, the EX330 is ready to take on anything from the largest home electrical jobs to most commercial projects.
A built-in AC voltage detector combined with auto-ranging technology makes it easy to take consistent, reliable measurements in a flash with the Extech, and a resolution down to three decimal places ensures excellent accuracy too.
Protected by an all-around rubber holster, the EX330 is a powerful and durable little machine that will be at home in anyone's toolbox. It's not the most affordable multimeter you'll find, but if you're looking for a UL-certified product that's somewhere between our top and premium picks, the Extech is an excellent choice.
Pros
Encased in a rubber holster that protects from fall damage
Compact design makes it easy to use and carry
Certified Category III safety rating makes it suitable for commercial use
Auto-ranging feature allows for precise and reliable measurements
Cons
Fairly pricey
Operates on two AA batteries, so battery life may not be great
---
5.

Amprobe AM-510 Multimeter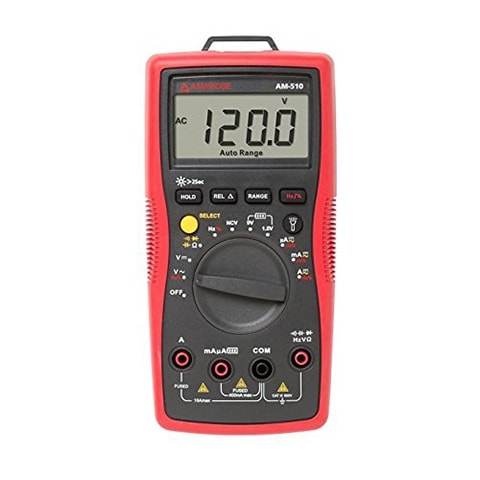 As one of the least expensive multimeters to be rated for CAT III 600V, Amprobe's AM-510 Multimeter does away with some of the features, bells, and whistles of other models in our reviews to focus on a narrower range of commercial and residential applications. Based on measurements for AC/DC, resistance, frequency, and capacitance, it's a straightforward multimeter that will appeal to minimalists.
A securely fastened rubber enclosure protects the Amprobe from falls, which combines nicely with the company's "No Hassle" warranty plan. If you ever experience problems with the AM-510, you can take it to any authorized dealer to replace it on the spot. Talk about great customer service!
Overall, the AM-510 is hampered only by its smaller range of precision and features compared to other multimeters. However, it holds its own against competitors and is offered at an excellent price for general-purpose work across various fields.
Pros
Excellent CAT III usage rating makes it suitable for commercial use
Durable construction and added protection from molded rubber casing
Backlit LCD  is easy to read
Available at a great price relative to its CAT rating
Cons
Fewer available measurement features than other multimeters at this price
Resolution measures only to one or two decimal places
---
6.

BSIDE ZT100 Digital Pocket Multimeter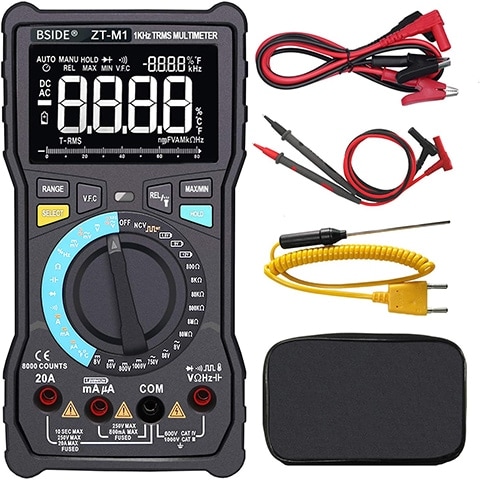 It's incredible how many features BSIDE has packed into its ZT100 multimeter, especially given its pocket-sized design. With a host of manual and automatic detection modes and a comprehensively informative LCD readout, you won't be at a loss for testing modes with the BSIDE!
However, you may find (as we did) that navigating the huge array of options and information available on this tiny multimeter is more troublesome than you'd like. While there's no denying the utility of having the right tool for just about any job, we would have preferred to include all of these options in a larger unit.
Still, the ZT100 is available at quite a reasonable price for its many features and testing modes. If you're looking for the smallest multimeter with the most settings, this model from BSIDE will be just right for you.
Pros
Compact and lightweight design is easy to carry in any toolbox
Widest range of automatic and manual detection modes available at this price
Inverted LCD screen is much easier to read, even in direct sunlight
Cons
Crowded display area can be hard to parse information from
Large number of functions in a small area can be difficult to adjust properly
---
7.

Mastech MS8268 Digital Multimeter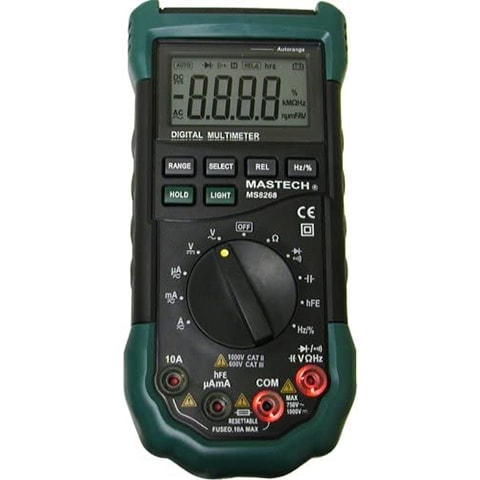 Mastech produces large and sturdy multimeters that may appeal more to old-school electricians thanks to their simplified features and displays. All standard measurement tools are right there for easy access through the front control panel, and back-mounted lead holders are a nice touch that many other multimeters could take notes from.
However, we wish that the Mastech designers were more conscious of how quickly this machine uses up batteries. You'll need to buy extra batteries anyway since it doesn't come with its own set. Three AAAs will do the trick, but you'll definitely want to order in bulk if you plan to use this multimeter for more than the occasional check.
Pros
Large case and display are easy  to set up
Lead holders are on the back of the device for easy use and storage
Includes auto-ranging feature for continuity checks
1-year warranty
Cons
Does not automatically zero out readings
Drains batteries quickly while in use
---
8.

Tacklife Digital Multimeter TRMS 6000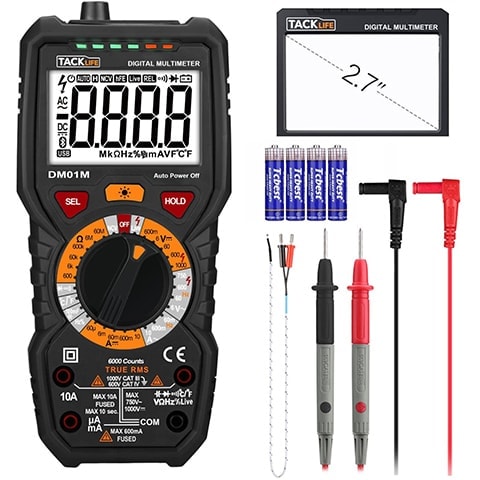 As a relative newcomer to the power tool and measuring device scene, Tacklife has been making waves with its ridiculously low prices and admittedly variable quality. Their digital multimeter, the TRMS 6000, is no exception. While it's undoubtedly inexpensive, there seem to be some quality control issues that significantly hamper the product.
When everything works well, the TRMS 6000 is an incredibly inexpensive CAT III-certified multimeter. As the most affordable of any multimeter we tested for commercial use, it does a fine job of measuring general necessities and has a high-visibility LCD screen to boot.
Overall, while we'd love to recommend this product more for its affordability and range of uses, the company needs to get on a more consistent quality control scheme before we're fully on board.
Pros
Incredibly inexpensive for a CAT III-certified multimeter
Excellent high-visibility backlit LCD
Cons
Wide divergence of accuracy across devices
Loose leads can fail to make connections and provide inaccurate readings
Some owners report unit failure after just a few months of use
Unreliable  response from customer service
---
9.

Klein Tools Auto-Ranging Multimeter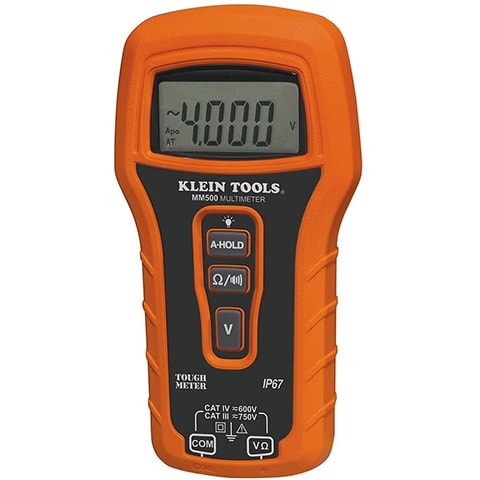 As the only CAT IV safety-rated multimeter in our testing, we had high hopes for the Klein Tools Auto-Ranging Multimeter. Featuring an ultra-simple readout and functions as well as heavy-duty construction and great durability, at first glance, it seems to live up to its higher price. On closer inspection, however, we're not sure it is a multimeter worth investing in.
As we were testing this Klein Tools multimeter, a curious thing occurred. After turning the tool off, it would frequently refuse to turn back on unless we played with the positioning of the batteries or replaced them entirely. When efficiency and accuracy are of the essence, this kind of oversight is simply unacceptable.
Pros
CAT IV safety rating certified
Cons
May not turn back on after even short periods of use
Seems to have problems with battery connections not providing power
Non-responsive customer service
---
10.

TekPower Digital Multimeter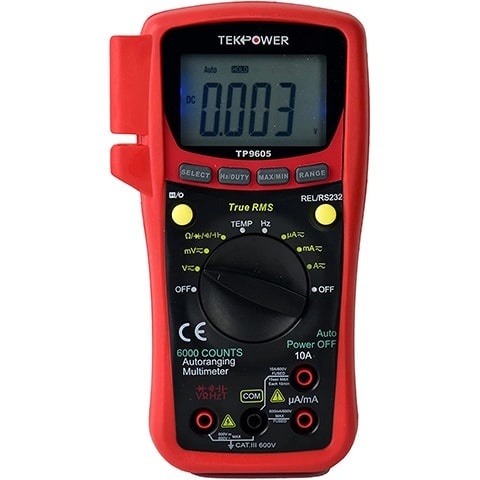 Sometimes, to spot a tool that's truly worth the money, comparing it to a similar tool that doesn't justify its cost is useful. In the case of digital multimeters, this offering from TekPower is decidedly overpriced and underwhelming.
Stating that it is both Bluetooth and PC compatible, the TekPower's main selling point is its connectivity. However, it does not live up to the company's claims. In the unit we tested, neither feature worked properly, and the included CD would not read on any of the three computers in our household.
Combine that with a cheap plastic exterior, no auto-off function, and generally inaccurate measurements for most operating modes, and there's no reason we can see to buy this product.
Pros
Advertises itself as the first cell phone-connected multimeter
Cons
Connectivity via Bluetooth or USB did not work in the product we tested
Flimsy plastic construction
Far too expensive for what it offers
Does not include an auto-off function and quickly drains batteries.
---
Buyer's Guide: How to Choose the Best Multimeter
Packing so many features into a single small unit is an impressive feat that can leave newcomers to multimeter use summarily confused. Follow along as we answer some of the most common questions about multimeters and explain the difference between styles and features that differentiate one model from another.
How Do Multimeters Work?
As the standard measurement tools for nearly every type of electrical work, multimeters are one of the premier choices for accuracy and versatility on a job site. No electrician's kit is complete without one, and they also allow for much more precise work on home electronics projects.
While you can find individual tools for completing each of the measurements offered by a multimeter, the cost and difficulty of transportation associated with having nearly a dozen different tools in your bag make the multimeter a clear winner. If you're an electrical technician with specific needs, such as testing HVAC systems, specialized multimeters will allow for safe use across all systems.
In short, multimeters are a constant inclusion in electricians' tool bags for good reason; they work well for various jobs, are affordable, and take up little space.
Types of Multimeters
Multimeters can be broadly divided into two categories, with a third specialized type that's much rarer:
Analog multimeters are based on much older electrical technology dating back to the 1820s and were first popularized in the early 1920s. As digital technologies have improved and dropped in price, all but the most old-school electricians and engineers have abandoned their analog multimeters.
Digital multimeters are the tool of choice for modern-day electrical workers. They're capable of measuring frequency, conductivity, continuity, inductance, and resistance and can be broadly divided into four main categories:

Category I:  Used for testing electronic devices and small equipment
Category II: For testing appliances and household energy levels
Category III: Capable of testing small to medium industrial capacity circuits
Category IV: The heaviest-duty multimeters designed for testing power lines and main commercial feeds

Special Use multimeters may include measurements for such units as decibels, rotations per minute, microamps, and more. Additionally, you can find multimeters designed for the requirements of specific jobs such as HVAC installation.
Related Read: 6 Multimeter Safety Precaution Tips & Guidelines
What to Look for In the Best Multimeter
Just what makes one multimeter better than another? It can be hard to tell with several options available and no standardized model. In testing and reviewing multimeters for this guide, we considered the following:
Clear Readouts and Obvious Controls will make your life easier and are a make-or-break quality for multimeter usability. We prefer our LCD screens to be backlit, making them easier to use in low-light situations.
Maximum Capacities for measurement will determine whether the multimeter you're looking at is up to the jobs you have in mind. For general-purpose use, any standard digital multimeter will do, while specialized jobs may require more heavy-duty equipment.
Accuracy is a must and is sometimes given by the manufacturer as a maximum permissible error limit. Today's digital multimeters come pre-calibrated and rarely require adjustment over their entire lifespan.
Energy Capacity determines how big of a job you can use your multimeter for. Our favorite multimeters include high-capacity fuses, which effectively protect the working components of your multimeter in case of an overload.
Resolution describes the variable specificity of the readout on your multimeter or how many decimal places it is accurate to. Finer-scale jobs will require greater resolution, but many home repair jobs don't require much past two decimal places of resolution.
Data Hold Functions will make it easier to test across multiple measurements without needing to memorize on the fly. It's a surprisingly handy feature that's not essential but quite nice.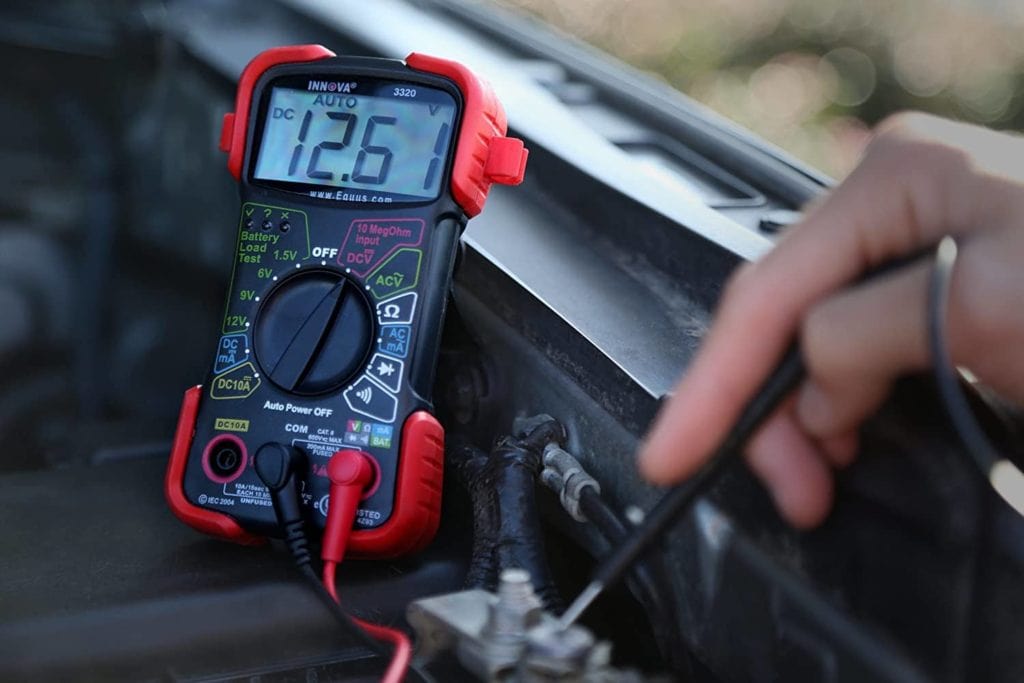 Multimeter Benefits and Why You Should Own A Multimeter
Are you not sold on the idea of a digital multimeter yet? Here are our top reasons why every DIY enthusiast should own one and what to look for if you want the best digital multimeter you can buy:
Automatic Readings displayed on an LCD screen make it easy to get up to speed quickly on all the functions of your multimeter and provide a powerful tool for on-the-spot measurements and troubleshooting of electrical components.
Tremendous Accuracy is a hallmark of digital multimeters, with many of our favorite models measuring up to four decimal places of resolution. From coarse projects to fine ones, a multimeter will allow you the insights you need to determine the next step to take on your electrical work.
Auto-Polarity Checking provides positive and negative values, which is especially useful when measuring voltage.
Voltage Checking capabilities allow users to quickly determine whether the circuit they're testing is AC or DC, a necessary first step towards any repairs or modifications.
Continuity Checking will quickly reveal any loose connections or broken wires in electronic equipment. This is particularly useful while you're soldering wires, allowing real-time monitoring of whether the repairs are going along without a problem.
See also our favorite multimeters by price range:

Conclusion
Narrowing down a field of worthy competitors to just a handful of the best multimeters is quite the task. Considering everything from price to ease of use to testing capabilities and warranties, however, we're clear about which one we think is the best overall multimeter: The AstroAI TRMS 6000. Simply put, it's a professional-quality multimeter at a hobbyist price, offering the best of all worlds in one easy-to-use package. In our opinion, it's easily the best multimeter for the greatest variety of situations.
Coming in at a close second on our list of best multimeters is the INNOVA 3320 Auto-Ranging Digital Multimeter. While we like the user-friendly interface of our top pick just a bit more, the INNOVA's rubber corner guards make it much more durable and protected from falls. If you're on the lookout for the best multimeter for a job site that can take a licking and keep on ticking, the INNOVA 3320 is undoubtedly the most durable of all the products in our reviews.
See Also: