How to Drill into Concrete (Step-by-Step DIY Guide)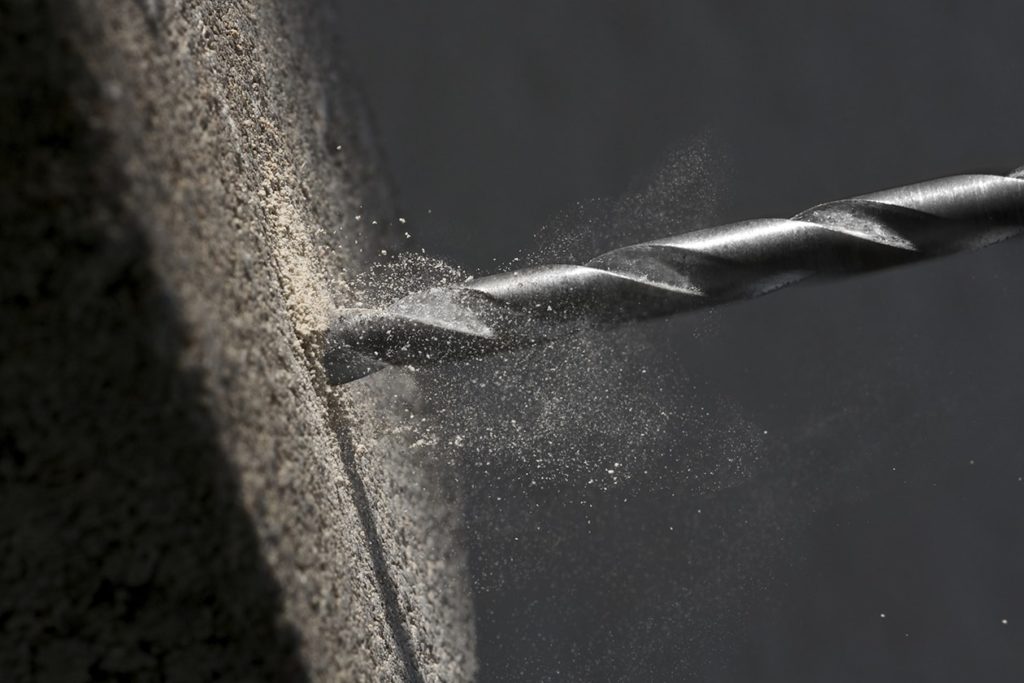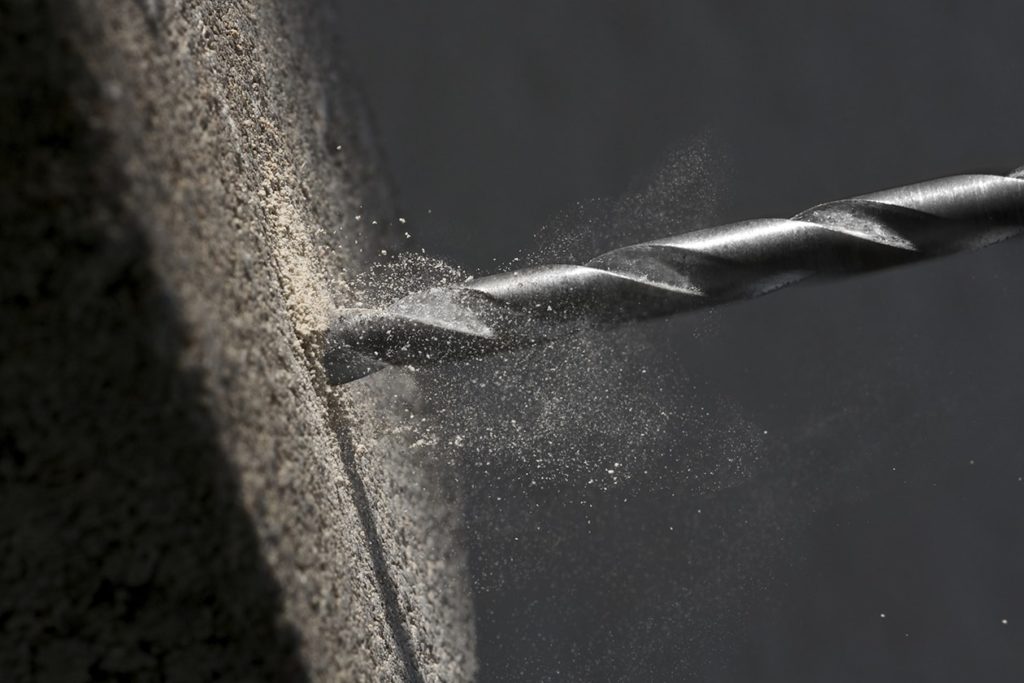 The chances are you have a drill somewhere in your workshop. It's something that you'll get a lot of use from for some many kinds of projects. Drilling into concrete is a different animal altogether. It involves other kinds of types of power tools and bits. It's not difficult, but it helps to do your homework before you start.
That's where our handy guide comes into play. We'll work you through the process from planning through cleaning up after you're done. We'll cover the tools you need along with what to expect when using them.

Before You Start
The essential thing to do with this project is planning. That means considering what is your objective and if you have the necessary tools. This job involves using a hammer drill, which isn't something the casual DIYer will have laying around the house if you don't do a lot of masonry. That means renting one, which is something you must consider with your costs.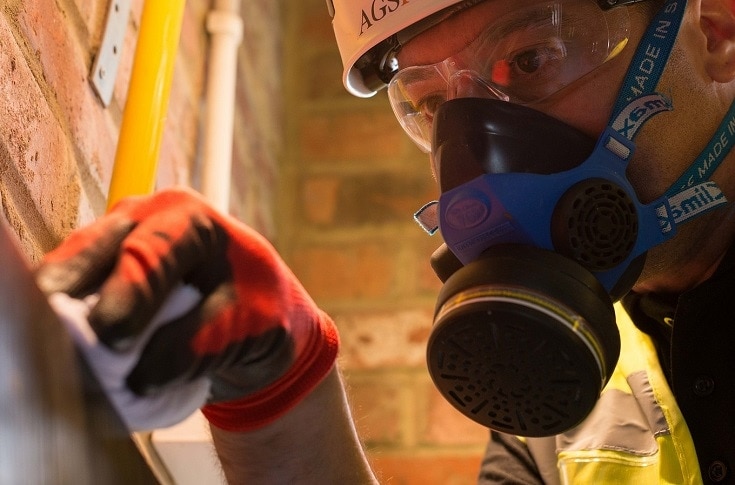 Bear in mind that it's a messy project. It kicks up a lot of dust, which makes safety gear imperative. It will also add to the prep that you must do before you start to minimize the cleanup after you're done with the drilling. The supplies that you'll need include:
Drop cloth
Masking tape
Safety goggles
Ear protection
Mask
Tape measure
Hammer drill
Carpenter's pencil
Concrete drill bits
Compressed air
1. Start your project with a tape measure.
The mantra of measuring twice cut once applies here, especially if you're going to work on a wall in your house. Measure where you need to drill and double-check your spots.  Mark them with your carpenter's pencil. Don't forget to consider how deep that you need to make the holes. If your tool allows you to set the depth, do it now before you power up the hammer drill.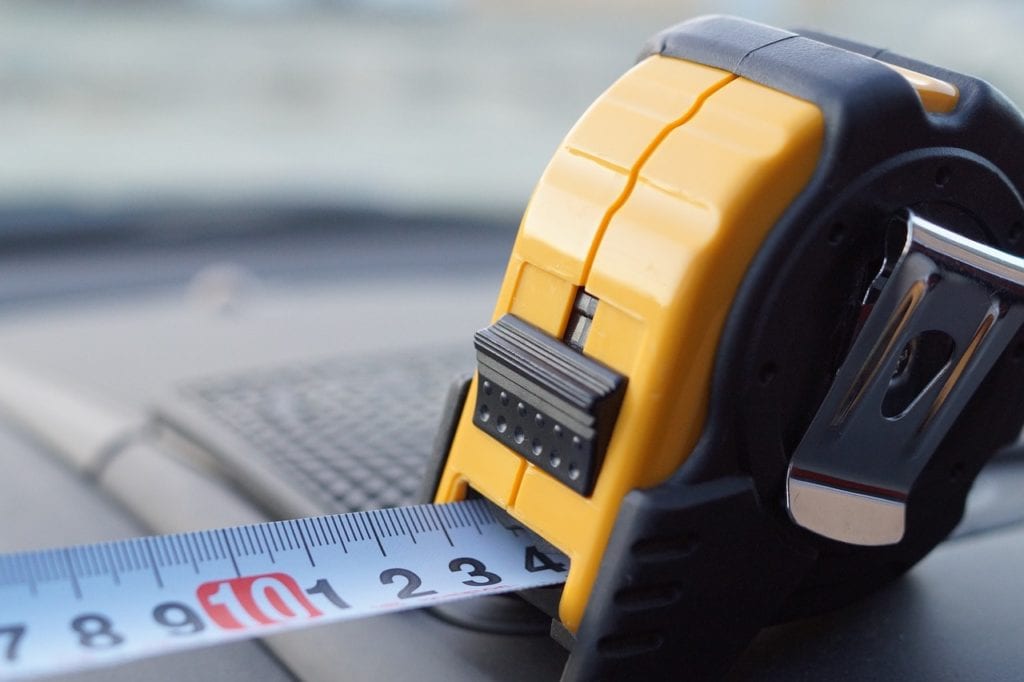 2. Prepare your workspace and you for the job.
Lay down the drop cloth to cover the work area. Tape down the corners with masking tape to keep it in place. It'll also cut down on the dust that you'll need to clean up after you're done. The next thing you must do is to prepare yourself. That means putting on the safety goggles, mask, and ear protection. Don't skimp on any of them because of the health risks.
3. Fire up the drill, beginning with a guide hole.
You'll find that drilling through concrete is a different beast than going through wood. Following the best practices with drilling through wood makes sense with concrete, too. That means starting with a guide hole that you'll complete at a slow speed on the places that you've marked previously. It's critical because of the force you need to put behind your drilling.
The guide hole will help prevent your drill from slipping to avoid injuries. Don't skip this step. The risks are too great to warrant a shortcut. We recommend going slowly to account for any skips that may occur because of the variable composition of the concrete.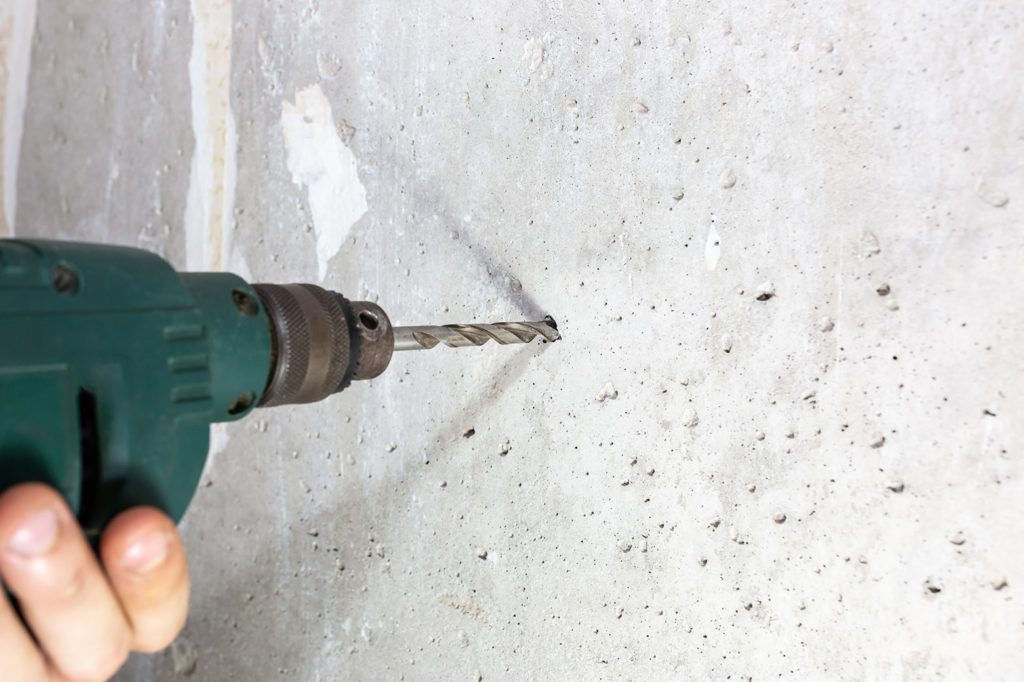 4. Let the hammer drill do its job.
It's tempting to push through a drilling nob once you've started. However, we suggest retaining your pushing through the job. Let the hammer drill do its job. It's a smart move that will keep you in line with the spots that you've measured previously. The drill will generate a lot of waste that will fill the holes quickly. The debris can adversely affect the performance of your drill.
Pull out the bit periodically so that you can tap off the dust to keep the drill working efficiently. You may find it helpful to wipe a damp cloth over the bit to clean it. Make sure to shake off the dust on your drop cloth.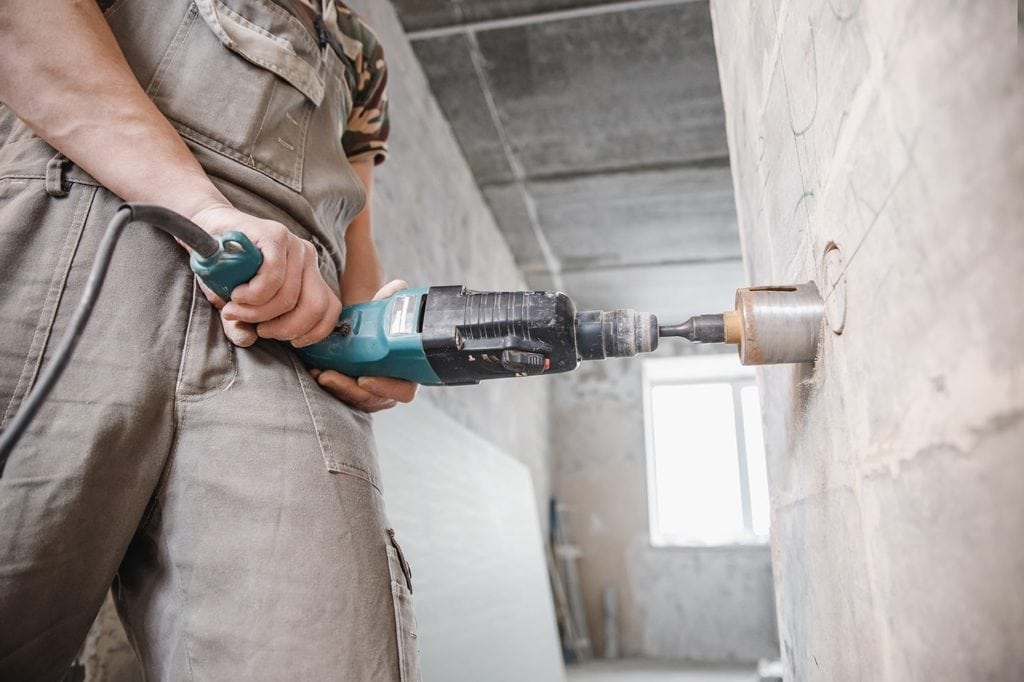 5. Follow up with the necessary cleanup on the job.
Your cleanup involves two tasks. First, you should clean out the holes you've drilled. Dust inside of them will affect the insertion of the screws or bolts afterward. A spritz of canned air will remove the debris. You must also collect the dust in the work area. Folding up your drop cloth will remove the majority of it. Follow up with your shoop-vac to get rid of the remainder.

Final Thoughts
Drilling through concrete requires two things. You must have the right tools for the job. You'll also need the necessary protection to protect your body from the ill effects of the debris. You must also take the recommended protection measures to avoid injury. With these precautions in place, you'll find it easy to do projects involving drilling through concrete.
---
Featured Image Credit: Bildagentur Zoonar GmbH, Shutterstock