4 Best Pocket Multimeters of 2023 – Top Picks & Reviews
Your last pocket multimeter failed and as such, you are searching for an adequate replacement but the options on the market overwhelm you. There are too many options to choose from and they all come in vibrant colors that are quite tempting. Thinking that all multimeters work in the same way, you go ahead and choose the multimeter that is visually appealing but after a short period, the multimeter breaks down and you are wondering why that is the case.
The reason the multimeter failed after a short time is that you did not analyze the multimeter before buying it and as such, you could have missed out on a few things that make a good pocket multimeter. To prevent this from happening ever again, we have compiled this guide that takes a look at some of the things that you have to consider when buying multimeters as well as giving pocket multimeter reviews of some of the top models that you can opt for.
---
Our Favorite Models Compared in 2023
Rating
Image
Product
Details

Best Overall

Fluke 117

Compact design
Low input impedance
Non-contact voltage detection
CHECK PRICE

INNOVA 3340

Makes accurate readings
Lightweight and portable
Versatile
CHECK PRICE

Best Value

Fluke 101 Mini

Small and compact
Protects it from falls
Automatic shutdown
CHECK PRICE

AstroAI

Data hold feature
Large screen display
CHECK PRICE
The 4 Best Pocket Multimeters
1.

Fluke 117 Pocket Multimeter – Best Overall
The best pocket multimeter that you can get for testing your electronics is the Fluke 117. With the ability to troubleshoot a variety of problems, the Fluke 117 will serve you diligently when going about your professional or DIY duties. The Fluke 117 can detect voltage without having to make contact with the electronic and this is very important for your safety as it reduces the chances of getting electrocuted.
The Fluke 117 has low input impedance and this will ensure that it doesn't make inaccurate readings when used to test electronics. The whole point of a pocket multimeter is to make sure that it is light in weight and compact and we are happy to report that the Fluke 117 is not heavy. Moving around with it is, therefore, very easy as it will easily fit into your pocket.
The only fault that we found with the Fluke 117 was that the display was not very clear and this somehow made it a challenge to make readings, especially in poorly lit areas.
Pros
Compact design.
Rugged exterior for extra protection.
Low input impedance.
Non-contact voltage detection.
Cons
The display was not clear.
---
2.

INNOVA 3340 Pocket Multimeter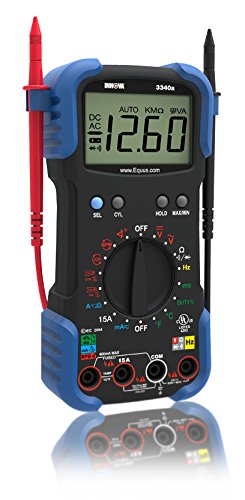 A good multimeter should be able to make accurate readings and the INNOVA 3340 did a good job in that regard. It is ideal for troubleshooting problems with electronics and automotive parts and this versatility is one of the reasons why it is this high in our ranking of pocket multimeters.
A pocket multimeter should fit in a pocket for easy transportation and the INNOVA 3340 lightweight design and compact build have made this possible. It has paddings on all of its four corners and this adequately protects the multimeter from shock and falls.
Its auto-ranging capability is another feature that you will enjoy of this multimeter as it automatically detects the component that you are trying to measure and this makes it easy to use the multimeter for various assignments as there will be minimal adjustments to make.
The parts of the INNOVA 3340 such as the screen become unreliable after some time and this flaw saw it miss out on the first position in our ranking.
Pros
Makes accurate readings.
Rugged exterior.
Lightweight and portable.
Versatile.
Cons
Unreliable parts.
The display is not good enough.
Difficult to use.
---
3.

Fluke 101 Mini Multimeter – Best Value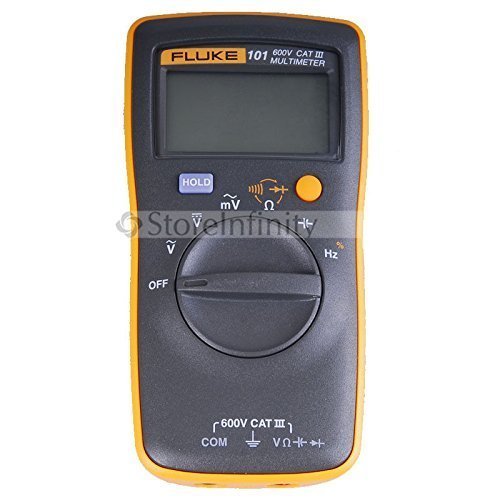 When buying pocket multimeters, the most expensive models are not always the best as there are still some budget picks on the market and the Fluke 101 is our budget pick in this category. It costs less than the models ranked higher on our list but it is still able to match their effectiveness when it comes to giving accurate readings.
It has a rugged exterior that allows it to withstand falls and this adds to its durability thereby providing you with years of service. Other than being reliable, the Fluke 101 is small and light in weight and this makes it a perfect pocket multimeter for technicians who are always on the move. It shuts down automatically when it is not being used and this helps it save the battery charge.
It is, however, guilty of making ghost readings when nothing is connected to it and could result in a wrong diagnosis when troubleshooting electronics and this flaw is what kept it off our top 2. Despite this, we think this is best pocket multimeter for the money available this year.
Pros
Small and compact.
Rugged exterior protects it from falls.
Automatic shutdown helps it save power.
Cons
Makes ghost readings.
Poor customer service.
The display is not large enough.
---
4.

AstroAI Pocket MultiMeter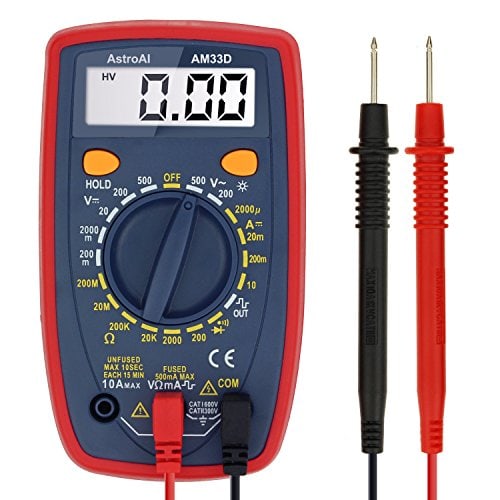 When buying a pocket multimeter, your main consideration is the weight of the multimeter as you want it to be light enough for you to move around with it easily but unfortunately, the AstroAI doesn't offer you that convenience. It was heavier than the multimeters that we sampled and that's why we have given it such a low ranking.
The outer covering is not as rugged as you would expect and this compromised its durability and functionality in the event of shocks or hard falls. The backlight was also not that clear and this made it difficult to make proper readings especially in poorly lit areas.
The AstroAI has a large screen that made the readings clear and visible and this was one of the positives that we noticed with this multimeter. Its data hold feature was also impressive but this was not enough for us to give it a higher ranking in our comprehensive guide.
Pros
Data hold feature.
Large screen display.
Cons
Heavy and bulky.
The outer covering is not sufficient.
It cannot be used in poorly lit areas.
The beep can be annoying.
---
Buyer's Guide – Purchasing the Best Pocket Multimeter
When buying a pocket multimeter, the main thing that you are interested in is whether the multimeter is light enough for you to move around with it easily and whether it is small enough to fit in your pocket. These are important considerations to make especially if you are a mobile technician who is always on the move but there are still other important things to consider.
The multimeter still has to work properly and this is another important consideration to make other than the weight and size of the multimeter. There are other things to consider and we will look at a few of them in this article.
Things to consider
Some of the things that you have to consider to make an informed buying decision include;
The cost
You need to consider the cost of the multimeter when purchasing if you don't want to overpay for a useless product. Of course, price is an indicator of quality as the higher priced models are more likely to offer better functionality than lower-priced ones. However, some worthless models are greatly overpriced and you may end up with a useless multimeter if you don't analyze the item properly.
Some low priced models are just as great and you may get lucky and find a great multimeter if you search properly. To avoid making an overpayment when purchasing a multimeter, it is, therefore, important to analyze the features of the product to check if it has the features that you desire in a multimeter.
Analog or digital
Multimeters are either analog or digital and you will be wise to get a digital multimeter for your troubleshooting needs. This is because a digital multimeter gives accurate readings and this will help you make the right diagnosis. They are also able to detect slight changes and this makes them very reliable.
Analog multimeters, on the other hand, use a bar that moves on a graduated scale to give readings. The readings from such multimeters are not accurate as the bar would be fluctuating every time there is a change and this makes it difficult to make proper readings.
Analog multimeters are also heavy and bulky and since your main interest when buying a pocket multimeter is the size and weight of the tool, then analog multimeters don't fit the bill and as such, you are better off with a digital multimeter that occupies less space.
Conclusion
In our quest to find good pocket multimeters, the Fluke 117 emerged as the best that you can get with the INNOVA 3340 our second-best option. We liked how these two multimeters gave accurate readings and that's why they have a higher ranking. The Fluke 101 was our budget buy and the AstroAI our least favorite pocket multimeter.
Choosing a good pocket multimeter is not easy as there are a lot of things to consider other than the size and weight of the multimeter. There are also a lot of models to choose from, thereby making the selection process more difficult. Lucky for you, we have done all the hard work and we present the reviews of pocket multimeters that among the best in the business.
More buying guides like this: