9 Best Ninja Blenders in 2023 – Reviews & Guide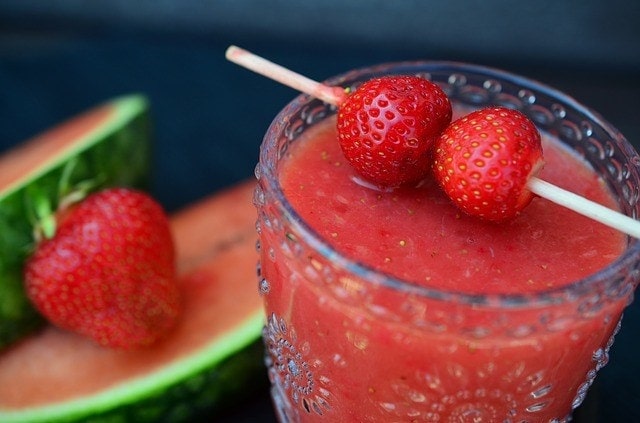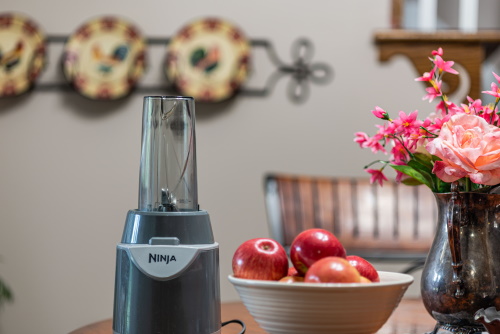 If you're a night owl, you may have seen an infomercial from the Ninja Kitchen. Ninja blenders are made by a company dedicated to small household appliances, and its tagline says it all: "Power to the Kitchen."
Whether you're a smoothie addict, crave a milkshake while binge-watching infomercials, religiously stick to a protein shake after the gym, or like keeping a blender handy while cooking a family dinner, Ninja has you in mind.
There are many models available for your blending needs. If you're not sure which one is best, you've come to the right place.
We've compiled a list of reviews of the top nine best Ninja blenders.
---
A Quick Look at Our Favourites (updated in 2023)
Rating
Image
Product
Details

Best Overall

Ninja BL660

Affordable
Large pitcher
Dishwasher safe
CHECK PRICE

Best Value

Ninja BL480

Portability
Easy to use
Easy to clean
CHECK PRICE

Premium Choice

Ninja BL770

All-in-one versatility
Large capacity
Easy to use
CHECK PRICE

Ninja CT682SP

Auto noodle spiralizer
Smart programming
Smart attachment recognition
CHECK PRICE

Ninja BL456

Affordable
Compact
Easy to clean
CHECK PRICE
The 9 Best Ninja Blenders
1.

Ninja BL660 Blender – Best Overall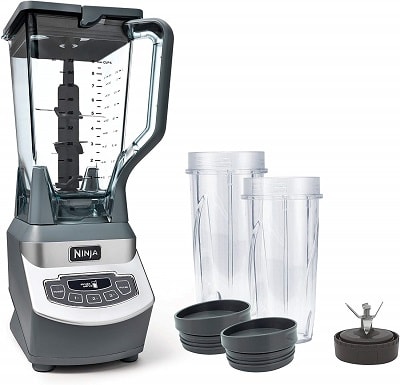 The Ninja BL660 Professional Countertop Blender provides a 72-ounce pitcher to blend up smoothies for the whole family. It also comes with two 16-ounce to-go cups with spouted lids for convenience during the morning, afternoon, or evening rush. Both the pitcher and cups are BPA-free plastic and dishwasher safe. The motor has 1,100 watts of power, with three speeds and a pulse button to give you more control. It crushes ice well, and pulverizing frozen fruit is no problem at all.
If you're a daily user, this may not be your best option. The blade assembly tends to burn out when used consistently, although replacements blades are easy to find. The blades are also incredibly sharp, so proceed with caution when cleaning. This model has suction cups on the bottom, which is great for keeping it still while blending but annoying if you don't plan to store it in just one place on the counter.
With the motor power, flexibility for small or large batches, and the price, this is our best overall pick.
Pros
Affordable
Large pitcher
To-go cups included
Dishwasher safe
One-year limited warranty
Cons
Blade burnout
Suction cups
---
2.

Ninja Nutri Ninja Blender – Best Value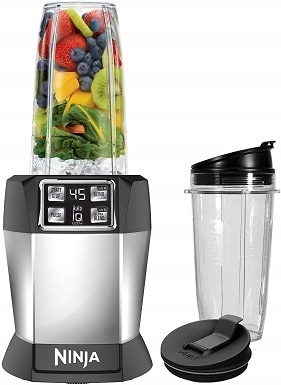 The Ninja BL480 Nutri Ninja is a personal blender that comes with two cups, 24-ounce and 18-ounce, and spouted lids. It has 1,000 watts of motor power to blend through anything you want to throw in a single smoothie. It has Auto-IQ technology with intelligent presets to remove the guesswork with timed controls for pulsing, blending, and pausing and has a digital countdown timer. If you prefer to take control, it offers two manual speeds, and the timer will track your blending time to keep you on track if needed. All the removable parts are BPA-free plastic and dishwasher safe.
One turnoff is the noise, as it can be relatively loud and potentially disconcerting for those with noise sensitivities. While the suction cups on the bottom of the base will hold it in place during blending, the lid may pop off, so don't walk away until the blending process is complete.
If you're looking for a compact model to blend up your morning smoothie or a protein shake after the gym, this blender could be what you need. With the auto technology and affordable price, we believe this is the best Ninja blender for the money.
Pros
Affordable
Easy to use
Easy to clean
Portability
One-year warranty
---
3.

Ninja BL770 Blender – Premium Choice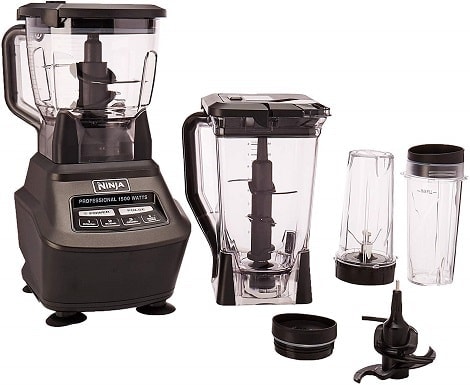 The Ninja Mega Kitchen System BL770 Blender includes a powerful 1,500-watt motor, which allows this unit to fulfill the needs of a blender, mixer, and food processor. It arrives with a 72-ounce pitcher, an eight-cup food processing bowl, and two 16-ounce cups with lids. The food processing bowl includes two blades for chopping and kneading dough. The touchpad controls feature options for dough, blend, crush, and single serve, as well as a pulse control.
With its powerful motor, this unit is loud. If you're on the search for a quieter model, this one isn't for you. While it's easy to clean, you'll want to rinse it after every use. Although the plastic parts are BPA-free and dishwasher safe, the food buildup in the handle of the jar can cause issues if left unrinsed.
If you're looking for an all-in-one system to replace a few appliances in your kitchen, this model may be ideal for you. It does have a high price, but with the versatility it offers, this blender is our premium choice.
Pros
All-in-one versatility
Easy to use
Easy to clean
Large capacity
---
4.

Ninja CT682SP Blender Food Processor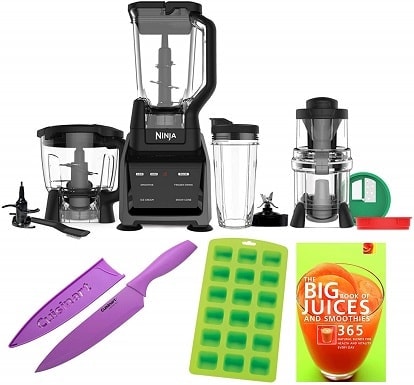 The Ninja CT682SP Blender/Food Processor has a 1,200-watt base with a touchscreen display. It includes a 72-ounce pitcher, a 24-ounce single-serve blender cup, an eight-cup processor bowl, and an auto spiralizer. The Smart Vessel Recognition of this smart base recognizes each attachment and will automatically display the pre-set programs. There are 12 intelligent programs with pre-calibrated patterns of pulsing, pausing, and speed. The auto spiralizer allows you to create noodles from fruits and vegetables. If you have young picky eaters in your household, the spiralizer will let you get creative. All removable parts are BPA-free plastic and dishwasher safe.
This model comes with many attachments to meet any blending challenge; however, more attachments require more storage space. Also, keep in mind that blenders typically don't handle hot items well. Pureeing hot soup could melt the plastic, so the manufacturer doesn't recommend this.
Considering this kitchen system is intended to perform tasks of several appliances, it has a high price tag. If you're on a budget, this may not be your best choice.
Pros
All-in-one versatility
Smart programming
Smart attachment recognition
Easy to clean
Auto noodle spiralizer
Cons
Expensive
Requires more storage space
---
5.

Ninja BL456 Blenders

The Ninja Bl456 Blender is a personal blender with a 900-watt base for on-the-go use. It comes with an 18-ounce cup and a 24-ounce cup with spouted lids. You manually pulse for your desired consistency by pushing the cup down on the unit. All parts are BPA-free plastic and dishwasher safe. It can blend ice and frozen fruit in less than 30 seconds. This is a compact blender model with a 4×4 base requiring little storage space.
The two downfalls of this machine are the noise and having to hold down the cup for blending manually. This may not be the best choice for early morning needs if you have a noise-sensitive household,. Holding down the cup is a minor issue, but if you need something less hands-on, you may want to look through our other reviews. Additionally, it's a single-use blender, so if you need a multi-user option, consider something bigger.
Pros
Affordable
Compact
Easy to use
Easy to clean
---
6.

Ninja NN102 Nutri Bowl Blender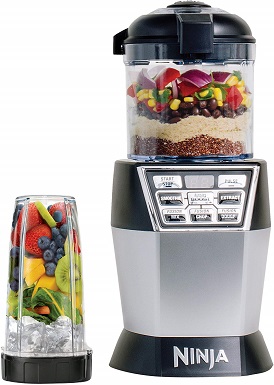 The Ninja NN102 Nutri Bowl Duo offers a 1,200-watt motor with five auto-technology programs. The one-touch settings include smoothie, extract, mix, chop, and dough. There are two manual programs for start/stop and pulse, to allow you more control over consistency. It comes with two 24-ounce cups and two spouted lids. The four-cup bowl, performing as a small food processor, has two blades for precision prep and dough. It also has an Auto Boost button for a quick shot of power, such as while grinding nuts.
This blender is loud, so if you live in close quarters like an apartment with thin walls or a multi-member household, you'll want to be mindful when using. The bowl for the food processor may be too small for anything more than dips and sauces and doesn't have a blade to shred. If you were hoping to make coleslaw, this isn't the pick for you.
With all the plastic parts, durability is a concern; however, the unit comes with a one-year limited warranty. Customer service doesn't have excellent indications of being helpful, but hopefully, it improves.
Pros
Affordable
Versatility
Easy to use
One-year warranty
Cons
Loud
Low durability
Poor customer service
No shredding blade
---
7.

Ninja QB3001SS Personal Blender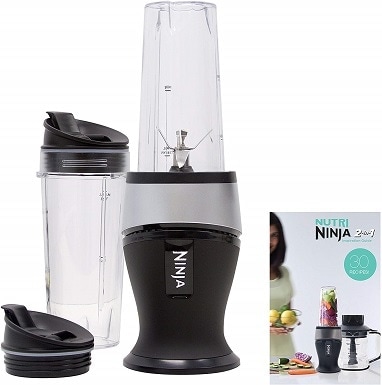 The Ninja QB3001SS Personal Blender has a 700-watt motor and pulse technology. The unit includes two 16-ounce cups with sipping lids to fit most car cup holders. The removable parts are BPA-free plastic and dishwasher safe. This compact blender doesn't need much room to store and handles ice, frozen fruits and vegetables, and coffee like a champ. The size makes this blender ideal for traveling.
This is another loud model, but it's small enough to wrap a towel around to muffle the noise. The cups only hold 16 ounces each, so this is a single-serve model. The air hole in the sipping lids is small and may not work well with drinks that have a thick consistency.
If you need a compact model for smoothies or shakes, this model may be worth a look. If you need to consider multiple users, it only comes with two cups, but additional ones are available to purchase.
Pros
Affordable
Compact
Easy to use
Easy to clean
Cons
Loud
Small air hole in cup lids
---
8.

Ninja CT650 Smart Screen Blenders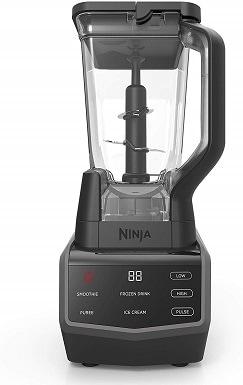 The Ninja CT650 Smart Screen Blender has a 1,000-watt motor and touchscreen controls. There are four preset programming patters for smoothies, purees, frozen drinks, and ice cream, as well as a 72-ounce pitcher for larger capacity needs. If you want customization, there are three manual controls for low, high, and pulse. The pitcher is a heavy plastic construction that is BPA-free and dishwasher safe. As a safety measure, the machine will not turn on if the jar is not locked in place and the lid securely attached.
This unit has a larger footprint requiring more storage space. If you need a compact model, this isn't your pick. It's also loud, albeit powerful.
Pros
Affordable
Large capacity
Easy to use
Easy to clean
---
9.

Ninja Chef High-Speed Blender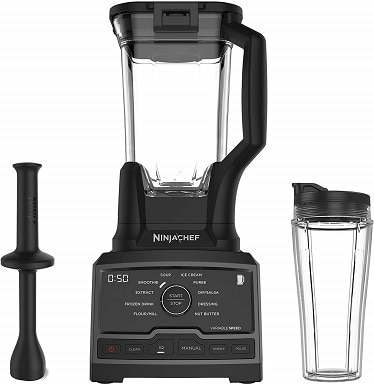 Rounding out our list, the Ninja CT810 High-Speed Premium Blender is powerful with 1,500 watts of motor power. It's a high-tech model with 10 preset programs for milling, frozen drinks, extraction, smoothies, ice cream, purees, dips, dressings, and nut butters. There's also a programmable timer and 10 manual speed modes with variable speed control for customizable blending. The pitcher has a large capacity of 72 ounces. A 24-ounce double-walled to-go tumbler with spout lid is also included. The bundle consists of a tamper to push food down for blending, keeping fingers safe.
With 1,500 watts of power, this blender is loud and takes up a large amount of counter space. As a mid-range model, it's expensive. For the price, it's surprising that a separate blade for the to-go cup isn't included, though it can be purchased separately. You have to blend in the pitcher and pour it into the cup. The start/stop knob is also finicky and the slightest touch will change it.
Pros
1,500 power watts
Easy to use
Easy to clean
10 presets
Cons
Expensive
Loud
Large footprint
No cup blade
Touchy start/stop knob
---
Buyer's Guide: Factors to Consider When Selecting the Best Ninja Blender
Ninja has spared no expense in advertising, and it's worked in its favor. This is a well-known, popular brand with many options. When searching for your next and the best Ninja blender, there are a few things to consider, such as cost, size, power, use, material, and cleaning.
Cost
Ninja has a wide range of models across the spectrum of budgets. Based on your needs, you should be able to find one that will fit within your lifestyle and available funds.
Size
Models range in size from ultra-compact personal blenders to large footprint family-size blenders. Be mindful of your storage space availability when choosing a blender.
Additionally, you'll want to consider pitcher size and if you need a large one for the family or just a personal-size container for the quick smoothie or shake on the go. You'll also want to pay attention to how many cups come with a personal blender. Some will work for a two-user household and some won't. Keep in mind that additional accessories and cups may available for purchase, which will increase overall costs.
More Buyer's Guides To Read:
Power
The blenders in our list of reviews have potent motors. We can all agree that when you are grinding up ice or using a blender in general, it's not a quiet process. If you have small children or infants, you'll have to find alternative ways of shielding the noise.
Additionally, you'll want to weigh your options against your primary use. If you're going to blend ice and frozen fruit every single day, you'll want something that will last a decent amount of time and get the job done right every time. Typically, a model with 1,000 power watts will give you a smoother, well-blended consistency. Paying attention to the power watts will give you a good indication of the noise level and whether it will fit your blending/mixing needs.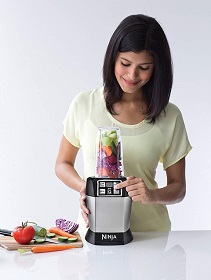 Use
Certain blenders have additional attachments that give it the versatility of a food processor. If you don't have much room to store a model of this size, determine if it will allow you to discard another appliance in your kitchen as well. Having a good idea of exactly how you need to use it will help you narrow down your choices.
Material
All the models in our reviews are BPA-free plastic construction. While glass is the ultimate material, plastic construction can take a beating and still give you good results. Plastic is usually more budget-friendly than a glass model. You'll want to be mindful of any food appliances you purchase regarding the type of plastic used. Some plastic will not hold up and will become disfigured in the dishwasher.
Cleaning
As always, we don't want to spend much time cleaning. The easier an appliance is to clean, the more drawn to it we will be. As mentioned, be careful about putting plastic pitchers in the dishwasher, as some will hold up well and others may warp. The last thing you want is a blender pitcher that no longer works with the lid. Pay close attention to this as you do your research.
A side note about Ninja accessories: One complaint across the board is the incompatibility of accessories between different models. If you own more than one Ninja appliance or previously owned a Ninja appliance, the cups, pitchers, and attachments are not cross-compatible.
Conclusion:
There are many Ninja models to choose from, and it can be confusing. We hope our reviews helped narrow down the choices of your next blending experience. Our best overall pick is the Ninja BL660 Professional Countertop Blender, giving you the best of both worlds with a large pitcher and included to-go cups at an affordable price. Our runner-up is the Ninja BL480 Nutri Ninja Personal Blender, and it's also our choice for best value. It's a compact model with auto technology to make blending quick and easy. Last but not least, our premium choice is the Ninja Mega Kitchen System (BL770) Blender, which has the all-in-one versatility of a blender, mixer, and food processor.