10 Best Wheatgrass Juicers in 2023 – Top Picks & Reviews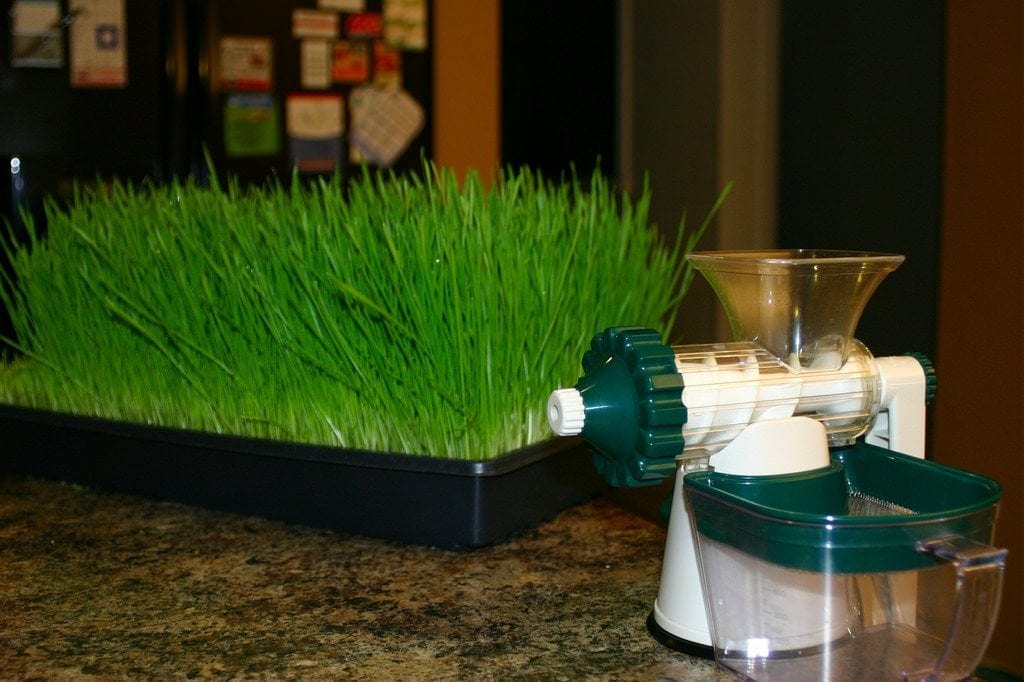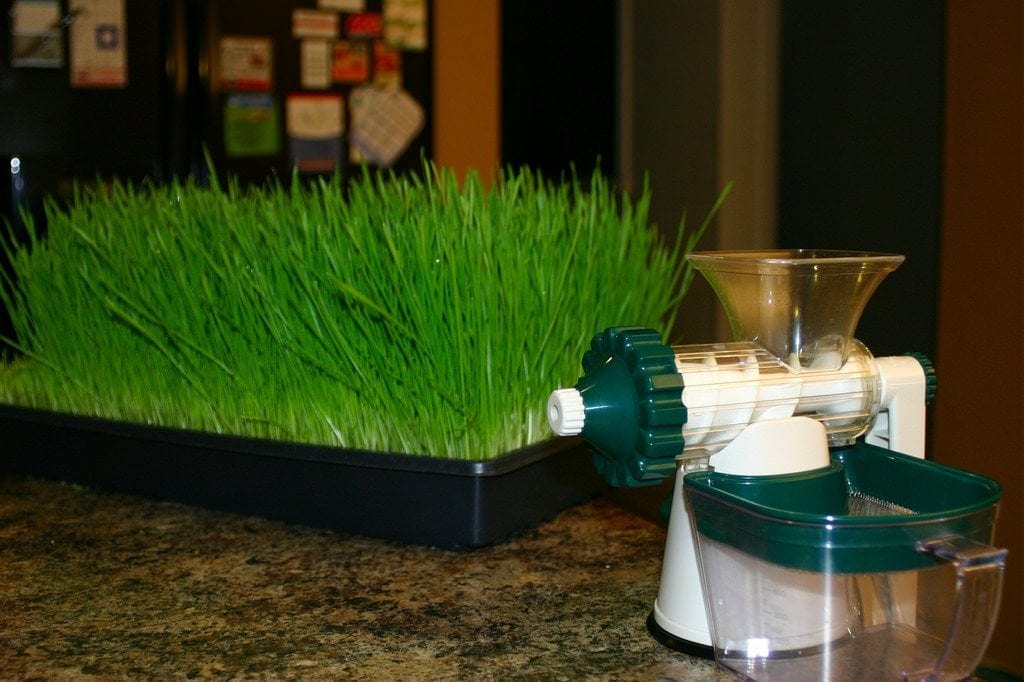 If you use wheatgrass as a supplement to your daily nutrition, you may have discovered that juicing it is much less work than blending it. Either option gives you beneficial nutrients.
Blending wheatgrass will leave a pulp behind, while juicing wheatgrass extracts the liquid at a larger quantity. If you've become an enthusiastic fan of daily wheatgrass consumption, investing in a juicer will help you save time so you can head out the door to play tennis or hit the gym.
You'll want to choose a juicer that can effectively handle fibrous grass. We'll guide you through our top 10 reviews for best wheatgrass juicers.
Our Winners of 2023 Compared
Rating
Image
Product
Details

Best Overall

KOIOS B5100

Easy to assemble
Easy to use
Easy to clean
CHECK PRICE

Best Value

Aicook AMR509

Affordable
Quiet
Easy to use
CHECK PRICE

Premium Choice

Omega NC900HDC

Five extraction settings
Use versatility
Quiet
CHECK PRICE

Best Manual Wheatgrass Juicer

Healthy Juicer Lexen GP27

Portable
Affordable
Easy to use
CHECK PRICE

Breville BJS600XL

Filter basket
BPA-free plastic
Dishwasher-safe components
CHECK PRICE
The 10 Best Wheatgrass Juicers
1.

KOIOS Wheatgrass Juicer – Best Overall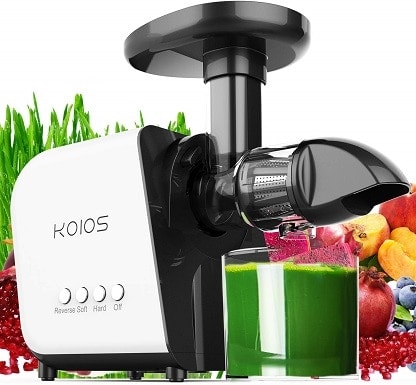 The KOIOS B5100 Juicer is a high-yield, low-speed juicing system that maximizes the juice extraction. All detachable accessories for this unit are BPA-free and dishwasher safe, making it easy to clean. It has a quiet 150-watt motor with a noise level below 60 decibels, a quick turnaround time for juicing even at a low speed of 80 RPM, and a reverse speed to help clear any jams.
As a minor drawback, wheatgrass should be cut to a 1-1/2-inch length, so it doesn't wrap around the internal auger, potentially causing damage to the machine. Replacement parts aren't available for purchase. However, parts are covered under a one-year warranty, and the motor is covered under a two-year warranty. If you're juicing hard produce like root veggies, take your time and don't overload the motor.
For the price, the ability to juice hard and soft produce, and the quiet motor, this is our best overall choice for best wheatgrass juicer this year.
Pros
Easy to assemble
Easy to use
Easy to clean
Handles hard produce
One-year limited parts warranty
Two-year motor warranty
Cons
Expensive
Pre-cut produce
No replacement parts
---
2.

Aicook Wheatgrass Juicer – Best Value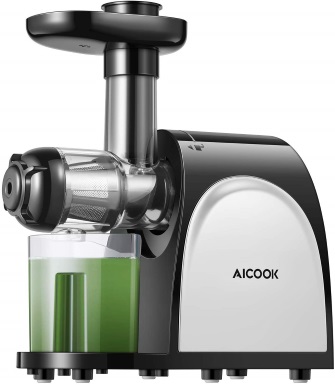 Our runner-up, the Aicook AMR509 Slow Juicer can be disassembled with the press of a button, making cleanup a breeze. Many of the internal parts are hard plastic and dishwasher safe. This masticating juicer works well for leafy greens, leaving behind a dry pulp to ensure the most extraction. The low speed operates at 80 RPM to reduce heat buildup. The motor has a noise level below 60 decibels, keeping it on the quieter side.
Unfortunately, the chute feed is a bit narrow. Root veggies need to be fed in smaller batches, so if you often enjoy juicing harder fruits and vegetables, this may not be for you. But if you're looking for a juicer specifically for wheatgrass, you won't be disappointed. Unlike many models, it has a three-year warranty, and the brand offers lifetime technical assistance.
With an affordable price and the ability to handle hard and soft produce, we believe this is the best wheatgrass juicer for the money.
Pros
Affordable
Quiet
Easy to use
Easy to clean
Three-year warranty
Cons
No replacement parts
Internal plastic parts
---
3.

Omega NC900HDC Juicer – Premium Choice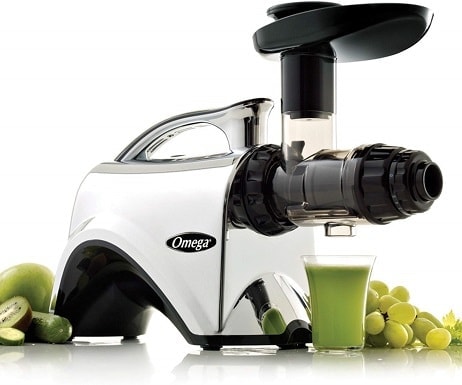 As an industry leader with their juicers, the Omega NC900HDC Juicer Extractor is our premium choice. It's a low-speed product with minimal heat buildup at 80 RPM, dual-extracting mastication, and an adjustable endcap with five settings for maximum output. The motor has a gear reduction equivalent of a two horsepower. It's strong enough to handle any fruit or vegetable along with coffee, spices, and nuts. An accessory is also available separately to assist with pasta making. With a wide chute and high torque, this extractor handles wheatgrass easily.
On the downside, this is an expensive investment. Users have noted that replacement parts are difficult to find. However, at the top of the line, this brand offers a 15-year warranty. If you're a fanatic when it comes to juicing, you may find this to be a good investment.
With the versatility and functionality, we pick this model as our premium choice.
Pros
Five extraction settings
Use versatility
Quiet
Dual-extraction mastication
15-year warranty
Cons
Expensive
Replacement parts difficult to find
---
4.

Lexen GP27 – Best Manual Wheatgrass Juicer
The Healthy Juicer is a manual model backed by a 30-day money-back guarantee. It's ideal for leafy greens and handles wheatgrass well. It has a suction base and a table clamp to help you stabilize it during the juicing process. Weighing less than three pounds, it's an excellent option for portability. All parts that come into contact with food are BPA-free plastic.
Many users indicate that the suction base is exceptional, and the table clamp isn't needed.
While excellent for wheatgrass, it won't handle hard fruits and vegetables thoroughly. If you're purely a wheatgrass geek, this compact model may be your perfect juicing companion, especially if you travel often. However, if you like more variety in your juicing needs, you may want to look deeper into electric models.
If you're a beginner looking to ease your way into the juicing world at a minimal cost, this is our pick for the best manual wheatgrass juicer.
Pros
Affordable
Easy to clean
Easy to use
Portable
30-day money-back guarantee
Cons
Slightly messy
No hard produce
---
5.

Breville BJS600XL Masticating Juicer
The Breville BJS600XL Fountain Crush Masticating Slow Juicer lands in the middle of our list. It has a 240-watt motor with a two-step safety start, a filter basket for purifying, and a quiet operation. The safety-start system ensures that all parts must be correctly in place before juicing. The internal components are BPA-free and dishwasher safe. However, some parts need to be scrubbed with a brush.
On the flip side, this is an expensive and seemingly temperamental model. For wheatgrass juicing, be careful not to overstuff the chute because tough fibers may jam the auger. Many users indicate that this model works well with hard fruits and vegetables cut into small pieces only, as the system will clog otherwise. Although the manufacturer recommends thawing frozen fruits before juicing, users have noted that this model can handle those in small pieces.
If you have the budget and want a higher wattage motor, this may be the right choice for you.
Pros
Filter basket
Quiet
BPA-free plastic
Dishwasher-safe components
One-year warranty
Cons
Expensive
Clogs with fibrous produce
All plastic construction
---
6.

Handy Pantry Manual Wheatgrass-Juicer
The Handy Pantry HJ Hurricane Manual Wheatgrass Juicer is constructed of heavy-duty stainless steel that's non-toxic and rust-free. Handy Pantry has been in the wheatgrass industry for over 20 years. This manual juicer has minimal parts. Its portability allows you to take it anywhere, including your RV, as long as you can mount it on a surface up to 2-1/4 inches thick. It also has rubberized feet, so it won't damage any surface. It's easy to use and easy to clean, with all parts dishwasher safe. Although it requires a little elbow grease, you can crank out an ounce of juice per minute if you have the dexterity.
Using this model takes some practice if you're not accustomed to manually juicing your wheatgrass. The chute needs to be packed tight to extract the most juice and leave the driest pulp. It also has limited uses, as it's indicated primarily for wheatgrass and barley grass. However, users report that it works well with leafy greens and soft produce cut into small pieces.
If you're looking for quick and easy juicing with little effort, however, this isn't your pick.
Pros
Portable
Stainless-steel construction
Easy to clean
Five-year limited warranty
Cons
Slightly pricey
Requires dexterity
No hard produce
May not work on all surfaces
---
7.

AMZCHEF Slow Juicer Extractor
The AMZCHEF ZM1501 Slow Juice Extractor has a quiet juicing operation with a noise level under 60 decibels. The reverse speed will assist with clogs and all removable parts are dishwasher-safe. The feeder chute is small for safety reasons, such as for parents who let their kids help. It has an automatic shut-off after 20 minutes of operation to prevent overheating, with a 20 to 30-minute resting time. With an easy setup and an affordable price, you can juice any produce you desire.
Unfortunately, when it comes time to clean, disassembly is difficult. If you lack the dexterity to wrangle the nosepiece off to clean the internal parts, this may be a no-go for you. This extractor also doesn't have the power of many other models, with only 150 power watts. Users note that over a short amount of time, the auger breaks down, leaving durability in question.
If you're new to the juicing scene and want an affordable electric model to break you in, this may be the choice for you. If you're a seasoned juicer looking for a new model, you won't be happy with this choice.
Pros
Affordable
Easy to clean
Easy to use
One-year warranty
Cons
Low wattage
Small feeder chute
Difficult to disassemble
Low durability
---
8.

Jocuu Wheatgrass Juicing Machine
The Jocuu Machines217 Juicer includes speed choices for hard or soft produce, a long-press reverse function to ease jams and cleaning, and one-button disassembly. The low speed uses 60 RPM, and the high speed uses 80 RPM, resulting in minimal heat buildup. All internal parts are dishwasher safe and BPA-free. It's an easy-to-use model at an affordable price.
The continuous operating time is maxed out at 10 minutes and needs another 10 minutes to cool down. It's also a lower strength model at 150 watts of power. This brand offers a four-year warranty for the motor and a two-year warranty for parts. Within the warranty period, it provides a free replacement instead of a repair option.
If you want a budget option with a decent warranty, this pick may be a reasonable consideration for you. However, if you need a longer continuous operating time, you'll want to keep looking.
Pros
Affordable
Easy to use
Easy to clean
Two-year warranty
Cons
Low wattage
Short operating time
---
9.

Homever Slow Juicer Extractor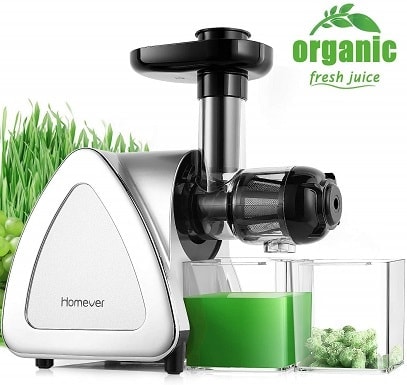 The Homever AMR-520 Slow Juicer Extractor is another versatile model for use with all hard and soft produce. It has a quiet operation with a noise level of under 60 decibels and a slow speed that runs at 80 RPM, with a spiral masticating extraction to minimize heat buildup. All internal parts are BPA-free and dishwasher safe, making it easy to clean. It's also easy to disassemble, which is vital for many users. It offers a reverse speed to assist with clogs and cleaning.
There is one point of contention with this extractor: The security locking mechanism is a bit finicky. If the attachment isn't placed in just the right way, the machine won't turn on, which can be an annoying occurrence. If you need to read the user's manual, the print is small and difficult to read.
With a purchase through Amazon, you receive a one-month free trial, and the brand offers a two-year warranty. For a beginner, this is an decent model to consider.
Pros
Affordable
Easy to clean
Quiet
Cons
Temperamental process
Small-print user's manual
---
10.

Samson Super Wheatgrass-Juicer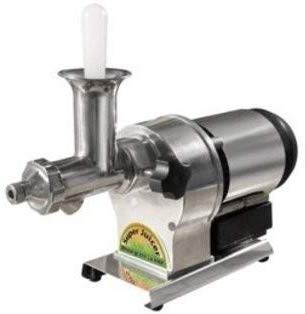 The Samson SB0850 Super Juicer is a commercial model with heavy-duty stainless-steel construction. It can process up to five ounces per minute with grasses, herbs, sprouts, and other greens and is specifically for wheatgrass juicing. This juicer includes a self-feeding stomper, an adjustable resistance screw, and continuous pulp expulsion. It's easy to use, easy to clean, and easy to disassemble.
The short story is that this model is expensive. However, if you decide that it is an at-home must for you, Amazon does offer financing. Unless you drink gallons of wheatgrass juice daily, this is more ideal for business use. With the stainless-steel construction, this model is also the heaviest on the list at 30 pounds, and portability may be off the table.
If you grow pallets of wheatgrass at home and it's in your budget, this model is possibly everything you've dreamed about. If, however, you only drink the occasional wheatgrass shot, you may want to consider other options on this list.
Pros
High production
Easy to use and clean
Cons
Expensive
Heavy
Not portable
---
Buyer's Guide – Picking the Best Wheatgrass Juicer
With all the natural health modalities available today, hitting a shot of wheatgrass juice no longer has the reputation of a trendy health craze that will fade over time. The truth is that the health advantages of wheatgrass are, in fact, a thing. People are discovering how incorporating wheatgrass into their daily consumption has tangible health benefits. Wheatgrass is considered a super-food packed with nutrients and antioxidants. You'll just want to be cautious if you have a gluten sensitivity. If the name itself didn't give it away, wheatgrass is the freshly sprouted leaves of the common wheat plant.
Since you're reading about this subject, you are likely committed to daily wheatgrass consumption or at least, want to be. If you've tried tossing fresh wheatgrass into your cheap blender, thinking this method will treat you right, you've probably realized that it's a little more involved than that, and there are a few things to understand about the process.
Blender
Wheatgrass is a type of grass with fibrous leaves that are difficult to digest, and honestly, we're not cows. As the leaves are blended, the fiber is retained. You would then have to strain the juice to drink it. However, many of the nutrients are left behind in the pulp, and any fiber you consume can strain your digestive system and slow down the absorption rate of the nutrients.
Extractor
When wheatgrass is juiced in an extraction machine, the fiber is separated from the liquid. This separation allows you to consume a larger quantity of juice for greater nutrient volume.
Blending provides a fiber-rich beverage and juicing provides a nutrient-rich drink. It's a personal choice that's dependent upon your health and nutrition needs.
When searching for a juicer for your household, there are a few things to keep in mind, such as household use, ease of use, ease of cleaning, size and storage, and cost.
Household Use
Some juicers are made explicitly for wheatgrass or grass-type produce in general. This is great if you're confident that is the only reason you need it. However, if you live a healthy lifestyle, chances are that you'll want to use a juicer for other types of juice too. If you have small children and want to give them healthier juice options or sneak veggies into their diets, that can also be a consideration. When you're researching models, take into account the ability to juice only soft produce or if you want a more versatile model that can handle any fruits and vegetables.
Ease of Use
Does anyone want an appliance that's not easy to use? Some models may have slight nuances or annoyances to take note of before you commit to purchasing.
Ease of Cleaning
Some things in life are worth every ounce of energy to keep clean, no matter the process. With a juicer, you just want to be in and out of the kitchen to keep moving through your day. An appliance that's a pain in the neck to clean will continue to be an encumbrance. Look for a model that has an easy cleanup process because you don't want to spend an hour trying to clean up after a five-minute juicing endeavor.
Size and Storage
Analyze your storage situation. You may have the counter space to dedicate to a juicer. If you want it to be front and center, there are models of all sizes and weights to accommodate you. However, if you have little counter space or don't want a big appliance, look for something small and lightweight. Finding a portable model is also an option if you're going to keep it in the cabinet and pull it out as needed. In this case, you don't want a model that weighs more than your toddler.
Cost
As always, you want good value for the money you're spending. There's a wide range of prices to fit every budget. By weighing your expected use vs. your wallet, you can find the perfect model for your household.

Final Verdict
As you continue on your wheatgrass path to better health and wellness, we hope our reviews have helped you narrow down a few options. As a reminder, our best overall choice is the KOIOS B5100 Juicer. It can handle any produce and is a quiet model. Our runner-up and best value pick is the Aicook AMR509 Slow Juicer due to its affordable price and ease of use. Our premium choice is the Omega NC900HDC Juicer Extractor. Although pricier, it has the versatility that other models don't have, and it comes with a 15-year warranty.
We wish you well on your good health journey and cheers with a wheatgrass shot!
---
Featured image credit: Gina_Janosch, Pixabay
Related buying guides: