10 Best Paint Sprayers For Fence Staining 2023 – Top Picks & Reviews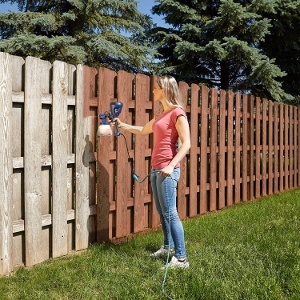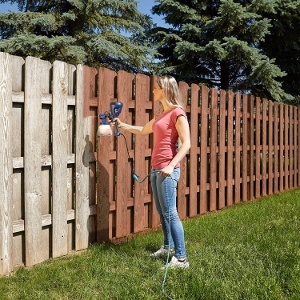 You know it's time to move beyond painting and staining by hand.  You've made the decision to spend your hard-earned money on a spray gun to stain fences, or desks, or wooden deck furniture.  Whether it's a big job or a little one, the time has finally come.
But the thickets of the paint sprayer world are full of thorns only Briar Rabbit could enjoy.  There are so many possibilities, options, manufacturers, and models available that you'll get stuck if you're not careful about which one you pick.
We're here to pull you out and give you some help.
These reviews contain information gleaned from lengthy examinations of numerous paint sprayers.  We've looked them over, analyzed their behavior and results, compared them to each other, and come to some conclusions about which is best, which isn't, and so on.  The results below will give you a leg up on which paint sprayer is best for you and your needs.
---
A Quick Comparison of Our Favorites
Rating
Image
Product
Details

Best Overall

Fuji 2203G Semi-PRO 2

Good results
Fast application
Disassembly/reassembly is simple
CHECK PRICE

Graco Magnum X5

Easy to use
Spray from the can
Supports a long hose
CHECK PRICE

Best Value

HomeRight C800971

Lightweight
Cleanup is simple
Good for outdoors
CHECK PRICE

Wagner FLEXiO 590

Setup is easy
Cleanup is easy
Adjustable paint flow
CHECK PRICE

Goplus Paint Sprayer

Low price
Very small
Easy to carry around
CHECK PRICE
10 Best Fence Stain Sprayers – Reviews
1.

Fuji Semi-PRO 2 Paint Sprayer – Best Overall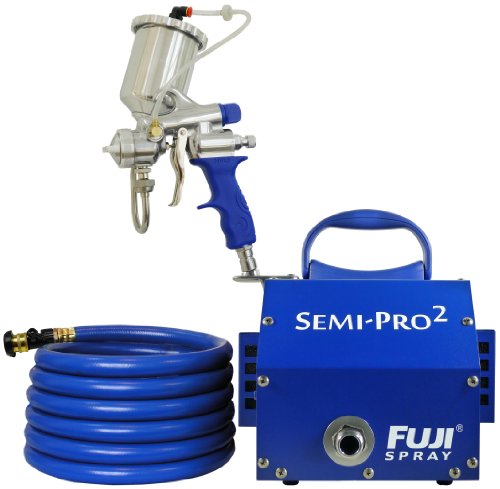 This is an HVLP spray gun from Fuji.  It produces excellent coverage and is easy to master, even for a novice.
Paints, primers, varnishes, and stains can be sprayed directly from the can, usually without the need for thinning.  It's easy to adjust even without reading the manual—all it takes is a little practice.  Practice on some scrap lumber for a bit and you're ready to go
A stain job that takes hours when done by hand can be finished in a fraction of the time with this spray gun.  The results are not only faster, they look better too.  The only manual part is doing a little wiping with a rag at the end.
The sprayer is simple to disassemble and reassemble for cleaning.  The cup is gravity fed, which aids in the cleaning process, reducing it to a matter of minutes.  Once you've finished your staining, you can clean the spray gun, including assembly and disassembly, in no time.  Then store it away until next time and go watch a movie.
This gun is a little noisy but most compressor driven tools are. However, overall, this paint sprayer earned the position as the best paint sprayer for fences on our list.
Pros
Results are good
Application is fast
Cleaning is quick and easy
It can spray right from the can
Disassembly/reassembly is simple
---
2.

Graco Magnum X5 Airless Paint Gun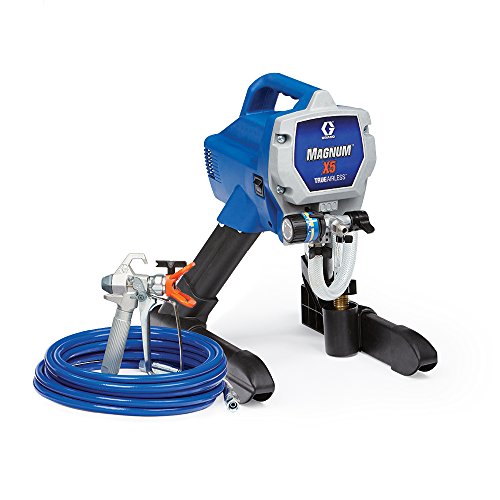 This airless, electric-powered sprayer is the runner-up.  This machine requires you to thoroughly read the manual before using it.  Once you do though, it's a snap to use—quick and simple.
The powerful stainless steel piston pump allows you to suction paint, varnish, or stain directly from the can—no thinning required.  It can support seventy-five feet of hose for spraying long fences without having to move the main unit around.  The resulting finish is nice and even.
If you don't clean this machine immediately after each use, however, you'll regret it.  Clean it promptly and it'll be your friend for life.  There is an adapter which lets you connect it to a normal garden hose for cleaning.  Be warned though, the time required for cleaning this machine is lengthy.
The adjustable pressure lets you control the flow of the stain, paint, or varnish you're using.  Once the level of the paint or stain drops to 2″ it begins to suck air, so keep an eye on it.  It's also a good idea to use a paint strainer bag.
This sprayer is a good competitor for the top spot, missing the top spot by only a little bit.
Pros
Easy to use
Spray from the can
Supports a long hose
Pressure is adjustable
Cons
Clean immediately after use
Have to watch paint or stain levels
---
3.

HomeRight C800971 Paint Sprayer – Best Value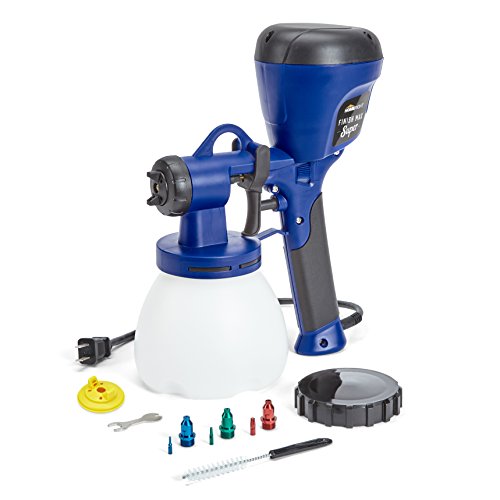 This is an electric spray gun that will spray stain, varnish, and paint.  Though the manufacturer claims it works without the need for thinning, this claim is pure fiction.  Thinning is absolutely required for it to work correctly.
Cleanup is simple and quick.  The whole thing is also very lightweight.  You can't shirk the cleaning though, otherwise the sprayer will "gunk up" on you and won't work anymore.  Trying to spray without thinning the material only makes it worse.  There are some stains that can be used without thinning, but not many.
The spray from this machine is too coarse to be used for inside work.  It doesn't spray a consistent pattern at all.  For outside work on fences and decks, it's just fine.  The included jar is fairly small and you'll have to stop to refill it now and then.  A spare jar is included, which is nice, but you're still going to be subjected to the old "stop and start" routine.
This sprayer isn't a candidate for the top positions, but as long as you only use it outside, it's the best stain sprayer for fences for the money on this list.
Pros
Lightweight
Good outdoors
Cleanup is simple
Cons
Spray is coarse
Thinning is required
Have to "stop and start"
---
4.

Wagner FLEXiO 590 Fence Paint Sprayer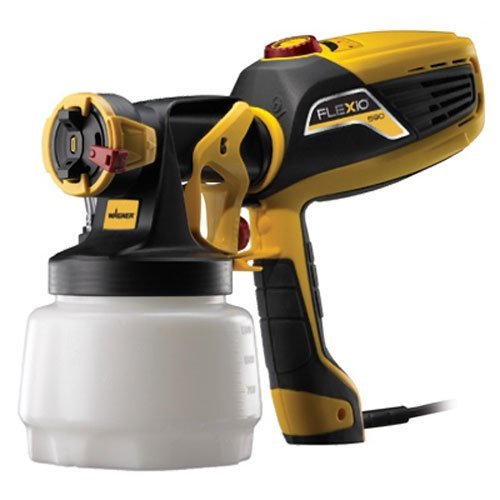 This electric spray gun comes with two paint jars, but no matter which one you use it's going to be a problem.  Setting up the tool is easy.  Cleaning it is easy.  Everything else is difficult.
This works best when it's held level to spray straight ahead—perfect for staining a fence but lousy for anything else.  The moment you begin tipping it more than a few degrees it starts spitting air.  The only way to avoid that is to keep the jar full all the time.
It's badly designed in another way—the balance is terrible.  All the weight is toward the front where the paint jar is connected.  It weighs nine pounds by itself and the stain or paint adds even more.  This is extremely hard on your wrist.  Holding it with both hands is fine, but don't try to climb a ladder that way.
The nozzle constantly clogs no matter how often you wipe it, and this spray gun gets HOT.  It's like using a hairdryer to spray paint.  This tool is so badly designed—in every aspect—that it will never progress beyond fourth place on the list.
Pros
Setup is easy
Cleanup is easy
Cons
Overspray
Nozzle clogs
Terrible balance
Weighs too much
---
5.

Goplus 650W Paint Sprayer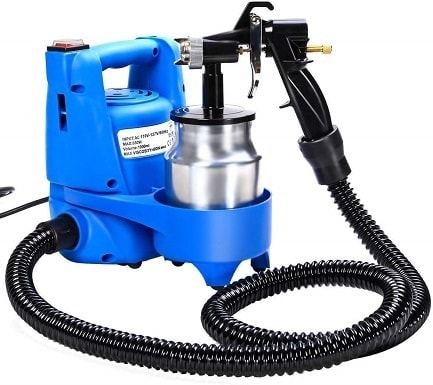 Although it may not be the most comfortable unit that we tested, the Goplus paint sprayer is a very capable machine. To start, it can spray paint, lacquer, and varnish. It's got a very small footprint that makes it easy to carry around while still spraying. Unlike many other sprayers at such a low price, the actual sprayer is constructed from metal giving it a more robust feel. The machine itself is lightweight and also includes a carrying strap to sling it over your shoulder. At just 8.2 pounds, it never felt cumbersome or like it was in the way.
Overall, we thought this was a well-performing little sprayer, especially for the price. However, it's not without its drawbacks. For instance, the paint reservoir is similar to an HVLP sprayer, so you won't be able to fit a high volume of material. This is fine if you're only using the sprayer occasionally or for smaller jobs but it's far less efficient for spraying large areas. Also, the low 650W power rating is far from impressive and doesn't offer the best coverage.
Pros
Lightweight
Low price
Very small
Cons
Small paint reservoir
Not great for large jobs
Low power
---
6.

Tacklife 1200W HVLP Paint-Sprayer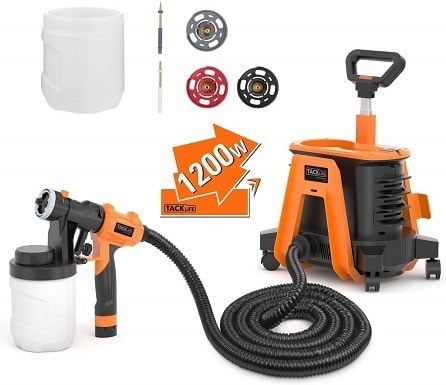 The Tacklife HVLP paint sprayer includes three different nozzles and a variable spray width to ensure that you can always dial in exactly the coverage you're looking for. As far as paint sprayers go, it's pretty reasonably priced. At 14 pounds, it's pretty light and easy to move for use, and the rolling wheels with pull handle make it more comfortable to roll around. The sprayer and the gun are both constructed from plastic. It doesn't have that same robust feel as metal, but it doesn't feel cheap or cheesy either.
At 1200 watts, this is a pretty powerful little sprayer that provides ample coverage. The small paint reservoirs meant that we had to make constant trips to refill, so it's probably not best suited for larger jobs. We did notice that this sprayer only likes to spray thinner materials. When trying to put latex paint through it, we had to thin it down quite a bit and use the largest nozzle. This also meant we had increased overspray though, which was less than desirable. Our final gripe was that it can't spray vertically, so you can't paint a ceiling with this unit.
Pros
Ample coverage
Portable
Reasonably priced
Cons
Only likes thin materials
Can't paint ceilings
Small paint reservoir
---
7.

REXBETI Ultimate-750 Paint Sprayer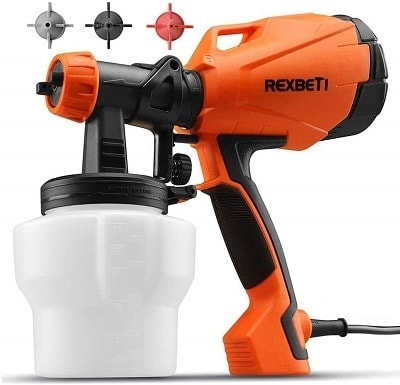 This HVLP sprayer from REXBETI is an entirely handheld sprayer unit that comes at a very affordable price. Weighing in at only 3.5 pounds, it felt pretty light when we pulled it out of the box. Of course, that was before adding paint. With a full canister, it can get a bit laborious to carry around for long periods. It does come with three different nozzle sizes for getting the right spray pattern, and we liked the adjustability that the flow-control knob gave us.
The first problem we encountered was the insufficient power level of just 500 watts at maximum. This isn't enough power to pump thick liquids, so we had to water down our paints quite a bit. Despite having high-quality materials, this machine still clogged up several times forcing us to stop and clean it out before continuing. Although it is pretty affordable, there are other sprayers available in the same price range that we feel offer better features and operation.
Pros
Affordable
Paint flow controlled by knob
Cons
Low power
Clogs easily
Heavy once filled with paint
---
8.

NEU MASTER HVLP Electric Paint Spray Gun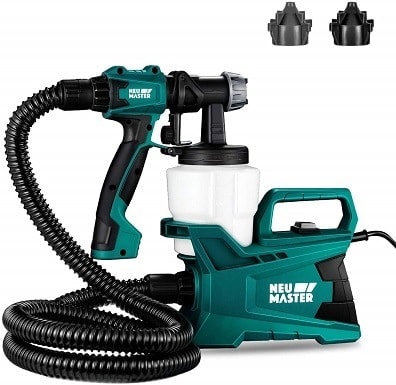 Because this NEU MASTER paint sprayer features a motor that is separate from the sprayer handle, you have much less weight in your hand, making it easier to control. Unfortunately, the low output means that it can't pump any materials with a thicker viscosity, so you'll be watering down paints. At 600 watts max, it just doesn't have the power for thicker liquids. There are three different spray patterns and two nozzles, and the extra reach provided by the hose is very useful.
As soon as we hooked it up to the compressor, we noticed that the connections all leaked air. This wasn't a great sign and didn't inspire much confidence to begin with. We did get it to work, but we also experienced slight paint leaks that created a mess we had to clean up afterward. That said, it did produce an adequate coat and coverage once the correct viscosity was achieved.
Pros
Affordable
Two-year warranty
Cons
Hose connections leak air
Very low output
Only very thin materials
---
9.

Scuddles 1200 HVLP Paint Sprayer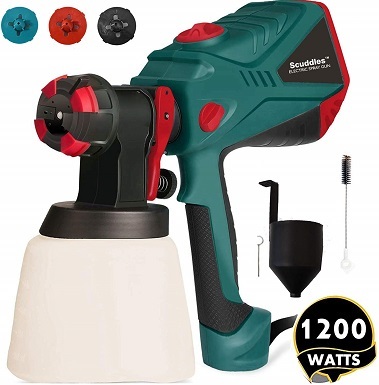 Scuddles offers an entirely handheld paint sprayer at a pretty reasonable price. When we first took hold of it, we realized pretty quickly that it would get tiring due to its above-average weight. Once the paint was added, it was a pretty hefty machine that left some of us with sore arms. While many of the lower-priced sprayers suffer from underwhelming power, this one has a very powerful 1200-watt motor that can use much thicker materials than many of the other sprayers.
As powerful this paint sprayer may be, it's exceptionally inefficient. Somehow, it uses tons of paint very quickly while still managing to get sparse coverage. It takes several passes to achieve a full cover, but this takes more paint to cover the same size than it would if you were to use a roller or brush. Overall, there are much better options on the market that we think are a better bet for the money.
Pros
High powered at 1200W
Affordable
Cons
Uses tons of paint
Gets awful coverage
Takes many passes for a good coat
Heavy for a handheld at 4.5 pounds
---
10.

Thunder Handheld Spray Gun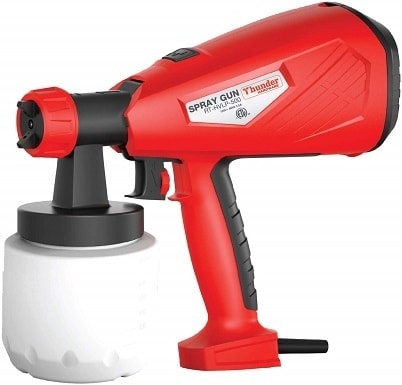 Since it's the lowest priced model that we tested, we didn't expect all that much from this handheld electric spray gun. What it does offer is the most affordable way to begin spraying paint. While it's usable, we wouldn't exactly call it pleasurable. The reservoir was very small and required constant fill-ups. Thicker liquids are a no-go, and all of your paints will need to be watered down to achieve a thin enough mixture for this gun. Even when the mix is spot-on, we still experienced some uneven coverage. If you're only going to use it one time, this device may make sense due to the very affordable price. On the other hand, if you wish to get several good uses or more from your paint sprayer, we'd have to recommend picking one that's more capable.
Cons
Very small reservoir
Can't use thick materials
Uneven paint spray
---
Buyer's Guide – Purchasing the Best Paint Sprayer for Fence Staining
Always make sure you understand the warranty before buying any power tool.  Many manufacturers will tout a "15 Year Warranty!" in their ads, but when you read the fine print it only refers to one particular part and only under certain circumstances.  This practice isn't illegal, strictly speaking, but it is deceptive.  If you don't read and understand it before you buy, you could find out the hard way that you're not covered.
Available Options
When using a paint sprayer, you always want to wear a mask. Better yet, use a respirator.  Paint and lungs don't mix.  If you don't have a respirator, this is the perfect time to get one.  They're readily available from most stores and websites that sell paint sprayers.
Another important piece of safety equipment is protective goggles for your eyes.  There's no excuse for not having a pair.  They're lightweight, inexpensive, and an absolute must for protecting your vision.
You'll also want to get some extra tips for your sprayer.  Tips endure the most wear and tear of any part on a paint sprayer so you're going to be buying more sooner or later anyway.  You might as well go ahead and get them now.
Related posts:
Conclusion
Our reviews of these spray guns produced a clear winner, a runner-up, a choice for best for the money, and a couple of lower-quality models.
For staining fences, the top pick goes to the Fuji 2203G Semi-PRO 2.  It is far and away the best spray gun on the list.  It's simple, easy to use, easy to clean, and nearly flawless in its design.  It doesn't get any better than this.
The HomeRight C800971.A sprayer is the "best for the money."  It won't replace the Fuji for the top pick, but if you're on a budget and only doing outside work, this tool will get the job done for a very reasonable price.  Work within its limits and you'll be a happy camper.
We hope we've been successful in helping you navigate the thickets of the paint sprayer world by giving you some valuable information to use.  With it, you'll be able to make an informed decision regarding the sprayer that is best for you and your particular needs.