5 Best Commercial Paint Sprayers of 2023 – Reviews & Buyer's Guide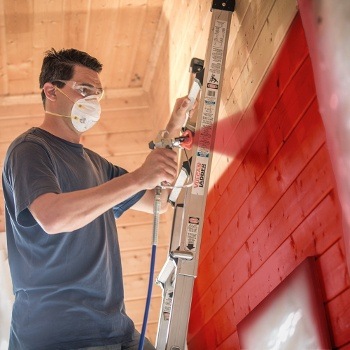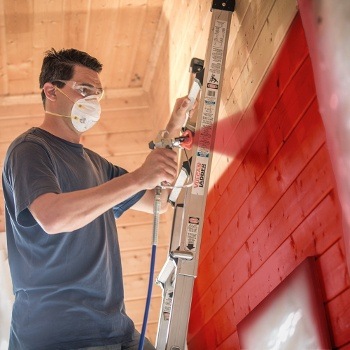 Finding the right commercial paint sprayer for your needs can be a hard and tedious task. The market is filled with hundreds of enticing models with fancy features and different specifications. This can make it hard to decide which one suits your needs the best. But it doesn't have to be hard. We've done the hard work for you. We painted, tested and compared over 131 different paint sprayers. Thereafter we handpicked our top 5 favorite models and ranked them from #1 to #5. The result of this can be seen in the form of the reviews below. Here you'll get to see the pros and cons of each model. We've also written a detailed buyer's guide that helps you ask the right questions in your search of a paint sprayer. We'll talk about which features and specifications to focus on, and lots more.
---
A Comparison of Our Favorite Picks of 2023:
Rating
Image
Product
Details

Best Overall

Graco Magnum X7

Not pricey
Lightweight
Comes with revisable tips
CHECK PRICE

Wagner 9175 Airless Twin

Easy to move around
Fast and efficient
Can hold up to 5 gallons
CHECK PRICE

Best Value

Graco Magnum X5

Very affordable
Easy to clean
Paint directly from the bucket
CHECK PRICE

Titan ControlMax 1700

Affordable
Durable pump
High-Efficiency Airless technology
CHECK PRICE

Titan ControlMax 1500

Reduce overspraying by 50%
For both amateur and professional
Variable speed pump
CHECK PRICE
The 5 Best Commercial Paint Sprayers – Reviews
1.

Graco Magnum X7 Paint Sprayer – Best Overall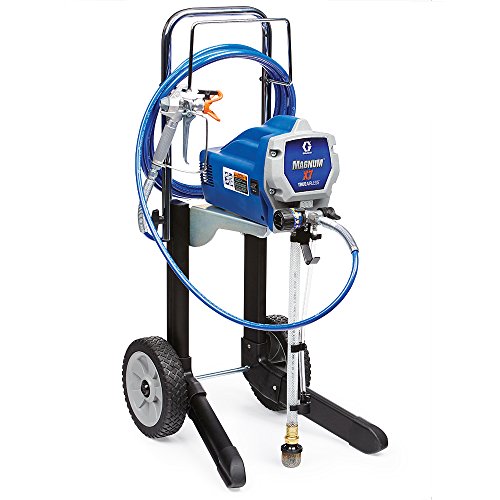 This is, in fact, the best professional airless paint sprayer we have reviewed yet. This is particularly the best magnum X series that have ever been produced. This instrument of DIY art is made out of pure metal, except the hose (lol, how else is it gonna bend?), which is rubber and it is made of a very high-quality substance that is not subjected to breaking. This commercial airless paint sprayer is very easy to move around because it is placed on a cart-like two-wheel platform. Its hose is very long, stretching about 100 feet long which makes you make less use of the wheels while painting.
This is a professional paint sprayer that was designed for the purpose of having that professional touch on a large project. With a recommended usage of 125 gallons a year, it is equipped with a flexible suction tube which makes it possible for you to apply your paint substances directly from a range of 1- 5-gallon paint bucket. It comes with a fully adjustable pressure to make you control the amount at which the paint substances flow, thereby giving your project a fine finish no matter the size.
Pros
Lightweight
You can apply paints from the bucket directly to your project surface.
Not pricey
Easy to clean
Comes with revisable tips to stop clogging
Cons
Sometimes, overspray is inevitable
---
2.

Wagner Airless Twin Paint Sprayer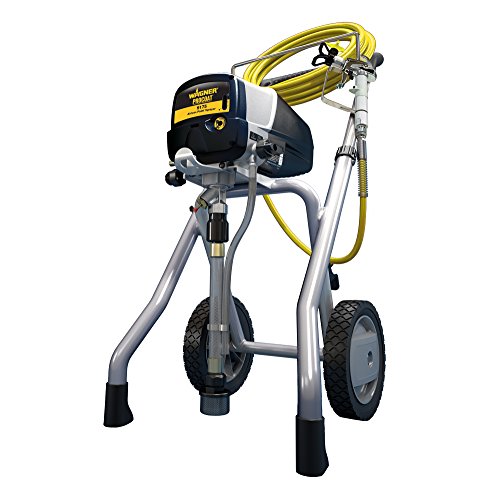 This airless commercial paint sprayer is very suitable for new and amateur paint contractors. If you take your projects seriously and very professionally, this is the device for you to acquire because of its amazing capabilities and high-end performances. When applying paint substances (enamels, latex, and lacquers), the Wagner 9175 gives your work a very fine, smooth and evenly spread finish to suit your taste.
Equipped with a 5-gallon bracket hold and wheels to easy up conveying of materials, this device falls in the category of an easy-to-move machine.  It also comes with a 515/211 reversible tip to make you spray narrow and larger areas. This device does not overspray, as it comes with a 0.017 maximum tip and a controlled trigger on the metal gun. It also comes with a very strong quality-made hose that is resistant to breaking and can be used for a long period of time.
However, unlike the Graco Magnum X7, this device is noticeably hard to clean. A few online reviews complain about cleaning this device after use. Also, the reversible tips do not solve the problem of clogging very well compared to the X7.
Pros
Easy to move around due to wheels
Fast and efficient
Can hold up to 5 gallons
Works for both small and large projects no matter narrow or wide surfaces
Durable and strong hose
Cons
Hard to clean
The reversible tips do not function well compared to the Graco X7
---
3.

Graco Magnum X5 Commercial Paint Gun – Best Value
This airless paint sprayer has both professionalism and low cost on its mind for you. This equipment was designed to go very soft on your pocket at the same time provide you with amazing professional features to match your commercial use with less effort. It prevents overspraying and provides a uniform coverage for a smooth and nice finish.
Otherwise, known as the "primer master", this device provides a very stress-free priming which is very good for any surface, like walls or woodworks, meaning this is a very simple machine to use. This machine contains a stainless steel piston pump which enables you to handle unthinned paints at high pressure. It can handle up to 125 gallons of paint a year and its adjustable pressure helps you gain control in painting without much overspraying. It supports up to a 75-foot hose for your commercial project.
This almost-perfect equipment can be used to paint just about any type of coating, but unlike the Wagner 9175 Airless Twin, it has its flaws in this area. It can basically function well when using thick and heavy acrylic or latex, but not the solvent based lacquer. It is still a good equipment to get if you can't afford the first two.
Pros
Easy to carry around and lightweight
Very affordable
Easy to clean
Provides the ability to paint directly from the bucket
---
4.

Titan ControlMax 1700 Paint Sprayer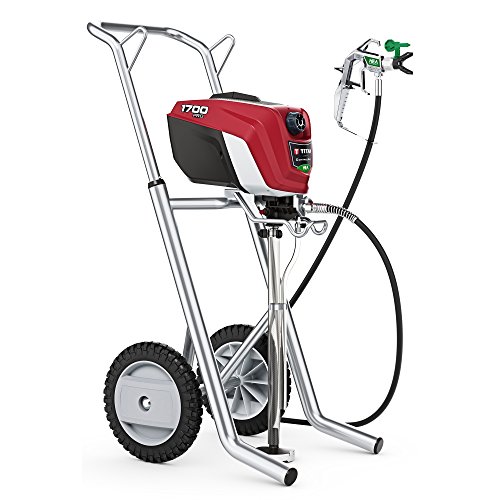 This device is one of Titan's HEA, meaning High-Efficiency Airless technology. It comes with a 0.6 horse-powered engine, specifically made with the amount of pressure suitable for spraying various paint substances on various surfaces. The device's sprayer can be able to provide about 0.33 gallons per minute and a whole threshold of 300 gallons a year. This model comes with a lock and tip guard to ensure unnecessary spillage of materials.
It comes with a 0.017 tip size to reduce overspray by 50% compared to the other tips. Moving around with the Titan ControlMax 1700 is not a problem as to this model comes with a firm metal frame, easy to access handles and two wheels.  It comes with an HEA technology, which helps avoid overspraying and also the tip can be also rotated to remove any clogging.
This device is good, but unlike its competitors, it lacks so many features. It comes with a 50 – 80 feet long quality hose that although is okay for professional projects, but is shorter than other models on this list. The sprayer does not contain any filter and the huge downside to this sprayer is the issues it can create during cleanup.
Pros
Affordable
Lightweight
Durable pump
Cons
Hard to clean
Spray gun doesn't have a filter
There are better commercial options available
---
5.

Titan ControlMax 1500 Commercial Paint-Sprayer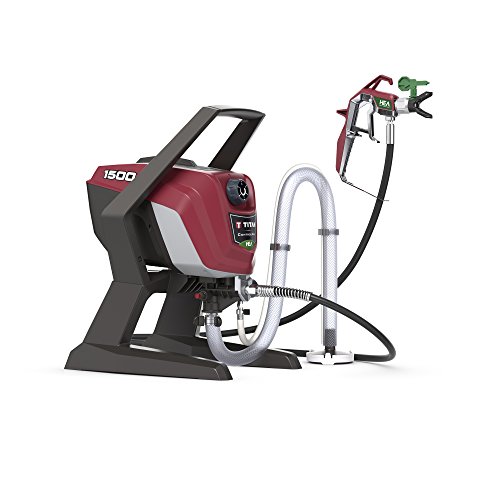 Another Titan's HEA commercial sprayer on the list. This device helps both amateur and professional painters do the job easily as it gives you more confidence while painting. This piece of artwork comes with a 25-foot long hose and high efficiency of about 0.55 horsepower with a 515 controlMax tip that can reduce overspraying by 50%
However, although this device has these amazing features, it still has a lot of downsides, that is why it is the last on the list. For example, this device comes with an only 25-foot long hose which is the shortest there is out here. It is too costly for only a few features you can get on other devices which can be cheaper than it.
This device just like the Titan controlMax 1700, is not easy to clean up after use.  This is not a device you would need for consistent commercial use and also, any paint substance used in this device has to be thinned. Honestly, we would advise you go for this, only if there is no way of acquiring the top 4 on this list.
Cons
Expensive
Comes with shorter hose
Requires thinning of thicker paints before use
Hard to clean
There are better commercial models out there
You might also be interested in: 10 Best Paint Sprayers – Reviews & Top Picks
---
Buyer's Guide – Finding the Best Commercial Paint Sprayers
When purchasing a commercial paint sprayer for your projects there are some things you have to look into before making that decision like:
The size of your project – this is one of the most important things to look into when getting your device. This helps you pick the suitable size of the sprayer tip and the power needed for the project; whether extremely large or medium.
The type of the paint substance – this helps you pick out the tip. Most exterior projects need thicker paint substances, so a bigger tip will be suitable for the job.
The capacity of paint storage – this helps you pick out the best and suitable device for the job. Smaller storage capacity needs frequent refilling which is not suitable for extremely large projects.
The volume of spraying – this determines how much paint substances are transferred from the paint bucket or container to the surface of your project. If this is high, it tends to help you achieve a better coverage and helps you finish the job on time.
The disturbance from the device – most of these devices produce very annoying and loud noises which can cause disturbance to its users and the people around. It is very much advisable to know the noise level of each machine before purchasing so you won't regret buying it because of all the noises it makes.
The real size of the project – knowing the actual size of the project is very crucial when it comes to choosing a perfect device for your project. Let's put it this way, you will actually need a longer power cord and a longer hose for taller projects to reach places that are hard-to-reach. The lowest recommended hose length should not be shorter than 25 feet.
Having a backup plan – consider products that get more support from its manufacturers. Products that have a year warranty or more. Online manuals and customer care contact on the go are the best. Maintaining your device should be the sole aim of the company, and ways to go about that should be made available to its costumers. Also, it is very important for you to read through reviews from customers of a product before you buy it.
---
Conclusion
Human nature always tends to demand the best things in life, this is why we brought this list to you because you have demanded the best commercial paint sprayers this year. So far so good, the best device you can get for your commercial project is the Graco Magnum X7 Airless Paint Sprayer. This is because it is totally worth your money and if you are that type of painter that wants his/her project to hold esteem high professionalism, then this is the best device you can get out there.
Also, if you can't really afford the best, you can go for the best thing money-wise. That is the Graco Magnum 262800 X5, which is very affordable and has very amazing features too for your project.
Finding the right commercial paint sprayer for your needs can be a tough task. However, we hope that we made your task easier with this article.
Related guides:
Top 5 Automotive Paint Guns – Reviews & Top Picks