5 Best Pin Nailers of 2023 – Reviews & Buyer's Guide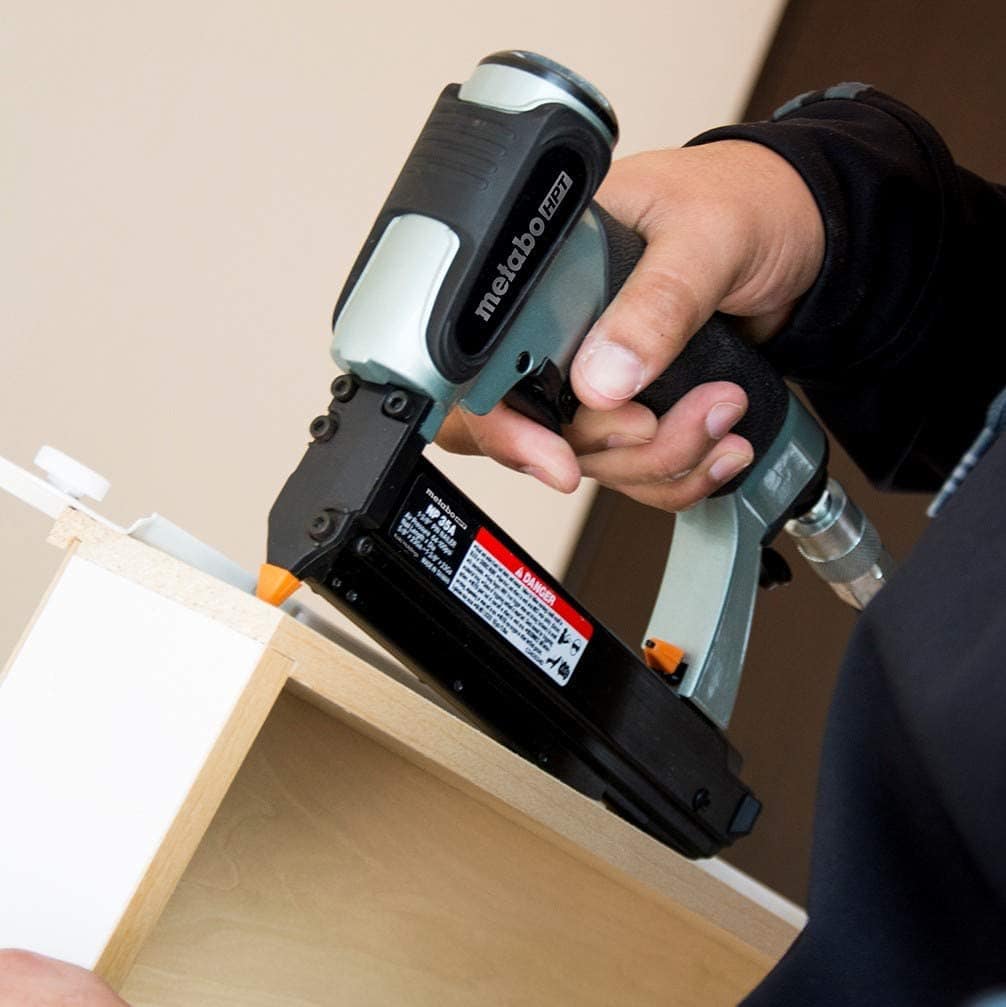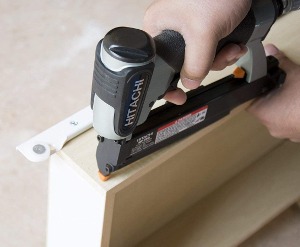 If you're in the market for a pin nailer, you know that there's a wide range of prices for this kind of product. Is it safe to go with a cheaper model, or do you need to go with a more expensive unit? These kinds of questions aren't always easy to answer when shopping online.
The good news is that we've done the hard work for you. Below are our pin nailer reviews of some of the best of this year, where we break down what features you need to pay attention to. The good news is that you can get a pin nailer with top-of-the-line quality without breaking the bank. Read on to find out which model will be best suited to your needs, and your budget.

List of our Favorite Products of 2023:
Rating
Image
Product
Details

Top Pick

Hitachi NP35A

No-mar tips
Reload indicator
Auto-adjusts to pin size
CHECK PRICE

The Runner-Up

PORTER-CABLE PIN100

Durability
Reload indicator
Auto-adjusts to pin size
CHECK PRICE

Best for the Money

Freeman PP123

Adjustable exhaust
Solid
Lightweight
CHECK PRICE

Valu-Air H625

Easy Jam clearing
Large Pin Capacity
CHECK PRICE

Arrow Fastener PT23G

Cheap
Time-consuming
CHECK PRICE
The 5 Best Pin Nailers:
1.

Hitachi NP35A Pin Nailer – Top Pick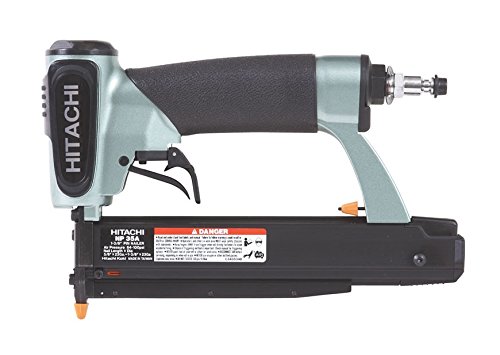 When you purchase any premium product, you want to know that you're getting value that justifies the higher price. With the Hitachi NP35A, you're getting the best pin nailer on the market, but without the extra premium you'd expect for that kind of purchase.
This pin nailer makes convenience to the next level, coming with replaceable no-mar tips that will help you avoid scratching your projects. It also automatically adjusts to a number of pin sizes, saving you time when you swap them out. There's also a reload indicator that lets you know when you're out, so you don't end up dry firing.
A great feature on this pin nailer is its ability to adjust the depth that it will drive the pins on the fly, something that you have to adjust with air pressure in most other pin nailers. This will save you a lot of time in the long run. It is, however, more inconsistent with 1 3/8" pins, but anything under that drives consistently well.
Pros
No-mar tips
Reload indicator
Adjustable pin depth
Auto-adjusts to pin size
Cons
Struggles with 1 3/8" pins
---
2.

PORTER-CABLE PIN100 Pin Nail Gun – The Runner-Up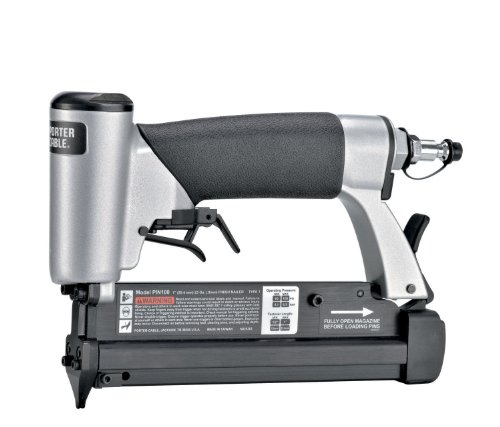 The PORTER-CABLE PIN100 is one of the pin nailers that professionals love, due to its ability to drive hundreds and thousands of nails without jamming or breaking down. Like the Hitachi, it also automatically adjusts for different pin lengths. What keeps it out of first is its smaller range of pins, which only goes up to 1".
It features a bottom-load magazine for fast and easy reloading. It also uses a massive 170 pin magazine, which keeps you doing work for a greater period of time and extends the time between reloads.
The only downside is that air pressure sets the pin depth instead of a mechanism on the gun itself. This makes more sense for professionals doing repetitive tasks, but less sense for the amateur doing a variety of projects.
Pros
Durability
Auto-adjusts to pin size
Reload indicator
Large pin magazine
Cons
Adjusts depth with air pressure
Only works with pins up to 1"
---
3.

Freeman PP123 Pin Nailer – Best for the Money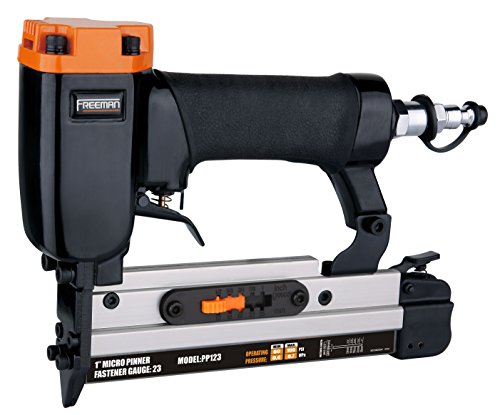 The Freeman PP123 is a great purchase for what it costs. This 23-gauge pin nailer accurate as some of the more expensive pin nailers, in large part due to its solid but lightweight design. This makes it easy to move around and to position exactly where you want it, saving you effort and time. It also has an adjustable exhaust, allowing you to aim that burst of air away from both your body and the project you're working on.
It does require that you manually set what size the pins are before using, and only works with pins up to 1" in size. Additionally, it requires oiling before each use, which some people like because it generally extends the life of a tool. Other people dislike it because it's extra work.
It also doesn't come with a case, which is something you generally expect tools to have. Overall, it has the power to get the job done, and while it requires a bit of extra work upfront each time you want to use it, its low price makes it a great value for the money.
Pros
Adjustable exhaust
Solid and lightweight
Accurate
Cons
Manually adjust pin size
Requires oiling before use
No case
---
4.

Valu-Air H625 Pinning Nailer
With the Valu-Air H625, we're starting to get into the lower-range pin nailers. The best things it has going for are is that it has a pin capacity on the larger side and is one of the easier models when it comes to clearing jams. Which is a good thing because you should expect more jamming on this model than on others, even with smaller pin sizes.
This is due in large part to the manual pin-size selector, which sometimes fails to correctly align the nailer to the size it is set to. It's hard to imagine that flaw not causing problems.
Overall, this is a low-powered nailer. If you need a cheap model for just a project or two and don't care too much about having to clear jams, then this is a good choice. If you want a model that's going to work well for a long time, you should probably look elsewhere.
Pros
Easy Jam clearing
Large Pin Capacity
Cons
Jamming
Low Powered
Manual size selection
---
5.

Arrow Fastener PT23G Pinning-Nailer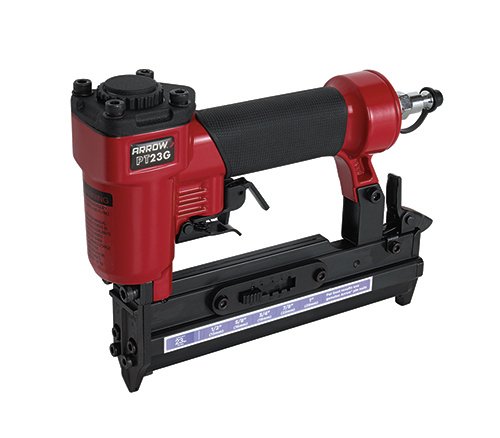 While the Arrow Fastener PT23G isn't the cheapest pin nailer on the market, it often behaves like it is. With most tools you plan to use for a long time, you're looking for ease of use. When done right, you shouldn't have to spend too much thought or effort on basic operations.
The Arrow Fastener takes the opposite approach. The safety is clunky and makes each nailing more difficult and time-consuming than it needs to be, while also wearing your hand out faster than other units. It is also difficult to load, meaning that if you end up wanting to use it more than once, you're going to spend a lot of extra time doing something that should be easy but isn't.
There are certainly better options on this list. The best thing this nailer has going for it is that it is cheap.
Cons
Clunky safety
Difficult to load

Buyer's Guide – Purchasing the Best Pin Nailer in 2023
Hopefully, our reviews have given you some insight into the differences between various pin nailers. However, that doesn't necessarily mean that you've found the right one for you just yet. That's okay. We've assembled this buyer's guide to give you a lot of general information about pin nailers that should help you be confident in your decision when you're ready to buy.
Jamming
Let's face it: all pin nailers are eventually going to jam. It's a good choice to seek out a model that does this at a lower rate. Having fewer jams saves you a lot of time and frustration in the long run. But, since all models will eventually jam at some point, you need to look into how easy it is to clear jams.
Some models of pin nailer make it easy to clear jams. Others require tools and removing parts of the casing in order to do the same task. If you're looking at a model that's prone to jamming and also makes it hard to clear jams, you're going to be in for a rough time if you plan on using your pin nailer for a long time. On the other hand, you might be able to save some money and get a model that jams more frequently than others if that same model makes it nearly painless to clear jams.
Of course, the best models jam infrequently and also make it easy to clear jams on the rare occasions when they do occur. Your decision on this factor comes down to what kind of usage you're planning to get out of your pin nailer, how long you plan on owning it for, and how much work you plan to do with it.
Ease of Use
Jamming happens when something goes wrong, either due to a manufacturing defect or a flaw in the initial design. But what about how the device works when everything goes right?
If you've used tools before, you know that some work better than others and that some models are hard to operate, and others are so easy that you never have to glance at the manual. Pin nailers are no different. Some models make using them a breeze, and others weren't designed to be so user-friendly.
What makes a pin nailer easy to use?
One of the first factors you should consider is how light it is. Remember that you're going to be trailing a small hose that runs to your air compressor, so the more weight you can save, the better. The lighter your pin nailer is, the easier it will be to position it exactly where you want it, which is important when you're working on bigger projects, such as furniture, that can't be easily moved to accommodate your pin nailer.
Lighter pin nailers also put less strain on you, especially if you're planning on doing a lot of work in long stretches. Lightweight can mean two things, however. It could mean that the manufacturer has opted to use cheap parts that are going to break sooner than you might like. Or it could mean that the manufacturer has used parts that are higher in quality and will last longer, in addition to their lightweight properties. It's important to investigate each model to see what it is made of, as that will impact both durability and use.
You should also take note of how many pins can be loaded at once and how easy it is to reload the pin nailer. If you're working in any industrial setting, you're going to be reloading a lot. It would save you a lot of time to go with a model that makes that process quick and easy. On the other hand, you might be able to save some money by going with a more difficult reload if you're not planning on doing large projects back-to-back. If you're only doing some small projects in your shop, then you're not going to have to reload that often. And, of course, pin nailers with larger magazines last longer between reloads which has the potential to save you a lot of time.
Safety
Pin nailers are designed to fire a little metal pin into a sturdy wooden object. They're not toys and can become quite dangerous when used improperly.
Thankfully, all models come with a safety, which is designed to prevent accidental firing. Different models use different safeties. Some use a double-trigger system. Pulling the first trigger disengages the safety while pulling the second fires the pin. Some models implement this poorly, requiring a lot of force to pull both triggers, which can make your hand tire quickly. Others have gone too far in the other direction, designing a double-trigger that is far too easy to pull, increasing the chances of an accidental misfire.
Others toggle the safety on and off using a switch or button located away from the trigger. The plus side is that it's harder to turn the safety off by accident compared to the double-trigger, but it does mean that the pin nailer will fire every time you pull the trigger, whether intentional or not.
The final safety type is located in the nozzle of the pin nailer. It will not fire a pin as long as the tip is not pressed up against anything. The best part of this safety type is that it doesn't require you to do anything you wouldn't have done already—pressing the pin nailer up against what's being nailed.
Final Thoughts
It's important that you evaluate all features of each pin nailer that you consider. But, it's even more important that you honestly evaluate how you will be using the pin nailer, and choose the model that will best suit your needs, rather than looking at price alone.

Conclusion
The Hitachi NP35A was the best overall pin nailer in our reviews, coming with no-mar tips, a reload indicator, adjustable pin depth, and automatic adjustments to pin size. The PORTER-CABLE PIN100 was also a great deal, offering many of the same features, but lacking the precise pin-depth adjustment. The Freeman PP123 our choice for best value, featuring a solid, lightweight design and an adjustable exhaust. The Valu-Air H625 might be a good choice if you only need to do a simple project or two, but probably won't be a great choice in the long run. The Arrow Fastener PT23G doesn't have a lot going for it other than how cheap it is.
Hopefully, our buyer's guide and reviews have been useful to you and have made it clearer what you should be looking for when shopping for a pin nailer. We know there are a lot of models on the market, but you should now be able to evaluate each one and make the choice that is best for you.
Learn more about nailers:
Which pneumatic framing nailers are worth considering?
A close look at the top finishing nail guns on the market
Which nailer should one choose for fencing?