10 Most Famous Houses in Los Angeles, CA (With Pictures)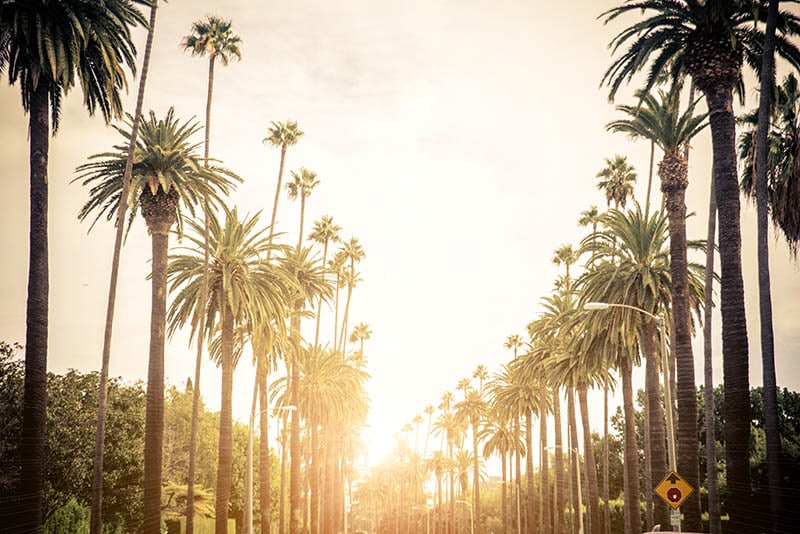 Los Angeles is a vibrant and active city, and one area it thrives is its architecture. Whether you're looking for architectural masterpieces, iconic landmarks, or homes from movies and TV shows, Los Angeles has it all.
We've highlighted 10 of the most famous houses in Los Angeles for you below, but the truth is that there are tons of homes we could've highlighted; these are just some of our favorites!

The 10 Most Famous Houses in Los Angeles
1.

Greystone Mansion
| | |
| --- | --- |
| Address: | 905 Loma Vista Drive, Beverly Hills |
| Open to the Public? | Yes |
Whether you're looking for the perfect venue for a wedding, an eye-popping tour, or you just want to look around, the Greystone Mansion and park is a great place to start this list. It's one of the most iconic houses in all of Los Angeles, and it's open to tours and private events.
On open park days, you don't have to pay to park or to enter the grounds, but you'll want to check in advance since they are closed for special events.
---
2.

Playboy Mansion West
| | |
| --- | --- |
| Address: | 10236 Charing Cross Road, Los Angeles |
| Open to the Public? | No |
Is any building better known than the Playboy Mansion West in Los Angeles? Whether you view it as iconic or infamous, there's no denying its notoriety.
Hugh Heffner no longer owns the property, but there's still no public access inside the building, so don't expect to see too much besides the exterior if you decide to drop by.
---
3.

The Brady Bunch House
| | |
| --- | --- |
| Address: | 11222 Dilling Street, Studio City |
| Open to the Public? | No |
The Brady Bunch aired for 5 years on ABC, and during that time it became one of the country's most iconic and popular shows. Unlike many shows that use a fake studio house, the Brady Bunch house is an actual house.
Still, a quick look at the property will leave it feeling smaller than you remember. The show portrayed it as a two-story home when in reality, it's a single-story house. It's still cool to check out, but currently, there are no available public tours inside the house.
---
4.

Hollyhock House
| | |
| --- | --- |
| Address: | 4800 Hollywood Blvd, Los Angeles |
| Open to the Public? | Yes |
The Hollyhock House is a UNESCO World Heritage Site, and 20th-century architect Frank Lloyd Wright designed the home. It's a beautiful home that the city of Los Angeles owns, and it's available for self-guided tours throughout the week.
If you want an in-person tour you'll have to book in advance, and the city does require proof of vaccination to tour it.
---
5.

Stahl House
| | |
| --- | --- |
| Address: | 1635 Woods Drive, West Hollywood |
| Open to the Public? | Yes |
While you might not fully recognize the Stahl house at first blush, it'll probably strike you as familiar. That's because the Stahl house is a fixture in many commercials with its rooftop pool, bar, and lounging area that overlooks the city of Los Angeles.
You can tour this home, but you need to make a reservation beforehand since they do not offer ticketing options on-site. Even if you're not overly interested in the house, the tour is worth it just for the views you get of the city.
---
6.

Nightmare on Elm Street House
| | |
| --- | --- |
| Address: | 1428 N Genesee Avenue, Los Angeles |
| Open to the Public? | No |
If you're a horror movie fan, you must drive by the Nightmare on Elm Street house. It's located in Los Angeles, and the iconic view you get from the street makes it well worth the trip. But if you're hoping for more, you'll be disappointed. It's currently closed to the public and no tours are available.
---
7.

Will Rogers State Park
| | |
| --- | --- |
| Address: | 1501 Will Rogers State Park Road, Pacific Palisades |
| Open to the Public? | Yes |
Will Rogers state park is a massive outdoor escape from the city with tons of hiking trails with canyon and ocean views. But at the center of this gorgeous park is a 31-room mansion. You can tour the home and the rest of the estate but be ready to pay for parking. However, if you decide to go on one of the guided tours of the home, parking is completely free.
---
8.

The Avila Adobe
| | |
| --- | --- |
| Address: | 10 Olvera Street, Los Angeles |
| Open to the Public? | Yes |
The Avila Adobe gets its notoriety from the fact that it's the longest-standing home in Los Angeles. It's one of the smaller homes though, so you don't need to carve too much time out of your schedule for the tour. But because of its historical significance and because it provides a look back at the architectural style from 1818, we think it's well worth the visit.
---
9.

Schindler House
| | |
| --- | --- |
| Address: | 835 North Kings Road, West Hollywood |
| Open to the Public? | Yes |
The Schindler House is one of the more unique homes on our list. It doesn't feature a formal living room, any bedrooms, or any common living areas. Even with that, it's a home for two families.
Today, nobody lives in this home, which belongs to the MAK Center for Art and Architecture. They offer tours of the home if you'd like to visit, however.
---
10.

Eames House
| | |
| --- | --- |
| Address: | 203 North Chautauqua Blvd, Pacific Palisades |
| Open to the Public? | Yes |
Eames House is another home you might not have heard of if you're not into architecture, but if you are, it's a home you must check out. It's all about modern design, and with large open spaces, floor-to-ceiling windows, and unique themes throughout, it's really a masterpiece.
From the home itself to the landscape, you can tour it all and it'll leave you with a great appreciation and understanding of what a home can be.

Conclusion
Now that you know about some of these great landmarks in Los Angeles, all that's left is for you to head out and see some of them for yourself! Schedule a tour, drive by, or head out on a walk to check out these homes. Whether you're interested in architecture, history, or pop culture, there's sure to be a home in Los Angeles that holds your interest.
See also:
---
Featured Image Credit: Los Angeles, Shutterstock