7 Best Pool Heaters of 2023 – Reviews & Top Picks
You spend all this money to install a pool and you can only use it a few months out of the year. So, the next most logical thing to do would be to spend more money, right?
Pool heaters are not cheap (although there are some value options), but it is hard to put a price on extending your swim time.
Depending on where you live, a pool heater could give you a few more weeks or a month on either side of the pool season.
If this is worth the investment, then we will save you some time by giving you some great options. This list is sure to have a model that will suit your needs.

A Quick Glance at the Winners of 2023:
Rating
Image
Product
Details

Best Overall

Hayward Gas Pool Heater

Heats quick
Holds up over time
Energy efficient
CHECK PRICE

Best Electric Pool Heater

Hayward HeatPro Titanium

Corrosion-resistant evaporator fin
Different sizes available
Quiet
CHECK PRICE

Best Value

EcoSmart Electric Pool Heater

Remote Control
Tankless and compact
Works alone or as a booster
CHECK PRICE

Smartpool Inground Sun Pool Heater

Free solar power
Not challenging to install
Low-cost option especially for a smaller pool
CHECK PRICE

Raypak Gas Pool-Heater

Does great work heating the pool
Continually monitors temperature in the pool
Quiet
CHECK PRICE
The 7 Best Pool Heaters:
1.

Hayward H3H400FDN Gas Pool Heater — Best Overall
Our top pool heater option is the Hayward H3H400FDN. Hayward has long been a top name in the world of pool equipment. This natural gas pool heater is reliable and competent. This machine is built to last and has the power to heat a substantial size pool.
Two of the most important things to look for when picking a quality pool heater is durability and energy usage/savings. This pool heater features a durable cupro-nickel heat exchanger that will help to protect against corrosion. It also uses a hydraulic design to provide energy savings. This machine is easy to operate with a front panel access and control pad.
Low NOx emissions will meet air quality standards. If you are looking for an all-around excellent pool heater that will withstand the test of time and heat your pool quickly look no further than a Hayward. One tip of advice is to have this heater installed professional, or Hayward may void the warranty. It may cost you a bit upfront for the install, but in the long run, that warranty is quite valuable. All in all, we think this is the best pool heater on the market this year.
Pros
Heats quick
Holds up over time
Energy efficient
Protected against corrosion
Cons
Be careful of specifics on the warranty
---
2.

Hayward HeatPro Titanium — Best Electric Pool Heater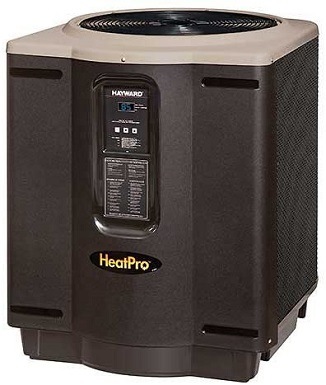 If you do not have natural gas that you can use to run your pool heater, or you don't want to use natural gas, there is another option. The Hayward HeatPro Titanium is our top choice for the best electric pool heater. This model is a heat pump and not a heater, but it is perfectly capable of warming your pool.
Just like our best overall choice, this Hayward model also comes with a corrosion-resistant evaporator fin. Even if you live in a coastal area where salt can destroy all things, this Hayward heater will stay looking good for years. Although the Hayward HeatPro comes in several different sizes, this model is best suited for a smaller sized pool. It doesn't have the same power as our best overall choice.
Another great benefit of this model is that it is quiet. Some pool heaters, especially larger ones for big pools, can be extremely noisy. This model has a profiled fan blade to help with efficient airflow and a quieter experience for the user.
If electric heat pump is the best option for you, then the Hayward HeatPro Titanium is a model that you should very seriously consider.
Pros
Corrosion-resistant evaporator fin
Different sizes available
Quiet
Doesn't use natural gas
---
3.

EcoSmart Electric Pool Heater — Best Value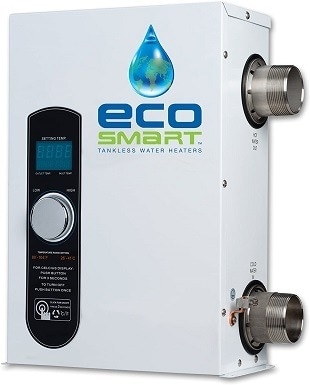 The Eco Smart Electric pool heater is a tankless pool heater and one that we have rated the best pool heater for the money. This unit is very compact. With a digital display that makes it very easy to use, you can quickly change the settings that you want your pool to be set to.
There is a remote control that works with this heater as well if you are looking to heat the pool without even having to go over to the actual unit. In addition to working to heat your pool on its own, you can also use the EcoSmart Electric Pool Heater as a booster to a heat pump.
We mentioned with a few of the Hayward models that it is best to hire a professional to install the heater because of warranty issues and compliance. With the EcoSmart Electric Pool Heater, you will need to hire a professional because of its complexity when it comes to installation. The good news is that with the value on this heater, you will have some money left over to spend on a great installer.
Pros
Great price
Remote Control
Tankless and compact
Works alone or as a booster
Cons
Needs professional installation
Not as powerful as some other units
---
4.

Smartpool Inground Sun Pool Heater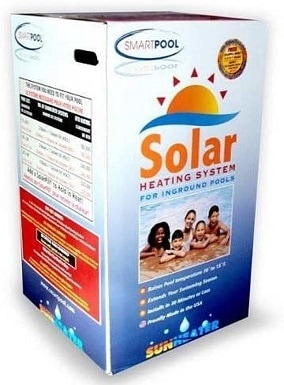 If you are not interested in an increased electric bill, we have a solution for you. This Smartpool Inground Sun Pool Heater is a solar option that does wonders to heat your pool.
This solar heater sends water through its warm coils and back into your pool. Solar heat is not the most powerful or fastest way to heat your pool, but if you have a location to mount these panels, you will be pleasantly surprised by the results.
You will need several panels if your pool is large. Carefully match the size of your pool with the manufacturer's recommendations. The pricing on this solar option is not only low initially, but long term, this option will save you quite a bit of money.
In areas where the temperature can drop very low at night, this pool heater may not be able to keep your pool as warm as you may like. This Smartpool Inground Heater will need an additional installation kit when it is purchased, but this is a model that you should be able to install yourself without much trouble.
Pros
Free solar power
Not challenging to install
Low-cost option especially for a smaller pool
Cons
Does not heat as fast as electric or gas heaters
Pump must be powerful to get heat up on the roof and back into the pool
---
5.

Raypak Gas Pool-Heater
If you don't feel like praying for sunny days and you want something a bit more reliable than a solar-powered heater, the Raypak Gas Pool-Heater is the machine for you. This heater is going to cost you quite a bit more than some other options, but it is a model that you won't have to worry about. Simply program it and forget it.
Similar to the Hayward models, this Raypak is constructed with that same cupro-nickel fin tube to help combat against corrosion. The Raypak has a digital display for all of the temperature selections and settings. This is a smart machine that will continually monitor the temperature in your pool.
Pros
Does great work heating the pool
Continually monitors temperature in the pool
Quiet
---
6.

Goplus Solar Dome Heater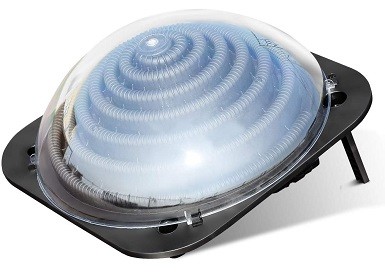 This model made our list because of its price and the fact that it is surprisingly effective. This is by far the lowest cost option you can find when it comes to heating a pool. Similar to our other solar heater option, this Goplus Solar Dome uses heat from the sun to warm the water and send it back to your pool. This is a small unit, which is partly why the cost is so low, and it uses a dome shape to try and effectively trap heat.
Since there are no electricity or gas connections that go along with this heater, it is a quick and easy install that almost any pool owner could handle. If you are looking to heat your pool to the level of a hot tub when the temperature has dropped outside, choose a different unit. If you want to hold on to some of that heat and extend your pool season, this is a perfect choice. This model looks better than the solar panels because it takes up less space but when it comes to solar heat, space does mean power.
Pros
Very low-cost model
Small and compact won't take up much space
Does a decent job at raising the temperature a few degrees
Comes with protective cover
Cons
Slow to work
Won't get the pool very warm
Not programmable
---
7.

FibroPool FH055 Pool Heater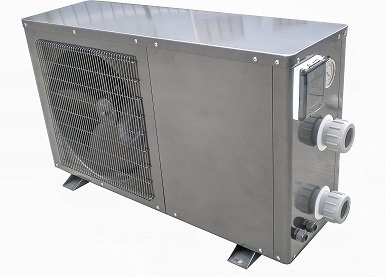 The FibroPool FH055 Pool Heater is a very efficient and sleek electric pool heater. This model will work for pools up to 10,000 gallons. If you have a vast inground pool, this FibroPool does not have enough power to get your pool temperature to where it needs to be.
This model focuses on energy efficiency and not increasing your electric bill by an astronomical amount. The FibroPool FH055 runs on a 220-volt circuit and is recommended to be installed professionally. The display panel is easy to use on this machine, and all fittings will come with the unit when purchased.
The FibroPool claims to heat your pool even when the temperature outside drops into the forties. We are not so sure if you are going to want to jump in the pool when the outdoor temperature is forty, but it's certainly something to think about for those that like an occasional polar plunge!
Pros
Energy efficient
Will heat up to 10,000 gallons
Cons
Does not heat incredibly fast
Only runs on 220V

Buyer's Guide – Choosing the Best Pool Heater
Now that we have given you several excellent pool heater options to choose from, here is some information to help you narrow down this decision.
Heater Type
There are three pool heater types. They are gas heaters, electric heater and heat pumps, and solar heaters.
Each one has its advantages and disadvantages. Here are a few things to keep in mind when choosing which option is best for you. If you don't have a natural gas line coming to your house already, you may need to select another option. Although it is sometimes possible to have a new line run to your pool area, this could add some high costs on top of the already expensive pool heater. Gas pool heaters are the most effective at increasing the temperature of your pool.
If you are going to choose solar power, make sure you have an area to mount the solar panels. Solar heaters also do much better in pools that get a decent amount of sunlight. They are not quite as strong as an electric or gas model, but the overall operating costs make solar heaters a feasible option for many pool owners.
When it comes to electric options, you can either go with an electric heater or an electric heat pump. Electric heaters use electricity to create heat, and electric heat pumps take hot air and force it into your pool. Heat pumps are much more cost-effective but also can't raise the temperature quite like a gas option will.
Pool Size
Knowing your pool size will make a big difference when it comes to finding a heater that will work. If you have a 20,000-gallon pool, don't choose a heater that will heat 10,000 gallons and expect that it will get your pool a little warm. This just doesn't work. You won't experience any benefits from this, and it will not be money well spent.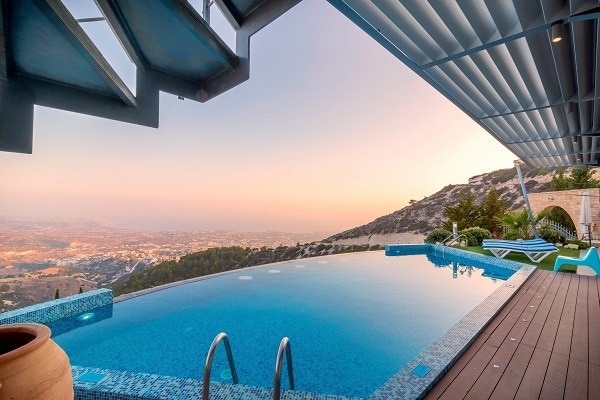 When choosing a gas pool heater, there are BTU ratings that will correspond to different pool sizes. You will also want to take into consideration the speed at which you need your pool heated. If you go with a less powerful pool heater, but you don't mind waiting a week for the pool to increase in temperature, that is fine. If you are looking for something to heat a large pool fast, you will have no choice but to go for a high powered unit.
Budget
The pool heaters we reviewed cost between $100 and $3000. When looking at a gas or electric heater, you should expect to pay between two and four thousand dollars. Keep in mind that there will be operating costs associated with the pool heater.
Gas and electric heaters will cost the most to run. Electric heat pumps will cost a bit less because they are pushing warm air into the pool instead of creating warm air from electricity. Solar-powered heaters will be the cheapest option as far as long term costs are concerned.
Climate
One of the final considerations when choosing a pool heater or heat pump is your climate. Do you live in Florida and want a heater for some night swims when the pool tends to drop a few degrees? Do you live in NY and expect this pool heater to add the months of May and September to your swimming season? Whatever your situation might be, this must be taken into account when choosing the correct pool heater. The harsher your climate, the more you will need your pool heater to do.

Conclusion
When you put your pool in, you probably never realized how quickly the swim season would go. You think about all the money you spent to only be able to enjoyable swim for such a short time. The idea of a pool heater is a funny thing because it makes you invest even more money into your pool to use it.
Our top pick for best overall pool heater, the Hayward H3H400FDN, is durable and trustworthy. It will stand the test of time and meet larger pool heating requirements. It's also more expensive than some on this list. For some, that money is well worth it. For others, it may make sense to start with a lower-priced solar option.
Our best electric pool heater, the Hayward HeatPro Titanium, is quiet and efficient and recommended for smaller pools.
We round out our selections with the Eco Smart Electric Pool Heater, a compact, tankless pool heater with a user-friendly digital interface and a price point that justifies the title of best pool heater for the money.
Regardless of what pool heater you decide to go with, start with a distinct understanding of your budget, your current pool setup, and how it will be affected and how often you will likely use this heater.