9 Best Hot Tub Covers of 2023 – Reviews & Top Picks
Your hot tub can't just be left open like your pool. You need a cover to keep it protected. Otherwise, all that heat is going to escape and you're going to spend tons of money on electricity every time you want to heat it back up.
If your hardcover needs to be replaced, that's a pretty large expense, one you don't want to take on often. If you need to replace it, you should consider also getting a softcover at the same time to protect your investment from the negative effects of adverse weather conditions.
We've used both to protect our hot tubs, and the following reviews will compare some of our favorite soft and hard hot tub covers.

A Quick Comparison of Our Favorites in 2023
Rating
Image
Product
Details

Best Overall

ULTCOVER Waterproof

Waterproof
Three-year warranty
UV resistant
CHECK PRICE

Best Value

Duck Covers Essential

Double-stitched hem
Two sizes available
Elastic hem cord
CHECK PRICE

Premium Choice

MySpaCover

Marine-grade vinyl
Replacement hardcover
Replacement hardcover
CHECK PRICE

pool spa part

Oil
mold
and UV resistant
100% waterproof
Wind belt and cords
CHECK PRICE

Porch Shield Square

Made from durable 600D polyester
Air vents for ventilation
Multiple locking systems
CHECK PRICE
The 9 Best Hot Tub Covers
1.

ULTCOVER Waterproof Square Hot Tub Cover – Best Overall
Durable and attractive, the ULTCOVER hot tub cover was our favorite overall. It will fit square hot tubs and comes in three different sizes. Unlike most of the similar covers we tested out, the ULTCOVER reaches down 20 inches to offer greater protection for your hot tub and a better hold. Many of the covers we tried would blow off in strong winds, but not the ULTCOVER. The heavy-duty elastic cords made for a tight fit that stayed put in all weather conditions.
This cover is made from 600D polyester canvas, which is not only durable but waterproof as well. The seams are even taped to ensure there's nowhere for water to enter. Despite not allowing water in, there are two vents that do allow air in, making this cover waterproof and breathable. Since it gets adequate ventilation, we didn't experience any condensation inside the cover, even in heavy rains. On top of being waterproof, it's also UV resistant to protect your hardcover underneath from sun damage. And you will need a hardcover underneath to use this cover. If you're wondering about longevity, rest assured that you're protected by a three-year warranty. Overall this is the best hot tub cover available this year.
Pros
Waterproof yet breathable
Three-year warranty
UV resistant
Stays put in heavy wind
Cons
Requires a hardcover underneath
---
2.

Duck Covers Essential EHT969614 Square Hot Tub Cover – Best Value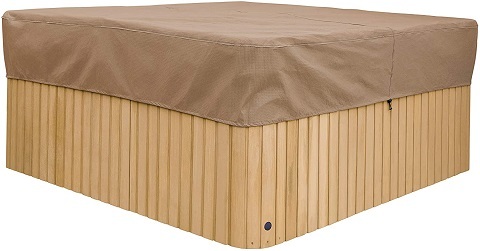 When affordability is of prime concern, the Duck Covers essential hot tub cover is an inexpensive option that offers protection for your hot tub and hardcover. Keep in mind, at this budget price, you get budget-level protection. This means that the Duck Covers cap only offers protection that's suitable for moderate weather conditions. If you experience high levels of rain and snow or very heavy winds then this cover may not be suitable for you. But for moderate weather conditions, this cover offers water- resistance in a lightweight and low-cost package.
Even though it's lightweight, this cover is still very durable. It's got a double-stitched hem and ultrasonic welding at the seams to help ward off light rains. The elastic hem cord with toggle keeps it snug through moderate winds, but heavy winds may still blow it off. You get two sizes to choose from to get the perfect fit for your tub. Overall, we think it's one of the best hot tub covers for the money.
Pros
Very affordable
Double-stitched hem and durable material
Two sizes available
Elastic hem cord with toggle keeps it secure
Cons
Only suitable for moderate weather conditions
---
3.

MySpaCover Hot Tub Cover – Premium Choice
Replacing the hardcover on your hot tub is pretty expensive so you don't want to do it often. The MySpaCover hardcover replacement is a high-quality investment that will last a long time. You're paying a premium for the quality, but your investment is protected by a five-year warranty so you can sleep soundly. It's custom-made to fit your hot tub, so they're always made to order. You'll also get to choose from different colors and lengths to suit your preferences.
This cover is very elegant looking and helps make your hot tub feel luxurious. It's crafted from marine-grade vinyl that offers great water protection. It's also got a six-inch taper from the peak to the ends to ensure that water always drains and never pools. The insulated foam used in its construction makes it one of the most energy-efficient spa covers on the market. This means that it can save you up to eighty bucks each year on your energy bills, another reason that we picked it for our premium choice recommendation.
Pros
Replacement hardcover
Elegant looking
Marine-grade vinyl
Save up to $80/year on energy bills
---
4.

Pool Spa Part Hot Tub Outdoor Cover
With a backing layer made from TPU, this outdoor hot tub cover from pool spa part offers great protection for your hardcover. Sun and rain are no issue because it's waterproof and UV resistant. Additionally, it's cold-resistant, water-resistant, mold-resistant, and oil-resistant. Plus, the color won't transfer, so your expensive hardcover is safe underneath. In our experience, the wind belt and cords held the cover snug through rainstorms with high-speed winds.
Even though it offers great protection and a firm hold, this is one of the cheaper options we tested. There are four sizes to choose from, ensuring you can find the proper fit. You'll need a hardcover underneath this softcover, but it will protect your expensive hardcover from the elements for a fraction of the cost of replacing it.
Pros
Oil, mold, and UV resistant
100% waterproof
Wind belt and cords
Lower-priced than competitors
Cons
Requires hardcover underneath
---
5.

Porch Shield Square Hot Tub Cover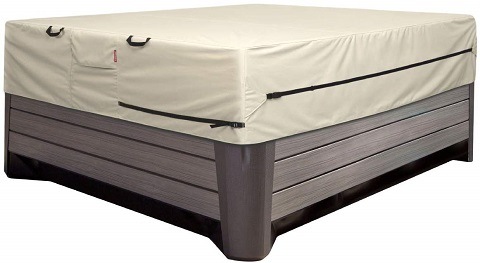 Crafted from durable 600D polyester, the Porch Shield hot tub cover is a great option to protect your hot tub's hardcover. It's got multiple air vents to allow for ventilation, reducing the amount of condensation you'll experience. Multiple locking systems hold this cover tightly in place, even through heavy storms and wind. We were impressed with how well this cover stayed on in adverse weather conditions.
On top of offering good protection, it's also an attractive cover, though it's only available in a light tan color. But it would have ranked much higher on our list if the straps hadn't started disintegrating within the first year. While rain and wind were no issues for this cover, the intense sun was a different story and it prematurely destroyed the straps.
Pros
Made from durable 600D polyester
Air vents for ventilation
Multiple locking systems
Cons
Only a single color-option
Straps started to disintegrate
---
6.

AmazonBasics 56-254-043201-PL Square Hot Tub Cover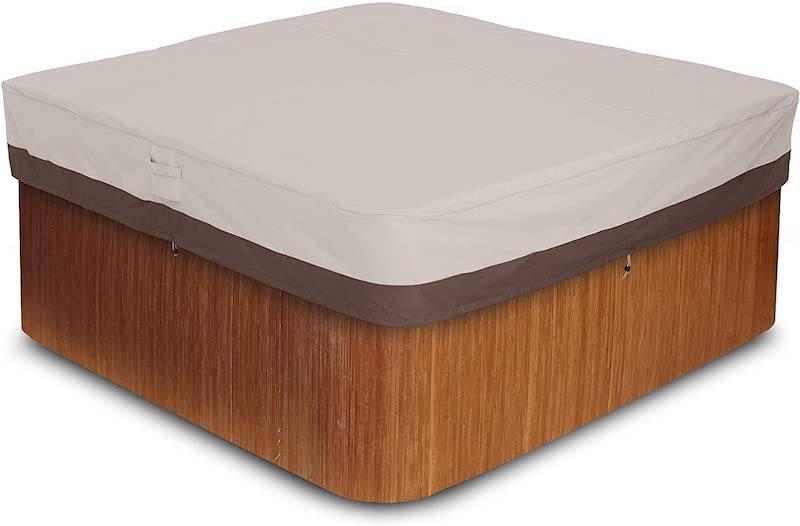 Though simple in form, this polyester hot tub cover from AmazonBasics is a decent product overall. It's very easy to clean with a damp cloth. More importantly, it features a laminated undercoating that prevents rain from getting through to harm your hardcover underneath. However, it only offers water resistance. We did notice some wetness underneath after heavy rains, so it's definitely not waterproof. If it were, it probably would have reached a higher position on our list.
The AmazonBasics hot tub cover is made well, with tough interlocking seams that help increase the durability of this cover. It also stayed put quite well thanks to the elastic pull cords with locking toggles. It managed to stay firmly in place, even in very windy conditions.
Pros
Easy to clean
Laminated undercoating minimizes rain leakage
Built durable
Stays put in heavy winds
---
7.

Classic Accessories 55-886-045101-EC Hot Tub Cover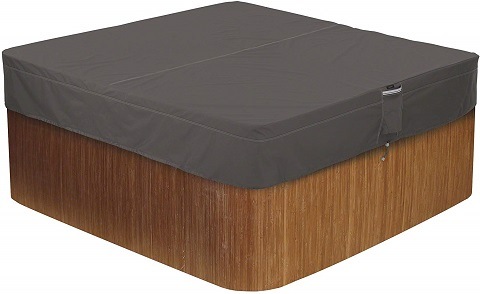 Protected by a lifetime warranty, this hot tub cover from Classic Accessories seemed like a great candidate in the beginning and we had high hopes for it. But it didn't live up to our expectations or the high price that it sells for. It's got an elastic hem cord with a toggle clamp to keep it in place. But the drawstring won't stay tight, which means that it doesn't stay in place. Heavy winds will take it right off and your cover will be gone with the wind. For a cover that's quite a bit more expensive than the competition, this is a very disappointing experience.
But it's not all bad with the Classic Accessories cover. For instance, the waterproof backing does a very good job of keeping your hardcover underneath safe from water and rain. The ventilation ports also do their job well to minimize condensation buildup inside. But these features weren't enough to redeem this cover when it won't stay on through a storm.
Pros
Lifetime warranty
Vent ports minimize condensation
Waterproof backing
Elastic hem cord with toggle clamp
Cons
Has difficulty staying on in strong winds
More expensive than competitors
Drawstring won't stay tight
---
8.

The Cover Guy Deluxe Hot Tub Cover

Built to withstand the weather conditions of all climates and backed by a seven-year warranty, The Cover Guy Deluxe hot tub cover is a hardcover that's custom-sized to your hot tub. It's available in four different color options and is made from high-density foam and marine-grade vinyl. With a five-inch taper, drainage should never be an issue. Unfortunately, the cover we had sunk in after just a few months of use. This meant that water was able to pool up, further damaging the cover.
This is not a cheap cover, but the build quality is cheap and leaves something to be desired. Even when it was brand new the vinyl on the top was loose and had several wrinkles. For this high price, we expected a high-quality hot tub cover. But what we got was a disappointment, which is why it's ranked so low on our list.
Pros
Four color options
Tapered for drainage
7-year warranty
Cons
Vinyl is loose on top with wrinkles
Sunk in after only a few months
Cheap build quality
---
9.

Budge P9A17PM1 English Garden Square Hot Tub Cover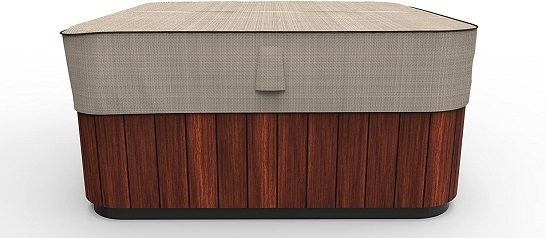 Tan and tweed, the Budge English Garden hot tub cover will fit square hot tubs up to 94 inches across. It's actually quite attractive and makes for a nice-looking protective cover to keep your expensive hardcover safe from the elements. But ours almost ruined our expensive cover underneath when the underside of the Budge cover began flaking and falling apart. The sun then seemed to bake the mess onto our hardcover, resulting in a very difficult-to-remove disaster.
On top of the mess this cover created, we were also disappointed with the poor protection it offers. Ours leaked water from the beginning, allowing the hardcover beneath to get soaked and actually trapping the water against it. Then, in a heavy storm, the cover blew off completely since there's no drawstring to tighten on this cover, just an elastic hem. In the end, it was our least favorite hot tub cover so it has earned the bottom position on our list.
Pros
Attractive looks
Vents for airflow
Cons
Underside began flaking apart and left a mess
Leaked water
Doesn't hold on through strong winds

Buyer's Guide – Choosing the Best Hot Tub Cover
Now that you've seen how some of the best soft and hardcovers for hot tubs compare to each other, let's discuss what features really set them apart. While they all look somewhat similar and perform the same basic functions, there are some notable differences between models that we're going to go over in this short buyer's guide.
Hard Cover vs Soft Cover
There are two main types of hot tub covers: hardcovers and soft covers. While you only need a hardcover, we recommend you have both. The hardcover is what holds in the heat and prevents the water in your hot tub from losing all its heat between uses. It also protects your hot tub from unwanted contaminants like leaves, sticks, twigs, and other debris. Moreover, it keeps your hot tub safe from adverse weather conditions, animals, bird poop, and it protects other people from accidentally falling in as well.
So, we've established that you need a hardcover for your hot tub. But hardcovers are very expensive. Once you replace it, you're not going to want to replace it again soon. That's where soft covers come into play. A softcover will protect your hardcover from all of the same things you're using a cover to protect your hot tub from in the first place. Animals, weather conditions, debris, and more can damage your expensive hardcover. But an inexpensive softcover can keep it safe from all these things and improve the longevity of your hardcover.
Water Resistance
When it comes to adverse weather conditions, two types of weather provide the biggest problems we need to protect against: wind and rain. Water can ruin anything if you give it time, introducing rot, mold, mildew, corrosion, and worse. So, it's imperative that we protect our hot tub and even our hardcover from the damaging properties of water. This means we need a waterproof cover or at least one that's water-resistant. The more water it keeps out, the longer your precious hot tub and hardcover beneath will last.
Does it Stay in Place?
Wind is the other adverse weather condition that will cause damage and wreak havoc. We had plenty of trouble with heavy winds during rain storms blowing off our hot tub covers. Luckily, some covers include multiple tie-down methods that will allow it to remain secured to your hot tub through even the most intense storms and wind. Look for hot tub covers that offer multiple snug-down methods in the corners especially.
Warranty
Since your hot tub cover is constantly exposed to the elements, a good warranty can provide a lot of peace of mind that your investment is protected and will be replaced if it doesn't live up to expectations. But warranties vary from product to product. Some of the shorter warranties offered were about three years. Other products offered warranty periods of five and even seven years from the time of purchase. If you want to be certain that your investment will be protected for many years, then look for a cover with the best warranty you can find.

Conclusion
Hot tub covers can be a major investment, and whether you're replacing your hardcover or just protecting it from the weather with a softcover, you need a durable cover that can withstand many seasons of changing conditions. Our reviews compared nine of the most popular covers available, but only three of them have earned our recommendations. Our favorite overall was the ULTCOVER waterproof hot tub cover. It's attractive, waterproof yet breathable, UV-resistant, and it stayed in place in heavy winds.
For a budget-priced hot tub cover, we suggest taking a look at the Duck Covers Essential hot tub cover. It's one of the cheapest ones we've seen, yet it's durable and stays securely in place thanks to the elastic cord with toggle. And if you want a premium hot tub cover with an accompanying price tag, then the MySpaCover hot tub cover is an elegant-looking hardcover replacement. It can handle all weather conditions thanks to the marine-grade vinyl it's built from. And it's such a good insulator that it can actually save you up to $80 each year on your energy bills by helping keep your hot tub water hot and reduce heating costs.