5 Best Pool Vacuum Heads of 2023 – Reviews & Buying Guide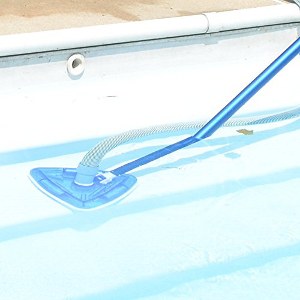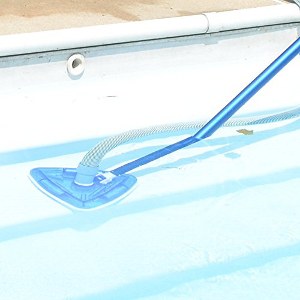 When it's time to vacuum your pool you don't want it to take all day, or wear you out so much that all you want to do is go inside and collapse in front of the TV. That defeats the purpose of having a pool. You want to enjoy your pool. But you also have to keep it clean.
The problem is that there are dozens of manufacturers trying to take advantage of your desire for a quick and easy vacuuming experience by pumping out all kinds of different pool vacuum heads. Which ones work? Which ones are junk? (You know some of them are.) And how do you choose?
These are the kinds of questions these reviews are explicitly designed to answer for you. We've gone out and done all the research for you. We've examined the various makes and models, kicked the tires, and generally done everything but put them through a crash test to figure out which are the best. The results of that process are listed below for your convenience and benefit.

A Quick Glance at Our Favorites in 2023
Rating
Image
Product
Details

Best Overall

Milliard Sea-Thru Triangle Pool Vacuum Head

Funnels dirt to hose
Stays on the bottom
Gets hard-to-reach spots
CHECK PRICE

The Runner Up

ATIE PoolSupplyTown Pool Vac Head

Long-lasting
Good suction
Easy to maneuver
CHECK PRICE

Best for the Money

Swimline HydroTools Pool Vacuum Head

Good suction
Replaceable bristles
Fits a 1-1/4″ or 1-1/2″ hose
CHECK PRICE

Swimline Weighted Flex swim-pool Vac Head

Good suction
Reasonably flexible
CHECK PRICE

U.S. Pool Supply Pool Vacuuming Head

Good suction
CHECK PRICE
The 5 Best Pool Vacuum Heads
1.

Milliard Sea-Thru Triangle Pool Vacuum Head – Top Pick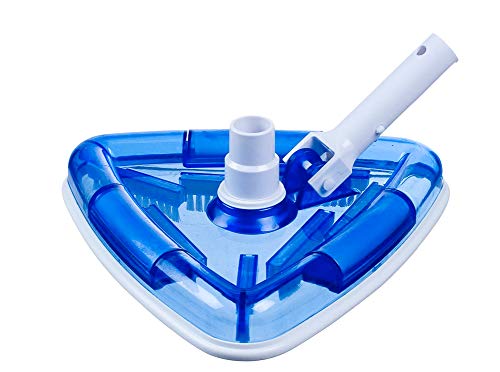 The triangular shape of this vacuum head makes it the perfect tool for those tight angles where a square or rectangular head simply won't reach. This alone would make it worth its weight in gold. After all, who wants a pool that's sparkling clean except for some dingy corners the robot or a manual vacuum head can't reach?
The vacuum port fits either a 1-1/4″ or 1-1/2″ standard vacuum hose, which eliminates a lot of worries or fiddling around with adapters. It is basically "plug-n-play" for your pool vacuum. Making the head see-through was a nice touch since it gives you better visibility of what you're doing.
Built-in weights keep it on the bottom where it is supposed to be, and rubber bumpers keep it from scratching or tearing your pool liner, while the nylon bristles are angled to funnel dirt into the suction port instead of just pushing it around. You can use it without fear of damaging your pool or having to vacuum the same spot over and over again.
Because of the design, it adheres very tightly to the bottom of the pool, which makes it hard to push or pull it. It's too hard to move.
Pros
See-through head
Funnels dirt to hose
Stays on the bottom
Gets hard-to-reach spots
Fits 1-1/4″ or 1-1/2″ hoses
---
2.

ATIE PoolSupplyTown 90455 Pool Vac Head – The Runner-Up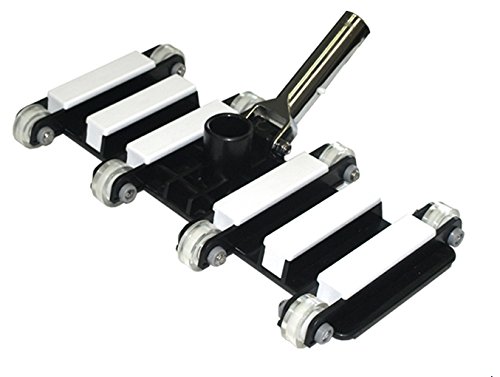 This professional-grade pool vacuum head creates great suction, stays on the bottom because of the weight, and rolls easily on the urethane wheels. It's very easy to steer and maneuver. It even gets into almost every corner in the pool that is 90 degrees or wider.
It doesn't have any brushes on it, so you'll still have to spend some time scrubbing with another head or brush to loosen any algae or caked-on dirt, but once that's done, this will suck it right up. It only fits a 1-1/2″ vacuum hose, so you'll have to get an adapter if your hose is smaller than that.
Although the wheels don't turn for cornering, they have just enough play in them and the head itself is flexible enough that you can move it back and forth like parallel parking a car until it's turned in a different direction.
Because there's so much metal in its construction, you'd do well to wipe it down after each use to prevent rust and corrosion from building up. With a couple of tiny improvements, this long-lasting pool vacuum head could easily take over as the new top pick.
Pros
Long-lasting
Good suction
Easy to maneuver
Stays on the bottom
Cons
Metal subject to rust
Only fits 1-1/2″ hose
---
3.

Swimline HydroTools 8110 Pool Vacuum Head – Best for the Money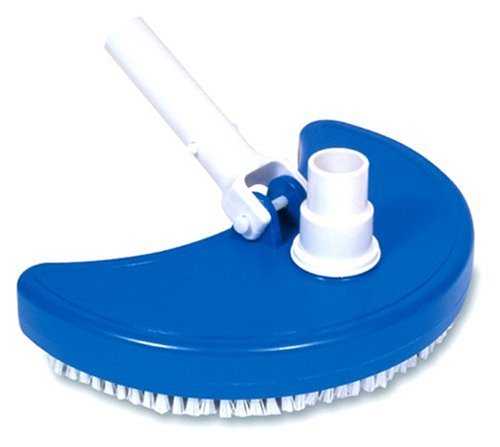 This half-moon-shaped pool vacuum head is a good buy for the price. It's weighted at 1-1/2 pounds to keep it on the bottom of the pool. This isn't quite as heavy as it should be, but it works fairly well anyway.
The hose attachment will connect to either a 1-1/4″ or 1-1/2″ vacuum hose without the need for an adapter. The fewer parts you have to worry about, the easier life will be for you.
It has a number of brushes on it along the front and rear curves. As they should be, all the bristles are replaceable. Bristles will eventually wear down, and they're less expensive than buying a whole new vacuum head.
It has good suction, but because it sits directly on the bottom of the pool it can be rather difficult to move around. Furthermore, it only moves and suctions when you're pushing it forward. If you pull back on it, the head will tilt up and lose contact with the bottom of the pool.
It's a cheaper product made out of cheaper material, so it doesn't last as long as other vacuum heads, but for the price, you can afford to view it as a consumable item.
Pros
Good suction
Replaceable bristles
Fits a 1-1/4″ or 1-1/2″ hose
Cons
Doesn't last very long
Only works in a forward direction
Needs to be heavier to stay down
---
4.

Swimline Weighted Flex 8150 swim-pool Vac Head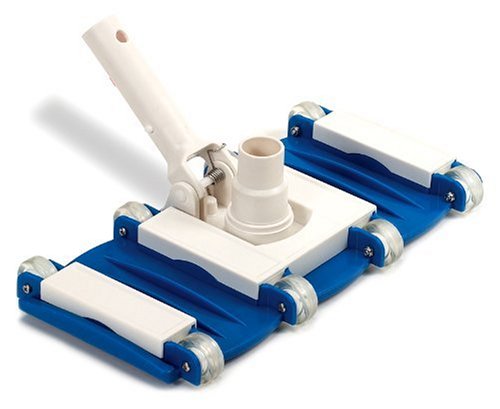 This weighted pool vacuum head on wheels supposedly fits either a 1-1/4″ or 1-1/2″ vacuum hose. The problem is, it doesn't. It has pretty good suction but the hose keeps coming off, even after using duct tape to make it tighter.
The steel weights that keep the head on the bottom of the pool aren't coated with plastic or rubber to protect them from the water, so . . . they rust! And guess where that rust goes? Right into your pool pump and filter. This is just sloppy design.
There is a spring that keeps the head down where the pole attaches to it. The head comes partially disassembled and the spring is very difficult to put in place. Then it keeps popping off. There's no way to be 100% sure you've put it on correctly because there aren't any assembly instructions with it.
The head is reasonably flexible but is still too lightweight even with the rusty weights in it. You have to press it down on the bottom of the pool to get it to work.
This looked fairly good at first glance, but the longer you use it, the less satisfied you'll be.
Pros
Good suction
Reasonably flexible
Cons
Head is too light
Steel weights that rust
Spring keeps coming off
Hose won't stay connected
---
5.

U.S. Pool Supply VH-710 Pool Vacuuming Head
This has another triangle-shaped vacuum head, but it's as different from the top pick as it's possible to get. The brushes – not the bristles, but the actual brushes – are extremely loose and start coming off right away. The clips holding them in place are so badly deformed they won't hold them in place. Naturally, they get sucked into the hose and skimmer basket.
The moment the brushes start coming off, the suction picks up and it sticks to the bottom of the pool and won't move. Unless you want to bend your pole, you'll have to turn the pump off to free it.
The flip side of that coin is that there isn't enough weight to keep it on the bottom before it sticks to the bottom. Yes, it's see-through, but so what? You have to constantly push it down to maintain contact with the bottom of the pool. This makes your job harder and longer than it needs to be. Then the brushes come off and it starts sticking to the bottom. What a joke!
Theoretically, this product has a one-year manufacturer's warranty, but you couldn't prove it by us. Customer service doesn't want to talk to anyone.
Cons
Doesn't last
Brushes come off
Not enough weight
Sticks to the bottom
Terrible customer service

Buyer's Guide – Purchasing the Best Pool Vacuum Heads
Most of these pool vacuum heads will probably fall just at, or near, the cutoff line for free shipping if you're buying them online. Be careful to pay attention to which ones meet the criteria for it and which ones don't. It might cost less, even with sales tax, to buy them at a local swimming pool store.
Available Options
Some options you might want to add to your order include hose adapters. Depending on what size hose you have, these vacuum heads might not fit. Hose adapters aren't very expensive and can save you a lot of hassle trying to get your hose to fit.
You might also consider getting some replacement bristles for these heads. The bristles will be the first things to wear out, and replacing them is quicker – and less expensive – than buying a whole new vacuum head.

Conclusion
With some of these pool vacuum heads, we felt like we were the crash test dummies. Still, we managed to finish all the reviews and got them out here for you to use and learn from. Even the simplest product in the world can have all sorts of variations in manufacturing, design, quality control, and type of material.
In the course of these reviews, the choice for the top pick is the Milliard Sea-Thru Triangle Vacuum Head. It's weighted to stay on the bottom, has good suction, funnels the dirt to the hose, and reaches those tight corners other vacuum heads can't get to.
The best for the money choice went to the Swimline HydroTools 8110, a half-moon-shaped vacuum head that works reasonably well. It doesn't have the quality of the top pick, but given how low the price is, you could almost consider it a consumable item and get a new one each year.
Now that you've got all the information at your metaphorical fingertips, you'll be in a much better position to pick and choose which vacuum head is the best one for you and your swimming pool.
See Also: