10 Best Jigsaws of 2023 – Reviews & Top Picks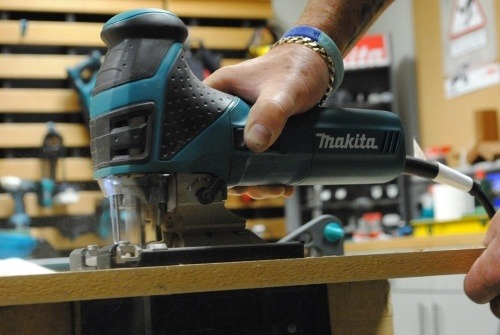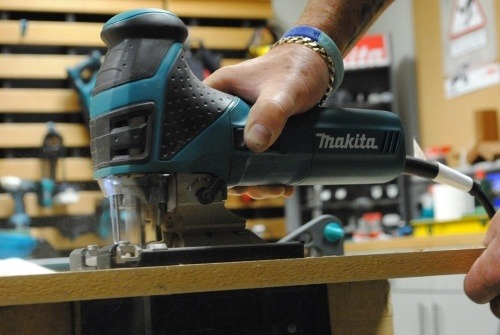 Portable, versatile, and easy to use, jigsaws deserve a spot in every tool collection. While some are a pleasure to use and create smooth cuts without shaking your arms apart, other models are prone to heavy vibration and jumpy cuts. Before you click "purchase" on any jigsaw, the following reviews compare the 10 best jigsaws you can get right now.
Do you want a variable speed trigger, variable speed dial, or both? How comfortable will it be to use a particular saw? We better make sure it cuts straight. And does the dust port blow the sawdust away from the cut line or into our faces?
While there are many considerations to be made, we've already tested and compared the best models available to narrow the field down to these top 10 choices.

A Quick Comparison of Our Favorites in 2023:
Rating
Image
Product
Details

Best Overall

Bosch JS470E Jigsaw

Extreme accuracy
Four orbital settings
Bevel capabilities
CHECK PRICE

Best Value

BLACK+DECKER BDEJS600C Jigsaw

Curve control technology
Tool-free blade change
Can make a 45-degree bevel cut
CHECK PRICE

Best Cordless

DEWALT DCS331B Jigsaw

Cordless
Three-year warranty
3
000 SPM
CHECK PRICE

Makita JV0600K Jigsaw

Powerful 6.5-amp motor
Low vibration for smooth operation
Through-body dust port with vacuum attachment
CHECK PRICE

Premium Choice

Festool 561608 Jigsaw

Weighs only 1 lbs.
3
800 SPM
LED on front
CHECK PRICE
The 10 Best Jigsaws:
1.

Bosch JS470E Jigsaw – Best Overall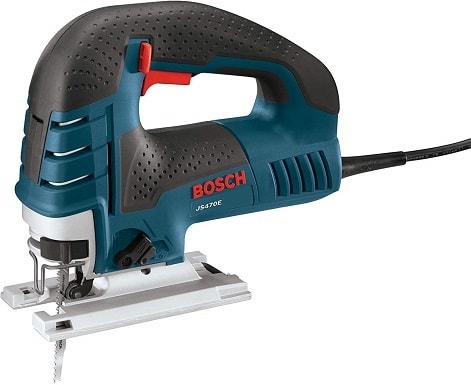 It may not be surprising that the Bosch JS470E comes in as the best overall jigsaw of this year. When it comes to being smooth and accurate, there is no question that this saw leads the way. In addition to the high performance of the Bosch jigsaw, it also has some fantastic features that woodworkers from novice to professional will notice and appreciate.
One of our favorite things about this powerful saw is the tool-less blade change system. You will not need to get your hands anywhere near the blade, and you don't even need to take out your toolbox to complete a blade ejection. This is a great feature, especially when the blade of the saw is still hot.
There are four orbital action tool settings that you can use on this jigsaw. The settings allow you to find a spot that works for both the speed and precision you need, depending on the material you are working with.
The Bosch is one of the more accurate jigsaws that you will find. The Bosch JS470E is a 7-amp variable speed unit capable of cutting through wood, steel, and a variety of other materials. The Bosch jigsaw will work on wood almost six inches thick and a little less than ½ inch for steel.
All in all, we think that this is the best jigsaw of this year.
Pros
Very stable machine
Extreme accuracy
Great power
Four orbital settings
Bevel capabilities
Tool-less blade release
Cons
Some "professionals" suggest this model is not for professionals
More expensive than other models
Can't lock the trigger at very slow speeds
---
2.

BLACK+DECKER BDEJS600C Jigsaw – Best Value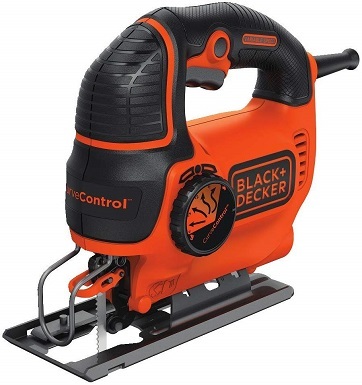 With some fantastic features and a price that's hard to beat, the BLACK+DECKER Smart Select Jigsaw is easily the best jigsaw for the money. Generally, when you look at a value-priced jigsaw, you will have to give up quite a few features. That's not the case here.
The 5-amp motor isn't the best in class, but the Smart Select allows you to adjust the orbit to one of four settings It's powerful enough to cut through a variety of materials at 3,000 strokes per minute (SPM) with a ¾-inch stroke length. You can set this unit to make a 45-degree bevel cut.
The Smart Select jigsaw comes equipped with a dust blower and a keyless blade clamp for a tool-free blade change. The trigger is variable speed, but there is no speed dial or ability to lock the speed. Also, this jigsaw shouldn't be used with U-shank blades. The blade-lock mechanism can't hold U-shank blades for any length of time. It still held T-shank blades fine, so just be aware.
It's a very manageable saw with a weight of only 4.6 pounds. Even though it's light, the vibration wasn't excessive since the handle seemed to dampen it during operation. Finally, it comes equipped with a two-year warranty. It will not be as smooth or as powerful as the number one choice, but it's still a great option.
Pros
Curve control technology
Tool-free blade change
Can make a 45-degree bevel cut
Dust blower
Cheap
Cons
No speed dial to lock variable trigger
Won't hold U-shank blades
---
3.

DEWALT DCS331B Jigsaw – Best Cordless
For all of your cordless fans out there, hopefully, we didn't keep you waiting too long. The third choice on our list is the DeWalt DCS331B Jigsaw, which is the best cordless jigsaw of this year. DeWalt knows what they are doing when it comes to cordless tools; this jigsaw is no exception.
The DS331B comes with four-position orbital action and no annoying cord to block your work. Cordless jigsaws make the task at hand much more accessible, but they generally lack some power. Capable of 3,000 SPM, the cordless DeWalt offers as much blade speed and cutting power as the corded version. In fact, there was really one complaint we had about this unit.
Most jigsaw are equipped with a blower fan. As you cut and the sawdust piles up, the blower will push the dust away from your line of sight. Although the Dewalt comes with this blower functionality, it is not sufficient. The line gets continually covered and it can be difficult to see, especially on longer cuts where plenty of dust will pile up. While the DeWalt does have a blower, it's completely ineffective. This makes it difficult to see your line to make straight cuts. However, we still think that this is one of the best cordless jigsaws on the market.
Pros
Cordless
Clean, smooth cuts
Three-year warranty
3,000 SPM
Cons
Very heavy with battery
Battery and charger are an extra expense
Blower is ineffective
---
4.

Makita JV0600K Jigsaw
Continuing Makita's tradition of high-quality tools, the Makita JV0600K Jigsaw is a 6.5-amp saw with three orbital settings. You can use the Makita in a variety of materials, and it has excellent power and control. Capable of producing 3,100 SPM at a stroke length of ¾-inch. Although it's very powerful, it's surprisingly low in vibration thanks to the internal counterbalance system.
Just like many of the other jigsaws we have reviewed, the Makita comes with a tool-less blade release. One of our favorite features on this saw is a dust port for an attachable vacuum. This takes the blower idea to a new height when you can vacuum along as you go. The dust management system on the Makita is superior to some of the other models out there.
The Makita does have speed settings, but unfortunately, you have to pick the speed that you want and stick with it. The speed is not controlled by the trigger and instead by the setting. Depending on the type of work you are doing, this may not cause an issue, but for those that like to control speed with their finger, this is not the jigsaw for you.
The Makita Jigsaw comes at a fair price, somewhere in between a premium and a value-priced model, but it recommends using Makita replacement blades. The Makita blades are of excellent quality, but they are higher priced than other options on the market. If you know that you will go through many jigsaw blades in a year, you may want to consider a different option.
Pros
Powerful 6.5-amp motor
3,100 SPM
Low vibration for smooth operation
Through-body dust port with vacuum attachment
Cons
No variable trigger
Only one-year warranty
Can only use Makita type-B blades
---
5.

Festool 561608 Jigsaw – Premium Choice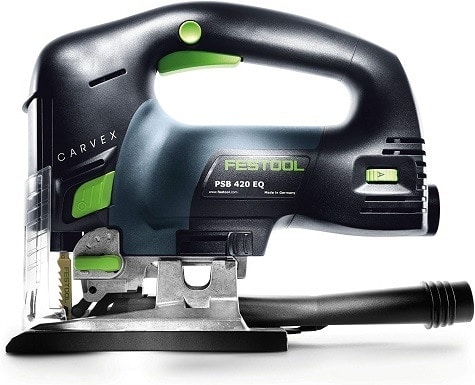 When we say that this is our premium choice, we are not kidding. This Festool 561608 Jigsaw is almost three times the price as some of our other choices. Festool makes very high-quality tools used by professionals daily. These tools are designed to make the professional's job easier and more complete.
The Festool Jigsaw has a variable speed blade with extremely fast 3,800 SPM. Our number one choice, the Bosch, came with a base plate that can be changed out when working on a smooth surface that you don't want to damage. The Festool comes with several base plates.
This is the first jigsaw that we have reviewed that has the LED feature. With an LED light installed at the blade, the Festool gives users some fantastic visibility. As we mentioned, Festool makes products with the professional in mind; this is a very lightweight but sturdy unit for the worker that will have this in their hands the better part of the day.
The main problem we had with the Festool was that it is overpriced. As great as this tool is, it is still hard to justify the difference in pricing. In professional applications, the jigsaw does tend to wear and break over time. For the high starting price, it is hard to justify unless this thing was going to last a lifetime.
Pros
Weighs only 1 lb.
3,800 SPM
LED on front
Cons
Overpriced
Base doesn't tilt properly or stay stable
Very uncomfortable handle
Jumpy operation due to light weight
---
6.

PORTER-CABLE PCE345 Jigsaw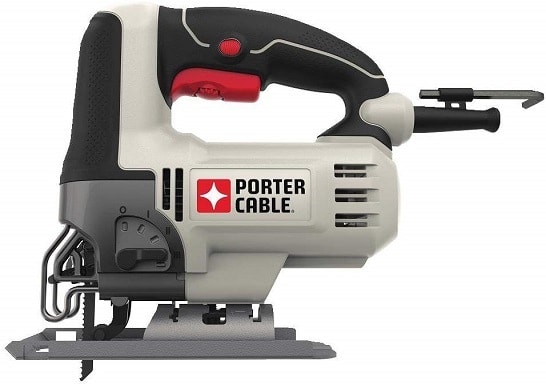 At six pounds, this Porter-Cable jigsaw is pretty stout. At six amps, it's also powerful. With a stroke length of 13/16" and a max speed of 3,200 SPM, this is one of the faster saws available. It has variable speed that's controlled by a dial built into the trigger. The trigger itself is not variable. The three-year warranty is great considering the affordable price this saw is available at. Unfortunately, it's got some drawbacks that should be mentioned.
The most prominent issue was that the blade was not square. This made it difficult to get a completely straight cut. Aside from this, it cut very smoothly, and the cut was clean, but it just didn't want to stay straight. The other glaring weakness is the lack of a dust port. It felt like this saw was just blowing the sawdust right into our faces, which of course, makes it quite difficult to see what you're cutting.
Pros
Very fast at 3,200 SPM
Strong 6-amp motor
Three-year warranty
Affordable price
Cons
No dust port, blew dust into our faces
Blade wasn't square
Trigger isn't variable
Heavy
---
7.

SKIL 4495-02 Jigsaw
Another powerful saw with a 6-amp motor, the SKIL 4495-02 has the built-in laser guide that helps you to get the accuracy you need. It also has the four-position orbital option like most of the saws we have reviewed. This is a variable speed saw, so you can change the speed with the trigger, as opposed to just setting it and having it remain at that speed. Skilled jigsaw users like having the ability to change the speed with the trigger.
Although this saw has a ton of great features, it is on the lower end as far as pricing is concerned. You may be thinking, isn't this a positive? It can be. The problem with some of the lower-priced saws is that they tend to jump around. This saw is not the smoothest option out there.
While this saw does operate very well and it's covered by a one-year warranty, the 4495-02 is not quite up to par with some of the higher choices on this list.
Pros
Strong six amps
Pretty light at just five pounds
Affordably priced
Cons
Base tension knob gets loose
Blades tend to wobble
Jumps around a lot
Not as high quality as other options
Laser doesn't work very well
---
8.

TACKLIFE Advanced Jigsaw
The Tacklife Advanced is what we like to think of as a rough work saw. Tacklife doesn't advertise this, but in our experience, if you are doing high-end, intricate finish work, this jigsaw will not be your best option.
The Tacklife saw it has a ton of power at 6.7 amps, and it is quite heavy as well. The weight helps it have a pretty stable cut, but it will wear you down a bit if you are using this saw for long periods.
The LED light on the front helps to ensure visibility, even if you don't have the best lighting in your work environment. There's a variable speed option and six speeds to choose from. However, the trigger does not have a variable speed.
You can set the lock button on this model so that you don't need to keep your finger on the trigger the entire time you are cutting. We do like the case and the accessories that come with the Tacklife set. It even comes with your first six blades.
The real downside of this saw is that it's not designed for finish work. The baseplate is rough, heavy, and it jumps around too much for the precision some woodworkers will need. If you need a saw to conveniently cut through some thinner wood with mostly straight or angled cuts, the Tacklife jigsaw will do the trick.
Pros
Affordable
Powerful at 6.7 amps
LED light
Dust port with vacuum connect
Cons
Rough base plate
Trigger is not variable
Heavy
Not very smooth cutting
---
9.

BLACK+DECKER JS670V Jigsaws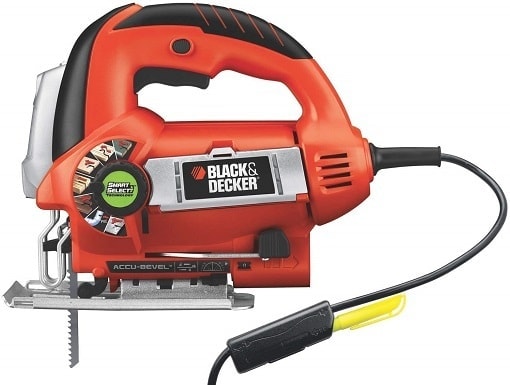 Coming in towards the bottom of our list is the BLACK+DECKER JS670V Jigsaw. This is a lightweight and low-priced model that is quite easy to use. It is definitely one of the lightest ones available at a measly 3.75 pounds. Unfortunately, this did result in a somewhat jumpy operation that wasn't as steady as other models higher on this list. The 3,000 SPM produced by the 6-amp motor is on par with competitors.
The trigger is variable speed, allowing you to get more precise with your cuts. For the low price, the two-year warranty ensures that this saw will see you through many projects. The notable feature on this saw is the Smart Select feature which sets your optimal orbital pattern by selecting the material you're cutting with a knob. This is a bit of a downside for us, as we would rather have the ability to set this ourselves.
Although it's got some great characteristics, this saw also has its drawbacks such as the "linefinder." This strange little light only illuminates lines drawn by their special marker that's attached to the cord. Honestly, this felt like just another thing to lose, and more of an advertising gimmick than a useable feature. Also, the base loosened up several times during operation causing the bevel to change, so the cut was no longer properly aligned.
Pros
Very lightweight at only 3.75 pounds
Low price
Cons
Linefinder is a gimmick
Jumped around during cutting
Base comes loose
---
10.

Ridgid R8832B Jigsaw
Last on our list is another cordless model. As you may remember, the DeWalt is our favorite cordless model, but it's good for you to have something to compare it with. The Rigid R8832B Jigsaw has an 18V lithium-ion battery that is not sold with the saw. Since you will have to purchase the battery separately, this makes the Rigid one of the more expensive options on the list.
One positive that we have to give Rigid is that this tool comes with a lifetime service agreement. If you should run into any issues that are related to the manufacturing process of this saw, you should get some help from Rigid.
The other negative, in addition to the price, is the dust blower feature. While the dust blower is intended to blow dust away from the cut line, it seems to blow it all over the place. Sometimes, it even blows it back at the user. We honestly think if this unit had no dust blower, it might be better than the dust blower it has.
Cons
Dust blower is ineffective
No warranty unless purchased from Home Depot
Expensive
Must buy battery separate, an additional expense
---
Buyer's Guide: How to Choose the Best Jigsaw
Now that you have a hand-picked list of the 10 best jigsaws to choose from, how will you know which one is for you? Much of this decision will depend on your budget, your woodworking skills, and the task at hand. When it comes to comparing the actual jigsaw tools, we will give you a few things to have in mind prior to making your final choice.
Power
Most of the corded jigsaws that we reviewed were between 5–7 amps of power. Although this may not seem like a large difference, it really can be. The seven-amp jigsaws tend to be a bit more expensive, but they are also more stable when cutting through difficult or thick material.
If you decide that you want a cordless jigsaw, the power will be rated in volts as opposed to amps. Cordless jigsaws are known for being a bit less powerful and sometimes have trouble with variable speeds. The Dewalt model that we recommend does just fine and handles itself like a corded jigsaw.
Weight
If you are a weekend warrior that needs a jigsaw now and then for a project, the weight is not going to matter. The more often you will use the jigsaw, the more the weight matters. Weight is a two-fold thing. At times, a heavier saw is going to jump around a lot less and give you some extra stability. The flip side to this is that the heavy saw will leave you fatigued should you be working with it too long.
One tip of advice to consider is that cordless jigsaws often seem to be quite lightweight, until you add the battery. The battery will usually add several pounds to the total weight of the saw, so do not let that catch you off guard.
Variable Speed
Variable speed is a great feature to have in the jigsaw. Sometimes, speed is controlled by the unit itself, and other times it is controlled by the user. If you want the ability to change the speed of your jigsaw with the trigger, then make sure the trigger speed is variable. Some jigsaws have speed settings that are not controlled by your finger. The variable speed trigger is a matter of preference. Some experienced woodworkers feel as though they need to be able to control the tool in their hands to keep a consistent cut going. Just remember when you are purchasing that not all variable speed is created equal, check to see what the trigger features are.
Blade Release
Most jigsaws offer a tool-less blade release. This helps to protect your hands from the blade and the heat after cutting. Some blade releases are straightforward to use and will drop the blade out with a quick push of a button. Others can be a little sticky and will still cause you to have to grab the blade and wiggle it out. On the cheaper jigsaw models, sometimes you will see the blade loosen or release when you are in the middle of cutting. This is an absolute problem, but it does happen. The Bosch JS470E has the best jigsaw blade release we have seen on the market.
Orbital vs. Reciprocating
The jigsaws that we reviewed are all orbital saws with several orbital settings. It is important to understand the difference between orbital and reciprocating at least. Orbital saws are used for more intricate cuts, especially cuts that turn and twist. A reciprocating saw cuts in a push-pull, straight back and straight forward motion. Reciprocating saws are great for demolition or cutting of pipes but don't work as well for a woodworking type project.
Dust Blower
The dust blower is designed to keep your line clean and visibility high. Some dust blowers work better than others. The Makita jigsaw has a vacuum attachment that will take the dust off your work surface and leave it in the vacuum as opposed to just blowing it around your shop. Sometimes, the blower on the jigsaw is not quite strong enough, and it just ends up blowing the dust directly into your line. The higher power units usually have better success with the dust blowers than other smaller, less powerful models.
Laser Guide
A few of the jigsaw in our review had an LED or laser light in that will help you stay on your line. This is a nice feature, especially if your work area is not very bright. Some of these LED lights work better than others, and if the dust blower is not properly clearing the line, it won't matter how bright the setup is.
Conclusion
With all of this information on jigsaws, you are probably more than ready to get this saw in your hand and start cutting. If you want a reliable model with all the features, you will ever need to go for the Bosch JS470E. This model is priced a bit higher than some on our list, but the quality of the cut, the amount of power, the orbital, and tilt features truly set it apart. If it turns out woodworking is your new favorite hobby, this jigsaw will still last you a long time.
If, however, you just need something that is a lower-priced model that just gets the job done, you can't go wrong with the BLACK+DECKER Smart Select 5.0 amp saw. This model is priced better than most on the market, and it does a great job when all things are considered.
We truly hope that you find the best jigsaw for your needs! Good luck!