10 Best Small Pressure Washers (Lightweight & Portable) – Reviews & Top Picks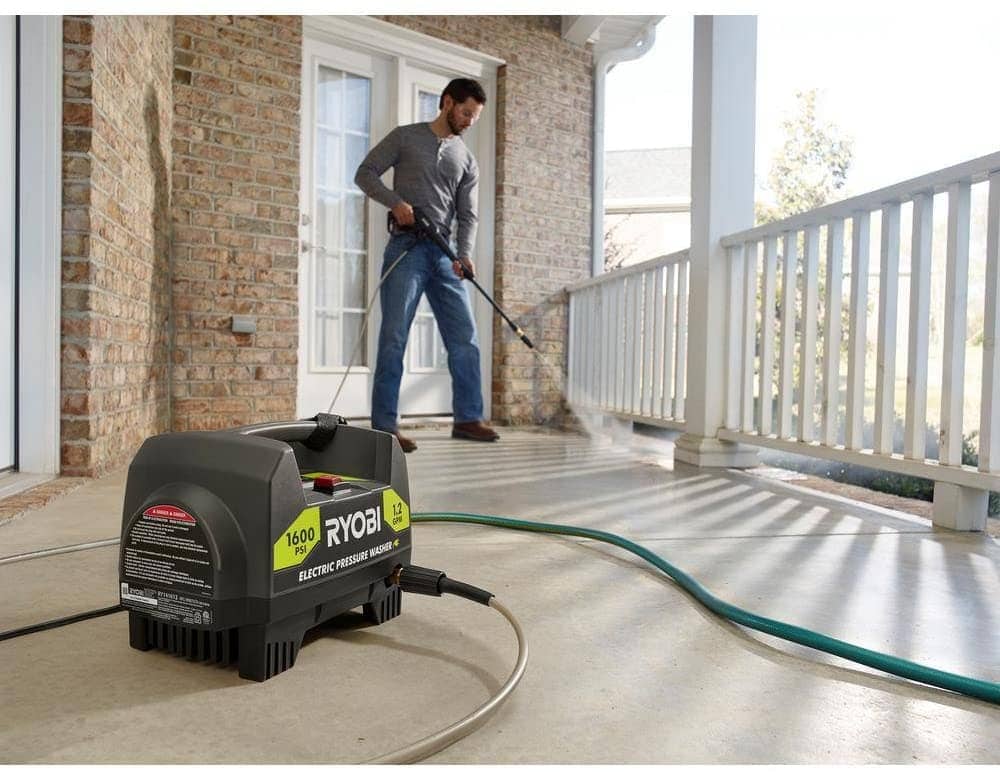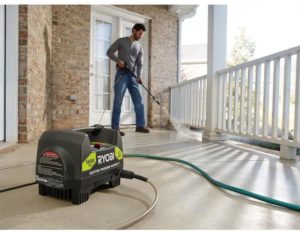 Pressure washers serve a multitude of purposes. They can be used around the home to clean the patio, give the exterior walls a bit of a spruce up, and can clean outdoor furniture and other items. They can be used, carefully, to clean the car and to wash a dirty RV.
While it is possible to use a standard garden hose, these can usually only deliver water at a paltry 40 PSI, to match the water pressure of your home plumbing. Motorized pressure washers, which may be electric or gas-powered, can achieve much higher pressures, with some models reaching as high as 3,000 PSI. As well as coming in a range of pressure power and both gas and electric-powered, you will also need to consider factors like water consumption rate, the type of pump it uses, and the water source. And then there's the consideration of noise levels and the portability of the device.
Below, we have listed ten of the best small pressure washers and included reviews of each. These are powerful enough for use at home, but can be taken RVing or carried to your workplace. They can even go in the trunk and are portable enough to take to family and friends' houses when they inevitably ask to use your new pressure washer.

A Quick Comparison of Our Favorites in 2023
Rating
Image
Product
Details

Best Overall

Sun Joe SPX3000 High-Pressure Washer

Electric power washer
Cheap
76 GPM Consumption
CHECK PRICE

Best Value

YARD FORCE YF1600A1 Electric Pressure Washer

Electric power washer
Really cheap
1600 PSI
CHECK PRICE

Premium Choice

Karcher K5 Electric Power Pressure Washer

25ft hose
Hose storage wheel
Two wands
CHECK PRICE

Greenworks GPW1501 Pressure Washer

Lightweight
Can be used vertically or horizontally
Cheap
CHECK PRICE

Karcher K1700 Electric Power Pressure Washer

Mobile
Good wheels
1
700 PSI
CHECK PRICE
The 10 Best Small Pressure Washers
1.

Sun Joe SPX3000 High-Pressure Washer – Best Overall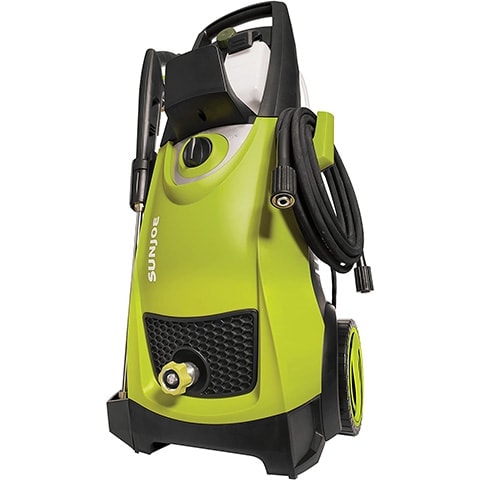 The Sun Joe SPX3000 High-Pressure Washer is cheaper than a lot of other models, has comparable power, and performs excellent washing. It does lack several of the features that some of the more expensive models offer, and this can make the cleaning process more difficult and less effective. It is better than most budget models, however.
The Sun Joe SPX3000 is an electric pressure washer. There's no need for oil changes, you don't need to buy and fill up with gas, and they are generally easier to start. However, you can only use the washer when you're close enough to an electrical outlet. The SPX3000 delivers just over 2,000 PSI with 1.76 GPM consumption. The typical working pressure is actually only 1,450 PSI. That's still a decent rate for most home jobs, but the boosted PSI figure is annoying when you're looking to compare models.
It has dual detergent tanks and five spray tips that can tackle a range of cleaning tasks. It is powerful enough for most home tasks, has decent attachments, and is cheap. However, the Sun Joe SPX 3000 rarely achieves the 2,000 PSI max pressure and you can only use it when near an electrical outlet. All in all, this is the best small power washer available this year.
Pros
Electric power washer
Cheap
76 GPM Consumption
Dual detergent tanks
Cons
Actual PSI is 1,450
Need to be close to an electrical outlet
---
2.

YARD FORCE YF1600A1 Electric Pressure Washer – Best Value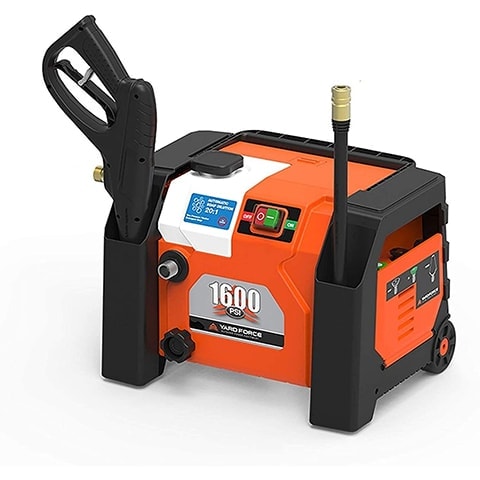 The Yard Force YF1600A1 Electric Pressure Washer is another that requires close proximity to an electrical outlet, but that does negate the need for oil changes and refilling the gas tank.
The 13 Amp electric motor delivers water with a pressure of 1600 PSI and it has a flow rate of 1.2 GPM. Flow rate matters because it is essentially a measure of how much water hits a surface at once. More water means that the pressure washer will clean that surface quicker. A lower GPM figure means that you will be stood around longer, waiting for the job to get done. 1.2 GPM is quite low compared to the competition, but that's hardly surprising considering this is half the price of other budget models, even.
The Yard Force YF1600A1 has a 20ft hose, and its low price and decent pressure mean that it is one of the best small pressure washers for the money. It does compromise in a few areas to keep costs down. It only has two pressure washer nozzles, for instance. It is also a little heavier than most and its wheels are smaller, which means that it isn't the most portable of units, especially considering it has to be plugged in to use the electric motor.
Pros
Electric power washer
Really cheap
1600 PSI
Cons
Only two nozzles
2 GPM
Heavy and somewhat immobile
---
3.

Karcher K5 Electric Power Pressure Washer – Premium Choice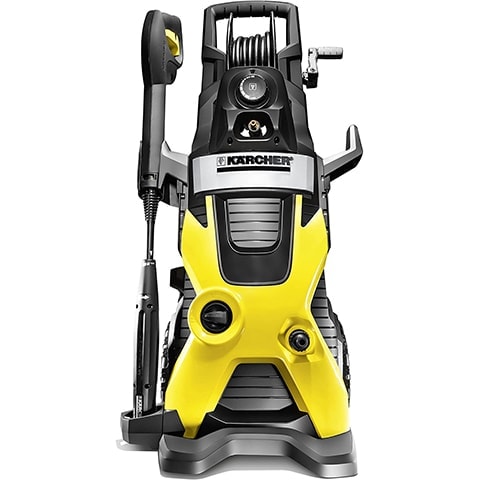 The Karcher K5 Electric Power Pressure Washer is quite an expensive model, but this device, from the world's largest manufacturer of pressure washer devices, is powerful, offering up to 2,000 PSI at a flow rate of 1.4GPM. It has a 25-foot high-pressure hose compared to the 20-foot hoses of most other models and there is a hose reel. The reel allows you to stow the hose away when not in use, making it more convenient. It even has a water-cooled motor, which means that it will last longer and is less likely to suffer failure or power loss.
However, all of these accessories do come at a price, and this is one of the most expensive pressure washers designed for home use. It is a heavy model, weighing more than twice as much as some designs. It is also expensive to replace parts and the K5's design is top-heavy, which means that it is easy to pull it over when in use.
Pros
25ft hose
Hose storage wheel
Two wands
Quiet compared to others
Cons
Expensive
Top-heavy design
Heavy model
---
4.

Greenworks GPW1501 Pressure Washer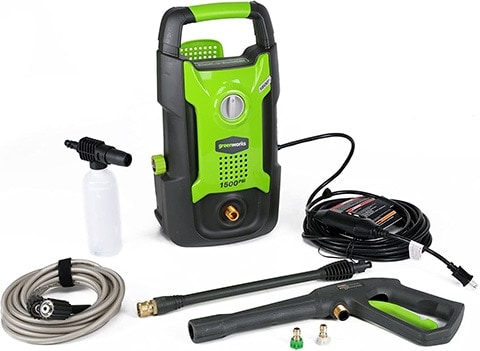 The Greenworks GPW1501 Pressure Washer is a low-priced model. It is a relatively low-powered 1,500 PSI unit, but this should still be enough for most home uses. It also has quite a lowly 1.2 GPM. The low pressure combined with a low GPM means that it can take some time to clean stubborn stains and difficult surfaces. However, if you're looking for something that will clean patio furniture and lightly used patios, then it will tackle these jobs and doesn't require that you pay a fortune for the privilege.
The lack of power has not only allowed Greenworks to keep the cost down, but it means that this is a light unit weighing 17 pounds but it does lack wheels so you will have to carry it from location to location.
To overcome the top-heavy design issues that some models, like the Karcher above, suffer, the Greenworks can be used vertically or horizontally, which is a useful touch. This model does not have a built-in detergent tank, but it does have a soap applicator that sits on the end of the wand and adds soap to the water as you fire it.
Pros
Lightweight
Can be used vertically or horizontally
Cheap
Cons
1,500 PSI
2 GPM
No wheels
---
5.

Karcher K1700 Electric Power Pressure Washer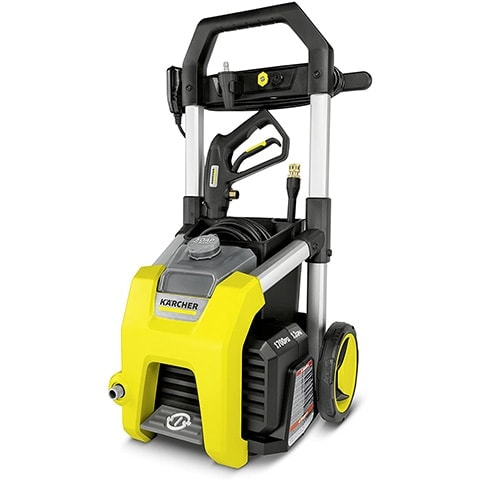 The Karcher K1700 Electric Power Pressure Washer is comparable to the K5 above, except that it is actually a little cheaper. However, it has a shorter hose, 20 feet instead of the K5's 25 feet. It doesn't have a built-in hose reel, either, which makes it less convenient and less tidy to store out of the way. It's less powerful, at 1,700 PSI and 1.2 GPM, which is reasonable but won't blow everything away.
Despite its shortfalls, the K1700 does offer a few benefits over the K5. For a start off, it is lighter and easier to move around. It also has wheels which further facilitates simple and unrestricted movement, while the design means that there is a lower center of gravity and the device is less likely to topple over during use.
It isn't as powerful as the K5 from Karcher, but is very reasonably priced, has decent power, and it is more maneuverable than its larger and heavier counterpart so it really comes down to a question of whether you desire more mobility or greater power.
Pros
Decent price
Mobile
Good wheels
1,700 PSI
Cons
2 GPM could be better
No hose storage
---
6.

Briggs & Stratton S1800 Electric Pressure Washer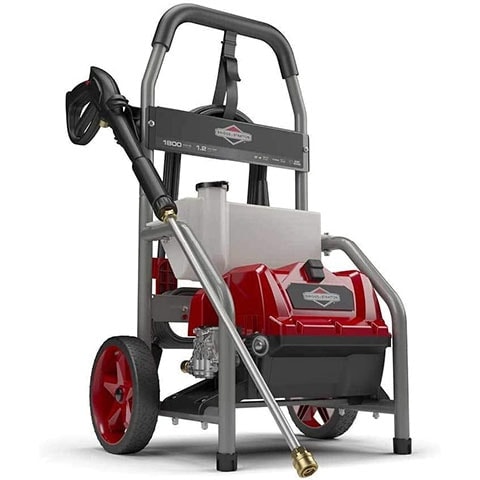 The Briggs & Stratton S1800 Electric Pressure Washer has a decent pressure rating of 1,800 PSI but a low 1.1 GPM, which means that although water will be delivered powerfully, only a relatively small amount of liquid will be hitting the surface at a time.
It will do a decent job of shifting stubborn and ground-in dirt, but it will only be able to move a small amount at a time. The washer is modestly priced, around halfway on our list, and its walker frame design means that it is relatively easy to move about, although it is heavier than most other models on the list. It has a 20-foot hose, which is about the standard length.
It comes with three quick-connect tips that expand its usefulness and enable it to be used for a greater range of jobs and cleaning surfaces. It does have a foldaway design so that it will take up less space when being stored.
Pros
1,800 PSI
Good wheels
Foldaway model
Reputable brand
---
7.

Stanley SHP1600 Electric Power Washer
Stanley SHP1600 Electric Power Washer is another Stanley device that looks to have been made by AR Blue Clean but has yellow instead of blue paint.
In this case, the Stanley SHP1600 is a cheap model that has 1,600 PSI maximum and 1,350 PSI working pressure and delivers water at a rate of 1.3 GPM, so while the flow rate is respectable compared to similarly priced devices, the operating pressure is low and is only suitable for very light jobs like cleaning outdoor furniture. It is also a relatively light device, at 15 pounds, and it has a built-in detergent tank.
It is fortunate that it is quite light, because the Stanley does not have wheels, so despite being one of the lightest models it is still inconvenient to move about. It does come with an adjustable nozzle, but it isn't the best and the fitting is proprietary, which means that you cannot use nozzles from other devices or manufacturers.
Pros
Lightweight
Cheap
Detergent tank
Cons
No wheels
1,350 operating pressure
The nozzle isn't great
---
8.

Sun Joe SPX3200 Electric Pressure Washer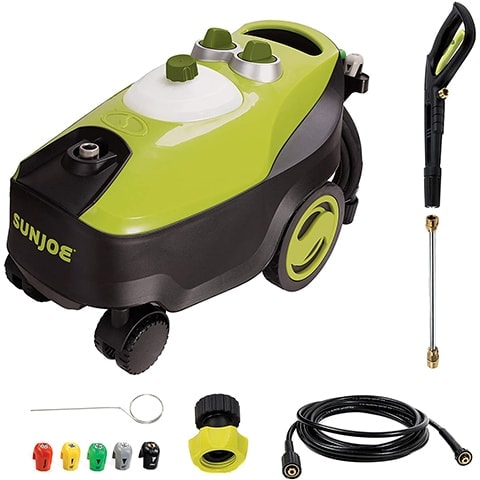 The Sun Joe SPX3200 Electric Pressure Washer is a little different from a lot of pressure washer models. It is moderately priced and, while it has a maximum pressure of over 2,000 PSI, its operating pressure is only 1,450 PSI which is much less powerful. What's more, this is the pressure at the unit, and you will only get around half this pressure at the wand.
It has a maximum flow rate of 1.76 GPM, which is a decent rate if you can achieve and maintain this level. Where the SPX3200 is different is in its horizontal design. The unit is heavier than a lot of others, but rather than standing upright during use, it lays on its back and has four wheels. This is useful because it allows for easy movement, but having four wheels means that you may have to lodge it in position when using it. The Sun Joe model comes with 6 quick-connect tips and it includes a detergent tank that makes cleaning and clearing surfaces even easier.
Unfortunately, there are some design problems. The detergent tank is too small even for jobs like cleaning the car, while the operating pressure of the model renders it almost useless for medium-duty tasks.
Pros
Horizontal design
Integrated detergent tank
Cons
Misleading PSI claims
Lacking in power
Wheeled design is difficult to pull and doesn't maintain position
The detergent tank is too small to be useful
---
9.

AR Blue Clean AR2N1 Electric Pressure Washer
The AR Blue Clean ARN21 Electric Pressure Washer is an expensive model but it does include a mobile cart that makes it easier to move. Without it, this 30-pound unit is heavy and immobile.
It has a maximum PSI of 2,050 and a maximum GPM of 1.4, which are decent figures compared to models of a similar price, but, as always, you should be prepared to experience much lower figures than this during actual use. When you buy the AR Blue Clean, you also receive four quick-change nozzles, which enable you to use the device for a wide variety of different jobs.
It includes an onboard detergent tank, and the motor shuts off when the trigger is not being pulled, which saves electricity and also reduces the load on the motor, therefore increasing its lifespan.
Pros
Includes mobile cart
4 quick-change nozzles
Cons
Expensive
Heavy
Missing parts reported by a lot of buyers
---
10.

Ryobi RY141612 Electric Pressure Washer
The Ryobi RY141612 Electric Pressure Washer is a small and lightweight pressure washer model. It is inexpensive and offers a maximum pressure of 1,600 PSI with a 1.2 GPM maximum water flow rate.
This combination of modest pressure and low flow rate means that it will take longer to complete jobs with this model than with others, and by the time the water reaches the wand, the pressure is much lower than the maximum 1,600 PSI so it will struggle with all but the lightest of duties and simplest of cleaning tasks.
The trigger is somewhat uncomfortable, too, and unless you're just looking for a quick car washer, there are better quality devices on our list.
Cons
Weak
Uncomfortable
Poor quality
---
Buyer's Guide – Choosing the Best Small Pressure Washer
Gas vs Electric Pressure Washers
Our list of the best small pressure washers concentrates on electric pressure washers. This is because electric models are smaller than their gas counterparts. They are also more convenient because they do not need oil changes and you don't need to fill the tank with gas. While they do require that you operate the washer near an electrical outlet, they offer more than enough power to be able to efficiently and effectively wash the car, keep the patio and decking clean, and perform a host of other cleaning tasks at home. Gas-powered models enable you to work anywhere, regardless of electrical accessibility, and they are suited to heavy-duty tasks but they are expensive and can be difficult to lug around.
PSI & GPM
Two of the most common features to look at when buying a small pressure washer are the PSI and the GPM ratings:
PSI – This is the headline figure. It is the pressure of the pressure washer. Most small, electric models, have a PSI rating between 1,000 and 2,000 PSI, and the higher the figure, the better equipped the washer is to deal with stubborn dirt. It essentially means that as that the water is fired out of the pressure washer hose at greater speed. Although you don't need excessively high PSI for general and light-duty tasks, you will need a higher rating for things like cleaning concrete surfaces. You should be aware that manufacturers tend to advertise the maximum PSI rating of a device. This is rarely achieved, and it the rate at which the water leaves the base. By the time the water reaches the end of the 20ft hose, it has a much lower PSI, while most washers deliver at a lower rate than the maximum during typical use. A device with an advertised maximum PSI of 2,050 may have an operational or typical PSI of 1,500, which are very different figures. Cleaning a car is best done with a lower PSI of less than 500 because this will clean dirt and debris from the surface without causing damage to the paintwork and bodywork. Cleaning pavements and concrete surfaces requires a pressure of 1,200 PSI or more, while decking takes 1,200 to 1,500 PSI.
GPM – Although the PSI may be the headline figure, GPM is arguably the more important number. It represents Gallons Per Minute and is the flow of water that the pressure washer ejects. The higher the number, the more water that hits the surface that you are cleaning, which means that cleaning jobs will be completed more quickly. Again, a lot of manufacturers advertise their maximum GPM, and you may have to check in the fine print to find the operational or typical GPM.
Noise
One of the reasons that home users choose an electric model over a gas one is because a gas motor makes considerably more noise than an electric one. If you're thinking of cleaning the patio on a Sunday morning, your neighbors won't appreciate you ripping a gas engine so that you can get rid of the moss buildup.
Manufacturers rarely advertise the noise level of mini pressure washers, so you may have to check reviews and buyer experiences to find any that are listed as being overtly noisy or especially quiet.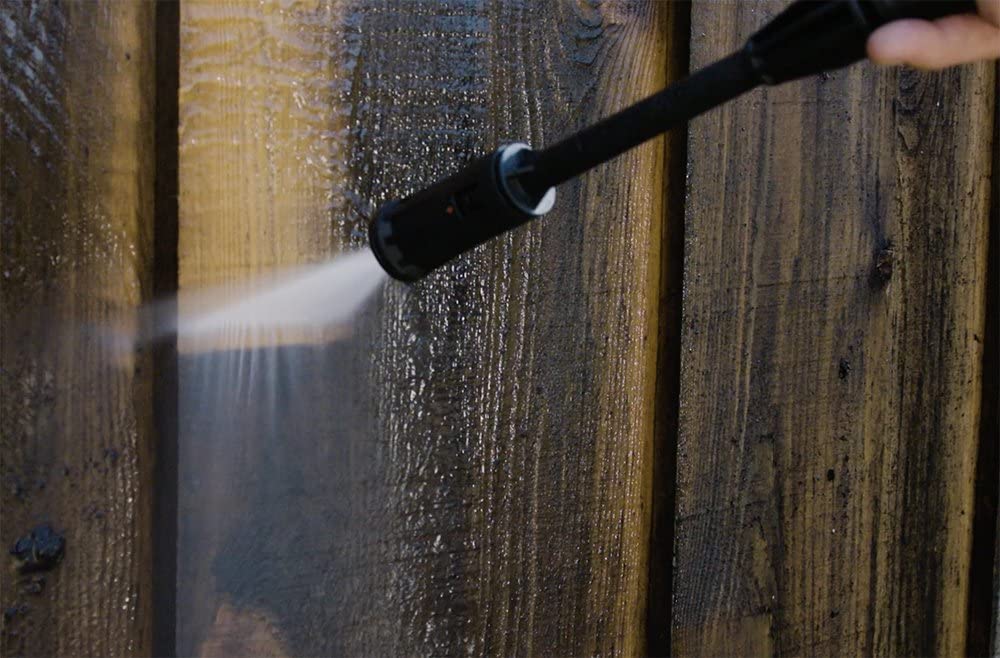 Portability
Even with the 20-foot hose length that most models have, it is unlikely that you will be able to complete cleaning jobs without moving from one spot to another. This will necessitate moving the power washer with you, and this makes portability an important factor when choosing a model of washer. Portability is primarily governed by the weight of a device, which can range from lightweight 15-pound models to hefty 30-pound devices.
While weight is an important factor in determining mobility, so too is the inclusion and quality of wheels. Wheels make it easier to move a power washer, and they can make the heaviest devices feel like the lightest.
Cord Length
The cord length is the length of the electrical cord. The longer the cord, the further you can move away from an electrical outlet, and unless you have an outdoor generator, you are going to need a decent cord length to ensure that you can move around. A short cord completely negates the weight and portability of some of the more mobile devices.
Most models have a 20-foot cord length and you will find that most of them will lose power and efficiency if you use too long an extension cord.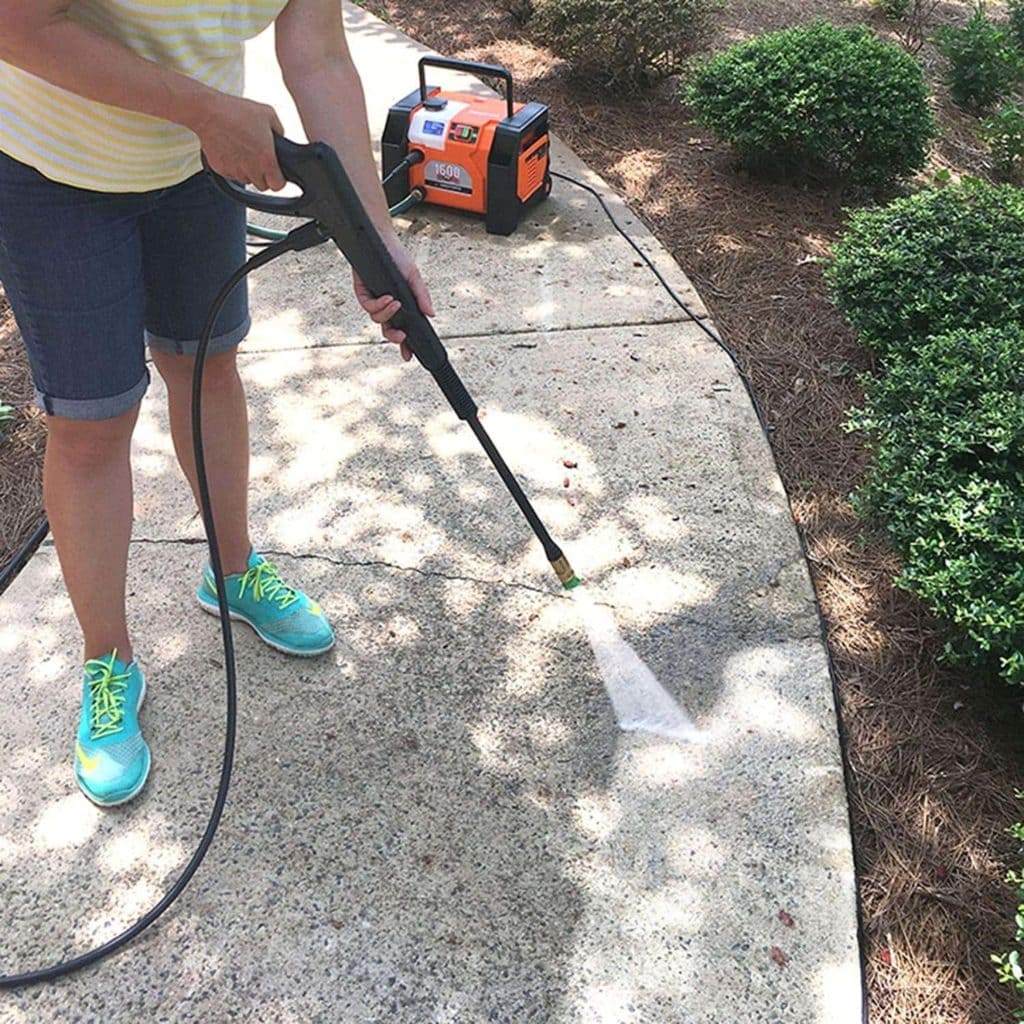 Detergent Tank
Detergent, or soap, helps clean away mud, dirt, and debris. It is especially effective in the fight against moss and mildew build-up, but you will want to use detergent when cleaning cars and other vehicles, as well as when you are taking on the cleaning of the exterior of your house. Some power washers have an onboard detergent tank, which prevents you from having to apply the detergent separately. Others have a tank that attaches to the end of the wand.
These do work well, and they will mix the water and soap before it hits the surface, but they can also be unwieldy and difficult to hold and use. Some models even have dual detergent tanks, which can allow you to clean multiple surfaces using different soaps, or simply allows you to hold and use twice as much soap.
Nozzles & Accessories
When buying a power washer, look for the one that has the right kind and style of nozzle. A good quality nozzle can enhance the power of the water that you use. It can provide a direct jet of water or create more of a spray effect to cover a wider area. There are even some nozzles that are used to clean and wash floors and other surfaces.
If you intend to use your power washer for a multitude of different tasks, look for one with multiple different nozzles that are included as part of the set.

Conclusion
A small pressure washer is a convenient, portable tool that can make light work of simple tasks like cleaning the patio furniture or even the patio itself. They are useful for cleaning the car, sprucing up the brickwork outside your house, and cleaning decking to get rid of moss and dirt, and debris.
Electric power washers are less powerful, but quieter and more convenient than gas models. They do require access to an electrical outlet, but most models include a 20-foot to 30-foot wire that should provide enough length to run the wire into the house.
Other factors to consider, when buying a small power washer, is its level of portability and mobility. Having wheels makes it easier to move these devices but only when the wheels are of good quality and if the device itself is still light enough to be shifted around.
With so much choice available, we hope that our reviews of the top ten small pressure washers have helped you find the model that is best for your requirements. The low cost and decent PSI of the Sun Joe SPX3000 High-Pressure Washer help it top our list, while the Yard Force YF1600A1 represents the best value for money being one of the cheapest on our list and being suitable for most home jobs.