10 Best Post Hole Diggers of 2023 – Top Picks & Reviews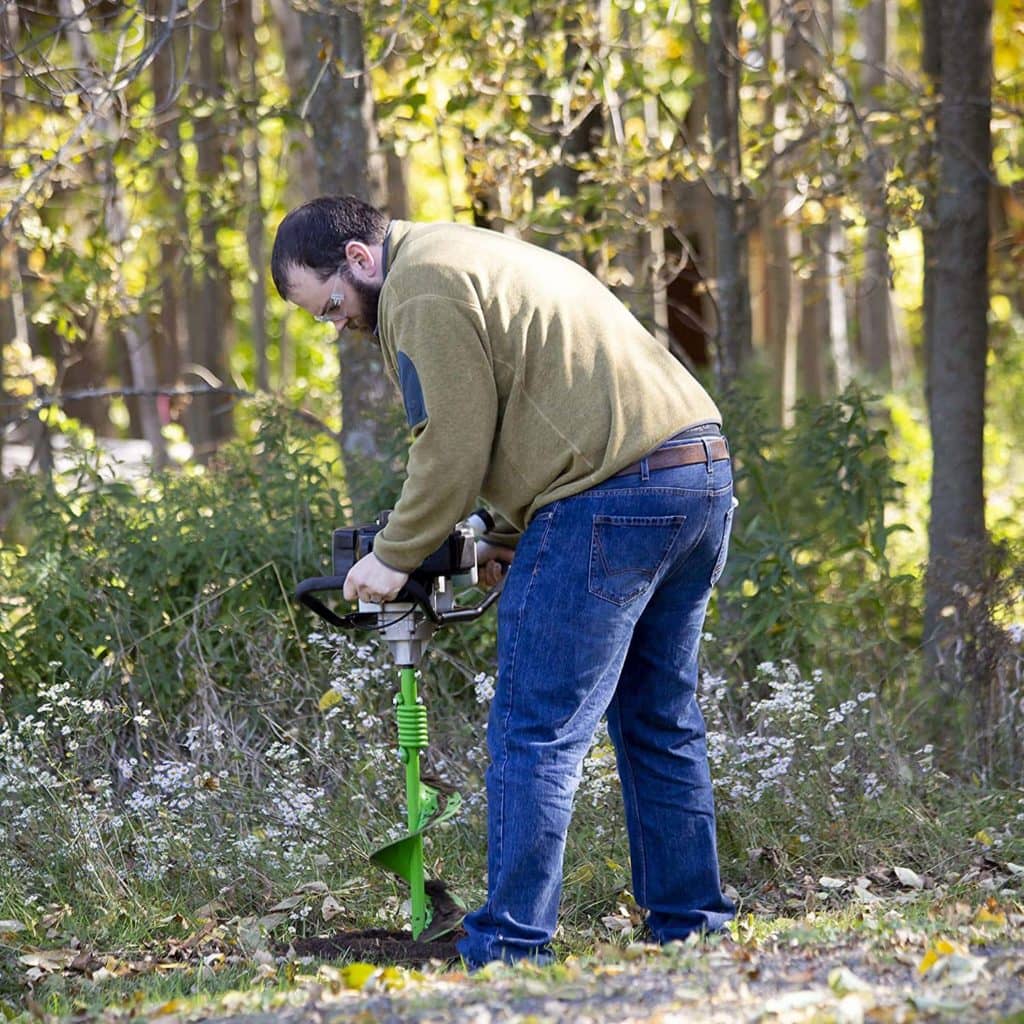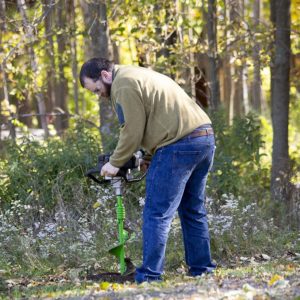 Loads of projects require you to dig holes. It's probably not your favorite pastime, but we've all heard that digging holes builds character. Of course, that's not why you're digging a hole, is it? More likely, you're digging a post hole to install a basketball hoop, supports for a deck, or maybe you're installing a fence.
Regardless of why you're digging a post hole, your needs are generally the same. You want to dig a clean hole to a particular depth that's wide enough for your post and possibly cement. Luckily, several tools exist to make this job much easier.
We've tested as many post hole diggers as we could find, from gas-powered augers to hand-powered diggers with lever-action handles. Along the way, many holes have been dug, and we've got a pretty good idea of what makes a good post hole digger. If you'd like to learn more, the following reviews will share everything we discovered during our testing.
A Quick Comparison of Our Favorites in 2023
Rating
Image
Product
Details

Best Overall

TAZZ 35365 Earth Auger/Post Hole Digger

Drills to 36"
3-year warranty
Welded steel handlebars
CHECK PRICE

Seymour PD48 Post Hole Digger

Fiberglass handles for improved durability
Very heavy-duty construction
25-inch digging width
CHECK PRICE

Premium Choice

Landworks Auger Post Hole Digger

Equipped with a brushless motor
Dig 30 holes on a single charge
Weighs just 22 pounds with battery and bit
CHECK PRICE

XtremepowerUS X1096 Post Hole Digger

3-HP 55cc motor
Weighs just 21 pounds without a bit
Includes an 8" auger bit
CHECK PRICE

Best Value

AMES 2701600 Post Hole Digger

Very cost-effective
Comfortable oversized cushion grip
Measuring stick on the handle
CHECK PRICE
The 10 Best Post Hole Diggers
1.

TAZZ 35365 Earth Auger/Post Hole Digger – Best Overall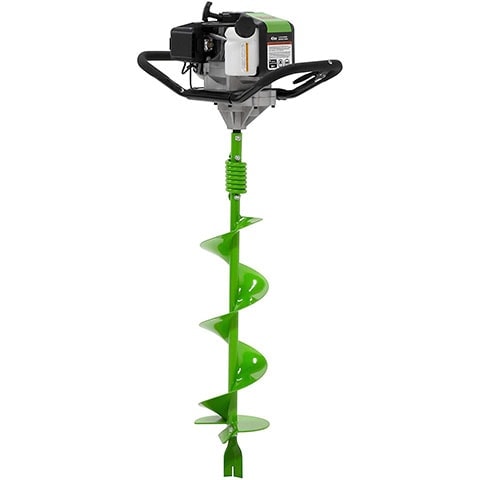 If you're looking for the fastest, most efficient way to dig a lot of post holes quickly, then we suggest taking a look at the TAZZ 35365 Earth Auger Post Hole Digger. With a powerful 43cc gas motor and included 8-inch wide auger blade, you'll be cutting through the ground at unprecedented speeds. Thankfully, the bit is a full 36 inches long, providing plenty of length for digging those deep holes.
When you hit a rock with most augers, it's a jarring experience, to say the least. But the TAZZ auger takes this into consideration, adding a shock-absorbing spring and a breakaway clutch that reduces the amount of torque transferred to you. This makes it far less likely to cause injury.
At just under 40 pounds, it's not a light machine, but it's also not unbearable. It is definitely heavy-duty though, with welded steel handlebars and a 3-year warranty that guarantees this tool will be around to help you dig many holes. Overall this is the best post hole digging tool on the market today.
Pros
Gets the job done fast with minimal effort
Shock absorbing spring and breakaway clutch
Drills to 36"
3-year warranty
Welded steel handlebars
Cons
Slightly heavy at 40 pounds
---
2.

Seymour PD48 Post Hole Digger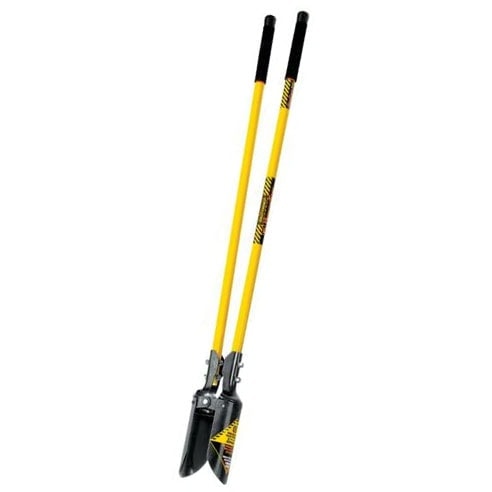 Digging holes isn't a fancy business, so it shouldn't be an expensive endeavor. The Seymour PD48 Post Hole Digger might be a little more expensive than other hand-powered post hole diggers, but it's still far cheaper than an auger. That doesn't mean it's not a great tool. In fact, we think it's the best post hole digger for the money.
This tool is built heavy-duty, intended to hold up against daily professional use. It's extremely well-built, with fiberglass handles and fiberglass core inserts for the ultimate in durability. Of course, you need comfort too, which is why the end of the handles are adorned with cushioned grips that also help you hold on better.
With a 6.25-inch digging width, this digger can dig wider holes than most other manual post hole diggers. It can also reach deeper than most augers, with a total length of 59 inches. It does cut through the ground noticeably easier than other diggers we tested, but it's still going to be a heck of a workout that will leave you spent. Hey, you might be able to replace your entire gym membership with this one tool.
Pros
Fiberglass handles for improved durability
25-inch digging width
Very heavy-duty construction
Cushioned grip provides improved grip and comfort
You can probably replace a gym membership with it
Digs deeper than most augers can reach
Cons
More expensive than similar products
Expect to be tired
---
3.

Landworks Auger Post Hole Digger – Premium Choice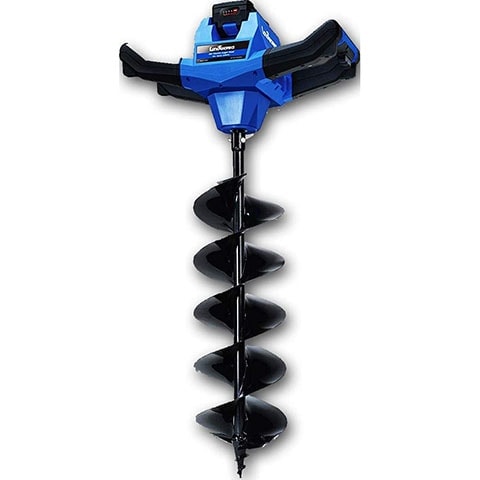 Augers definitely speed up the process of digging holes and allow you to dig more holes with less effort. But most augers are gas-powered, and that comes with a host of different problems. However, the Landworks Auger Post Hole Digger is a whole new beast. This is a lightweight, yet powerful auger that runs on batteries, so it's entirely cordless.
To ensure high efficiency and a long life, this auger is equipped with a brushless motor. It weighs a mere 22 pounds with the battery and auger bit installed, making it far more manageable than some of the cumbersome augers we tested it against.
Included with the auger is a 6-inch-wide bit that's 30 inches long. You'll also get a 2 amp-hour battery pack and a charger. With a full charge, you can dig 30 holes! But once that battery dies, you're out of luck until it finishes charging again, unless you purchase an additional battery. It's definitely a bit more expensive than any other tool on this list, but for this level of convenience, we believe it's worth the price.
Pros
Equipped with a brushless motor
Weighs just 22 pounds with battery and bit
Dig 30 holes on a single charge
Includes battery and charger
Cons
Once the battery is dead, you'll have to wait for it to charge
---
4.

XtremepowerUS X1096 Post Hole Digger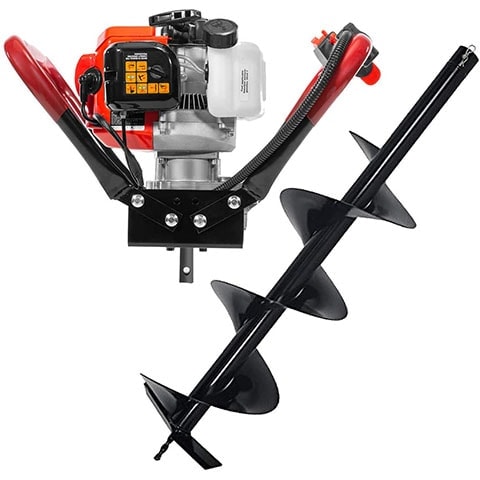 With a 2.3-horsepower (HP) gas motor, this post hole digger from XtremepowerUS can speed up your hole digging job dramatically. Included with the auger is an 8-inch auger bit, though it's got a limited reach of just 28 inches, which is how deep you'll be able to dig with it.
Without the bit, this auger weighs just 21 pounds. Its 55cc motor manages a drilling speed of 170 RPM, making holes to a maximum depth in mere moments. You'll save yourself quite a bit of energy with this post hole digger, but if you need a hole deeper than 28 inches, you'll have to look somewhere else. If it could dig a bit deeper, this tool might have made it into our top three.
Pros
3-HP 55cc motor
Includes an 8" auger bit
Weighs just 21 pounds without a bit
170 RPM drilling speed
Faster than digging by hand
---
5.

AMES 2701600 Post Hole Digger – Best Value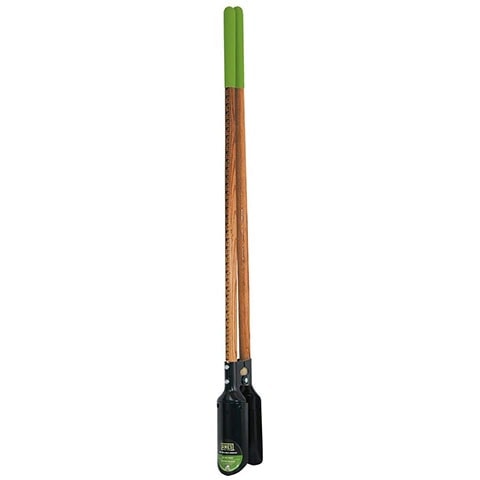 If you need to dig a very deep hole, then you'll want something like this post hole digger from AMES. It's got long handles that extend the whole device to a length of 68 inches; plenty of length to dig post holes as deep as you're likely to need. To make sure you get deep enough, there's even a measuring stick on the handle. All you have to do is set the tool in the hole and you know how deep you have left to go.
Overall, this is a pretty durable post hole digger, though the weak part is, surprisingly, the blades. The handles are made from durable hardwood and we had no issues there. But the blades took some serious abuse from some of the rocks they hit. We've even seen examples of the blades breaking, though that didn't happen with ours.
Also, keep in mind that at the end of the day, if you've been digging by hand, you're going to be worn out and ready for a very deep slumber.
Pros
Very cost-effective
Measuring stick on the handle
Comfortable oversized cushion grip
Durable hardwood handle
Can dig holes several feet deep
Cons
It's going to wear you out!
The blades aren't as durable as others
---
6.

True Temper 2704200 Post Hole Digger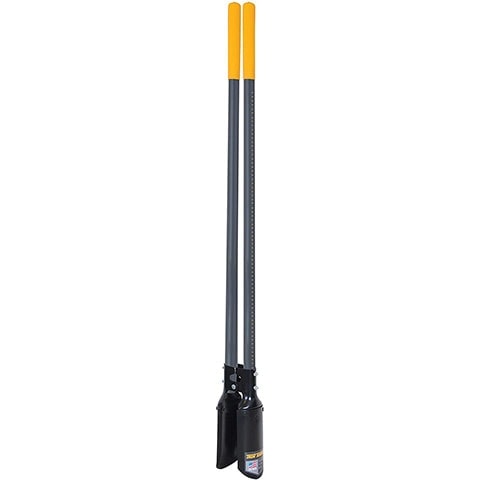 The True Temper 2704200 Post Hole Digger is an affordably-priced, manual digging tool that's just not quite as durable as some of our favorites. If you apply enough force, the digging blades can bend at the hinges, warping them and beginning to ruin the tool. Likewise, the cushioned grips are not entirely durable, and they fell apart under heavy use.
However, we really put this digger through its paces. For the price, it's one of the most affordable ways to dig post holes and is certain to last for at least several projects. The handles are made from weather-resistant fiberglass for durability and resilience. They're 48 inches long so you can dig a pretty deep hole with them. The blades even have sharp points that make it easier to cut into tough ground.
If this tool offered better longevity, it would have ranked higher since this is all that's holding it back as of now.
Pros
Affordably priced
Durable weather-resistant 48" fiberglass handles
Atlas blades have a sharp point for easier cutting
Cons
Blades can bend at the hinges under force
The cushioned grips don't last
---
7.

Southland SEA438 One Man Earth Auger
We're all for saving time by utilizing powerful tools to cut our workload. But when those tools also cause you loads of frustration, it doesn't feel worth it anymore. Take the Southland SEA438 One Man Earth Auger, for example. It's got a stout 43cc gas engine that should speed up the process of digging holes. It does at first, but when the problems start, you'll begin rapidly losing time.
This auger includes an 8-inch bit that can dig a 30-inch deep hole. Or, it can at first. The bit wore out very quickly and would no longer dig deeper than 18 inches. Still, with wide handles that offer great leverage and balance, it was easy to use so we weren't too upset.
The handles detach to make the auger smaller for storage. After storing it, good luck getting it started again though. We had to yank and yank on the string, checking the fuel mixture repeatedly. Eventually, we got it started, but it wasted a lot of our time. When this became a repeat performance, we knew it was time to move on to greener pastures.
Pros
Includes 8" auger bit
Wide handles are better for leverage and balance
Handles detach for convenient storage
Cons
30" maximum hole depth
The bit wore out quickly and wouldn't reach depth
Has some serious difficulty getting started
---
8.

Union Tools 78002 Carbon Steel Post Hole Digger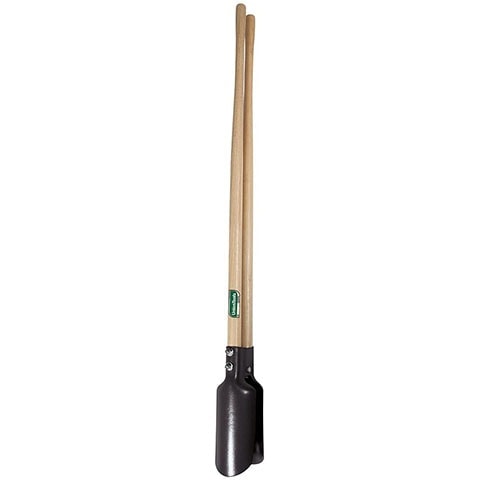 When we ordered the Union Tools 78002 Carbon Steel Post Hole Digger, we expected to get a quality tool with one-piece blades of high carbon steel. That's not what we saw when it arrived. Instead, the blades are riveted onto the yoke like any other cheap post hole digger. This is going to immediately discount this tool for professionals and anyone looking for extreme durability from their digging tools.
Luckily, this is one of the less expensive hand diggers we tested. Otherwise, we'd be even more upset. It does have durable hardwood handles that can take some abuse, but there are no covers or grips on them. This means that you don't get a great grip and it's certainly not as comfortable to hold this tool as others we tested.
Fully spread, this digger creates a hole that's 5.5 inches wide. While that's acceptable, it's not as wide as other manual digging tools we tested for this list. Altogether, this one falls short of our expectations.
Pros
Durable hardwood handles
Affordably priced
Cons
Max hole width of 5.5"
No covers or grips on the handles
The blades are not one-piece as advertised
---
9.

Pumplus Gas Powered Post Hole Digger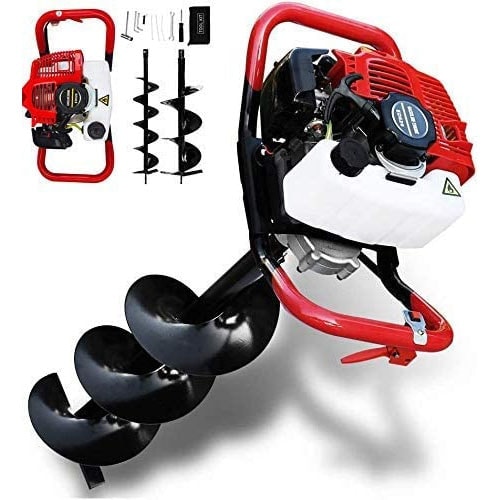 With a stout 2.5-HP engine, the Pumplus Gas Powered Post Hole Digger can definitely dig much faster than we can by hand. To ensure it's useful for a variety of digging tasks, it comes with 2 different auger bits. One is 6 inches, the other is 10 inches. So far, we're off to a good start.
When we first used this digger, it seemed to perform well. Until that is, we took our first break for the morning and tried to lay this machine down on its side. We laid it down very gently, but the plastic housing cracked into pieces. For a tool intended for such hard work, it sure is weakly-built.
Later, during a particularly rough hole, the trigger broke completely off. Obviously, this rendered the digger unusable. Because of its poor quality and abysmal longevity, we can't recommend this Pumplus post hole digger.
Pros
Powerful 2.5-HP engine
Includes a 6" and a 10" auger bit
Cons
Plastic parts are weak and break easily
Can't lay it down or it'll break
The trigger broke off
---
10.

ECO LLC Gas Powered Post Hole Digger

This gas-powered post hole digger from ECO LLC seemed like a decent deal when we ordered it. Once we started working with it, we became painfully aware that it's not. It's more expensive than other augers we tested, though it also includes 2 bits; one 6-inch bit and one 10-inch bit. Powered by a 52cc motor pushing 2.5 HP, there is plenty of power here to turn the bits through the earth.
Our first problem came as soon as we tried to use this machine. It's so difficult to start. We yanked and yanked on the cord, messed with the prime, and did everything that we were supposed to do. We finally got it started, but by then, no one felt like digging any holes.
Once we started putting the bit to the earth, a motor mount bolt fell out on the very first hole. These bolts need Loctite around them because that wasn't the only bolt that would come out within the first hour of use. Don't forget, this is a hefty tool at nearly 50 pounds, which is just one more bad mark on its poor performance sheet.
Pros
52cc5-HP gas engine
Includes a 6" and a 10" bit
Cons
More expensive than other augers we tested
Difficult to start when cold
Motor mount bolts fell out
Weighs nearly 50 pounds
---
Buyer's Guide – Choosing the Best Post Hole Digger
Still unsure about which digging tool is the best fit for your needs? We all have different demands of our tools based on what we plan to do with them. If you only need to dig a few post holes, then your needs will differ drastically from someone looking for a professional-quality tool they can count on day in and day out to make a living.
To help you determine which tools are best for you, we've written this short buyer's guide that's going to take a closer look at each type of digger and who might benefit from them most.
What's the Best Way to Dig a Hole?
There are many ways to dig a hole. Heck, you can dig a hole with a pickaxe if you want. But that doesn't mean that every way of digging is equally applicable to all types of holes. You wouldn't want to dig post holes for a deck with a hand shovel, for example.
Through our research and testing, we've gotten familiar with a lot of these post hole diggers. But they can all be narrowed down to just two categories; hand tools and power tools.
Digging with Hand Tools
There's no question, hand tools are far more affordable than power tools when it comes to digging post holes. A good set of manual post hole diggers costs about one-third of what you'd pay for a gas-powered auger, maybe even less.
On the other hand, they also require a lot more physical input. You'll need to put all the power behind these tools, forcing them through the dirt and scooping out the loose stuff. Of course, you can also turn this around and put it in a positive light. If you dig holes like this every day, your gym membership becomes obsolete! Digging holes doesn't only build character. It also builds muscle and burns fat. Trust us, this is some serious work!
Hand tools also make very clean holes. With an auger, there's usually a bunch of loose dirt at the bottom that will need to be removed manually anyway, but there's none of that with a manual digger.
Of course, you also need to consider the time factor. It takes a lot longer to dig a hole by hand. If you have a lot of holes to dig, it could take substantially more time to do them by hand, so you have to weigh that out against the money you save.
Pros
The tools are more affordable
Helps you build muscle and burn fat
Makes very clean holes
Can probably replace a gym membership
Cons
It's going to wear you out
Takes longer than a power tool
Digging with Power Tools
Power tools can simplify and speed up any digging job. They take far less energy since you don't actually have to supply the digging power. You will have to still lug the machine around and pull it out of your holes, but since they weigh about 20-40 pounds on average, it's not too difficult of a task.
A gas-powered auger can dig a hole much faster than you can by hand, so for every hole you must dig, you'll be saving loads of time doing it with an auger. But you'll also have to consider some of the other issues that come along with these tools, particularly the gas-powered versions.
Gas tools require a lot of maintenance. They need to be drained in the winter and the oil must be changed regularly. There are specific fuel mixtures that must be used, and everyone knows what a pain some of these gas tools can be to start, especially when they're not warmed up.
Also, consider the extra expense of purchasing one of these tools in the first place. It's going to cost three to four times as much as purchasing a hand digger. And you'll have to keep your gym membership too since these machines take a lot of the labor out of digging.
Once your bits wear out, they'll need to be replaced, incurring additional expenses down the road. And if the auger bites the dust, replacing that is a serious expense.
Pros
Digs holes quickly
Requires a lot less energy
Cons
Lots of maintenance
Far more expensive tools
You're not getting in shape with it
Can run out of gas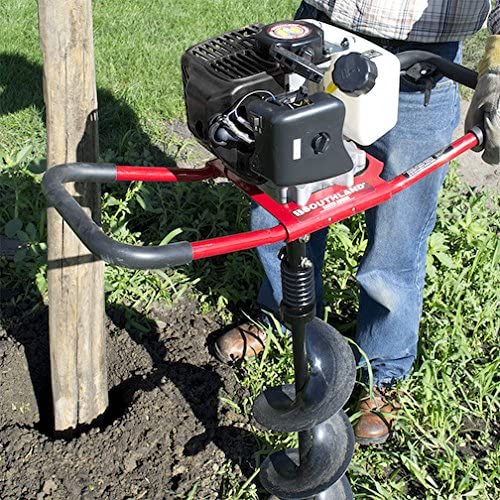 When to Choose Hand Tools or Power Tools
We've outlined all the most important differences between digging with power tools and digging with hand tools. Now, you're almost ready to make a decision. Let's determine precisely when it's a better choice to pick either.
Dig by Hand When:
You don't want to spend a lot on your tools
You'd like a workout with your digging
You don't have many holes to dig
Time isn't of the essence
Dig with Power Tools When:
You need to dig a lot of holes
You want the work done as quick as possible
You want to conserve your energy
Budget isn't a big concern

Conclusion
To write reviews on this many post hole diggers, we had to dig an awful lot of holes. To be fair, we do think we're looking pretty good, and our gym memberships are starting to feel obsolete. Still, we want to help you find the best tool for digging post holes, not the best tool for getting in shape.
For us, the TAZZ 35365 Earth Auger/Post Hole Digger was our favorite. It's an efficient way to dig holes with a powerful gas motor and an 8-inch auger bit that can drill to a depth of 36 inches. Welded steel handlebars provide stability and the shock-absorbing spring and breakaway clutch save your arms in case you hit a rock.
A more economical approach that provides excellent value is the Seymour Structron Hercules Post Hole Digger. It can dig a deeper hole than most augers and is built to last through years of daily abuse.
Finally, the Landworks Earth Auger is our premium recommendation. It's entirely cordless, running on a lithium-ion battery that digs 30 holes to a depth of 30 inches on a single charge, and weighs a mere 22 pounds with battery and auger bit installed.
More buying guides like this: