10 Best Shower Scrubbers of 2023 – Reviews & Top Picks
No one likes scrubbing their shower, but the right product can go a long way toward improving the experience. A good shower scrubber will be durable, quick, and effective. Unfortunately, for every good unit, there are ten duds.
To guarantee a pleasant buying experience, we researched the shower scrubber market. The ten best products on our list include detailed reviews, and we have a buyer's guide at the end to help you finalize your decision.

A Quick Glance at Our Favorites in 2023
Rating
Image
Product
Details

Best Overall

Drillbrush All Purpose

Durable
Effective
Lightweight
CHECK PRICE

Best Value

Oxo Good Grips Extendable

Affordable
Extendable
Comfortable
CHECK PRICE

Premium Choice

Homitt Electric Spin

Powerful
Cordless
Extendable pole
CHECK PRICE

Clorox Scrubtastic Multi-Purpose

Electric powered
Three scrubbing heads
Extendable pole
CHECK PRICE

Fuller Brush

Extendable to 52 inches
Versatile
Great for scrubbing showers
CHECK PRICE
The 10 Best Shower Scrubbers
1.

Drillbrush All Purpose Power Scrubber – Best Overall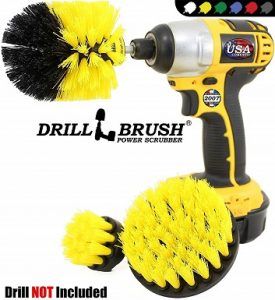 The Drillbush is a cleaner that can hook up directly to any compatible drill, and it's our pick for the best overall shower scrubber. It is a valuable piece of equipment for buyers that already have power tools on hand. The bristles are specifically optimized for removing grime and dirt that tends to crop up on a well-used shower.
The attachment is lightweight and durable, which makes it ideal for most applications. However, some users have reported it scratching their tubs. It is difficult to determine if this is because of the bristles or the tub, but it is something to keep in mind all the same.
Pros
Durable
Effective
Lightweight
Cons
Some report scratches to their tub
---
2.

Oxo 12126100 Good Grips Extendable Tub and Tile Scrubber – Best Value

The Oxo earns the distinction of being our best shower scrubber for the money. For an affordable price, you get an ergonomic grip, an extendable pole that can give you a wide reach (ranging between 26-42 inches), and exchangeable sponges that extend the life of the equipment considerably. The shaft is lightweight stainless steel, while the head is anti-microbial.
We observed that the attachable sponge tends to shed somewhat, especially when vigorous scrubbing comes into play. It's not a huge deal, but then who wants to make a mess when they are trying to clean it up?
Pros
Affordable
Extendable
Comfortable
---
3.

Homitt HT-SS01 Electric Spin Scrubber – Premium Choice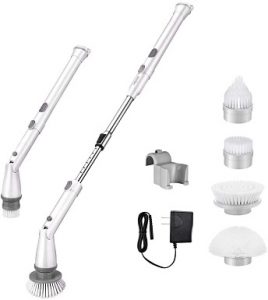 Those with a little bit of money to spend are going to love the Homitt. It features a motor and a spinning component that makes it outstanding for removing gunk with minimal effort on your part.
The scrubber is cordless to ensure maximum reach but features a good battery life that should last the duration of your cleaning. The scrubber can work up to 1.5 hours off a single charge, which should be more than enough time for the average user. It is also fully extendable, which is a great feature for improving your reach. At its longest, the pole measures 21 inches—enough length to access all the nooks and crannies of your shower.
Unfortunately, all of this outstanding performance comes at a high price.
Pros
Powerful
Cordless
Extendable pole
Decent battery life
---
4.

Clorox 112061 Scrubtastic Multi-Purpose Surface Scrubber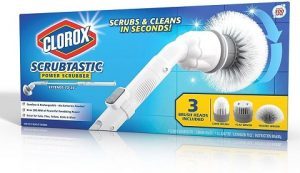 The Clorox 112061 is another electric-powered unit that will be great for scrubbing showers and tile floors with ease. The motor spins the head at 300 RPM, making it well-equipped for even stuck-on grime. The package features three scrubbing heads to increase its application range significantly, and it also benefits from an extendable pole that maximizes the efficiency of your cleaning experience. At its longest setting, you get 39 inches of reach.
Unfortunately, there are a couple of problems. For one thing, the bristles are not as durable as we would like them to be. It is also very expensive, which won't be right for a customer on a budget.
Pros
Electric powered
Three scrubbing heads
Extendable pole
---
5.

Fuller Brush 11185002564 Tile Scrubber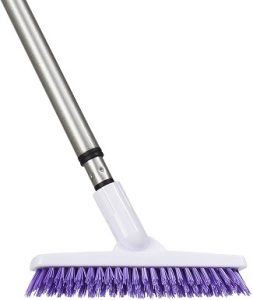 The Fuller Brush is a manual scrubber that features an extendable pole. Unlike other models, the Fuller Brush extends to 52 inches. The length increases its effectiveness, making it great for tiles, showers, or hard-to-reach surfaces.
It is also easy to move and store. Weighing just 1 pound, you shouldn't experience much fatigue even after long periods. However, there are a couple of problems we don't anticipate with manual units. For one thing, it is relatively expensive. For a little bit more money, you could get an electric scrubber. The pole also gets very wobbly when extended at full length. This may become problematic throughout the course of long-term use.
Pros
Extendable to 52 inches
Versatile
Great for scrubbing showers
---
6.

Fox Trot Tile Scrub Brush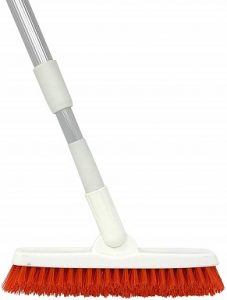 The Fox Trot is ideal for a buyer on a budget. It is an affordable product with many features often found on pricier scrubbers. It's telescopic, which means you get 54–84 inches of reach. It is also efficient; the V-shaped bristles are designed to make scrubbing more effective, which may cut down on your cleaning time.
However, the structural integrity of the bristles is somewhat lacking. They wear down and even fall out over time, which will eventually render them useless.
Pros
Extendable pole
V-shaped bristles
Affordable
---
7.

Amazer Shower Scrub Brush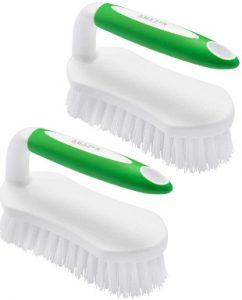 The Amazer scrub brush is definitely a budget buy. While it doesn't have any of the premium features found on the other units on our list, it does come at a very affordable price, and you get two brushes.
With dimensions of 10.8 x 1.4 x 2.4 inches, you should have no trouble keeping it in a kitchen drawer. Each brush also weighs in at just 4.8 ounces—light enough to be effortlessly held for a considerable time.
It features a comfortable grip that will make it a little bit easier to scrub with, but for the most part, it will require quite a bit of elbow grease on your part. The scrubbers deteriorate pretty quickly over time, which means you must be ready to replace them.
Cons
Requires lots of elbow grease
Not very durable
---
8.

The Simple Scrub 6320190 Shower Cleaner
The Simple Scrub is a straightforward but effective piece of equipment that is good for buyers looking for something easy and effective. It features a long pole for maximum reach, a highly effective sponge, and an ergonomic grip. Coming in at 52 inches, it is long enough to access most areas. And at just a pound, it is also about as lightweight as you can hope for.
There are, however, some built-in problems. For one thing, it is about as expensive as you are likely to find for a manual unit. For the amount of money spent here, you can definitely find something with a motor. The sponge also doesn't last very long. It will wear down over time, which reduces the value considerably.
Pros
Long pole
Highly effective
Ergonomic
Cons
So-so life expectancy
Pricey
---
9.

FRUITEAM Electric Spin Scrubber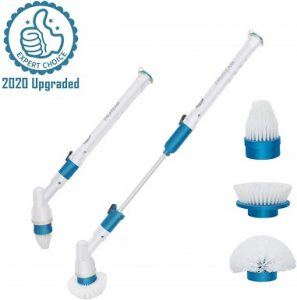 On the surface, the FRUITEAM looks like a compelling option. For a moderate price, you can get your hands on a motor-powered scrubber that benefits from three attachments. It is also cordless, which improves your reach tremendously.
However, the features are better on paper than in the application. For one thing, it is very heavy relative to the other options on our list, which can make it uncomfortable to use over long periods. Five pounds may not sound like very much, but it can become tiring after a while.
It also features a very limited battery life which decreases its effectiveness. While the manufacturer advertises 60 minutes, this number is sharply reduced when the motor is put to the test. Tougher grime will kill the battery life pretty quickly. To make matters worse, it takes roughly 12 hours to recharge.
Cons
Inefficient battery
Very heavy
---
10.

Unger 979870 Grout and Corner Scrubber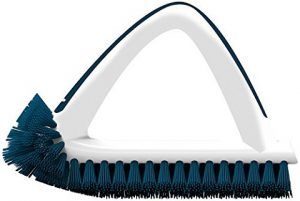 We close the list out with a true budget buy. The Unger is an affordable product that is perfect for people on the most restrictive of budgets. However, if you don't fall into that category, you can find a better scrubber. For one thing, durability is a major concern. The bristles aren't going to last for very long at all, which means you will need to replace them regularly. It's also very uncomfortable to use, and the plastic lacks structural integrity.
Last but not least, the design also is not conducive to quick work. The scrubber component is just 3 inches in length, which means scrubbing an entire tub will take a substantial amount of time. If you want something that will last for a long time, this won't be the right unit for you. Still, if you just need something quick and cheap for an occasional clean, the Unger is suitable.
Cons
Bristles aren't very durable
Low-grade plastic
Not very effective

Buyer's Guide – Finding the Best Shower Scrubbers
Still not sure which bathroom scrubber you want? Deciding can be tough but knowing a little bit more about the product you are considering can go a long way toward simplifying the decision.
Style
The style of the scrubber will ultimately have the biggest impact on how it performs. Manual and electric units perform very differently. Electric units are extremely powerful and fully capable of removing grunge without any effort on your part.
Manual scrubbers, on the other hand, require a lot of elbow grease to remove tough stains. Of course, the difference in cost is also pretty substantial. If you are on a restrictive budget, you will probably want an affordable manual unit.
However, if you are more concerned about your time than your money, you can save a lot by using a motorized scrubber.
Price
How much should you expect to pay for a scrubber? As mentioned above, it depends radically on the type that you go with. Electric scrubbers cost $50–100, though you may wind up spending more or less with the occasional fringe case.
Manual brushes usually cost under $30, with the most affordable options hovering somewhere in the $5 range. In the best case scenario, pricier units will last longer and perform better, but of course, results will vary from unit to unit.
Ergonomic Grip
You also should consider models with ergonomic grips. Ergonomics can have an enormous impact on the ultimate effectiveness of your tool. They are designed to minimize the stress put on your joints and muscles. Not only will it make the actual process of using the brush more comfortable, but it also can help you avoid injuries.
Length
Many units featured on this list are mounted to an extendable pole. However, there is a limit to how much is too much. Even the best product will get a little bit wobbly when it is fully extended. It's not to your advantage to get something bigger than you can handle.
Replaceability
Many of the scrubbers on our list today featured replaceable sponges. Although they're convenient, it's best to determine how much the replacements cost before buying the scrubber. Some manufacturers charge more than others for replacement sponges.

Conclusion
Hopefully, you've made up your mind about the best shower scrubber. However, when dealing with 10 great shower scrubber reviews, making up your mind is often far from simple. Perhaps you want a high-quality product that costs a little bit more money. If that is the case, we recommend the Drillbrush All Purpose Power Scrubber.
However, it is also infinitely possible to save money on a reliable product. To achieve that objective, you may want to go with our runner-up choice, the Oxo 12126100 Good Grips Extendable Tub and Tile Scrubber. After reading our reviews and buyer's guide, you can be confident that the scrubber you choose will get your shower remarkably clean!
---
Featured Image Credit: FotoDuets, Shutterstock