5 Best Respirators & Dust Masks for Woodworking in 2023 – Reviews & Guide
Woodworking can be messy, and many woodworkers don't think about the particulates they're kicking up and breathing in. Cutting down on the amount of dust you bring in can help you stay healthier and generally breathe better, so it's a move that's worth the cost.
Investing in a respirator or dust mask is the best way to fight this problem. However, when shopping online, it's not always clear which models are the best you can find and which aren't worth the price.
We assembled this list of reviews of the best respirators and dust masks for woodworking to solve this problem. We've evaluated the strengths and weaknesses of each model and hope to lead you to one that works for you. We also created a buyer's guide, so if you've never shopped for a dust mask before, you can learn everything you need to know before you buy.
---
A Quick Comparison of Our Favorites (Updated in 2023):
Rating
Image
Product
Details

Best Overall

GVS SPR457

Easy to adjust
Wide temperature range
Large central non-return valve
CHECK PRICE

RZ Dust/Pollution Mask M1

Lightweight
Includes five filters
Dual exhalation valves
CHECK PRICE

Best Value

3M Rugged Comfort 6503QL

Silicone seal
Low-profile design
Quick-latch system
CHECK PRICE

Muryobao Military Grade N99

Price
Multiple color options
Five replacement filters
CHECK PRICE

Axsyon Dust Mask

Palette options
Breathable material
Three replacement filters
CHECK PRICE
The 5 Best Dust Masks & Respirators for Woodworking:
1.

GVS SPR457 Respirator – Best Overall
The GVS SPR457 is an excellent choice in both quality and price. It weighs less than half a pound and has the filtration power of masks that are typically twice its size. That means it'll be less of a pain to wear than competing dust masks, which tend to be large and heavy. It's certified to work against wood particles, which makes it great for shop use, and it comes with a large central non-return valve, which allows you to exhale easily and helps reduce moisture buildup in your mask.
It works in a wide temperature range, from -23 degrees Fahrenheit to 131 degrees Fahrenheit, making it great for indoor or outdoor use, even in inclement weather. It also comes with easy-to-use straps that make adjusting the mask easier than its competitors so that you can get the perfect, airtight fit.
Unfortunately, they're also the weak point and will eventually wear out before the other components in this mask. The good news is that the respirator is fairly cheap, so replacing it doesn't hurt your wallet, and the performance, while it holds together, far exceeds its price. Overall, the GVS SPR457 is the best woodworking respirator we reviewed this year.
Pros
Compact and lightweight
Large central non-return valve
Wide temperature range
Easy to adjust
Cons
Straps eventually wear out
---
2.

RZ Dust/Pollution Dust Mask M1 for Woodworkers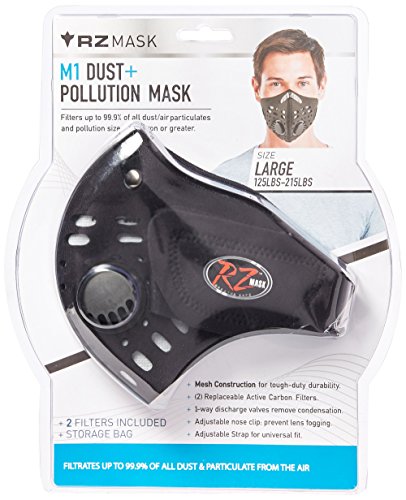 The RZ Dust/Pollution Mask M1 features a design that differs from most masks. You may like it a lot if you're looking for something with a form factor that rides much closer to your face but still has the protective power you need. It has dual exhalation valves, which do a great job of preventing moisture buildup in your mask and making it easy to breathe.
It's also lightweight, and unlike other masks, more weight is distributed around the sides and back, taking more pressure off your face. This model comes with five replacement filters, which should last you a few weeks or months, depending on how often you need to replace them. Unfortunately, the filters are hard to replace.
The mask's soft material makes it challenging to remove the old filter and replace it with a new one. That ultimately keeps the RZ Dust mask out of first, but if you're looking for a comfortable mask, you should check this model out.
Pros
Dual exhalation valves
Includes five filters
Lightweight
Low profile
---
3.

3M Rugged Comfort Respirator – Best Value
The 3M Rugged Comfort 6503QL is a great choice for people looking to score a deal. It comes with a low-profile design that maximizes your range of vision while you work while also making it easy to wear corrective or protective glasses. The quick-latch mechanism allows you to lower the mask from your face without taking the straps off, making it suitable for having conversations outside a work area without taking the time to take off and put back on your mask.
It comes with a great silicone seal, which has the flexibility to create an excellent seal against the contours of your face while also feeling soft and comfortable. The one downside to this model is that it's a bit bulky, but that's more the norm than the exception with dust masks. If you're looking for an excellent dust mask at an even better price, you can't go wrong with the 3M Rugged Comfort. We think it's the best dust mask for woodworking for the money.
Pros
Price
Quick-latch system
Low-profile design
Silicone seal
---
4.

Muryobao N99 Dust Mask
The Muryobao Military Grade N99 is another uniquely designed dust mask. Like the second entry on our list, it runs wider but flatter than most respirators. You get five filters, which will last a while if you like the design. While not the absolute cheapest entry on this list, it's lower in price than upper-tier models, so if you're looking for something cheap, the Muryobao isn't a bad option.
However, the real selling point of this model is that you can get it in eight colors, only one of which is black, so you have options you don t have with other models. However, the mask is very small and works best with children and people with smaller faces.
Most people will likely find it too tight and hard to use. It's also not the most effective mask on our list, as it filters particulates much less efficiently than it claims. Overall, it's a good mask for people who want color options and don't need a heavy-duty mask.
Pros
Price
Five replacement filters
Multiple color options
Cons
Small
Not the most effective
---
5.

Axsyon Woodworking Dust-Mask
The Axsyon Dust Mask is not the best dust mask on the market. Like the last model, it comes with color options, but if you want to add color to your dust mask, you're better off with the previous one. It includes three replacement filters, which is nice, but the ultimate problem is that the Axsyon doesn't work very well.
It doesn't filter odors out at all, so you're out of luck if you're hoping to use it for more than just woodworking. It is also too small for most adults. Overall, you'll probably not want to wear this mask, so you're betting off spending your money on a better model.
Pros
Three replacement filters
Palette options
Cons
Too small
Doesn't filter smalls
Not comfortable
---
Buyer's Guide – Choosing the Best Respirator for Woodworking
Filtration
How well the mask filters out particulate matter is one of the most important factors you need to consider when shopping for a dust mask. Your entire investment is wasted if the filters don't work. However, a mask with a great filter can still go to waste if you don't get one that fits your face well.
Exhalation
Most dust masks come with an exhale valve, which allows your breath to exit the mask. If the valve fails, your mask will fill up with humidity from your breath, which makes it hot and sticky and sometimes leads to water pooling in your mask.
If you want to keep the inside of the mask dry, get one with an effective exhale valve. Some models even come with two for twice the humidity removal, which makes for a good deal.
Extras
Some brands include extra features that don't affect the product's quality or ability to filter particulates, such as color options. It's worth investing in models that come with replacement filters, as you'll be able to get right down to work, and if you end up liking the mask, you'll be able to use it for weeks or months without having to order more filters.
Conclusion
The GVS SPR457 is our top choice due to its comfort, ease of adjustment, and wide effective temperature range. The RZ Dust/Pollution Mask M1 is a good choice for people looking for a dust mask with a low profile and extra filters included in the pack. The 3M Rugged Comfort 6503QL features a low price, a quick-latch system, and an excellent silicone seal that earns it the "best value" title.  The Muryobao Military Grade N99 comes in many colors but isn't the most effective model on the market. The Axsyon Dust Mask also comes in several colors but is too small and doesn't filter odors, which drops it to the bottom of our list.
We hope our reviews have given you an idea of what to look for the next time you shop for a dust mask for woodworking. You should now be able to use this knowledge to find the model that keeps you breathing easy for years.
More dust-related articles: