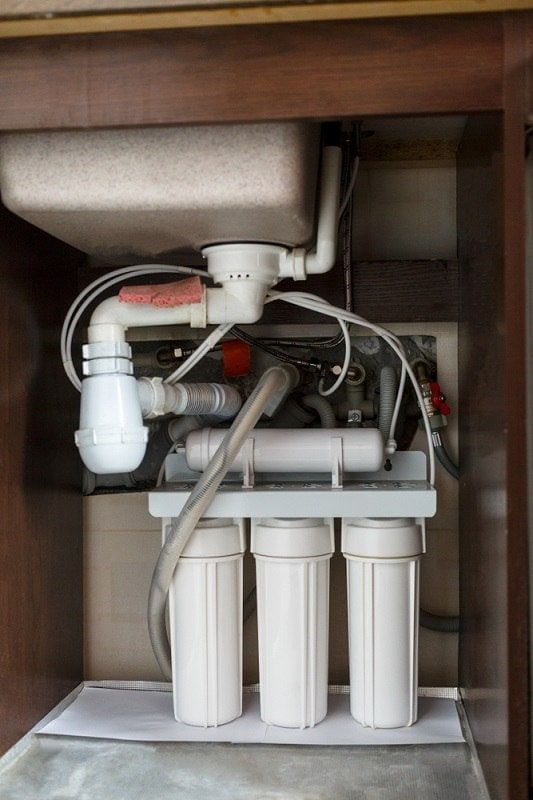 Did you know that Sir Francis Bacon, the man responsible for developing the scientific method, was the first person to document his experiments in growing plants without soil? As far back as 1627, he was experimenting with the very beginnings of hydroponics – and it's amazing how far the science has come since then.
Wildly popular today as a method for quickly and consistently growing vegetables, herbs, and marijuana, growing with hydroponics relies on placing plant roots in water that is precisely mineral balanced. And while most of this mineral composition is added by the grower, there's also a hidden element to consistent success in hydroponics: starting with purified water.
Ditch the chlorine in tap water using one of these reverse osmosis systems for hydroponics, and you'll be that much closer to ample yields of your favorite plants. In the reviews that follow, we'll cover everything you need to know about reverse osmosis systems, as well as giving our top recommendations in each category.
---
A Quick Comparison of Our Favorites
Rating
Image
Product
Details

Best Overall

LiquaGen Portable Reverse Osmosis Water Filter System

Pre-assembled system
Outstanding 6-stage filtration system
Dual outputs
CHECK PRICE

Best Value

HydroLogic Stealth Ro150 Reverse Osmosis Filter

Small and compact design
3-stage filtration system
Removes 98% of water contaminants
CHECK PRICE

Premium Choice

HBrewO Portable Reverse Osmosis 4 Stage RO Purification System

Capable of achieving true
100% neutral water
High capacity filters
Dual carbon filter
CHECK PRICE

LiquaGen Hydroponics RO Water Filtration System

Affordable alternative
Simple and straightforward installation
4-stage filtering system
CHECK PRICE

WECO 0500GAC-CAL-UV RO Water Filter System

Automatic pressure boosting system
Low-maintenance
3-stage filter system
CHECK PRICE
---
The 5 Best Reverse Osmosis System for Hydroponics – Reviews 2021
1. LiquaGen Portable Reverse Osmosis Water Filter System – Best Overall
Sporting a best-in-class 6-stage filtration system, LiquaGen's Portable Reverse Osmosis Water Filter System is nothing short of amazing. On the long list of potential candidates for our top recommendation, it easily jumps directly to the top thanks to its impressive combination of unbeatable filtering capabilities and ultra-simple installation.
Add in a dual-purpose referral system that allows for drinking water and hydroponic supply from the same unit, and it's easy to see why there's no other system we'd rather have in our home. Whereas many RO systems will only do the job of stripping out contaminants and undesirable chemicals, this system from LiquaGen goes one step further by reconstituting its water output with many of the compounds found in famous mineral waters.
A manual flush valve adds a small task to your usual maintenance on this system, but greatly extends the life of the filter system. And with the installation of this pre-assembled unit taking less than 10 minutes, there's really no reason we can't recommend it.
Pros
Pre-assembled system takes no time at all to install
Outstanding 6-stage filtration system reconstitutes water with beneficial minerals
Dual outputs for drinking water and hydroponic growing water
Long-lasting filters reduce maintenance costs over time
Cons
Manual flush valve requires regular maintenance
---
2. HydroLogic Stealth Ro150 Reverse Osmosis Filter – Best Value
Small, compact, and quiet, the HydroLogic Stealth RO150 Reverse Osmosis Filter System is an excellent budget-priced alternative to our top pick. Though its 3-stage filtration system won't achieve anywhere near the purity of our number one choice's 6-stage system, the significant reduction in price makes the HydroLogic perhaps the best reverse osmosis system for hydroponics for the money.
Custom built for gardening and hydroponics, the Stealth RO150 has been a best seller in hydroponics for nearly a decade thanks to its ultra-quiet operation and long-lasting durability. Consisting of a reverse osmosis membrane, a green coconut carbon filter, and a cleanable sediment filter, the 3-stage system in the HydroLogic is a simple but effective choice for removing 98% of water contaminants.
Setup is a bit more involved for the Stealth RO150, requiring mounting via an inlet tube and drain tubing with an included filter wrench. Overall, it's a popular and completely serviceable alternative to our top pick for anyone on a tight budget.
Pros
Small and compact design is easy to install in almost any location
3-stage filtration system removes 98% of water contaminants, including chlorine
Most affordable reverse osmosis filtration system option available
Long-lasting filters require little maintenance
Cons
Installation is more involved than many other RO systems in this review
Not the most comprehensive filtering available
---
3. HBrewO Portable Reverse Osmosis 4 Stage RO Purification System – Premium Choice
When money is no object and you're looking for only the most sophisticated water system for your high-end hydroponics operation, look towards this sleek briefcase system from HBrewO. As the most well-equipped 4-stage filtration system on the market today, it features a dual carbon filter not found in any other system on this list. Even the highest chlorine tap water doesn't stand a chance when filtered through this impressive reverse osmosis system.
Originally designed for producing the perfectly neutral water required for homebrewed beer, the HBrewO kit works equally well for providing a stable base to add minerals to for hydroponics. It's easy to connect directly to a hose or spigot with the included accessories and comes as a completely assembled kit for easy setup.
Overall, it's a pricey but not overpriced way to ensure absolutely neutral water for your most delicate hydroponic tasks. If you're willing to shell out a little bit of extra cash for a conveniently portable and amazingly powerful RO system, the HBrewO is the way to go.
Pros
Capable of achieving true, 100% neutral water
High capacity filters can last up to 2 years
Dual carbon filter specifically neutralizes high chlorine counts
Extremely simple setup and installation
Convenient and portable all-in-one carrying case
---
4. LiquaGen Hydroponics RO Water Filtration System
The smaller relative of our top pick, LiquaGen's 4-stage Hydroponics RO Water Filtration System offers many of the same benefits as our number one filter system, but in a more compact and less expensive package. While you'll give up some of the impressive mineral reconstitution offered in this company's 6-stage filtration system, the neutral filtering provides a great base to add minerals from.
An all-in-one setup makes it easy to install this LiquaGen 4-stage filtration system in 10 minutes or less, with a single output valve allowing for simple filling and refilling of your hydroponic beds. Equipped with a cleanable sediment filter, activated carbon layer, and reverse osmosis membrane, it's capable of filtering 99% of contaminants out of your tap water source.
Before you go all-in on this affordable system, however, you'll need to check that your tap water provides enough pressure to use it effectively. It requires an uncommonly high 50 PSI for optimal flow rates, which can be a difficult measure to match with the tap water flow in many parts of the country.
Pros
Affordable alternative from the same company as our top pick
Simple and straightforward installation
4-stage filtering system provides nearly neutral water for hydroponics
Cons
Produces significant amounts of wastewater
Requires a high base PSI to produce water at a decent rate
---
5. WECO 0500GAC-CAL-UV RO Water Filter System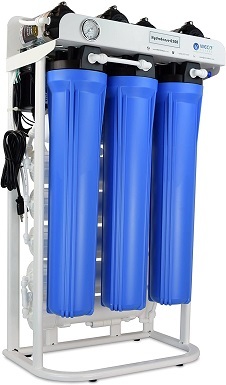 As one of the only water filter systems in our testing to feature a booster pump, the WECO Reverse Osmosis Water Filter System seemed destined to hold a useful place among its competitors. While this is true to some extent, we weren't as impressed with the final results of the 3-stage filtration given its fairly high price.
Featuring sediment and compressed carbon block pre-filtration, the 3-stage system does have the benefit of long-lasting filters that require little maintenance. And though they do a fine job of removing the most offensive chemicals and odors, a 98.5% filtering capacity just isn't that great for a product at this price.
If your city tap water pressure is low, the WECO may be your only option; its automated water pressure sensors will activate a booster pump to keep things moving along nicely. If you're lucky enough to have decent water pressure though, we recommend looking towards one of the other systems listed above.
Pros
Features an automatic pressure boosting system that's perfect for homes with low water pressure from the tap
Low-maintenance 3-stage filter system is also long-lasting
Cons
Quite expensive for what it does
Only achieves 98.5% filtration rates

Buyer's Guide
While there are plenty of water filtration systems available on the market today, none is quite as effective for hydroponics as reverse osmosis filters. Thanks to their ability to remove nearly 100% of common contaminants – including chlorine, the most common problem in hydroponics – reverse osmosis filter systems promote abundant hydroponic growth.
Choosing a reverse osmosis system for your hydroponics can be a bit trickier, though. By better educating yourself on the process of reverse osmosis in the following sections, you'll be well-prepared to make clearer distinctions between which systems are really worth the price and which ones are better left on the store shelf.
How Do Reverse Osmosis Water Purifiers Work?
At their most basic, reverse osmosis filters use a semi-solid barrier and a source of pressure to remove contaminants from water. By pushing the water through a fine filter, any larger molecules and sediments are left behind in the barrier, while the resulting water is free and clear of contaminants.
In modern reverse osmosis water purifiers, you'll most often find a system of increasingly finer stages of filtration. This helps to remove smaller and smaller impurities from water, even down to chemical impurities which are trapped in chemically active barriers. The final result will be a pure, clean, almost completely neutral water base, to which you can add exactly the amount of minerals necessary for your plants' optimal growth and development.
Curious to learn more about the process behind reverse osmosis filtration? Check out this video from SydneyWaterTV on YouTube, where they go into detail about the entire process, complete with helpful graphics and demonstrations:
What to Look for in a Reverse Osmosis System for Hydroponics
Because reverse osmosis systems are a popular choice for more than just hydroponics, finding the right system for your growing operation can be a little bit trickier.
We recommend considering the following four areas before deciding on which system is right for you:
Size really does matter with reverse osmosis systems for hydroponics, as it's unlikely that you have unlimited space in your setup. Portable or semi-portable models are often the most convenient, offering excellent flexibility should you need to relocate your water filtration system or hydroponic setup.
Setup and Installation should be quick, easy, and painless. Sure, there are reverse osmosis filter systems that can take a day and a half of professional installation and provide filtered water to your whole house – but these are incredibly expensive, and don't offer any more bang for your hydroponic buck. Look for a reverse osmosis system that's made to be easy to install.
Filtration is, of course, the most important part of a reverse osmosis filtration system for hydroponics. Where you can get away with a 3-stage system for drinking water, a 4-stage system is the minimum recommended for most hydroponic growing setups. Even better are 5- or 6-stage system, which will achieve a much higher degree of mineral purity for your plants.
Maintenance comes down to how frequently you'll need to change the filters, as well as any manual flushing valves that you need to attend to. We lean heavily towards reverse osmosis systems with low maintenance requirements, as this tends to save quite a bit of money over time as well.

Conclusion
In a rather saturated field of water filtration options, the LiquaGen Portable Reverse Osmosis Water Filter System stands head and shoulders above the competition as the best reverse osmosis system for hydroponics. From all the products in our reviews, we single this 6-stage system out as having both the most user-friendly setup and installation as well as the most impressive filtration results. Throw in the fact that it also has an adapter for drinking water, and you'd be hard-pressed to get us to choose any other filter system for our home and garden.
Any hydroponic gardener that's strapped for cash may find a useful alternative in the HydroLogic Stealth Ro150 Reverse Osmosis Filter, a popular heritage option in the hydroponics field that's renowned for its compact size and quiet operation. If thriftiness and secrecy are more your style, it's a worthwhile purchase that has impressively long-lasting filters.
---
Featured Image Credit: Chekyravaa, Shutterstock

Pete has been working in the trades since high school, where he first developed a passion for woodworking. Over the years, he has developed a keen interest in a wide variety of DIY projects around the home. Fascinated by all sort of tools, Pete loves reading and writing about all the latest gadgets and accessories that hit the market. His other interests include astronomy, hiking, and fishing.
As the founder of House Grail, David's primary goal is to help consumers make educated decisions about DIY projects at home, in the garage, and in the garden.