7 Best Roach Traps in 2023 – Reviews & Top Choices
Cockroaches are repugnant pests that seem to make most people squirm by merely mentioning them. They can be difficult to kill, and even two can lead to a lot of problems. If you see more than one cockroach, there are likely many others lurking around.
They are also very adept at hiding in small cracks and corners and are scavengers who can survive a long time without food. They enter residential homes and commercial businesses in search of food and water. Although prevention is the best way to keep cockroaches away, it's possible for them to get into your home and eat food that hasn't been opened. It's time for you to get rid of this pest.

A Quick Comparison of Our Favorites in 2023
Rating
Image
Product
Details

Best Overall

Combat Roach Trap

Easy to use
Very effective
Reliable brand
CHECK PRICE

Best Value

Black Flag Roach Motel

Good price
Effective
Lasts 4 months
CHECK PRICE

Premium Choice

Exterminator's Choice Insect Glue Traps

Effective
Easy to use
Good for other pests
CHECK PRICE

Catchmaster 72MAX Pest Trap

Great for indoor use
Effective
Non-toxic
CHECK PRICE

Greener Mindset Roach Trap

Easy to use
Effective trap
Non-toxic
CHECK PRICE
The 7 Best Roach Traps
1.

Combat Roach Trap – Best Overall
We think that the Combat Roach Trap is the best overall roach trap this year. This product can be used to kill entire nests without having to place it in the vicinity where they live. It has Fipronil, which is a chemical that kills cockroaches by ingestion or contact. To die, cockroaches don't even need to come in contact with the bait.
It takes just one roach to visit your bait station and take a nibble of the bait. Once they return to their hiding place they'll die. The bait poison will work for up to 12 months, so it's a great choice if you want a long-lasting bait station solution. Note that this is in fact poisonous to humans and pets, so it's best to place the areas in discrete locations.
Pros
Easy to use
Very effective
Reliable brand
Last up to 12 months
---
2.

Black Flag Roach Motel Trap – Best Value
The Black Flag Roach Motel is the best roach trap for the money. Unlike many other traps, the motel will conceal the trapped roaches within, so you don't have to deal with the unsightly sight of dead pests in the house. This particular trap is better for light to moderate roach infestations.
The trap lures the insects into the hotel and simply traps them inside. You can easily check inside the trap to see if it's full and then empty it.  The trap is light-scented and emits a pale syrupy smell that attracts cockroaches and it'll last for up to four months.
Pros
Good price
Effective
Lasts 4 months
---
3.

Exterminator's Choice Insect Glue Traps – Premium Choice
Exterminator's Choice is another great roach trap to consider. This effective glue-based roach trap features an all-natural, non-pheromone cockroach lure. These traps are relatively affordable, durable, and can be used for small home pests only, so they'll also work well for spiders, mice, ants, and other small creatures.
To use these baits, simply fold them along the creases, and place these baited containers wherever you see roach activity in your home or apartment.
Pros
Effective
Easy to use
Good for other pests
Cons
Expensive
Not for heavy infestations
---
4.

Catchmaster 72MAX Pest Trap
The Catchmaster trap is one the most effective non-toxic cockroach traps that you can use indoors. The package includes twelve small boards (the traps). And believe it or not the trap is non-toxic, peanut butter-scented to attract cockroaches and other common home pests.
Though the glue isn't toxic, you should still keep it away from your pets and children. The glue can become damaged by direct sunlight, so this product should only ever be used indoors in warm areas. And like other bait traps from Catchmaster, they can be folded to protect the glue from drying out.
Pros
Great for indoor use
Effective
Non-toxic
Cons
Not for use outdoors
May dry out
Not for invasive infestations
---
5.

Greener Mindset Roach Trap
The Greener Mindset Roach Traps are effective and they last for up to three months. This roach trap is best for light to moderate infestations. It's also a safe choice for pets and children. The trap uses non-toxic all-natural ingredients to trap and kill the roaches. The glue is sticky enough to ensure that trapped pests cannot escape. The strap isn't ideal for heavy roach infestation, though you can use it with other methods.
Pros
Easy to use
Effective trap
Non-toxic
Cons
Not for invasive infestations
Only last 3 months
---
6.

Victor Roach Pheromone Trap
The Victor Roach Pheromone trap uses a roach-attracting hormone to attract the roaches. It's actually a variation of the basic cockroach sticky trap design. It has entry points at the top and sides. It's not designed to trap other pests, but only small insects such as roaches and spiders.
Just like with any other roach traps, you'll simply need to place the trap in areas that have a heavy roach presence. This usually includes the kitchen, bathroom, basement, or attic areas.
Pros
Effective formula
Easy to use
Classic design
---
7.

Terro T256 Roach Magnet Trap
Terro T256 Roach Magnet Trap is another no-odor trap that's easy to use. You simply open the container and place it in any corner or area of your house. It's a discreet trap that can be placed anywhere you want to catch these pests. Each 12-pack contains a tablet with roach-attracting hormones. Once the roaches crawl inside, they won't be able to escape. These traps should be placed in several areas to maximize their effectiveness. They're poison-free and safe for use in homes with children and pets.
Pros
Poison-free
Effective
Easy to use
Can go anywhere

Buyer's Guide : Buying the Right Roach Trap
It can be difficult to find the right bait station and roach trap for your situation. There are many active ingredients and solutions that have different effectiveness against different types and types of cockroaches.
Plus, there are over 3,000 species of cockroaches, and it can be difficult to identify the exact ones you are dealing with. Manufacturers with specialized products are most likely to target the German roach as this is the type of cockroach that is most commonly found in homes. They are the most persistent and stubborn of all household roach species.
Here are a few questions to consider before deciding on the best roach bait or trap for your infestation:
Are the areas where the product will be used near areas that will store or prepare food?
Do you have any pets or children that may come in contact with the bait stations or insecticides?
What amount of product would your home require? What size area will it need to cover?
What's the total upfront cost and any ongoing costs?
How severe is your roach infestation? If you only see a few roaches each week, roach bait stations may be a great option to nip the issue in the bud.
Is it a problem if there is a residue left behind or an unpleasant odor?
What length of time do you plan to use the product?
The next step is to filter out sub-par products and select the ones best for your specific situation.

Top Causes of Roach Infestations and How to Prevent Them
With a little bit of knowledge and preparation, you can easily avoid letting these pests take up residence in your home. There are several things that make your home more likely to become infested with roaches, but many of these involve things that every homeowner has much less control over than you might think.
Unsanitary Home Conditions
Roaches are not very picky when it comes to where they live, but they do prefer dark, warm places that are easy to hide in. If you don't clean your home regularly, it can become the ideal roach habitat. Roaches feed on crumbs from food and dust, debris, and anything else lurking on your floors or on the furniture of your home.
Unclean living conditions will also attract other pests, like ants, and make it more likely that random pests will move in. When you clean your home, you remove potential roach food sources and make it less appealing to pests. This means washing dishes immediately after using them, dusting, sweeping and mopping as needed, and changing your linens weekly.
Rotting Food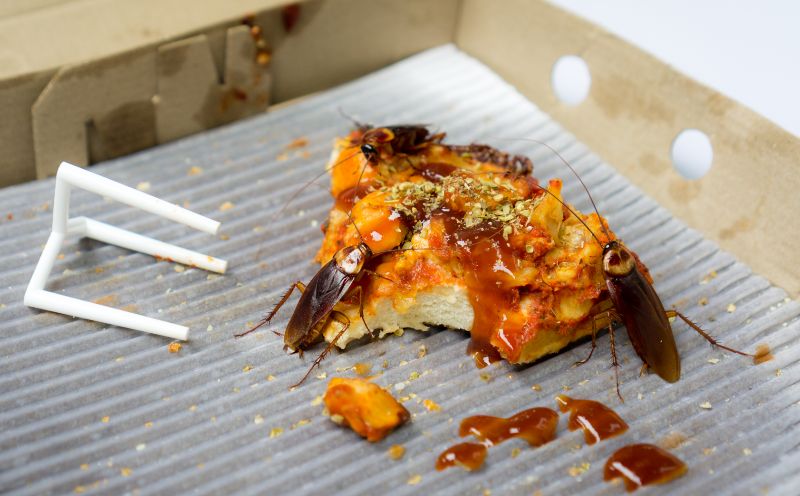 The first thing to keep in mind is that roaches are scavengers. They eat almost anything, from rotting food to human hair and skin. Unfortunately for homeowners, they also reproduce very quickly and can travel through your home in vast numbers. These pests can also trigger allergic reactions in some people and are a major source of diseases.
They are relatively indiscriminate in what they eat, which means that they will gravitate towards any food source they can find, no matter how small or insignificant it may seem to you. They particularly like to feed off of the crumbs that fall to the floor during meals as well as the spills that happen while you're cooking.
As a result, roaches are extremely common in places like restaurants and grocery stores, where there is food everywhere and no one is particularly concerned about getting it all onto the floor. So, keeping your kitchen clean can go a long way in preventing these pests from popping up.
Poor Maintenance
Roaches need water, but they prefer to find it in your home rather than get it from outside sources. This means that they are drawn to leaky pipes, buckets full of water that have not been removed in a while, and other sources of water in your home.
They also feed on moisture in the air, which is why roaches are a problem in places like the tropics where it's always humid outside. To avoid roaches, make sure you're not providing them with water in your home; think old dishwater, leaky pipes, and unemptied potted plant pans.
Roach Eggs in the Environment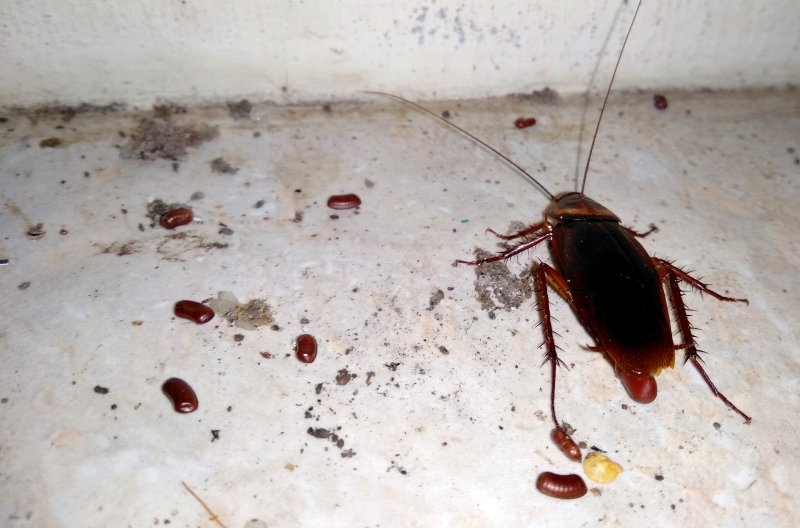 Roaches will also lay eggs in your home almost immediately. They deposit them in tucked away places, such as inside small cracks and crevices on walls and in floors. When the eggs hatch, the young roaches will begin to feed and grow.
To keep roaches out of your home, clean your home regularly and seal up all holes and cracks, especially around doors, windows, and roofs. This will keep new roaches from getting inside. You may also want to invest in an insecticide that contains residual, which will kill any roaches that are inside your home before they can lay more eggs.
Limited Ventilation and Exhaust Flow
Cockroaches breathe through their skin, which means they need a constant source of fresh air to survive. The roaches in homes adapt to their environment, so they're most likely to be found in the kitchen, bathroom, and other areas near the vents–places where fresh air is usually available.
If there is not enough fresh air flowing into the room, the roaches will gather near the vents, where the air is fresh. To keep roaches out of your home, make sure you have plenty of ventilation. This means installing vents in your kitchen and bathroom, particularly ones that bring fresh air into the room.
It also means having enough exhaust flow for the air to flow out again. If you don't have a lot of ventilation in your home, be sure to open up your windows every so often to keep fresh air coming in.

Conclusion
You can find roach killers that are advertised as "kill on contact", but it's best to ensure that the solutions are also effective at preventing future infestation and possibly killing larvae as well. We found that the Combat Roach Trap to be the best overall solution for roach prevention and infestation removal. For the best value, we like the Black Flag Roach Motel. But hopefully at least one of the products on our list will suit your needs.
---
Featured Image Credit: Picas Joe, Pexels