10 Best Roofing Tool Belts of 2022 – Reviews & Buyer's Guide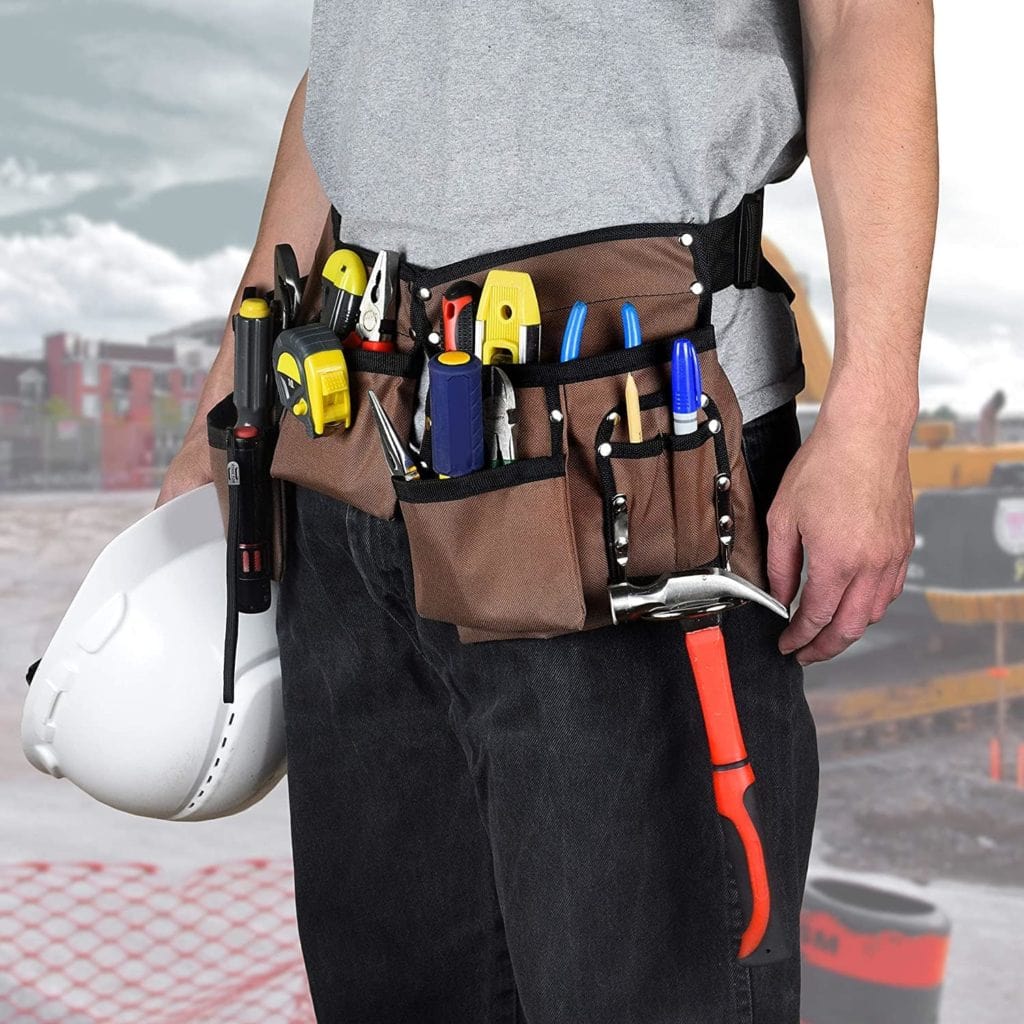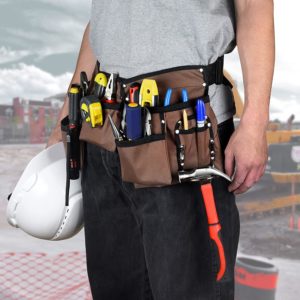 Resurfacing a roof requires that you carry screws, hammers, nailers, tapes, and a host of other tools and accessories. This means making multiple trips up and down the ladder. Not only does a roofing tool belt help minimize the potential for injury but it also makes the job easier and cuts the time it takes for you to finish the job.
A good roofing belt will hold everything you need and it will do so without the sharp tools and screws from being able to easily tear or wear away at the belt. It will be comfortable, won't restrict the movement of the tools or belt, and it will allow you to move around easily, which includes the ascending and descending of your roofing ladders. Safety is extremely important when up on the roof, and your tool belt can help improve your safety level.
Popular manufacturers include DeWalt, Jackson Palmer, and Occidental Leather. There are a lot of options available to you, and getting the right tool belt is important, so we have put together reviews of the best roofing belts available for you. We've taken into account their practicality, functionality, safety, and budget so that you can enjoy the best tool belt for your next roofing project.

A Quick Comparison of Our Favorites
Rating
Image
Product
Details

Best Overall

DEWALT DG5617 20-Pocket Apron Tool Belt

Adjustable 29" to 46" belt
Cell phone holder and additional zip pocket
20 pockets in total
CHECK PRICE

Best Value

GlossyEnd Construction Tool Belt

Adjustable between 33" and 52"
Hammer loops
Cheap
CHECK PRICE

Premium Choice

Occidental Leather 9855 Adjust-to-Fit Fat Lip Tool Bag

Toughened leather pockets
Dense neoprene belt
10" pockets are suitable for big tools
CHECK PRICE

JACKSON PALMER Professional Comfort-Rig Tool Belt

Design based on user feedback and preferences
Fits 30" to 50" waist
Highly customizable for comfort and safety
CHECK PRICE

Dickies 57023 Padded Tool Belt

Adjustable between 32" and 50" waists
Compatible with other Dickies tool holders
Made from durable canvas
CHECK PRICE
The 10 Best Roofing Tool Belts – Reviews 2022
1.

DEWALT DG5617 20-Pocket Apron Tool Belt – Best Overall
The DeWalt DG5617 20-Pocket Apron Tool Belt is a 20 pocket apron style tool belt.  It has fully padded suspenders that can be adjusted to your size and that will offer protection and comfort during use.
They have 20 pockets, which are ideal for holding items like nails, measures, pencils and other accessories. The zippered pouch holds valuables and prevents them from falling and getting damaged. The apron is suitable for waists between 29 and 46 inches. The padded cell phone holder means that you can store your phone, without risking damaging it when it falls. This separate holder also means that you can keep your phone away from tools and fastenings.
One problem that is persistent in this style of a tool belt, that allows for the altering of size, is that it can have a large overlap when you extend the belt to smaller sizes. Also, while the suspenders and pockets of this belt are of excellent quality, the plastic connections are more prone to damage.
Pros
Adjustable 29" to 46" belt
Cell phone holder and additional zip pocket
20 pockets in total
Cons
Quite expensive
Large overlap on smaller sizes
---
2.

GlossyEnd Construction Tool Belt – Best Value
At about a third of the price of the DeWalt tool belt, the GlossyEnd Construction Tool Belt is one of the best roofing tool belts for the money.
It has five main pockets for holding nails and tools, as well as an additional six pockets for accessories like pliers and pencils. The 2-inch poly web belt is strong and rugged so will withstand having fasteners and other sharp items inside, and the belt is adjustable between 33 and 52 inches. Two steel hammer loops enable the holding of hammers that are too large for the pockets.
Ensure that the belt is designed for your waist size because the weight of tools will pull the belt down if it doesn't fit snugly and securely. This is a good quality belt. It holds a lot of tools and accessories, and the pockets themselves are strong and sturdy. However, the plastic clip may give way if you load too much into the pockets.
Pros
Adjustable between 33" and 52"
Hammer loops
Cheap
Cons
The plastic clip is not the strongest
Better suited to larger waists
---
3.

Occidental Leather 9855 Adjust-to-Fit Fat Lip Tool Bag – Premium Choice
At three times the price of the DeWalt and nearly 10 times the price of the GlossyEnd tool belt above, the Occidental Leather 9855 Adjust-to-Fit Fat Lip Tool Bag is an expensive option. However, it is very strong and durable, with 10-inch deep nylon bags that have reinforced leather around the edges that will even protect from potential damage caused by nails and screws.
The belt has hammer hooks on the front and multiple tool holders, as well as a tool and hammer holder in the rear. The belt is made from a high-density neoprene so it will withstand regular and heavy use. However, there may be some tool-heavy users that require more tool pouches or bags, or that may want greater flexibility to move the bags around for a more optimal configuration.
When it comes to strength and ruggedness, however, these are virtually bulletproof and will last for years.
Pros
Toughened leather pockets
Dense neoprene belt
10" pockets are suitable for big tools
Cons
Very expensive
No pocket configuration options
---
4.

JACKSON PALMER Professional Comfort-Rig Tool Belt
The Jackson Palmer Professional Comfort-Rig Tool Belt has a grommet reinforced adjustable waist that will fit 30 to 50-inch waists. It has adjustable shoulder straps that enable you to get comfortable and to ensure a snug fit that won't damage or come loose during use.
The belt has iron buckles, as well as reinforced stitching at stress points, ensuring a strong and resilient workman's belt. The back and chest straps are padded for comfort, which is important because this belt can hold a lot of weight and could become uncomfortable. You will find two power tool hooks, 2 detachable pockets with built-in dividers, and an individual hammer holder.
Although the configuration options are limited, there is some room for customization thanks to the removable pockets. However, the grommets and rings are not that strong and are prone to damage.
Pros
Design based on user feedback and preferences
Fits 30" to 50" waist
Highly customizable for comfort and safety
Cons
Rings and grommets prone to damage
---
5.

Dickies 57023 Padded Tool Belt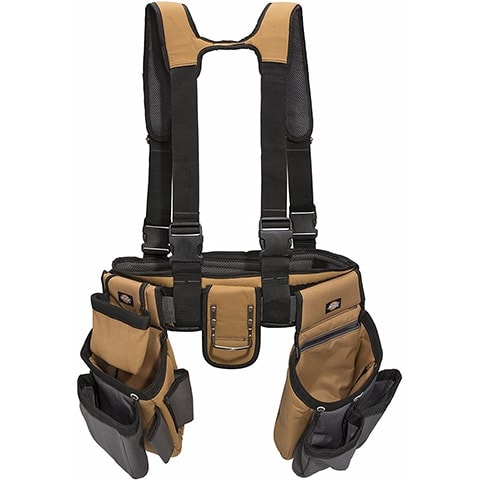 The Dickies 57023 Padded Tool Belt is a suspenders style belt that fits 32 to 50-inch waists and can be adjusted to the size of the wearer.
The belt consists of a 5-inch mesh-backed waist that is designed for comfort and so that it can be easily and securely adjusted. It has durable canvas, which won't rip even if it gets caught on ladders or you drop tools into the pockets. It has 3 wide pockets, 3 tool pockets, and 2 tool loops on one side, and seven pockets on the other, giving a total of 13 pockets and 2 loops. The suspenders are adjustable, enabling you to get them secure and snug. They are padded, too, which offers greater comfort for the wearer. The accessory belt will work with all Dickies pouches and tool holders, which means that you can add to the selection of tool holders to get the exact belt layout you require.
The Dickies 57023 Padded Tool Belt is modestly priced and helps ensure comfort and safety during their use, but it lacks a chest strap that would keep it secure when leaning over, and there are some problems with the overall fit of the belt.
Pros
Adjustable between 32" and 50" waists
Compatible with other Dickies tool holders
Made from durable canvas
Cons
Lacks a chest strap
Fit isn't great and can be slack
---
6.

ToughBuilt TB-CT-111C Handyman Tool Belt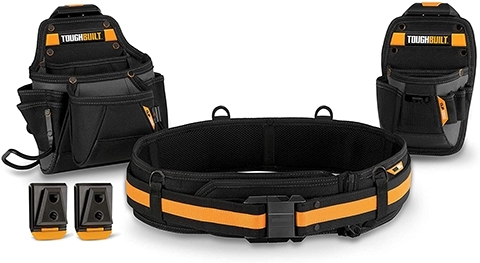 The ToughBuilt TB-CT-111C Handyman Tool Belt is a 32 to 48-inch waisted adjustable tool belt that is made from rugged materials that are designed to last and will withstand regular and heavy use.
The belt is designed to last years. It is priced around average for the belts on this list and this set includes 2 pouches and the padded belt, giving a total of 10 pockets, a hammer loop, and 2 ClipTech hubs. The hubs are conveniently designed so that they can be changed and swapped out for different ClipTech pouches. This enables you to create exactly the custom layout of pockets and holders that you want for the job at hand and to carry all the tools you require.
The ClipTech customizable pouches are a beneficial addition because we all have different tool requirements. But, while the belt is heavy-duty, it is also somewhat inconvenient because it is so bulky and it can be difficult to slip over work clothes and other layers.
Pros
ClipTech modular pouch design
Plenty of pockets
Thick, rugged material
Cons
The belt is thick and bulky
---
7.

Bucket Boss 50200 Builder's Tool Belt
The Bucket Boss 50200 Builder's Tool Belt is an inexpensive tool belt that is made for waists measuring up to 52 inches. It is better suited to those with large waists because the overlap is long and gets in the way on thinner waists.
The pouches are barrel bottomed, which means that they have a large capacity and can be used to protect their contents without crushing and squeezing them. The pouches are part of an adjustable pouch system, which means that you can change the layout of the belt to match your needs, whether you want to change the layout because of a different dominant hand or because you need quick access to different tools for different jobs.
The barrel bottom of the pouches makes these items beneficial for their storage capacity, but this feature is also one of the belt's biggest problems because it means that your tools and other items will be inclined to slide out when you move. The cost and the design of this belt mean that it is better suited to home improvement and DIY jobs, rather than for use on a professional construction site.
Pros
Customizable pocket layout
Suitable for up to 52" waist
Cons
Barrel bottom pouches mean items can slide out
Not as durable as other belts
---
8.

Task Tools T77265 Tool Belt
The Task Tools T77265 Tool Belt is a carpenter's apron style tool belt. It has rounded corner pockets that are reversed and make it easy to access the content while still ensuring that your tools and fastening stay in place while you move.
The apron belt is moderately priced, on the cheaper end of the list. The 2-inch wide belt is made from tanned leather, which does help make it durable, but also means that there is less give and flexibility in this belt compared to nylon and those made from neoprene and other softer materials. Leather also tends to crack if it is left to get wet or gets too hot.
Another problem with this belt is that it is very long, thanks to its ability to adjust up to a 52-inch waist, and it can be difficult to add extra holes in the leather. This isn't a problem if you want to adjust to the bigger sizes, but it means that there is a lot of belt left dangling if you have a smaller waist. It has 12 various-sized pockets that can be used to store tools, nails, screws, fastenings, and other accessories.
Pros
The belt is tough and durable
Very adjustable and customizable
Decent price
Cons
Left with a lot of dangling belt on shorter sizes
Leather cracks
Leather is quite stiff compared to nylon
---
9.

Style n Craft 76-425 11 Pocket Tool Belt
The Style n Craft 76-425 11 Pocket Tool Belt is, as the name suggests, an adjustable tool belt that consists of 11 pockets. It is made from 600D polyester, which is durable but retains its flexibility so that it will move and has some give in it.
While leather belts can be uncomfortable and do not move with you, nylon will do. As well as the 11 pockets, the Style n Craft has two hammer hooks for further convenient storage. The 2-inchbelt can adjust from 29 inches right up to 46 inches, but, as with a lot of these adjustable large belts, if you use the belt at the lower end of the adjustable scale, you are left with a sizeable amount of overlap and you will need to find somewhere to stow this. It is an inexpensive belt but it is rigid in its layout and design.
The pockets cannot be moved, there is no separate square pocket, and only one end of the belt can be adjusted so if you do have a thin waist, the buckle will end up around the side of the waist. Not only is this uncomfortable but it can lead to you accidentally unbuckling the belt when you lean over.
Pros
Cheap
Adjustable 29" to 46" waist
Cons
Lots of overlap at smaller sizes
The belt can undo when adjusted to a small size
No way of changing pocket and storage layout
---
10.

CLC Custom Leathercraft 175274 Tool Belt
The CLC Custom Leathercraft 175274 Tool Belt is a moderately priced leather tool belt that can be adjusted to fit waist sizes from 29 to 49 inches.
With four main nail and tool pockets, as well as 8 smaller pockets that are suitable for storing nail sets, pencils, and smaller accessories, the belt has a total of 12 pockets. The belt also includes a metal hammer loop that should allow you to securely hang your hammer, although smaller hammerheads do tend to fall out of this hook when moving.
Also, a common problem with leather tool belts and leather in general, is that it is not as malleable as nylon so it won't be as flexible when you move, but it is liable to crack and split if it gets wet or cold. Finally, the stitching inside the pockets does not hold up well to tough use, which means that holes can form and tools can disappear.
The modest price combined with the tough quality of the leather makes this a good belt, but there are better models available if you're willing to spend a little extra or opt for nylon rather than leather.
Pros
Leather is tough
Reasonable price
Cons
Leather cracks
Not as flexible as other materials
---
Buyer's Guide
Rather than having to keep heading from the roof to your van or from the roof to the toolbox, you can carry all the tools you need for a roofing job up the ladder with you on the first trip. However, you can't carry a toolbox while climbing a ladder and it is dangerous to try and carry everything up by hand. A tool belt not only makes it easier to carry all of your required tools and other bits and pieces up the ladder, but it enables you to keep them all on hand. Need a hammer? It's hanging off the hook at the front of your belt. Want more nails to finish the job? They should be in the pouch on the front of your tool belt. You get the picture.
When buying a tool belt, there are some factors that you need to consider to ensure that you get the best model and the right belt for your next project.
Material
While pleather or unnamed lightweight synthetics might be good enough for a lightly used tool belt for DIY purposes, a roofer's toolbelt needs to be stronger. You don't want the pocket giving way halfway up a ladder, and you don't want your hammer falling off the belt when you're working at height. Essentially, this leaves a choice of leather or nylon belts.
Leather is durable and tough, but it is also unyielding, heavy, and it has a tendency to crack or split when it gets cold or suffers damage. It can be expensive and if you want to continue to get the most from a leather tool belt, you may have to treat it every year or two.
Nylon, on the other hand, is lightweight and flexible. It will move with the shape of the pocket contents, sit comfortably around your waist, and should not damage when it gets wet. The cost of nylon depends on the exact type and can range from really cheap to prohibitively expensive, although it does tend to fall in the middle. Nylon can be combined with other materials like webbing and neoprene for additional functions and benefits.
Types Of Tool Belt
Buying the right type of tool belt means finding one that best fits your body and that meets your working requirements. It should have ample room, sit comfortably around you without sliding or slipping off, and should hold all the tools you need it to. Roofer's tool belts are usually one of the following types of belt:
Suspender – The suspender tool belt fits around the waist but also has a suspender style harness to go over your shoulders. The straps usually cross, giving stability and strength, and the addition of the shoulder straps means that the weight of the belt and its contents is spread right across your chest, back, and shoulders, making it easier to lift and hold the tools you want to carry. This arrangement also offers additional support to prevent the belt from sliding down and to stop tools from spilling out of the belt pockets.
Waist – The waist belt is the simplest and most basic arrangement. It is a belt that attaches around your waist and the pockets and pouches are essentially attached to the belt loop. If you want customizable and interchangeable pockets, then you will usually be looking at this style of tool belt. Be aware that while these are the most common form of tool belt, they may not be the best option as a roofer's tool belt because you will want additional support when climbing a ladder.
Apron – The apron tool belt has a loop that goes around the back of the neck and will usually have some sort of belt fastening to go around the waist. This type of belt can have very deep pockets and lots of them, but they aren't the most comfortable and may restrict movement.
Adjustable Belt Strap
It is common to find tool belts with adjustable belt straps. Otherwise, you have to find a belt that matches your waist size, and once you have tools and accessories strapped to your waist, your usual size may not be appropriate. Bear in mind that adjustable straps have to go somewhere, and if you buy a belt that is suitable for 30" to 50", and have a 30" waist, that means that there will be a considerable amount of overlap to hang or be stored somewhere.
Pockets And Hammer Loops
The belt will need to offer some method of storing your tools, fastenings, and accessories. The most common method of storage is the pocket, and you will find a configuration of multiple small and large pockets. Consider the tools that you use frequently for the type of job you're performing and then ensure that the belt you buy has the appropriate size and number of pockets.
Hammer loops are also useful because they leave the most frequently used and largest tool immediately to hand and leave it in a convenient location where it is easy to grab.

Conclusion
A tool belt should be considered a vital part of a roofer's tool kit, as well as a beneficial way of carrying the contents of one. It can be used to carry one or two hammers, various nail guns and attachments, the shingle nails and fasteners that go with it, and a host of small and large accessories and tools.
By providing you a secure and functional place to hang or hold your tools, it means that you won't be left trying to juggle several sharp implements and bladed objects up a rickety ladder, and it means that you won't have to keep shimmying up and down that ladder to get the items you need, and those that you inevitably forgot. In short, the tool belt is a time-saver, a back saver, and, potentially, a lifesaver. But there are a surprising number of options available to the tool belt buyer. This is why we've put together reviews of ten of the best available models. We've listed them according to their functionality, comfort, and budget.
And we hope that you have benefited from our reviews by finding the tool belt that best fits your project requirements. We found that the 20 pockets and the adjustable waist of the DeWalt DG5617 meant that the moderate price tag was more than reasonable, but if you're operating on a restricted budget, the GlossyEnd Construction Tool Belt offers great value for money with 11 pockets and an adjustable belt.