10 Best Roofing Nailers of 2023 – Top Picks & Reviews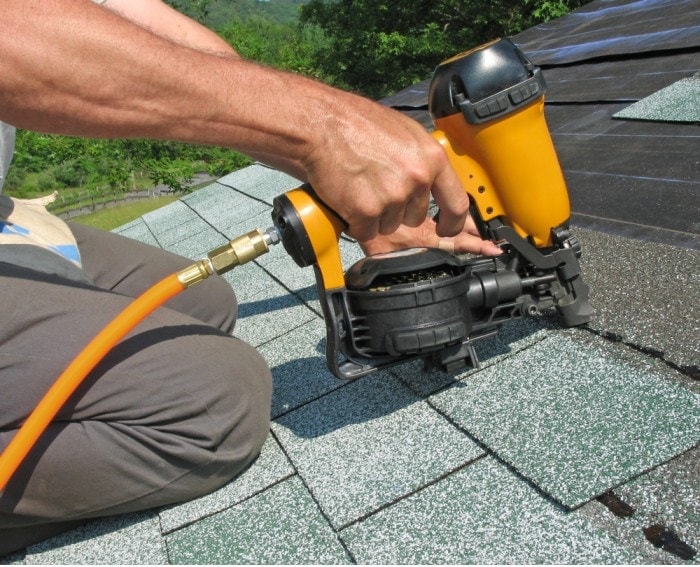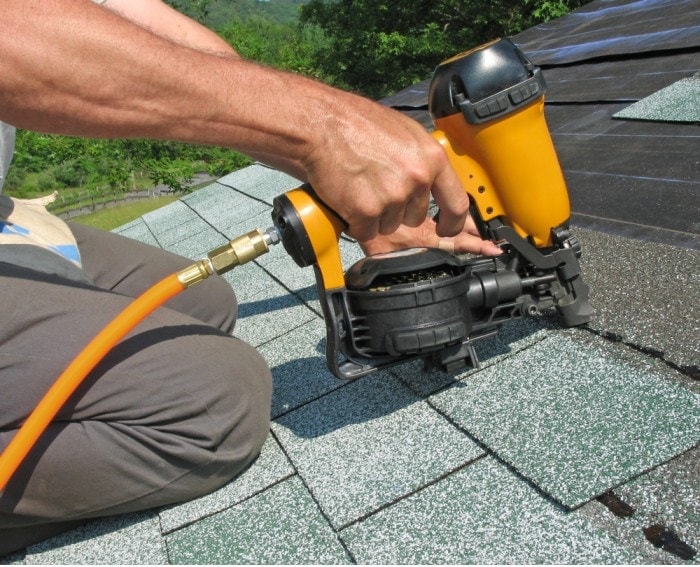 The roof is the first line of defense for any home when it comes to anything falling from the sky. Snow, rain, hail, even tree branches can damage a home, and possibly even hurt the family within. That is why having a roof you can count on is so important, and the right roofing installation is only done efficiently with a top-quality roofing nailer.
Roofing nailers take the job of roofing and make it not only fast, but actually a lot of fun. And with the barrel nail coil, reloading is minimized, making it easier to maintain your momentum. They are industrial grade, capable of long hours of use, and allow a constant stream of thousands of nails to be fired from them without issue.
We have put together a comprehensive list of our favorite roofing nailers and a list of positives and negatives for each. Some of the best brands are featured, as well as some you may not know. Use these reviews when picking your next roofing nailer.
---
A Quick Comparison of Our Favorites in 2023
Rating
Image
Product
Details

Best Overall

MAX USA CORP Coil Roofing Nailer

Tar-resistant nose
Anti-jam magnet
Full round head driver blade
CHECK PRICE

Best Value

Makita 453-R Coil Roofing Nailer

Aluminum housing
Built-in magnet
Shingle guide
CHECK PRICE

Premium Choice

BOSTITCH Coil Roofing Nailer

¾" to 1 ¾" nails
Lockout
Wear guards
CHECK PRICE

Metabo HPT Roofing Nailer

Tool less depth adjustment
Lightweight
Carbide tipped push lever
CHECK PRICE

WEN Pneumatic Coil Roofing Nailer

Shingle guide
120 nails in magazine
Quick-release jam fix
CHECK PRICE
The 10 Best Roofing Nailers
1.

MAX USA CORP Coil Roofing Nailer – Best Overall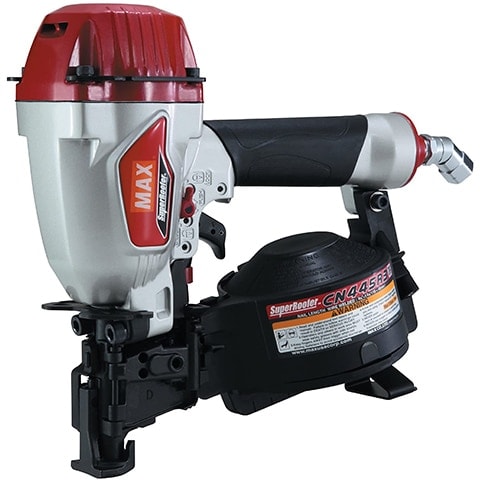 Any roofer worth their salt has dealt with the perils of tar paper cooking in the sun, gumming up your tools. The good people at MAX saw this problem and came up with a solution. The MAX 445R3 comes with a tar-resistant nose, designed to last four times longer than other tools.
It has a full round head driver blade that holds the nails true, every time. A carefully placed magnet holds the next nail in place, so the gun doesn't jam. And it features a dial adjustable depth control which gives you the power to decide how far in the nail will go and do it without special tools.
It has one rare flaw, and that is, if the magnet doesn't catch the nail next to be fired, the gun can jam. And if it does, it is tricky to get the nail unstuck. However, after the jam is fixed, the gun works perfectly again. Despite this, we still think this is the best roofing nailer on the market this year.
Pros
Tar-resistant nose
Anti-jam magnet
Full round head driver blade
Depth control
---
2.

Makita AN Coil Roofing Nailer – Best Value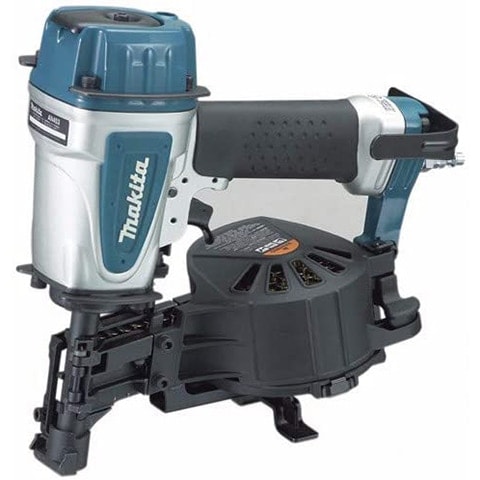 The Makita AN 453-R has an aluminum housing which is a staple of the product line and ensures a longer tool life over steel. It has a built-in magnet to ensure it isn't lost or misfired, and a large carbide insert in the nose for lasting performance.
Its in Tool-lessin shingle guide is designed for simple and smooth adjustment and guarantees consistent shingle placement. It drives nails like a dream, and with a little practice, it can run as efficiently as you needed it, and with better speed. At just over 5 pounds, it is easily one of the best roofing nailers for the money.
It has the issue of being only capable of bump-fire, which is fine when running a long row of shingles, but if you need to do more precise work than would be best with a single fire, you might be out of luck. Beyond that, no real complaints.
Pros
Aluminum housing
Built-in magnet
Shingle guide
Carbide insert
---
3.

BOSTITCH Coil Roofing Nailer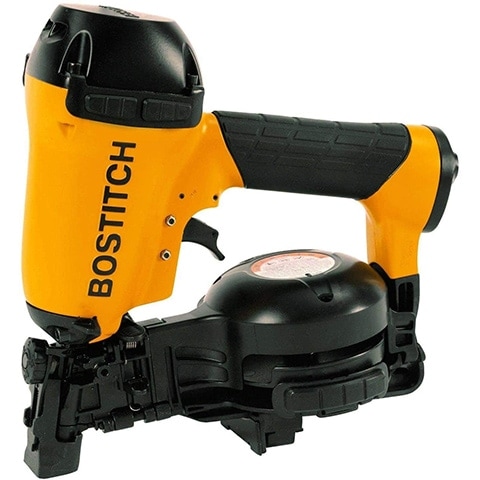 The BOSTITCH Coil Roofing Nailer can handle nails from ¾-inch to 1 ¾-inch and has a lockout mechanism that prevents firing while empty. It features an adjustable depth control, body and magazine wear guards, and a full round driver, not to mention the side-load canister.
Its shell is durable yet lightweight aluminum, fantastic for hours of constant use, and uses carbide tips that extend the life of the gun. It has an adjustable shingle guide for quick and accurate shingle spacing and a 7-year warranty, longer than most other roofing nailers.
There have been occasions when this particular nailer double fires. And reports show it to be somewhat inaccurate, firing nails at odd angles, regardless of technique. These problems are rare, but they do happen, and it is something to be aware of.
Pros
¾"  to 1 ¾" nails
Lockout
Wear guards
Aluminum body
Depth control
Find a roofing specialist in your area, and get free, no-commitment estimates for your project.


---
4.

Metabo HPT Roofing Nailer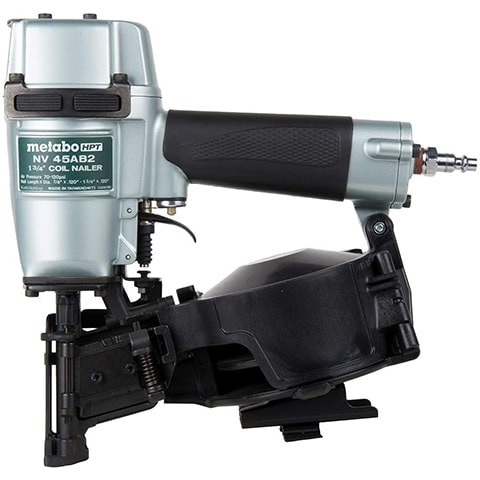 For a nailer that fires both ⅞-inch to 1 ¾-inch nails, the Metabo HPT Roofing Nailer is what you want. This model can install asphalt shingles and insulation boards with ease. It has a tool-less depth of drive adjustment options, giving you superior precision in nailing and flush driving.
It is very lightweight but still balanced for maneuverability. The carbide tipped push lever reduces wear on the head, and it has a side-load magazine for convenient and quick loading. All of that in this durable nailer, and you are getting that roof done in no time.
Its fatal flaw is its power. Even with the air compressor turned up, it still has a host of issues firing nails effectively. And because it is underpowered, the nails often come out crooked. It is a fast gun, but not at all an accurate one.
Pros
⅞" to 1 ¾" nails
Tool less depth adjustment
Lightweight
Carbide tipped push lever
---
5.

WEN Pneumatic Coil Roofing Nailer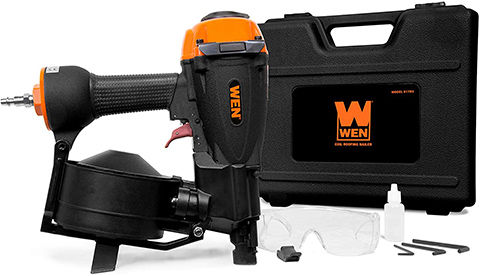 For a pneumatic nailer capable of firing 11-gauge nails, look no further than the WEN 61783 Pneumatic Coil Roofing Nailer. It can hold up to 120 nails at a time and has a quick-release mechanism for easily fixing jams. And it uses pneumatic operating pressure up to 120 pounds per square inch (PSI).
It has an adjustable shingle guide and depth control, allowing you to get more done without fretting over shingle spacing. And this model comes with a blow-molded carrying case to protect it when traveling from job to job, complete with oil and hex wrenches.
The biggest concern is double nailing. This gun has a bad tendency to double nail, which is forgivable once in a while, but many of them are doing it consistently. It is reasonably heavy, and difficult to control when the pressure is turned up.
Pros
Shingle guide
120 nails in magazine
Quick-release jam fix
Carrying case
Cons
Double fires
Hard to control
Heavy
---
6.

Valu-Air CN45C Coil Roofing Nailer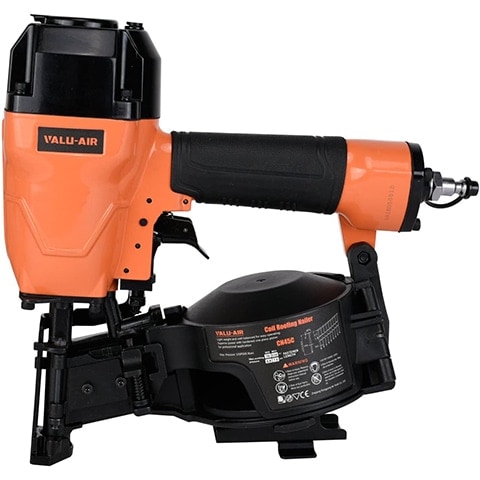 With a heat-treated aluminum housing giving you heavy-duty usage options, the Valu-Air CN45C Coil Roofing Nailer doesn't know the meaning of the word "quit." It has a single-action side-load high-capacity magazine that holds up to 120 nails at a time as well as a comfortable over-molded grip.
Its tool-free depth adjustment feature means you will have precise depth for every shot and offers 360° adjustable air exhaust to keep air away while operating and blows debris from your working space. It is designed to drive 15° coil roofing nails in sizes from ¾-inch to 1 ¾-inch.
This is another nailer that sometimes fires two at once. The trigger is very sensitive, and loading can be a little touchy. And sadly, it doesn't come with a way to store it unless you are fine just laying it in your truck or on the floor.
Pros
Heavy-duty
High-capacity magazine
Over-molded grip
Adjustable exhaust
Cons
Double fires
Sensitive trigger
Touchy loading
No carrying case
---
7.

BHTOP CN45N Roofing Nailer
The BHTOP CN45N Roofing Nailer is professional-grade, designed with a moving cylinder engine for low recoil, which means fast and accurate shots. It satisfies many nailing needs and can work with asphalt and cedar shingles, as well as siding installs, wood crate assembly, and fencing.
It has a magnetic nail holder to prevent jams, tool-less depth adjustment, and a steel contact safety with dual carbide inserts for less wear. The grip is soft and comfortable, and the balance allows for better overall control. Add the 120 collated nail magazine capacity, and it is time to get that roofing project done.
The biggest issue with this one is the feed chamber. It can be a bit dodgy and nails have to be collated to feed properly. It has plenty of power, and in some cases, too much, with no way to turn it down, except at the air compressor itself. Some of the applications are a little far fetched, and because of the power, damage is possible.
Pros
Professional grade
Versatile
Accurate
Cons
Tricky nail feed
Only takes collated nails
Over-powered at times
---
8.

AeroPro CN45N Professional Roofing Nailer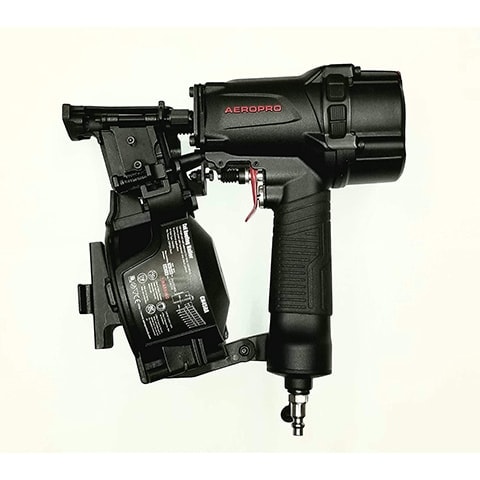 Another pro that is ready to go, the AeroPro CN45N Professional Roofing Nailer is ready when you are. Its moving cylinder gives it a fantastically low recoil, and it has a selective actuation switch that can give you the option for bump or sequential firing.
Its heat-traded aluminum housing is designed to work hard in heavy-duty circumstances, and its tool-less adjustable drive depth makes sure that hard work is precise. Just like many of these, it has a coil barrel magazine and holds up to 120 nails at a time.
This gun fires more slowly than its predecessor, the Hitachi. There is no dedicated fix for the problem, so many folks are returning theirs for other options. They are very accurate, but the slow fire rate diminishes efficiency.
Pros
Aluminum housing
Tool less adjustments
Heavy-duty
Cons
Slow firing
Inefficient
Possible power issues
---
9.

DEWALT DW Pneumatic Coil Roofing Nailer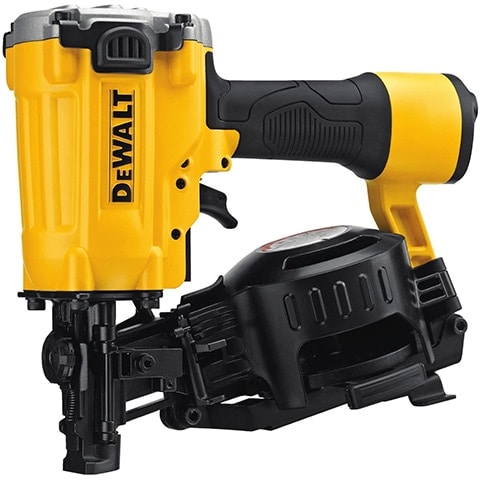 Short, sweet, and to the point —  when you buy DeWalt, you buy quality. The DEWALT DW45RN Pneumatic Coil Roofing Nailer sports a high-speed valve technology that drives over 10 nails-per-second. It is very easy to use, it has a soft rubber handle, and a great balance with minimal recoil.
You will get a long life out of the engine with its integrated seal and feed system and improved durability. It is very lightweight at 5.2 pounds, largely due to its plastic housing. And it has a compact design. A very sturdy gun overall.
Its most troubling downfall is its hair-trigger. It can fire two or even three nails at a time. The warranty leaves much to be desired. And on occasion, the trigger valve fails which should only happen when the clip is empty to prevent dry firing.
Pros
High-speed valve
Seal and feed system
Cons
Hair-trigger
Double/triple fires
Trigger valve fails prematurely
---
10.

Makita AN454 Roofing Nailer
For maximum performance, the Makita AN454 Roofing Nailer will show those nails who is boss. It is tuned to a faster nail driving speed, giving you an improved sense of efficiency. Its traditional Makita aluminum housing ensures this nailer will live a long time. And it is lightweight at just 5.2 pounds.
It uses a one-step canister system, easily adjustable, holding nails more precisely after loading. And its tool-less depth adjustment dial is perfect for making sure your nails are flush. It can only handle 1 ¾-inch nails, so no size issues to jam it up.
This may not be the best roofing nailer out there as some buyers are questioning if this is even a Makita product because several have fallen apart rather quickly. The big nose tip makes it hard to see where the nail goes, and it is wildly inaccurate. Its recoil is terrible, and the modification spring to fix it seems to not exist. Plus, the feed coil for the nails is very weak.
Pros
Fast nail driving speed
Aluminum hosing
Light
Cons
Falls apart
Obstructed flight path of nail
Inaccurate
No mod spring
Feed coil weak

Buyer's Guide – Choosing the Best Roofing Nailer
Roofing is a noble profession with a long and glorious tradition. It is recession-proof, and new roofing companies, roofing styles, and roofing materials pop up every day. And the thing they have in common is the desire to be the most professional, most efficient outfit in town.
Roofing by hand can be rewarding if you have all the time in the world, but for a professional, time is money. That is why having the best roofing nailer is not just a luxury, but an investment in not only the tools of the trade but the business of roofing itself.
Choosing Your Roofing Nailer
Power
The vast majority of roofing nailers these days are powered by air. Pneumatic pistons fire a pin that shoots the roofing nail through the roofing material and into the plywood below. It works exactly the same way as all air-powered pneumatic nailers, with one catch. Because it is only set to fire a certain depth, the depth controls are more sensitive on a roofing nailer than any other.
Accuracy
A roofing nailer only fires at a certain angle, which helps with accuracy. It uses a barrel-style magazine on many models, allowing 120 nails to be used in quick succession. And the handle is ergonomic and soft, with limited recoil, so your hand doesn't get tired too quickly.
To pick your roofing nailer, you have to know the details of the task, but roofing is largely similar from job to job. The only thing that changes is the material being attached to the roof. So, when choosing a nailer, knowing how powerful your gun has to be to accommodate that material is important.
Picking the Nails
The materials you are affixing to the roof are only as good as the nails you use, or more specifically, the nail lengths. Many roofing nailers have an option between two sizes of nails, typically ¾-inch and 1 ¾-inch. Others only use one size. Some fire at 15°, where others fire at 16°. It may not seem like much, but it makes a world of difference.
When choosing your gun, knowing what nails you will need is paramount. Too short, and your roofing material blows off in a stiff wind. Too long,  and your nails will plunge through plywood in the attic or another usable room. It's not only unsightly, it can be dangerous.
The length of the nails also factors into the power of the nailer. Longer nails need more power. They need that added boost to push them through the material. The denser the material, the more power necessary.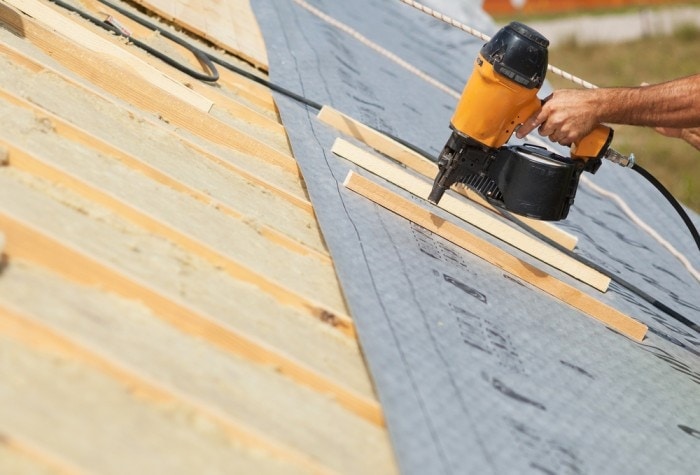 A Word on Power Sources
All roofing nailers are powered by air. If you intend to do some roofing with a pneumatic roofing nailer, you will need an air compressor that can put at most 120 PSI of pressure to your nailer. A little less is fine, but it will not be as effective. The size of the compressor is up to you, but it needs to be electric and have a specific minimum capacity.
Air compressors are heavy. If taking your roofing to a professional level, you will need a trailer to haul it to the job site, and hoses for the guns, a minimum of 200 feet. These are an investment and will last a long time if properly maintained.
More nail gun buyer's guides from the blog:

Conclusion
The clear winner of this review was hands down the MAX CN445R3 Coil Roofing Nailer. It not only blew all others out of the water with style and skill but had everything a professional could desire in the perfect roofing nailer. If it came with a carry bag, it would be perfect.
For our pick in the best value column, we have the Makita AN 453-R 15-Degree Coil Roofing Nailer. This time-honored brand has been doing tools for a long time and doing them right.
Many things go into a great roofing nailer, and this list shows quite a few fantastic qualities a professional should look for. We hope these comprehensive reviews laid out some of the details that make your next roofing nailer a clear choice. Details matter, so when choosing, get them right, and you will have a wonderful working experience.
---
Featured Image Credit: Christina Richards, Shutterstock