Kohler Elliston Toilet Review 2023 – Pros, Cons & Verdict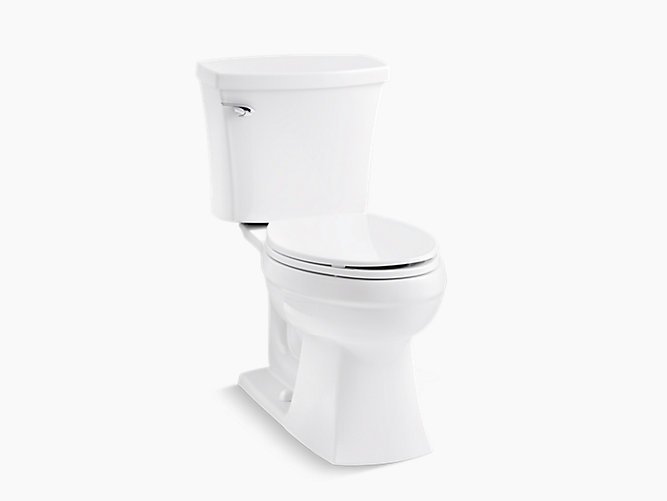 We give the Kohler Elliston Toilet a rating of 4.6 out of 5 stars. 
Build Quality: 4.5/5
Power: 4.7/5
Features: 4.7/5
Price: 4.7/5
The Kohler Elliston Toilet is a two-piece unit with an elongated seat and comfort-height seating, making it easier to stand and sit. The toilet uses contemporary lines and a classic shape that will work in modern or traditional bathrooms. It includes a left-hand polished chrome trip flush lever to operate the 1.28 gallons per flush (GPF) flush system.
Although its 1.28 GPF flush helped the Elliston win the High-Efficiency Toilet (HET) award from WaterSense, it can struggle to get rid of stubborn and heavy toilet contents and may require a double flush to empty the pan.
The Kohler seat incorporates quick-release technology, which can be easily added and removed. This makes it easier to swap the seat out for a new one, and the seat can be removed anytime for easy cleaning.
The Elliston is quite basic and will appeal to those on a budget who want a good-quality toilet. It is also an excellent choice for owners looking for chair-height seating. However, if you want a strong flush or a toilet with unique lines and design, the Kohler isn't the best choice.
Kohler Elliston Toilet – A Quick Look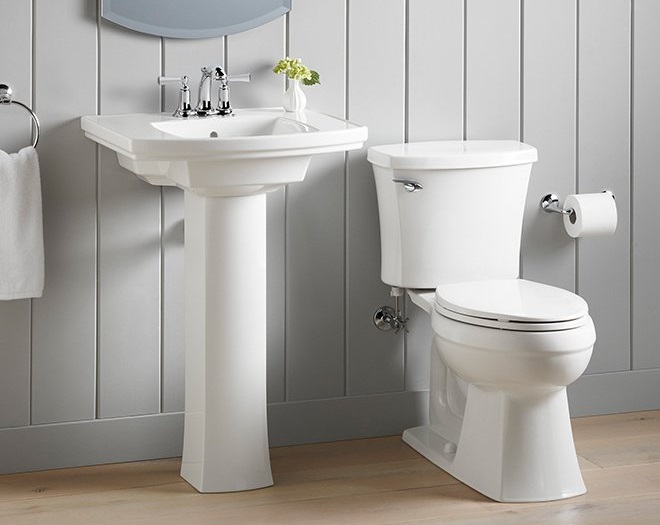 Specifications
Brand name: Kohler
Model: Elliston
Toilet Style: 2-piece
Height: 30.5"
Depth: 30"
Bowl Style: Elongated
Flush Type: Gravity
Flush Power: 1.28 GPF
Seat Included: Yes
Seat Fixing: Quick Release
Flush Mechanism: Lever
Flush Side: Left
WaterSense: Yes
Pros
Fairly cheap
Quick-release toilet seat
WaterSense certified for water efficiency
Chair-height seating
Elongated bowl
Cons
Fairly basic design
Flush is a bit weak
Some quality control issues
WaterSense Rated for Efficiency
The United States Environmental Protection Agency has awarded the Kohler Elliston Toilet the WaterSense mark. To achieve this rating, the toilet must be at least 20% more efficient than the average in the industry, which uses a 1.6 GPF flush. They must also perform as well as the less efficient designs.
The WaterSense mark means that Kohler toilets use less water than standard flushes. This can prove financially beneficial to metered water users, and owners can help do their bit for the environment by using less water when they flush.
The mark also signifies that this model of Kohler toilet has been independently judged to have a similar power of flush compared to other models.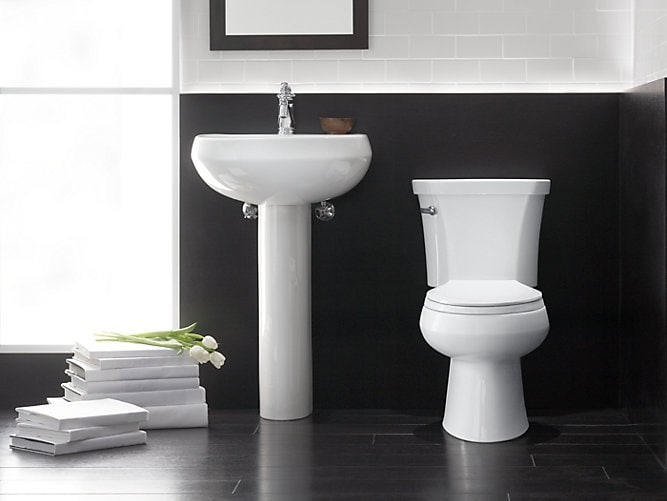 Chair-Height, Comfortable Design
Another valuable feature of the Kohler Elliston toilet is its chair-height design. This is one of several ergonomic additions to the unit. Chair-height seating makes it easier to stand and sit down. It requires less effort and causes less strain on the legs, back, and other joints.
The toilet with a seat is the same height as a standard dining room chair. The elongated bowl also offers greater comfort and gives more room to push up and lower oneself down.
1-Year Limited Warranty Included
Virtually all Kohler toilets include the company's 1-year limited warranty. The brand is well known for manufacturing toilets and other items of bathroom furniture, and its warranty ensures that you are confident with your purchase.
Single Flush Could Be More Powerful
Although the WaterSense mark indicates that the flush is 20% more efficient than more powerful flushes and should mean that the flush is equally as effective, there are some complaints that the flush simply does not do as good a job of removing waste as it should. Solids can stick to the side of the bowl, while the lack of a short flush means that you will have to use a full tank for liquid waste.
Dual flush toilets are preferred by some owners. They allow a short flush for liquids and a long flush for solids. With a standard, single flush, you have to flush twice for stubborn contents.
---
FAQ
Does This Toilet Come With a Slow-Close Lid?
Although the Kohler Elliston toilet comes with a toilet seat, it is not a slow-close lid; it is the Brevia 4774-0 toilet seat.
Is the Seat Quick Release?
The 4774-0 Brevia toilet lid has a quick-release system. This makes it easier to remove the lid for replacement purposes or general cleaning and to make it easier to wipe the lid and surrounding area.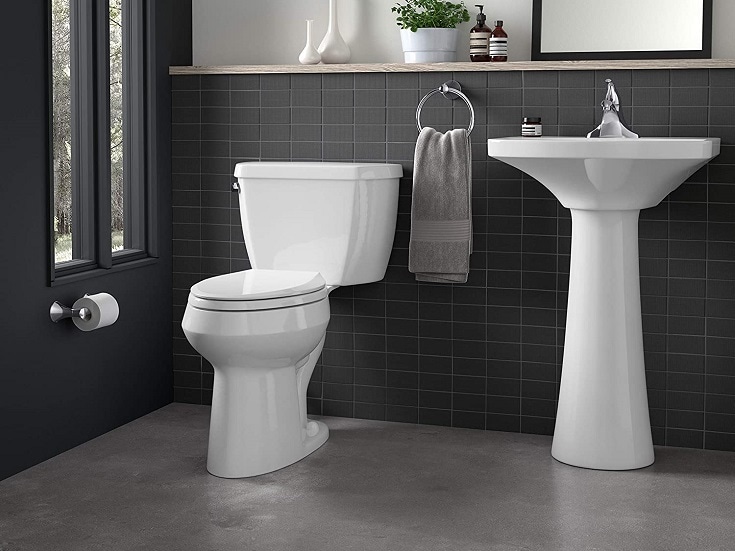 Is Comfort-Height Taller Than Chair-Height?
A standard toilet seat is 15 inches from the ground. In contrast, a chair sits approximately 17 inches from the ground. A chair-height toilet usually gives the extra 2 inches, but no exact guidelines must be met. A comfort-height toilet meets the Americans with Disabilities Act (ADA) guidelines for toilet height. These guidelines state that the seat must be 17-19 inches off the ground.
What the Users Say
We've looked at other reviews and ratings left by other buyers to see what people say about the Kohler Elliston toilet. In general, buyers have been fairly impressed by the price of the toilet, as well as the fact that it includes a toilet seat and additional items like wax rings, because these are not always included when you buy a toilet.
However, there is some criticism over the strength of the flush, but that is a common complaint with toilets that incorporate a 1.28 GPF flush rather than a more powerful 1.6 GPF model.
---
Conclusion
The Kohler Elliston is a modestly priced, two-piece toilet. It has a modern design but also looks good in a traditional bathroom. It is WaterSense-certified and has a 1.28 GPF flush, which buyers either love for its water efficiency or dislike for its lack of power. The set comes with a seat, which some brands do not include, an elongated bowl and seat, and a 1-year limited warranty.