8 Best Flooring Nailers of 2023 – Reviews & Buying Guide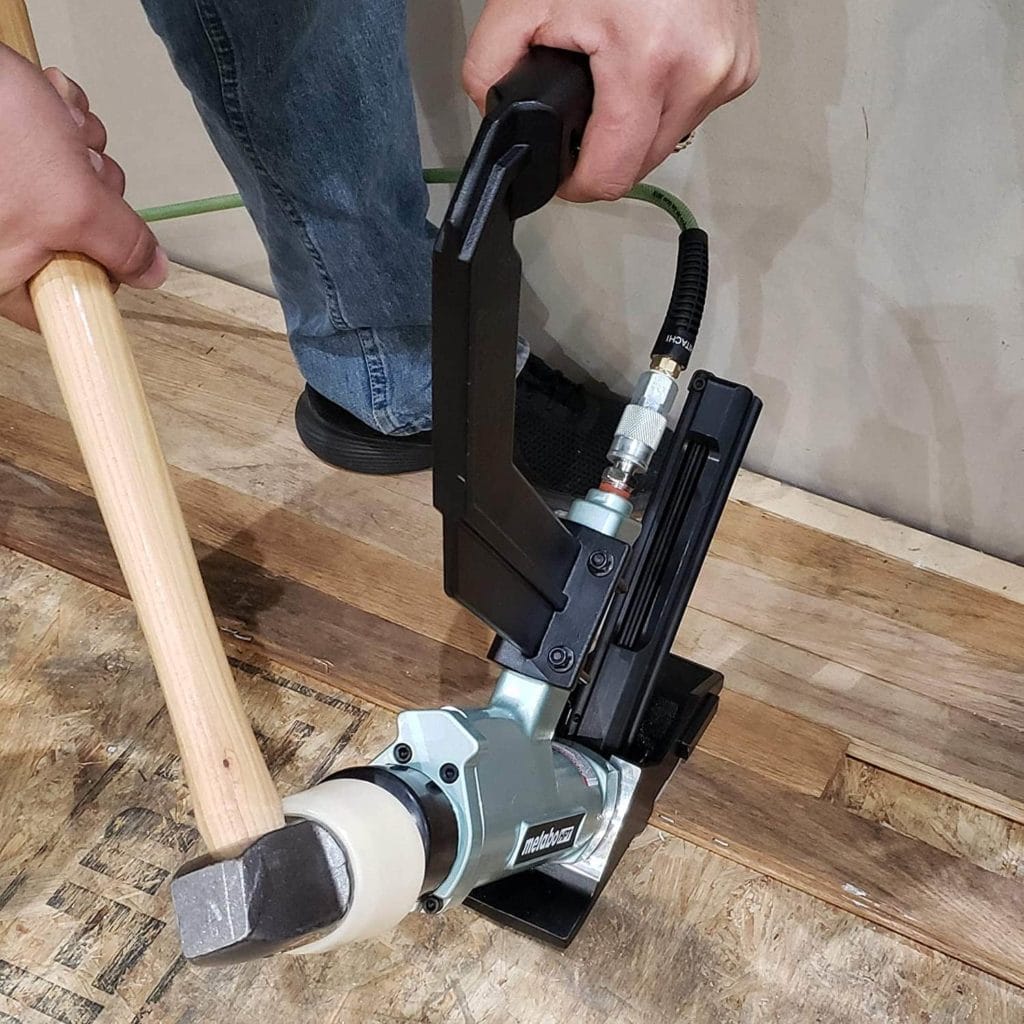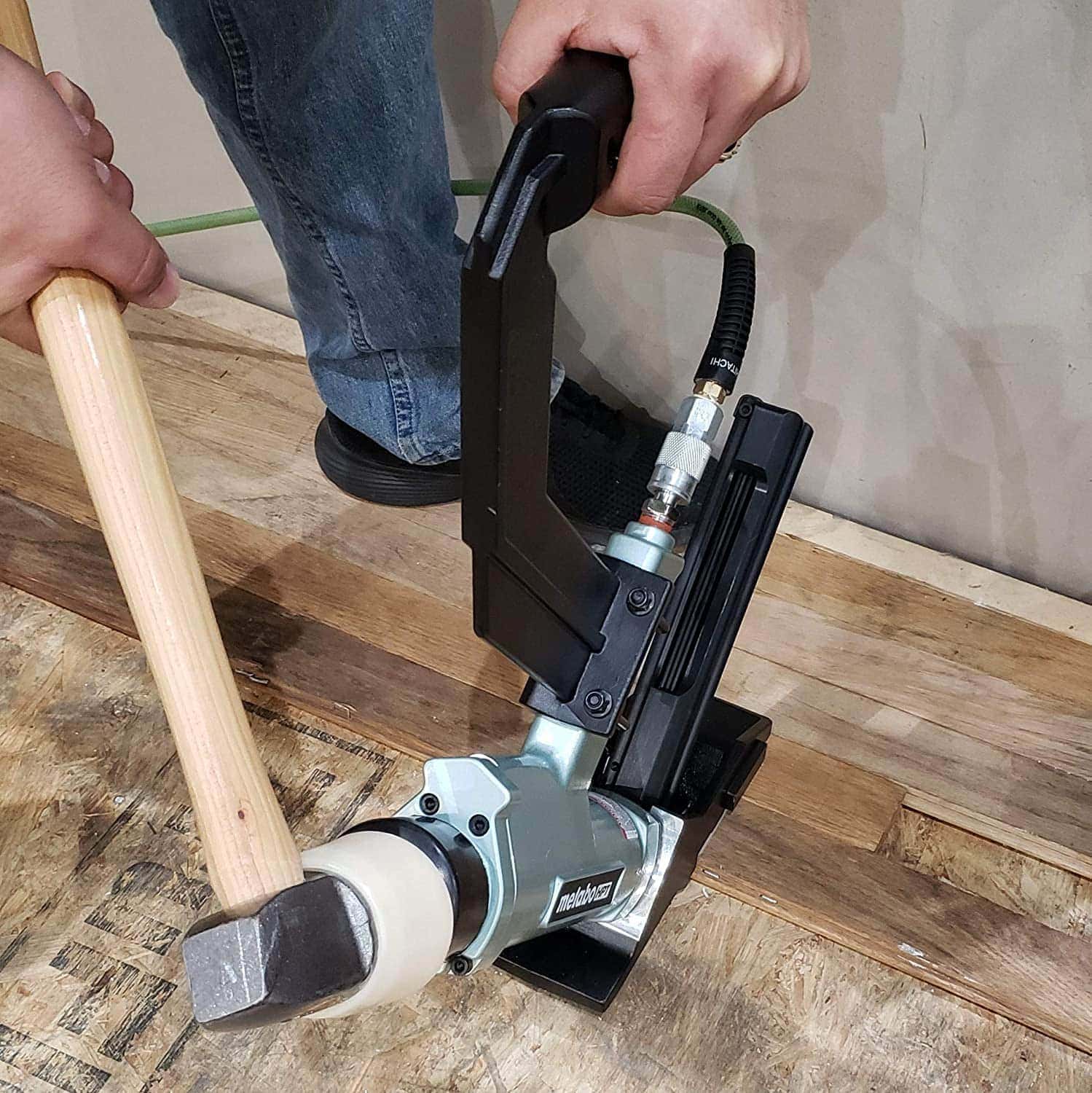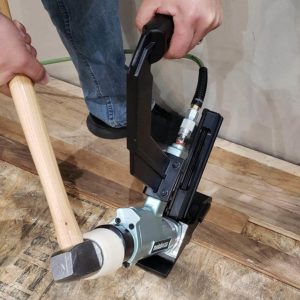 Whether you choose a pneumatic or manual nailer, getting the right tool for the job will mean finishing the job as quickly and reliably as possible.
The right nailer will eliminate mistakes, streamline the process, but will depend on the type of flooring material you are installing, the substrate and surface on which you're installing, and even factors like the amount of space you have. In an ideal world, budget wouldn't enter into calculations, but, realistically, you will want a nailer that falls within your budget and still vets the job done.
With models from the likes of DeWalt, NuMax, and Freeman, there are a lot of options. Using our reviews of 8 of the best flooring nailers on the market, you can choose the model that best fits your buying requirements and the needs of your flooring project.
A Quick Comparison of Our Favorites in 2023
Rating
Image
Product
Details

Best Overall

DEWALT DWFP12569 Flooring Stapler

Extended handle
Ergonomic grip
Interchangeable base plates
CHECK PRICE

Best Value

NuMax SFL618 Pneumatic 3-in-1 Flooring Nailer

3-in-1 flooring nailer
Has interchangeable base plates
Even includes the mallet
CHECK PRICE

Premium Choice

Metabo N5010AB HPT Flooring Stapler

Adjustable base plate
Detachable handle
Aluminum magazine and other elements
CHECK PRICE

Freeman PFL618BR Pneumatic 3-in-1 Flooring Nailer

Cheap
Excellent kit contains mallet
goggles
case
and more
Lightweight
CHECK PRICE

BOSTITCH BTFP12569 Flooring Nailer

Lightweight
Interchangeable non-marring base plates
Works with 15.5ga and 16ga fastenings
CHECK PRICE
The 8 Best Flooring Nailers
1.

DEWALT DWFP12569 Flooring Stapler – Best Overall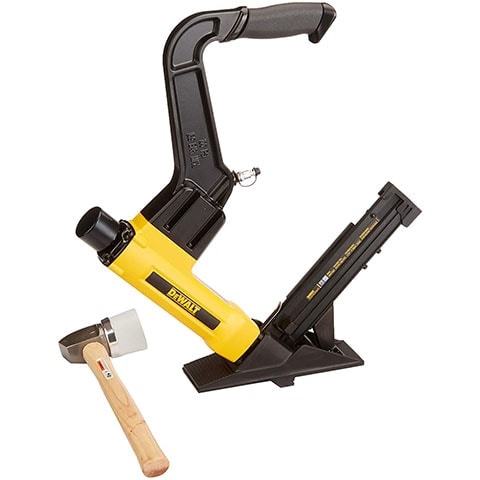 The pneumatic DeWalt DWFP12569 Flooring Stapler can drive 15.5ga staples or 16ga cleat nails. It has a mallet actuated pneumatic driver, which requires minimal effort to effectively drive nails into hardwood surfaces.
The stapler itself only weighs just over 10 pounds, which means that it is lightweight enough to carry around without being too cumbersome. The handle, which includes an ergonomic grip for comfort even during prolonged use, has been extended from earlier models, which means that you can work in a more comfortable position that won't leave you with back pain. It is a durable piece of equipment: DeWalt's 3-year warranty is a testament to that. It even has interchangeable base plates for different floor materials, and it comes with all required hand tools to ensure a more accurate and reliable finish.
However, the DeWalt is a little bigger and pricier than some models. It also has a relatively small magazine size of 100 nails, and it only works with the two types of fastener.
Pros
DeWalt's 3-year warranty
Extended handle
Ergonomic griup
Interchangeable base plates
Cons
Quite big
Quite pricey
Quite limited
---
2.

NuMax SFL618 Pneumatic 3-in-1 Flooring Nailer – Best Value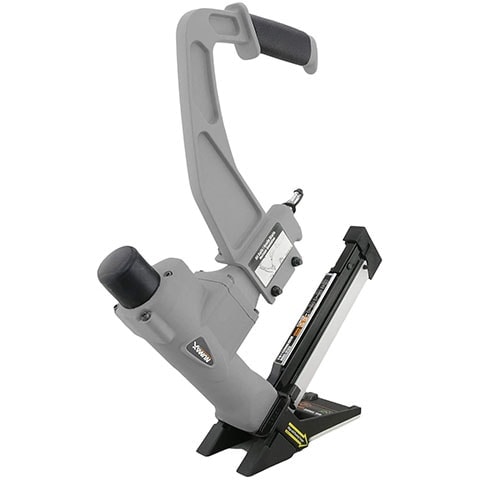 While the DeWalt is a little on the pricey side, the NuMax SFL618 Pneumatic 3-in-1 Flooring Nailer is one of the best hardwood floor nailers for the money. Not only is it cheap, but it is lightweight and has ergonomic features that make it easy to use even for a prolonged period.
It works with the staples and L cleats that the DeWalt works with, but it also works with T-cleats, making it a 3-in-1 flooring nailer and ensuring that it will work with your desired fasteners. It has two interchangeable base plates, according to the flooring material, and it not only includes hand tools like the air tool oil, but also includes the rubber mallet.
The warranty isn't as impressive as the DeWalt and, although the parts have been heat treated, it is unlikely that it will prove as durable as the incredibly hardwearing DeWalt, but it is a solid and sturdy option at a fraction of the price: ideal if you have limited flooring projects planned in the next year.
Pros
3-in-1 flooring nailer
Even includes the mallet
Has interchangeable base plates
Cheap
Cons
No storage case
Warranty is only one year, compared to DeWalt's 3-year warranty
Consult a flooring expert
Find a flooring specialist in your area, and get free, no-commitment estimates for your project.


---
3.

Metabo N5010AB HPT Flooring Stapler – Premium Choice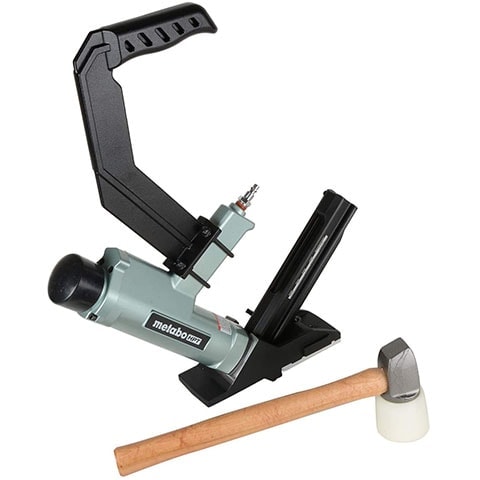 The Metabo N5010AB HPT Flooring Stapler is another mallet actuated nailer. This is an expensive model, but it is a high-quality stapler and the kit includes everything from hex bar wrenches to the mallet that you use for striking the head. However, it only works with 15.5ga staples, and it is a little heavier than some of the lightweight models.
The top-loading aluminum magazine is quick to reload, while the detachable handle is a long-reach handle that is comfortable to use and can be removed for more convenient storage. The aluminum base plate can be altered between ½ and ¾-inch without the need for tools, which makes it easy to choose between hardwood and engineered wood floors.
Pros
Adjustable base plate
Aluminum magazine and other elements
Detachable handle
Cons
Expensive
Only works with 15.5ga staples
No interchangeable base plates
---
4.

Freeman PFL618BR Pneumatic 3-in-1 Flooring Nailer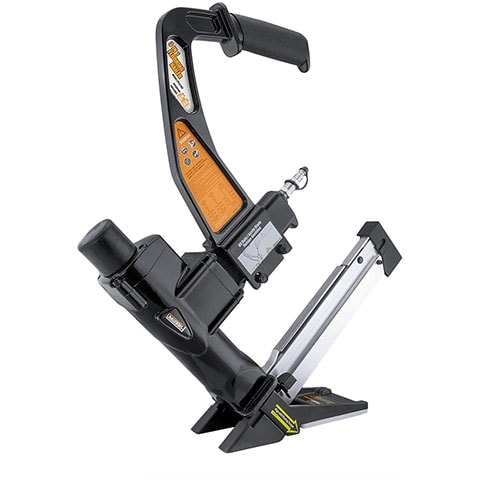 The Freeman PFL618BR Pneumatic 3-in-1 Flooring Nailer is another mallet actuated pneumatic nailer. It could easily be at the top of our list.
It's inexpensive, it can be used with the three major fastening types, and it has some valuable features like the ergonomic handle design. Its lightweight body and aluminum construction mean that it is one of the lightest nailers on the market, although sometimes you do want a bit of heft behind a device like this because it reassures you, helps keep the tool in place, and ensures better results. The kit that comes with it also adds to the value, incorporating a storage case, two sets of safety goggles, interchangeable base plates for use on different flooring materials, and a flooring mallet and adjustable hand tools.
Despite its benefits, this nailer requires the use of higher quality cleats, and this can quickly diminish the savings you make when compared to buying a more expensive nailer and budget fastenings.
Pros
Cheap
Lightweight
Excellent kit contains mallet, goggles, case, and more
Cons
You need to spend more on good quality fastenings
A little too light
---
5.

BOSTITCH BTFP12569 Flooring Nailer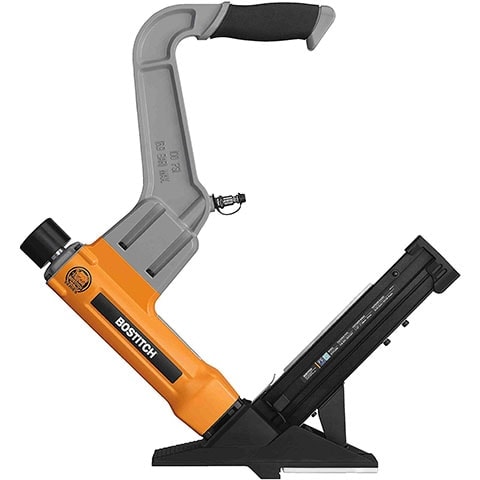 The Bostitch BTFP12569 is a 2-in-1 flooring nailer, working with either 15.5ga and 16ga fasteners. Bostitch includes a 7-year warranty, which is exceptional and longer than just about every other model on the list.
The handle has been designed to be comfortable thanks to its ergonomic grip and it is priced well while being one of the lightest models on the list, too. It is reasonably priced, around average compared to the rest of the list, and it has interchangeable non-marring base plates.
The Bostitch does have a greater tendency to get stuck, and it can be difficult to remove damaged and broken nails from the magazine.
Pros
Lightweight
Works with 15.5ga and 16ga fastenings
Interchangeable non-marring base plates
Cons
Tendency to jam
Difficult to free jams
---
6.

3PLUS HFSNSP 2-in-1 Pneumatic Flooring Nailer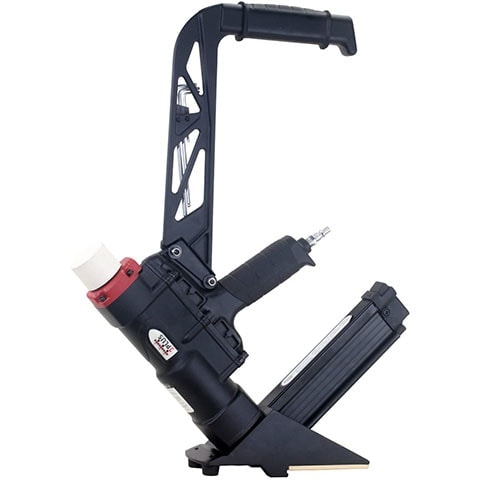 The 3Plus HFSNP 2-in-1 Pneumatic Flooring Nailer is a really cheap option, beating out all the competition on this list for offering the lowest price.
It will work with either 15.5ga staples or 16ga nails, and it has interchangeable flooring plates that can be swapped and used according to the type of flooring that you're working with. The long reach handle negates the need to have to keep crouching and standing back up, and it is removable so is more convenient for storage and moving. Despite its low cost, the kit also includes a rubber mallet, that is required for the mallet actuated action of the nailer.
The nailer is quite heavy, compared to other models, and it is more likely to jam than the more expensive models. However, if you're looking for a cheap nailer to finish a single job, this is a solid option worthy of consideration.
Pros
Cheap
Includes mallet
Works with 15.5ga and 16ga fastenings
Interchangeable base plates
Cons
Heavier than others
Jams more often than most
---
7.

Porta-Nails 402A Hardwood Flooring Nailer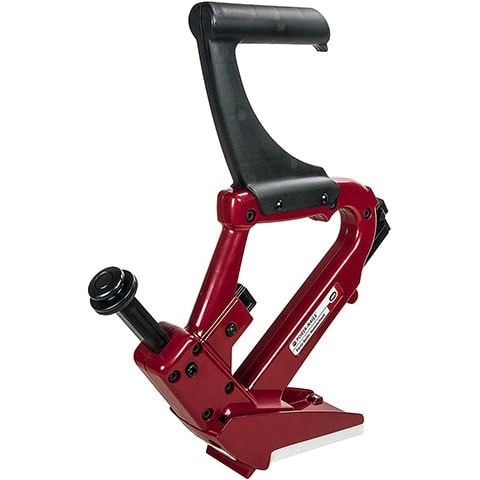 The Porta-Nails 402A Hardwood Flooring Nailer is a hardwood flooring nailer. It only works with 16ga flooring fasteners. It is priced above average for this list and is slightly heavier than average.
The kit comes with an extension handle that makes it more comfortable and less painful on the back for use. It also includes the necessary wrenches and a convenient rugged carrying case. The nailer does tend to jam, especially when hitting a subfloor screw, but this can cause permanent bending of the plate which causes the nailer to jam even more often.
Considering the above-average price, heavier than average weight, and the somewhat restricted range of fastenings it will work with, as well as its tendency to jam, there are better options on the market and on this list.
Pros
Detachable, extended handle
Includes mallet
Cons
Quite heavy
Only works with 16ga fastenings
Not the cheapest
---
8.

Estwing EFL50Q Pneumatic 2-in-1 Flooring Nailer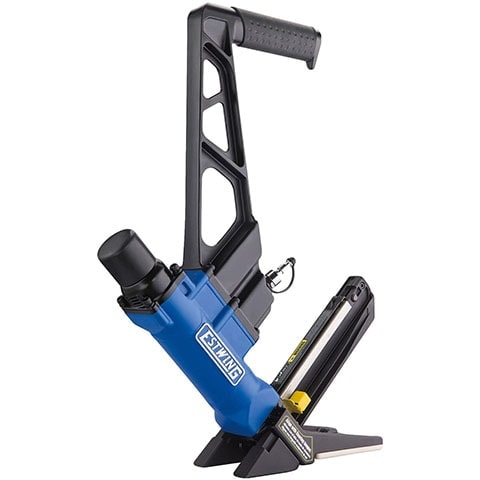 The Estwing EFL50Q Pneumatic 2-in-1 Flooring Nailer works with 15.5ga and 16ga fastenings. It enables you to install ½ to ¾-inch hardwood or engineered wood flooring. It has an extended handle that is easier and more comfortable to use, no-mar feet, and interchangeable base plates.
However, it is expensive compared to better quality models, and it has a tendency to flip forward during use and when it does this it will fire a nail across the room, which is a safety hazard. It is extremely lightweight and it is durable, but its expensive costs coupled with its tendency to fire back make it difficult to recommend.
Pros
Lightweight
Durable
Interchangeable base plates
Cons
Expensive
Fires nails at you
---
Buyer's Guide – Choosing the Best Floor Nailer
There are dozens of floor nailers on the market, including those that are designed for home use as well as more expensive professional models for professional floorers. Professional-grade models tend to be more durable, have a higher magazine capacity for the fastenings, and they have a greater range of features. The first thing to decide before shopping for a new flooring nailer is whether you are looking purely for personal use, or for something more professional that you can use over various installations. Beyond that, you will also need to consider the following factors when buying a new flooring nailer.
Pneumatic Or Manual
The single biggest decision when buying a new flooring nailer is whether to buy a pneumatic or manual option.
A manual nailer requires that you do all of the hard work yourself. It will require more effort with the mallet, typically taking two strokes for each nail. This extra effort not only makes it harder to work, but it can also reduce the quality and precision of the finish, especially towards the end of the job.
A pneumatic nailer still requires that you strike it with a mallet, but your effort is enhanced through the use of compressed air. You will only have to strike once, and it will prove much easier to drive the staple of cleat home. This not only means that you will suffer less pain by the end of the job and the next day, but it means that you will be able to keep your fastenings straight and centered. A pneumatic nailer does require a compressor or compressed air source, and this type of nailer will usually cost more, although the cost of this type of device is much less now.
Weight
The weight of the nailer is important because you will be lugging the nailer up and down the room as you strike the nails and fastenings home. As such, a lightweight nailer will be easier to move about. However, if it is too light, you may find it more difficult to strike the nail or cleat home. In some respects, the choice of lightweight or mediumweight nailer will come down to personal preference, but for one-off jobs, and if you are unaccustomed to using this type of tool, lightweight options are better. Some nailers weigh as little as 9 pounds, and those that weigh as much as 15 pounds, so the difference is considerable.
Handle
The handle is an important aspect of the nailer. It is the section that you hold and that you use to lift the nailer from one position to the next. You will need to be able to get a firm grip on the handle, and the more ergonomic the handle design, the more comfortable it will be and the easier it will prove to use.
Long handles are considered especially beneficial. They prevent you from having to kneel or crouch down too far, although some crouching will always be necessary because you will have to be able to strike the head of the nailer. However, if the handle is too long, it can be unwieldy and difficult to control.
Detachable handles are beneficial when it comes time to store the nailer. Remove the handle and it will greatly reduce the overall size of the nailer, making it easy to store it even in a limited space.
Fastening Choice
There are two basic choices when it comes to the type of fastening you can use to fix your flooring: staples (more commonly called cleats) or nails. If you have a particular form of flooring in mind, consult the manufacturer's instructions to determine the preferred fastening. Alternatively, consider the following:
Cleats have a single prong. This means that they will be more prone to slipping and movement. While a lot of this movement is undesirable, some is actually desirable, because as the floor ages it will move around and change shape. A cleat will allow this movement and may prevent the flooring from becoming damaged as it does change shape.
Staples have double prongs. These do a better job of holding the flooring exactly in place. However, staples do not allow for contraction and movement over time, which may mean that you have to replace the fastenings later, and fashion repairs to the flooring itself.

Conclusion
Getting the right flooring means choosing the best material and ensuring that you choose the right fastenings. It also means that you need to prepare the area, and the choice of which nailer to use is also important. Choosing the right nailer will remove a lot of the manual and difficult work while using the wrong nailer or an inappropriate model will not only increase your workload but can leave you with flooring that shifts and that will need to be replaced much sooner. Choose between a pneumatic and a manual nailer, ensure that it works with the type of cleat or staple fastening you want, and ensure that it is a suitable weight and offers the proper length of handle for your needs.
We found that the DeWalt DWFP12569 Flooring Stapler offers the quality and precision that you expect from any DeWalt tool. It is also around average in price and works with staples and cleats. If you're on a tighter budget, the NuMax SFL618 Pneumatic 3-in-1 Flooring Nailer is a great price for a pneumatic machine that works with interchangeable base plates and provides a sturdy and solid fastening.
Related posts:

Cordless finish nailers: a buying guide + reviews of different models
Reviews of 23-gauge pin nailers