8 Best RV Tankless Water Heaters of 2023 – Reviews & Top Picks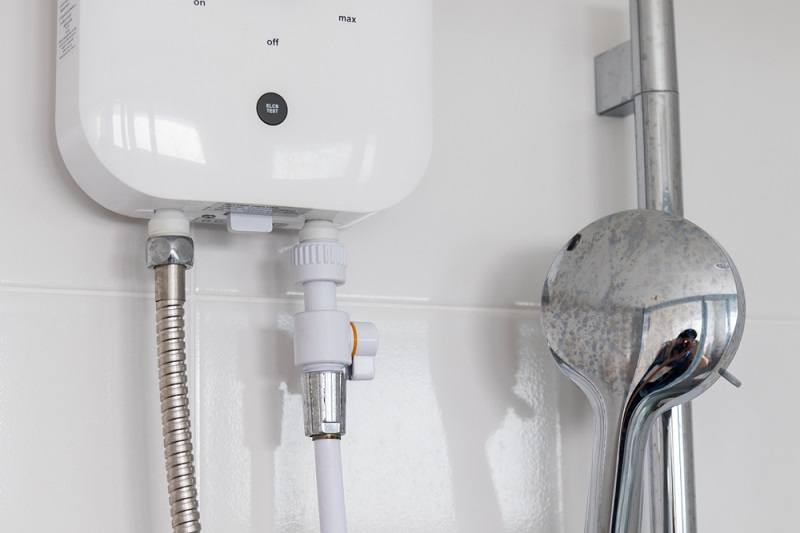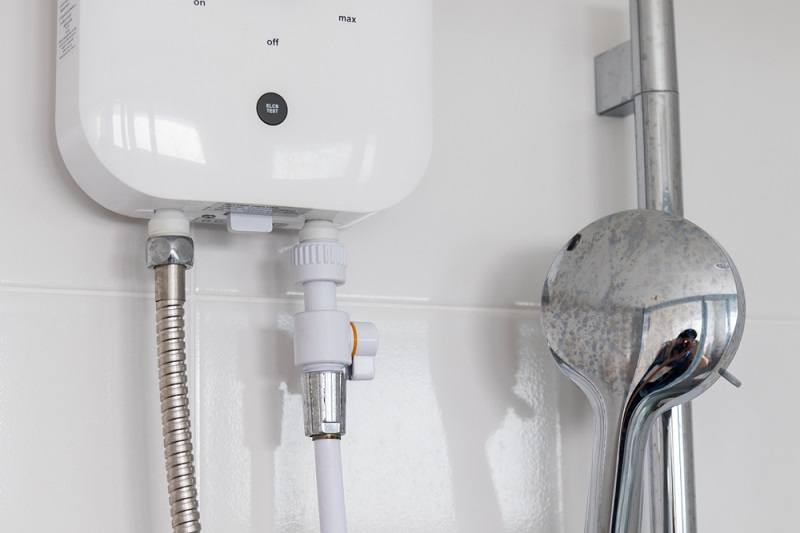 An RV tankless water heater provides hot water on demand, with a flow rate of up to 10 gallons of hot water per minute. You can have a shower while your partner washes the dishes, and you won't have to jump out after three minutes because the tank is empty. What's more, they take up considerably less room than a tank, while providing you with hot water whenever you turn the tap.
When buying a tankless water heater for your RV, there are several factors to take into account. You will need to determine the ideal fuel source, ensure that the tank offers an adequate flow rate, and that it is easy to control and maintain. As such, and thanks to the array of manufacturers producing tankless water heaters, there is a large selection of models for you to choose from.
The selection can seem baffling, so we have compiled a list of reviews of the best RV tankless water heaters. Models for every situation, every budget, and to meet any requirement, so that you can whittle your selection down and more easily find your next water heater.
---
A Quick Comparison of Our Favorites (2023 Update)
Rating
Image
Product
Details

Best Overall

Eccotemp L10 Portable Tankless Water Heater

Very portable
Works with grill propane tanks
Battery ignition for off-grid use
CHECK PRICE

Best Value

Bosch Electric Tankless Water Heater

Cheap
Good range of models
Very small and lightweight
CHECK PRICE

Premium Choice

PrecisionTemp RV-550 Tankless Water Heater

In-wall, compact design
Anti-freeze features
Lightweight and portable
CHECK PRICE

GASLAND Outdoors BE158 Portable Gas Water Heater

Portable and light
Can be used for camping as well as RVing
Anti-freeze and flame failure features
CHECK PRICE

Camplux AY132 Outdoor Portable Propane Tankless Water Heater

Cheap
Anti-freeze and flame failure devices
Portable and lightweight
CHECK PRICE
---
The 8 Best RV Tankless Water Heaters
1.

Eccotemp L10 Portable Tankless Water Heater – Best Overall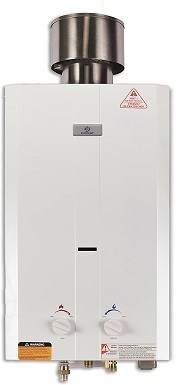 The L10 from Eccotemp is an incredibly portable and versatile water heater. It is so lightweight, that it can be used for camping, as well as in your RV. It will work at an altitude of up to 5,500 feet and has an adjustable water pressure range between 20 and 80 PSI. It will work with any showerhead, and it can be attached to any hose.
In terms of power, the L10 uses a battery ignition that takes 2 D-cell batteries, and it includes a gas hose and regulator that will work with grill style propane tanks.
It has a hanging unit, but it is portable enough that you can carry it around with you or place it in your backpack while hiking to your next camping spot. It has a flow rate of 2.6 gallons per minute, which isn't the greatest but should prove more than enough for showering, dishwashing, and making drinks. And it can heat water to a temperature of up to 140°F.
It also carries a modest price tag, and it is its combination of functionality, flexibility, portability, and affordability that makes it our pick for the best RV tankless water heater.
Pros
Very portable
Works with grill propane tanks
Battery ignition for off-grid use
Adjustable water pressure
6 GPM water flow
Cons
Sometimes has unpredictable water temperature
---
2.

Bosch Electric Tankless Water Heater – Best Value

The Bosch electric tankless water heater is electric-powered, which means that it won't usually be used for camping unless you have a portable generator as well. It is small, and Bosch describes it as being ideal for point-of-use under sinks and faucets. Its diminutive size also makes it useful for RVs, where it can be mounted horizontally or vertically.
It is very modestly priced, at a fraction of the cost of even the Eccotemp above, but you do sacrifice pressure and available water temperature with this model, while also needing access to an electricity supply. What's more, it needs professional installation, which will bump the price up.
There are four models of this tankless heater available, with the most powerful offering a flow rate of up to 1.8 gallons per minute, so it is clearly designed for installation at a single point-of-use. The 12kW model, which is the most powerful and most expensive, includes thermostatic control, and all models operate at 98% efficiency, which is impressive for such a convenient little unit. In the Tronic 3000, Bosch has created what we rate as the best RV tankless water heater for the money.
Pros
Cheap
Good range of models
Very small and lightweight
98% power efficiency
Top model includes thermostatic control
Cons
Needs professional installation
Best achievable flow rate is 1.8 GPM
---
3.

PrecisionTemp RV-550 Tankless Water Heater – Premium Choice

The PrecisionTemp RV-550 is designed specifically for use in RVs, where space is limited but demands are high. It is small and very lightweight. It also gets bonus points for how easy it is to install and — a point often overlooked in this kind of device — it offers quiet operation. You won't have to wake the rest of the family just to quickly wash a few dishes.
It is an expensive water heater, costing several times more than most models in this list, but it is also an intelligent model. It automatically adjusts settings according to water temperature and even external temperature. It has a flow rate of up to 1.5 GPM, which could be a bit higher for this kind of price and in order to compete with some of the other models in our list of reviews. It is propane powered, can be installed directly into the wall of your RV, and it has anti-freeze features that increase your power usage a little but ensure that you can enjoy hot water in any weather.
Pros
In-wall, compact design
Anti-freeze features
Lightweight and portable
Easy to install
Quiet operation
Cons
Very expensive
Flow rate could be better
---
4.

GASLAND Outdoors BE158 Portable Gas Water Heater

The Gasland Outdoors BE158 portable gas water heater is another model that has been designed for any outdoor use so it is not just suitable for RV use but is portable and light enough that it can be taken camping. It has multiple safety and convenience features, including anti-freeze, flame failure, and overheating protection, so it's not only safe but will work in a range of difficult conditions.
It will work with low water pressure so will operate as long as you can provide a pressure of 2.5 PSI, and it operates with a flow rate of up to 1.58 gallons per minute. Water temperature and flow rate are fully adjustable, thanks to the three easy control dials on the front of the device.
Unfortunately, we found that the Gasland developed faults after a few months of use, and, what's more, we discovered the manufacturers' customer service levels even more disappointing than the malfunctions themselves.
Pros
Portable and light
Can be used for camping as well as RVing
Anti-freeze and flame failure features
Cons
Breaks down quickly
Poor customer service
---
5.

Camplux AY132 Outdoor Portable Propane Tankless Water Heater

The Camplux AY132 is a 5-liter outdoor tankless water heater that runs on propane and will work with a water pressure of just 3 PSI. It offers an output of up to 1.32 GPM water flow, although as with virtually all models of tankless water heater, this is dependent on the temperature output – the hotter the water, the lower the output flow achieved. The Camplux offers water with a temperature between 46°F and 115°F, controlled using the dial on the front of the unit.
This tankless water heater is lightweight and portable, including a folding handle on the top. It can be used for virtually all outdoor activities, including camping, as well as in your RV. It has a flame failure device, which cuts power if the ignition flame fails. It offers anti-freezing protection, which is especially useful during winter months to prevent the loss of hot water when you likely need it most. It is also at the cheaper end of the scale for these devices.
Unfortunately, things went south after a few months of use with the Camplux. Aspects of the unit started to malfunction, and on one occasion our model actually caught fire during use due to a leaking propane hose.
Pros
Cheap
Anti-freeze and flame failure devices
Portable and lightweight
Cons
Malfunctions after months of use
Caught on fire due to leaking propane hose
---
6.

EZ 101 Tankless Water Heater

At just 14 pounds, this is a lightweight tankless water heater that is designed for outdoor use. It could be used for outdoor showers and for heating water to do the dishes outside your RV or under your awning. The EZ 101 offers flameless ignition, running on D-cell batteries, which means that it can be used even in wilderness and off-grid locations.
It is operated by front-facing dials which enable you to adjust the water temperature and flow, and also give you the option of winter or summer operation. It has a 20-minute shut-off timer and it can be powered either by propane or LPG.
We had some issues with this heater. Firstly, although this model is best used for outdoor activities, we found it is surprisingly susceptible to cold weather, shutting down in freezing temperatures. We also found that the water temperature can be very hit-and-miss, regardless of what settings you choose. Lastly, things seemed to break down irreparably within a year of ownership, which isn't good despite the EZ 101's budget price tag.
Pros
Affordable price
Works with propane or LPG
Shut-off timer
Lightweight
Cons
Doesn't perform well in freezing conditions
Doesn't stand the test of time
Water temperature not reliable
---
7.

Marey GA10LP Propane Gas Tankless Water Heater

The Marey GA10LP is a propane gas tankless water heater and, despite having a powerful 3.1 GPM water output rating, it is modestly priced. It has dials to control the water flow and temperature, as well as for setting it to summer or winter operation.
It uses D-cell batteries for ignition, so can be used even when your RV doesn't have power, and its efficiency and output flow make it a good choice for RVing as it can provide water to two or three outputs at a time, thanks to its output flow, which is better than most in the list.
Unfortunately, it does require a decent input water pressure rate before it will automatically operate. We also found that parts of the design are difficult to reach and use. Lastly, the water output tends to change in temperature regardless of your chosen settings.
Pros
1 GPM water output
Modest price for power
Propane and natural gas models available
Electric-free operation
Cons
Need high input waterpower
Breaks down fairly easily
Unpredictable water temperature
---
8.

Foruee Portable Propane Tankless Water Heater

The low priced Foruee portable propane tankless water heater is not only a lightweight and portable device, but it has a great range of accessories that further add to its value. As well as the heater, you get a hose, dust cover, fitted handle for greater portability, connectors, fitting kits, Teflon tape, and even a detachable showerhead.
It has safety shut off features that prevent it from operating when oxygen is depleted, when the unit overheats, or when it has frozen. It offers an output water pressure of up to 1.32 GPM, which, along with water temperature, can be changed using the front-facing dials.
Unfortunately, despite its strong features and great price, we experienced leaks, and on one occasion our model failed to work entirely after coming straight out of the box. As an additional note, this heater is also better suited to outdoor life than it is to use inside your RV.
Pros
Lightweight and includes a carrying handle
Cheap
Easy to use
Lots of accessories
Cons
Better for camping than RVing
Reports of faulty units

Buyer's Guide – Choosing the Best RV Tankless Water Heater
An RV tankless water heater allows you to heat water for showering, washing, doing the dishes, and more, without having to install a water tank that takes up a lot of your free room. It should be easy to fit, offer a water flow rate that matches your typical uses, and is powered by your choice of fuel. It should also be portable and compact, and it will usually include variable control settings.
Additional safety features and extra fittings can also improve your experience with this type of device, while your budget will obviously play a part in the device that you eventually opt for.
Planning Your Purchase
Before you invest in a tankless water heater, it is a good idea to have a clear understanding of your water requirements. If you holiday alone, it is likely that you will have minimal water requirements, and you will only have a single output that draws from your hot water supply at any given time. If you holiday as a family, you will want a heater that can provide hot water to two or even three appliances at once. This means that you can have a shower while the kids do the dishes, and you won't suffer a loss of hot water or intermittent supply.
Fuel Source
There are essentially three options when it comes to fuel sources for a water heater – electric, propane, or natural gas. Some models offer a combination of two fuel sources, but these are your basic options.
Propane heaters can usually be hooked up to a propane tank, similar to the way that your grill attaches to the bottle. If you have access to a gas source, then this will work out cheaper and offers a more uniform heating method. Electricity is costly, but if you park your RV at a site that includes electricity, you can take advantage of this.
Flow Rate
There are two water flow rate figures that you should consider, both of which are measured in gallons per minute (GPM).
Input Flow Rate – this is the minimum required flow rate of water that will operate your heater. If water is passed to the heater at a pressure lower than this figure, it will simply pass through the unit without being heated up.
Output Flow Rate – this is the rate at which water is heated and then supplied from the heater. An average family will usually require an output of around 2.5 GPM but can make do with 2 GPM. Couples and small families might be able to get away with a heater that offers 1.5 GPM. If the heater is only powering a single tap, less than 1.5 GPM will suffice.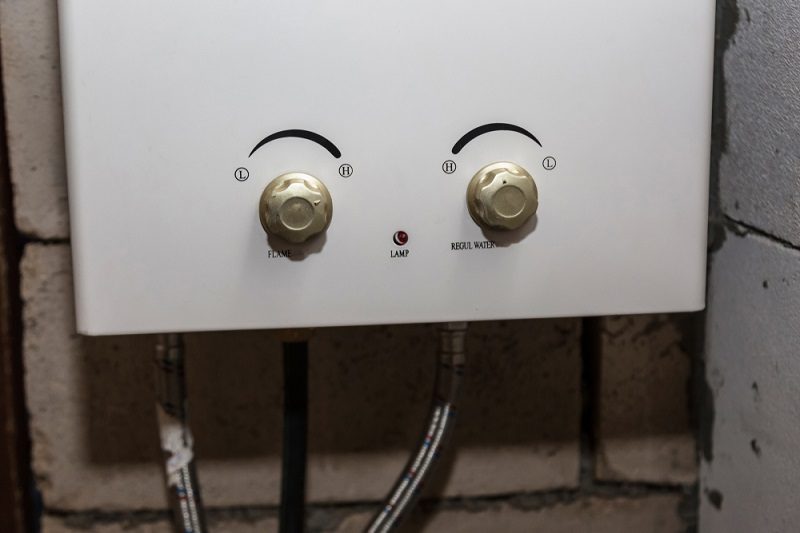 Protection
One of the joys of RVing is finding a remote location, often high in the hills or far away from towns and power connections. It can get cold or hot, depending on where you travel and the time of year. Some heaters offer summer and winter settings.
The water going into the heater is naturally colder in winter than in summer, so it will take more heating to reach the desired temperature. Furthermore, during winter, there is a good chance of the water freezing. If there is water left in the pipes and fittings, this can lead to heater failure. If you travel in extremely cold conditions, look for a heater that includes this winter setting.
Safety Features
As well as freeze protection features, these types of heaters can also benefit from the following safety features:
Flame failure – a lot of tankless water heaters use a pilot light or ignition flame. When the heater recognizes that it needs to heat water, gas is essentially passed over the flame, which ignites the gas and heats the water passing through the system. If the ignition light fails, unburned gas is passed through the system and potentially into the RV. A flame failure cut off prevents gas from being delivered when the system recognizes that there is no ignition light.
Overheating cut-off – another potential problem that can be faced by this type of device is overheating. If the heater gets too hot, typically because of a malfunction or error, it can cause the device to catch fire. An overheating cut off monitors the temperature of the device and cuts the gas supply if it gets too hot, preventing fire.
Oxygen depletion – ventless heaters use the oxygen in the room to dissipate carbon monoxide, and this requires that there is a good supply of oxygen in the area surrounding the heater. An oxygen depletion cut off will prevent gas from being delivered if the sensor detects that there isn't enough oxygen in the room.

Conclusion
A tankless RV water heater is an investment that can improve your holiday and camping experience, but only if you buy the right one. Ensure that you get the right water flow rate, that you choose a model that is best suited to your power supply and your RV design, and that you have one with the appropriate safety features to ensure the continued and safe operation of the device. Beyond this, you should also consider the size of the tankless heater. One of the reasons that you are buying this type of heater is that it takes up less room, so it would be pointless buying one that has almost the same dimensions as that of a tank design.
There are a lot of water heating options for the RV owner, but we hope that our list of the best rv tankless water heaters will help you choose the one that is best for you and your family.
During testing and compiling our reviews, we found that the Eccotemp L10 was the best overall thanks to its generous water flow and the fact it works with propane tanks. If you're on a budget, the Bosch offered many of the same excellent features at a lower price, although its water flow rating isn't as high.
---
Featured Image Credit: KenSoftTH, Shutterstock