8 Best Sauna Suits in 2023 — Reviews & Top Picks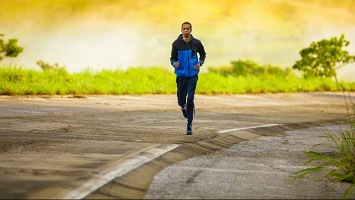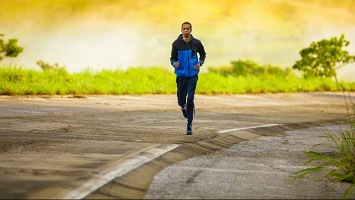 Sauna suits have been around for many years. In the beginning, they were known as rubber suits because they were made of rubber. Today, you can find a variety of sauna suits made from neoprene or PVC nylon, and they come in a variety of styles, from vests to two-piece suits.
To help you navigate the world of sauna suits so you can find the best sauna suit for you, we put together this reviews list. There's information about each suit, along with its pros and cons, so you can make an informed decision when purchasing. Be sure to also check out the buyer's guide because it offers considerations to keep in mind when deciding which suit is ideal for you.

A Quick Comparison of Our Favorites in 2023
Rating
Image
Product
Details

Best Overall

RAD Sauna Suit

EVA nylon construction
Resistant to tears
Double stitching
CHECK PRICE

Best Value

Cimkiz 01 Men Sauna Suit

Fits tight at abdomen
Comfortable
No rubber smell
CHECK PRICE

Premium Choice

HOTSUIT 6540904 Women Sauna Suit

Comfortable
Wear resistant
Won't retain odors
CHECK PRICE

DEFY Heavy Duty Sauna Suit

Hood with drawstring
Zipper on bottom of pants
Durable
CHECK PRICE

Gotoly Women's Neoprene Sauna Suit

Form-fitting compression
Retains heat at the core
Breathable armpit
CHECK PRICE
The 8 Best Sauna Suits
1.

RAD Sauna Suit — Best Overall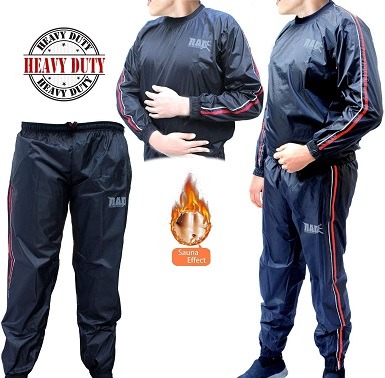 The RAD Sauna Suit, our pick for the best sauna suit, is constructed from EVA nylon that makes it more durable and resistant to rips or tears. The seams are double-stitched to prevent unwanted separations where it matters most, and the wrist and ankles have elastic Velcro cuffs that are adjustable to help hold in heat so you can sweat more. The waist is elastic with a drawstring to help ensure that your pants stay in place when working out.
This suit increases sweat output by 60%, and you will notice a difference when wearing it. Be careful when removing the suit because sweat will drip on the floor. You can throw it in the washing machine to clean it, but you will need to air dry it. We found that many will rinse it out after their workout and hang it to dry until the next day.
The RAD has a reflective night vision logo and two side pockets with zippers on the legs to assist with getting them on and off. If you are going to wear clothes underneath this suit, you will want to buy it a size larger. On the downside, the interior liner shows wear over time, though the suit is still effective.
Pros
EVA nylon construction
Resistant to tears
Double stitching
Elastic cuffs and waistband
Machine washable
Zipper at inner ankle
Cons
Liner shows wear over time
---
2.

Cimkiz 01 Men Sauna Suit — Best Value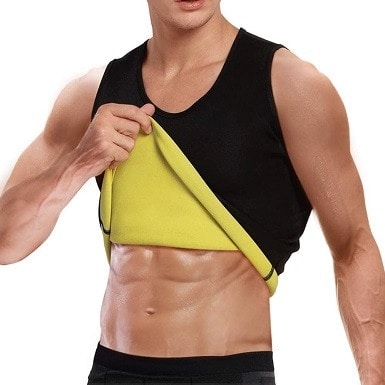 The best sauna suit for the money is the Cimkiz because it is a neoprene vest that provides the perfect fit to help you sweat high amounts when exercising. Since it has a higher compression around your abdominal area, it heats up your core faster, flattens your abdomen, and helps straighten your posture.
Many will find that it is more comfortable to wear because there is no zipper in the front, and with the larger neck opening, it is easier to pull over your head. Keep in mind that since it is neoprene, it will still be more difficult to remove than a normal shirt. Measure your waist to get a true size fit for this vest; don't go by your normal shirt size.
There isn't a rubber smell with the vest, and if you rinse it out between work-outs, it won't smell of stale sweat. It can be machine washed, but it is recommended that you air dry it. The company offers a 30-day money-back guarantee if you aren't satisfied. This is not a full suit (that includes bottoms), which is why it didn't reach the number-one spot on our list.
Pros
Affordable
Fits tight at abdomen
Comfortable
No rubber smell
Easy to clean
Money-back guarantee
---
3.

HOTSUIT 6540904 Women Sauna Suit — Premium Choice

This suit for women by HOTSUIT is a comfortable option that offers full-range motion so you can exercise with ease and still see results. This suit sits at number three on our list because it is pricey, but you will find that within 10 minutes of wearing the suit, you will be sweating as if you had exercised for 30 minutes.
The fabric is wear resistant, with a nano-silver design that is smooth to the touch. You will notice that it doesn't retain odors, but on the downside, it is not machine washable. The logo on the back is reflective to help you stay safe at night, and the suit is windproof and waterproof. To get the correct size, know your height and weight, and if you fall in between two sizes, opt for the larger one.
We like that the neck is covered and you have the option to wear a hood. For easy on and off, use the side zipper at the neck. The cuffs are also elastic for a tighter fit that retains heat, and the drawstring waist ensures that the pants stay in place for any form of exercise.
Pros
Comfortable
Wear resistant
Won't retain odors
Reflective logo
Easy to size
Retains heat
Neck zipper
---
4.

DEFY Heavy Duty Sauna Suit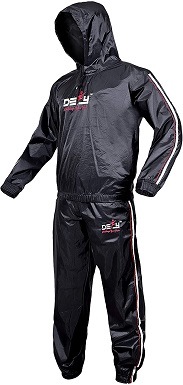 This sauna suit is made from nylon- and PVC-coated fabric, which makes it a heavy-duty and durable option. It has elastic at the hands, feet, and waist (both pants and top), and at the neckline, there is a drawstring. All these measures help retain heat within the suit for maximum sauna effect. This suit is rated to increase sweat output up to 80% and is made with quality in mind.
However, this suit has no inner lining, so your skin sticks to the nylon, which can be uncomfortable. To fix this issue, you can wear clothes underneath, but you will want to purchase a larger size. It is recommended to hand wash this suit with cold water only and allow it to air dry. Another nice feature is that the pants have a zipper at the bottom of each leg for easy removal, and this suit is an affordable option.
Pros
Heavy duty
Holds in heat
Hood with drawstring
Zipper on bottom of pants
Durable
Affordable
Cons
Hand-washing recommended
No liner
---
5.

Gotoly Women's Neoprene Sauna Suit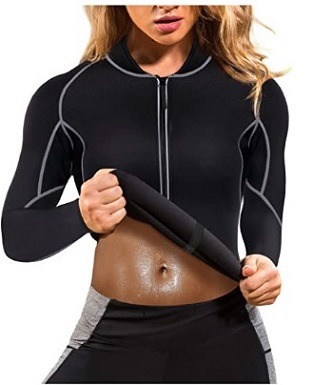 The Gotoly neoprene top has many features that make it a great choice if you are looking for a form-fitting option. It does well at retaining heat but offers a breathable mesh armpit to help reduce odors after prolonged use. The shirt molds to your upper body, providing compression and retaining core heat to produce increased amounts of perspiration.
To find the correct size, you want to measure 1 inch above your navel. Keep in mind that you do not wear any clothing underneath except for a sports bra. The zippered front makes it easier to apply and remove. On the downside, it has a rubber odor, and the sleeves and torso don't coincide with their fit. If the torso fits, the sleeves are too loose and vice versa. But the top is made of high-quality materials and stitched well for added durability. To clean, you will want to hand wash in cold water and allow it to air dry.
Pros
Form-fitting compression
Retains heat at the core
Breathable armpit
Zippered front
Durable
Well-made
Cons
Rubber odor
Difficult to fit
---
6.

2Fit Heavy Duty Sweat Sauna Suit
The 2Fit is an affordable heavy-duty sweatsuit that is made from nylon- and PVC-coated fabric for a durable option that helps you achieve quick results. The inner lining is rubberized to make it tear and rip resistant. The downside to this is that it isn't comfortable to wear without clothes. The cuffs and waist at the pants and top are elastic, and the hood has a drawstring to help hold in the heat all over the body.
We found that the 2Fit works best for running and less intense workouts so you don't put too much strain on the seams of the fabric. Some people have had issues with the suit tearing when they perform weight-lifting exercises. As with most sauna suits, you have to wash in cold water and hang to dry. If you hand wash this suit, it will last longer.
Pros
Heavy duty
Rubberized lining
Holds in heat well
Easy to clean
Affordable
Cons
Not ideal for weight lifting
Lining not comfortable
---
7.

FIGHTSENSE MMA Sauna Sweat Suit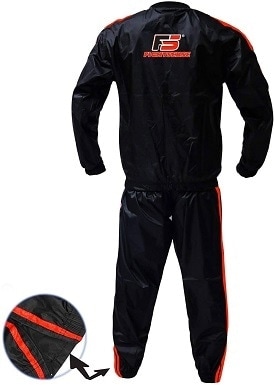 The Fightsense is a sauna suit that increases sweat output by up to 70% due to its EVA nylon construction. It is made to resist tears and rips so you can wear it for multiple types of training. Because of the double-stitched seams, it is sturdy enough to machine wash — though you still want to hang it to air dry.
We like that it is suitable for men and women and runs true to fit. If you prefer to wear clothes underneath, you need to order one size up. This suit does well at resisting tears, but the inner fabric tends to wear down at areas of high friction. It has Velcro and elastic at the cuffs, as well as a drawstring at the waist to help retain heat and provide a better fit. Finally, we found that the Fightsense is not as comfortable as other sauna suits, though it does a great job of getting you to perspire.
Pros
Resists tears and rips
Machine washable
Unisex
True to fit
Retains heat
Cons
Inner fabric shows wear
Not as comfy
---
8.

Feelingirl LB4848 Neoprene Sauna Suit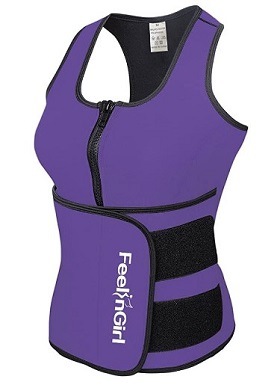 Our final review is the FeelinGirl neoprene tank top vest, which is a popular option for women who want high compression at their waist and torso area. The front zipper makes it easy to get on and off, even when you are perspiring heavily. We like that you can adjust the cinch level on the torso so you can exercise in comfort.
The lining is a comfortable jersey mesh, which is good because you don't want to wear a shirt with this vest. It has a rubber odor but it is not overpowering. The Feelingirl will make you perspire, but one nice feature is that the neoprene absorbs the moisture so it doesn't fall off when you remove the vest. This is one reason that it is important to wash it regularly, or else it will begin to smell like stale sweat.
This vest comes in a variety of colors and sizes but is somewhat pricey.
Pros
High compression
Easy to remove
Absorbs moisture
Comfortable
Many sizes and colors
Cons
Rubber odor
Need to clean regularly
Pricey

Buyer's Guide – Choosing Between the Best Sauna Suits
As you narrow down your search for the best sauna suit, there are a few things to keep in mind so you find the one that meets your expectations. This buyer's guide will go over key features, such as type of material, design, price, and ease of use, so you know that you are making a good investment.
Sauna suits are not ideal for everyone, and it is advised you contact your doctor before purchasing, especially if you have pre-existing health conditions. There are many advantages to using one, and you should also know the related risks. Let's go over features that make a good sauna suit.
Material
PVC
This is a synthetic plastic that isn't as durable as nylon or neoprene, but it is a more cost-effective material. On the downside, PVC wears out faster and tends to rip. Some have concerns that PVC may not be healthy for a person to wear. PVC suits will be loose-fitting with tight cuffs and waistbands to help trap the heat.
Nylon
This is more durable than PVC but also prone to bacterial infestation. It is important to wash this type of suit regularly to prevent an accumulation of bacteria in the fabric. Some manufacturers offer a liner to help prevent problems from occurring. Nylon suits are also loose-fitting with tight cuffs and waistbands. You will see other features with these suits, such as zippered legs and hoods with drawstrings.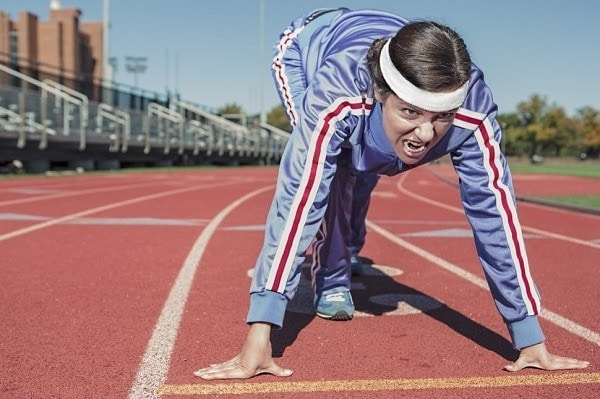 Neoprene
For a lightweight option that is form-fitting, the neoprene suits are a great option. These are usually more expensive, and you will find tops and bottoms sold separately most of the time. Since they are tight, they offer compression and are effective at heating the core area to make you perspire more. On the downside, neoprene can smell of rubber, and if you have an allergy to rubber, you will want to wear something to protect your skin from direct contact with the neoprene. Also, if you don't regularly clean the neoprene, it will become odorous because it absorbs moisture from your body.
Design
Once you decide what type of material you prefer, you can then find a design that you like. If you don't want something form-fitting, don't go with neoprene. Even though you want to trap as much heat as possible, you don't want to put yourself at risk if you become overheated. Some suits have air vents at the armpits or other areas to allow natural venting. If you don't get a suit with ventilation, it is wise to listen to your body to prevent medical complications and know the signs of overheating.
Suits are offered as vests, tops, and pants, so think about what you would prefer to wear.
Ease of Use
Caring for your suit is important to keep odors at bay and prevent bacteria from growing in the fabric. Neoprene has to be hand washed with a mild detergent. You can soak it overnight, but it has to be air dried. There are PVC and nylon suits that can be machine washed, but most need to also be air dried. Know what is recommended for your suit; if you clean it incorrectly, the life of the suit may decrease, or if you put it in the dryer, the suit may melt.
Think about how easy it is to put on and remove the suit. Of course, neoprene will be more difficult because it is form-fitting, but once you have been sweating buckets, any type of suit can be a challenge to remove.
Durability
High-quality material is needed to ensure that your suit lasts for a long time. It's not ideal to have to keep buying a new suit every three months — it's a waste of time, money, and resources.
Cost
You will find that you can find a decent suit at an affordable price. If you want a higher quality suit, choosing just a top is an option if you are on a budget. There are advantages to not buying cheaply, but everyone has a different situation and budget is an individual choice. Keep in mind that a cheaper suit may not last as long or not be as comfortable to wear.

Conclusion
Sauna suits are a popular item among fitness enthusiasts. There are plenty of advantages to using one, as long as you know the risks and wear the suit correctly. Our reviews list highlights eight of the best sauna suits on the market today.
Our top pick for the best sauna suit is the RAD Sauna Suit for men and women, which is made of high-quality material that is comfortable and offers many great features that allow it to perform well. For a more affordable option, the Cimkiz vest for men is our best value pick because it offers core compression to help retain heat, perspire more, flatten your abdomen, and help with posture. If the price isn't a concern, then the HOTSUIT for women is a great choice because it is durable, lightweight, and comfortable.
It can be a frustrating process to find a suit that is perfect for you and worth the investment. We hope that our reviews list helps you find the ideal suit that is within your budget and comfortable and fits your expectations.
Looking for a great way to relax after a hard training session? Try one of these:
---
Featured Image Credit: Pixabay