5 Best Plug and Play Hot Tubs in 2023 – Reviews & Top Picks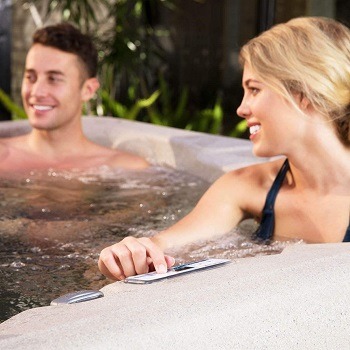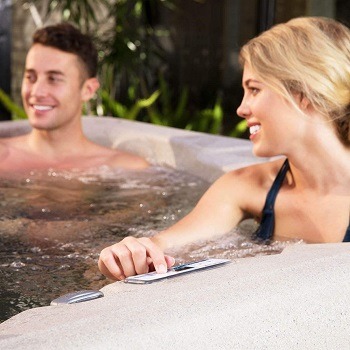 Finding a good hot tub isn't easy. Though excellent for relaxation, backyard spas are also notorious for the headaches they can cause. If you can't find the right product, you are going to encounter a lot of problems down the line.
Our job is to make sure that doesn't happen. We've tested a lot of hot tubs over the past several months (hey, it's a hard job, but someone's got to do it!). As we performed our tests, we looked at products that will perform consistently over long periods, regardless of your budget.
Read on for some plug and play hot tub reviews!
A Quick Comparison of Our Favorites in 2023
Rating
Image
Product
Details

Best Overall

QCA Spas Model 0 Gemini Plug and Play Hot Tub

Excellent jet system
Recycles heat
Well insulated
CHECK PRICE

Best Value

LIFE SMART FF-SMPLCTY Plug & Play Square Hot Tub

5 horsepower pump
12 jets
Large bathing capacity
CHECK PRICE

Premium Choice

Essential Hot Tubs 30-Jet Adelaide Hot Tub

LED light columns
Waterfall
2 horsepower motor
CHECK PRICE

Hudson Bay LPIC5000 19 Jet Spa

Multi-layer acrylic shell
LED lights
19 jets
CHECK PRICE

AquaRest Spas AR-300 Plug and Play Hot Tub

14 jets
5 horsepower pump
LED lights
CHECK PRICE
The 5 Best Plug and Play Hot Tubs
1.

QCA Spas Model 0 Gemini Plug and Play Hot Tub – Best Overall
The QCA Spas is our pick for the best plug and play hot tub overall. It's sized to fit two bathers, with dimensions of 7.5 x 3.5 feet. Through eight well-placed jets, the unit can deliver consistent relaxation no matter where you are seated. Insulation is provided via a three-layer acrylic shell, which can maintain heat for long periods.
To get this tub up and running you will need access to a 120-volt outlet. Heat is provided by a one horsepower continuous pump, and is recycled via the "Econo Boost" energy system that is designed to save power.
Do keep in mind that you will need to assemble this unit yourself, which can be tricky. Plug and play tubs generally set up instantaneously, but it will take a little bit of work to get this one up and running.
Pros
Excellent jet system
Recycles heat
Well insulated
---
2.

LIFE SMART FF-SMPLCTY Plug & Play Square Hot Tub – Best Value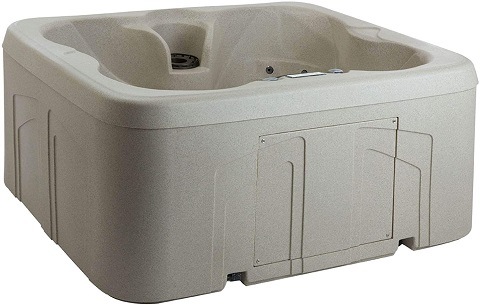 The Life Smart comes in as our best plug and play hot tub for the money. It's a relatively affordable product that can comfortably host four people at one time. The unit is constructed of eco thermic plastic for heat retention and uses 12 jets to ensure that everyone in the spa is getting ample coverage.
The pump is an impressive 1.5 horsepower, which means you are going to feel the bubbles, and the spa is controlled via a handy digital panel that adjusts quickly and easily.  It also comes with an eco-friendly cover that further assists in the tub's ability to store heat and preserve energy.
Unfortunately, we noticed that the unit struggles to heat adequately. The standard hot tub temperature is 104 degrees (though occasionally you will find one that gets a little bit hotter). However, this one comes in closer to 95–100 degrees, which may not be enough for some people.
Pros
Affordable
Five horsepower pump
12 jets
Large bathing capacity
---
3.

Essential Hot Tubs 30-Jet Adelaide Hot Tub – Premium Choice
The Essential Hot tub is a 30-jet unit that pulls out all the stops. With a bather capacity that maxes out at six people, it is the most sizable product we've seen to this point. All six of the seats are ergonomic, which means they are going to naturally conform to the shape of your back.
It also comes with comfortable amenities, like LED column lights, waterfall jets, and ice and drinks trays. You even get three headrests and a two-horsepower motor that will circulate your water powerfully.
All these premium features do come with a premium price tag. This is the most expensive option we've featured here, so plan accordingly.
Pros
30 jets
Ergonomic seats
LED light columns
Waterfall
Two horsepower motor
---
4.

Hudson Bay LPIC5000 19 Jet Spa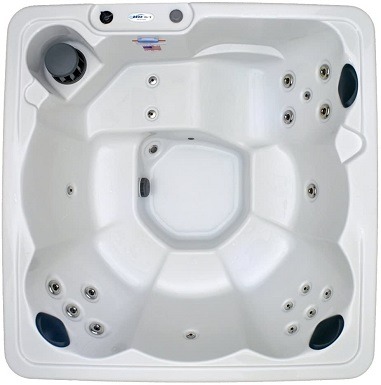 The Hudson Bay features a generous six-person bathing capacity. It comes with 19 jets, which will be enough to give everyone a thoroughly enjoyable experience, and the controls are digital for ease of use. It benefits from a special low energy pump that will—at least in theory—save you money on your power bill, and the shell is made of multi-layer acrylic that facilitates heat retention.
It also benefits from LED lights that rotate between seven different colors, further enhancing the aesthetic of the tub.
We did note several concerns. For one thing, assembly is very complicated, which means you may need to hire in help, thus increasing the price. It all seems to struggle somewhat in the department of heating. It takes a long time to reach peak temperatures, and even then, it tends to fall short of the 100-degree mark. We found that it tends to top out at around 100 degrees, though the number might be even less if you live in a cooler climate.
Ultimately, it isn't a bad hot tub, but it does have a few shortcomings that you will want to be on the lookout for.
Pros
Multi-layer acrylic shell
LED lights
19 jets
Six-person bathing capacity
Cons
Struggles to reach peak temperatures
Difficult to assemble
---
5.

AquaRest Spas AR-300 Plug and Play Hot Tub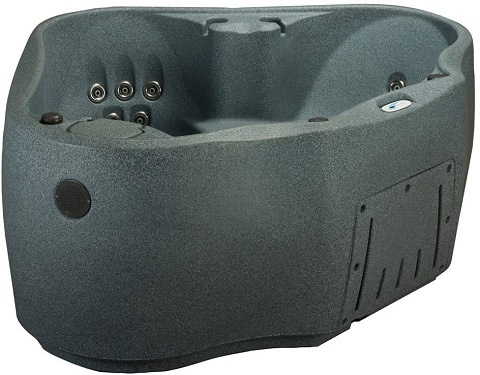 The AquaRest is a two-person tub that utilizes 14 jets, giving each bather a ton of comfort. It even features several LED lights and waterfall jets that add a pleasant aesthetic to the tub. Insulation is provided by foam for heat retention. Meanwhile, digital controls make it easier to use, while the 1.5 horsepower pump provides ample power.
Unfortunately, though, it does fall short of our expectations in several ways. For one thing, the cover that you are given is extremely flimsy, which means you will either need to replace it or deal with constant heat loss and contaminants.
There are also complaints that the Styrofoam insulation tends to break apart easily, both compromising the unit's heat retention abilities, as well as the overall structural integrity of the tub.
Pros
14 jets
Five horsepower pump
LED lights
Waterfall jets
Cons
The cover is extremely flimsy
Insulation breaks apart easily
---
Buyer's Guide – Finding the Best Plug and Play Hot Tub
We've seen five of the best plug and play hot tubs. Chances are pretty good that you found something to love about all of them, but which will be right for you? Plug and play hot tubs are meant to be quick and easy to use, but the extent to which this is the case can vary significantly from unit to unit.
In the buying considerations below, we will make your decision a little bit easier.
Bather Capacity
The tubs on this list range in bather capacity from two to six people. However, it is important to understand that these are only approximations. While six people might be able to fit, four people would be significantly more comfortable.
If you want to maximize the comfort factor, you will probably prefer to get something suitable for more people than you need. This will ensure that you are adequately comfortable on a normal day, and prepared for the occasional influx of people, should you want to entertain.
Jets
The number of jets will have a major impact on how you enjoy the tub. There is no golden rule for how many you need—but many feel that the more you can get, the better. As you consider how many jets you need, it may be best to divide them by the number of anticipated bathers. For example, if a tub has 18 jets and a three-bather capacity, that means six per person.
Power Outlet Requirements
The beautiful thing about plug and play hot tubs is that they are meant to work on typical outlets. This usually means a 110-volt GFCI protected plug. However, just to be safe, you should make sure that your exterior outlets will be able to handle the power requirements of the tub you are considering.
Upgrading an outlet can be surprisingly expensive—often several hundred dollars, so it's better if you can avoid the expense by buying smart the first time.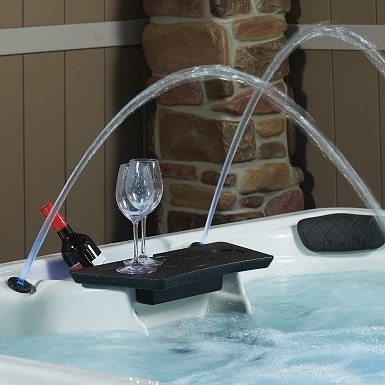 Bonus Features
We also saw several amenities that, while not necessary, may significantly enhance your experience. For example, ergonomic seats that make it more comfortable to sit. There are also LED lights, waterfall jets that cascade over the top of the tub to create a cool effect, and drink trays.
These premium features tend to come with a lofty price tag, but if you want to maximize your experience, they will be worth considering.
Temperature
Hot tubs typically feature a standard maximum temperature of 104 degrees. However, several factors can sharply cut against the spa's ability to hit that number. For example, if it is poorly insulated, or doesn't come with a good cover, you will lose heat just as quickly as the spa can produce it.
Unfortunately, the specifics of your region can also play a part. Hot tubs have a much easier time warming up in hot weather than they do in cold. However, all other things being equal, you should still look for something that retains heat well.
Insolation is key in this regard. Foam is a good material for heat retention, but there are other methods as well. For example, some of the units on our list feature energy recycling technology that saves heat to use it repeatedly.
The shell also plays a part in heat retention. Acrylic is a standard material that does well to provide durability and adequate energy-saving retention.
Controls
There are two different types of controls: analog and digital. Digital tends to be easier to use but is often only found on more expensive units. Analog is basically just an adjustment dial, which is slightly less intuitive, but still serviceable if you are on a restrictive budget.
Price
Unfortunately, even an affordable hot tub is going to set you back. Though tubs can vary substantially in price, based on size and features, you should probably budget approximately $2,500 for this purchase. For that amount of money, you will be able to get something sizable and completely effective.
And of course, you can always allocate more for the purchase if you want something high-end.
Pump Power
The power rating of your pump is rated in horsepower. Most units we saw today came in at around one horsepower, though several were higher. This factor determines how powerfully the water, bubbles, and jets are circulated. The more power you have, the more you will feel the tub.
However, keep in mind that powerful pumps use more energy. Hot tubs already add a significant amount of money to your monthly bills, so you may want to opt for something that is eco-friendly.
Assembly
Most of the units on our list are relatively easy to assemble. However, you should still investigate how difficult a unit is to put together before making your buying decision. If you can't put together the tub yourself, it could add $100+ to the overall expense.
---
Conclusion
Hopefully, our reviews of the best plug and play hot tubs have made your decision significantly easier. However, if you are still on the fence about your decision, you may find it worthwhile to remember a couple of special options from our list.
If you are looking for something high quality, even if it means paying a little bit more to get it, go for our top choice for the best plug and play hot tub, the QCA Spas Model 0 Gemini Plug and Play Hot Tub.
There are also great products out there for budget buyers. To save money and still get an excellent tub, look to our runner up choice, the LIFE SMART FF-SMPLCTY Plug & Play Square Hot Tub.