10 Best Shop Vacs for Dust Collection 2023 – Reviews & Buyer's Guide
Scraping popcorn ceilings? Sanding your hardwood floors? Prepping drywall? Any of these tasks, and many others, create dust. Wouldn't it be nice to be able to collect the dust as you are making the mess? Or at least be able to clean up the dust and keep it contained in your vacuum? We have reviewed some of the best shop vacs that collect dust.
First of all, we can probably all agree that dust collection is a difficult task. We have probably all, at one time or another, started vacuuming the dust only to find it being blown out of the blowing port. Frustrating and defeated, we tell ourselves that the next shop vac we buy will have better dust collection features.
We have started your search by reviewing 10 of the top dust collection shop vac. Some have additional features, such as a blower, or the ability to clean up both the wet and dry messes. Let us help you make the appropriate choice for your specific needs.
A Quick Comparison of Our Favorites
Rating
Image
Product
Details

Best Overall

Vacmaster VBV1210 Wet/Dry Shop Vacuum

5 peak HP motor
12-gallon capacity
On-board tools
CHECK PRICE

Best Value

TACKLIFE PVC01A Wet/Dry Vacuum

5 Peak HP
4-layer filtration
17 foot reach
CHECK PRICE

Premium Choice

CRAFTSMAN CMXEVBE17595 Wet/Dry Vac

5 peak HP
2½" diameter dual-flex hose
Oversized drain
CHECK PRICE

Armor All AA255 Wet/Dry Utility Shop Vacuum

Compact
Lightweight
Easy to carry
CHECK PRICE

Shop-Vac 5989300 Stainless Steel Wet Dry Vacuum

Compact
Adequate pick-up
Easy to maneuver
CHECK PRICE
The 10 Best Shop Vacs for Dust Collection – Reviews 2023
1.

Vacmaster VBV1210 Wet/Dry Shop Vacuum – Best Overall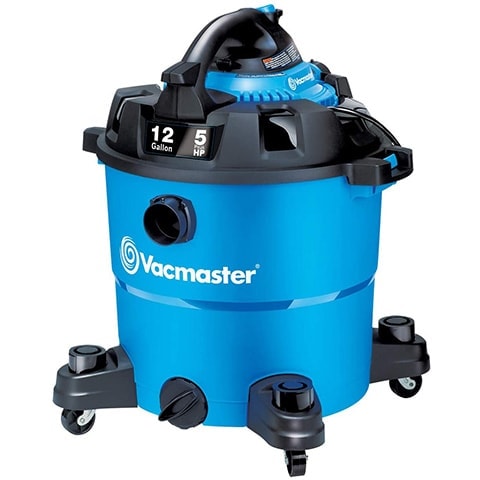 Our best overall pick is the Vacmaster VBV1210 because of its many user-friendly features—including the 19-foot reach, which allows you to get to those stubborn, hard to reach places, the 2½-inch diameter hose that lets you pick up those larger sized objects with ease and the powerful blower. The onboard tools—which include a crevice tool, utility nozzle, and two extension wands—are within reach because they are stored on the casters of the canister. Using the two wands and the crevice tool, you can reach the corners of ceilings and floors without bending over too much.
The 2-in-1 wet/dry vacuum comes with a powerful five peak HP motor that gives you enough power to suck up both liquid spills and dry messes. Switch from the cartridge filter for dry particles, to the reusable foam filter for wet pick-ups quickly and easily. A separate dust filter can be purchased, for ensuring proper dust collection. For convenience, when picking up wet messes, the vacuum will shut off automatically when it is full to protect it from being damaged. When you are all done, the large drain and polypropylene canister will make your clean up a breeze without having to lift the large canister to do so.
Push the simple release button and you have a detachable 210 MPH blower that is a valuable assistant to yard and/or garage clean-up. Overall, this is the best shop vac for dust collection available today.
Pros
Five peak HP motor
12-gallon capacity
On-board tools
Blower speed of 210 MPH
Easy to clean
Cons
Average drainport
Five amps
---
2.

TACKLIFE PVC01A Wet/Dry Vacuum – Best Value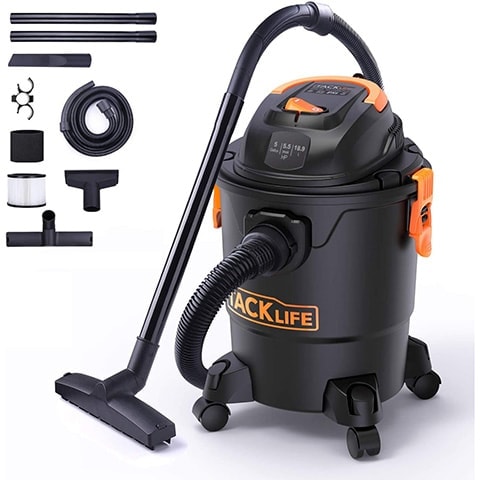 Looking for a shop vac that has versatility and power? The Tacklife PVC01A wet/dry vacuum may be the one for you? It comes with a 5.5 peak HP motor that lets you pick up the sawdust, dirt, and dust all around your home. It has a cleaning range of 17 feet and the on-board tools make it easy to get to those hard to reach places. Couple these features with the four-in-one filtration system, and this is the best shop vacuum for dust collection for the money.
Additionally, this wet and dry vacuum sports 360-degree swivel castors to make it easy to position just where you need it. Use the built-in blower port located on the back of the canister to blow the dirt and dust from the cracks and crevices. This multifunctional, high-performance vacuum is the perfect choice for your home cleaning.
Pros
Five peak HP
Four-layer filtration
17 foot reach
Cons
No storage for cord
1 ½" diameter hose
---
3.

CRAFTSMAN Wet/Dry Vac – Premium Choice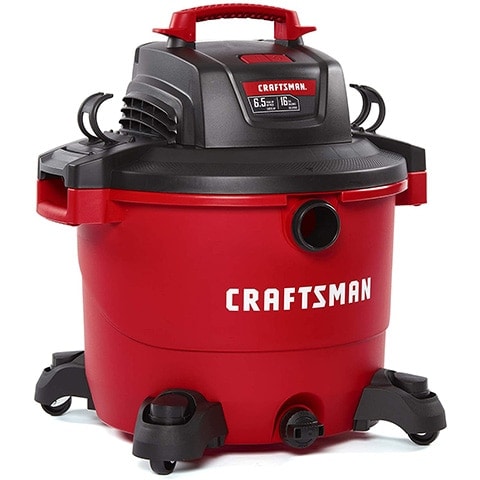 This heavy-duty shop vacuum is loaded with features to tackle those large projects. Its 6.5 peak HP and the 2½-inch diameter hose allows you to pick up the larger particles that are found in your garage or on your job site. Take the 20-foot power cord, the seven-foot hose, and the 16 gallon canister and you'll spend more time vacuuming and making quick work of cleaning your renovation site. To finish your clean-up, you have a large capacity drain for emptying the canister and getting on with the next job
The slightly bulkier wet/dry vac has a rear blower port. Connect the dual-flex hose to make quick work of cleaning up your leaves and yard clippings. You have two extension wands to attach to the crush resistant hose along with a wet nozzle, utility nozzle, and a car nozzle. The Quick Lock filter system makes it easy to switch from dry clean-ups to wet ones.
Pros
Five peak HP
2 ½" diameter dual-flex hose
Oversized drain
Cons
Bulkier than most
Higher priced
---
4.

Armor All Wet/Dry Utility Shop Vacuum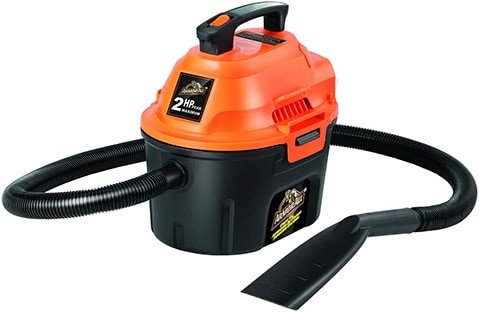 This portable wet/dry vacuum is perfect for your home. The 2.5-gallon, light-weight utility vacuum is compact enough to carry around while cleaning up your household messes. It comes with a two-HP motor and will pick up both dry and wet debris. The auto shut-off feature prevents your canister from overflowing and damaging the motor, while the built-in air and noise diffuser help dampen the sound of the motor.
You can convert your Armor All shop vac to a blower and you will have additional cleaning and drying options. The onboard storage makes your accessory tools readily available. When storing your vacuum, you must clean the canister and then simply place the six-foot by 1 ¼-inch hose inside. Wrap the 10-foot cord around the top handle and you're done.
Pros
Compact
Lightweight
Easy to carry
Cons
10-foot cord
Small 1 ¼" hose
Not made for heavy-duty tasks
---
5.

Shop-Vac Stainless Steel Wet Dry Vacuum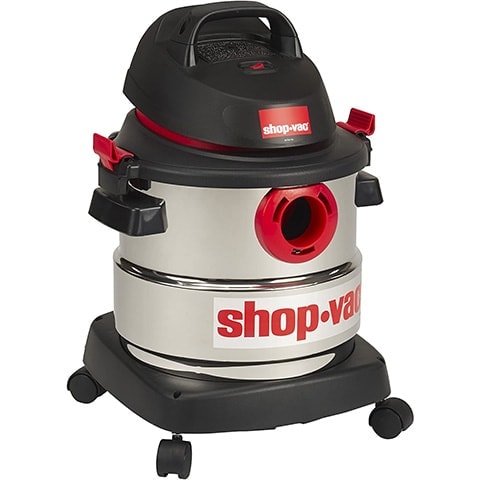 Powerful and compact adequately describes the Shop-Vac 5989300 Stainless Steel wet/dry vacuum. It comes with a durable 4.5 peak HP motor and five-gallon canister that makes the pick-up of those light to medium tasks a breeze. The blower can easily be accessed by attaching the seven-foot by 1¼-inch hose to the rear port. Unfortunately, with the short six-foot power cord your ability to blow leaves and other yard debris from sidewalks and driveways is limited without the use of an extension cord. However, the vacuum does have three extension wands, a crevice tool, and two wet pick-up nozzles that make handling a variety of wet and dry applications simple and efficient.
The stainless steel canister adds a nice look to the vacuum, but on the job site it can prove to not be as resilient as the polypropylene canisters. It is, however, easy to maneuver because of the four-caster dolly that it sits on.
Pros
Compact
Adequate pick-up
Easy to maneuver
Cons
Short power cord
Narrow hose
---
6.

Stanley SL18115 Wet Dry Vacuum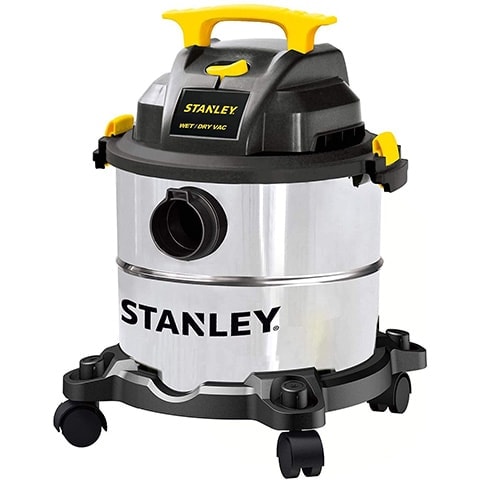 The powerful suction of the four peak HP motor on the Stanley SL18115 vacuum can outperform some of the more powerful vacuums in its class. You can find this workhorse on job sites, and in garages or workshops. With 1,200 watts of power, you will be able to conquer your cleanups in minutes. The 10-foot power cord and the three additional wands give your added ability to reach high places and/or the low corners. A crevice, floor, and gulper nozzle are also included. A blower port is available on the rear of the vacuum; attach the five-foot hose and you can remove yard clippings in a flash.
For wet clean ups, make sure the foam sleeve is fitted over the cartridge filter for proper operation. Use the disposable filter bag during dry clean ups to make it easy to empty and dispose of debris. Store the accessories onboard and wrap the power cord conveniently around the sturdy handle for quick and easy storage.
Pros
Powerful suction
1,200 watts of power
15 feet of reach
Cons
Must attach wet filter
1 ¼" hose
---
7.

RIDGID 50313 Portable Wet Dry Vacuum

One of the smaller sized portable wet/dry vacuums is the Rigid 50313 4000vr. Coming in with a four-gallon capacity, it packs a five peak HP motor, but at a higher price tag. The eight-foot hose and 20-foot power cord make it the longest reaching vacuums we looked at. However, the vacuum only comes with a car nozzle and a diffuser; no wands are included. This makes vacuuming floors both uncomfortable and nearly impossible.
If you need to utilize the blower, it is easily done. The Quick Lock Filter Fastening System lets you remove the filter for cleaning or replacing following your clean up sessions. When you're ready to store your vacuum, you can wrap your power cord around the comfortable handle, but there is no onboard storage for the other attachments.
Pros
Compact
Portable
Five peak HP motor
Cons
Higher priced
No wands included
No onboard storage
Small canister capacity
---
8.

Porter-Cable Wet Dry Vacuum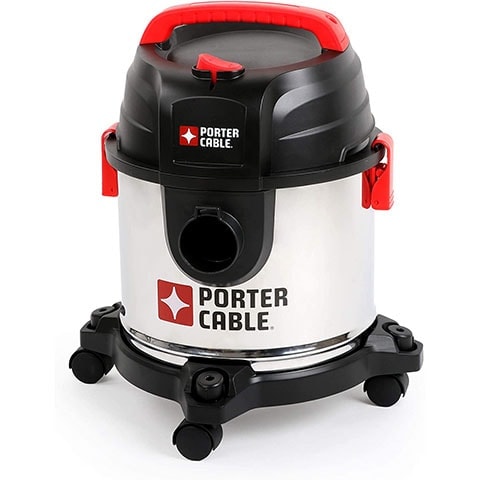 The Porter-Cable PCX18406-5B is a lower end model for the homeowner. The four HP motor with the 1¼-inch diameter hose makes it an adequate vacuum for your everyday household clean ups. Switch the hose to the rear of the canister and you now have a blower for simple clean-ups. You have the capability of wet pick-ups too, but since you only have a four-gallon canister, you will be emptying your canister more often. The additional accessories can be stored on the dolly, but most often need to be removed when using the vacuum. The 10-foot power cord is loosely stored abound in the handle of the vacuum.
Cons
Average Suction
Small canister
Weak blower
1 ¼" diameter hose
---
9.

DEWALT DWV010 Dust Extractor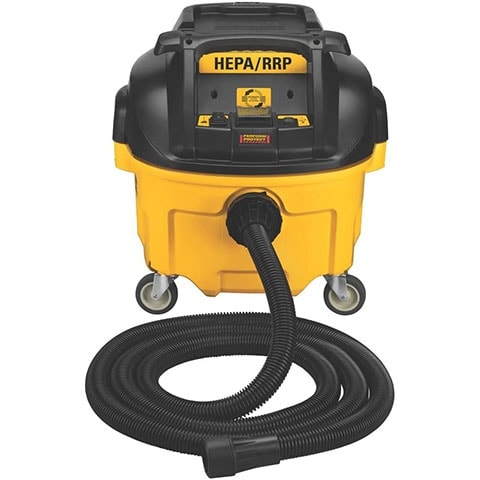 When we think of a quality product, we are often drawn to DeWalt. Surely it can be a great choice, but this DeWalt DWV010 dust extractor vacuum may have you thinking twice. Let's see if the high price tag is worth it. This is a HEPA certified vacuum, which you pay for, but the automatic filter clean pulsates every 30 seconds to keep the air clean as you vacuum. It's 15 amps has been known to trip a few breaker switches in the average household. Even with the added power, its suction of larger particles has been noted as average.
If your goal is to remove the dust in the air then this may be your answer, but overall clean up doesn't seem to have the same efficiency. The power cord is only eight feet long, but it does come with a 15 foot by 1 ¼-inch diameter anti-static hose, which adds to your reach.
Pros
HEPA certified
Dust free vacuuming
Cons
High price tag
High amperage
Suction is average
Difficult finding attachments
Hose diameter only 1¼"
---
10.

Shop-Vac 5951400 Wet/Dry Vacuum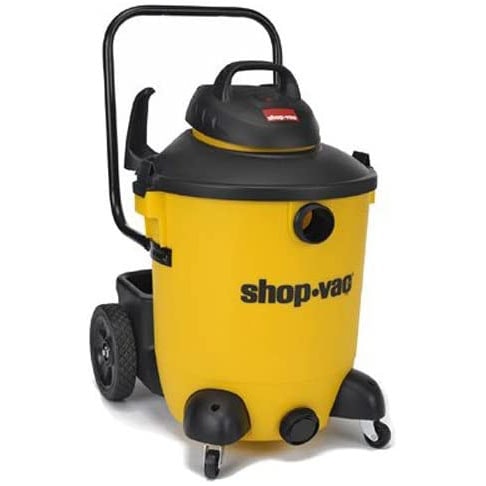 This larger Shop-Vac sports a 14-gallon canister, a 6.5 peak HP motor and weighs just shy of thirty pounds. Out of the box the vacuum takes some time to put together. The wheelbarrow design, with large rear wheels, tool basket and handle take some time to assemble. Take note that the handle is relatively short which makes it uncomfortable for the taller individual to tote around. It has a 20-foot reach with the 12-foot power cord and eight-foot hose.
The 2 ½-inch diameter hose allows you to efficiently make quick work of job site messes, as well as those around the house. It will take you a while to fill up the 14-gallon canister, but doing so will make it heavy and awkward to tote and empty, especially if sucking up a liquid mess. The added capacity is not an attractive attribute for those who plan to use this vacuum around the house—and with the higher price tag, you may wish to pass on this one.
Pros
Powerful motor
Large canister
Cons
Heavy vacuum overall
Shorter power cord
Higher priced
Difficult to assemble
Cleaning can be difficult
---
Buyer's Guide – How to Purchase the Best Shop Vac for Dust Collection
We have looked at 10 different shop vacs to help you make an appropriate choice for your specific needs. However, you may still have lingering questions. You may be weighing different features to determine which is more important. Let's look a bit deeper at some of the key features.
Uses
Almost all of these vacuums can be used in multiple settings and for multiple types of jobs. However, consider your specific needs. Do you need a workhorse, a vacuum for your job site, where you will have the vacuum running for long periods of time? Or, are you merely looking for one to cover your everyday household spills and cleanups? Perhaps you are thinking that you can satisfy dual needs; work and home.
Additionally, consider if you will require the blower feature that was available on some of the vacuums we reviewed. Taking an inventory of your needs will help you begin to narrow down your search.
Power
Once you have considered your uses, you can make a more accurate decision on the power you will need to meet your jobs needs. Typically, the more horsepower, the more powerful and even the more suctioning. If you are looking to use your vacuum on a renovation site, you will more than likely be suctioning up larger particles, as well as sawdust. This will require more power than vacuuming the dust that may accumulate in the corners and along the baseboards of your home.
If the blower is a viable feature that you will be using on a regular basis, you may look at the amount of air that the blower circulates. This is referred to in cubic feet per minute, of CFM. The higher the CFM, the greater the strength of the blower. On average, the blowers on many of the models we reviewed were 85 to 100 CFM. The Craftsman and the DeWalt had CFM's of 177 and 130, respectively .
Power Cord and Reach
You probably noticed that the length of the power cords varied with each of these vacuums. Why is this important? Consider where you will be using your vacuum, and determine the distance between your power source and job. With a shorter power cord, you may have to use an extension cord. If that is not an appealing thought, then look for a vacuum with a long power cord.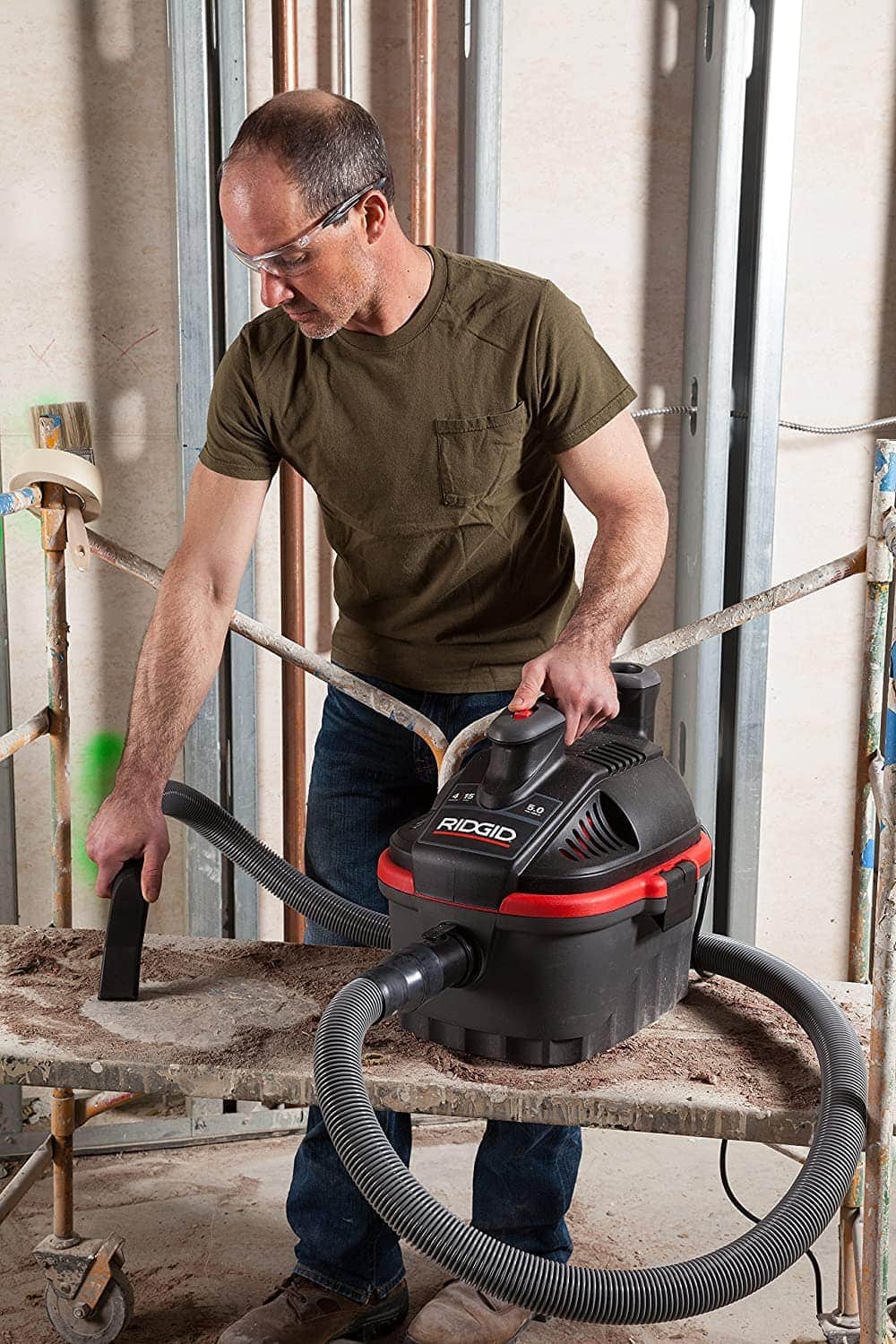 Price
Price is not always an indication of quality. We all have purchased a name brand product, at one time or another, thinking we were buying a quality product. After a short time, the product failed us and we were left wondering why we ever spent the extra money. The best bet when it comes to price, make sure you get the features you need within the budget you have.
Size
When we speak of the size of the vacuum, we are referring to the canister size, like five-gallon or 12-gallon. When you are choosing a size, base your choice on your needs. What are you using the vacuum for? What type of pick-up are going to be doing the most? If you are just picking up dust and other basic household particles, a smaller vacuum is probably appropriate. On the other hand, if you are using it at a renovation site, you will need a considerably larger one.

Conclusion
We have reviewed and highlighted the key features of the best shop vacs for dust collection. There are many features to consider; uses, power, reach, price and size. In our consideration, we found the Vacmaster VBV 1210 Wet/Dry Shop Vacuum to be the best overall. The power was substantial for the 12-gallon canister and 2½-inch diameter hose. It is conducive for the job site, garage, workshop or home. The addition of the 210 HP blower sealed the deal.
Our best value vacuum is the Tacklife PVC01A Wet/Dry Vacuum. It comes in with all of the similar features of our overall pick, a 5.5 peak HP motor, 17-foot reach, and a four-in-one filtration filter. However, it is priced well.
When looking for a versatile, yet powerful vacuum, our premium pick is the Craftsman CMXEVBV 17595 Wet/Dry Vacuum. Higher priced than our previous two choices, but equipped with more horsepower, a larger hose to pick up larger particles, and an oversized drain for easier cleaning.
We have walked you through the time-consuming task of choosing the appropriate dust collection vacuum for you. There are, of course, many considerations before taking the initiative and purchasing your shop vac. We hope that we have provided you with sufficient information on the specs and uses of these vacuums so that you can make a clear-cut choice. Your time and research will prove to be invaluable when you are enjoying your shop vac for years to come.