8 Best Small Shop Vacs of 2023 – Reviews & Top Picks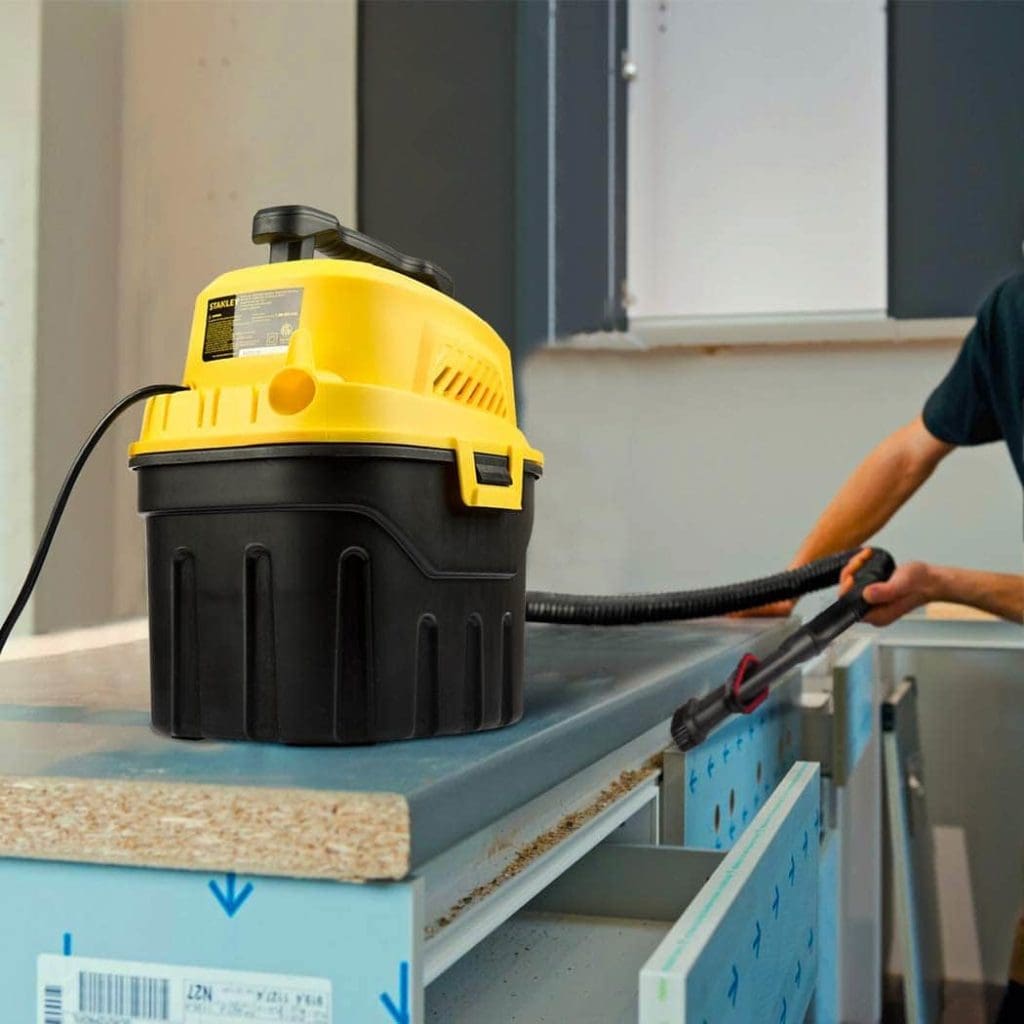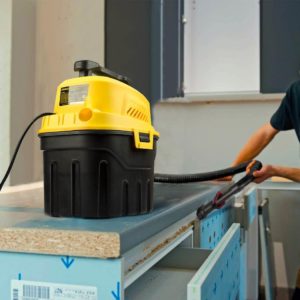 Shop vacs are vital for every shop. The problem is they can take up a lot of space, especially if you're a homeowner without enough workshop space. Luckily, smaller shop vacs are available for these small spaces.
While these shop vacs typically have less power, they can be suitable for some situations. However, it is essential to get one that isn't too weak, or it may not do the trick for most jobs. There are many factors to consider when choosing a suitable small shop vac. They are not all the same and vary widely in price. You'll find our mini shop vac reviews below so that you can discover the best small shop vac for your situation.
---
A Quick Comparison of Our Favorites in 2023
Rating
Image
Product
Details

Best Overall

Vacmaster Professional Wet/Dry Vac

5 gallons
Strong suction
Very storable
CHECK PRICE

Best Value

Armor All Wet/Dry Utility Shop Vacuum

Very small
Blower function
On-board storage
CHECK PRICE

Premium Choice

DeWALT Poly Wet/Dry Vac

14 gallons
Powerful motor
Built-in storage
CHECK PRICE

Stanley Wet Dry Vacuum

Easy to use
3-gallon capacity
8 pounds
CHECK PRICE

TACKLIFE Wet/Dry Vacuum

Blowing function
Powerful motor
Durable collection tank
CHECK PRICE
The 8 Best Small Shop Vacs
1.

Vacmaster Professional Wet/Dry Vac – Best Overall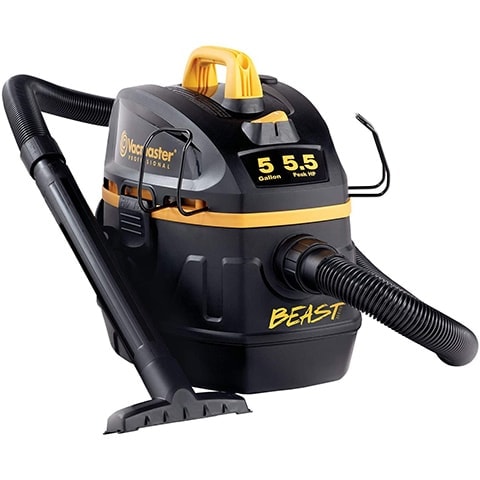 The Vacmaster VFB511B0201 Professional Wet/Dry Vac is tiny. It only holds 5 gallons. However, it should be big enough for the average homeowner. It won't take up too much room and is quite stout. Even if you're low on space, you should be able to store it somewhere quite easily.
The hose storage is integrated, which makes it look very tidy when it's put away. The cord is 18 inches long, which should be plenty for most people. The Vacmaster has a high-efficiency motor and is pretty powerful for its size. This motor is handy when cleaning up water due to its superior suction, and you can also easily convert it to a blower.
While you probably won't use this feature too much, it's extremely helpful when you do need it. There's not much to dislike about the Vacmaster, which makes it our pick for the best overall small shop vac.
Pros
5 gallons
Strong suction
Very storable
18"  long cord
Converts to blower
---
2.

Armor All AA255 Wet/Dry Utility Shop Vacuum – Best Value
The Armor All AA255 Wet/Dry Utility Shop Vacuum is smaller than the first one we reviewed. It only holds 2.5 gallons, which is half the size of most smaller shop vacs. The engine is much less powerful as well. It was one of the weakest that we tested. The cord is 10 feet long and is a bit longer than some of the other ones we looked at.
Despite its affordable price, the Amor All vac has a blower function. Regarding storage, this small shop vac is about as storable as it comes. There is a cord wrap for the cord, an onboard hose, and accessory storage. Because the machine is so small, it easily fits underneath a table or in a closet.
However, the small size means you'll need to empty it more often. If you're a homeowner who doesn't plan on using it much, though, this shouldn't be a significant problem. If you need to save cash, this is the best small shop vac for the money.
Pros
Very small
Blower function
On-board storage
---
3.

DeWALT DXV14P Poly Wet/Dry Vac – Premium Choice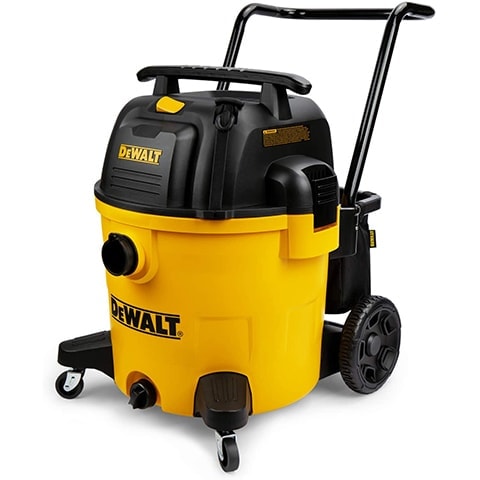 This DeWALT DXV14P Poly Wet/Dry Vac is not very small. It holds 14 gallons, which is much larger than some of the other brands we've listed. Because it is so much larger, it is quite a bit more expensive. However, it may be a good option for those who need something a little larger than the other shop vacs we've mentioned.
With 6 horsepower (HP), the engine on this machine is pretty powerful. It shouldn't have a problem sucking up most materials, including liquids. The rubberized casters are very durable, and the wheels provide extra durability. There is a storage pack attached to the back for storing accessories. However, this machine isn't focused on storability.
A sizable built-in tank drain makes it easy to remove liquids from the machine. We particularly liked this feature, though you likely won't use it very much if you don't clean up liquids often.
Pros
14 gallons
Powerful motor
Built-in storage
See: Best Wet Dry Vacs Under $100
---
4.

Stanley SL18910P-3 Wet Dry Vacuum
The Stanley SL18910P-3 Wet Dry Vacuum is another tiny vacuum. It only holds 3 gallons, which is small compared to the other vacuums on the market. The small size makes it very easy to store, though you will have to empty it more often. It is easy to use and empty, so you shouldn't have any problems in that regard. With 3 HP, it can suck up most materials, though it may be too weak for some jobs.
In all, this machine only weighs just a bit over 8 pounds. This should be light enough to move around as you see fit. However, the Stanley doesn't come with wheels. However, the handle is ergonomic, making carrying this machine much more comfortable. The hose is 4 feet long, and the cord is 10 feet long; this provides quite a bit of cleaning reach. The Stanley vac also includes several accessories.
Pros
Easy to use
3-gallon capacity
8 pounds
Cons
A bit loud
Cord is a bit shorter than other options
---
5.

TACKLIFE PVC01A Wet/Dry Vacuum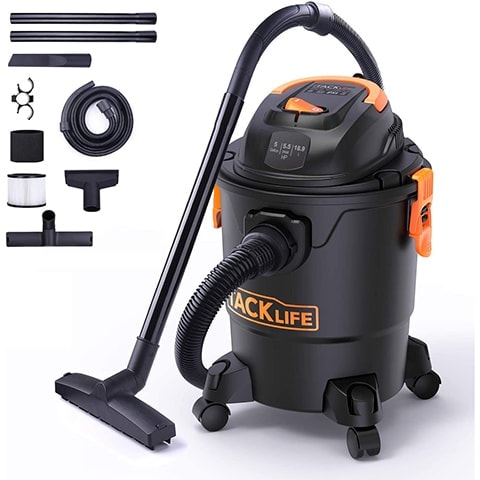 At 5 gallons, the TACKLIFE PVC01A Wet/Dry Vacuum is about the average size for a smaller shop vac. It has powerful suction thanks to the 5.5 HP engine. The collection tank is durable and made out of polypropylene. With a 5-foot hose and a 10-foot power cord, this machine has an extensive cleaning range. It also comes with three extension pieces to increase its cleaning range even more.
Four casters give it extra mobility and allow it to swivel smoothly. Many accessories come with it so that you can tackle any job the workshop throws at you. The automatic power-off protection prevents the tank from becoming too full and protects it from damage.
Pros
Blowing function
Powerful motor
Durable collection tank
Cons
No storage system for attachments
Small hose
---
6.

Porter-Cable PCX18301-4B Wet/Dry Vacuum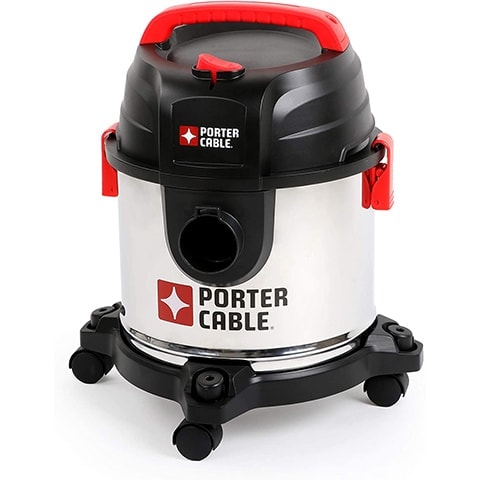 The Porter-Cable PCX18301-4B Wet/Dry Vacuum is a stout, compact machine. If you're worried about storage, this mini shop vac can likely fit anywhere. It has a large on/off switch that is water-resistant. You don't have to worry about it wearing down during hard and dirty work. It has a 4-gallon capacity, which should be plenty for most homeowners.
The Porter-Cable has a high-performance motor, providing maximum suction. It isn't necessarily as powerful as other models. However, it should be plenty for most uses. The stainless-steel base prevents tipping, and it comes with a quick-lock hose. Casters allow the machine to move easily and help it swivel in all directions during use.
With that said, the hose is a bit short. It doesn't include attachments, which may not be a problem for everyone.
Pros
Lightweight
Powerful motor
Mobile
Cons
Short hose
Missing some attachments
---
7.

CRAFTSMAN CMXEVBE17595 Wet/Dry Vac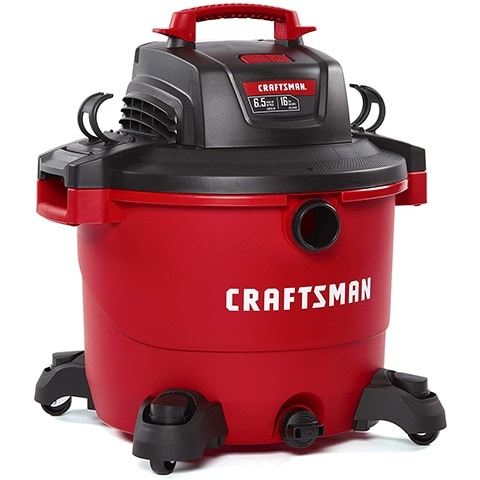 The CRAFTSMAN CMXEVBE17595 Wet/Dry Vac is designed to be a powerful, heavy-duty machine. However, it is lacking in a few ways. First, it has a "toxic" smell. This might not be a big deal, but it isn't enjoyable, to say the least. The stench seems to be created by the engine's heat, which is troublesome. It is also bulky. If you're concerned about portability, this probably isn't the best vacuum for you.
Despite its small size, it isn't that easy to store or transport. The accessories are not high-quality, the car hose can leave small marks on your car's interior and potentially damage weaker fabrics.
---
8.

Ridgid WD4070 4 Gallon Portable Vacuum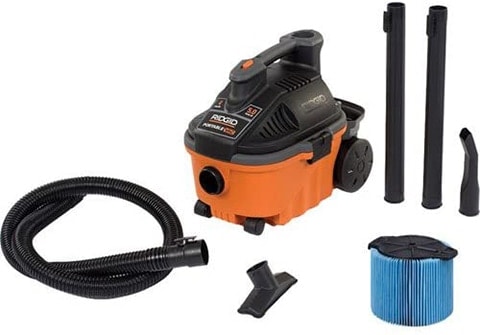 The Ridgid WD4070 4 Gallon Portable Vacuum holds 4 gallons. This is a medium-sized vacuum that weighs a bit more than most vacuums despite its small size. It weighs 12 pounds, and although that isn't heavy by any means, but it is heavier than you might expect. It has a large handle, which makes it easier to move around. However, it is still harder to move around than others.
The wheels don't help much. They don't swivel very well, which makes it challenging to transport easily. It also doesn't move well while you're using it. On top of that, the Rigig vac is expensive. There are many other vacuums of a similar size that are much cheaper (and better). We recommend spending your money on one of the other vacuums on this list instead.
Cons
Heavy
Doesn't swivel well
Expensive

Buyer's Guide – Picking the Best Small Shop Vac
When you need the best small shop vac, there are a few factors to keep in mind. This is especially true if you're looking for the best mini shop vac. Below, we'll discuss some of the essential features to look for while shopping.
Size
If you're searching for the best small shop vac, in particular, you probably need it to be small for a reason. This may be because you don't have a lot of space and therefore don't have the room for a larger shop vac. You may want a smaller shop vac because you want to spend the least amount of money possible. Smaller shop vacs are usually substantially cheaper than more extensive options.
Whatever the reason, keep an eye on the size while reviewing each model. "Small" can mean a lot of things. Some people need a tiny shop vac that holds just over 2 gallons, while others want around a 10-gallon shop vac. It just depends on your situation.
Cost
Small shop vacs are less expensive than their larger cousins. Usually, when you purchase a shop vac, the amount you pay will depend mainly on the size. If you're on a budget, you can get a smaller shop vac very cheaply. The average homeowner does not need a full-sized shop vac in many cases anyway, so you might as well save some money by choosing a smaller option.
Cleaning Length
The cleaning length includes the length of the hose paired with the cord length. Together, this gives you the length away from the wall a shop vac can reach. Preferably, you want this length to be as long as possible. However, a longer length is usually associated with a higher cost. Furthermore, the smaller the shop vac is, the less it can reach.
This feature is all about balance. You want a shop vac that can reach whatever you're trying to clean. However, you don't want to spend a fortune just for a few extra feet of distance.
Storability
Most people looking for a small shop vac don't have all the storage space in the world. In these situations, the storability of the shop vac is essential.  Smaller shop vacs will occupy less space in the closet or under your work table.
However, features like hose storage, a compartment for accessories, and cord wraps will improve the overall storability of the machine. Plus, all these features make the small shop vac look much nicer after it has been put away, which helps if the shop vac needs to sit in plain view.
Portability
Most shop vacs have wheels. However, that is not always the case. There were a few we reviewed that didn't have wheels, but they were petite and often came with sizable carrying handles instead.
Whether it is a carrying handle or wheels, shop vacs must be easy to move around. You probably aren't going to keep it in one spot. Part of the appeal of mini shop vacs is their ability to move around. If your shop vac has no wheels and no handle, it will be a problem.
Weight also plays into how portable a shop vac is. This feature is less of a problem if the shop vac has wheels since you probably won't carry it much. However, it will be substantially more challenging to move a shop vac with a handle around if it weighs a lot.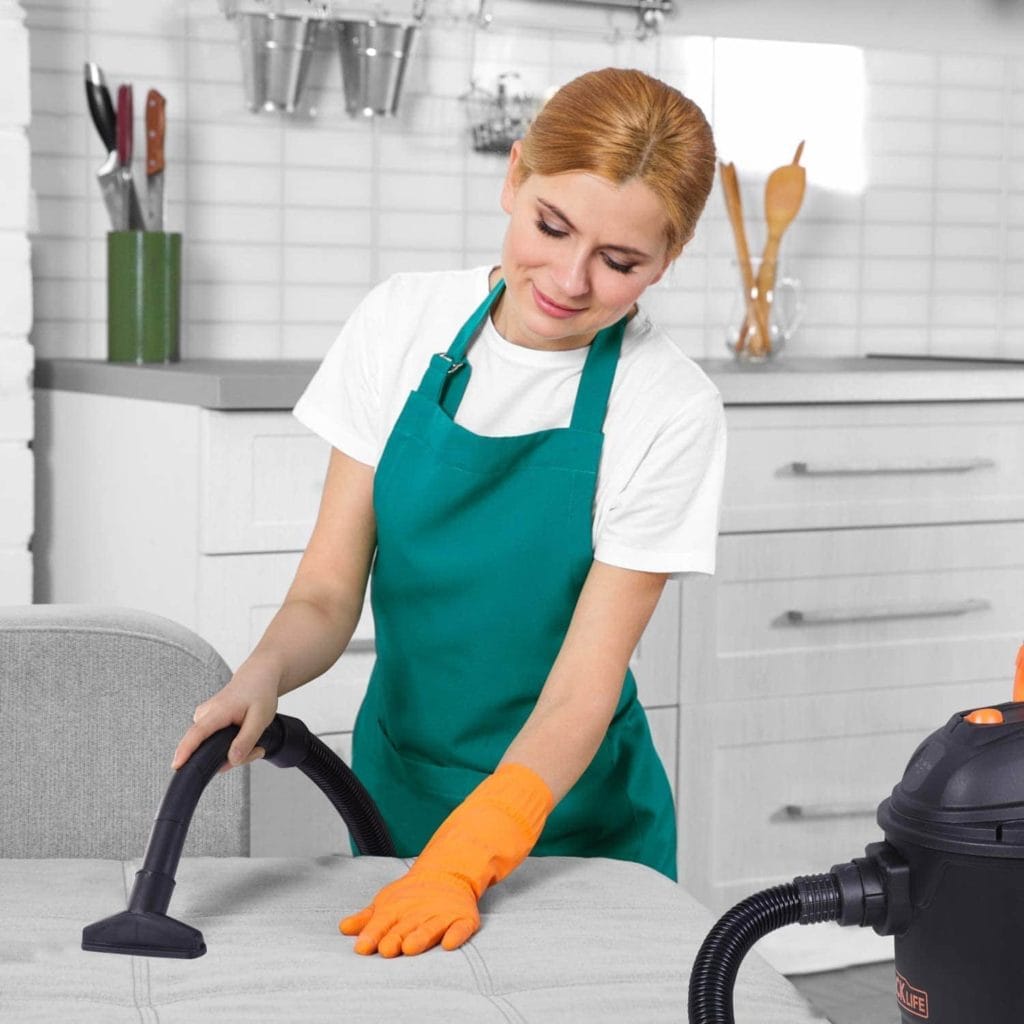 FAQs
We answered a few frequently asked questions about small shop vacs below.
Are small shop vacs quiet?
Usually, they're quieter than the large versions. They often have smaller motors, which means they're typically less loud in general. However, there are still some small shop vacs that are pretty loud, while others can be quiet. It just depends on the model that you purchase.
Are small shop vacs strong?
They are usually powerful enough for most uses. However, professionals may need a strong shop vac with a strong motor. Smaller shop vacs usually have less power, but they are usually fine for homeowners.
How can I make my small shop vac stronger?
The only way to improve the performance of your shop vac is to change the filters. Dirty filters can bog down a shop vac, making it substantially less powerful. However, if your shop vac is new, the filters shouldn't be too dirty yet and probably won't affect the overall performance of the machine.

Conclusion
While there were a few small shop vacs on the market we liked, we found the Vacmaster VFB511B0201 Professional Wet/Dry Vac to be the best mini shop vacuum overall. It is strong enough for most uses and has a 5-gallon capacity. It is also effortless to store, given its sturdy design.
The Armor All AA255 Wet/Dry Utility Shop Vacuum is a smaller, cheaper model that we also liked. It is suitable for those on a budget or homeowners who need a very small shop vac. It is effortless to store, as you might imagine since it is so tiny. We hope you found the perfect small shop vac in our reviews section. If you have any additional questions, our in-depth buyer's guide should have the answer for you.
Related: