10 Best Shower Squeegees of 2023 – Reviews & Top Picks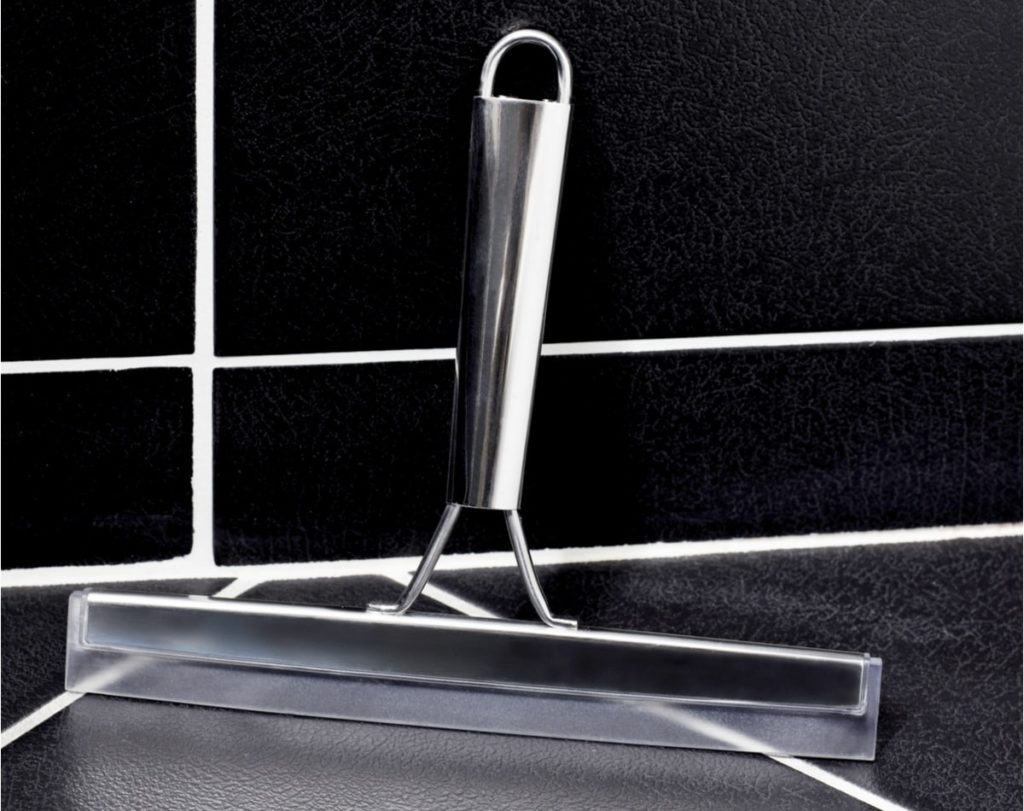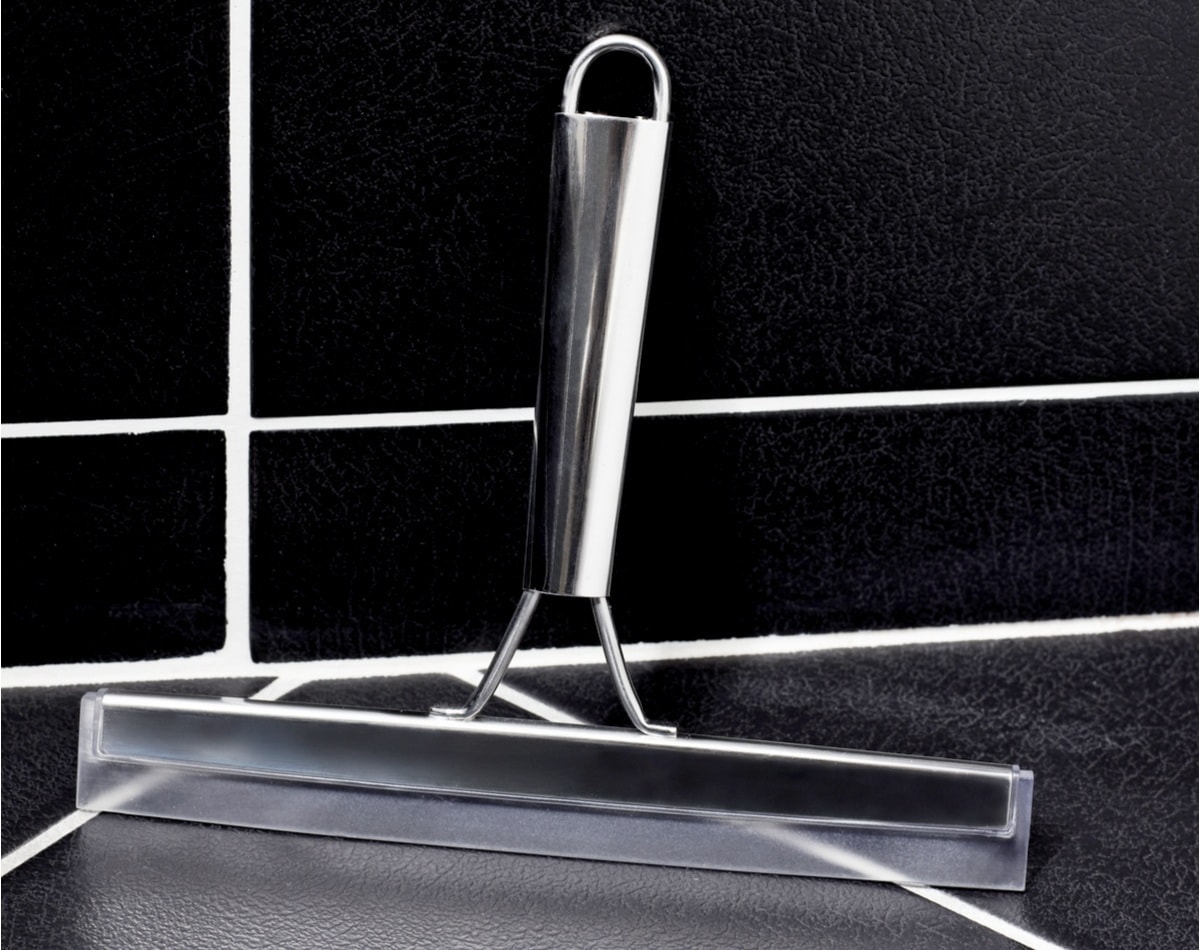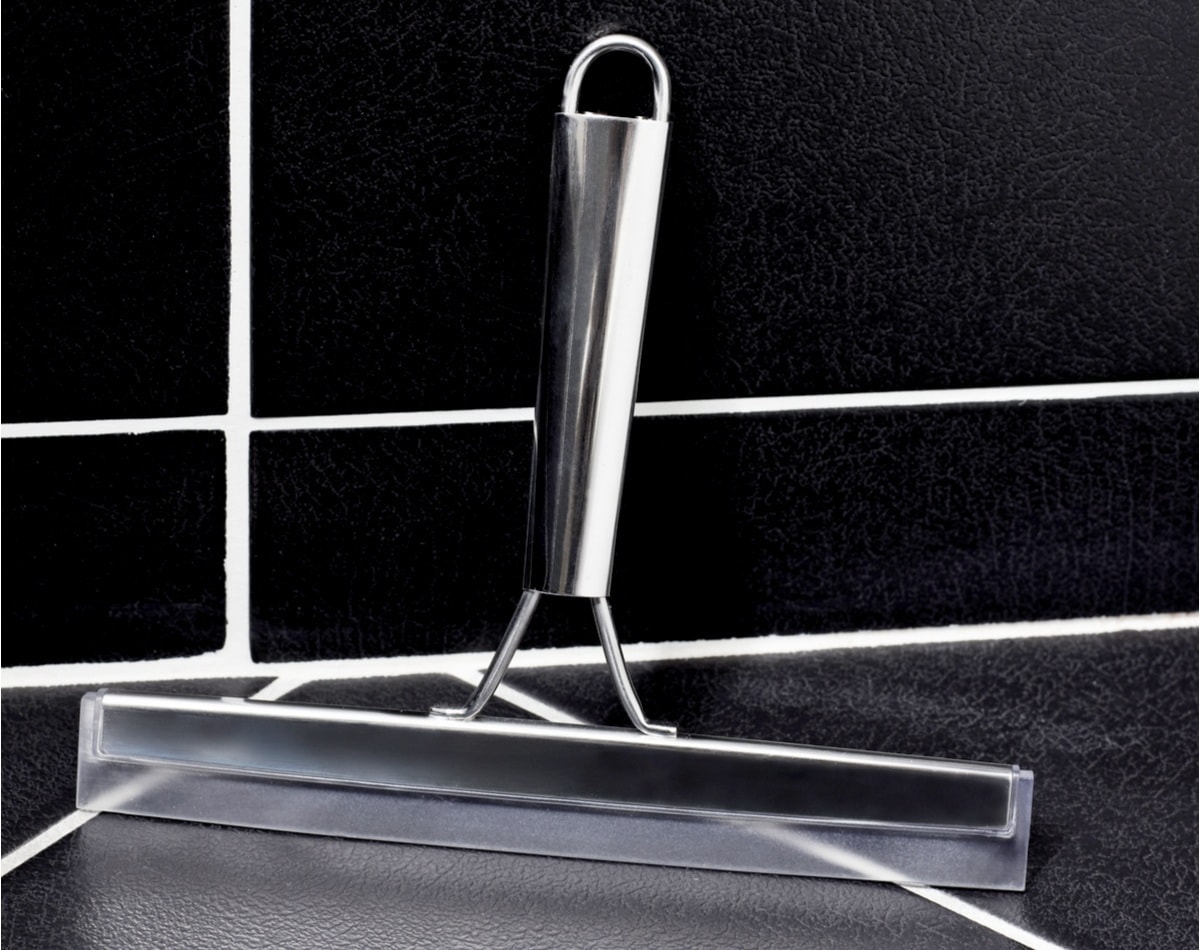 Showers require a lot of upkeep. You likely spend far more time cleaning your shower than you'd like, especially if you have hard water like most American homes. Hard water spots and limescale build-up on your walls and shower doors, and if you don't get to them right away, they can ruin the look of your shower.
Luckily, an inexpensive shower squeegee can help you reduce the workload by quickly wiping the water away after each shower so it doesn't sit and create residue spots that are hard to remove. Shower squeegees are available in different designs, multiple materials, and for varying prices.
We've used a lot of them, and the following ten reviews will compare some of our favorites. Only the first three have earned our recommendations for solid performance and excellent value.
---
A Quick Comparison of Our Favorites in 2023
Rating
Image
Product
Details

Best Overall

OXO Good Grips

10-inch wide flexible blade
Sleek stainless-steel finish
Non-slip grip
CHECK PRICE

Best Value

Quickie

Dirt cheap pricing
Antimicrobial protection
Hanging hole
CHECK PRICE

Premium Choice

simplehuman Fold Away

Folds into a small package
Suction cup for easy hanging
Rust-proof
CHECK PRICE

HIWARE All-Purpose

Extra-wide blade
Adhesive hanging hooks
CHECK PRICE

iDesign Plastic

Blends into the wall
Wide 12-inch blade
CHECK PRICE
The 10 Best Shower Squeegees
1.

OXO 1060619 Stainless Steel Squeegee – Best Overall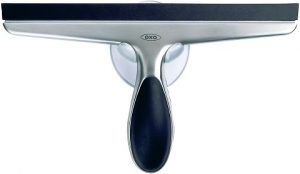 Crafted from stainless steel, the OXO squeegee is sleek and effective, which is why it's our pick for the best shower squeegee overall. It's got a slim profile and an included suction cup, so it stores easily in the shower. It's a bit more expensive than some of the lower-quality models we tested, but we think it's a great compromise of price and performance. The 10-inch wide blade is flexible and works excellent at wiping all the water away in a single pass, preventing hard mineral buildup and reducing your clean-up time. The non-slip grip means you're less likely to drop it since you'll have a firm grip, even when wet. This was the squeegee we most enjoyed using so it's the one we recommend the highest.
Pros
Slim profile and sleek stainless-steel finish
10" wide flexible blade
Suction cup for storing in the shower
Non-slip grip
Cons
More expensive than other options
---
2.

Quickie 313372 Shower Squeegee – Best Value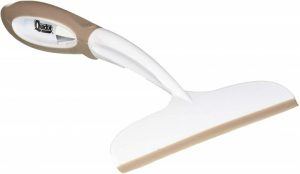 This shower squeegee from Quickie was dirt cheap so we didn't have high expectations for it. Despite the low price, it was a very effective tool that made it easy to wipe down the shower. It has antimicrobial protection to resist mold, mildew, bacteria, and even odor. There's also a hanging hole conveniently placed at the end of the handle so you can hang it, but no suction cup is included for that purpose. For such a budget price, can you really ask for more? Our only real complaint is that the blade is just 6 inches wide. Some of the squeegees we tested against this one were twice as wide, which naturally makes for half as much time spent cleaning. But this is the cheapest one we've seen, and it effectively removes the water from the shower walls and doors, which is why we think it's the best shower squeegee for the money.
Pros
Dirt cheap pricing
Antimicrobial protection
Hanging hole for convenient storage
Cons
Blade is less than 6" wide
---
3.

simplehuman BT1071 Fold Away Squeegee for Shower – Premium Choice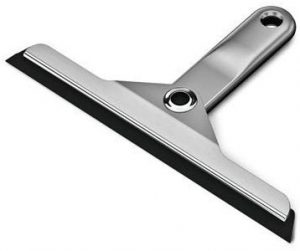 The simplehuman Fold Away Squeegee for shower is an attractive tool made from rust-proof metal that looks as good as it functions. It folds into a very small package so that it can hang discreetly out of the way. The included hanger has a suction cup back so you can mount it anywhere in your shower. The blade itself is 10 inches long and has a soft edge that is very effective at removing water, leaving a streak-free dry surface behind in a single pass. It's a bit more expensive than some of the other options we tested, but it's also attractive and very effective, which we're willing to pay a bit extra for. Since it is rust-proof and crafted from durable metal, you can be certain that it will last for a long time. Cheaper products would likely break and need to be replaced several times over the lifespan of the simplehuman squeegee.
Pros
Folds into a small package
Included suction cup for easy hanging
Rust-proof
---
4.

HIWARE All-Purpose Shower Squeegee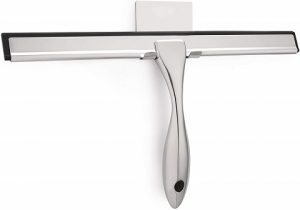 A simple design with a major flaw, the HIWARE All-Purpose Shower Squeegee is a decent tool that needs a minor fix to make its way into our top three. That said, there are still plenty of things to like about this tool. For instance, the extra-wide blade cuts down on cleaning time since you need fewer passes to cover the same area. However, this squeegee isn't quite as effective at removing water as our top performer was, so streaks and water trails are likely to be left behind that may require a second pass to fully remove. For easy and convenient storage, two waterproof adhesive hooks are included that will allow you to hang this squeegee inside of your shower.
The fatal flaw of the HIWARE squeegee is in the handle. It's made of the same metal that the rest of the squeegee is, with no texture or grip of any kind. Once the handle and your hands are wet, it becomes a slippery mess that's very difficult to hold onto. When you try to apply pressure to squeegee the wall, it slips out of your hand and can become quite frustrating.
Pros
Extra-wide blade
Adhesive hanging hooks
Cons
Handle becomes slick and hard to hold
Leaves trails of water that require a second pass
---
5.

iDesign 59150 Plastic Bathroom Squeegee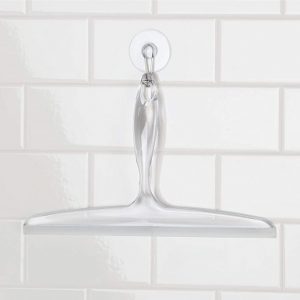 While many of the squeegees for showers we tested were made from metal and tried to look attractive and sleek, the iDesign Plastic Bathroom Squeegee took a different approach and tried to become invisible. It's crafted from completely clear plastic that allows it to blend into your shower wall. A suction cup is included so that you can hang it in your shower, just try not to lose it!
We liked the extra-wide 12-inch blade on this squeegee. Unfortunately, it was too stiff and didn't do a good job of removing water. The blade tended to skip along the surface of the tile or glass as you pulled it along, which meant it left large spots of water all over the walls and shower door. It's very affordable and we like the look, but it's not very effective at the job we're purchasing it for, so we can't recommend it.
Pros
Blends into the wall
Wide 12" blade
Cons
Very stiff blade
Leaves streaks on the glass
Blade skips as you pull it along
---
6.

Command BATH32-SS-ES Shower Squeegee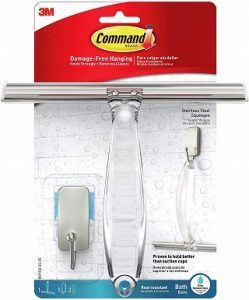 Industrial and unattractive, the Command Shower Squeegee is a utilitarian device that won't look at home in a nice shower. The handle is clear plastic but the blade is satin nickel with a rubber squeegee. Included is an adhesive shower hook that looks pretty nice in a matching satin nickel finish, but the adhesive didn't want to stay put for us and it kept falling off the wall when we tried to hang the squeegee. We appreciate that this tool is rust-resistant, but the metal blade was still a problem when it ended up leaving scratches in one of our walls. More pressure than necessary may have been applied, but it was an unfortunate circumstance nonetheless. The Command squeegee is also more expensive than other plastic models that we tested, but we think you'd be better off saving your money and getting one of them.
Pros
Rust resistant
Includes satin nickel hanging hook
Cons
The industrial look isn't attractive
Hooks didn't hold
Metal left scratches in shower walls
---
7.

TopCharm Shower Squeegee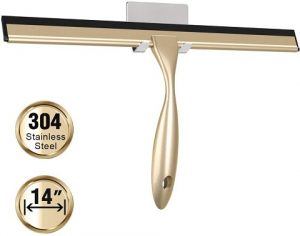 Equipped with a wide 14-inch blade, the TopCharm Shower Squeegee looked like it would be a contender for a top position on our list. That said, we were never fond of the gold finish, and several other flaws kept it from achieving a higher ranking. Most of our testers found it to be pretty tacky. We do like that this squeegee includes a hanging hook for the shower, but the finish doesn't match the squeegee so it looks disjointed. Our biggest complaint with this item was with the blade itself. The rubber on the blade is just too stiff and it didn't do a good job against the tile or glass. Water lines were left behind and several passes were necessary to get a dry surface, but streaks were still evident from the rubber dragging across the surface. It's also more expensive than competing products that we think outperformed the TopCharm in many aspects.
Pros
Wide 14" blade
Includes hook for hanging in the shower
Cons
Gold finish looks tacky
Left water streaks behind
The rubber blade is too stiff
---
8.

cleret 4537 iDO Shower Squeegee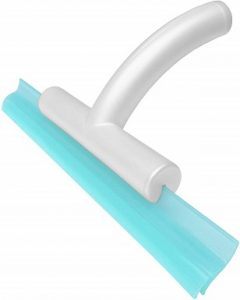 The dual 12-inch wiping edges set the cleret iDO shower squeegee apart from similarly priced plastic competitors. To our dismay, the top blade separated from the bottom after just a few uses, effectively turning this into a single blade device. The wall-mounted holder lets you hang this in your shower, but we don't think it's very attractive so you may not want to do so. It is very lightweight so if you were to drop it on your foot it wouldn't hurt, at least not as much as one of the metal squeegees. Despite the soft blade, it still left behind streaks when we used it and required multiple passes for a truly dry surface. The final frustration was that the end cap of the handle kept popping off during use. Not a big deal, but just another mark on the list of flaws we found in the iDO shower squeegee.
Pros
Includes wall-mounted holder
Lightweight design won't hurt your foot if dropped
Cons
Top blade separated and became useless
End cap keeps falling off
Leaves streaks behind
---
9.

Casabella 44037 Clip-on Silicone Squeegee for Showers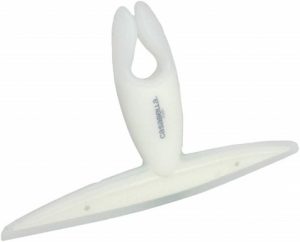 The Casabella Clip-on Silicone Squeegee is a unique item with a couple of flaws that held it back. We like the idea of hanging this tool around your showerhead for easy and convenient storage, as opposed to a stick-on hook somewhere else in the shower. However, if we're going to display the squeegee in such a prominent area, we'd hope it would be a bit more attractive than the cheap-looking plain white plastic of the Casabella. It just looks cheap and won't be improving the look of your shower.
For what this is, a cheap plastic shower squeegee, it's overpriced. You can get better performing plastic squeegees for a fraction of the cost of this one. Worse, ours came warped and was no longer straight enough to be an effective squeegee at all. Even after spending time trying to bend it straight, we could never quite get it to effectively remove the water from our shower surfaces. The silicone used to craft this squeegee is just too soft.
Cons
Isn't very attractive
Expensive for a plastic squeegee
Warped and won't work properly
---
10.

AmazerBath Shower Squeegee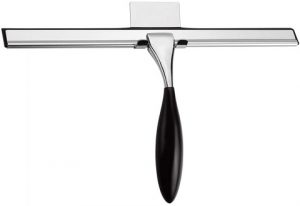 Affordably priced for a stainless-steel shower squeegee, this one from AmazerBath isn't quite what we were hoping for, though it does appear to be at first glance. The rubber on the blade is too thin and we ended up leaving small scratches in the walls where they metal of the blade holder came in contact with them. Over time, this could add up to some noticeable damage. An adhesive hook was included with the AmazerBath squeegee but we couldn't get it to stay up. We tried mounting it on tile and glass but it refused to adhere properly to either surface. The 12-inch blade is of sufficient width, but we still had water marks left behind after using this squeegee. Altogether, we don't' think it's a great value, even at the low price it sells for.
Pros
Affordable for a stainless-steel squeegee
Cons
Rubber is very thin
Scratched the shower wall
Adhesive hooks keep falling

Buyer's Guide – Finding the Best Shower Squeegees
After reading about so many different shower squeegees, you may have a good idea of what to look for. To make things even clearer, we're going to break down some of the differences between these devices and point out some of our favorite features that we think you should keep an eye out for. After reading our short buyer's guide, you should be fully prepared to make the right pick to keep your shower free of residue and reduce your overall upkeep.
What's it Made From?
The material that a squeegee is made from will have a major impact on its price as well as its overall longevity. Many shower squeegees are made from metal, often stainless steel. It may be left raw, but many are done in popular finishes such as brushed nickel so it will match the fixtures in your shower. Metal shower squeegees are usually rust-free or at least rust-resistant since they spend their lives in a wet environment. Metal squeegees are stronger than plastic ones and are less likely to bend or break from daily use. They also look more visually appealing.
Plastic is less likely to corrode than metal, even if the metal is rust-resistant. Plastic doesn't rust, but it may experience microbial growth. Luckily, many manufacturers have even made their plastic shower squeegees antimicrobial to ward off bacteria, mold, and mildew. Plastic squeegees also tend to be much cheaper than metal ones, but they're also not as durable. With repeated daily use, the stress may start to get to a plastic squeegee and cause cracking that may eventually lead to it breaking. Of course, it would take many months and possibly years of daily use to create so much wear and tear.
Is the Hanger Included?
Since you're going to be using it to wipe down your shower after each time you wash off, your squeegee is going to be most useful hanging in the shower. For that reason, many of them will include a way to hang the squeegee such as an adhesive hook or suction cup. Not every squeegee includes a hanger though, so we recommend looking for it specifically. You're much more likely to use your squeegee after each time you shower if it's visible and easy to grab.
Blade Width and Material
Depending on how large your shower is, you may have quite a bit of space to squeegee down. If the blade you're using is too small, then you may have to make many passes to cover all of that area. On the other hand, a nice wide blade that's 10 inches or even 14 inches can make the work go much quicker since you can cover more area with each sweep of the squeegee. Some of the cheaper plastic devices have smaller blades of just 6 inches. They're still usable, but they're likely going to take a bit more of your time. Likewise, some of the squeegees we tested had very hard blades instead of the softer rubber that we prefer to see. The tools with hard blades tended to skip across the surface of the shower walls leaving streaks and water marks behind. Look for a softer rubber blade that's wide enough to cover a good area with each swipe.
How Does it Look?
You might be thinking that it doesn't matter what your squeegee looks like, just as long as it performs its job well. Remember that your shower squeegee will likely be hanging in the shower where it's visible all the time. If you don't like the way it looks, it may become an eyesore that ruins the look of your shower. Some companies have taken this into account and created sleek-looking squeegees that even match the other fixtures in your bathroom. These won't look out of place hanging in your shower, and they may be hardly noticeable since they're likely to blend in.
Price
The final consideration for your shower squeegee is price. They're not terribly expensive, but the premium ones still cost several times as much as the basic plastic ones. You may not be concerned with looks, instead, searching for the cheapest solution that will remove the water from your shower walls. In that case, the plastic squeegees tend to be more cost-effective and perform their function just as well. The metal squeegees are more expensive, but you're mostly paying for improved looks and superior durability. If these aren't traits that matter much to you, then you can save a few dollars by instead going with a utilitarian plastic squeegee that performs the same function.

Conclusion
A shower squeegee can help you cut down on the amount of time you spend cleaning your shower while also reducing hard water spots and keeping your shower looking fresh from day to day. We've tested as many of these useful tools as we could find and our reviews should have helped you compare some of the most popular ones. Out of all of them, three stood out as the best choices to us and we're going to summarize them once again so they're fresh in your mind. We felt that the OXO Stainless Steel Squeegee was the best overall thanks to its slim profile and sleek looks coupled with a non-slip grip for a firm hold and a suction cup to hang it in the shower.
It's hard to beat the value of the Quickie Shower Squeegee when you need an affordable but reliable option, which is why it's our pick for the best value. It's dirt cheap, thanks to the all-plastic construction, and has useful features like antimicrobial protection and a convenient hole for hanging it. Finally, when you want a premium product that looks as good as it performs, we recommend the sleek, rust-proof simplehuman Fold Away Squeegee.
---
Featured Image Credit: viewin, Shutterstock